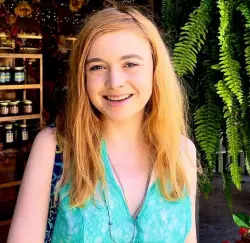 Latest posts by Erin Jamieson
(see all)
I've seen firsthand how expensive courses can weigh students down. While I believe that attending in-person higher education classes has many benefits, they aren't always the easiest places to explore new subjects. And for those who are juggling other responsibilities, free courses can be an excellent way to do just that.
I'm interested in how online platforms like edX and LinkedIn Learning make learning more accessible- but I also know that no matter the cost, not all courses are equally worth it. It's exciting to see how both LinkedIn Learning and edX offer in-demand skills training- with a library of everything from blockchain to software development, javascript, and more.
But the real reason I- and probably you- want to know: are there real benefits to taking courses? And is edX or LinkedIn Learning better for training for a career or more education?
I'll answer all of those questions in this review.
Main Differences edX vs LinkedIn Learning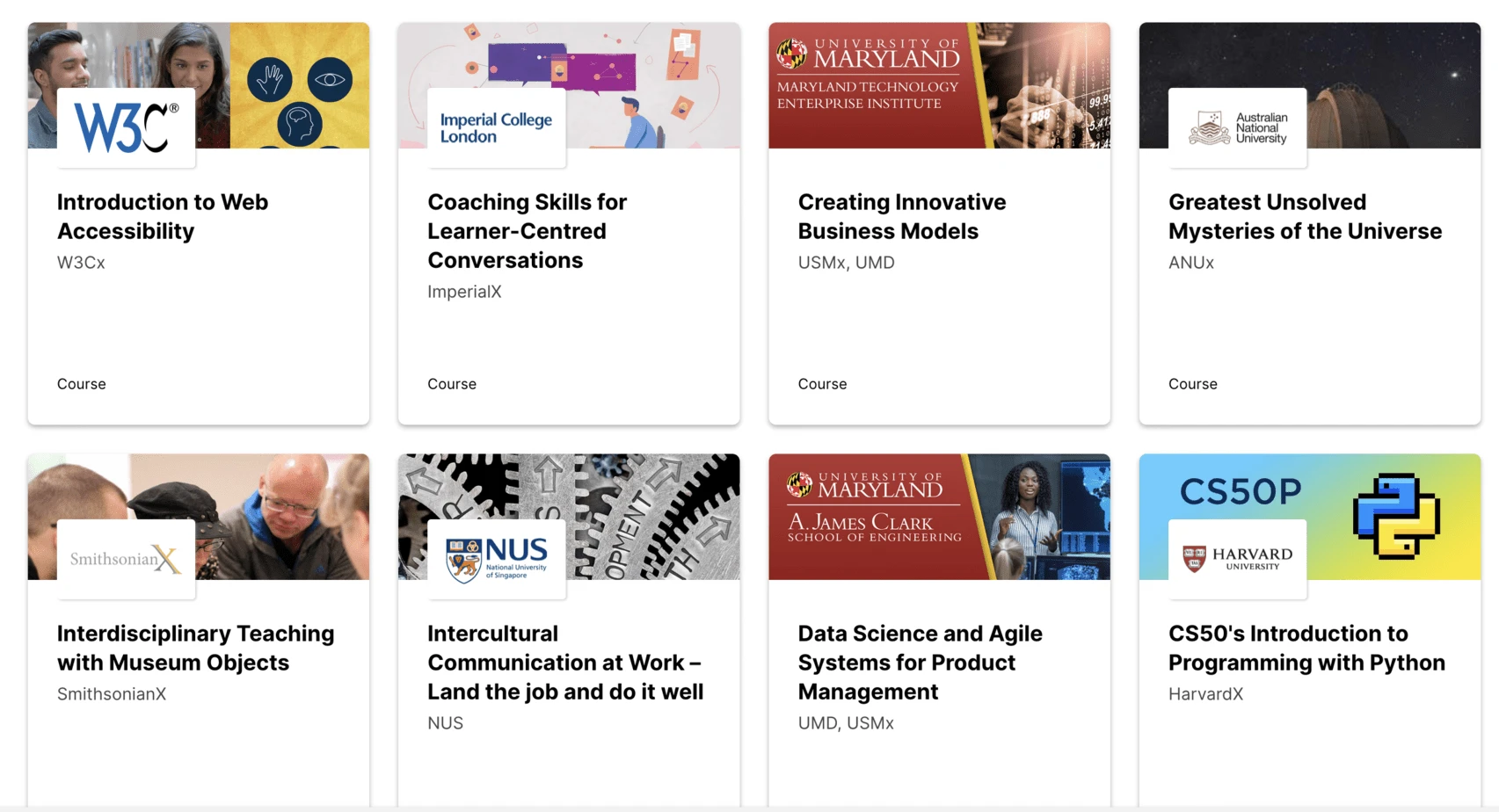 edX offers a wide range of courses across nearly all subjects, whereas LinkedIn Learning focuses more on graphics design, business, and technology
edX courses are priced per course, whereas LinkedIn Learning offers both individual course pricing and a subscription
edX courses are mostly designed by professors from reputable universities, whereas LinkedIn Learning courses are designed by a wide pool of instructors
edX offers regular courses, undergraduate courses, and master's courses, whereas LinkedIn Learning offers more tech-based certification courses
Bottom Line Up Front Summary: What I appreciate about both LinkedIn Learning and edX is that they offer learning opportunities no matter where you are, no matter what your schedule looks like. It's hard to work on your skills or explore a new subject if you're always busy or strapped for money. But when comparing the two learning platforms, I think that most students should try edX before they try LinkedIn Learning.
edX offers a more satisfying learning experience, with ample options for different course types. Covering more in-depth information and a wider range of topics, the quality of edX courses is also more consistent. And with a catalog of free courses, plus more generous refunds, edX is a safer choice for anyone who's never learned online before.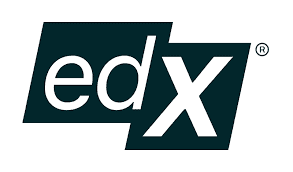 Get critical career skills | Edx
Executive Education courses from top universities offer the skills you need to pivot and expand your career.
Find your course
We earn a commission if you click this link and make a purchase at no additional cost to you.
Is edX or LinkedIn Learning Worth Your Time?
edX and Linkedin Learning are pretty attractive at first glance. It's not everywhere that you can search through a nice library of courses with flexible learning options and even some free options. But the more I compared the two platforms, the more differences I came across. Here's what that means for you as a potential student.
How It Started
A company's history tells you about its mission- and how they've changed over time. For learning platforms like LinkedIn Learning and edX, I'm interested in how their roots influence their approach to teaching and learning. In any good teaching platform, I like to see some interest and investment in their students.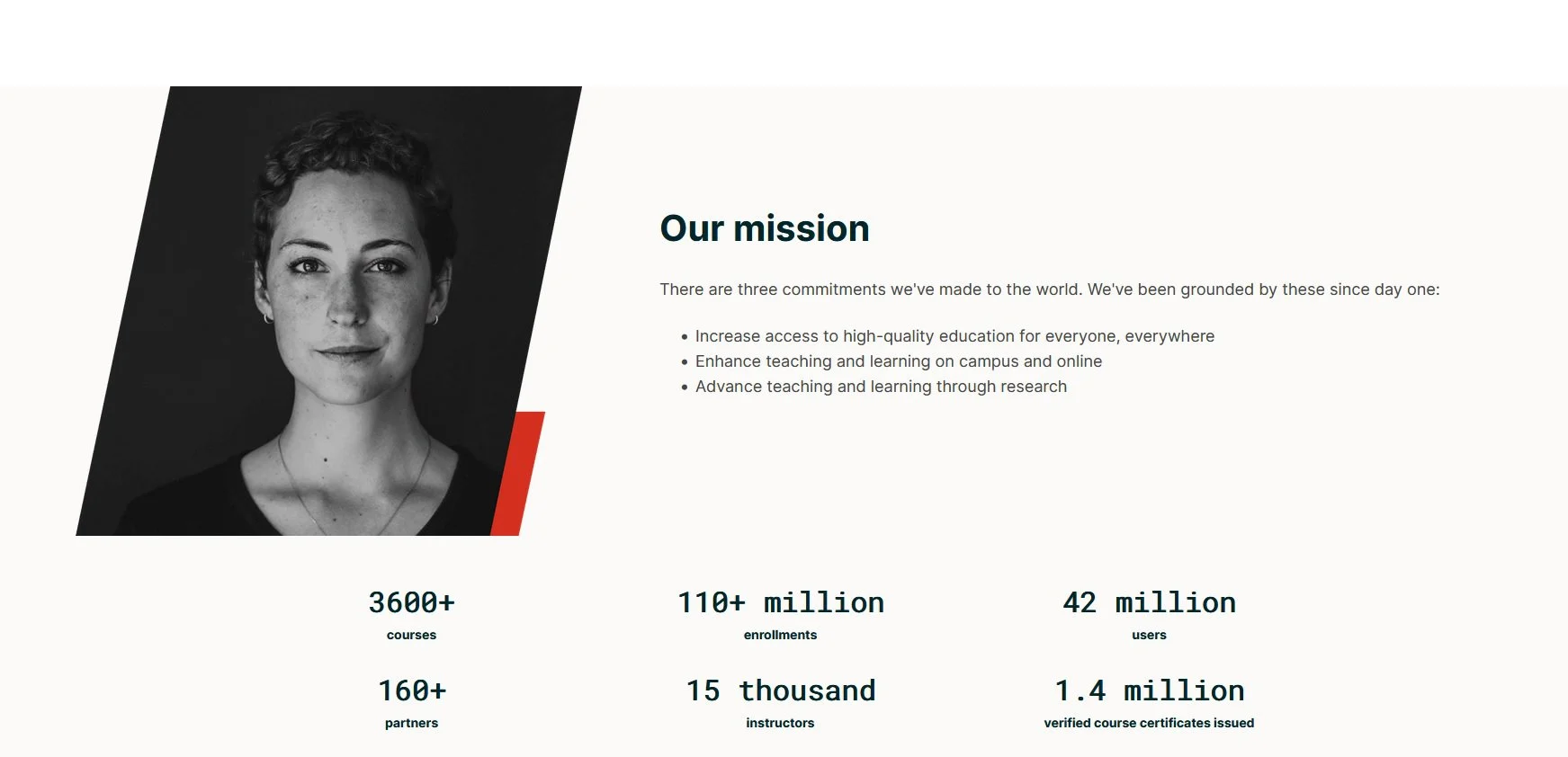 edX stands out from many online platforms. Why? It was founded by professors from Harvard University and the Massachusetts Institute of Technology. After their beginnings back in 2012 (solely dedicated to electronics), they slowly expanded their course offerings, adding tech, business, marketing, and even humanities. Now offering a wide range of courses, its mission is to increase access to affordable education for professionals, high school students, and even graduate students.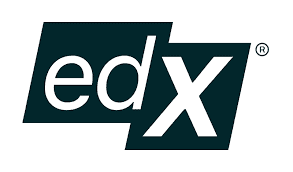 Get critical career skills | Edx
Executive Education courses from top universities offer the skills you need to pivot and expand your career.
Find your course
We earn a commission if you click this link and make a purchase at no additional cost to you.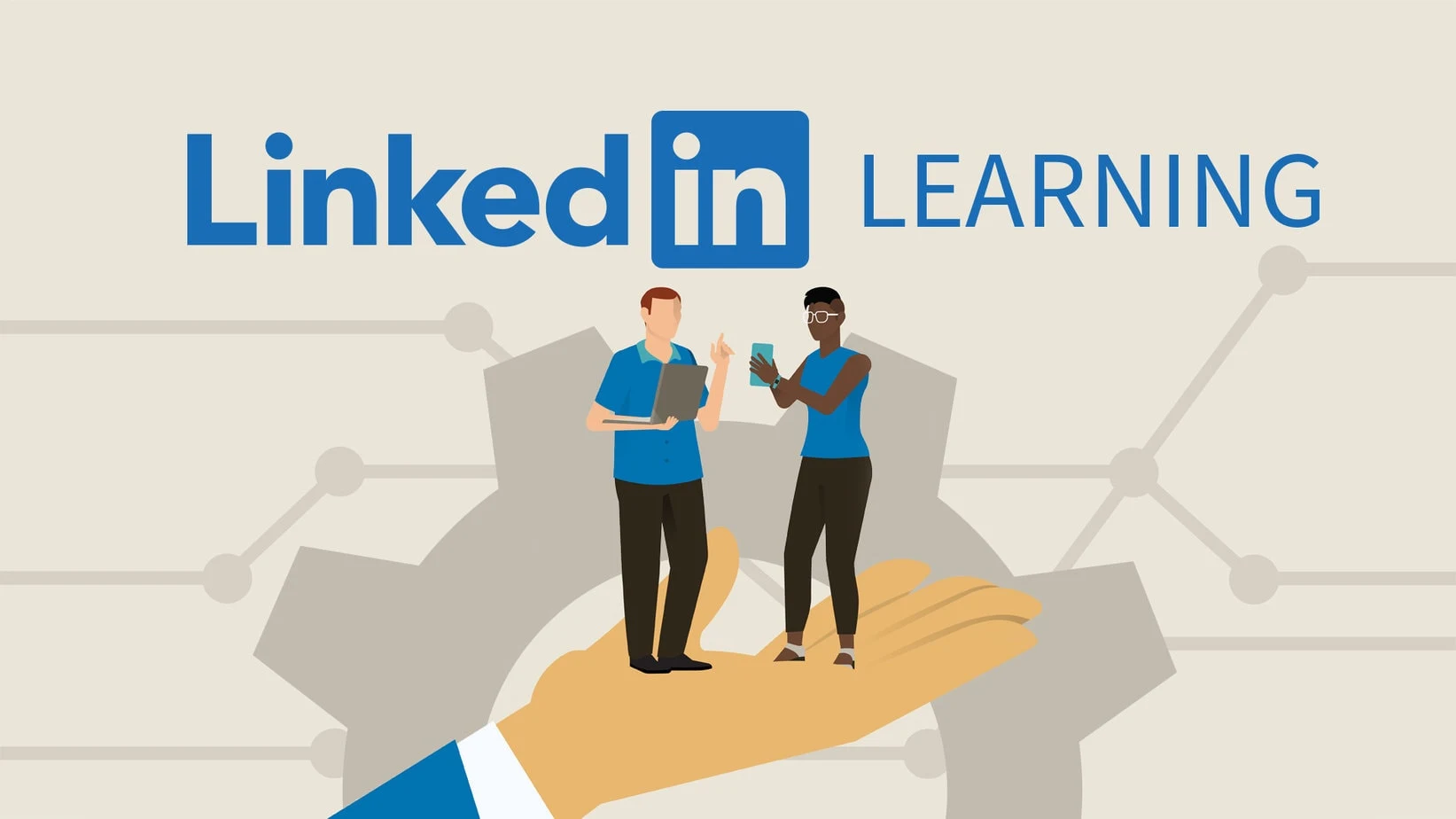 LinkedIn Learning, known formerly as Lynda, probably sounds familiar to you. That's because it's connected to LinkedIn, the professional networking website. While Lynda began as an online resource for courses in California (1995), by 2004 it was offering more than 100 courses online. That makes it one of the earliest online learning platforms.
In 2015, Lynda was bought by LinkedIn, and, in a sweeping move, Microsoft acquired LinkedIn- and its online learning courses- within a year.
Its mission is to provide "world-class content" with "data-driven personalization" using AI to make course recommendations to students.
Winner: edX
Both edx and LinkedIn Learning have roots in traditional education- and both have been around for long enough to test and refine different learning approaches. LinkedIn Learning is leaning more on its technology to make automatic course recommendations.
The reason I'm giving an edge to edx is subtle. edX doesn't make grand claims the way LinkedIn Learning does, and the mission seems a bit more focused on issues of accessibility and in-demand skills. For some, automatic recommendations on LinkedIn learning could be useful.
Types of Courses
Here's where it gets interesting. LinkedIn Learning and edX offer different types of courses- and these types of courses say a lot about their target audience. While both have options for different types of courses, it's compelling to see how they differ.
edX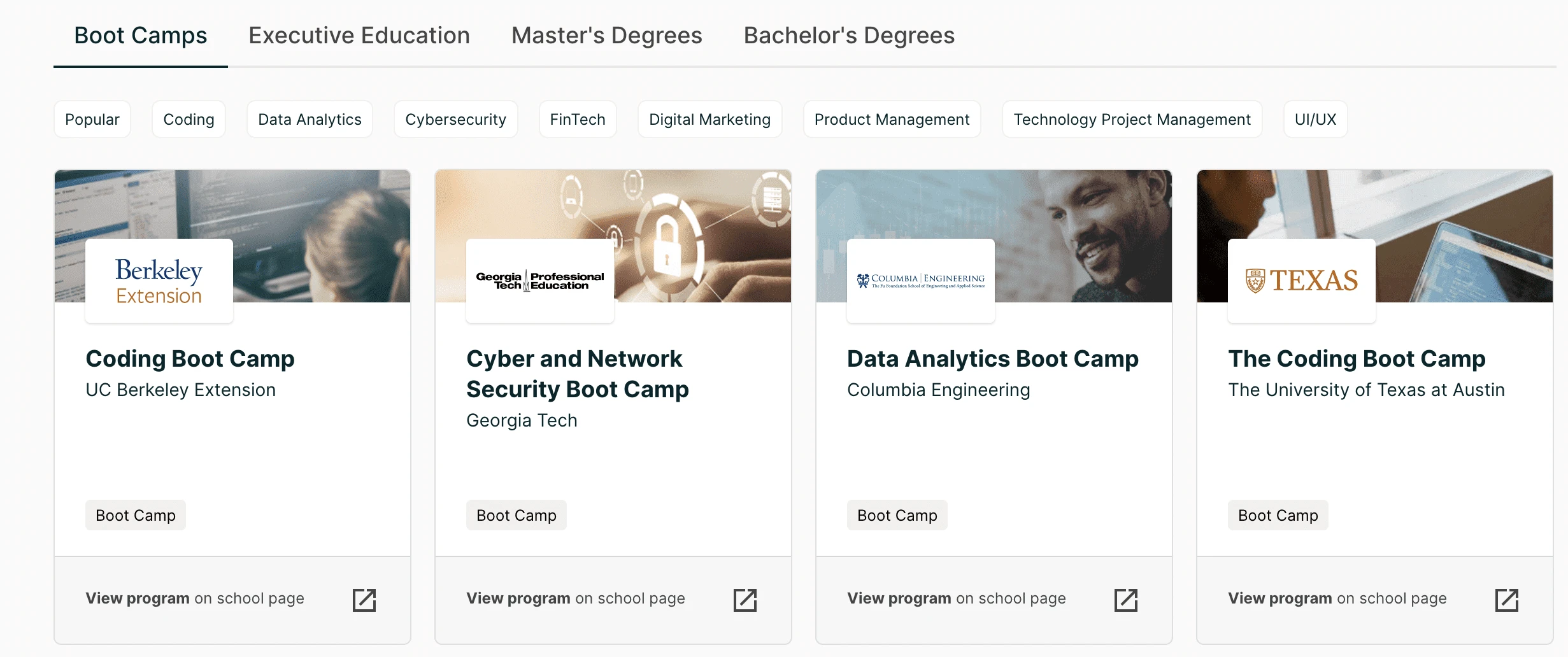 Something I appreciate about edX is there is something for a wide range of learners. They've expanded a lot since they started, now offering courses for everything from personal enrichment to courses for master's students. Those options include:
Free Courses
Verified Track Courses
Professional Course Bundles
Micro Master's Courses
Bootcamps
Online Master's Degrees
Free courses are free of any prerequisites and a great value- but if you want quizzes, homework, and even a certificate of completion, you have to upgrade to a verified track version of those courses. Professional course bundles simply bundle together a group of courses, which is a great way to plan for a certain set of skills.
Bootcamps are mostly for professional training, while micro master courses are graduate-level courses. Remember that those graduate courses may or may not transfer (you should always check with your intended school).
Here's a complete list of edX courses we have specifically reviewed.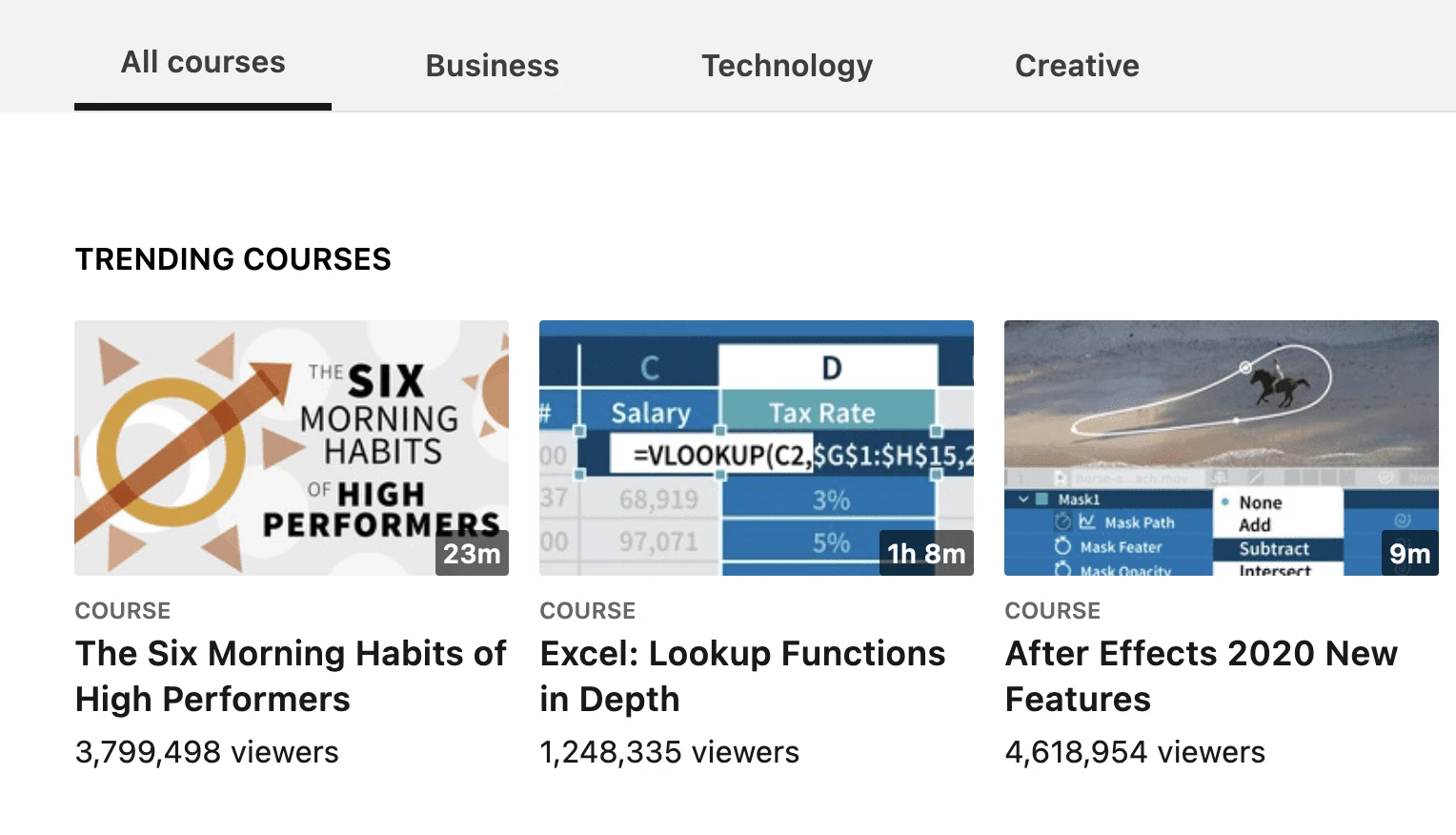 You can choose from two main options:
A la Carte
Certifications
LinkedIn Learning courses work about the same: these are on-demand, self-paced courses that you can take at your leisure. There are plans for businesses and higher education institutions, but for the most part, courses are listed in a library of options, arranged by experience level (beginner, intermediate, advanced) and course length.
The other option is LinkedIn Certificates. Certificates are focused on learning specific skills using software and technology. I'd say they are most like the verified courses from edX: you'll get a certificate of completion, they're longer, and a bit more study intensive.
Check out the following guides to learn more about the best Linkedin Learning:
Winner: edX
I have to give the edge to edX here as well. What I like most about LinkedIn Learning is the emphasis on skill-based tech certifications. These are a little more targeted than some edx options if you want to earn proficiency in certain software systems.
That said, edX offers a lot more options for how to learn. There are plenty of free courses and even graduate coursework. I also like the middle ground option of verified courses- though I do wish that certifications of completion came for free on both platforms.
What It Costs
Cost isn't everything: I like to look at the overall value. But that said, one of the main reasons why edx and LinkedIn learning are so attractive is that they're supposed to be more affordable than traditional learning options.
edX
The tricky thing about edX is that costs vary a lot- depending on what course you enroll in. There are free courses, no strings or subscriptions are required. But to get a certificate for any of those courses, you'll have to pay the fee for a verified course. Every course is priced individually, but these average ranges give a rough estimate of what you can expect to pay:
Free for Single Courses
$90 to $250 for Verified Courses (*$100 is normal)
$120 to $900 for Professional Course Bundles ($200 to $300 most common)
$400 to $1,500 for Micro Master's
There are sometimes discounts, and I also like that edX offers financial aid to some students. While some of their course bundles are expensive, there are ample opportunities for free to affordable learning.
LinkedIn Learning
Unlike edx, where you pay per course, most students will opt for the monthly subscription plans:
$26.99/ month with an Annual Plan
$39.99/ month with Monthly Plans
However, I like that you can also simply pay for a class without a subscription. There are a few classes here and there, and the average class cost is around $45
Winner: LinkedIn Learning
LinkedIn Learning is still going to be cheaper than edx- even if you're paying per course. The cost is pretty low, and they also offer free courses. At the same time, edX free course offerings are easier to find and more substantial.
It all depends on what you're looking for. edX can get quite expensive, so, even though I love how many free courses they have, LinkedIn Learning as a whole is the more economical option.
The Course Catalog
Another way that edx and LinkedIn Learning are different is their course offerings. Both have a decent selection of courses, but the focus of what those courses are is going to make a substantial difference to many students.
edX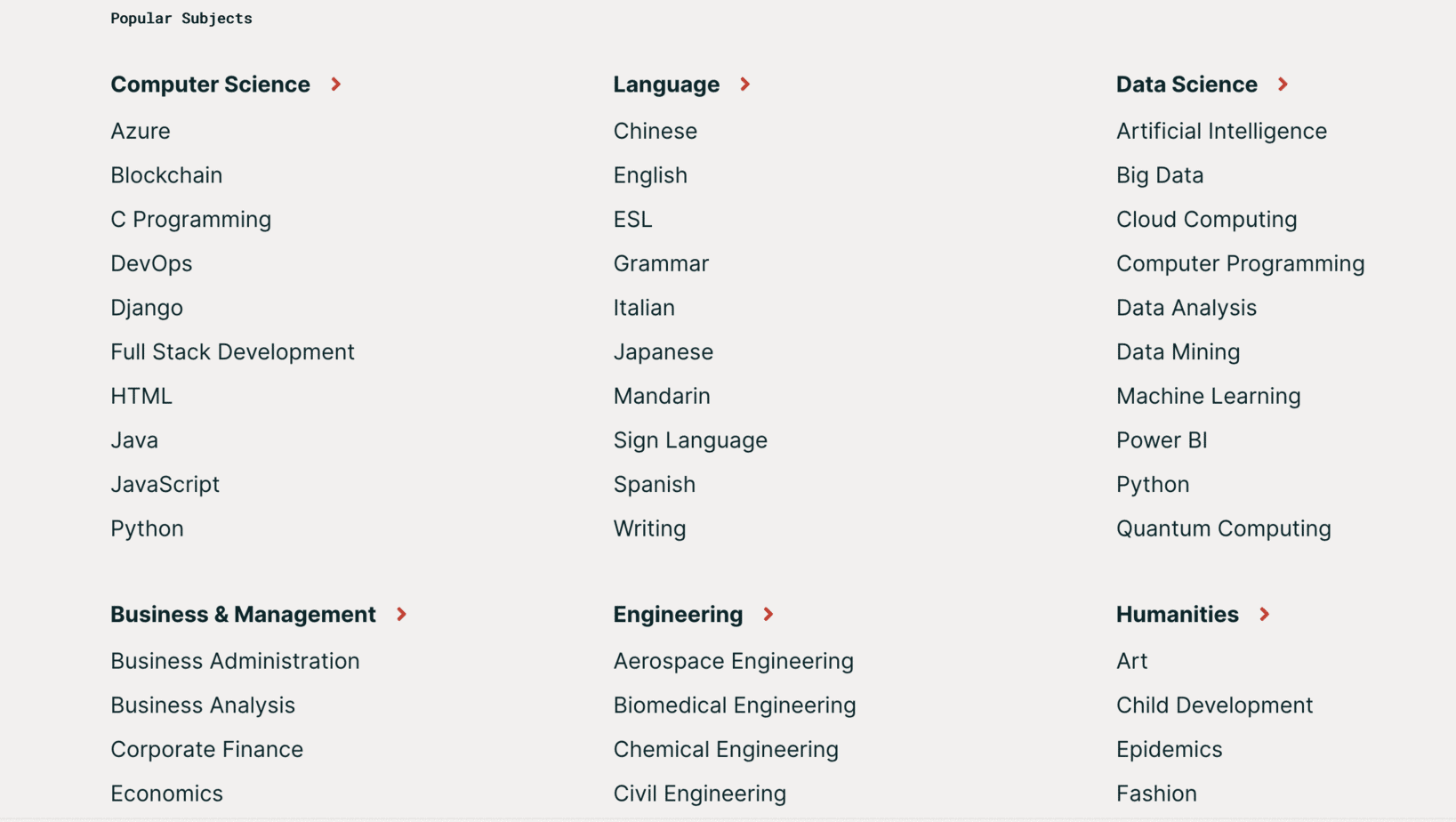 I was fairly impressed with the scope of edX's course catalog. Sure, there are the in-demand skills and subjects you'd expect, but there are also options within the humanities and creative fields- and that's refreshing to see:
Art, architecture, biology, business management, chemistry, communication, computer science, data analytics/ statistics, design, economics & finance, education & teacher training, electronics, energy & earth sciences, engineering, environmental sciences, ethics, food and nutrition, health & safety, history, humanities, language, law, literature, math, medicine, music, philanthropy, philosophy/ ethics, physics, science, and social sciences
LinkedIn Learning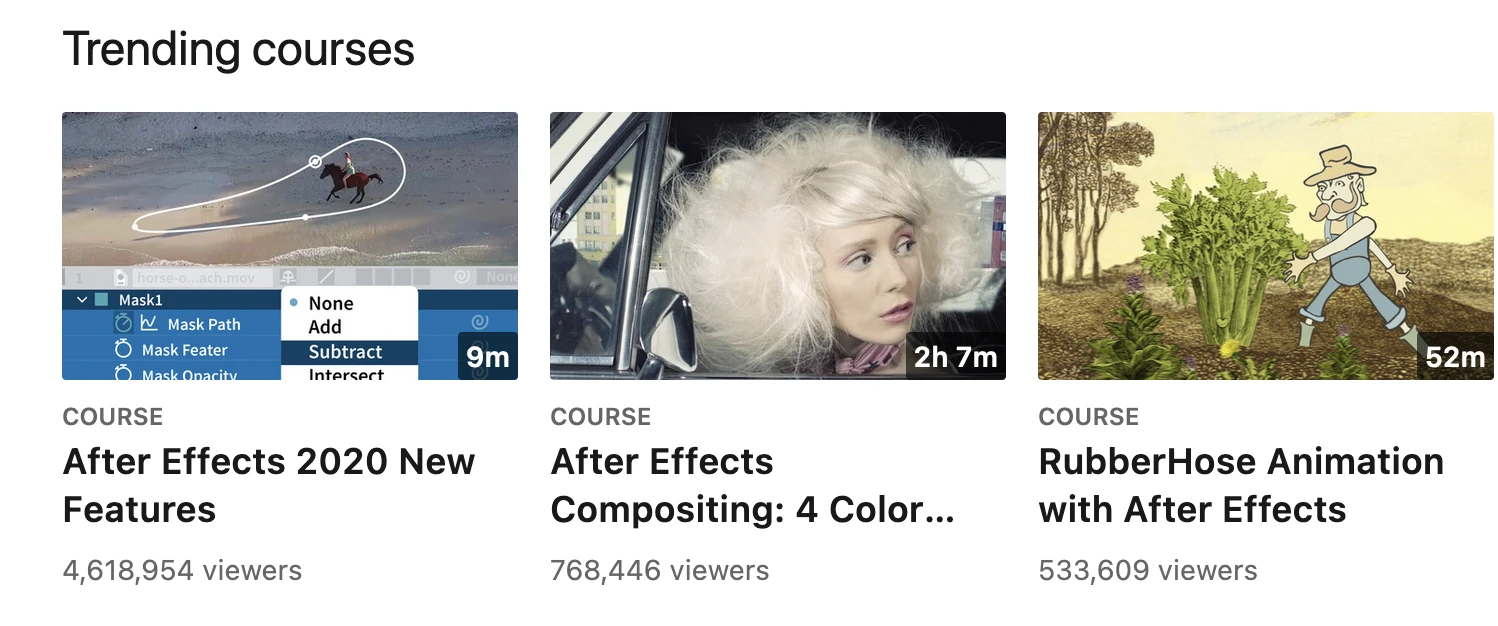 Aside from the personal recommendation system, another advantage to looking for a course on LinkedIn Learning is you can browse by time commitment and level of experience. Outside of that, courses are arranged into one of these broad subjects:
Business
Technology
Creative
To break this down a little further, creative courses involve subjects such as construction, film technology, graphic design, and photography. I notice there's still an emphasis on technology integration. For business, expect courses like marketing, leadership, data analysis, spreadsheets, and work with common software. The most popular technology courses include SQL, iOs development, programming languages (Java, Python, C++), and data visualization.
Winner: edX
If you want tech-focused courses or to master a specific tech skill, I think that LinkedIn Learning is a bit stronger. edx, however, just a broader range of courses- especially in the creative and humanities fields.
The Learning Experience
Even if you love a course, it doesn't mean that it's the best one for you. I know that course format, presentation, quality of content, and support matter a lot. That's especially true when you're taking a course online. Here's what you need to know about how LinkedIn Learning and edX compare.
edX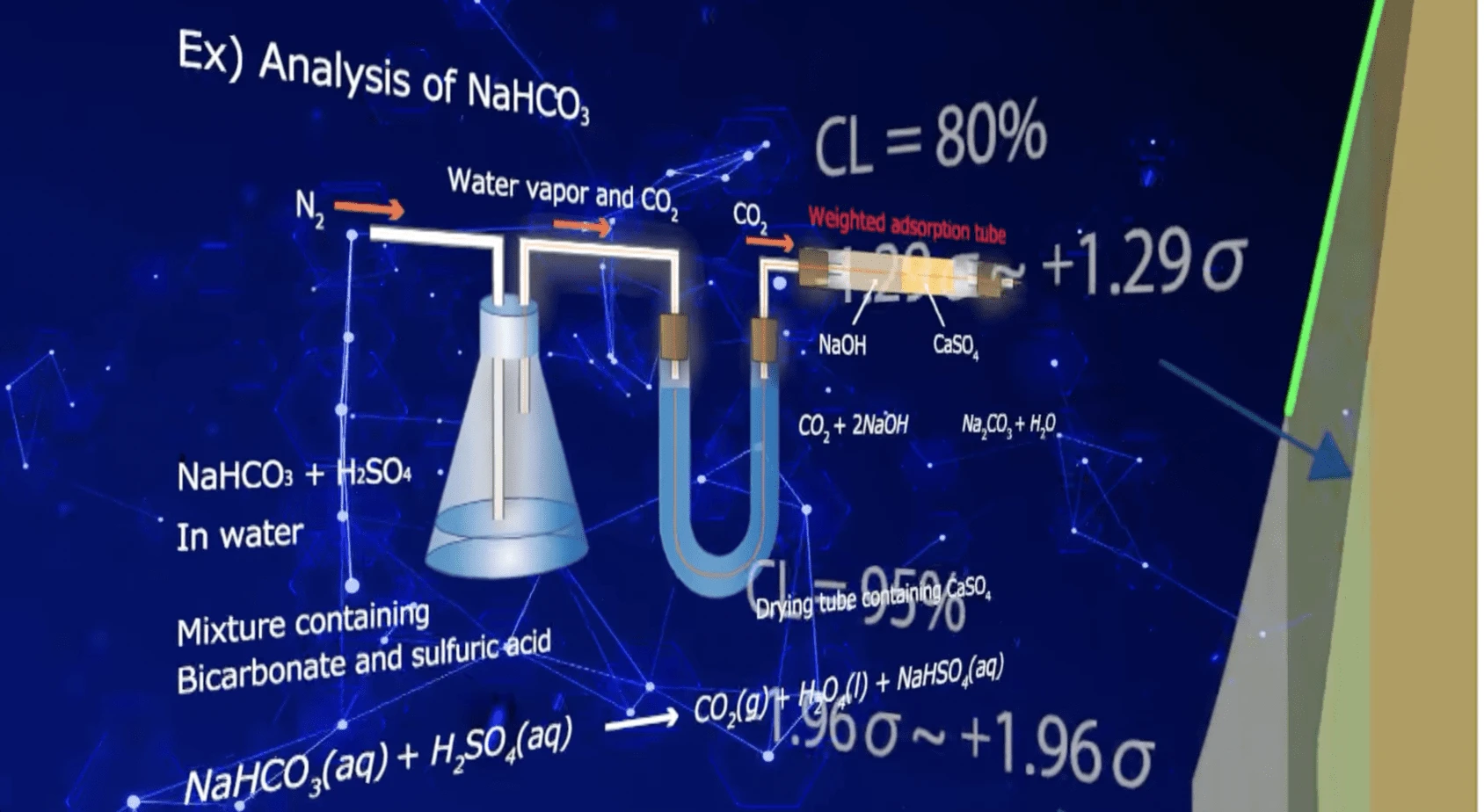 edX offers both self-paced and instructor-paced course options, but both work in the same way. Most of their courses are delivered through video lectures, and you'll need to upgrade at least to a verified track to get the most out of them. The verified track, professional bundles, and other programs include homework, quizzes, and sometimes even projects.
What I like is that the content, while not always deeply immersive, is well-designed and flows logically. The connections to respected higher education are helpful for their overall quality.
My biggest critic is that, even with courses that use forums, edX is not deeply personalized or interactive. At the same time, courses are quite flexible, easy to learn, and hit on useful hard and soft skills.
LinkedIn Learning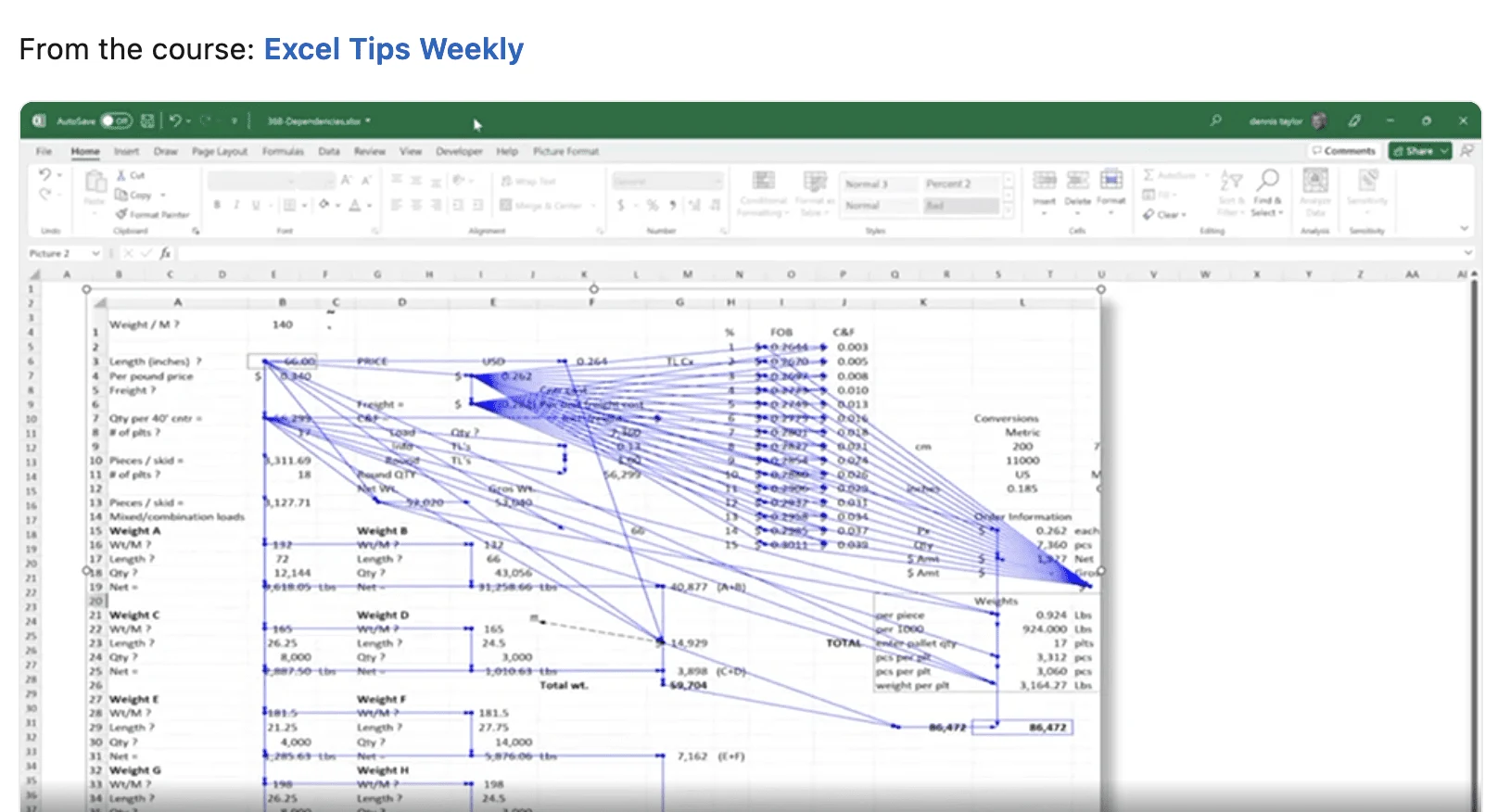 LinkedIn Learning courses are usually short video lectures that condense concepts into bite-sized lessons. By recommending courses, they do a better job of alerting you to the material you might enjoy. I also like the option for learning paths- which work like course bundles from edX by recommending several courses together. There are separate homework assignments and some practice questions- so you get a little hands-on learning, too.
Winner: edX
LinkedIn Learning and edX offer a lot of similarities to the average learning experience. But edX has the advantage with a few of its more robust courses.
Refund Policies
Before you enroll in any online course, I urge you to check the refund policy. The truth is, sometimes things don't work out, and knowing the extent of a refund policy can help you make an informed decision.
edX
edX allows up to 2 weeks (14 days) to refund for both free and verified individual courses and professional course bundles. But that fairly generous policy doesn't extend to their advanced courses (professional education/ micro master's). Those courses allow just 2 days for a refund- which poses a risk, especially since you're spending more.
LinkedIn Learning
You should read through LinkedIn Learning's Refund Policies carefully because there's a lot to take in:
Premium Subscriptions are Eligible for a Refund for 48 Hours

You have to contact individual app stores if it was purchased through the Google or Apple store

Individual Courses are Eligible only Under Circumstances that mostly apply to businesses
Monthly Subscriptions require you to unsubscribe by logging into your account
I think that these refund policies could be more generous. 48 hours is not much time, and most individual courses aren't refundable.
Winner: edX
While just 2 days for their continuing education programs isn't a generous refund window. edX provides a reasonable 14 days for other circumstances. The refund policies for LinkedIn Learning are far more stingy.
Other Students Speak Out
The last thing I wanted to check was the average student's experience- and how it aligned with my impressions. This is where, perhaps above all categories, edX and LinkedIn Learning probably differ the most.
edX
edX isn't a perfect platform- but there's good news about how students feel about their learning experience. On TrustPilot, roughly 88 percent of students were awarded edX 4 or 5 stars. While many students wished that the classes were a little more advanced and more personalized, many also felt that the UI was intuitive and appreciated the connections to respected universities. Some were displeased with the limited refund policy.
LinkedIn Learning
Students are pretty divided on their experience with LinkedIn Learning- with about 40 percent awarding 5 out of 5 stars, and 38 percent a mere 1 out of 5 stars. That averages out to just over 2 out of 5 stars on Trustpilot. While many enjoyed Lynda, it looks like a majority of complaints centered around the two acquisitions (LinkedIn, then Microsoft). Most of those complaints? Charges, lack of customer service, and trouble canceling billing. Those who had a better experience the ease and convenience of the lessons.
Winner: edX
edX has a lower Better Business Bureau rating (B- vs A) but overall, customer satisfaction is higher. edX appears to respond to customer complaints more readily- and I noticed more compliments for the quality of its courses as well.
Frequently Asked Questions
Question: Is my LinkedIn Learning certificate valid?'
Answer: LinkedIn Learning provides certificates for completing their courses. The mistake students make is assuming this is equivalent to a professional certificate. It's more of a way to show you skills and training. LinkedIn Learning isn't meant to replace formal educational programs, but should instead be seen as a stepping stone for future enrichment. You can place your Linkedin Learning under a training or skills section on your resume.
Question: Are edX Certificates better than Coursera?
Answer: Both edX and Coursera offer certificates for completing a course (with edX you have to pay for a verified certificate). It's important to know that neither certificate is a professional/ accredited one, but it can be helpful under a skills section on a resume. Compared, edX is better than Coursera for a few reasons. edX offers higher-quality courses, designed by professors from well-known universities. In addition, it has a much better business reputation and students tend to be more satisfied with their experience.
Question: Can you get a job with a LinkedIn certificate?
Answer: A LinkedIn certificate, sadly, is not a one-way ticket to a job. I do think that open source courses and training, however, can be helpful in myriad ways. It's a way to practice and enhance your skills- or even discover something new. By training through an online platform, you increase your awareness of an industry and can complement any formal training or education you have.
Question: Can I get an edX certificate for free?
Answer: Unfortunately, edX certificates cost money. Like edX offers free stand-alone courses, you'll have to pay for a 'verified track' course to earn a certificate of completion. The good news is that most of these courses are around $100 to $200 and edX also offers limited financial assistance for courses (outside of boot camps and Micro Master's programs). In addition, sometimes employers will provide coupon codes that you can apply to discount courses.
Final Verdict: Try edX Before LinkedIn Learning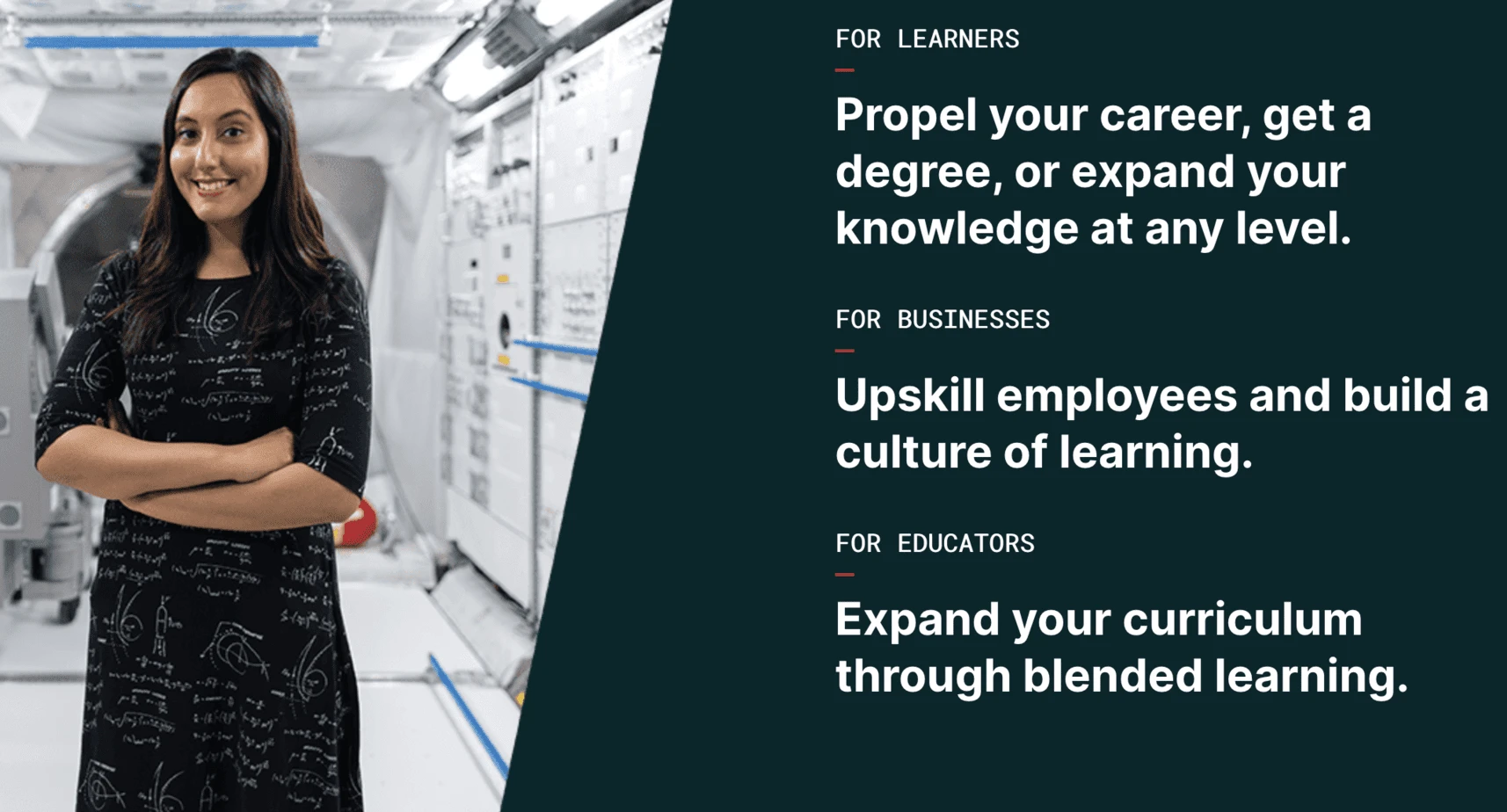 What's great about this review is that both edX and LinkedIn Learning have some strong points. From in-demand skills to flexible course schedules, I see why someone would be interested in taking courses from either.
But ultimately my decision came down to overall quality and experience- and I think edX offers a bit more for the average student. edX has a higher level of customer satisfaction, a wilder range of courses, and more course types.
I find that edX courses have more consistency in quality and experience- and even though some options are expensive, there are plenty of low-cost and even free options. Start Learning with edX Here.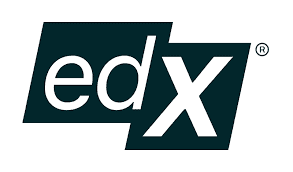 Get critical career skills | Edx
Executive Education courses from top universities offer the skills you need to pivot and expand your career.
Find your course
We earn a commission if you click this link and make a purchase at no additional cost to you.
Final Recommendations: Alternatives to LinkedIn Learning and edX
Not sure that LinkedIn Learning (Lynda) or edX is the best option for you? Here are a few other places to learn online:
Stanford Online: health and medicine, education, engineering, arts and humanities, and more courses are available online through Stanford's division of free, open-source courses. These are simple video lecture-based courses, but you know you're getting quality content. This is one of your best options if you want university quality classes, but without a big commitment.
Free Code Camp: coding is one of the most in-demand skills, and this learning platform is a great, free way to start learning. While I wouldn't rely on this platform alone for coding, it's a great place to begin your journey. The UI is friendly and it's accessible for beginners. Coding can be intimidating when you first start; this is a welcoming introduction.
Open Yale Courses: another gem for free, introductory courses, these are all video/ audio/ and text lectures taught in nearly any discipline you can imagine. It's a great alternative to edX if you just want some more options. I love that it covers a vast array of topics, and, while Standford, you know that you're getting high-quality lessons and information.
Check out how edX compares to other competitors:
or how Linkedin Learning (Lynda) compares to: