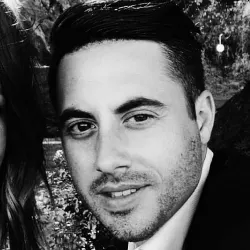 Latest posts by David Borgogni
(see all)
Most jobs in the IT sector don't require formal education, but landing an entry-level position in this industry without coding experience is nearly impossible. So, young people who'd like to join this fast-growing industry often look for solutions in online education. If you'd like to become a full-stack developer or a data scientist and don't know where to start comparing edX vs Codecademy can help you decide which eLearning platform can help you reach this goal faster.
Unlike Codecademy, the edX platform isn't dedicated solely to programming, and you can use it to pursue other career paths. I'll examine what these eLearning platforms can offer to their members to assist you in picking the one that gives you the best chances of building a successful career.
Bottom Line Up Front
Codecademy is a popular destination for anyone who wants to start coding or go deeper into cloud computing, cybersecurity, or any other IT-related field. However, the platform has one major downside, its certificates aren't accredited, and they only serve as proof of course attendance.
That's why I think that edX is a much better option if you want to learn how to code or anything else from a new language to robotics. Moreover, you'll receive a certificate provided by a high-end tech company or renowned university you can use to pursue a career in a particular field.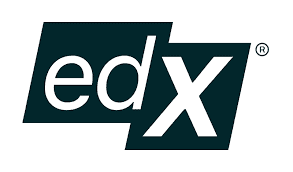 Get critical career skills | Edx
Executive Education courses from top universities offer the skills you need to pivot and expand your career.
Find your course
We earn a commission if you click this link and make a purchase at no additional cost to you.
Main Differences Between edX vs Codecademy
The main differences between edX vs Codecademy are:
All learning materials on the edX platform are displayed in the same panel, whereas Codecademy has a relatively small catalog of video lessons
EdX courses are developed by instructors who work at educational institutions, whereas the platform's staff creates all Codecademy's courses
Most edX courses contain video, whereas Codecademy has a relatively small catalog of video lessons
edX offers programs that help students earn university credits, whereas Codecademy's courses are not recognized by official higher education institutions
Key Specifications
| | | |
| --- | --- | --- |
| Platform | edX | Codecademy |
| Course selection | 3,000 | 60 free courses |
| Community size | 44 million | 45 million |
| Accredited certification programs | No | Yes |
| Available languages | English | English, German, Dutch, Spanish, French, Chinese |
| Instructor interaction | No | Yes |
| Subscription method | Monthly or annual subscription | Program-based or course-based |
| Latest prices | Check latest prices here | Check latest prices here |
Comparing edX and Codecademy eLearning Platforms EdX

Although it isn't aimed exclusively at aspiring IT sector professionals, edX provides more than 300 courses that cover a broad spectrum of programming topics. Hence, you can use this platform to learn python, C++, JavaScript, or other common programming languages.
EdX also hosts a variety of certification programs that cover topics related to front-end development, cybersecurity, or computer science. The platform's selection of courses extends much further than the IT sector since its members can attend business, humanities, or engineering classes.
Harvard and MIT are the platform's founding members, and edX students can attend a wide array of courses provided by these two institutions. In addition, edX collaborates with over a hundred universities and companies, including Google, Meta, Microsoft, and Colombia University.
I prefer the edX platform to Codecademy because it offers a much wider range of learning opportunities.
Key Features
Joining the platform is free
All courses and programs are approved by higher education institutions or companies
Instructors participate in course discussions
Some edX certificates help learners complete studies faster
Students can track their progress on their profile's dashboard
Courses are available for a limited time before they're archived
edX provides classes in several languages
Students can choose from self-paced and instructor-paced courses
Learning Options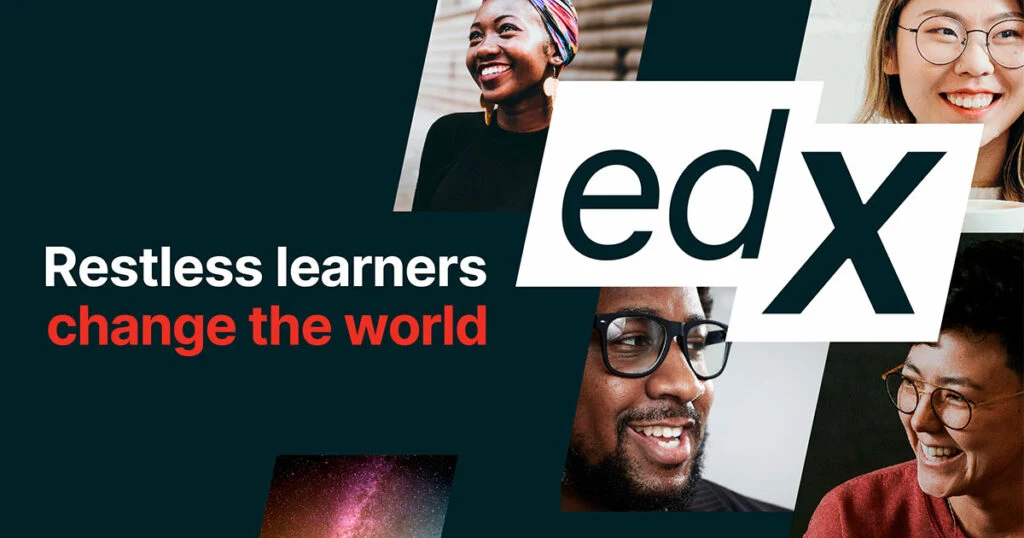 One of the first things that caught my eye when I joined the edX was the size of its course catalog. This platform hosts thousands of classes split into categories like Humanities or Physics.
The majority of programming courses can be found in Computer Programming and Data Analytics & Statistics categories. These categories have topic subcategories such as:
Information Security
Software Testing
Ruby on Rails
Big Data
Python
JavaScript
Image Processing
T-SQL
Web Development
Data Mining
Each subcategory contains courses or programs for beginner, intermediate or advanced students, enabling you to pick the option that best matches your current familiarity level with a specific topic. Moreover, edX hosts a variety of mathematics courses that cover subjects like linear algebra or calculus.
Hence, students can use these classes to prepare for programming courses that require advanced knowledge of mathematics. Also, you can explore more than twenty subject categories if you're not interested in programming.
Class Structures and Instructors
All courses are composed of several modules, and students must attend a certain number of lectures to complete each module. Moreover, learners must submit class assignments to move from one module to another.
Self-paced courses have assignment due dates, but students can change them if they cannot complete the assignment before the deadline. Instructor-paced courses aren't as flexible, and participants must complete all coursework by the due date to obtain the certificate.
Most courses feature several exams students must pass to qualify for the final exam. You'll have to retake the entire module if you fail to pass one of the tests it contains.
Students cannot collaborate with instructors while attending lessons, although they can get answers to their questions from teachers in discussion forums.
EdX course instructors are usually university professors or experienced industry professionals working at institutions that approve the specific online course.
Certification Programs and Career Paths
I attended dozens of standalone courses at edX for free. I couldn't access all learning materials, submit assignments or take exams while auditing the course, but I could attend all lessons and go through the syllabus without any restrictions.
Besides the Audit Track, courses also have a Verified Track version that includes a completion certificate participants can add to their CVs. EdX members can also explore learning options provided by these certification programs:
X-Series programs
MicroMasters programs
Professional certification programs
MicroBachelors programs
Platform's online master's and bachelor's degree programs developed in collaboration with Georgia Tech, Boston University, and other higher education institutions are still in their infancy. Still, you can use these programs to obtain a master's degree in Cybersecurity or Data Science from the comfort of your home.
EdX also provides different certification options to working professionals who'd like to move forward in their careers.
Read also:
Cost and Course Duration
How much time you will need to complete a self-paced edX course is entirely up to you. Most courses have low engagement requirements as students can dedicate only a couple of hours to them every week. The average duration of the platform's standalone courses ranges from a few weeks to a few months.
Certification programs usually last more than six months, although some MicroMasters programs take more than a year to complete.
The prices of edX courses and programs range from $50 to more than $2,000. The platform provides financial support to its students who cannot afford to enroll in a class.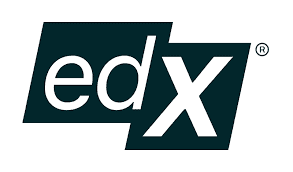 Get critical career skills | Edx
Executive Education courses from top universities offer the skills you need to pivot and expand your career.
Find your course
We earn a commission if you click this link and make a purchase at no additional cost to you.
Codecademy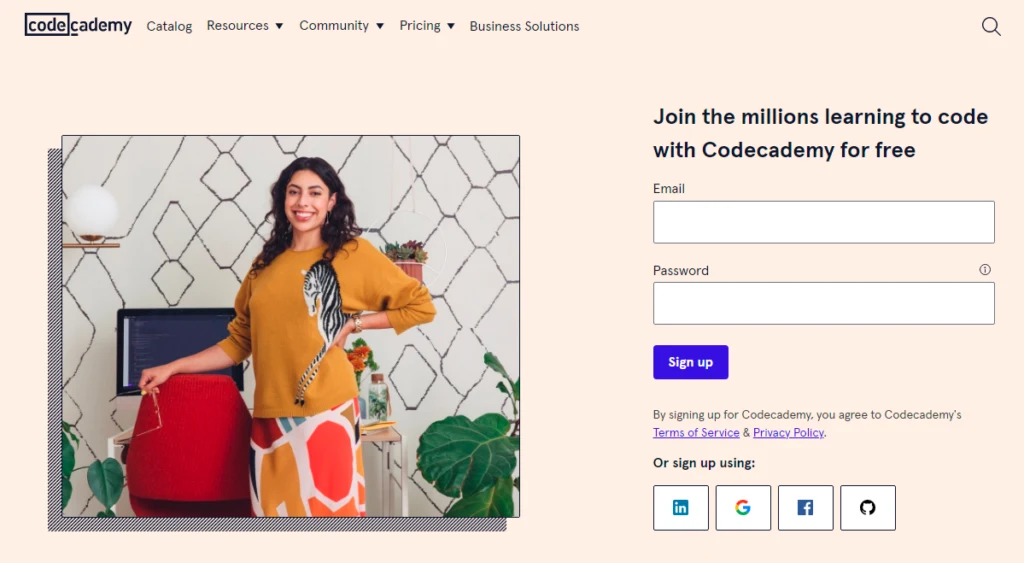 Many of my friends who became successful back-end engineers, data visualization designers, and app developers started their career paths at Codecademy because it allowed them to gain basic coding skills for free.
The platform launched in 2011, and in just three years, it reached 24 million users, partially because it offered an affordable alternative to expensive traditional four-year university programs.
Besides individual courses and career paths, Codecademy also provides bootcamps and workshops that help attendees build their project portfolios and increase their chances of finding employment in the IT sector.
The classes don't have final exams or assignments students must submit before completing a course, and you can decide how much time you want to dedicate to each lesson.
Students don't collaborate with instructors during courses. Still, they have access to a vast library of materials and discussion forums where they can find answers to all questions they may have.
Key Features
New members can join the platform for free
Codecademy hosts a wide array of courses for beginners
Students can learn twelve programming languages
Learners gain practical coding experience during classes
Members are granted a space where they develop new projects
Students can set their learning goals and learning targets
The platform offers courses tailored for businesses
Pro members can use Codecademy to prepare for job interviews
Learning Options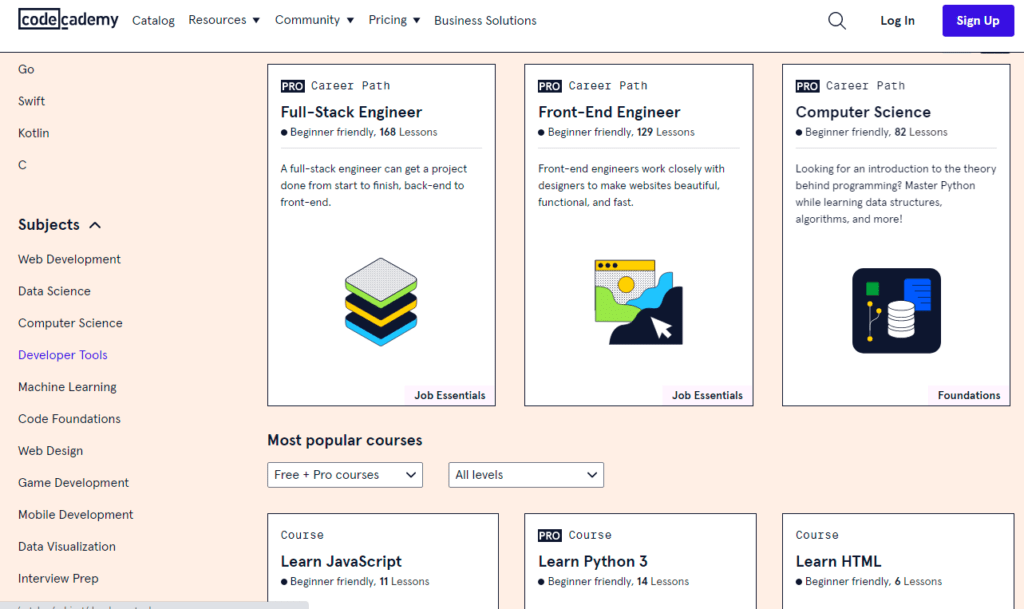 Joining Codecademy's community is free, and you can start your first course in less than ten minutes. The platform is well organized, so I had little trouble finding classes I was interested in or getting answers to my questions on the platform's forums.
The class catalog contains more than thirty subcategories in Subjects and Languages categories. So, you can choose from these options if you'd like to learn a new programming language:
C
R
Bash/Shell
Kotlin
Go/Golang
Python
C#
Ruby
Java
Swift
SQL
C++
HTML & CSS
JavaScript
PHP
The Subject category contains the following subcategories:
Code Functions
Cloud Computing
Data Engineering
Game Development
Computer Science
Machine Learning
Cyber Security
Math
Cloud Computing
AI
Data Analytics
Web Development
DevOps
Data Visualization
Data Science
Mobile Development
Developer Tools
Web Design
Depending on your current knowledge level, you can choose from beginner, intermediate and advanced courses in each category.
Class Structures and Instructors
Codecademy's course creators don't act as instructors, and you can't rely on their help while attending lessons. However, the platform has a Discord channel and numerous forums where you can post questions and find answers to problems you can't solve.
Each class is comprised of multiple modules that contain lessons, quizzes, and projects learners must complete using the course materials. Lessons contain instructions students follow while writing code in the coding panel and have access to cheat sheets that contain answers to each task in a module.
The number of lessons depends on the course, and you can choose a class with only two or more than twenty lessons. Also, you don't have to complete modules in the order they're arranged in the syllabus, and the platform lets you reset your progress if you want to return to a lesson you've already covered.
Certification Programs and Career Paths
The free version of Codecademy gives members limited access to its courses. Moreover, some classes contain only a few free lessons, and you must upgrade to the Pro subscription model in order to complete them.
Furthermore, Codecademy's skill and career paths that can contain more than a hundred lessons are only available for Pro users.
The platform's career paths like iOS Developer or Full-Stack Software Engineer take more than six months to complete, while most skill paths can be completed in a few months. All learners receive a certificate after finishing a track, but these certificates aren't accredited.
Adding a Codecademy certificate to your CV can help you get an IT job, and you can even use the platform to prepare for a job interview.
Cost and Course Duration
The speed at which you go through the course's syllabus is entirely up to you. However, the platform offers time estimates for all its courses, and their duration depends on the number of lessons, quizzes, and projects they contain.
Skill and career paths usually take four to twelve months to complete, but they're only available for Pro Lite and Pro membership owners. Users can choose to pay for these plans monthly or annually, and they cost between $180 and $450 depending on the option you choose.
Opting for the Pro plan will grant you access to career paths and interview preparation classes. Codecademy offers discounts for students, so you can get the platform's annual subscription for less than $150 if you're currently enrolled in a university bachelor's or master's program.
edX vs Codecademy – Pros and Cons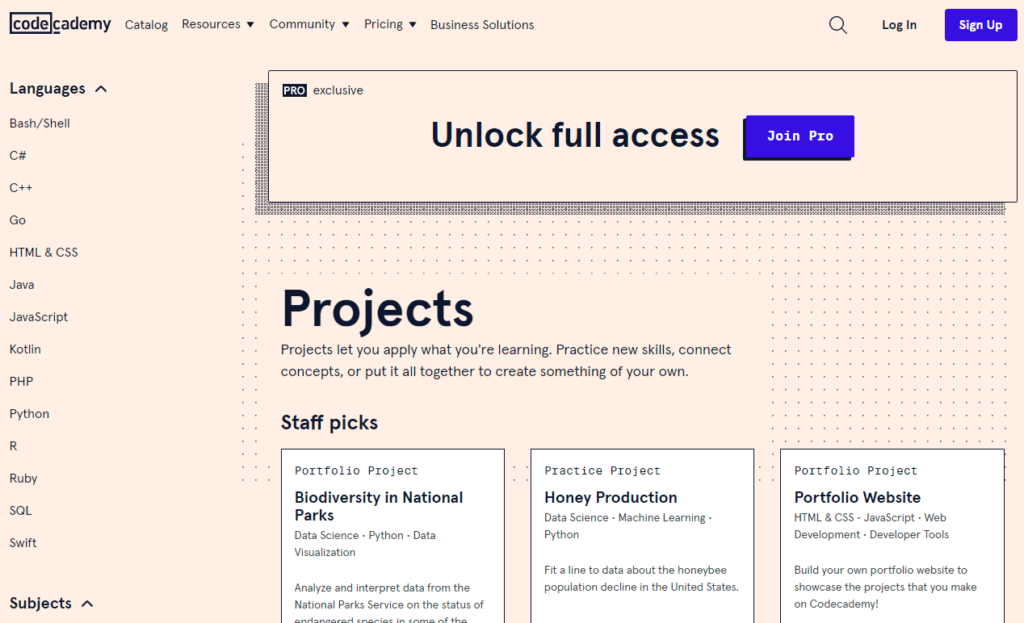 EdX
Pros
The platform maintains high educational standards
EdX certificates are accredited
It offers courses on a wide range of topics
Platform members can access learning materials offline
Cons
Students can only obtain certificates before the course expires
Standalone courses can cost close to $300
Codecademy
Pros
Learners get plenty of coding experience during a course
Tracking the class progress is easy
Students can set learning goals
Course participants are encouraged to develop projects
Cons
It's only suitable for learners interested in programming
The platform crashes often
The Best Alternatives to edX and Codecademy eLearning Platforms
I like testing online learning platforms before deciding to get a monthly subscription or purchase one of their courses. This is how I get better acquainted with the platform's interface, course structures, and certification options.
So, before you decide to start learning at edX or Codecademy, you should explore their alternatives. I've listed several eLearning websites that offer programming courses, so let's look at how they compare to Codecademy and edX platforms.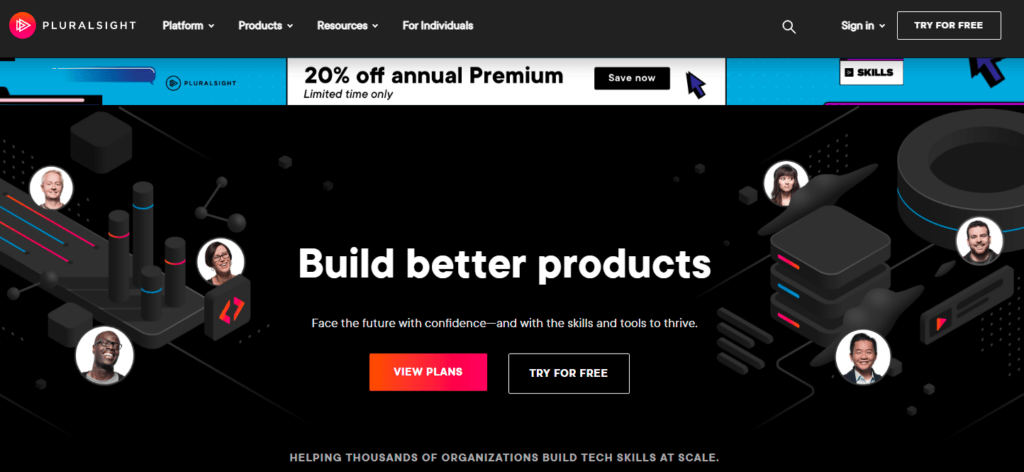 You can use Pluralsight to assess your skills or prepare for a certification test. Courses you can attend on this platform mostly cover IT topics, but you can also choose from business, architecture, or creative industry classes.
Besides offering learning options for individuals, Pluralsight also provides a variety of courses designed for teams. Joining the platform for free isn't an option, and you'll have to choose between Standard and Premium subscription plans to become a member of its community.
Check out our comprehensive edX vs Pluralsight comparison.
FreeCodeCamp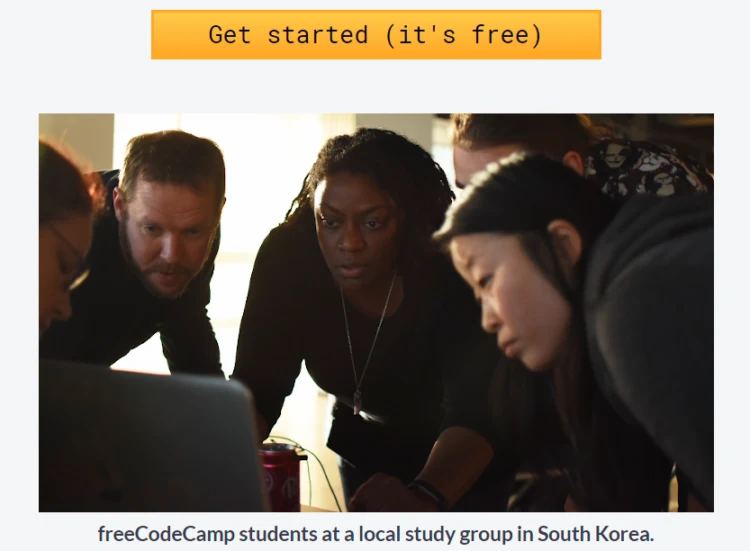 Learning to code at the freeCodeCamp can save you hundreds of dollars on subscription fees. The platform gives its members free access to the entire curriculum, which includes 13 certification programs and over 8,000 tutorials.
While attending the platform's certification programs, participants are encouraged to collaborate and gain experience by building projects for non-profit organizations. You'll have to spend more than 300 hours going through the platform's curriculum and thousands more to complete all exercises.
Brilliant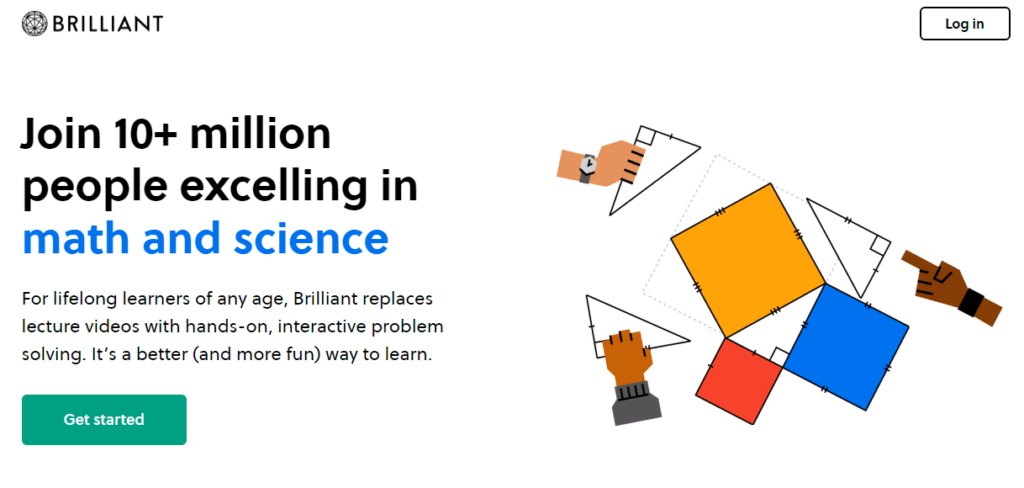 Students, seasoned professionals, or teachers can use the Brilliant platform to approach a new field of study or improve their problem-solving skills. Unlike most eLearning websites, Brilliant doesn't rely heavily on video content.
Instead, its courses are composed of a series of problems you must solve to move through the lesson. The explanation is provided for each problem, allowing you to learn from your own mistakes. Learners must purchase the Premium subscription plan to unlock all platform's features.
Frequently Asked Questions about edX and Codecademy eLearning Platforms
Question: Does Codecademy Host Events?
Answer: Yes, the platform hosts online events open to all its members.
Question: Can I download edX Videos and Lecture Transcripts?
Answer: Yes, students can download all course materials if they want to view them when they don't have Internet access.
Question: What are Codecademy's Code Challenges?
Answer: Code challenges are designed to test your knowledge of a programming language and help you prepare for a job interview.
Final Thoughts
I think that both Codecademy and edX platforms assist their members in obtaining and improving their coding skills. Still, I recommend attending courses at edX and getting one of the platform's certificates because Codecademy's certificates aren't certified.
Also, enrolling in one of the computer or data science courses at edX will give you an opportunity to attend classes led by university teachers with sizeable experience in these fields.
Codecademy, in my opinion, is a great place to learn the basic concepts of different programming languages or practice your coding skills.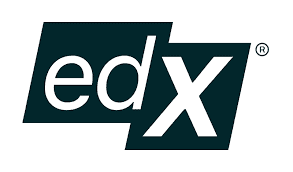 Get critical career skills | Edx
Executive Education courses from top universities offer the skills you need to pivot and expand your career.
Find your course
We earn a commission if you click this link and make a purchase at no additional cost to you.