Latest posts by Jessica Lauren Vine
(see all)
In the battle of LinkedIn Learning vs Udemy, we have to go with LinkedIn Learning. Most people that want to learn don't have time to sift through a bunch of fluff courses. When you use LinkedIn Learning, you don't have to worry about it. However, there will be some people who like Udemy's model better, so you have to see which one works best for your learning style.
See how Linkedin Learning compares to:
You need to brush up on your skills, but you don't have time to waste on a platform that doesn't deliver. In this article, we will compare Linkedin Learning vs Udemy and give you a side-by-side look at the platforms, so you can see which one is the best for your needs.
In a competitive job market, having an extra course under your belt can help you snag the job of your dreams. Or, if you're at a job that you love, you can use your new skills to negotiate for a bigger paycheck.
While there is a lot of free information floating around on the net, online learning platforms make it easy for you to stay on track with your learning journey. Instead of trying to piece what you need to learn together, you can find the perfect course with everything tied together nicely.
The Main Differences Between Linkedin Learning vs Udemy are:
Linkedin Learning is more formal (suits and ties), whereas Udemy is not and has interesting courses outside of the traditional job market
Linkedin Learning has a high standard to publish a course, whereas Udemy does not
Linkedin Learning course certificates offer clout, whereas Udemy certificates might not ring a bell right away
Linkedin Learning only offers monthly subscriptions or yearly subscriptions, whereas Udemy allows you to purchase a la carte
LinkedIn Learning vs Udemy: LinkedIn Overview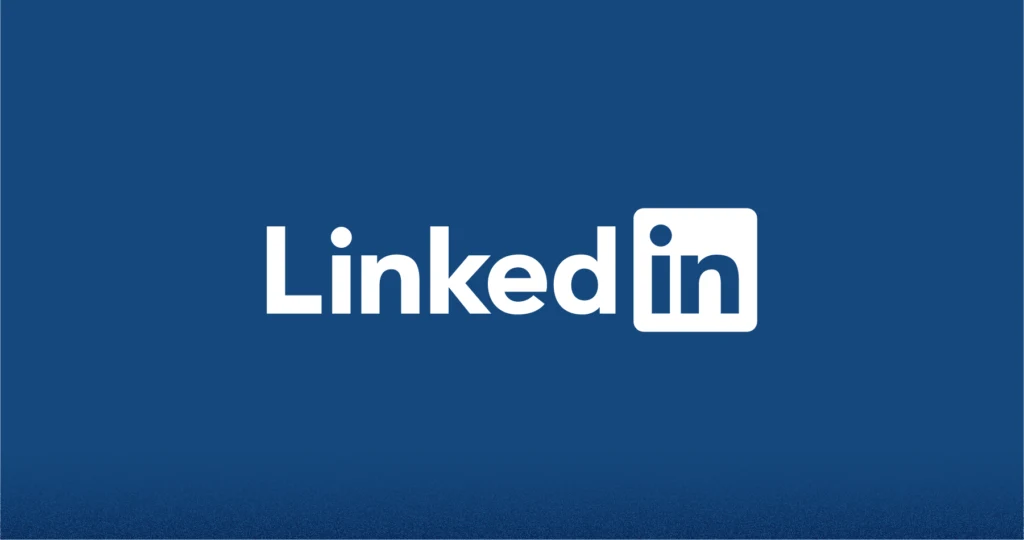 LinkedIn Learning used to be known as Lynda.com. Lynda.com started in 1995, and its purpose was to be online support for Lynda Weinman's books and classes. In 2002, the website began to offer classes to eager learners. As the site grew, it went from 100 courses to 1,000s of courses on various topics.
Fast forward to May 2015, and that's when LinkedIn bought Lynda.com in a deal valued at $1.5 billion. Microsoft bought Lynda.com's parent company LinkedIn in 2016, and in 2017, they merged Lynda.com with LinkedIn to create what we now know today as LinkedIn Learning.
When they launched LinkedIn Learning, they said it was a better way to develop skills and talent. The three pillars they built the platform on was:
World-class content
Data-driven personalization
Ease of access
You can see their vision come to life as you surf through the courses and check out the previews of various new skills you would like to learn.
Quick overview of the main features:
Easy to access from your LinkedIn account
In-depth online courses on almost any topic you can imagine
Simple to search and save courses you have an interest in
Take as many courses as you want for one low price
Ability to contact support if you're stuck and need help
Getting Started & Using LinkedIn Learning
Let's say you're ready to take the leap and get going with LinkedIn Learning. How do you get started?
If you're one of those people that find it hard to pick which course you want to do or find it hard to work on one course, you'll love how LinkedIn Learning is set up.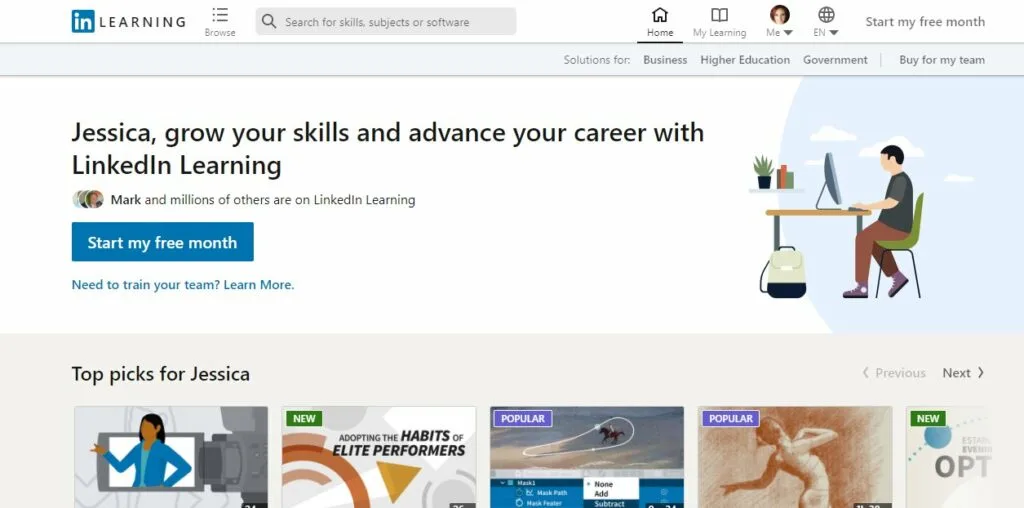 New users can get a free month trial of LinkedIn Learning. When you do this, you'll be able to access all of the courses in the catalog of the platform. If you see some you want to save for later, then you can click the save option and revisit it when you have time. Keep in mind that it is very easy to cancel your subscription before you have to pay if you don't like it.
It's easy to navigate LinkedIn Learning since it's well structured. If you use LinkedIn, you won't feel much of a difference in the experience. It's easy to get to the courses you saved, the ones in progress, and the ones you want to search for. The filters make it extra easy to find exactly what you're looking for.
Course Types
Here's an overview of some of the course types you can expect to find on LinkedIn Learning: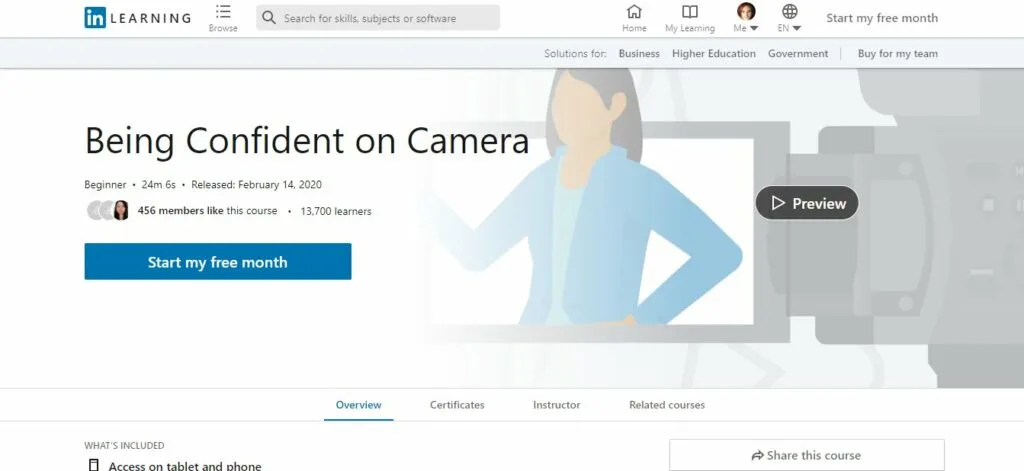 Business
Business Analysis & Strategy
Customer Service
Leadership & Management
Business Software & Tools
Finance & Accounting
Marketing
Career Development
Professional Development
Creative
AEC
Graphic Design
Product and Manufacturing
Visualization & Real-Time
Animation & Illustration
Motion Graphics & VFX
Video
Web Design & UX
Technology
Cloud Computing
DevOps
Data Science
Security
Mobile Development
Software Development
IT Help Desk
Database Management
Web Development
Courses
When you click on a course, it will take you to an introduction video where you'll learn more about that course. Some of the courses have classwork with them, but everything is at your own pace, so you can come and go at any time.
You can scroll down to see more below the video. The next thing you'll see is the instructor and a course details section. You'll also see learning objectives and skills covered, so you'll be able to know if this course covers what you need.
Below the video, there is also a section for questions and answers, a notebook where you can type what you'd like to remember about the course, and there is a transcript for the video so you can read along if you want to.
Teaching Quality
On most of the courses you come across, you'll likely see that LinkedIn Learning has high standards for the quality of people that put content on their platform. The mic quality is good on almost all of the videos, and the people teaching the courses are experts in their field.
Support
If you have a problem, you can usually find an answer in their frequently asked question section. However, if you need more information and help, you can contact support for some additional help.
Pricing
If you don't want to put out hundreds or thousands of dollars for a course, you'll like the way LinkedIn Learning does pricing. After your initial free trial, you'll be able to choose to pay a monthly membership fee or a yearly membership fee.
If you go with the monthly option, you'll pay $29.99 per month. If you decide to pay annually, it will come out to $19.99 per month.
LinkedIn Learning vs Udemy: Udemy Overview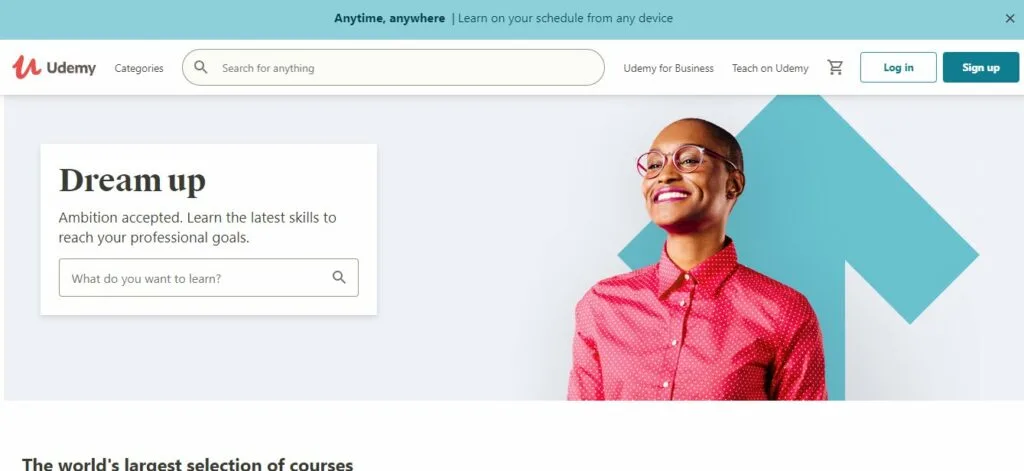 Udemy has been around since 2010 and has a wide array of courses, and it's pretty easy to get on as an instructor. Since it is easy to get on as an instructor, you'll find varying quality when it comes to the courses. Despite this, many people find the online learning platform to be very helpful. In fact, 40 million students love learning on Udemy.
Here's a quick overview of the main features:
Over 100,000 courses on many different topics
Courses in over 65 different languages
Discounts for new students
Easily searchable course catalog
30-day money-back guarantee
Getting Started & Using the Dashboard
It's easy to start with Udemy, but you might get lost in the vacuum of thousands of courses on your topic. Create your free Udemy account by entering your basic information, and then it's time to search for the perfect program.
You can easily search for anything in the search bar, but the categories are also helpful. Navigate through until you find the perfect search term or category, and then it's simple to see which courses are winners and which are losers because of the star ratings.
Course Types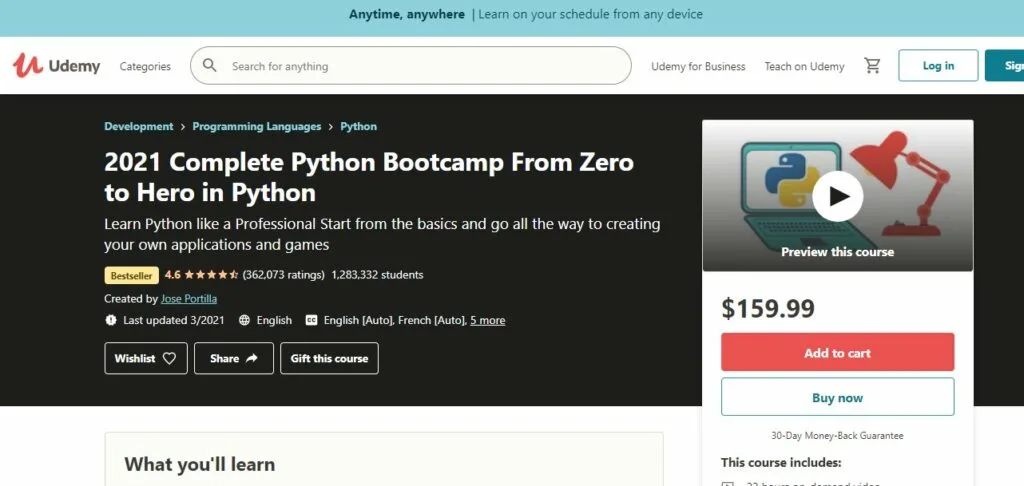 Here's an overview of the courses Udemy has to offer:
Development
Web Development
Data Science
Mobile Development
Programming Languages
Game Development
Software Testing
No-Code Development
Business
Communications
Management
Sales
Business Strategy
Operations
Industry
Media
Real Estate
Finance & Accounting
Accounting & Bookkeeping
Compliance
Finance
Investing & Trading
Money Management Tools
Taxes
Economics
Personal Development
Personal Transformation
Personal Productivity
Happiness
Parenting & Relationships
Influence
Self Esteem & Confidence
Stress Management
Memory & Study Skills
And there are many more options as well, but these are some of the most popular categories.
Courses
When you click on a course, it brings up a page with details as well as a video section that allows you to preview the course.
You'll see details like how long the video part of the course is, the number of articles included, any exercises or work you need to do, where you can access it, and whether you get a certificate at the end or not.
You can also add the course to your wishlist, share it, or even gift it to someone.
Teaching Quality
Unlike LinkedIn Learning, Udemy doesn't make it as difficult to get on their platform. Udemy doesn't approve courses on their platform, but they do require the instructor to prove their identity. When it comes to teaching quality, it's all over the board. If you find a teacher you like—stick with them.
Most of the videos you see and audio you hear are pretty good, but there are quite a few that try to skimp on that part of things.
Support
If you look at the questions and answers part of most Udemy courses, you might see a ghost town. Even if someone does ask a question, it's not likely there is a reply. On the other hand, you can contact support pretty easily if you need help with something on the Udemy website.
Pricing
Some people that use Udemy say their pricing model is a little confusing and frustrating. When you first visit the site and don't have an account, you'll see a lot of messaging about low-priced courses of around $12.99. After you buy your first course, you'll likely see much higher pricing for additional courses.
There are some coupons available, and you might notice sales on the courses from time to time. Despite some people complaining about the pricing on Udemy, most people agree the higher-priced courses are worth it.
Course Content & Teaching Quality
LinkedIn Learning courses are high-quality courses from experts. Since their LinkedIn profiles are connected to their courses, it is easy to see who they are. On the other hand, with Udemy, you have to research the instructor to ensure what their bio says is on-point. In fact, many people go to LinkedIn to see who the course instructor truly is by looking for recommendations on their profile.
Ease of Use/Navigation
Ease of use and navigation goes to LinkedIn Learning. It's easy to find the courses you want, and when you do take a break, it's easy to get right back into them.
Pricing
For people that only want one course, Udemy is the option that gives the most value. However, for those of you, that really love learning—stick to LinkedIn Learning.
Support
Both Udemy and LinkedIn learning seem to have similar customer support ratings. When it comes to the questions and answers sections of the courses, it looks like LinkedIn Learning takes the cake.
LinkedIn Learning vs Udemy Frequently Asked Questions
Question: Will I save money buying a la carte on Udemy vs buying a membership on LinkedIn Learning?
Answer: Students that want to take a lot of classes won't save money buying on Udemy. After the first course, students have to pay full price, and if you're a lover of learning, this might eat into your wallet. If there is only one course you want, then Udemy might make more sense for you.
Question: Does LinkedIn Learning or Udemy have the most effective learning platform
Answer: LinkedIn Learning takes a much more curated approach, so if you don't want to take time to search, this is the most effective learning platform. However, if you don't mind searching, you will find some good courses on Udemy.
Question: Can I use courses from LinkedIn Learning or Udemy as credits?
Answer: Make sure to check with your education advisor, but many people use these courses for credits toward maintaining certification or license granted by a third party.
Question: Is it easy to cancel my subscription on LinkedIn Learning?
Answer: You can easily cancel your subscription by going to your account page and clicking the cancel button.
Question: Can I get my money back on a Udemy course?
Answer: Yes. Udemy courses have a 30-day money-back guarantee.