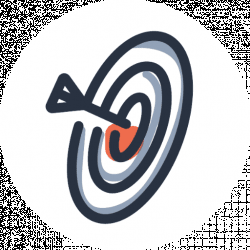 Latest posts by Online Course Rater Team
(see all)
Whether you're totally new to Japanese, want to refresh your knowledge or need to get ready for the Japanese Language Proficiency Test (JLPT), there are hundreds of apps for Android and ioS devices out there to help you.
It's important to remember that no matter your skill level, you're going to want to have more than one app if you're serious about studying Japanese. While there are good comprehensive apps out there, they may not be able to offer the approach that works best for you when it comes to memorizing vocabulary or familiarizing yourself with kanji.
There are as many different apps as there are ways to study Japanese, and some aspects of the language may require extra attention that warrants using another app or using it in combination with a course you like.
This article breaks down the best apps for learning hiragana and katakana, kanji, general vocabulary and grammar to help you find the app that's best for you.
Comprehensive study
If you're looking to get going quickly or you just want to see if the language is something for you before you really immerse yourself in its specifics, try a lesson.
In a Japanese lesson, a real human being teaches you phrases, pronunciation and sometimes even kanji in an easily digestible format. These lessons can come as podcasts or videos, which has the unbeatable advantage that you can pause or rewind them whenever you need.
JapanesePod101.com
Website with paid and free content (registration required), YouTube channel, free/paid Android/ioS app
JapanesePod101.com is one of the best resources in recent years, but it comes in so many different forms it's slightly hard to keep track of.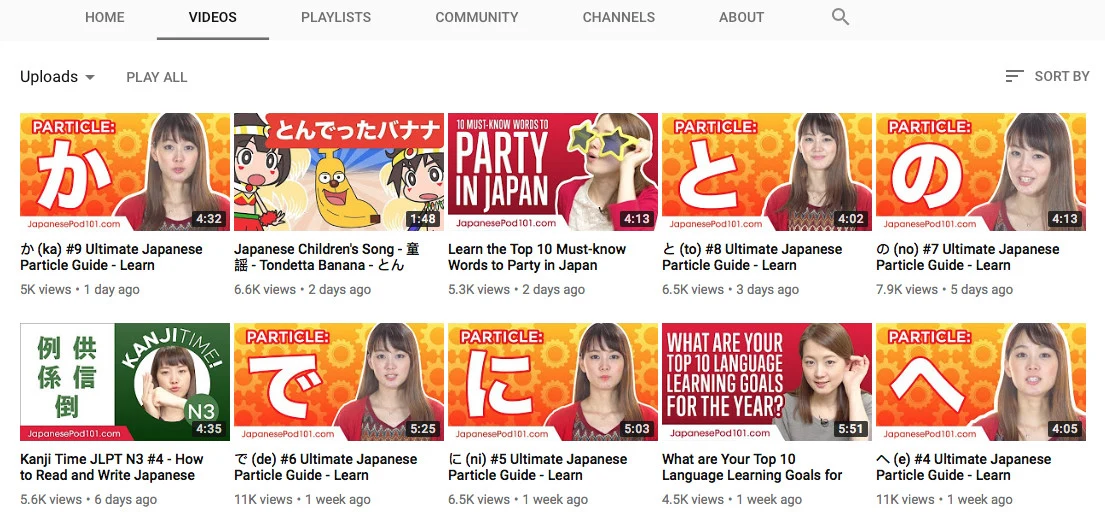 First of all, there is JapanesePod101's totally free YouTube channel. It hosts a wealth a lessons from basic phrases to vocabulary lists for different real-life situations. Not only is it all taught by Japanese people, the lessons also teach you a lot about Japanese culture.
The channel uploads new videos every Tuesday and Friday. Its most popular language learning content, such as the Introduction to Japanese, is easily accessible from its YouTube front page.
The show hosts are likable and the speed of the lessons is easy to follow, especially for those that feature both an English and a Japanese host. Some Japanese hosts can be a bit difficult to understand if you are not used to how English sounds when spoken by a Japanese person.
Since the YouTube account is meant to get you to sign up for an account at JapanesePod101.com, some videos are cut together from many smaller lessons on the website, such as the pronunciation guide. If you don't mind stopping a video in the middle and going back to it later this won't be much of a problem, but it's purposefully not as comfortable as it could be.
JapanesePod101.com has a vast amount of content that you can study with at your own pace and according to your skill level. Audio lessons and vocabulary lists have different subjects. These include the classics like Japanese food and tourist destinations, but also interesting topics other lessons aimed at a general audience don't go into, such as Japanese history or contemporary musicians.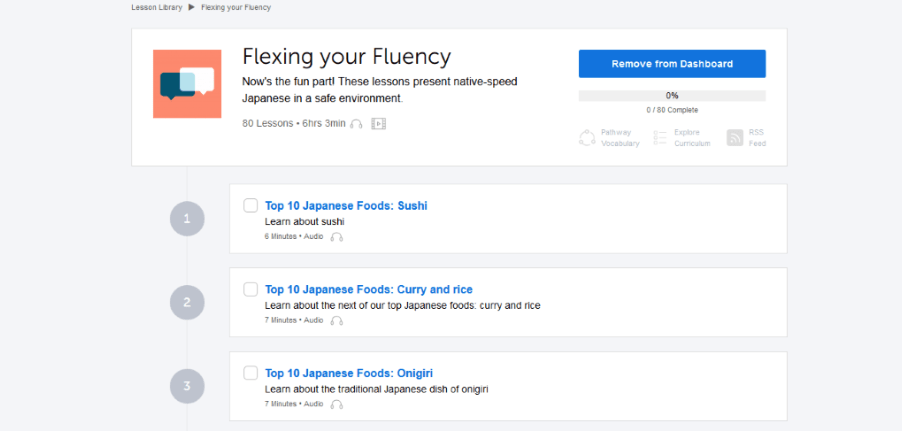 The website looks nice but takes some time getting used to, as lessons don't seem to be sorted in any particular order, which makes it difficult to search for specific content, for example, a vocabulary list that could go with the audio lesson you just studied.
Signing up at JapanesePod101.com is free, when you sign up you are automatically part of a 7-day premium trial which expires with no additional cost. Since JapanesePod101.com isn't very transparent about how much of its content is behind a paywall, you can either use its free resources in combination with other apps for sign up for its introductory $1 offer. You can find a full breakdown of all features available with the different payment plans here, but remember the free content on YouTube and the site itself is massive and might serve you just as well.
The app is available on ioS and Android and fully unlocks to premium users of the site, but it's dedicated to not just Japanese, but many other languages, which makes it no better than comparable products such as Babbel.
| | |
| --- | --- |
| Pros | Cons |
| Lots of different content | More geared towards casual study |
| Ideal for beginners | Not many ways to check progress |
| Teaches you about many Japan-related topics | Website a bit confusing to navigate |
NHK Easy Japanese
Website, free, no registration required
NHK, Japan's national public broadcaster, is very dedicated to teaching beginners Japanese in an easy, accessible way. On NHK World's official website you'll find its long-time series Easy Japanese, which gets updated for different audiences throughout the years.
The current incarnation of Easy Japanese encompasses 48 lessons; each lesson focuses on a simple phrase or an everyday situation. Lessons begin with a short audio conversation, script included. The story follows Anna, an international student from Thailand, who learns to navigate Japan through different social situations.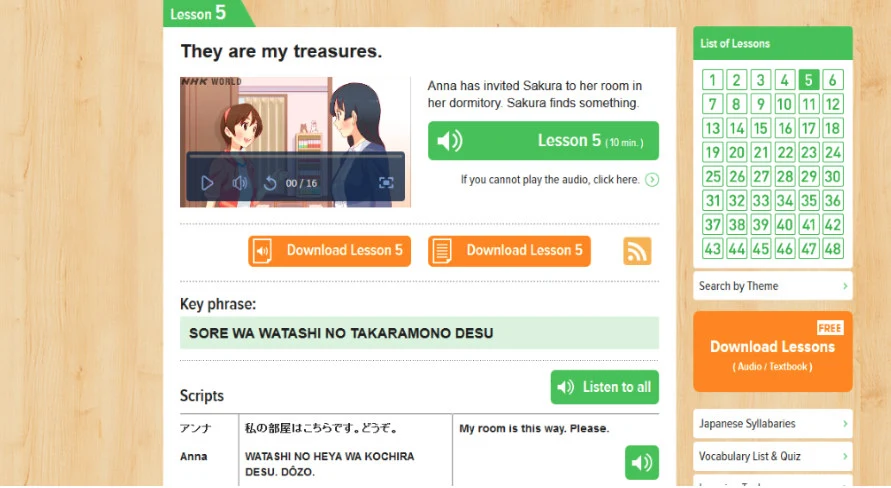 The lessons also include short grammar points that come up in the conversations. For those for want to keep studying on after these bite-sized lessons, there is also a materials section that includes downloadable exercises and language learning articles.
The lessons are comprehensive enough to take you from absolute beginner to lower intermediate at a comfortable speed. Since all lessons are taught through conversations and supplementary materials, it can be a lot more enjoyable to listen to for some than just having a teacher talk you through an entire video. In addition to this, stories with recurring characters make it easier to remember situational phrases.
The only downside to such audio lessons is of course that they can't make writing any easier – you may be able to put certain words together after having seen them again and again, but these lessons can't provide the constant repetition necessary to really remember hiragana and katakana, for example.
The NHK website is also your best option for accessing the lessons in their entirety. While all materials are downloadable, it's difficult to have the whole experience on the go since there is no dedicated app. The website is however optimized for mobile devices.
Some independent app designers not officially affiliated with NHK have put together apps of this and previous versions of Easy Japanese, such as an app called Study Japanese NHK for Android, which uses the stories of Cuong, a man from Vietnam starting a job in Japan.
Such apps can be a useful alternative, but since they don't come from authoritative sources, the content may contain errors. NHK World's own app isn't a viable option, however, as it is a mere podcast app which unfortunately doesn't run well and which doesn't contain the full list of programs available on the website.
If you aren't looking for strictly mobile options and are happy with learning at your PC or a device with a bigger screen such as a tablet, NHK Easy Japanese is still a good overall option.
| | |
| --- | --- |
| Pros | Cons |
| Immerses you in natural Japanese | School setting of the stories not applicable to every target group |
| Thorough lessons including reading, listening and many explanations | No mobile app |
| Good for beginners up to lower intermediate learners | |
Human Japanese
Free/paid Android/ioS app, $9.99
We believe that the approach that many popular language learning apps such as DuoLingo or Memrise take is not enough to really get into the intricacies of a language. If you really want to immerse yourself, try an app that explains things thoroughly, try Human Japanese.
Human Japanese is like a textbook for your pocket. Yes, there will be a lot to read, but there is no shortcut to true mastery and the simple explanations and extensive reviews Human Japanese comes with are worth it.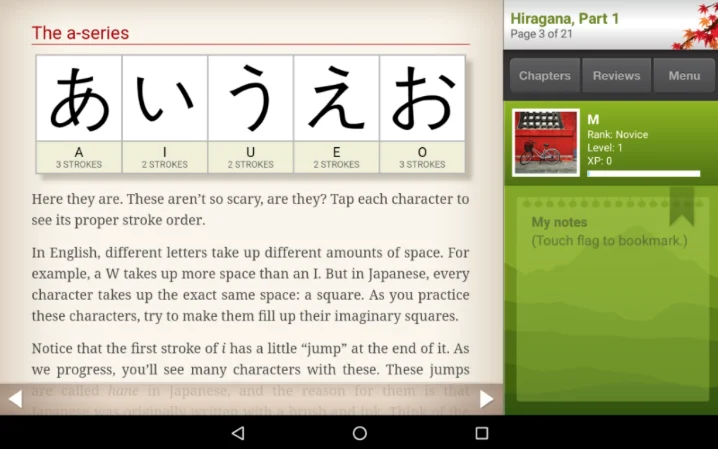 The app comes in two versions: a free lite version and the full version. Human Japanese Lite includes 8 out of a total of 45 lessons, enough to learn hiragana and katakana and a few basics like greetings, and some beginner words.
8 lessons are enough to decide whether or not you would like to invest in the full version, which costs $9.99. This may seem like a lot for an app, but it is as previously mentioned much more exhaustive than its free counterparts, and that work has its price. Look at the prices of a Japanese textbook such as Genki and you may appreciate the value Human Japanese offers.
If you really want to learn about Japan and don't mind the absolute glacial pace (kanji aren't introduced until lesson 42, for example), Human Japanese comes highly recommended, as it won't leave you with any questions in regards to often overlooked aspects of the language such as proper explanations of frequently misunderstood grammatical points and the correct usage of words, rather than just giving you a list to look at.
At the moment Human Japanese has 3 offerings – The beginner textbook (Called "Human Japanese"), an intermediate textbook ("Human Japanese Intermediate") and the newest "Satori Reader" which adjusts the text to match your knowledge of Kanji. The Satori reader is the closest thing to Human Japanese Advanced that is currently available.
| | |
| --- | --- |
| Pros | Cons |
| Very expansive explanations | Lots of English with few Japanese examples |
| Effective review process | Pacing very slow |
| | Little content to the app's free version |
Obenkyo
Android app
Obenkyo is an intensive study app for everyone. Whether you're a beginner or studying for a high-level JLPT, Obenkyo will let you study everything from your first hiragana to advanced kanji.
It does this by combing content and structures from several sources – its vocabulary study system looks like that used by the Tsukiji app and its experimental grammar is a copy of TaeKim's fantastic resources, but it's still nice to have everything in one place.
Every category gives you multiple options on how to study; you can for example study vocabulary from English to Japanese and vice versa or choose between drawing kanji and taking multiple choice quizzes.
The only blemish is Obenkyo's user interface, which could do with some serious work to make it easier to navigate and a few spell checks. Since the app looks pretty cramped, we recommend using it on a tablet rather than a smartphone, especially if you want to use its grammar sections.
If you aren't bothered by the look and are looking for a completely free app on Android that you can just cram with, Obenkyo is your best choice.
| | |
| --- | --- |
| Pros | Cons |
| Lots of different functionalities | Interface looks cramped |
| Completely free | Needs spell-checking |
| Content for all levels of proficiency | |
Kanji & Vocabulary
Apps and study websites that track your progress are great at providing the constant repetition needed to finally remember kanji. Since drilling is the kind of study activity that works even when doing only a few minutes here and there, these apps come with short lessons that are easy to complete wherever you and whenever you can find the time.
WaniKani
Website with free and paid content, free Android/ioS third-party apps
WaniKani ("crocodile crab", lovingly called "Crabigator" throughout the site) is a kanji and vocabulary study website that according to its developers uses a "homebrew of radicals, mnemonics, spaced repetition system, and a kanji ordering" to make sure you really remember kanji this time. Honestly. Not only that, but WaniKani claims to be able to teach you 1,700 kanji and 5000 words of vocabulary between one and two years.
At first, that doesn't sound particularly awe-inspiring, but it is this honest estimate that makes WaniKani a reliable source. One to two years to really memorize kanji is a rather short time, but it a realistic estimate, much more so than claiming that you can learn everything there is to know about Japanese in 4 weeks or less.
Overall WaniKani is a really beautiful, clean-looking website that aims at teaching you all those kanji in 50 levels, each split in a number of lessons. The first three levels are free; afterward, there are different payment tiers you can join, from a monthly membership to a lifetime access lump sum.
There is currently no official app, but the developers offer the site's public API to app developers, which has so far lead to a well-functioning Android app and an ioS app that could use a bit of work.
Unlike many apps and websites, WaniKani doesn't use a multiple-choice format and forces you to type down your answer. This way you can't rely on guesswork. It also means the approach this website takes by mixing different studying strategies is not intuitive.
There is a comprehensive guide on how it all works and why you have to take your time if you really want to learn something properly, but using WaniKani can be a bit confusing, as it asks you to study the radicals and their meaning first before showing you the kanji that use them, thus it takes time until you actually read a word out loud.
With a lot of free alternatives out there, whether you want to choose WaniKani or not really depends on how well its method works for you. If you are serious and committed it can be a good investment, but if you are one of the few lucky souls who take to kanji naturally or someone who just wants to study Japanese casually and doesn't mind if it takes longer, this method may seem like overkill.
| | |
| --- | --- |
| Pros | Cons |
| Unique kanji study method | Pricey payment plans |
| Clearly developed by people with a passion for studying languages | Initially confusing to navigate |
| Provides ideal pacing to make sure kanji are remembered | |
Japanese Kanji Study
Android/ioS app, free, full version
Japanese Kanji Study combines the best of three worlds by enabling you to study using flashcards, multiple choice quizzes and writing challenges to learn hiragana, katakana, and over 2000 kanji, with only one additional advanced proficiency, set hidden behind a paywall.
Japanese Kanji Study is easy and quick to use – there is a short tutorial for each step and before you know it you're memorizing and drawing kanji. Each kanji also includes ample info such as its stroke count as well as reading examples.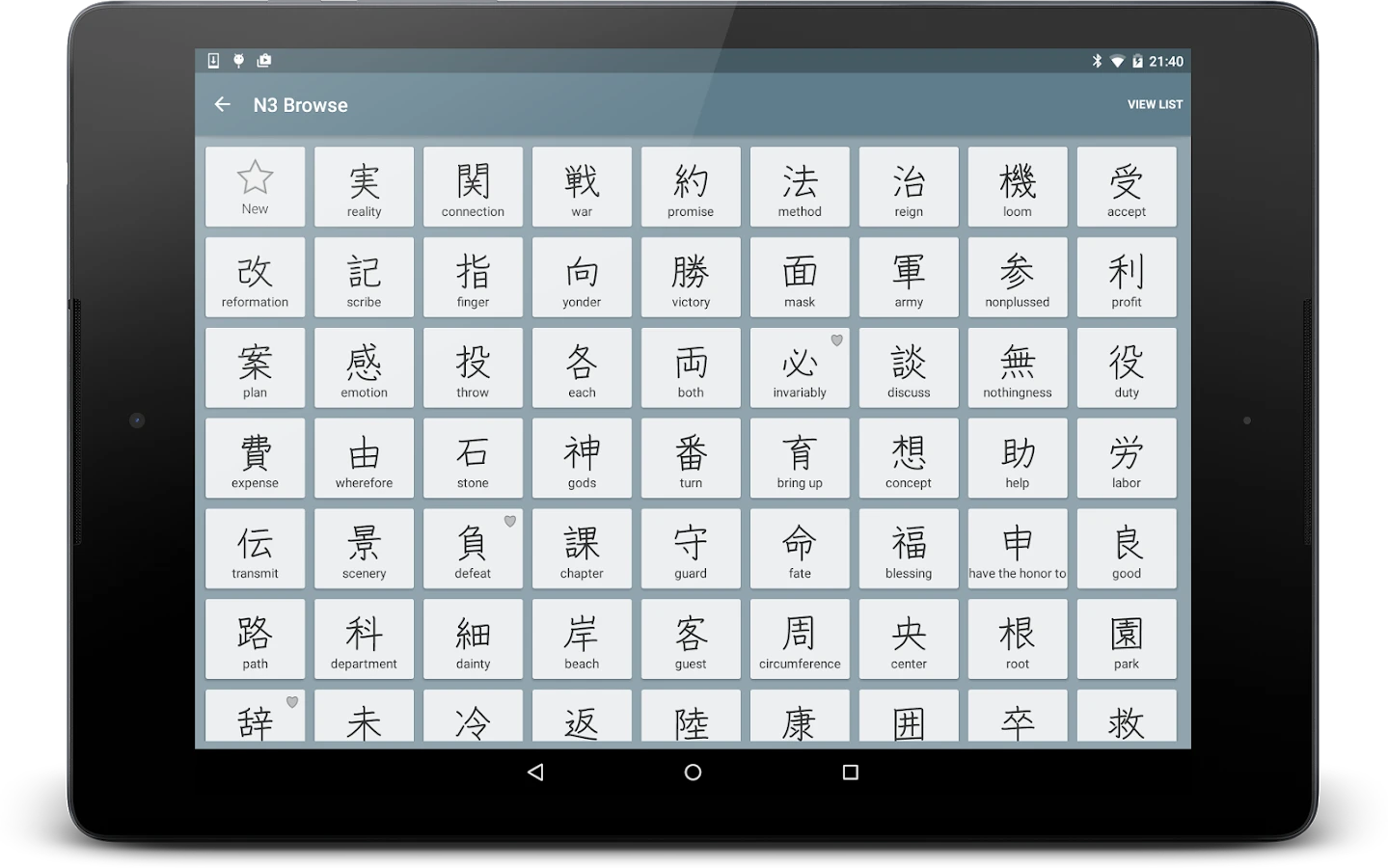 Tapping a kanji each time to see all of this info in one place can be a bit cumbersome, and the app really focuses on individual kanji rather than teaching you vocabulary, but it is still a very good option to firmly grasp the basics.
You can set yourself daily target times and reminder notifications and study as many kanji in one setting as you like. This means that unlike WaniKani for example, no one is pacing you but yourself, so you'll have to be honest about your progress, especially since the quizzes don't track it for you. You have to rank your kanji knowledge yourself since the quizzes only determine your accuracy, not how often you may have to repeat certain words.
Every quiz can be customized to make it easier or more difficult, for example by showing hints, giving you more time to answer or taking away the readings and meanings of kanji. This, as well as its sheer volume, makes Japanese Kanji Study a great one size fits all app for serious kanji study.
| | |
| --- | --- |
| Pros | Cons |
| Lots of info on each individual kanji | Quizzes don't track progress |
| Many study options | |
| Short tutorial on each feature | |
Tsukiji
Android app, free
Tsukiji has the same advantages Japanese Kanji Study has, such as several ways to practice and a long list of words to study, but it may be a serious alternative for KS to those who want vocabulary to be more easily accessible.
In Tsukiji, additional vocabulary is not just a part of each kanji, which can feel like a bit of an afterthought, but its own section. Creating custom groups of words is another free feature, which you can use to make your own themed vocabulary and kanji lists.
In addition to this, you can study radicals, sorted by the number of strokes. If you are looking to prepare specifically for a JLPT, Tsukiji is also the better choice, as it hasn't grouped kanji in sections from elementary to advanced, but goes by the official lists of words you should know for each proficiency level.
While similarly easy to navigate, Tsukiji also looks cleaner than many kanji apps, is slightly more intuitive to use and comes with a backup feature, which can make it more enjoyable especially for long-term users.
| | |
| --- | --- |
| Pros | Cons |
| Clean user interface | Only available for Android |
| Separate sections for kanji radicals and vocabulary | |
| Feature to create custom word group available | |
Grammar
Studying grammar with an app is difficult since you need a lot of focus and context in order to avoid mistakes. That's why best an app can do, besides giving you small quizzes, is acting as a replacement for lunging an actual grammar book around.
Tae Kim's Guide to Learning Japanese
Website, free third-party Android/ioS app
This app has no study section; it is literally just a handy copy of the grammar guide you can find on the website Tae Kim's Guide to Learning Japanese.
Tae Kim is the patron saint of many college students studying Japanese and his expansive, easily understandable guide has helped people study Japanese for many years. While having just the grammar guide as an app is a valuable resource for all those who just want to quickly check something, the website has additional resources and translated versions of the guide into languages besides English that make it worth a visit.
Japanese Grammar Guide
Android app, free
Rather than extensive lessons like Tae Kim, this one has short example heavy sections for each grammar point and a short test you can take.
Without additional explanations, the difference between some grammar structures isn't always clear, but it's definitely a good enough app for some quick study, especially for beginner and lower intermediate-level grammar that is easy to grasp.
Genki Conjugation Cards
ioS app, $5.99
Based on the Genki textbooks for beginners, its publisher JapanTimes released three apps for kanji and vocabulary study, as well as conjugation.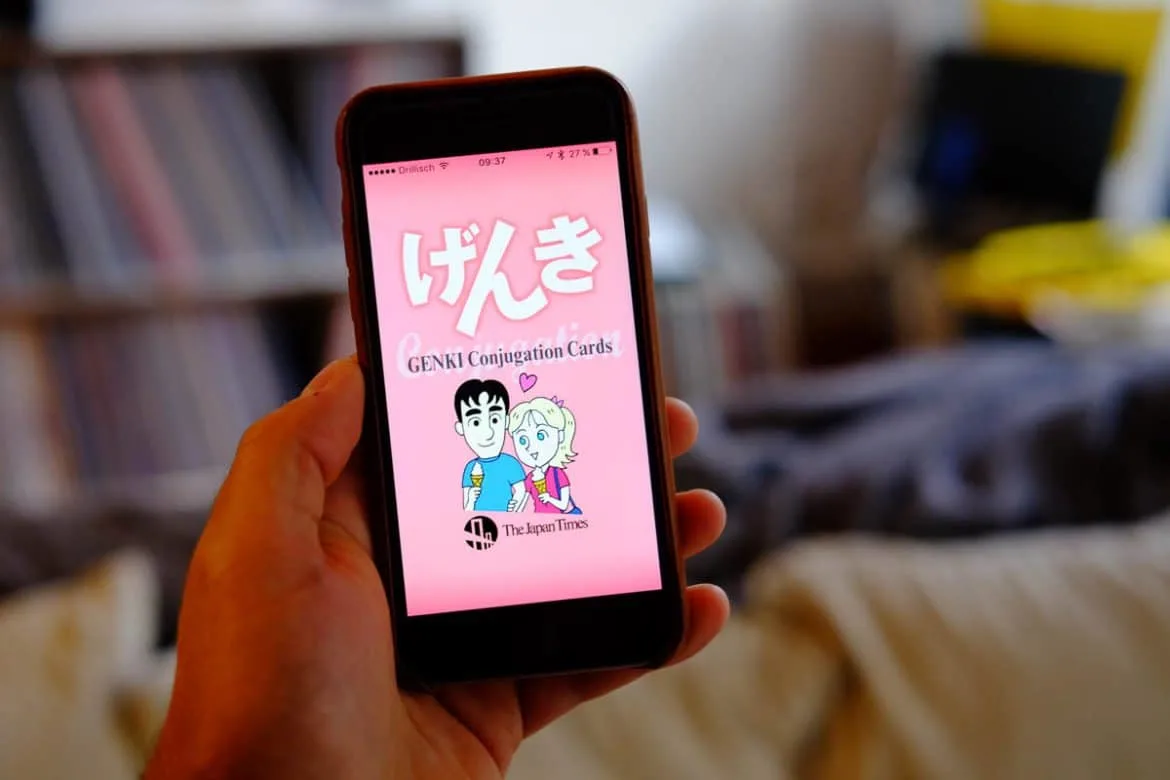 This app uses a flashcard system to help users memorize the different conjugation types and tracks your progress. You memorize these rules not just by looking at the individual verbs and their conjugation but can also test yourself by typing the correct forms.
Each verb also comes with a sound file pronouncing the verb and its forms and an explanation behind the conjugation. Since verb conjugation is an essential part of speaking Japanese correctly, this app is a great companion for serious beginner study, whether that's self-teaching or college study. It comes with all the info you could need in an easily digestible format and is verified by the team of experts behind the Genki textbooks, a staple at colleges worldwide.
In addition to that, while the app only focuses on one, albeit important aspect of grammar, the price of $5.99 is fair for the features you receive, and so Genki Conjugation Cards can safely be recommended as an aid for students studying with a specific problem.
| | |
| --- | --- |
| Pros | Cons |
| Clean user interface | Only available for Android |
| Separate sections for kanji radicals and vocabulary | |
| Feature to create custom word group available | |
Reading
Reading Japanese is where it all comes together, and so regular practice in this regard is indispensable to check whether or not all that cramming has actually paid off. The apps introduced here play an important role in this because they assist students in reading natural Japanese using the methods we otherwise appreciate in textbooks, such as supplying furigana.
NHK Easy Japanese News/Japanese News Reader
Android app, ioS version announced
Developer Aovill has worked on a number of reading apps using official content by Japan's public broadcaster NHK, among them the Easy Japanese News app, the Japanese News Reader meant for advanced readers and a video news app with furigana.
The concept is simple: Simplified versions of some news items of the day are released on the app, complete with a video clip of the news as they appeared on Japanese TV.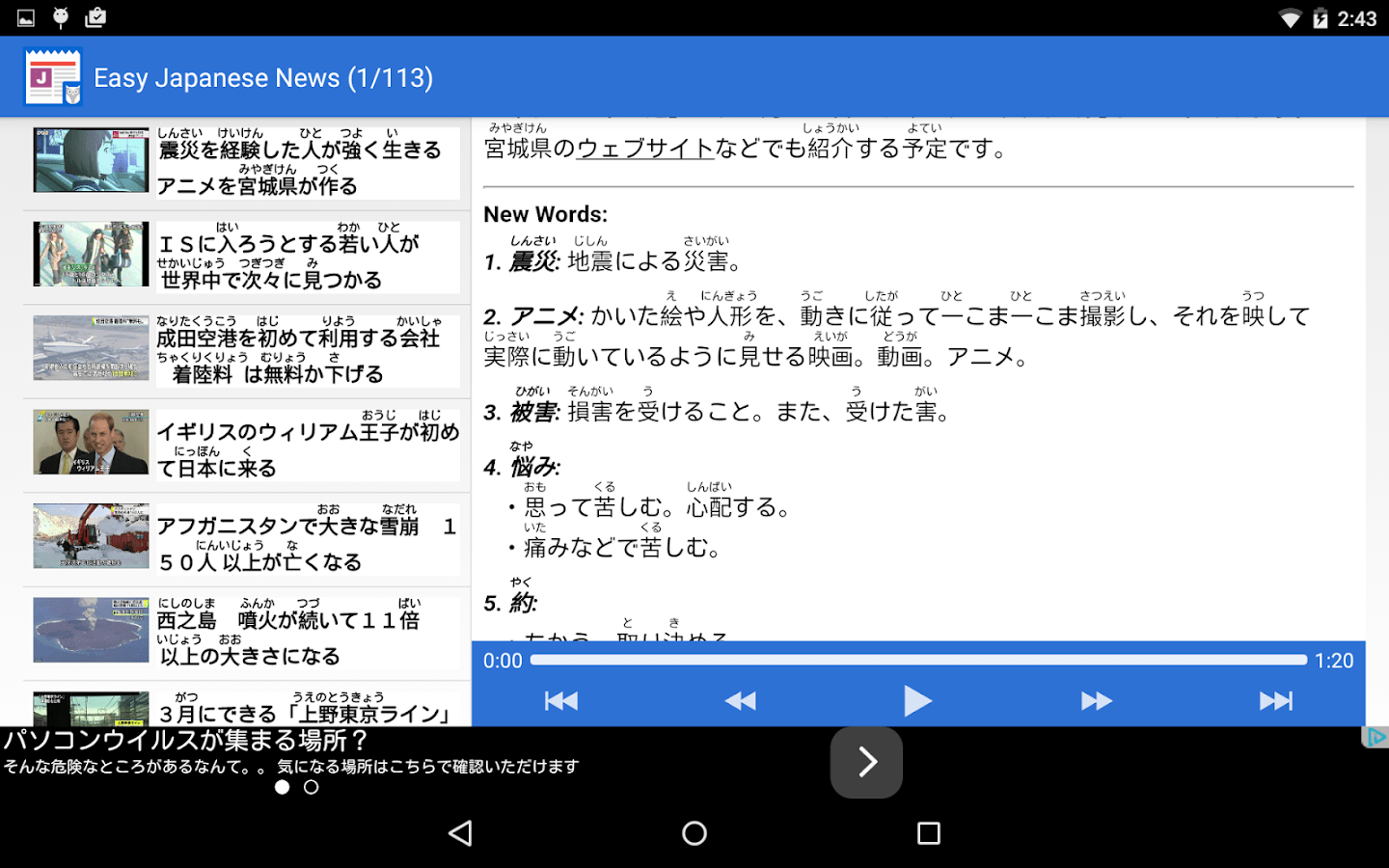 The clip is rarely longer than a few seconds, so the texts are short and make for some quick and easy reading on the go. All kanji come with furigana, additionally, some words are highlighted that can be deemed new, essential to understanding the topic or relatively rare. You can then either use the Japanese explanation at the bottom or look the words up by tapping them; the app will then connect you to an English dictionary meant for Japanese speakers.
Since it's light on explanations, the NHK Easy Japanese News app may be the ideal thing to get you out of your comfort zone. In a way what makes the app annoying to use, like the fact that you have to wait for an unwieldy dictionary to load if you want to look up the English meaning of a word, is a blessing in disguise, as it actively discourages looking up words unless you really need to.
It's probably slight downside to textbook reading for some that reading Japanese news is not particularly exciting most of the time – at a glance, this week's news includes a struggling vegetable shipping company, the figure Yuzuru Hanyu's appearance at a foreign correspondence event and an update on the organization of the 2020 Tokyo Olympics. Japanese News reader 2, a separate app aimed at more proficient readers, lets you pick news from different categories such as culture, politics, or international news, but let's be honest, reading formal Japanese can be a bit dry.
While better versions of the same thing have come out over the years (see below), these apps are still a good bet for those who want to resist the temptation of looking too many things up or who simply don't need a lot of features.
| | |
| --- | --- |
| Pros | Cons |
| Many texts to study | May still be difficult to beginners due to little help given |
| Updated daily | Only available on Android |
Easy Japanese News/Easy Japanese with News
Android/ioS app, free, ad-free version available for $1.89
Easy Japanese News, called Easy Japanese with News on the App Store, adds important aspects to the NHK reader app mentioned above: while both work on exactly the same principle, a video and a text with some words you can look up, EJN uses a vastly better dictionary with faster loading times, a few examples for each word and a way to learn similar and component words.
Additionally, you will no longer have to install an extra app if you want to work with more advanced texts, this app uses that NHK content as well.
If you want to check your progress via a few reading comprehension tests, Easy Japanese News can give you that, too. There are a whole of four timed test for every JLPT level available.
| | |
| --- | --- |
| Pros | |
| Combines texts for beginners and advanced readers | |
| Great dictionary | |
| Small test feature | |
The best Japanese apps
While finding the best Japanese language study app for you depends on a number of considerations, such as what features you are looking for and not rarely how much money you are willing to spend for the full experience, based on this article we have put a definite list of recommendations together.
The apps below are bursting with features, are easy to use and generally meant for all students of Japanese, regardless of their current level.
As long as you remember that these apps are merely meant to support different aspects of language study and that a one size fits all approach is rare since each and every one of us needs a different approach to learning and is better at some things than others, a combination of these apps should prove useful to you.
Recommended Reads: