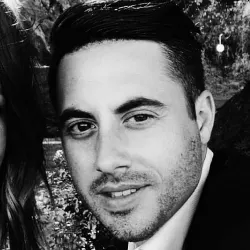 Latest posts by David Borgogni
(see all)
Today we'll be taking a look at two of the biggest and best online language learning tools out there at the moment, Busuu vs Babbel.
Learning a new language is more than just a lot of fun – it can also help sell you to prospective employers. Language skills are really useful to have, and employers will leap at the opportunity to hear all about your additional skills.
Even out of the office, learning a new language before heading out on a holiday can be a great way of getting to grips with your destination country.
In our busy modern lifestyles, going to a language class can be tricky though, so you might want to consider a digital learning opportunity. But where on earth do you start? There are so many apps, websites, and language learning platforms out there that it can be daunting.
So which one is right for you based on what you want to learn, your budget, and how much time can you invest into it?
For starters, you can have a look at our previous article about how to choose the best online language course. Here though as mentioned, we'll be comparing Busuu and Babbel to see which language learning platform is better suited for your needs.
Before we unpack all the main features of these different platforms, let's take a quick look at the main differences between Busuu vs Babbel.
Main Differences Between Busuu vs Babbel
The Main Differences Between Busuu vs Babbel are:
Busuu has a bespoke social setting which helps get feedback on lessons quickly, whereas Babbel doesn't have this feature
Busuu has a much lower level of engagement that it requires, making learning your language a little less pressured, whereas Babbel gives you prompts for your learning
Busuu has a concise and honed selection of languages, whereas Babbel offers users a wider selection of languages to choose from
Busuu acts as more of a study plan than anything else, whereas Babbel is a great go-to platform for all your grammar needs
Busuu moves on at a quick pace, encouraging you to put your lessons into practice, whereas Babbel has a strong focus on repetition for learning
Busuu – In Depth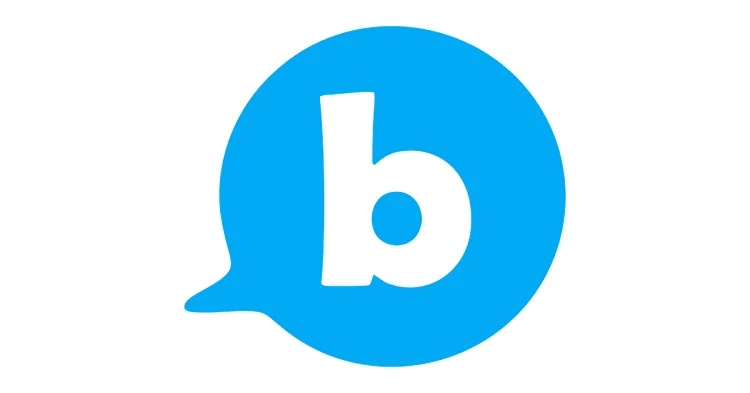 Launched in 2008, and with a user base of over 90 million, Busuu has quickly established itself as being one of the major players in the online language learning industry.
One feature that makes Busuu stand out from the competition is its innovative social function, where you can get feedback, tips and advice from other users, as well as add each other as friends.
This makes the learning environment almost more intimate and genuine, as you have the opportunity to make real, genuine connections with other users.
They also claim that after only 22 hours of study with Busuu, you'll have the equivalent amount of knowledge as after a full college semester of language study. Let's take a look at some of Busuu's main features:
12 different languages to choose from
Social function for connecting with other learners
Great grammar learning functions
Excellent conversation lessons
Quick-fire lessons that encourage you to use what you've learnt in the real world
Easy to use interface
Really useful and intuitive practice exercises available
Goal-setting feature (including interactive calendar)
Certificates awarded after each test
A review setting that tells you where you need to practice
Language selection

Busuu offers you a selection of 12 different languages to choose from. When comparing that to other sites such as Rosetta Stone, that may not seem like very many, but the concise selection means that the lesson quality is high, and you have access to native speakers in order to further your knowledge. The languages that you can choose from are:
English
Spanish
German
Italian
Portuguese
Chinese
Japanese
Polish
Turkish
Russian
Arabic
Choosing your level

After selecting your language, you'll get to choose what level you are at or you wish to attain. This is using the standardized CEFR language learning level, which varies from A1 to B2, with various levels assigned to each. If you're uncertain about what level you're at, or which level you should be aiming for, you can also take a placement test.
You'll also be able to tell Busuu what you're planning on getting out of your language course, which will help Busuu create a bespoke learning program especially for you. By doing this, you can actually see your entire learning path from start to finish, including how long it should take.
Study Plan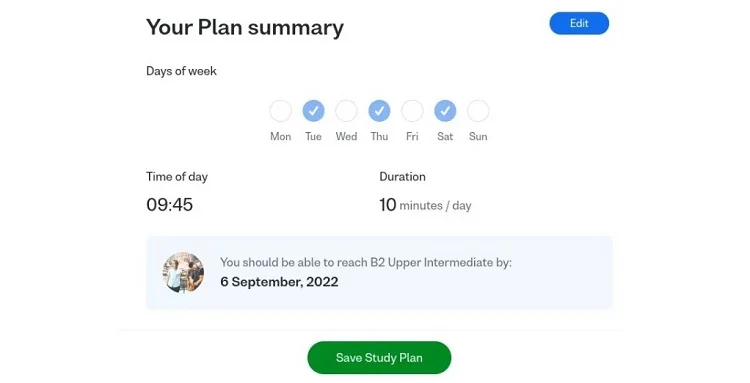 One of the great features of Busuu is the study plan that you can customize. As you can see on the image above, Busuu lets you select when you want to have your lessons, and how long you want each lesson to last. It will then give you an approximate date that you should reach your desired goal.
This commitment isn't sealed in stone, however. At any time, if you want to change it, you can. Having this sort of roadmap is quite rare in many online language learning courses – though it is always worth taking these claims with a pinch of salt, as everyone learns differently.
You'll also be asked how long you want your lessons to be. As you can see above, Busuu automatically sets the duration of your lesson to 10 minutes a day. Its motto is in fact 'speak a language in 10 minutes a day. Now, while this may seem fantastic on paper, in reality, you do need a bit longer with your language of choice.
30 minutes is the absolute maximum length of lesson you can select, which is probably enough for setting your goals – and in our busy lifestyles, it can be tricky to even find 30 minutes in a day to set aside for ourselves. Again, the length of the lesson is up to you!
Dashboard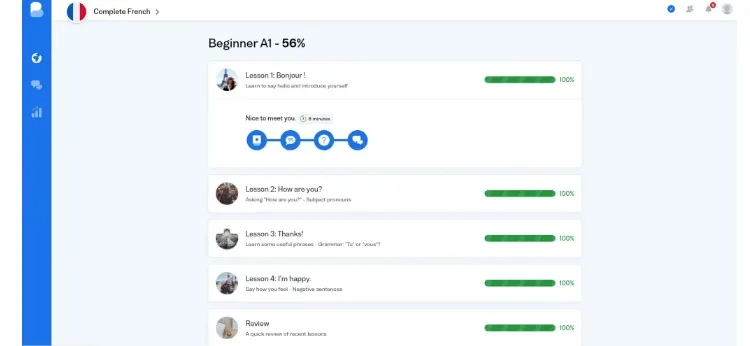 Having set up all this, you'll be greeted by the dashboard. All the content is separated by level which is a really nice and easy to navigate layout. By clicking on each of the lessons, you'll be able to see what each lesson includes, and how long they reckon it'll take you to finish it. It also shows you how much you've completed too.
Lessons
Each lesson on Busuu is designed around a useful topic that would be encountered in real-world situations. The lessons contain vocabulary, grammar, and practice exercises.
These will gradually build into conversational and writing skills – but Busuu makes sure that you have all the language you need before asking you to form sentences or have a conversation, so don't worry about being thrown in at the deep end!
Repetition is key for any language learning course, be it online or otherwise, and Busuu makes sure that each lesson you go through has a recap of the language you learnt in the previous lesson. This method of learning reinforces your memory and helps to build up your confidence in learning your chosen language.
Exercises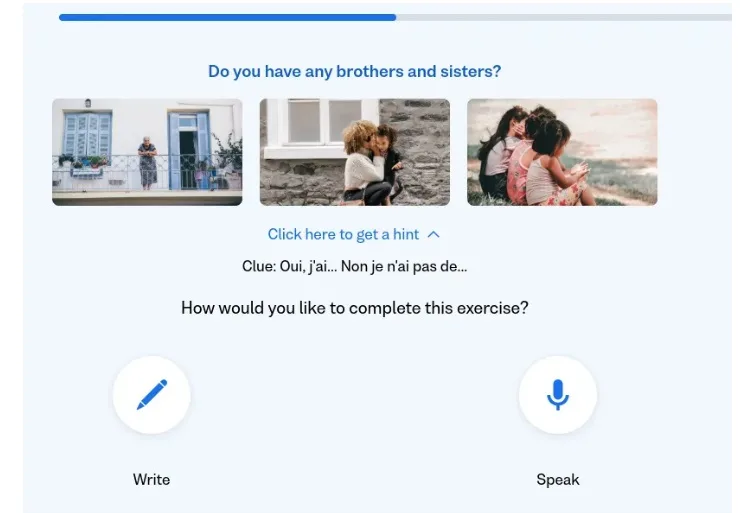 At the end of each lesson, you'll be presented with a speaking or writing exercise. With the speaking exercise, Busuu will effectively record your responses, and these will then be submitted to native speakers for review. By submitting these recordings, you'll also get a prompt to connect with other language learners and speakers using Busuu's social feature.
Tests
Once you've completed all the lessons in the level, you'll be able to take part in a test. If you're learning English, French, German or Spanish, you'll be able to take one of their bespoke tests that are certified by McGraw-Hill Education.
These tests are designed for you to see your progress, and are marked from C- to A+. If you pass the test, you are given a PDF certificate that you can download and print, or you can share your results on social media and LinkedIn.
Social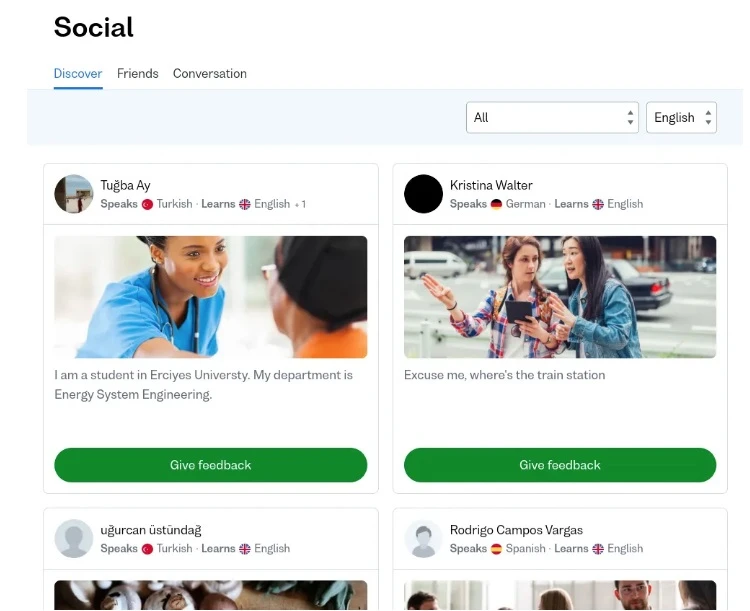 We've mentioned a few times in this article that Busuu has a great social feature. You can find this under the 'social' tab. Here, you can see all of your activities and exercises, and you can get involved with the other language learners on Busuu. There's a really great, vibrant community of fellow learners and native speakers, with people who can help you perfect your learning.
As you can see, the social section shows you what people are learning and what their native language is. This means that you can help them with their learning, if you're a native speaker of what they're learning, and they can help you in return.
It's pretty much a virtual language exchange, which is a really great way of language learning. Having a good language learning partner can really help you brush up on the ever-essential grammar.
Pricing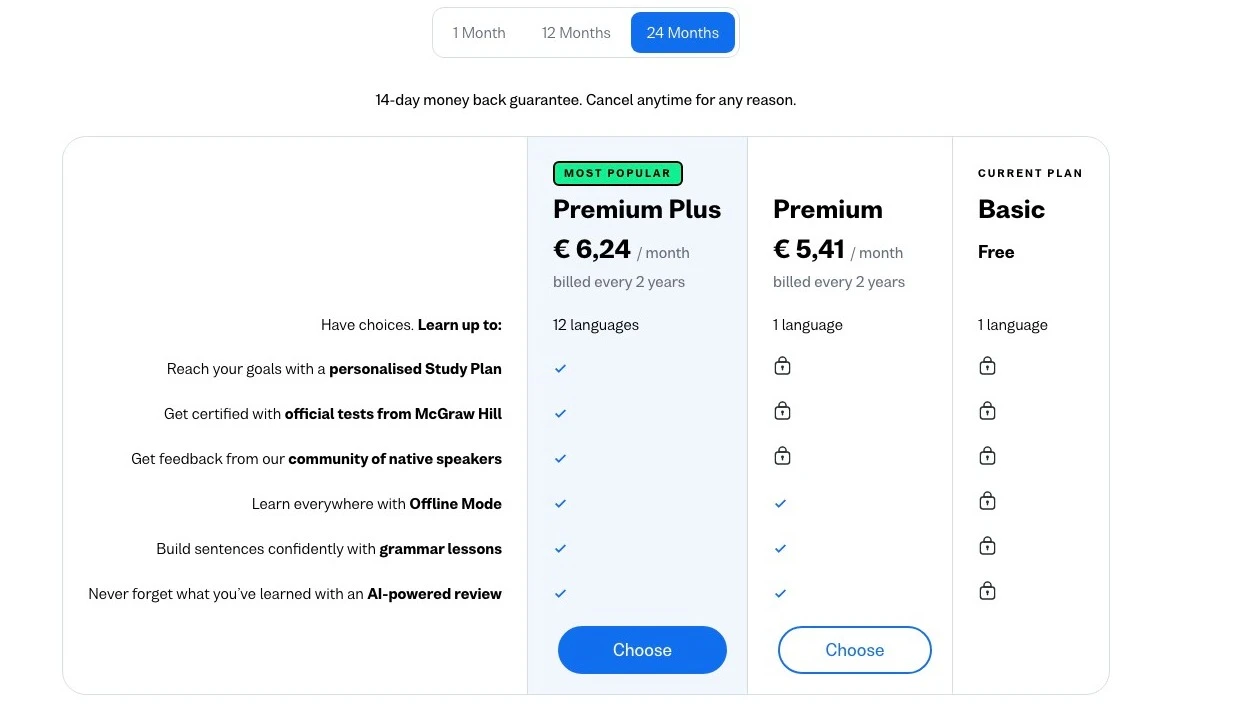 So how much will all this set you back? The website offers their prices in Euros, as you can see, but we've converted the prices to dollars. Luckily, you don't have to take too much of a plunge into commitment straight off the bat, as Busuu offers a free version for you to use. This version is quite limited however and only allows you to access one language.
If you want to pay for the Premium version, you can either pay monthly ($11.95), or if you opt-in for annually you pay $6.97 a month (billed annually), or pay up for two years use, which is $6.47 a month, billed every 2 years.
The Premium Plus version costs $13.15 if you pay monthly, $7.97 a month if you sign up for a year, and $7.46 a month if you go for a two-year subscription. As you can see above, with Premium Plus you have access to all 12 of the languages Busuu offers, as well as a whole host of other features.
Interface and User Support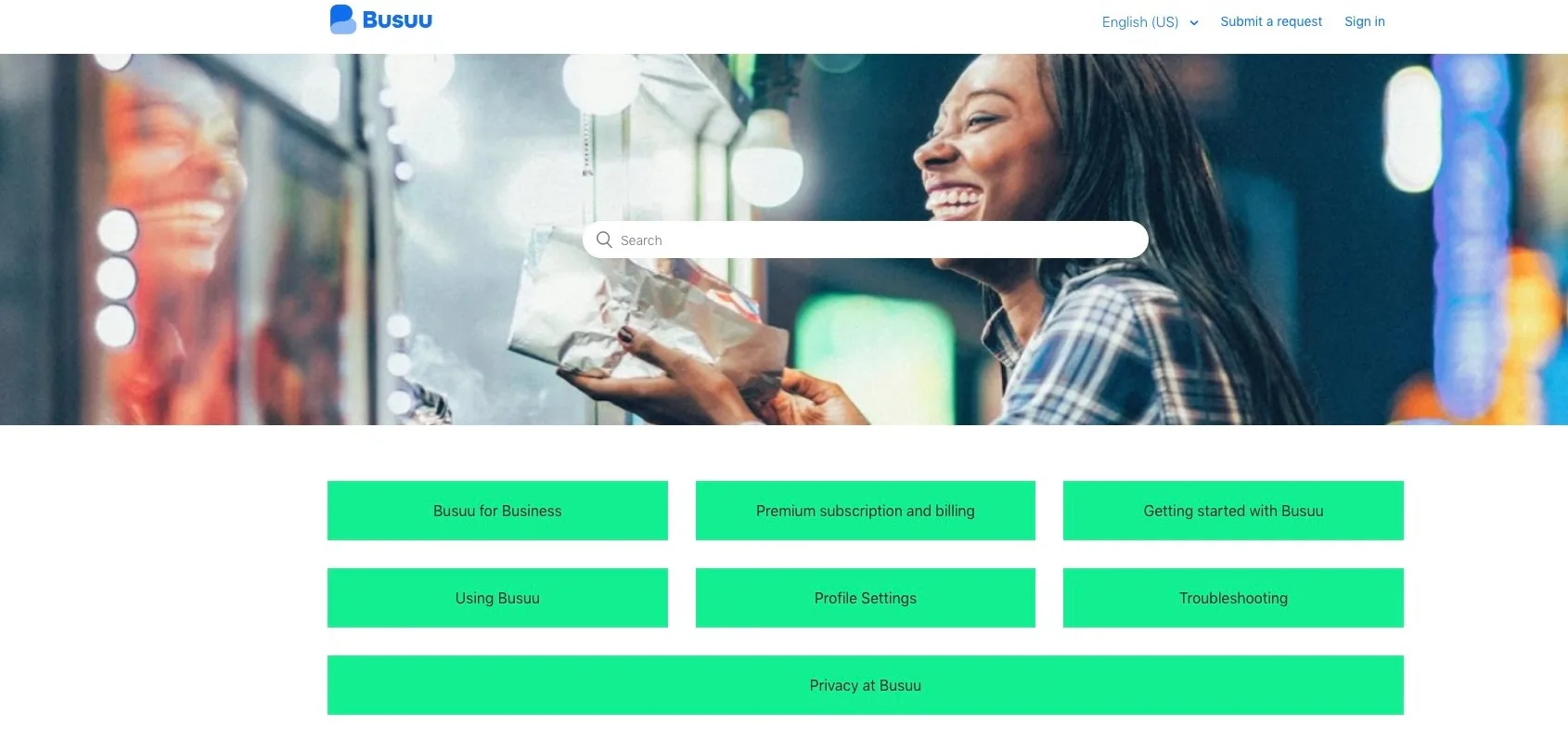 Busuu boasts a really clear interface that is easy to maneuver and really user-friendly. They have app compatibility too, which is really crisp, well-designed, and perfect for your daily commute or whenever you're on the move. Premium also offers you the option to download your lessons so you don't have to worry about being connected to the internet to learn as well.
Busuu has a really easy-to-use support/help centre as well, which links you to a series of helpful articles that will hopefully answer any questions you might have about Busuu. If you can't find what you're looking for, you can always reach out to them using their online contact form.
Are there any alternatives to Busuu?
If you don't think that Busuu is a good fit for you, here are some alternatives:
Memrise – Memrise has a great focus on learning the basics of languages, and has really good app integration
Rosetta Stone – one of the oldest language lesson providers, Rosetta Stone is a great alternative to Busuu.
Speechling – If you want to brush up on your speaking ability, then Speechling is the platform to do this
What about Busuu vs Duolingo?
Choosing between Busuu vs Duolingo can be tricky, as both offer great language-learning experiences. If the social aspect is important to you, Busuu is the industry leader in that regard. For less social-focused learners, you can't go wrong with Duolingo.
Babbel – In Depth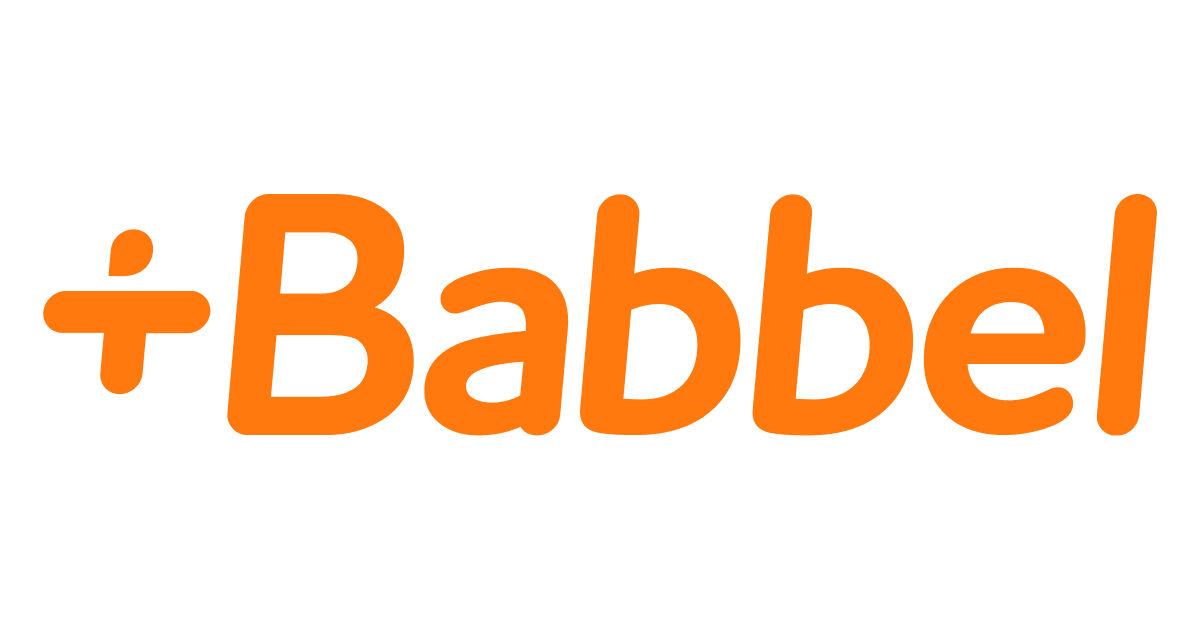 Founded back in 2007, Babbel was awarded the Microsoft Innovate 4 Society award for its contributions to higher education, and won the 2013 Digital Award for an Online and Mobile Learning Product – both awards that carry a fair bit of weight.
With a one-of-a-kind speech recognition software integrated into their lessons, and really rapid-fire lessons that set you up for success, Babbel stands out from the crowd when compared to other language learning platforms like language learning titans Duolingo (see our Babbel vs Duolingo article).
Let's have a look at what main features you can find on Babbel:
14 languages to choose from
Quick-fire lessons
Innovative speech recognition software
Excellent audio quality for aural learning
Slick and easy-to-use interface
Progress monitoring that is synchronised across any of your devices
Lessons that focus on everyday topics for quick constructive learning
Language selection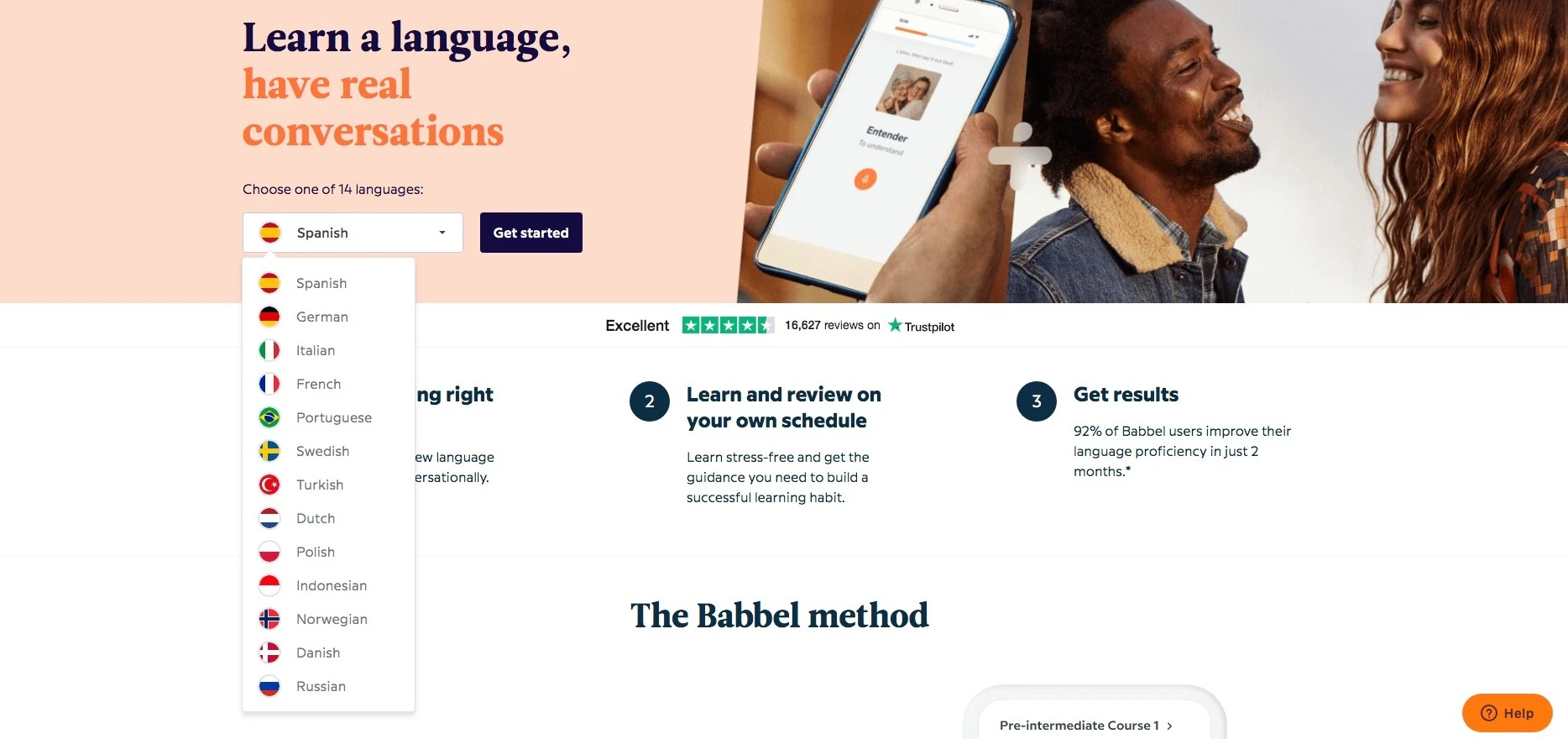 When you arrive on the Babbel website, you'll have to choose your language first of all. Babbel offers 14 different languages to learn – you can choose between the following:
French
Italian
Swedish
Polish
Norwegian
German
Spanish
Portuguese
Russian
Turkish
Dutch
Danish
Indonesian
English
Next, Babbel will ask you why you want to learn the language you have chosen, as well as how much of the chosen language you already know, and how long you can legitimately spend per day learning.
Like Busuu, this means that Babbel will be able to create a bespoke language learning course for you, focussing on essential pieces of language. For instance, you won't need business language if you're going on holiday!
Language levels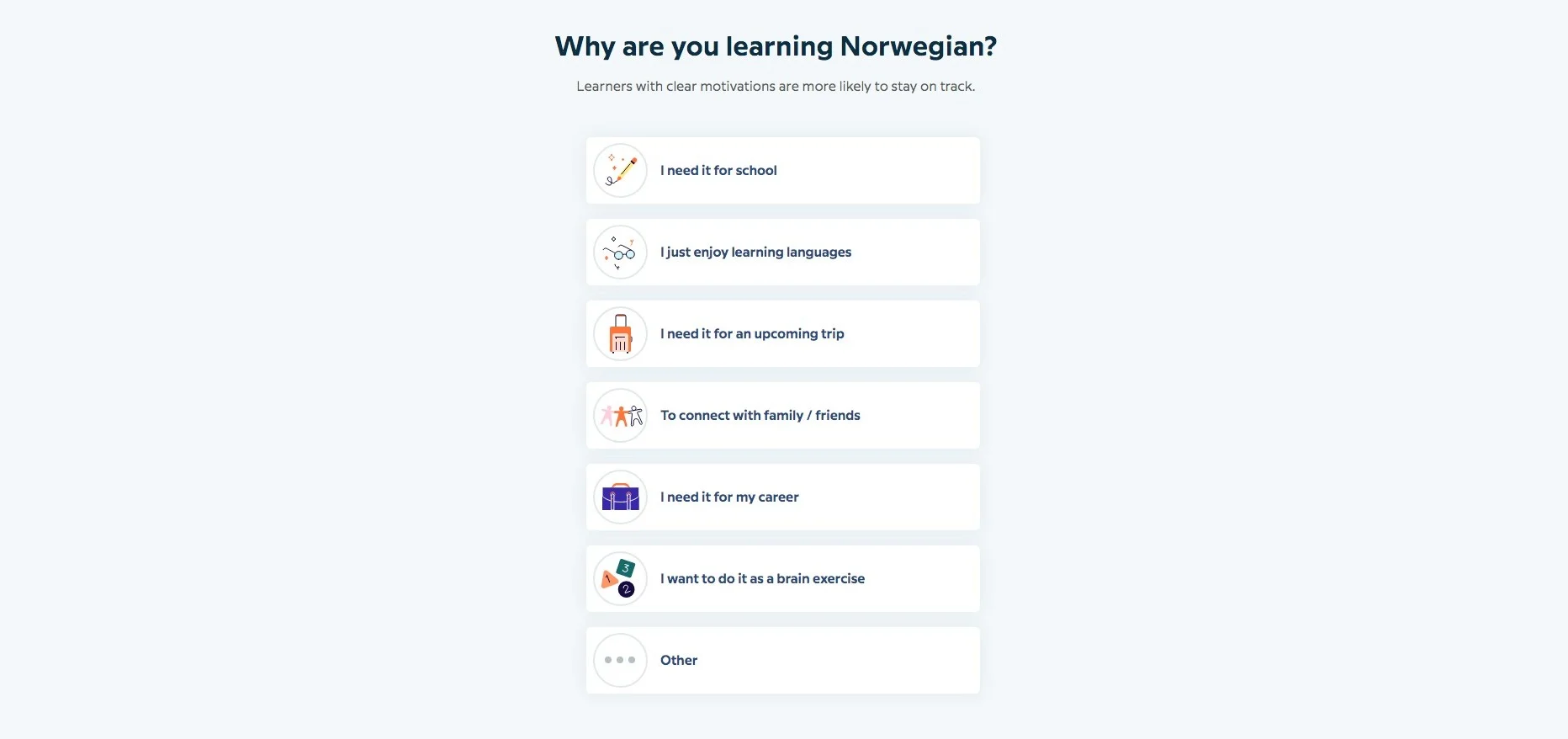 There are 7 different levels on Babbel:
1 – Newcomer
2 – Beginner 1
3 – Beginner 2
4 – Pre-intermediate
5 – Intermediate
6 – Independent
7 – Advanced
These are based on how much of the language you already know, and also the results of the placement test that you can take to test your language ability. If you're an absolute beginner, you'll be put into the Newcomer level, and you'll work your way up.
Dashboard
This is the dashboard/home screen where you can keep track of your progress and access all the lessons in your selected language. This is the springboard for all aspects of your learning experience with Babbel, where you can see your achievements, set goals in your calendar and get involved in some great language learning games.
Lessons
Babbel has quite a groundbreaking feature that uses voice recognition software for a lot of its lessons, which are primarily audio-based. You'll need to have your speakers and microphone enabled on your phone, tablet or computer, depending on which one you use, to make sure you can benefit from this feature.
The lessons are really varied and based on the topics that you selected initially, so by speaking and hearing yourself, you can get a really good initial idea for a conversation in that language. Babbel also focuses on grammar lessons, which can give you really good explanations and help towards an in-depth understanding of your chosen language.
Pricing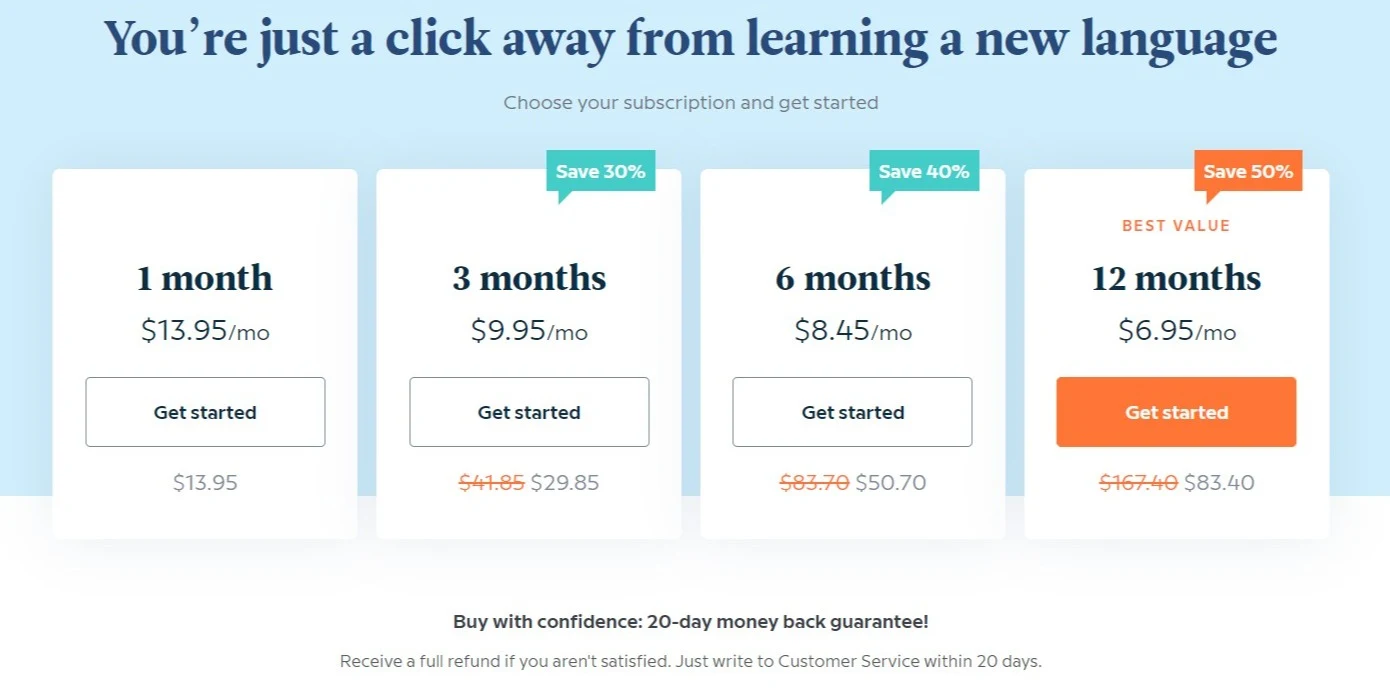 So how much does it all cost? Well, if you're on the fence about whether Babbel is for you, there is a free version that you can use to test the waters. It's more limited than the premium paid for options, but it can be a great taster. If you want to unlock the full power of Babbel, they offer several different payment plans.
There are different subscription fees for Babbel:
1 month for $13.95
3 months for $9.95 a month
6 months for $8.45 a month
12 months for $6.95 a month.
As with any subscription, if you no longer want to continue paying you'll have to cancel. These prices also only apply to learning one language – you can't have multiple languages on the same subscription.
Interface and User Support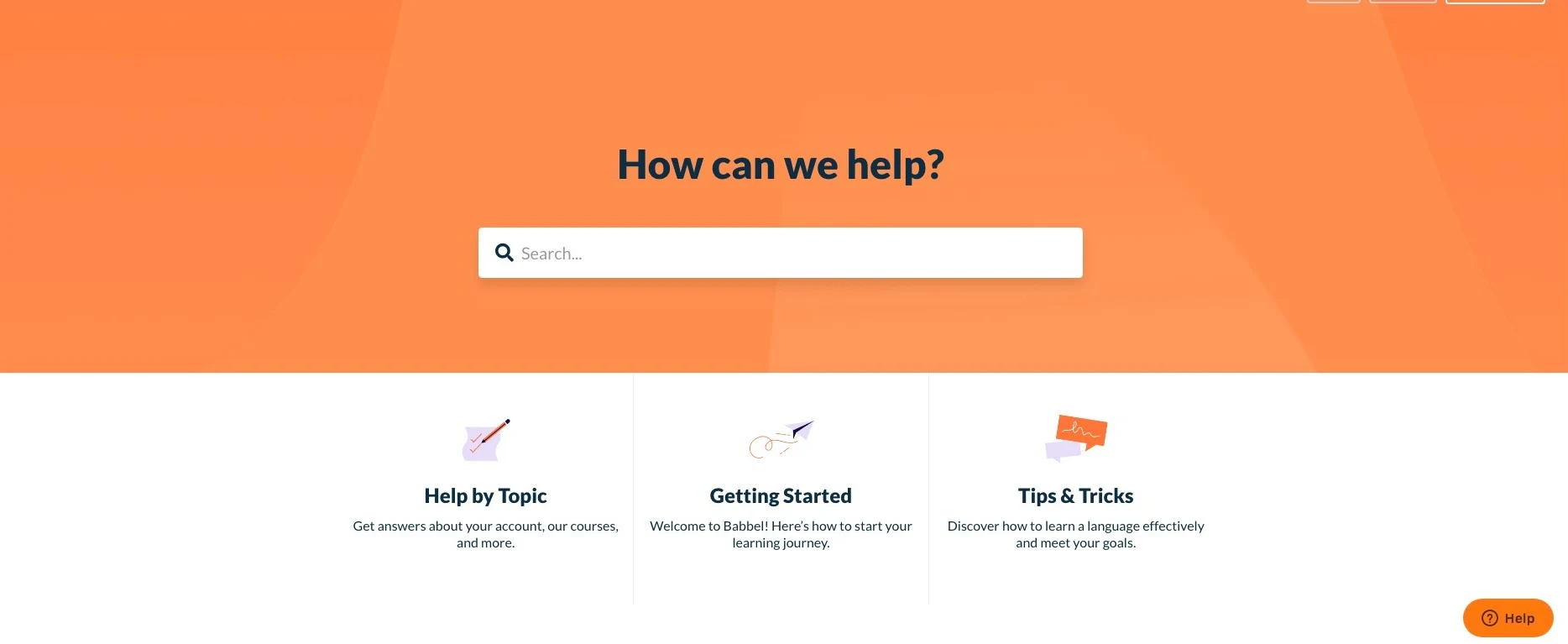 Babbel has a really nice, clean, bright interface that is easy to navigate and is clearly labeled – making your language learning experience easy and enjoyable.
They have a bespoke online magazine that you can access without a Babbel subscription, which supplies you with information about their courses and gives you really interesting insights into the cultures surrounding the languages they offer. You can check that out here.
If you're looking for additional help, they have a dedicated support/help center that will supply you with all sorts of articles and topic assistance if you need it. You can also get in touch with Babbel if you've still got any questions – using an online contact form.
Are there any alternatives to Babbel?
There are dozens of online language learning platforms out there, so if Babbel isn't what you're looking for, then you might be interested in the following alternatives.
Duolingo – surely we've all heard of Duolingo by now – it is a great alternative to Babbel.
Lingvist – they might not have as many language options as other platforms, but the ones they do have are concise and clear to follow.
Pimsleur – another great alternative to Babbel, Pimsleur is great for learning to speak like a native.
Busuu vs Babbel – which one do I choose?
So what's the final verdict between Busuu vs Babbel? Let's take a look at some of their features.
Lessons
Both Busuu and Babbel have excellent oral and aural practice features, but Babbel wins when it comes to lessons as it has more options for swotting up on grammar, and it has its speech recognition system too.
Reviewing
Babbel loses ground here to Busuu, as the reviewing system on Busuu is done mostly by native speakers that you reach out and connect with, which means you have a real-time and real-world learning experience.
Interface
Both platforms have good, intuitive and easy to navigate interfaces, but at the end of the day, Busuu's interface is just that bit more navigable and clear.
Pricing
Busuu is just slightly cheaper than Babbel, however, you have access to more languages with Babbel – so this one is just about a tie!
Extra features
Both Busuu and Babbel both have quite different additional features – Busuu has its really great social feature, where you can connect with native speakers and effectively form language learning correspondents, and Babbel has its online magazine that gives you updates about the lessons as well as additional articles – so it's another tie here!
Frequently Asked Questions
Let's go through some of the more frequently asked questions about Busuu and Babbel:
Question: Is there a trial version I can use?
Answer: No, but they do have a free version that you can use.
Question: It's not for me – can I get a refund?
Answer: If you've paid for one of their premium options, and you don't think it's quite working out for you, you have a 14-day money-back guarantee.
Question: Does the app work with Android and iPhone?
Answer: Yes. The Busuu app is compatible with both Android phones and iPhone.
Question: Is there a trial version of Babbel?
Answer: There isn't a trial version of Babbel, but you can access their rather limited free version.
Question: It's not for me. Can I get a refund?
Answer: Babbel offers a 20-day money-back guarantee, so if Babbel isn't for you, make sure you cancel within the allotted time period and you'll get that money back.
Question: Is there a Babbel app?
Answer: Babbel has app integration for Android and iPhone, as well as tablets, which means you can learn on the move with ease. You can find out more about their mobile options here.
Final thoughts
So which one is better out of Busuu vs Babbel? After all, they're pretty evenly matched!
While it is a really close call, we're going to have to say that Busuu is the better option here for learning languages. It's much more attuned to people who might commute and offers really quick, speedy, yet information-filled lessons.
Their social feature is also an innovative and unique selling point, offering you the chance to learn from native speakers rather than just the app.
What Babbel has that Busuu doesn't is their online magazine, however. If you're looking to find out additional information about the culture and the country of the language you're learning, then Babbel could be a better fit for you.