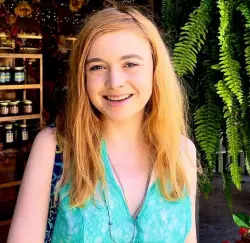 Latest posts by Erin Jamieson
(see all)
For most of my life, I was told there was a straight path to success: graduate high school, get a college degree, and find a job. After years of my struggles- and teaching students- I have come to realize how important it is to realize we all have different paths. Success doesn't look one way, and a learning path doesn't either.
Whether you're juggling jobs, families, or want a change in a career path, there are now more opportunities than ever. And that includes popular online learning course platforms like Coursera. It's easy to see why Coursera is so well known.
I see how accessible education can open doors to many. Without eligibility requirements, flexible learning options, and in-demand courses like data science, java, and more, it may be tempting to enroll.
But Coursera has declined in reputation- not so much for its course offerings, but for the student learning experience. I'll tell you why you should consider an alternative to Coursera, and point you to my favorite platforms that provide similar courses but a better experience.
Bottom Line Up Front Summary: It's easy to see why Coursera initially gained popularity. We're all busy- juggling jobs, families, and other responsibilities. Open source online learning platforms like Coursera can sharpen your skills.
The problem is Coursera has a history of substantial complaints. The good news: there are several suitable alternatives. I selected platforms that are somewhat similar to what you can study through Coursera- but perform better in the areas of course content, learning experience, and overall student satisfaction.
If I were to recommend just one alternative to Coursera, it would be edX. edX is simply the closest alternative, in terms of the scope of content covered, subject areas, and flexible, self-paced learning. I like that there are options for free and paid courses- all the while offering in-demand soft and hard skill training.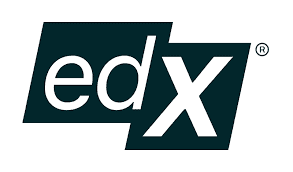 Get critical career skills | Edx
Executive Education courses from top universities offer the skills you need to pivot and expand your career.
Find your course
We earn a commission if you click this link and make a purchase at no additional cost to you.
My Top Picks
edX: Best Close Alternative
Simpli Learn: Best For Bootcamps, Professional Training
Udacity: Best Personalized Feedback
Harvard Online: Best Free Webinars/ Casual Learning
Rosetta Stone: Best Language Platform
Reasons to Select An Alternative to Coursera
If you're reading this, chances are you either know you don't want to take classes from Coursera- or you just want to compare it to other options. Here's the low-down on why I recommend selecting an alternative over Coursera.
Serious Complaints
The number one reason I think you should seek an alternative to Coursera? I'd never take a course from the platform today, not with the substantial record of complaints. Coursera has an F rating through the Better Business Bureau, with over 180 formal complaints closed in the last year alone. This included purported:
Misleading Marketing
Lack of Clarity About Free Trials/ Auto Enroll
Lack of Customer Support
Difficulty Cancelling Subscriptions
Inconsistent Course Quality
Coursera offers both free and paid courses- which, on its surface, sounds good. But the downside is that the quality of those courses varies- and is a bit hit or miss. Of course, that can be true of any platform- or even in-person classes at accredited universities! But it's another reason to consider a different place to learn online, given the consistent complaints.
Lack of Interactive Classes
I like self-paced courses sometimes- and I don't always need extra support. But if I'm learning something either new or exceptionally challenging, having that extra support goes a long way.
Coursera classes are pre-recorded, and while they do have forums, the support just isn't quite enough for some students. At the very least, Coursera isn't offering a truly immersive experience. For some learners, that's fine. Other students need more support.
How I Selected Coursera Alternatives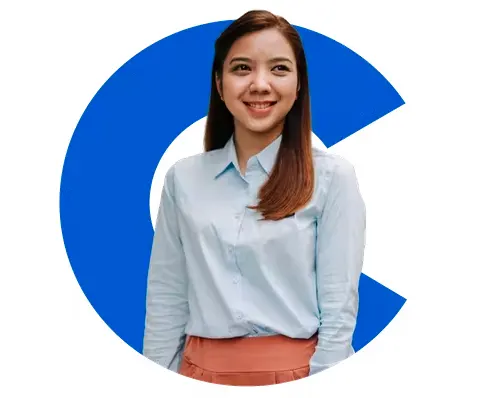 Of course, simply having an alternative doesn't guarantee that it'll be better. For this reason, I selected alternatives with care. I know what a big difference taking a course on one platform to another. While none of these alternatives are perfect, each offers a better overall experience than most students get with Coursera.
Similar- But Different than Coursera
The most popular options on Coursera are in the fields of business, IT, data science, and computer science. My alternatives focus on those areas but offer courses in a slightly different format. In other words: I want to find platforms that share similarities in course content, but also offered an advantage over Coursera.
Mostly Positive Reception
I examined external reviews to see what the average student experience was like, as well as the reputation of the platform. I avoid any online platforms that have failing ratings through professional organizations.
Unique Value
Each of these alternatives has something unique to offer- whether that's the depth of the classes, the extent of the course catalog, the teachers, or all the above.
Student Support & Interactive Learning
I truly value student support from a learning platform. Sure, it won't be the same as taking a class in person, but I sought out places that provide you with tips, online help, and even personal feedback.
Clear Policies and Secure Learning
I always want to go into a class prepared- and chances are you do, too. I made sure that guidelines, fees, course curriculum, and other important information is provided to students. And while my Coursera alternatives do range in price, I wanted to see substantial reasons for that price point reflected in overall value. Finally, I wanted to make sure that you'll be learning on a safe and secure platform.
Top Alternatives to Coursera
Ready to start learning? Here are my top alternatives to Coursera, and an honest look at the pro and cons of learning from each of these online platforms. Udemy, a popular alternative, didn't cut because it didn't meet my criteria for a better student experience.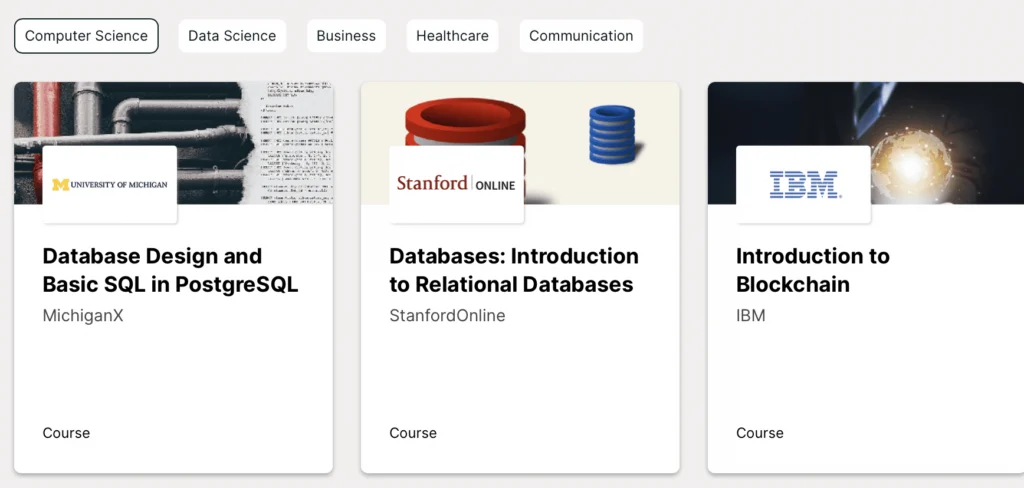 Of all the alternatives to Coursera, edX is probably the closest alternative you can find. edX offers in-demand courses and micrometers course sequences for everyone from high school students to graduate students. It covers as broad of a range of courses as Coursera, and it's a great alternative for many reasons.
Nearly all of their courses are designed by professors and industry experts from reputable universities. You get an option for entirely free courses, a verified track that offers quizzes and homework, and the micro masters, which can sometimes be used for transfer credit.
Though there are some instructor-paced courses, most are self-paced and entirely flexible. And while it's great to see free courses, even the verified tracks are pretty affordable.
See also: Comprehensive edX vs Coursera Comparison.
Types of Courses
Micromaster's, free courses, verified track courses, professional bundles, bootcamps
Subjects Covered
Architecture, art and culture, biology/ life sciences, business/ management, chemistry, communication, computer science, data science, design, economics/ finance, education/ teacher training, electronics, earth science, engineering, environmental studies, ethics, food & nutrition, health/ safety, history, humanities, languages, law, literature, math, medicine, music, philanthropy, philosophy/ ethics, physics, science, social sciences and more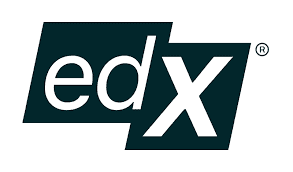 Get critical career skills | Edx
Executive Education courses from top universities offer the skills you need to pivot and expand your career.
Find your course
We earn a commission if you click this link and make a purchase at no additional cost to you.
Signing Up
Register For Free, but you'll have to pay for boot camps, micro master's, and verified courses separately. These are flat fees, rather than monthly fees.
Pros
Huge Catalog of Courses
Range of Free and Paid Courses
Designed by Professors
Cons
Not Very Interactive
Not Very Personalized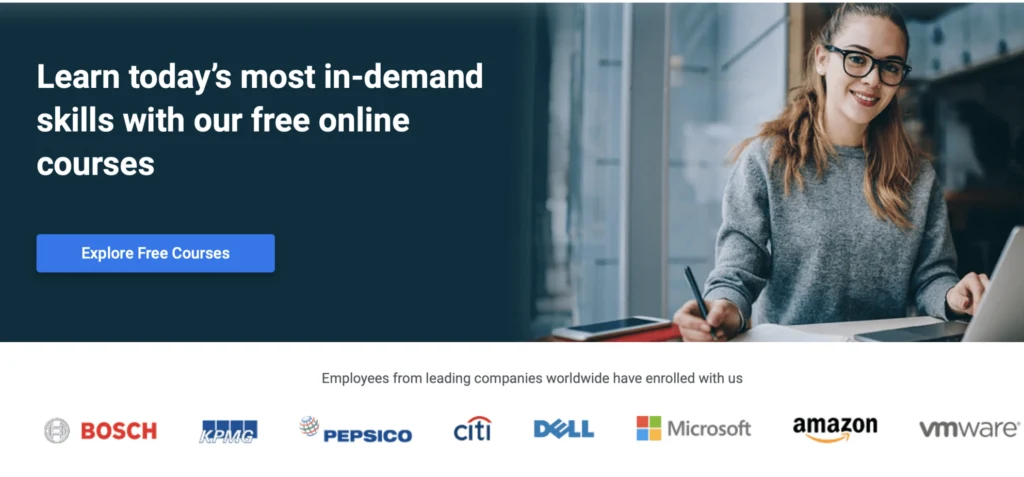 Whether you're looking for corporate or individual training, Simpli Learn is one of the best alternatives to Coursera if you have online boot camps.
This crowd-pleasing learning platform is more interactive than many ways you learn online but without a premium cost. To get a sense of the scale of Simpli Learn's options, they have 1,500 live classes every month. Like edX, they partner with reputable universities to improve the quality of their courses.
They focus mostly on business and IT courses- so you'll get more in-depth options than something like edX, but also not have options for much in the humanities or arts.
Types of Courses
Free courses, professional boot camps, professional certifications (CSM, ITL, AWS, PMP, CISSP)
Subjects Covered
data/ business analytics, AI and machine learning, project management, cyber security, cloud computing, DevOps, business/ leadership, quality management, software development, agile, IT service, digital marketing, big data
Signing Up
Sign Up Free, and register/ pay for classes separately
Pros
Great Variety of Data, IT Courses
Live and Self-Paced Classes
Professional, Industry- Recognized Certifications
Cons
Narrow Field of Study
Paid Classes- Especially Certificates- Are Expensive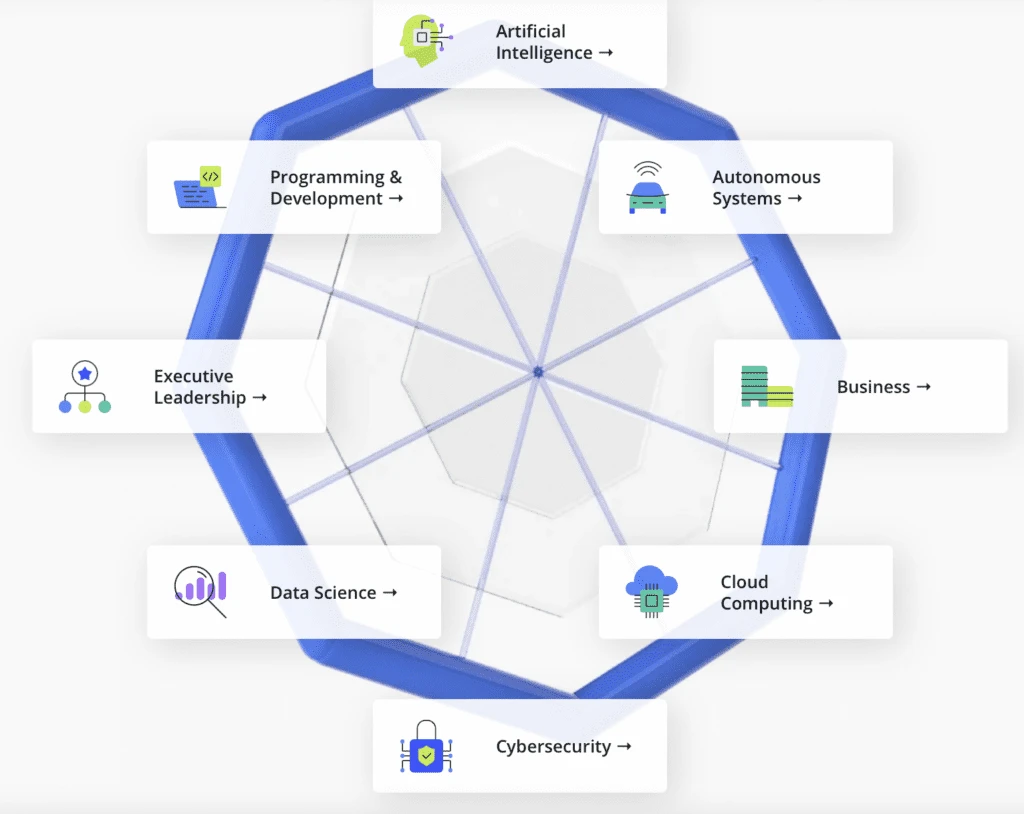 If you've considered Coursera, chances are you've at least heard of Udacity. In many ways, I see Udacity as a middle ground between Simpli Learn and edX. You have a broad range of courses, but with a focus on data and IT. What it has in common with edX is that it's focused more on course sequences and individual courses, as opposed to living classes and boot camps.
Udacity has free courses, but it's most well known for its course sequences. Like the verified track with edX, Udacity programs provide feedback for homework. But they go above this, with the real world, in-depth projects, and a higher emphasis on practical examples.
And while edX courses and Simpli Learn are beginner-friendly, these courses are more for intermediate to advanced learners, delving into topics with a little more depth.
Check out our comprehensive Coursera vs Udacity Comparison.
Types of Courses
Course Sequences, government training courses
Subjects Covered
Artificial intelligence, autonomous systems, business, cloud computing, cyber security, data science, product management, programming, development, and more
Signing Up
Sign Up Free Here and register individually for courses
Pros
More advanced coursework
Hands-on projects
Personal feedback
Cons
Expensive, Depending on Sequence
Not For Beginners
Harvard University Online Courses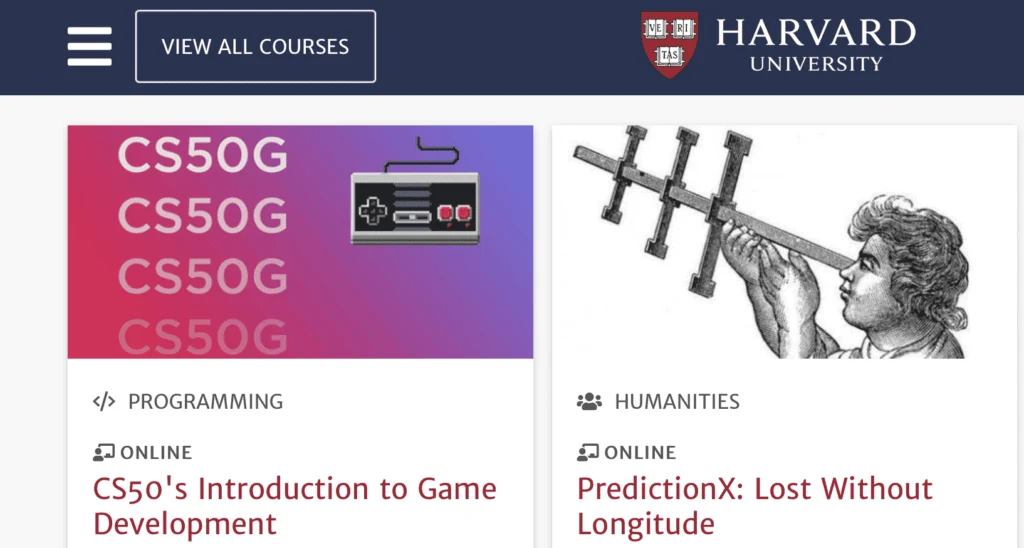 You read that right: Harvard University offers entirely free courses online. If you've considered Coursera but never wanted to commit, then this could be the best alternative for you. Affiliated with the accredited ivy league school, these online courses are open-source, free, and self-paced. They do offer some paid courses too- but there are nearly 150 that are entirely free.
These courses last as short as a day or two to 10 weeks long, and the broad array of topics is commendable. These are your typical webinar-style classes, so you aren't getting interaction or feedback, but you are getting quality and engaging information.
That makes this a great and reputable free resource for the casual learner. Technically, a lot of these courses are offered through edX, but this website is targeted toward more casual learning.
Types of Courses
Free and Paid, webinar/ self-paced
Subjects Covered
Art/ design, business, computer science, data science, education/ teaching, health/ medicine, humanities, mathematics, programming, science, social sciences
Signing Up
Browse All Here, and sign up for a free account separately.
Pros
Nearly 150 Free Courses
Across Disciplines
Designed by Harvard Instructors
Cons
Not Interactive
Not Very Helpful for Professional Advancement

This is a bit of a wild card- but if you happened to have considered Coursera for learning a language, then Rosetta Stone is your best bet. Rosetta Stone is one of the few online language learning platforms that retain an A plus rating through BBB (though there are complaints) and offers a fairly immersive way to learn.
For a monthly fee, you'll get short lessons, learning-speech recognition, and plenty of practice. Instead of merely teaching you words, I like that Rosetta Stone gives you those words in practical contexts and situations. Plus, you can learn online or offline, and get feedback from native speakers.
Types of Courses
Monthly fee for individual access
Subjects Covered
Languages: Spanish, French, Italian, German, English, Arabic, Chinese (Mandarin), Dutch, Farsi/ Persian, Greek, Hebrew, Hindi, Irish, Japanese, Korean, Latin, Polish, Portuguese, Russian, Swedish, Tagalog (Filipino), Turkish, Vietnamese
Signing Up
Enroll and Select a Plan (3 months, 12 months, lifetime), and then your language
Pros
Immersive Learning
Flexible Online/ Offline
Fairly Affordable
Cons
Only for Learning Languages
Not as Helpful for Professional Development
Frequently Asked Questions
Question: Can I Put Coursera on my Resume?
Answer: Coursera can be placed on a CV or resume- but you need to be both clear and honest about it. Coursera or any other online learning platform like it should be listed under the skills or training section.

Note any courses you completed, the date completed, and the learning platform. The one thing you don't want to do is claim that an open source learning platform is an official degree. Rather, it should be seen as a way to enhance your skills or experiences. You can also place any such course on a LinkedIn or similar profile.
Question: Can a Coursera Certificate Get You a Job?
Answer: No certificate from an open-source online learning platform is guaranteed to get you a job. While the same could be true for professional certification through an accredited university, it's important to take a course with the right mindset.

Certification of completion can be used to show your skills and training- but does not make for a direct substitute for a degree. In other words, training can increase your chances of getting interviewed but by no means is it a requirement nor a guarantee for a job.
Question: Can a Google Certificate Get me a Job?
Answer: Google certificates are great training tools- I took a few courses myself when I was working in marketing. But that's how they should be used and seen: training tools.

They don't take the place of a degree and they aren't going to guarantee a job. What they can do is serve as an introduction to more intense learning, develop your skills, and enhance your current performance. Like other online training programs, you can place any Google certifications under skills and training on a LinkedIn profile and your resume or CV.
Question: Is the Coursera Certificate Worth It?
Answer: A Coursera certification shows that you've completed training and it can be helpful for some. However, I would say, right now, Coursera in any form is not worthwhile.

The company has a failing reputation through the Better Business Bureau, with over 180 formal complaints closed in the last 3 years alone. Problems with subscriptions have hampered the learning process. So while the course content itself- and a certificate- can be used to bolster your resume, it's simply not the best choice.
Final Thoughts
Coursera is one of the most well-known massive open online course platforms- but it's certainly not the best. With alternatives to choose from, there's no reason why you can't learn java, data science, or other in-demand skills on a different platform.
Whatever platform you choose, just make sure you go in with realistic expectations. As you can see, every platform you choose has pros and cons. And even though this course can provide helpful skills and training, it's not a guarantee for career success.
Final Recommendations
Looking through these alternatives to Coursera and still not sure which one to choose? In that case, I recommend edX. edX offers flexible learning options- from entirely free to micro master's series, that can count (potentially) as graduate credits.
While not as interactive as some platforms, verified tracks offer practical practice, and cover in-demand skills. Plus, while edX offers data and technology courses, they also offer courses in the humanities.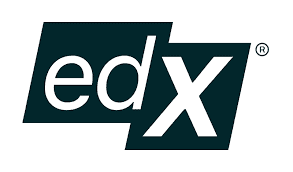 Get critical career skills | Edx
Executive Education courses from top universities offer the skills you need to pivot and expand your career.
Find your course
We earn a commission if you click this link and make a purchase at no additional cost to you.