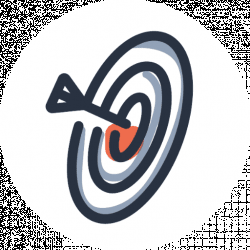 Latest posts by Online Course Rater Team
(see all)
Learning with an online learning platform like EdX or Coursera is better in terms of flexibility and affordability, which explains a surge in popularity.
Bottom Line Up Front Summary: Until we get more confirmation that billing is improving with Coursera, we will give a slight edge with EdX here.
Learning online with what's called a "Massively open online course platform" (MOOC platforms) like coursera or edx — no matter what, and for what purpose, presents a number of benefits, including but not limited to:
More variety in course offerings
The ability to learn anywhere, at any time
Flexible scheduling
A lower price point.
Experts have also looked into both the benefits and challenges of e-learning, noting that e-learning with a MOOC platform can promote increased participation and discussion if it's a peer-based course.
Online learning also more accessible, due both to lower costs to more flexibility, and has helped to expand the entire market of continuing education for adults, as well as supplement skills for professionals.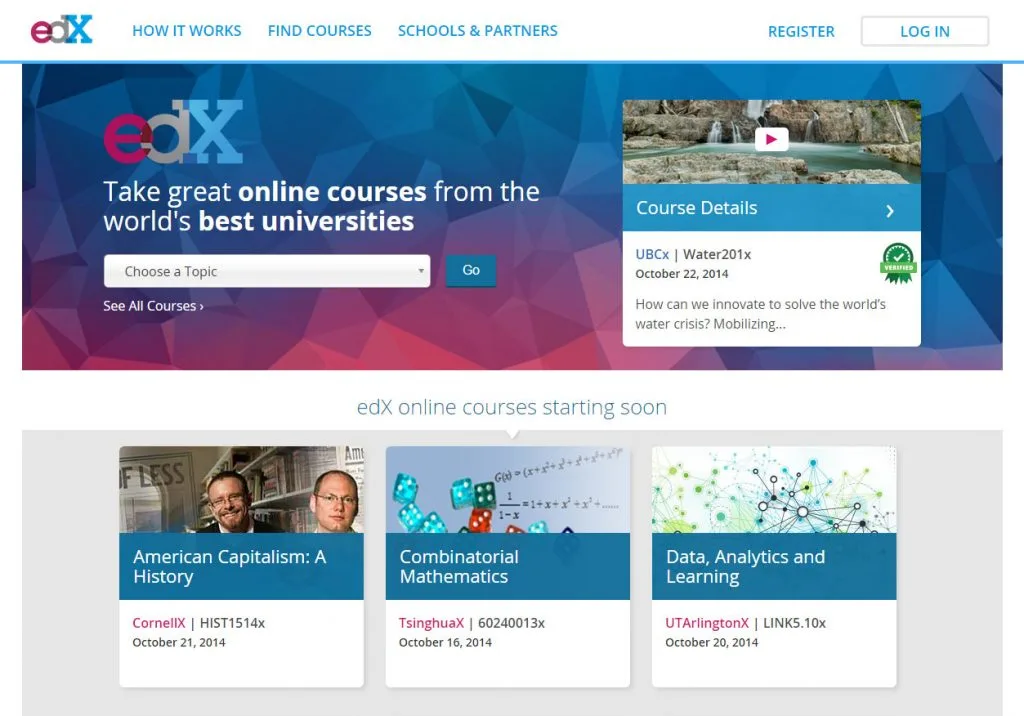 I Personally Prefer EdX
EdX has a much more transparent billing system, with many high-quality completely free courses and a wide array of discounts. Plus, they just have MORE courses to choose from, with a handful of options in even obscure disciplines!
View Current Promos
We earn a commission if you click this link and make a purchase at no additional cost to you.
But Are Online Learning Platforms Even Worth It?
There indeed are challenges to e-learning, but what's crucial is that e-learning environments must be structured in a way that is conducive to an environment where students get quality instruction.
Carol Ribeiro, President, and CEO of the Virtual High School, an accredited non-profit organization that provides virtual education to high school students in the United States, insists that the key to online learning is finding courses and platforms that have been properly designed.
She names six non-negotiable aspects of e-learning. Some of these are a bit more particular to a degree-granting program, but the general concepts work well when applied broadly to decide, for instance, if EdX or Coursera is the better online platform.
Here are some of the general concepts, revised to be more specific to online learning platforms like EdX and Coursera:
Clear Expectations
Courses and individual lessons should come with some idea of their purpose; weaker courses may provide materials without a rationale.
While you may not be able to see all of this before purchase, you should make sure any online platform lists clear and relevant objectives. Even better, see if you can preview lessons (even just lesson names) and make sure those more or less adhere to the overall course expectations.
Easy to Follow Instructions
This point is fairly self-explanatory. The best online platforms will include courses and programs that have an intuitive lesson plan and straightforward instructions.
You might have to ask for a preview or a trial version, if possible. Or you can always see if you can look that instructor up and get samples or his or her typical materials.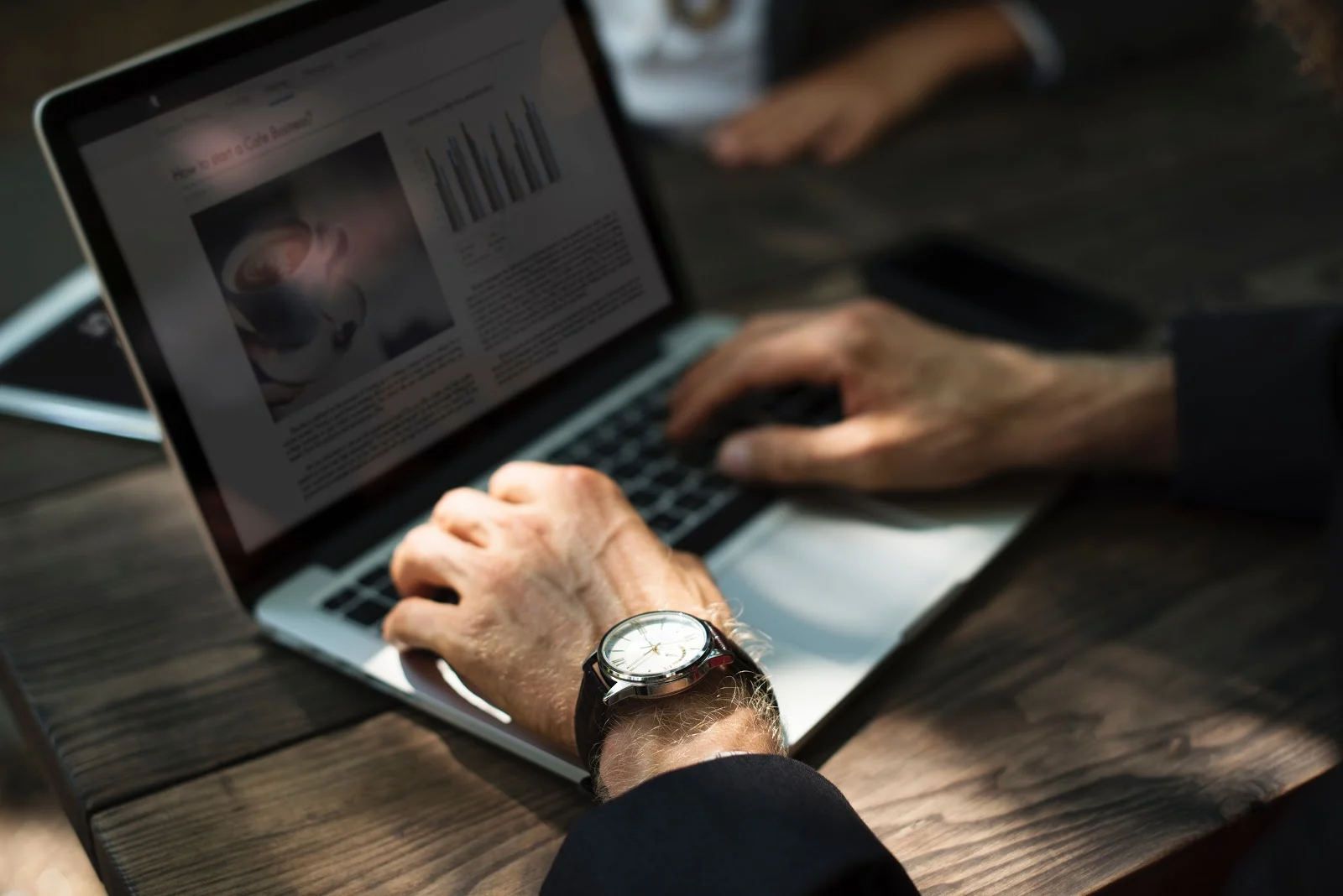 Engaging Content
Besides the coursework itself, there should be engaging and interactive content.
Activities, real-world examples, and an easy to use and immersive interface should be present. Because you're learning online, the courses should include materials and content that encourage active participation.
Support and Guidance
For any online platform, you need to at very least has responsive customer support and an easy to contact tech team to help you out. Bonus points go to courses where you can directly communicate with an instructor or tutor.
Feedback
For a degree program, it's essential to receive quality and consistent feedback on your work. While this does not apply so much with platforms like EdX and Coursera, which are more based on pre-recorded lectures, there should still be some element of feedback–even if that just means letting you know you've successfully completed modules. And some online platforms will also provide a certificate of completion.
Led by Experts
Even if you're just looking into online courses for fun, you want to know what you're learning is accurate. You should be provided at least some information as to who is teaching, or who designed the course, as well as their credentials to do so. It's not as good of a sign if there is no information provided.
Is There Any Other Criteria to Find a Good Online Learning Platform?
In addition to these factors, and in order to execute a comprehensive review and comparison of EdX vs. Coursera to determine which is the better online platform, there are a few basic things you want to be on the lookout for, especially in terms of security.
The Privacy Policy should be easy to understand and include information about how your information is stored, shared, and who it is shared with, as well as for what purposes.
Payment Needs to Be Secure: Make sure they mention what kind of encryption they use for secure checkouts.
You Can Find Information About It Outside of the Website: Customer reviews, press coverage, and anything related are helpful resources. Fortunately, both EdX and Coursera have plenty of information you can find outside of their actual platform pages.
EdX Review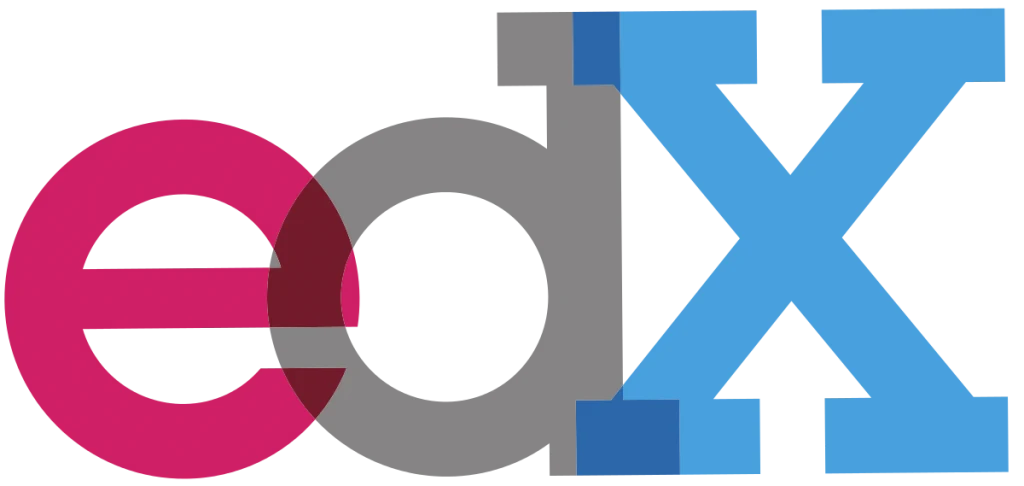 EdX actually comes from prominent origins, though it is relatively new. It was started in 2012 scientists at both Harvard University and MIT, with the mission of "providing quality education to everyone around the world" as well as to "advance teaching and learning through research." Unlike some learning platforms, EdX partners directly with universities and distinguished professors to provide expertly crafted courses in hundreds of different subject areas.
There are currently over 650 courses available, taught by over 1,700 faculties and staff. EDx is one of the best mooc platforms for online learning, as there are around 7 million users, and 580,000 certificates have been granted, which shows you just how large of a scale EdX as a learning platform is.
A subfield of courses come from top-tier universities. And while many online learning platforms primarily offer general education courses, EdX actually offers five different types of courses:
EdX Verified Courses: Courses in a variety of subject areas that will provide a certificate of completion.
XSeries Programs: You'll also receive a certificate of completion from these courses, but they also are specifically led by professors from top-tier universities and are considered 'higher level instruction'.
High School Courses: A series of courses designed for college-bound high school students, with resources standardized test prep.
Credit Eligible Courses: Courses, under a partnership with universities and colleges, that you take for credit towards a degree.
Professional Development: As the name implies, these courses are meant to strengthen your skill set for professional carers, and they tend to include more in the way of hands-on and experiential learning.
Do note that some courses require prerequisites to enroll!
What is Involved in Finding a Course?
As you can see, it's hard to generalize courses offered through EdX, in part because there are so many and for several different purposes.
The wide offering is wonderful for serving a wider need of learners, and it's also easy to search for what kind, of course, you're looking for. Search filters include:
Availability
Subject Area
Type of Program
Partner or Affiliated Schools
Level
Language
There's also a section for 'featured courses'. When you select a course, you'll be directed to the main page. There you'll get a lengthy intro, complete with general objectives, as well as a bullet point list of what you'll learn and the outlook for someone going into that area of study (when applicable).
You'll also be provided an average length of time it takes to complete the program, number of courses, and the cost. There's even a video intro to most courses. And if you scroll down to the bottom of the page, you'll be given information about your instructors.
As far as transparency and finding a course goes, it's pretty well done. The only other thing we'd request is a sample course curriculum. Online class options are either self-paced (including assignments), or a few do have a specific time limit or schedule that you must adhere to.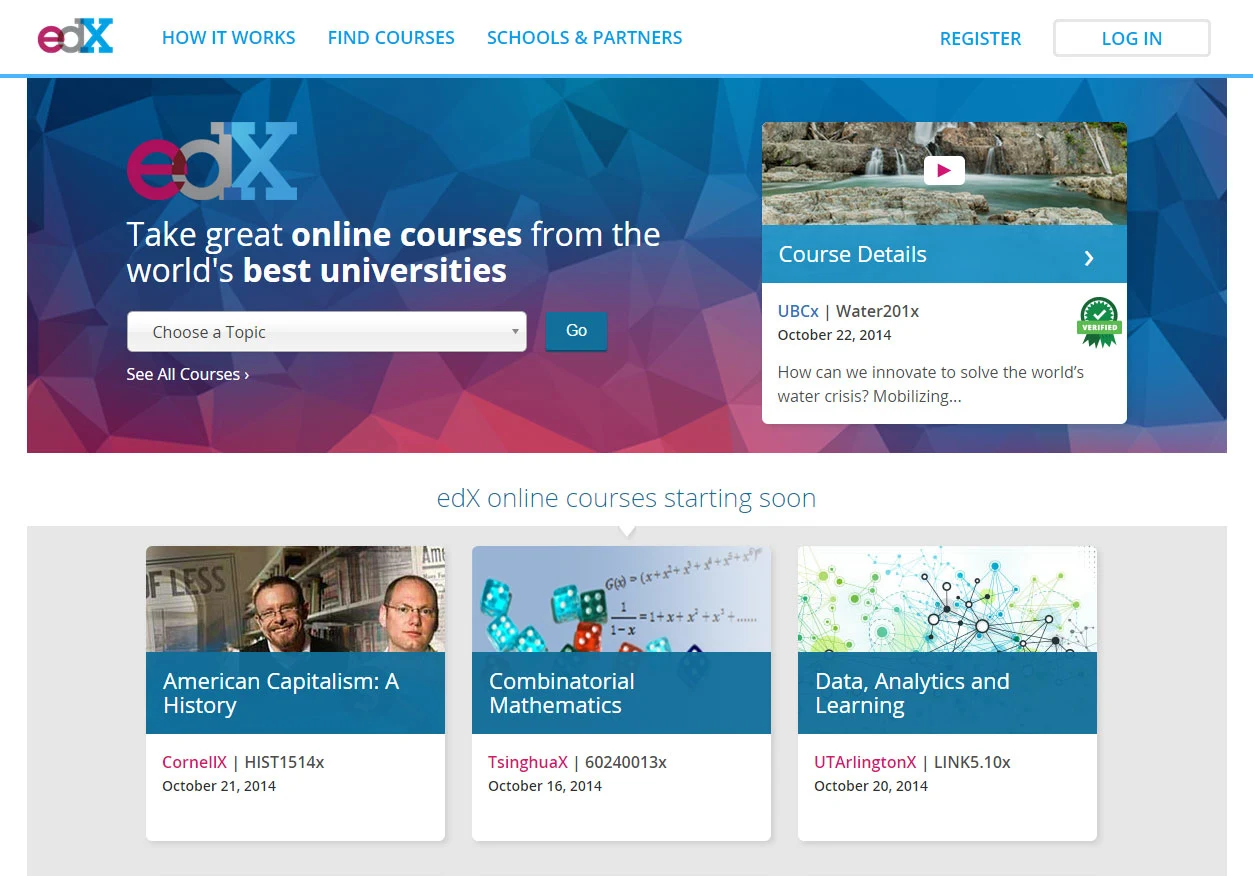 How Much do Courses Cost?
EdX is an interesting platform in that, while there are many free courses, there are also ones that do cost money. Noncredit courses, including much of the XSeries, are mostly free of cost (free online course). Credit-based or certificate programs range in price, though they are pretty affordable. If a course is "featured," it most likely will cost something.
While it's difficult to get a sense of all course prices–there is no central pricing information–many cost $50 per course for certificates. Courses part of a college degree credit program are a few hundred. And some joint certificate programs (series of courses) cost somewhere in between. The bottom line is that while there are many free courses, there are many that cost money as well.
While not unreasonable, it would admittedly be nice to have a front and center place to get information on pricing, so you don't get sticker shock when you click on a course.
What Main Subject Areas Can I Take Courses In?
There are plenty of subject areas to take courses in. Courses and programs are available in around thirty broad subject areas, including:
Architecture
Art and Culture
Biology and Life Sciences
Business Management
Chemistry
Communications
Computer Science (programming)
Data Analysis
Design
Economics and Finance
Education/ Teacher Training
Electronics
Energy and Earth Science
Engineering
Environmental Studies
Ethics
Food and Nutrition
Health and Safety
History
Humanities
Language
Law
Literature
Math
Medicine
Music
Philanthropy
Philosophy and Ethics
Physics
Science
Social Science
The most popular subject areas include courses in business and management; computer science; data analysis; humanities and language. Under each general course area, you select there will be suggested related disciplines. The very broad subject areas get far more specific; for example, biology includes courses in animal behavior, biotechnology, cellular biology, genetics, neuroscience and other specialized concentrations of study.
What do Consumers Say?
When considering EdX or another MOOC platform, EdX as a learning platform scored well on G2, an aggregate review site, with an average of four and a half out of five stars out of 56 reviews. Consumers on this site praised the low price, accessible learning (including audio transcripts), number of courses offered, and the overall flexibility of the learning system.
There was not much, in particular, said about the actual course materials of quality of lectures. Mild complaints were mentioned about EdX lacking a forum or social community and also a desire for more free courses. Some users said they found some courses more expensive than they would have liked.
On PCMag, EdX also earned four and a half stars–though this is a professional, as opposed to consumer review. EdX received high ratings for the number and diversity of courses offered, and the open source platform (Open EdX), allowing faculty to share resources and materials. The biggest downsides noted were outdated discussion resources, and while options overall were praised, there was a desire for more courses, especially in those not in the sciences.
Overall, EdX is an online learning platform that has a lot to offer. Courses are offered in a wide range of options and subject matters, and these courses include instruction by experts in their respective fields. While some courses are expensive, there are also many free or low-cost options.
The lack of a robust social community or discussion boards is a small downside; so too is little mention of interactive activities or innovative interfaces to make learning more dynamic. If you're looking for a course in the sciences, in particular, this learning platform is worth at least taking a look at.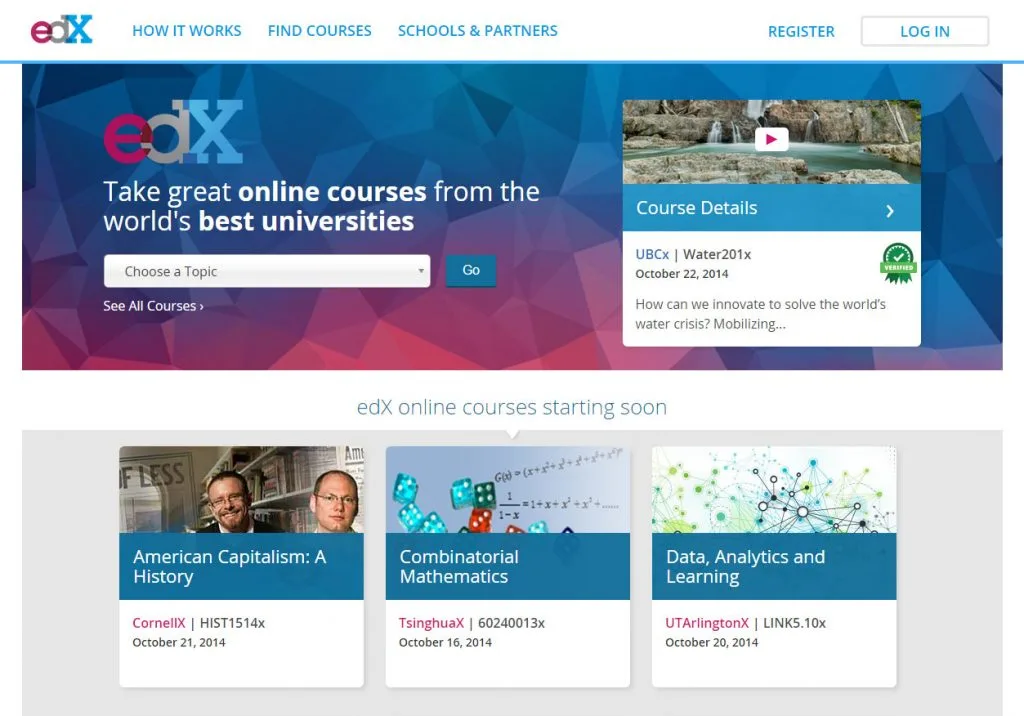 I Personally Prefer EdX
EdX has a much more transparent billing system, with many high-quality completely free courses and a wide array of discounts. Plus, they just have MORE courses to choose from, with a handful of options in even obscure disciplines!
View Current Promos
We earn a commission if you click this link and make a purchase at no additional cost to you.
Coursera Review

It's easy to see why out of every MOOC, Coursera course offerings and EdX are frequently seen as competitors. Coursera was founded in the same year as EdX–in 2012–and had a similar origin, founded by two Stanford Computer Science professors who wanted to create a network of courses available to everyone. And like EdX, Coursera partners with professors from top universities to provide expert-driven courses.
Coursera appears to be bigger in scope, at least based upon their internal statistics: there are 35 million users, over 150 university partnerships, more than 2,700 courses, with 250 different areas of specialization and 4 full degree programs.
Their mission statement is like EdX's if a bit loftier: the learning platform's mission is to help create and envision "a world where anyone, anywhere, can transform their life by accessing the world's best learning experience".
And also comparable to EdX, Coursera offers courses for different purposes, though there are fewer categories than offered with EdX–which is better for simplicity's sake but not as great for anyone, for instance, looking for test prep. Here are the types of courses Coursera offers:
Open Registration Courses
These are courses anyone can register for, and can take for reasons of self-improvement, professional development, or just about anything else. Unlike EdX, there isn't as much of a distinction who teaches the courses, in that there is not a separate category for courses led by leading professors, which in our opinion, is actually an advantage.
Specializations: These courses are most useful for specific career and professional development goals. Courses are taught in a series (as opposed to standing alone) and you receive a certificate upon completion. These courses also include hands-on activities.
Online Degrees: Like EdX, Coursera also offers online degree programs. They do not, however, do as much in the way of offering individual courses for college credit. The options are limited to Master's degrees in Business, Computer Science, and Data Science.
While there are fewer categories, it does not seem limiting, but rather there are fewer distinctions between whether or not experts from top tier universities teach different courses.
What is Involved in Finding a Course
Main Course Subject Offerings
Finding a course on Coursera is slightly less intuitive than it is on EdX, and you're also dealing with many more courses to choose from.
While courses are displayed in discrete categories, there is little presence in the way of search filters; you mostly find courses by selecting the pre-arranged categories.
Categories include:
Popular Topics
Master's Degrees
Trending Courses
Popular Free Courses
Data Science Foundations
Cloud Computing
Business English (ESL)
Top Rated Courses
Python Related Courses
Most Popular Certificates
Best Selling Authors and Thought Leaders
MBA Help
Digital Product Management
Digital Marketing
There is a drop-down menu at the top of the page labeled "explore" where you can browse by subject areas. Subject areas include some but not all of EdX's options, but also add engineering courses.
In total, there are 11 categories, which is far less than with EdX at first glance, but under each of these categories are certain specializations, and the number of course offerings is perhaps a bit more evenly distributed, with more attention to all subjects rather than an extra emphasis on the sciences.
It's harder to find a specific course, but within certain fields, you may also be more likely to find what you want, simply because there are more courses offered overall. We'd like to see the interface updated a bit for more intuitive searching, but there are plenty of offerings.
Are Coursera Courses Free?
If you're looking for free edx alternatives, the price of different Coursera MOOC Courses is a bit more easy to deduce at the beginning. While EdX has different price points that you can only discover after clicking on a course of a program, Coursera lists their prices for different course categories and options front and center.
But is Coursera Free? While you can join for free, there are a variety of price points depending on the course type. Each course type is given a price point range on the "About" page. Price ranges are as follows. One thing that's a little tricky about these prices is that some are priced per course, and some are priced per month.
Online Degrees
This has the largest, and least helpful price range. It claims a price range of $15 to $25,000, which obviously is not terribly helpful, though it does at least give you a cap, and it seems that most fall in the $20k range, so we're not sure of the purpose for the $15 amount. Programs last 1 to 3 years.
While this may sound expensive, they give you a comparison to the average cost of a typical program. Something misleading about this, however, is it is possible to apply to traditional programs and potentially be awarded partial or even full tuition waivers or assistantships. Unless you're strapped for time, this is the one area we are most wary of.
How does Coursera Compare to EdX with Learning Tools?
Compared with EdX course tools, Coursera has similar features in regards to expert-led video lectures; there is an equal amount of information regarding the specifics of what you'll study, and there are, just like EdX, apps you can use to learn with. But in terms of the learning experience, EdX seems to offer just a bit more.
While course resources and learning experiences vary depending on the specific courses of a program, there is the option for course mentors, as well as full academic and technical support.
Customer reviews tell a slightly different story, however: on Consumer Affairs, Coursera did not fare as well, with an average of 2 stars. Customers praised the interesting and informed coursework but were less than pleased with expensive subscription costs, and there also seems to be a good deal of miscommunication with billing, at least for some customers.
A Forbes feature review painted a different, far more positive picture. The material was pronounced interesting, challenging and complex. It was declared an excellent resource and organized. It seems that the quality of the courses are excellent; however, there needs to be some overall improvements in terms of billing and communications.
Frequently Asked Questions [FAQ] about Online Learning Platforms
Are Coursera courses accredited?
Coursera offers a mix of accredited and non-accredited courses. When compared to other platforms like Udemy, Coursera has a much stronger mix of accredited courses as a partner MOOC (Massive Open Online Course) for many leading top tier colleges and universities.
What is the difference between EdX and Coursera?
The critical differences between EdX and Coursera are that EdX offers more science based courses, while Coursera has a balanced variety. EdX also allows individuals to take free courses (with no certificate earned), while Coursera generally requires a payment for courses.
Online Learning Platform Final Verdict: EdX or Coursera?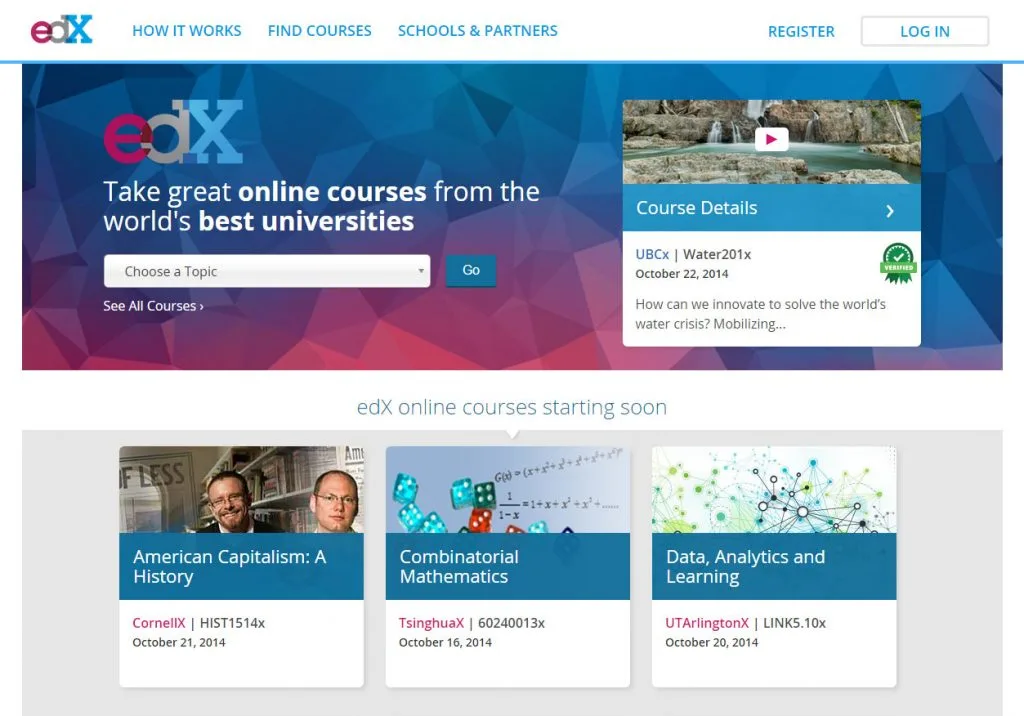 I Personally Prefer EdX
EdX has a much more transparent billing system, with many high-quality completely free courses and a wide array of discounts. Plus, they just have MORE courses to choose from, with a handful of options in even obscure disciplines!
View Current Promos
We earn a commission if you click this link and make a purchase at no additional cost to you.
Both Coursera and EdX are some of the best MOOC providers in terms of quality of instruction, and they do have many excellent features in common.
While it seems that Coursera has a slightly better interface, a few more features and more options overall, EdX does not have as many complaints filed against it, and it seems they overall offer more free or low-cost courses.
Bottom Line Summary: Until we get more confirmation that billing is improving with Coursera, we will give a slight edge with EdX here.
Further Reading on Course Platforms