Latest posts by Jessica Lauren Vine
(see all)
Whether you're a beginner or you feel like your skills are getting stale, LinkedIn Learning or Treehouse can help you put some pep in your step. You might be asking, "Which one is best?" and we will help you decide as we stack up Linkedin Learning vs Treehouse.
If getting a degree at a traditional college doesn't sound good to you, one of these platforms may help you skirt the system and get a job without huge piles of student loan debt. Employers most want to see that you know what you're doing and that you can give them the results they want.
In this article, you'll learn everything you need to know about the LinkedIn Learning and Treehouse platforms. I've gone through every nook and cranny on these learning sites, so you don't have to, and you'll still make an informed decision.
Main Differences Between LinkedIn Learning vs Treehouse
The Main Differences Between LinkedIn Learning vs Treehouse are:
LinkedIn Learning has many types of courses, whereas Treehouse is almost solely about coding
LinkedIn Learning has different course qualities and formats from various creators, whereas Treehouse has a template and full production setup by Treehouse
LinkedIn Learning course certificates allow you to show off your knowledge on LinkedIn, whereas Treehouse knowledge might not be as easy to flaunt
LinkedIn Learning has a monthly or annual subscription plan, whereas Treehouse has three monthly subscription plan options for access to more or fewer features
LinkedIn Learning vs Treehouse: LinkedIn Overview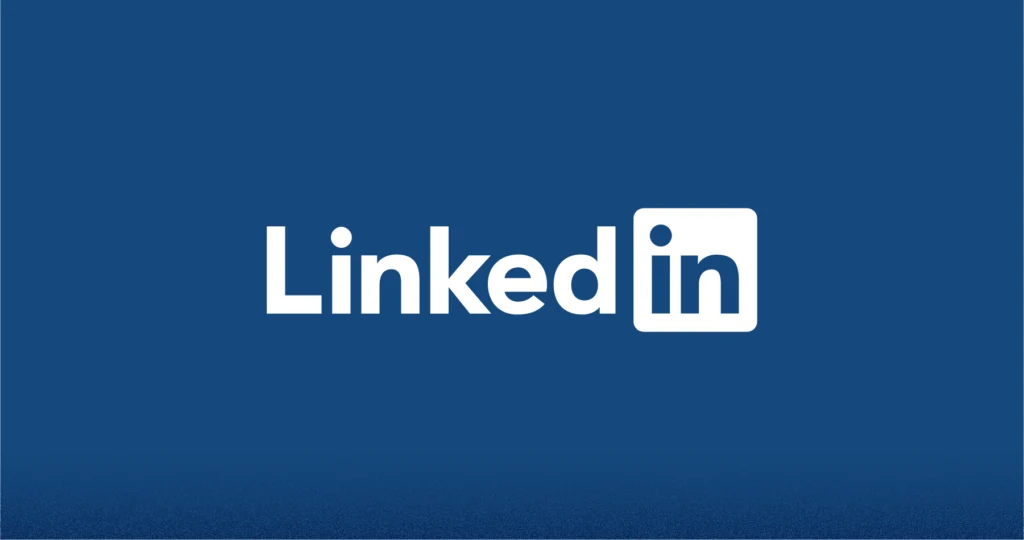 LinkedIn Learning now has the full library of Lynda.com since Microsoft bought LinkedIn in 2016 and merged Lynda.com with the platform in 2017. Lynda.com itself had thousands of classes, and since then, LinkedIn Learning, as we now know it, continues to grow its library. That's why LinkedIn was more than happy to make a $1.5 billion investment in securing the platform and its courses.
LinkedIn Learning's vision was to offer a better way to develop skills and learn. Their focus is to bring world-class content and data-driven personalization to everyone that wants it.
As you look through the various courses on the platform, it's easy to see that their vision still drives them. Their courses are high-quality and easily draw the watcher in—even if it's not the normal topic of interest. Be careful when you're browsing because it's easy to get sucked into a totally different topic you don't need to learn about.
Overview of main features:
Quick access through your LinkedIn account
Access to almost any type of course you can imagine
Makes it easy to save courses for later
One low price for many different course options
Comprehensive help section and support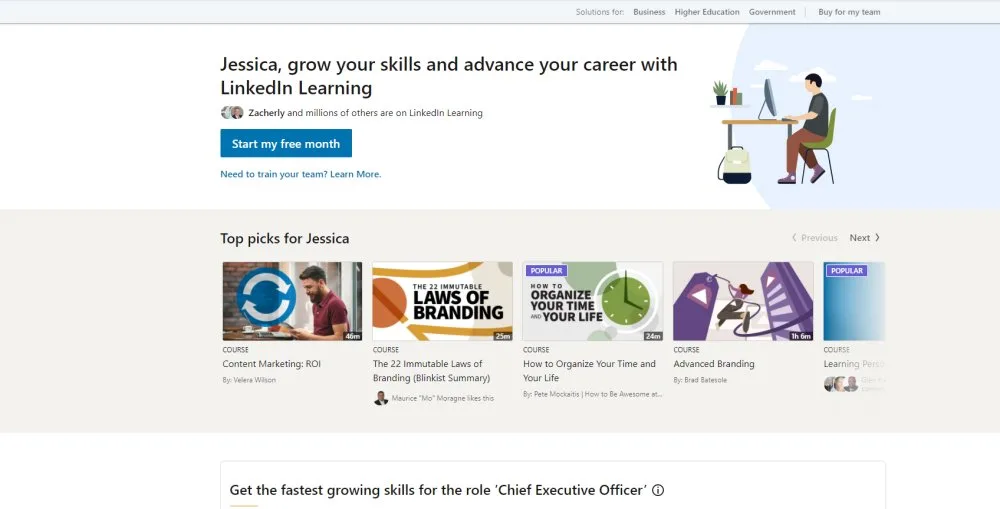 If you do decide LinkedIn Learning is for you, you might ask, "How do I get started with LinkedIn Learning? Those of you that already have a LinkedIn account don't need to register for anything separate. You're already in and ready to start course surfing.
For those people that haven't tried LinkedIn Learning before, you can get a free month trial of the subscription. You can access anything you want with this trial with no restrictions. This is a great time to check out what's available and save some courses for later if you see something that catches your eye. Even if you still have things saved in your account, you can cancel your LinkedIn Learning subscription at any time without hassle.
LinkedIn Learning has a great organizational structure, so you won't have to root around for what you need to review. The user experience in the learning section of LinkedIn is very similar to the networking part of the platform, so you shouldn't get lost if you are a regular user.
You can quickly find courses you saved, courses in progress, and look for new courses. They have simple and easy-to-understand filters that make your search a breeze.
Course Types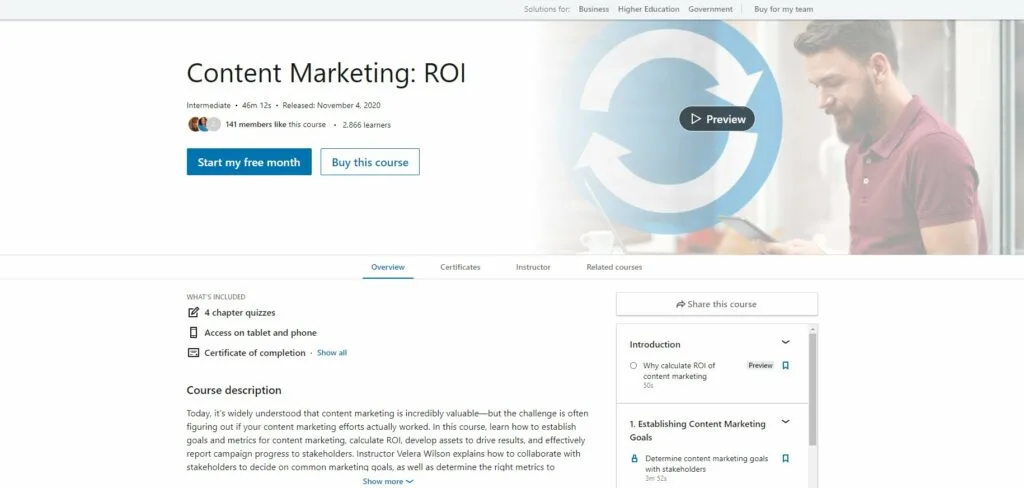 There are so many different types of courses available and many you probably haven't thought of before surfing through LinkedIn Learning. That doesn't mean they aren't valuable. Many unique courses may be exactly what you need to level up your career, and here are some examples of what's available.
Business Analysis
Data Analysis
Business Intelligence
Data Visualization
Ethics & Law
Product Management
Business Software & Tools
Spreadsheets
Personal Productivity Software
Data Visualization
CRM Software
Email
Video Conferencing
Cloud Storage Apps
Career Development
Career Management
Personal Branding
Job Searching
Interview Prep
LinkedIn Profile Branding
Courses
When you're ready to take a course, the platform is easy to use so that you can start right away. When you click the course to open it, the first thing you see is the course's introduction video. The introduction video will give you all of the must-know information before you dive in so you can make sure this is the right course for you. Some courses have projects and work you need to do with them, but you can go at your own pace even if they do.
Below the video, you'll see more information that gives you even more detail about the course. You can see the instructor and other details about the course, such as learning objectives and skills you'll learn.
As you go down the page, you'll also see a question and answer section for the course and a notebook to type notes about this specific course. You can also read the course transcript if you don't want to go through the entire video.
Course Quality
Even if the information is good—or even great—if the course quality is lacking, it's hard to concentrate. The good thing about LinkedIn Learning is that they have high standards for the courses created for the platform. You can clearly see the instructors, and they have good mics, so you don't have to strain to hear them. The people teaching the courses are also easy to identify as experts since the courses link to their LinkedIn profiles.
Getting Support
If you need help, the FAQ section is usually enough to get the answers you need. If you need further support, you can post a question in the Q&A section or send a note to support.
Price to Learn
You can learn many of the topics on LinkedIn Learning for $29.99 a month which may cost hundreds or thousands of dollars elsewhere. Keep in mind that those courses may be different from those on this platform, but it can be helpful if you're on a budget. If you know you'll use LinkedIn Learning for at least a year, you can pay annually, and it only costs $19.99 per month.
LinkedIn Learning vs Treehouse: Treehouse Overview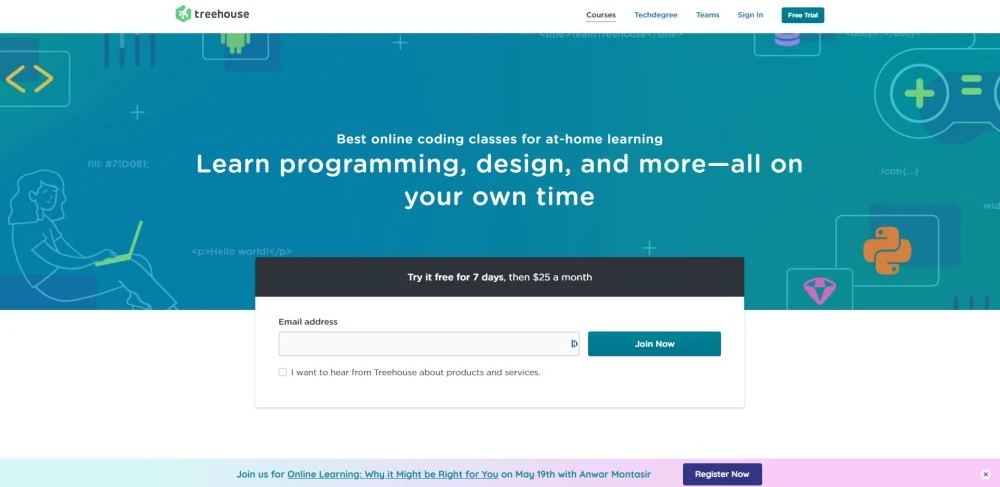 Treehouse was founded in 2011 by Ryan Carson and Gillian Carson in Portland, Oregon. The reason for the name is because it "reflects the wonder of learning as a child." They take their online learning platform very seriously, and not just anyone can hop on this platform and teach. It is not a free marketplace, and it's much stricter than LinkedIn Learning.
Here's a quick overview of the main features:
On-demand expert-led video courses for people that want to learn to code
Easy to follow courses to teach a particular skillset
Intensive training courses called Techdegree programs are much more difficult than the basic courses
7-day free trial
Multiple payment models available – $25 a month for the basic membership, $49 a month for the pro plan, & $199 a month for the Techdegree program
Starting Your Journey with Treehouse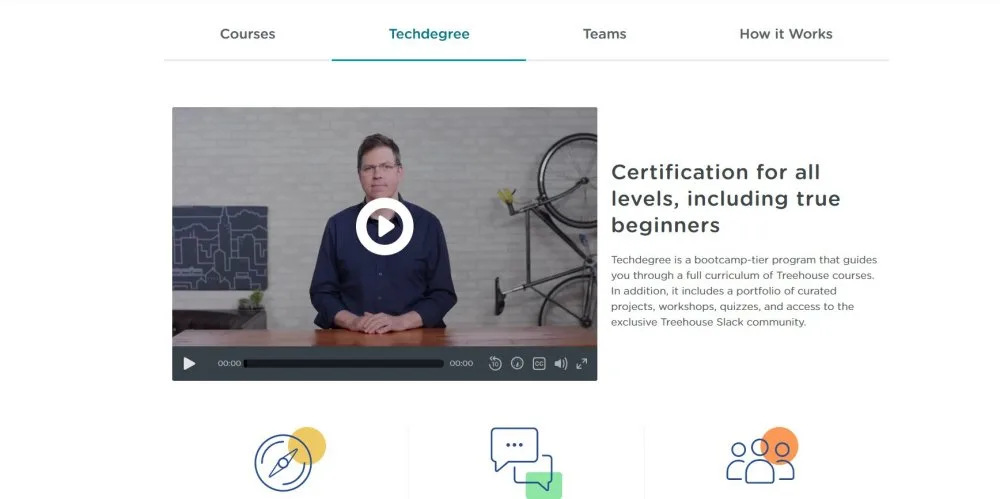 It's simple to start your journey with Treehouse since you get a 7-day free trial of the learning platform. If you don't like it, just opt out, and you're done without any hassle.
When you go to start your free trial, you get the option to go to the basic courses, pro courses, or one of the techdegrees. Depending on which of those you pick, you'll start paying that amount monthly if you don't cancel before the 7-day free trial is up.
Once you have your account, you can start looking for a course that interests you. Keep in mind that Treehouse doesn't make it super easy for you to find what you want, but you'll be delighted once you do. All of the courses have great lighting and audio, and the instructors obviously prepared for their time on camera.
Course Types
Here's an overview of the courses Treehouse has to offer:
Introduction to Coda
Computer Science
UX
SVG Workflow & Tools
Code Structuring
HTML
WordPress
iOs
Courses
Once you click on the course of your choice, you see details about the course and the instructor. If you don't have a membership yet, you'll only be able to see part of the content. Getting a preview of the content does make it nice because you can get an idea of how the course would be if you started it. However, it does make sense to get the 7-day free trial to experience the content fully.
Course Quality
Unlike LinkedIn Learning, Treehouse vets everyone on their platform and has a set template for their courses. Once you take one course, you know the quality of the next course you'll take. They are cookie-cutter in quality, and in this case—cookie-cutter is a good thing.
All of the instructors know what they're talking about and understand how to explain it to beginners. Some people think the course is a little too hand-holdy, but it makes sense for people that are just learning the topic. You never have to worry about not hearing the instructor because their mic quality is the best out there.
Support
Since the courses are highly interactive, you'll always feel like you have enough support when learning with Treehouse. You can both get and give peer reviews and grow from the feedback going both ways. If you have any questions about the course, you can use Slack to contact someone at Treehouse to help you.
Pricing
After the 7-day free trial, you'll pay one of the three monthly plans. You'll have picked your plan at the beginning of the trial, but if you want to change it, you can do that as well. You might decide you need more or less while going through the trial.
Here are the pricing options:
$25 a month for the basic membership
$49 a month for the pro plan
$199 a month for the Techdegree program
There aren't any coupons or deals for Treehouse like with some other platforms other than the free trial.
LinkedIn Learning vs Treehouse: Which Is Better?
Course Content & Teaching Quality
LinkedIn Learning does have a vetting process and quality standards, which is nice. You don't have to wade through subpar courses, but you will notice the inconsistency since the production quality is on the creator's shoulders. On the other hand, when you look at Treehouse, they are the ones that ensure the quality, which is why the quality is stellar across the board, so this point goes to Treehouse.
Ease of Use & Navigation
LinkedIn Learning makes it so simple to save courses you might want to take and to drop back in where you left off. You'll also find it is easy to filter the courses and get right to the content you need. Treehouse makes it a little more different when you're finding things, but once you get into a course, it's just as easy, so LinkedIn Learning comes out ahead—but just by a hair.
Pricing
If LinkedIn Learning has what you need to learn, they come out ahead on pricing, value, and thrift. For those of you that need to learn some very specific coding, Treehouse might be the right place for you despite the potentially higher price point if you need to go to the Pro level or opt for a Techdegree.
Support
Both LinkedIn Learning and Treehouse have good support systems built-in. However, it seems like Treehouse might come out ahead again since you can contact them on Slack.
FAQs
Question: Does Treehouse Have Better Coding Courses Than LinkedIn Learning?
Answer: Overall, the answer is yes. Since Treehouse focuses much more on coding, you'll find much more content and resources to help you learn to code. Much of LinkedIn Learning's coding content does not go as in-depth as Treehouse.
Question: Can you get a job by just using LinkedIn Learning courses or Treehouse courses?
Answer: Fewer employers care about your degree, and more people care about what you can do in the position they need to fill. It may be more challenging to find the right employer, but the answer is yes.
Question: Can I use LinkedIn Learning or Treehouse as credits?
Answer: Speak with your education advisors to make sure of any big education decisions you make. Many people use these courses as ongoing education or to help keep a certification.
Conclusion: Which Platform Should I Use?
For most topics, I prefer LinkedIn Learning as you just can't beat the value and the course material. If you want to learn how to code, Treehouse beats out LinkedIn learning slightly as they seem to have a bit more of the specifics that you'll need as this is all that they do.
Next, see how Linkedin Learning compares to Pluralsight