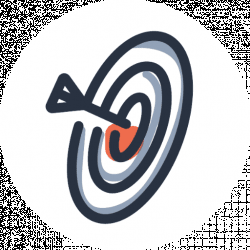 Latest posts by Online Course Rater Team
(see all)
German is a popular language to study for many but can take a lot of effort, especially for those struggling with grammar. Thankfully, apps can offer systematic help in all areas, so you can dedicate time to the considerable amount of memorizing and studying new topics wherever you are.
As so often, it's probably best to use more than one app to learn all the facets German has to offer, that's why in this article we look at some comprehensive courses as well as apps for different aspects you might want to focus on.
To make sure you learn the most natural-sounding German and learn something about the country while you're at it, special attention has been paid to ensure the recommended content is by German natives or takes the many German idioms and dialects into account.
Comprehensive study
If you just want to start with the very basics, there are popular brands like Duolingo to give you an idea of what you're getting into, but just like with any other language, there are a lot of small idiosyncrasies such one size fits all solutions can't teach you. If you really want to get immersed, explanations by real human beings are the way to go.
There are a lot of courses that cover content for students of every level. This may seem overwhelming at first, but the course and channel discussed below is organized in a way that makes it easy to find what you're looking for and just take the plunge.
GermanPod101.com
Website with paid and free content (registration required), YouTube channel, free/paid Android/ioS app
The Pod101 brand encompasses several languages, but their overall approach stays the same throughout for every language there is a freemium website with a good balance between free and paid content that you can register to using your Facebook account or email address/password combination. The content on the website corresponds to the free ioS or Android app, which means the app, too, is only partly free unless you decide to spend money on GermanPod101.
If you are looking for completely content, however, you can't go wrong with the YouTube channel.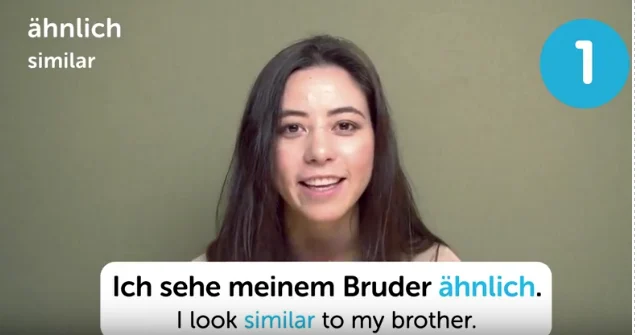 Lessons cover everything from the absolute basics like holiday vocabulary and useful phrases to introductions and reading/listening comprehension exercises for learners of all levels. Everything is presented by native hosts or an English/German host combo. All German hosts have a rather distinct accent which can make listening to them a bit of a challenge for new learners, but there is text for all the important points covered and you can use YouTube's English captions as well.
There are hundreds of hours of content already available, with new videos being uploaded every Tuesday and Friday. Apart from the language content, which also features pronunciation guides and videos explaining good reasons to learn German for all the yet undecided, there's also a lot on German customs as well as dos and don'ts.
Every video will remind you of everything that's waiting at GermanPod101 in a short ad at the beginning, but some of the content on YouTube is in fact lifted from the site, which means that unless you miss the interactive aspect, you don't necessarily miss a lot. Like with all other Pod101 websites, however, a lot the content there goes deeper into a topic that has been covered in a few minutes only in the video. Doubtlessly this is done on purpose, but why not. You still get a lot of great content without any registration or spending money.
If you do want to have a look at GermanPod101, you can use the full website for 7 days completely for free. If the content on YouTube has already won you over, your best bet in the $1 introductory offer which gives you lifetime access to all the features of the website.
| | |
| --- | --- |
| Pros | Cons |
| Lots of different content | Amount of content on the website is difficult to navigate |
| Great for students at every level | No structured learning system throughout the website |
| Likable hosts teach you grammar, vocabulary and cultural topics | |
EasyGerman
YouTube channel, additional content available to patrons on Patreon
EasyGerman is a popular YouTube channel that has content for absolute beginners, advanced beginners, intermediate and upper intermediate speakers as well as advanced learners. Each level roughly corresponds to the Common European Framework of Reference that is used in official German language exams like example those you need to pass in order to attain citizenship.
EasyGerman uses the method of immersion you may know from products like Rosetta Stone, meaning no English is spoken in videos (except for some basic explanations, for example in grammar videos and dos and don'ts). There are German and English subtitles for everything, handmade and with correct translations, which is rare, translating idioms seem to give a lot of people trouble.
In most videos, different people present phrases and vocabulary, have short conversations or give practical examples for using grammar and vocabulary in context. Often people are literally interviewed on the street. This has the great advantage that you hear phrases spoken by different native speakers at varying speeds, which gives you a really good feeling for the language in a natural setting.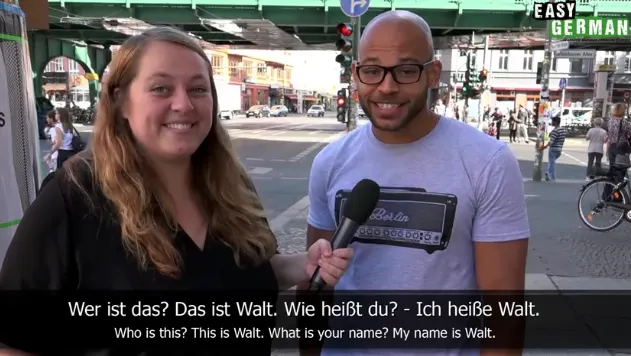 The channel owners Cari und Janusz have taken great care to present the kind of content that is useful for learners at different stages. There is a great difference particularly in conversation speed between videos for advanced speakers and beginners, which is considerate especially to those who have to get used to following the combo of dialogue and subtitles first.
Two new videos are uploaded each week. There is slightly more content for intermediate and advanced learners, which is great because many courses cut people off as soon as they leave the basics behind. Every level has almost a hundred videos each, which speaks for the tremendous dedication that goes into maintaining the channel.
If you want to engage further with the content, you can support EasyGerman via Patreon and gain
Interactive worksheets for all Sunday episodes of Easy German and some of the Super Easy German video series
Transcripts of all-new Easy German videos
Access to the Patreon supporter Facebook group
from the lowest support tier – $1 a week.
| | |
| --- | --- |
| Pros | Cons |
| Content from and featuring native speakers | Lessons often presented in the same format, little variety |
| Useful for learning about everyday situations | Geared mainly towards learning phrases/vocab quickly |
| Great for students at every level | |
Lingolia
Website, free
Lingolia is a relatively new web portal; as such it's still partly under construction. For now, it has two really useful and thorough sections, one on grammar and one of vocabulary.
In both sections, you will find a number of overarching topics, such as date and time, which are then split into several smaller lessons. Each of the lessons ends with a short test that is evaluated for you.
Lingolia was clearly designed by people who design textbooks (they sell a grammar textbook, too). As such, there is no funny mascot, and you won't learn with the help of an amusing flash card game. What you get is content that, while a little dry at times, is designed to be accessible and easy to understand. Most importantly, is definitely correct – even at a cursory glance, many free apps of dubious origin contain errors you wouldn't notice as a beginner.
There is a lot of content, especially in the grammar section, which contains an introduction, examples and what's perhaps most important, a list of important exceptions to the particular rule you just learned.
Beyond that, the grammar section has a very useful verb conjugation tool: you enter a word of your choice and you receive a complete list of all possible conjugations, which is great to print out and then memorize.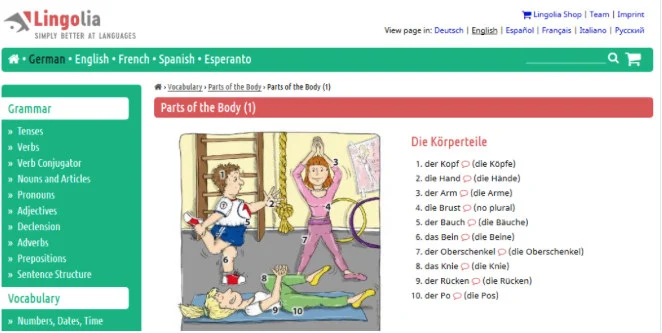 The vocabulary section offers something else that is useful but not found everywhere, examples of words that are often used in the wrong way by speakers of other languages. Hopefully, this part is expanded on in future.
Each topic discussed in the vocabulary section consists of ten words each and is as such rather short, but it features useful topics like travel or different celebrations. Each set of vocabulary also includes a grammar test, two vocabulary tests and a reading comprehension exercise.
| | |
| --- | --- |
| Pros | Cons |
| Content designed by professionals | Learning method can feel a bit uninspired and too much like learning in school |
| Includes well-functioning conjugation tool | Not a lot of vocabulary |
| Content is easy to navigate and understand | Partly still under construction |
Learn German with Anja
YouTube channel, free Android/ioS app
Another YouTube tutor like EasyGerman, Learn German with Anja shows you all that's needed to teach people German is enthusiasm, of which Anja certainly has a lot. Anja's videos can be categorized into the topics grammar, vocabulary and real-life application of content.

The best videos are certainly those you find in her 51-part basic course for beginners. Videos are subtitled and transcripts are available. Anja will also repeat everything she says in English, which is easy to understand despite her obvious accent.
While her videos may not seem the most professional, what's important is that Anja is very good at explaining topics in the generally short time frame of a YouTube video. Anja also has generally more videos on pronunciation and the interesting idiosyncrasies of the German language like slang and very long composite words than most other channels.
Anja also blogs a lot and uses opportunities like travel to infuse her adventures with short vocabulary lessons. Her perkiness may not be to everyone's liking, but Anja reminds us that fun and interesting topics are important motivators and that offering that makes you enjoy the language and want to know more about it is just as important as resources geared mainly towards language acquisition, like books and training apps.
Speaking of apps, there is an app that contains Anja's videos for the Basic German series as well as small quizzes to test your understanding. Nothing groundbreaking, but more comfortable (and less distracting) than accessing YouTube if you really want to study.
| | |
| --- | --- |
| Pros | Cons |
| Friendly teacher who explains well | Not for those who value professionalism in all things |
| Fun and interesting topics, some of them rarely covered elsewhere | |
Goethe Institut
Website, range of free Android/ioS apps
The Goethe Institute, Germany's non-profit cultural association named after the one and only Johann Wolfgang, with branches all over the world, is the official location for German language examinations and as such provides resources for learners from far and wide.
If you don't want to enter the Goethe Institute's evening school or browse the library of a local branch, you can either use the free resources on the institute's website or try one of its many apps.
"Erste Wege in Deutschland" is an app that bundles the web video miniseries of the same name and the exercises available on the website into a neat package. It follows Nevin, a young woman who just immigrated to Germany and now uses the language in the most common situations: at the doctor's, looking for work, finding a place to live and so on. There are eight videos in total, each under ten minutes long, which is quite a lot of content to listen to!
The exercises are something you would find in Duolingo or Rosetta Stone. Sometimes you are asked to put sentences in the right order or match vocabulary to pictures, at other times you will have to answer questions that test your comprehension of a scene in the video, or even the video as a whole.
It's the useful content of the variety that may be too boring for a YouTuber to cover (like going to the job center), but that makes it no less essential.
The institute's vocabulary trainer app is a bit of a mixed bag. It's important to note that you need a, albeit free My Goethe user account, which is the account, which gives you full access to all website and app features.
The app itself has a few bugs that impede performance, but it is still important to mention, since it doesn't just include vocabulary translated from English to German, but all kinds of languages, which sets it apart from most of the apps out there.
For absolute beginners, there's the app "Deutschtrainer A1". In the very first task, you listen to a short dialogue. Then you are asked to fill in the missing words in the dialogue you have just listened to, using a drop-down menu that gives you several options.
The words are repeated throughout sentences, usually in different clauses, so that you can instinctively learn how they are used. The app shows you the right answers for any mistakes you might make and then builds upon what you just learned by taking the drop-down menu away, asking comprehension questions and so forth.
It's astounding how many different ways of studying a really short text there are, but that isn't all. There are ten topics with up to 22 different questions each, covering reading comprehension, matching vocabulary to pictures, putting sentences in order and more. It comes across that great care has been taken to engage students as much as possible with the material without too much repetition and across a useful set of subjects.
If you are looking for something a little more fun, Goethe Institut hasn't forgotten about fans of gamification. The app "Lern Deutsch – Stadt der Wörter" (Learn German – City of Words)transports you into the comic-style version of a German city, where you can click on objects to learn the word and its article and play games together with other users, such as vocabulary memory. To that end, a quick registration is needed.
You can earn points for studying or engaging others in games. These points earn you accessories and new looks for your in-game avatar, which is a nice gimmick that can be really motivating to some, especially younger learners.
It's effective because it's based on immersion – you will recognize the meaning of the word without the need for translations, even though translated example sentences are available. Each word comes with natural-sounding audio for you to practice your pronunciation with.
| | |
| --- | --- |
| Pros | Cons |
| Big variety of subjects | Some apps work better than others |
| Content designed by an official language teaching body | |
Deutsche Welle (DW)
Website, range of free Android/ioS apps
Deutsche Welle is Germany's largest international broadcaster. As such it is part of their mission not only to provide news on Germany to those interested around the world but also use their position to help with German language learning.
In this regard, DW even beats the Goethe Institut. The website boasts over 300 videos and 14000 exercises for its main course. Since the website is optimized for mobile devices, nothing stops you from learning on the go even if you don't use the app.
DW's app "Learn German" focuses on said main course, called "Nico's Weg" (Nico's Way")is similar to Goethe Institut's offering in that you follow a person new to the country through their daily life in Germany. The big difference is the sheer scope of Nico's Way. Since there is so much content (even some of the level C of the framework, reserved for advanced speakers and pretty elusive everywhere else), those with prior knowledge of German can take a short placement test to be able to skip everything they may already know about.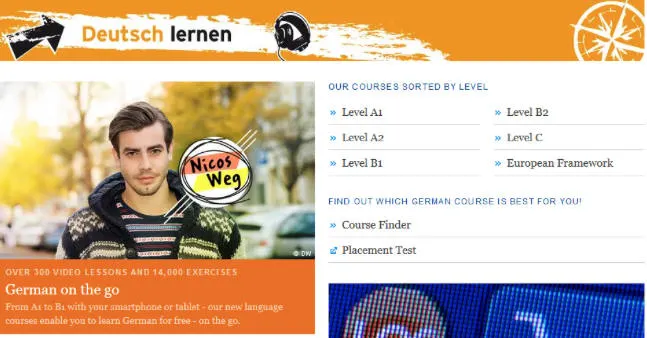 Even A1, the level for absolute beginners offers 16 categories with 4 videos each. The videos all teach new vocabulary and a new grammar point. Unlike most content, even at a very basic level, you won't encounter any unnatural sounding German (it's almost like it's possible to make Germans speak German slowly without sounding like they are speaking it for the first time!), but it may be to fast for some. There are no English subtitles, everything is subtitled in German. This is very immersive. All episodes connect to a continuous story, meaning if you want to know what happens to Nico, you have to keep watching.
While the videos themselves explain nothing, the app comes with a vocabulary list and a grammar glossary with explanations, thus you can look up the subjects of individual videos again after you finish watching. The app contains material for levels A1 to B1.
For those who struggle with Nico's Way, there is the Deutschtrainer. This consists out of a short video covering the absolute basics with no distractions, as well as a transcript. After completion of the video, you can take a short text to assess your understanding of the topic.
DW also offers Deutsch Interaktiv, a course for students of levels A1 to B1, available with English and Russian translations. This free course is worth mentioning particularly because it comes with worksheets. It was originally designed for those teaching German, but can be completed independently – a short and completely free registration is required.
Furthermore, DW regularly offers text with audio and videos for intermediate and advanced speakers, such as slowly spoken news. These are updated regularly.
| | |
| --- | --- |
| Pros | Cons |
| Huge body of content | Some A1 content perhaps too difficult for absolute beginners |
| Lessons and exercises for learners of all levels | |
Vocabulary
As great as comprehensive courses are, they can be hard to take with you. Being able to study wherever is habit-forming and helps you stick with your goals in the long term. The following apps help you invest a bit of time whether it's on your commute, during your lunch break or during travel so that you can feel accomplished and keep learning bit by bit.
Living Language German
Free ioS app, in-app purchases
Publisher Random House is trying to sell you on its Living Language course series with the accompanying app. You can start with content for absolute beginners for free and either buy the course, which consists of books and audio CDs or purchase more content in the app itself.
It's basically an alternative to the Goethe Institut A1 app, only that should you decide to buy the full app, it doesn't stop there. Like many popular apps, it uses a building block system, meaning it makes absolutely sure you have understood a word, phrase or grammar point before using it in combination with something new, continuously building on items you have mastered.
The approach itself is a good idea but can be slow for some.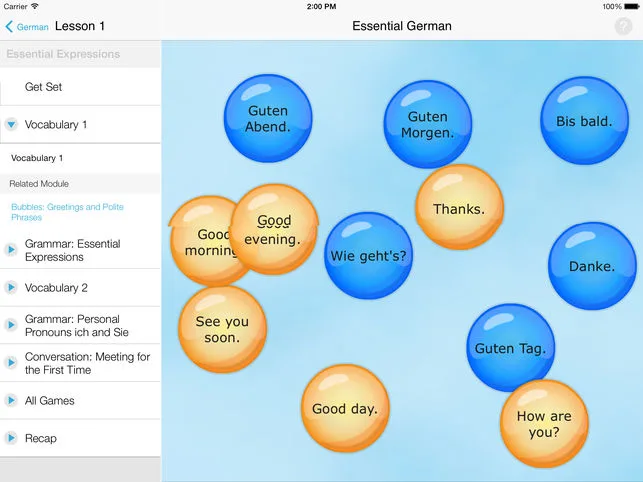 The content covers familiar bases all around: numbers, introductions, restaurant visits, but also socializing, which isn't covered all too often (but which is addressed in Goethe Institut's "Erste Wege", too). Using the building block idea, intermediate and advanced levels will rehash the content in some forms.
Learning vocabulary with Living Language comes in the form of games, completing sentences and flashcards using pictures and pronunciation a la Rosetta Stone. Thus this app is a good alternative to the more expensive complete course by Living Language, and all those who have come to like the methods used by popular solutions like Rosetta Stone and who are looking for more content to study with past the beginner level.
| | |
| --- | --- |
| Pros | Cons |
| Useful for students at all levels | Content repeats at higher levels |
| Popular building block approach to studying | Some performance issues |
| | Not completely free |
Grammar
Grammar quickly becomes the bane of most of those studying German, but once you understand the underlying rule, most of it is memorization – much like many other languages. The below apps help make this pesky task a little easier and a lot more fun.
DerDieDas
Free Android/ioS app
DerDieDas takes a fun approach to memorizing articles. The app consists of several decks of flashcards (plus the option to make your own deck) for the usual number of topics like travel, food and sport.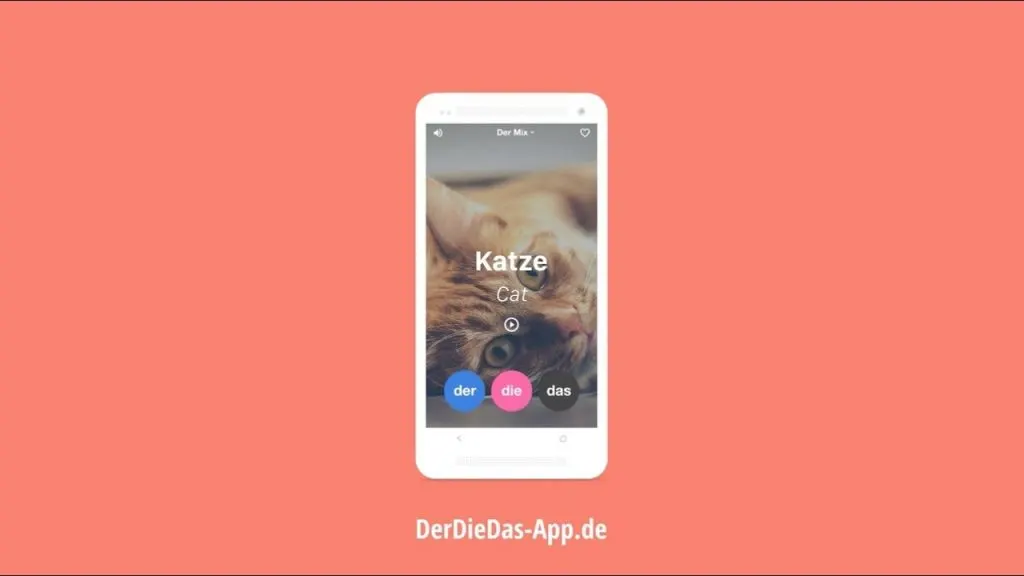 Each flash card has the English translation of the word plus a picture. The pictures don't always help, they are probably meant as a nice design element rather than a way to integrate the immersion method. You can swipe each card in different directions that represent an article – left for "der", right for "das" and down for "die". If you guess wrong the card wriggles and refuses to be moved. Having you swipe wrong and collect right and wrong answers in a list would have made the app perfect, as it is it's a fun way to learn articles for the most common basic words.
Verb Conjugator
Free, Android app, separate pro version available for $1.79
If you want to concentrate on verb conjugations only, this is the best option, as the app includes conjugations for an astounding 1500 verbs.
The app is basically a list of verbs with English translations. Clicking on a verb reveals a list of conjugations in all clauses. In short, if you want to know any conjugation, no matter what clause or tense, whether you want to memorize or just check them, this is the best option there is. Verb Conjugator is the most comprehensive option for verb conjugation out there.
The only downside is the initial presentation. The list of verbs is simply alphabetical, which makes for very tedious learning from the get-go, but you have the option to easily make your own list of verbs to study and bookmark words you use often or that you struggle with. The English translations of the words are all accurate, too, which unfortunately isn't a given with many similar apps.
The pro version of the app removes the ads and adds audio for each verb, a considerable effort seeing how many there are. Removing the ads may be the best reason to spend the $1.79 however since especially the full-page ads can be incredibly obtrusive.
| | |
| --- | --- |
| Pros | Cons |
| Very long list of verbs and conjugation options | Very prominent ads |
| Offline use | |
Deutsche Grammatik/Deutsche Grammatik Pro
Free Android/ioS app, separate Pro version available for $2.99
Deutsche Grammatik Pro may not look especially great, but it has the unbeatable advantage of offline availability. The app opens with a list of lessons for different subjects such as articles, adjectives, and numbers. Upon clicking one you find a rule for using it correctly, where applicable, and a list of examples for each clause.
In the app's options, you can find extensive exercises for each topic. Deutsche Grammatik will get you roughly through the A1/A2 levels of proficiency, and while that may not sound like much at first, that's actually the bulk of German grammar.
The pro version of this app has the exact same content and only removes the ads. Since the ads are very unobtrusive, this is meant rather as a way to thank the developers for their work than anything else.
| | |
| --- | --- |
| Pros | Cons |
| Long list of grammatical topics | Interface doesn't look great |
| Offline use | |
Listening/Reading
Most of the comprehensive options we named at the beginning of this article already include combinations of reading and listening – this is a good moment to remind you of the great material by Goethe Institut and DW. Here are some great alternatives for those of you looking for more options or want to prioritize reading over listening and vice versa.
Beelinguapp
Free Android/ioS app, in-app purchases
Beelinguapp is a beautiful app that lets you switch text between your native language and the language you're studying or use split screen.
Since the split screen is top/down rather than side to side, the size of your device will not impede your learning experience. You set your native language and the language you want to learn and after a quick registration, you get to pick from a wealth of different texts for different levels of proficiency – short stories, children's stories, stories on national culture. Before you begin reading, Beelinguapp shows you the proficiency level for your story and the number of paragraphs.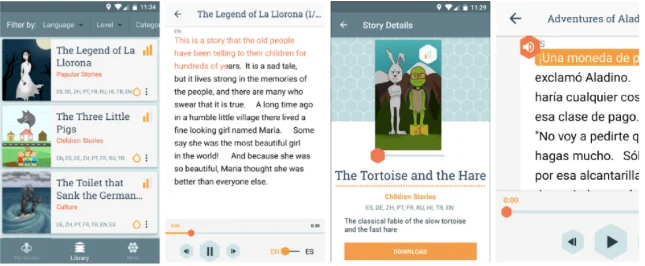 You can read texts with or without audio – if you read with audio, the text that is being read is highlighted, like singing a karaoke song (and Beelinguapp calls this method "karaoke audio reading", too).
Children's stories make up most of the content by far, but after all, they are an often-used way to make reading more interesting especially for beginners. Many of the stories require a purchase. You can sometimes earn a paid story by finishing a free text, but mainly Beelinguapp wants to convince you to start its subscription service.
There are three options for Beelinguapp Premium, an annual subscription, a monthly subscription and unlocking premium by recommending the app to three friends. If all three sign up, the premium subscription is yours for life. Apart from removing the ads (that are very small to begin with), you can access to the premium texts, which you can purchase at any point for a dollar each, get two new texts each week and gain access to a dictionary – highlight a word in the text and instantly see its translation.
While Beelinguapp doesn't tell you how much the subscription costs after the first year, less than twenty dollars for a full year is a good deal if the texts convince you.
| | |
| --- | --- |
| Pros | Cons |
| Many texts to study | No way to filter out pay-only texts |
| Unique split-screen reading method | Could do with a little more variety |
Slow German with Annik Rubens
Website, podcast, ioS app
If you liked the slow news DW offers and would like more of that and more listening on a variety of topics in general, try the podcast by Annik Rubens. In over 150 episodes Annik covers almost anything you can think of: German celebrities, celebrations, wine, dialects and so forth. You can find the transcripts for all episodes on at the Slow German website. These transcripts also highlight new words you might encounter.
Annik has a nice voice and the tempo is easy to follow. It may seem too slow sometimes, but since the content is geared towards intermediate and advanced students and can contain some tricky words, this is probably done out of consideration.
Annik also has a few lessons for absolute beginners. This is mostly in English, with Annik explaining a few German phrases and simple vocabulary in context. Since there is a lot of English, this is less effective than the main podcast.
What makes the podcast so great are the topics she covers, some of them definitely unique like the "Litfaßsäule" (advertising pillar), others old favorites like the Oktoberfest. Annik likes to infuse her own anecdotes where appropriate, which makes it a lot more personal than most material you find. into the podcast and covers topics requested by listeners. If you want to listen to Annik on the go, you can do so via your mobile browser or a dedicated ioS app.
Recommended Reads: