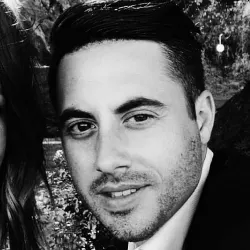 Latest posts by David Borgogni
(see all)
Are you wanting to learn a new language online? With so much choice out there, it can be tricky working out how to find the best online language courses. We've all heard of Duolingo, but maybe you're looking for an alternative. In this article, we'll be taking a look at Babbel vs Pimsleur- two great language learning platforms that hold their own when compared to ones like Duolingo (see our Babbel vs Duolingo comparison).
Babbel and Pimsleur, like many other platforms out there, offer up courses for learning a range of new languages from scratch. When it comes down to lesson specifics, however, each one has its own particular focus. They're both well-designed, they're both good value for money, and they both provide excellent quality lessons.
But they are both quite different and offer the user different experiences. So which one should you go for? Let's take a deep dive into Babbel vs Pimsleur to find out.
First and foremost, let's take a look at the main differences between Babbel vs Pimsleur:
Main Differences Between Babbel vs Pimsleur
The main differences between Babbel vs Pimsleur are:
Pimsleur has a primary focus on oral language skills, which helps learners with their conversational skills, whereas Babbel has grammar and writing skills as a focus in addition to oral and aural teaching.
Babbel has a focus on holistic language teaching, which includes grammar exercises and writing tests, whereas these two areas of learning are mostly ignored in Pimsleur.
Pimsleur lessons are only half an hour-long, which might move too slowly for quick learners, whereas Babbel offers shorter amounts of time per lesson.
Babbel has a focus on repetition for learning, which can become quite frustrating, whereas Pimsleur is more fast-paced, and only loops back for tests.
Babbel – In Depth
Babbel was founded back in 2007 and it is the first app of its kind. It claims to be the top-grossing language learning app and was ranked as the world's most innovative company in education by Fast Company magazine. They recently hit ten million users too, after chasing the US market.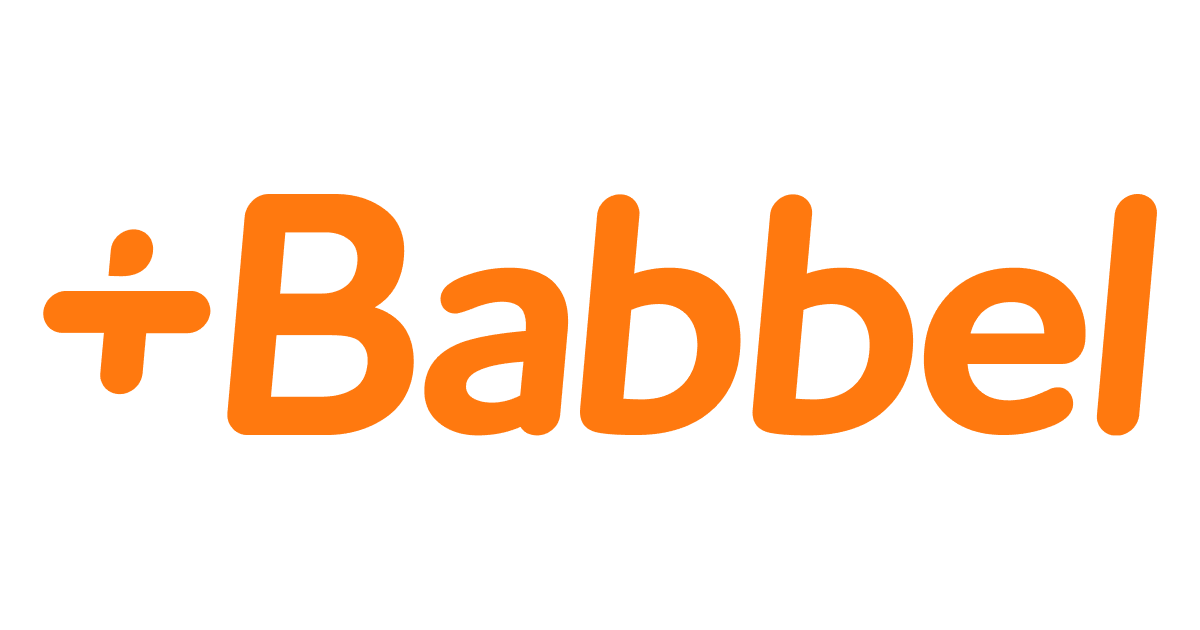 Let's take a look at some of Babbel's main features:
14 different languages to choose from, from French to Indonesian
10-15 minute lessons
Topic-based lessons to help you in any area of your life
Speech recognition software
Dialogue trainer
Extremely high audio quality
Easy-to-use interface
Excellent review function
Progress synchronization across all your devices
Language selection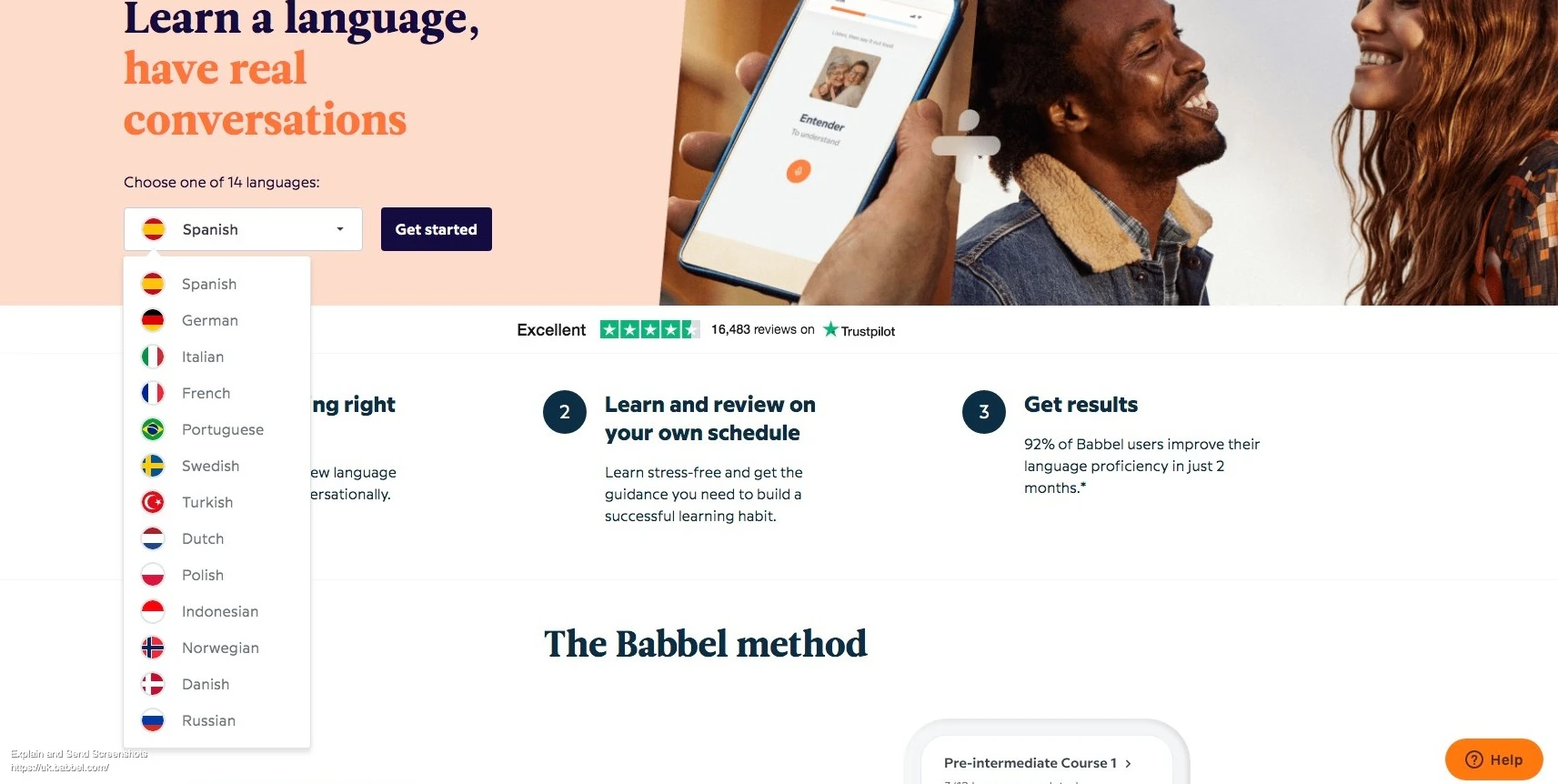 When first arriving on the Babbel website, you'll be greeted with this drop-down menu, first of all, that offers you the language choice. You can choose between French, German, Spanish, Italian, Portuguese, Russian, Danish, Turkish, Dutch, Swedish, Polish, Norwegian, and Indonesian – not a bad selection!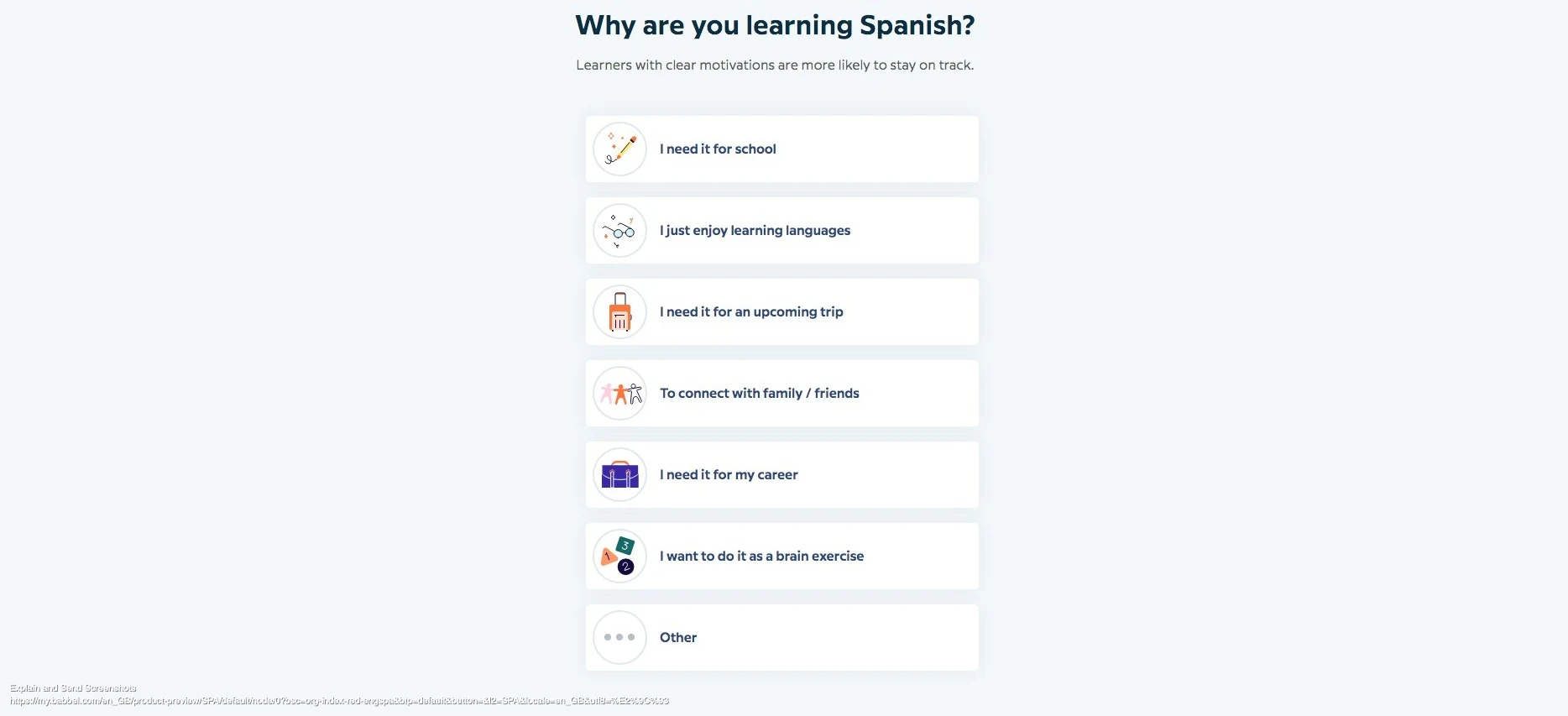 You'll then be asked your reasons for learning the language you have selected. This is so that the Babbel software can design bespoke lessons for you. You then go on to choose how much of your selected language you know, as well as how long you want your lessons to be, your age, and how you heard about Babbel.
Then you can get started!
Landing screen
Once you're logged in, you'll arrive at this landing screen: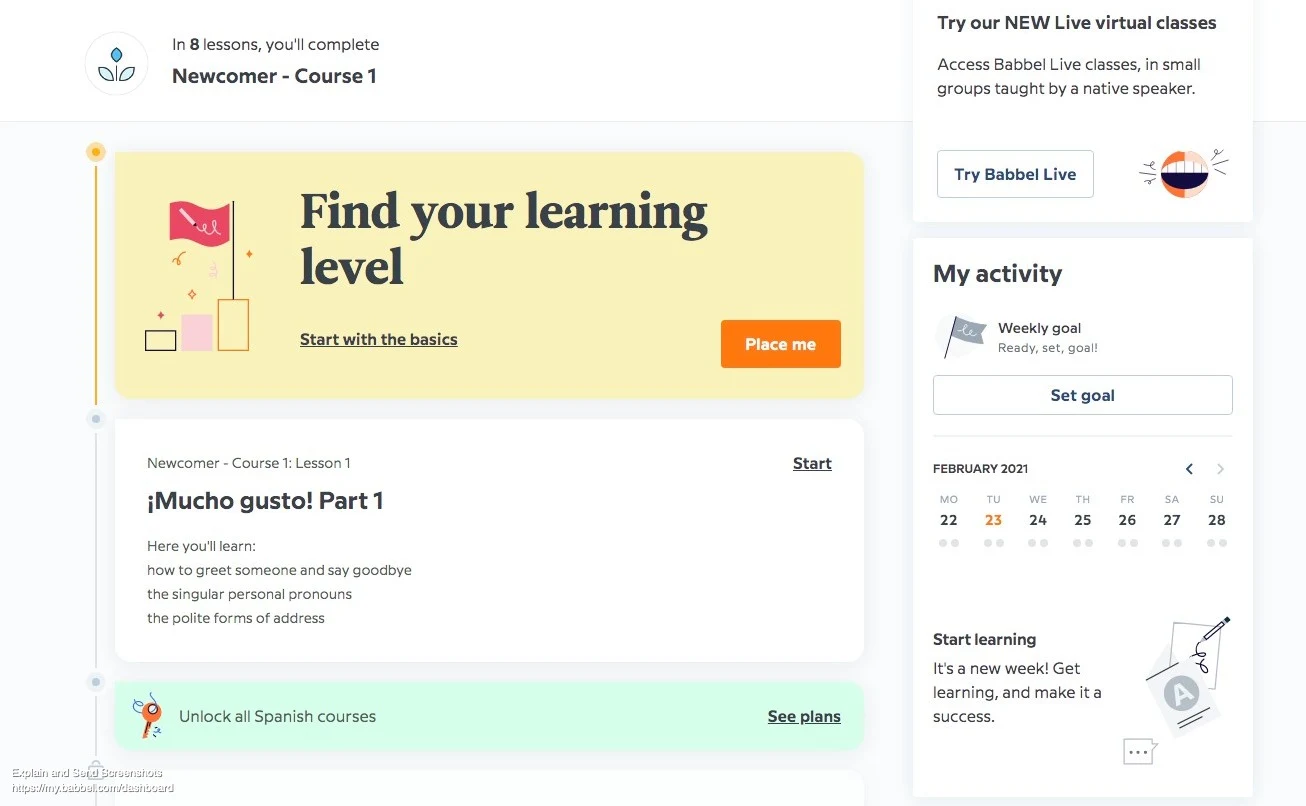 This is where all the information about your course can be found. You can set a weekly goal, get involved in virtual 'live' classes and keep track of all your achievements. On top of this, you can access language games, podcasts about your chosen language, and culture bites that tell you all you might need to know about the country you've chosen.
Language levels
If you choose to begin a language from scratch, you'll be put into the 'Newcomer' level, which has 3 courses to complete before you move to the next one.
Overall, there are 7 different levels:
Newcomer,
Beginner 1,
Beginner 2,
Pre-intermediate,
Intermediate,
Independent,
Advanced.
Unlike other online language learning courses, you can choose which level you want.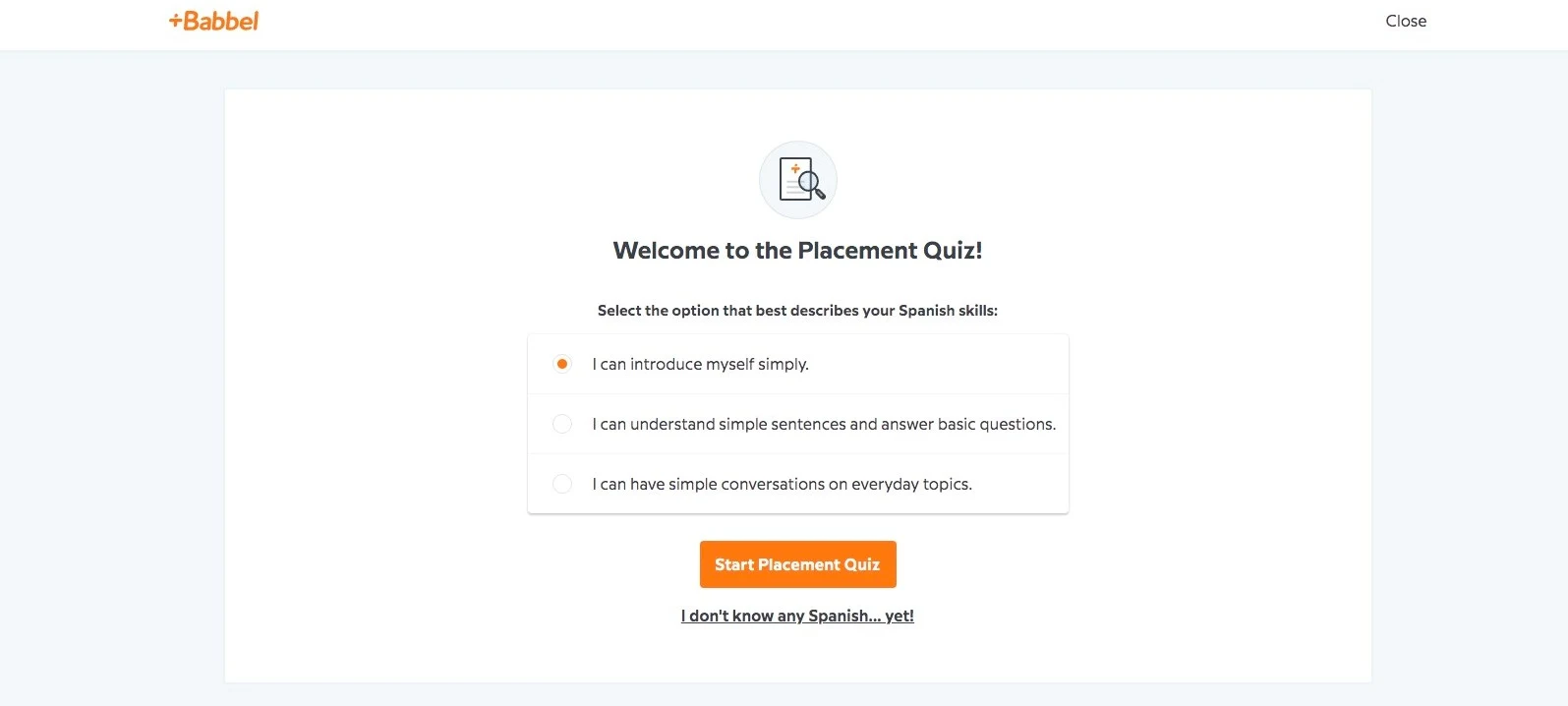 If you're not sure about the class or level you're at, you can take one of their placement tests. This will clearly dictate what level you are at, and Babbel will then put you in the class that they think would be suitable. Each level is made up of a series of courses, which themselves are composed of several lessons, each of which features a range of smaller, related exercises. Quite a lot to get through!
Exercises
Listening and Speaking
On to the exercises, which are the crux of Babbel. Babbel has a really innovative method that basically involves using your microphone and speakers for pronunciation, as well as integrating speech recognition software. So if you're using your desktop computer, laptop or tablet, make sure your microphone is working.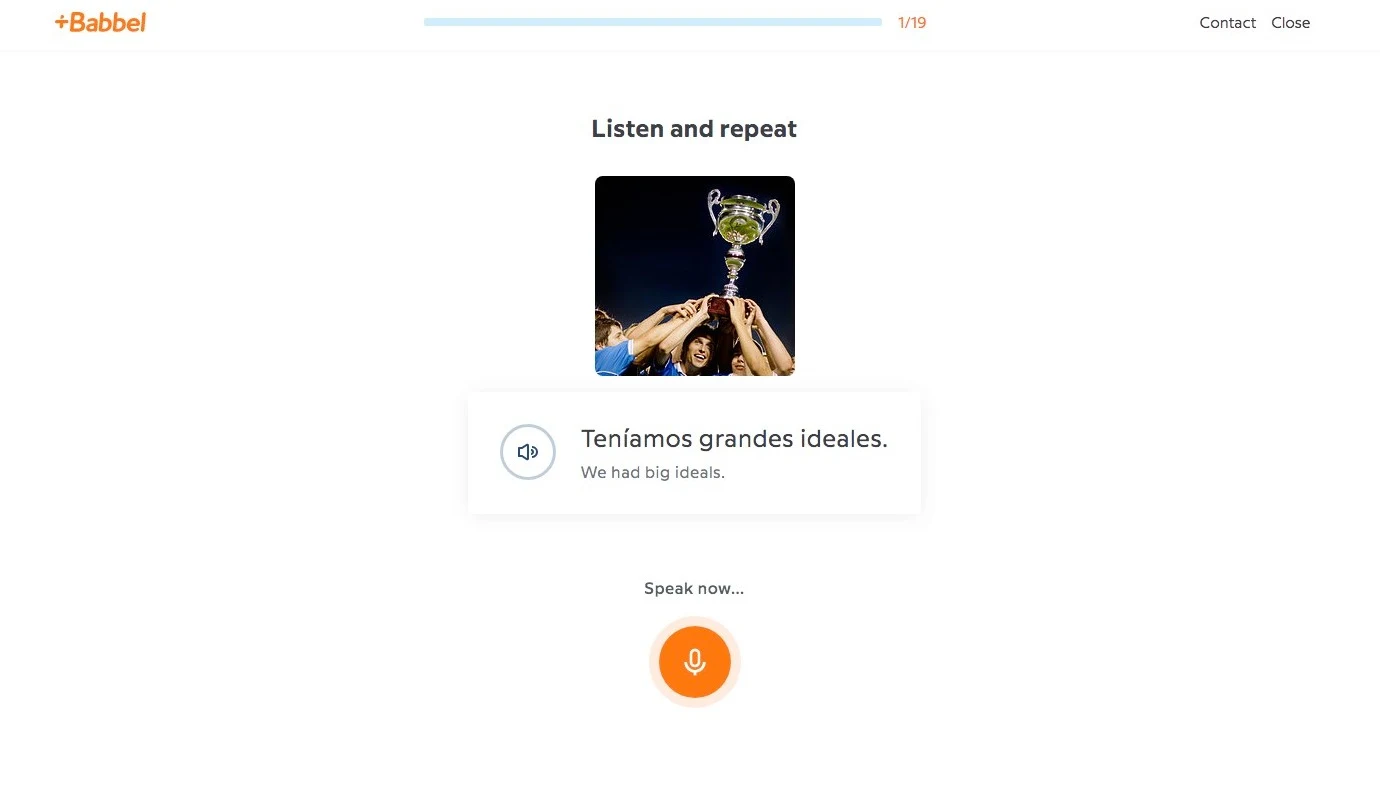 With this kind of software, it means that you can hear yourself in comparison to how it should be pronounced, and the program itself can give you guidance on your pronunciation too.
The exercises themselves are really varied and cover a broad range of different language skills. There are also 'conversations' that you can have with the program which lets you see how words and phrases are used in everyday conversation.
Grammar
Grammar is definitely one of Babbel's biggest selling points, and it supplies really good explanations that will help you understand the language in depth. Some of it can be a little tricky, but Babbel gives you really good clear explanations of grammar concepts, as well as identifying word types.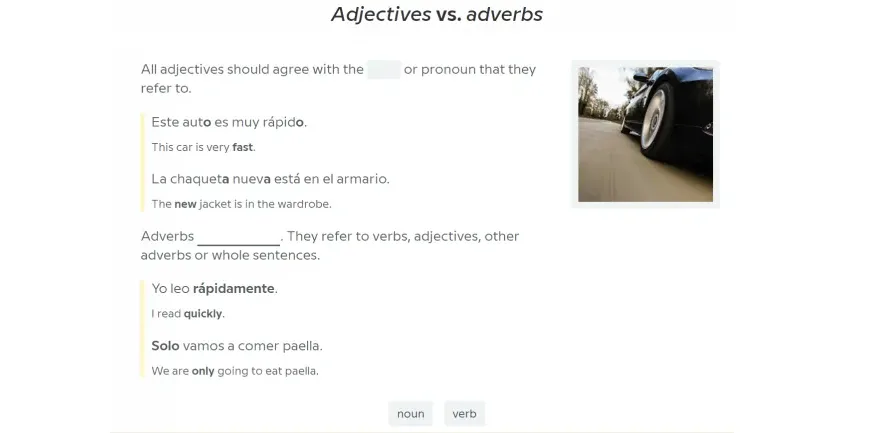 Soon, it'll take you to adverb formation and verb conjugations, which really makes it feel like a classroom setting, and also puts all these bits and pieces into a real-world situation. Grammar certainly isn't everyone's favorite activity, but it is so important when learning a new language.
Pricing
There is a free version of Babbel, but this version is quite limited in what it offers you. If you want full access to Babbel, you'll have to subscribe to one of their payment plans.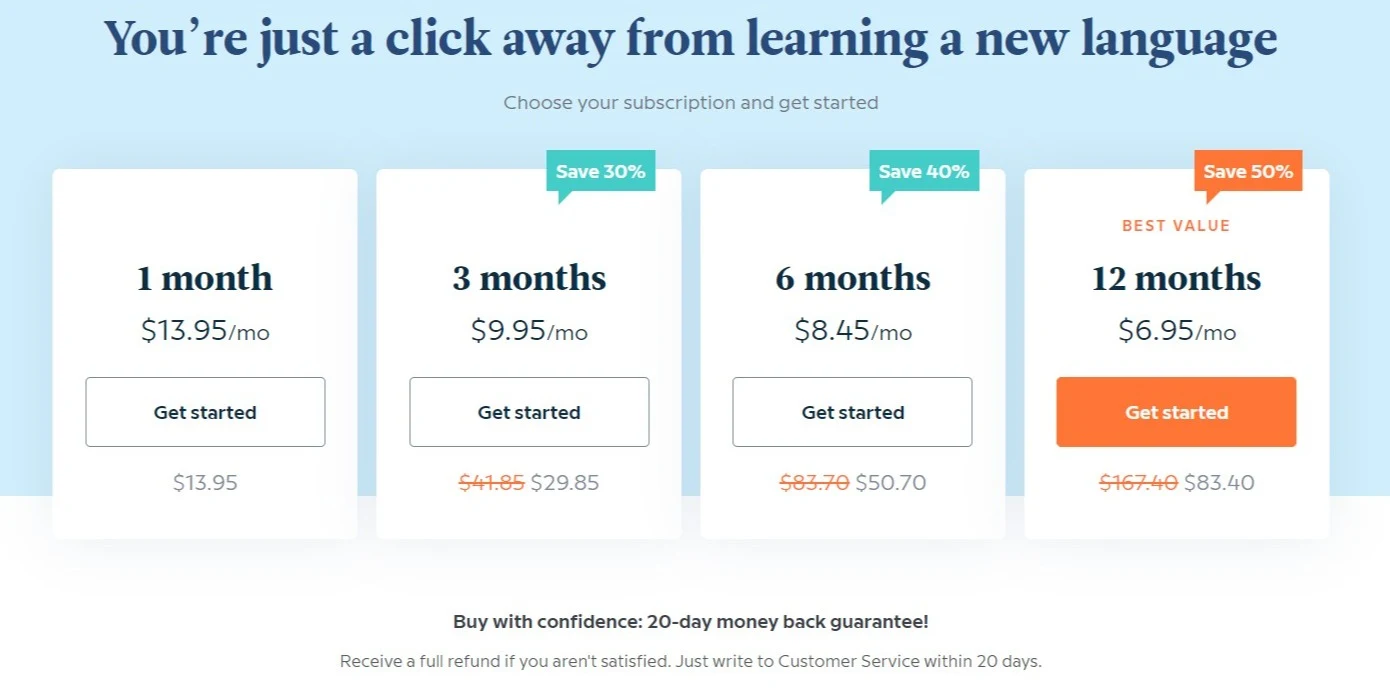 These are the payment plans that Babbel offers:
1 month for $13.95,
3 months for $9.95 a month,
6 months for $8.45 a month and;
12 months for $6.95 a month.
The prices are on a recurring basis, meaning that you'll have to manually cancel your subscription if you no longer want to use Babbel. It's also worth noting that these prices are only applicable for one language. If you want to learn more than one language, you will have to purchase another subscription.
Interface and User Support
Babbel's interface is really well designed and is a smooth and clearly laid out journey for the language learner. There aren't many cutting edge features set out to blow you away, and the speech recognition software is a little clunky and might need a bit of work, but reviews have been positive, and people have said that after 3 months of daily lessons, they were fully capable of communicating with native speakers.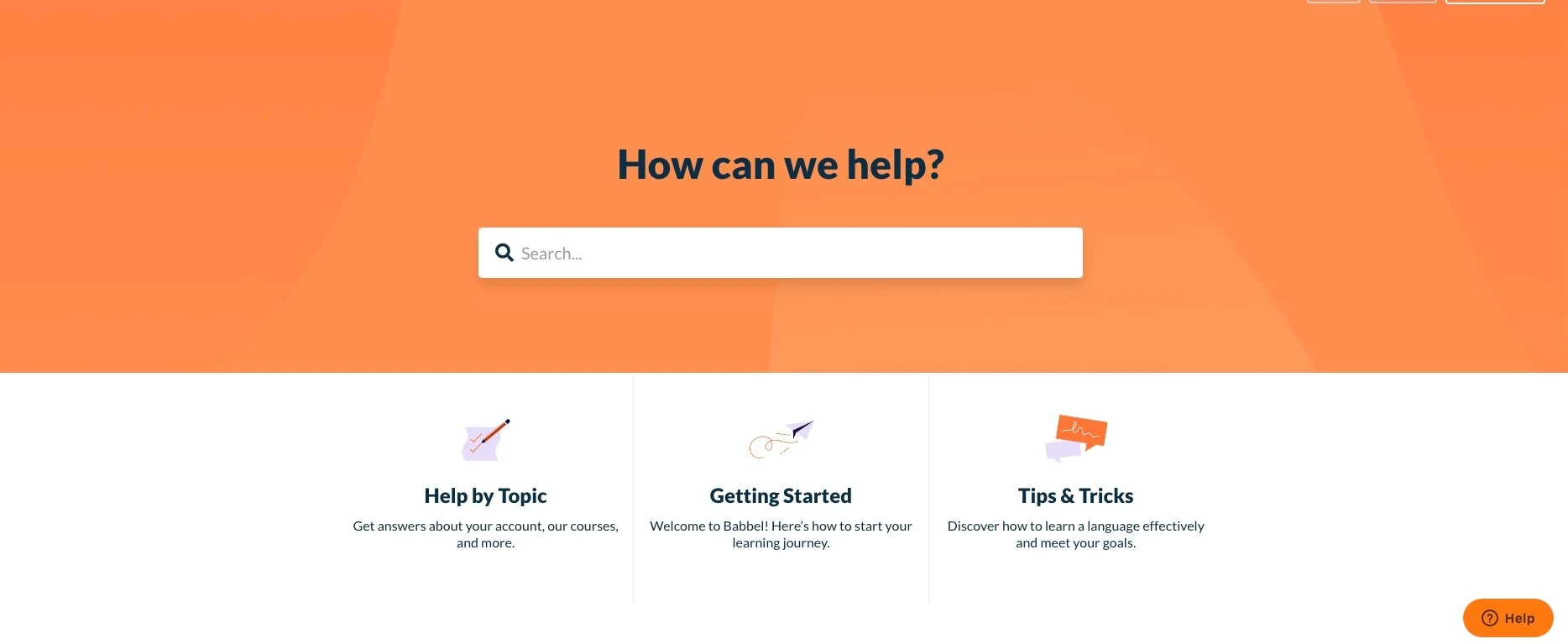 Babbel's support center looks like the above – clearly laid out, with several options for assistance. They also include links further down the page to contact them directly if you need to – it is via an online contact form, however, rather than a direct email address.
If you're looking for any additional information about Babbel, help with getting started, or more insight into the languages you are wanting to learn, they also publish the Babbel magazine. This site contains lots of articles about learning languages, different cultures, and all sorts of interesting and insightful tips and tricks.
Frequently Asked Questions about Babbel
We'll go through some of the more frequently asked questions about Babbel.
Question: Is there a free version of Babbel?
Yes. There is a very basic free version of Babbel available, but to unlock the additional items in Babbel, you'll need to pay for a subscription.
Question: Can I get a refund?
If you don't like Babbel, and want to get your money back, then you can. Babbel offers you a 20-day money-back guarantee if you don't like the product.
Question: Can you use Babbel in a professional sphere?
Babbel is aimed at creating 'the shortest path to real-life conversation', so while your speaking skills may be improved, Babbel may not be suited for the professional world.
Question: Are there any alternatives to Babbel?
Yes. There are lots of great online language learning courses out there, so if you don't think that Babbel is for you, you should take a look at the following alternatives.
Memrise – Memrise is a great language learning tool that also has app integration, but it has a focus on learning vocab and isn't quite as thorough.
LingoDeer – if you're wanting to learn Asian languages, Babbel, unfortunately, isn't for you. You may want to give LingoDeer a try though, as it works really well with Asian languages as well as lots of others.
Speechling – Speechling does what it says on the tin; it helps you with your speaking abilities. Plus you can have multiple languages on the go, and get feedback from real teachers.
Pimsleur – In Depth
On to Pimsleur. Originally founded back in 1963 by linguist Dr. Paul Pimsleur, Pimsleur follows a more audio-based language learning experience, following what is known as the Pimsleur method. As the course is more audio-based, it was marketed more to people who could learn while on the move – doing chores, driving to work, and the like.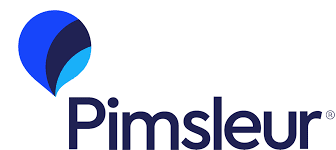 Let's go through some of the main features you'll find on Pimsleur:
50 different languages to choose from
Prompts to remind you to catch up on your lessons
30-minute lessons with a focus on audio learning
Role-playing conversations with transcripts for conversation practice
Streaming and downloads so you can still access the lessons offline
Lessons are all linked up smoothly, without any sizeable discrepancies
Reading lessons designed for when you're on the move
Speed rounds for better retention
Digital flashcards to help review each lesson
Special badges awarded after each section
Getting started
First of all, you need to select which language you want to learn. Pimsleur offers you the opportunity to learn the following languages:
As you can see, there's quite a variety of languages to choose from! They also have English as a Second Language (ESL) resources for native speakers of many of these languages – they are, in fact, one of the only online language learning courses that offer such an in-depth ESL resource, making Pimsleur stand out from the crowd.
Levels and Lessons
Once you've chosen the language you want to learn, you'll then go through to what level you want to start learning at. There's five levels for most of the languages – some of the languages have fewer levels than others, however.
Starting from beginners and going through to advanced, each level consists of 30 lessons, with each lesson lasting 30 minutes, designed to be completed at the rate of one lesson per day.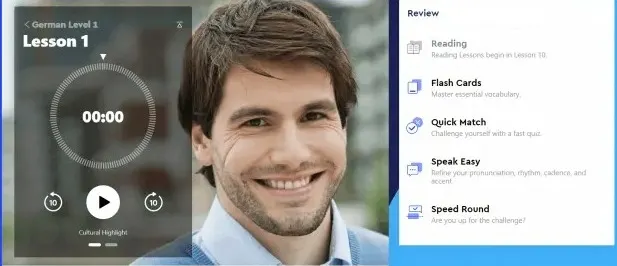 You'll find that you spend most of your time on Pimsleur listening to these audio lessons. Here's what you'll see for each lesson you get involved with. The lessons themselves are really interactive, giving you the opportunity to participate in the conversation and hone your verbal skills. You get lots of explanations from the 'teacher', as well as hearing from both male and female speakers.
Review
You can also go back and review completed lessons, using their Practice Activities module. This allows you to take basic exercises to brush up on your language lessons, usually in a written review format.
Here are some of the tools that are available in the review section of Pimsleur.
Flashcards
On each day, you'll be able to find a whole host of activities relating to what you learned in that particular lesson. These include flashcards. Flashcards are the most basic form of practice activity – you basically get to see the word, hear how it's pronounced, and then try it for yourself. No need to worry about gender or verb tense here!
Quick-match
The Quick-match practice activity is designed to help you focus on translation. It's a pretty straightforward multiple-choice quiz where you are given the phrase in English and have to choose the correct translation.
Speed Round
This does exactly what it says on the tin – you have a time limit to select the correct translation of the phrase as it drops down the screen. It adds a sense of gamification to proceedings by having the bar at the top right detail your point streak. The quicker you get the answer, the more points you get!
Reading
While Pimsleur's main focus is on audio learning, they do also have some reading and writing capabilities in their software. These are somewhat limited though and have a focus on how to pronounce written words rather than reading to understand what the words mean.
While this works quite well for Latin script, when it comes to different alphabets like Japanese or Arabic, it's a slightly different story. You'll have to go through and learn these alphabets separately. This means that the reading section of Pimsleur moves at a slightly slower pace than the listening and speaking sections.
Pricing
When it comes to pricing, Pimsleur is a little confusing. What they do offer is a free 7 day trial for every purchase, which is a great way of seeing if Pimsleur is for you. But when you take a look at the prices of the courses, it can vary. For instance, here's the price of the French language course on Pimsleur:
As you can see, it comes with lots of extra bonus features – such as driving mode, phone and tablet compatibility, and access to all lessons. It costs $24.95 a month.
Now have a look at the Pashto language course pricing:
As you can see, it is only $18.95 a month and features far fewer extra bonuses. This happens with some of the more 'obscure' languages available in Pimsleur, as they aren't quite as popular.
You'll also end up paying different amounts from where you live in the world. As you can see above, we've set the store to the UK, but if we change it to the US store, here's the price difference:
The US store version for the Pashto course is $14.95. Slightly confusing, as you can see!
Interface & Support
The interface of Pimsleur feels and looks really slick and well laid-out. The pictures and screen instructions are clear, and the audio quality is extremely good as well. However, it could be criticised for its simplicity and lack of immersion.
Pimsleur doesn't offer a bespoke support landing page. However, there are several links designed to offer user support, such as the Frequently Asked Questions link as pictured above, and a Contact Us link.

There are phone lines available to call with operators manning them 24/7, so if you desperately need to contact them, these will be the best ways of doing so.
Frequently Asked Questions about Pimsleur
Here are some of the more frequently asked questions about Pimsleur.
Question: Is there a free version of Pimsleur?
Answer: There isn't a free version of Pimsleur as such, but you do get a full week's trial of their software once you pay for one of their subscriptions. They do also offer a free lesson, which can be a great way for you to decide if Pimsleur is for you.
Question: I'm not a fan – can I get my money back?
Answer: If you don't like what Pimsleur has to offer, you can absolutely get your money back. They have a 30-day money-back guarantee, which you can find more about here.
Question: Can I share Pimsleur with other people?
Answer: Yes. Another great feature of Pimsleur is that you can share your login and account with three other users, across unlimited devices.
Question: Pimsleur's not for me. Are there any alternatives?
Answer: While Pimsleur's audio-centric learning format might tick a lot of boxes for some people, others might want a slightly more rounded language learning approach. The following programs are great alternatives to Pimsleur.
Duolingo – one of the most well-known online language course providers, Duolingo is a great alternative to Pimsleur, which also features an extensive free mode.
Rosetta Stone – another legendary language course provider, Rosetta Stone has been in the business for many years and offers a really great language learning curriculum.
Lingvist – with less languages available than other online course providers, the courses that they do provide are extremely concise and well structured.
Babbel vs Pimsleur – the final verdict
So which one is better? Let's take a look at the comparisons.
Lessons
Both Babbel and Pimsleur have great audio functions, however, Babbel pips Pimsleur to the post with its additional grammar, reading, and writing exercises involved in their lessons.
Reviews
Again, both platforms have a great selection of reviewing the work you have done, but in this instance, Pimsleur has a better and more varied reviewing system that helps test your knowledge quickly and easily.
Interface
Both Babbel and Pimsleur boast a really crisp and clean interface, with usability and user-friendliness being really great on both platforms. At the end of the day though, for sheer simplicity and ease of use, Pimsleur has the better interface, keeping things clear and concise for the user.
Pricing
Pimsleur's pricing plan is much more confusing than Babbel, which offers a very simple and straightforward set price. However, per month, they are around the same price, with Pimsleur offering more languages than Babbel.
Extra features
When it comes down to additional support and extra features, Babbel takes the biscuit here – with its additional Babbel magazine site, it offers just slightly more features than Pimsleur.
Final thoughts
So when it comes to Babbel vs Pimsleur, which one is better? It may look like a pretty close call, but our verdict is that Babbel is the better online language learning course.
Pimsleur, unfortunately, doesn't have as much emphasis on reading and writing which are essential skills when learning a new language, and Babbel has really well-developed and well-designed sections in both these areas.
If you're looking for something on the go and just want to brush up on conversational skills, however, definitely go for Pimsleur – its primary focus is audio lessons, so you'll be chatting away like a local in no time.
Related: