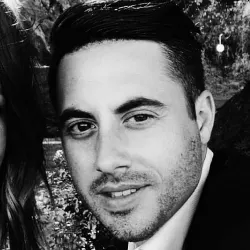 Latest posts by David Borgogni
(see all)
Three decades after online education emerged, the World Wide Web is filled with platforms offering lessons and certification programs on every subject imaginable. However, not all eLearning platforms are the same since some stick to the conventional class structure while others explore innovative learning techniques.
The choice between edX vs Skillshare comes down to this: one platform offers programs and courses created by prestigious universities and companies, and the other features a wealth of short videos created by individual instructors rather than educational institutions.
I'll run through the critical aspects of studying at these platforms and use my experiences with them to help you decide which one is a better choice for you.
Bottom Line Up Front
A glance at the edX's course library makes it evident that the platform offers better education options than Skillshare. However, these options shrink significantly as soon as you start searching for video editing, filmmaking, or photography courses.
If you're a young creative who wants to master Adobe Photoshop or learn to edit videos in Final Cut Pro, Skillshare is the right platform for you. EdX is a superior option if you'd like to start or develop a career in IT, business, or economics.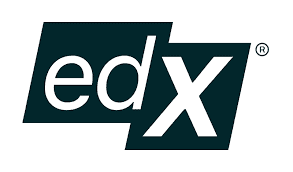 Get critical career skills | Edx
Executive Education courses from top universities offer the skills you need to pivot and expand your career.
Find your course
We earn a commission if you click this link and make a purchase at no additional cost to you.
Main Differences Between edX vs Skillshare
The main differences between Skillshare vs edX are:
EdX course instructors are university teachers and industry professionals, whereas anyone can become a Skillshare teacher
Skillshare doesn't issue certificates upon course completion, whereas edX provides a variety of certification programs
EdX doesn't have a monthly subscription fee as students only pay for courses they want to attend, whereas Skillshare's members must pay a monthly fee to access the platform's learning materials
EdX courses last for weeks, whereas most Skillshare classes last less than sixty minutes
Key Specifications
| | | |
| --- | --- | --- |
| Platform | Skillshare | edX |
| Course selection | 30,000 | 3,000 |
| Number of students | 5 million | 40 million |
| Accredited certification programs | No | Yes |
| Available languages | English | English, Spanish, French, Chinese, German, Dutch |
| Instructor interaction | No | Yes |
| Subscription method | Monthly | Course-based |
| Latest prices | Check latest prices here | Check latest prices here |
Comparing edX and Skillshare Online Learning Platforms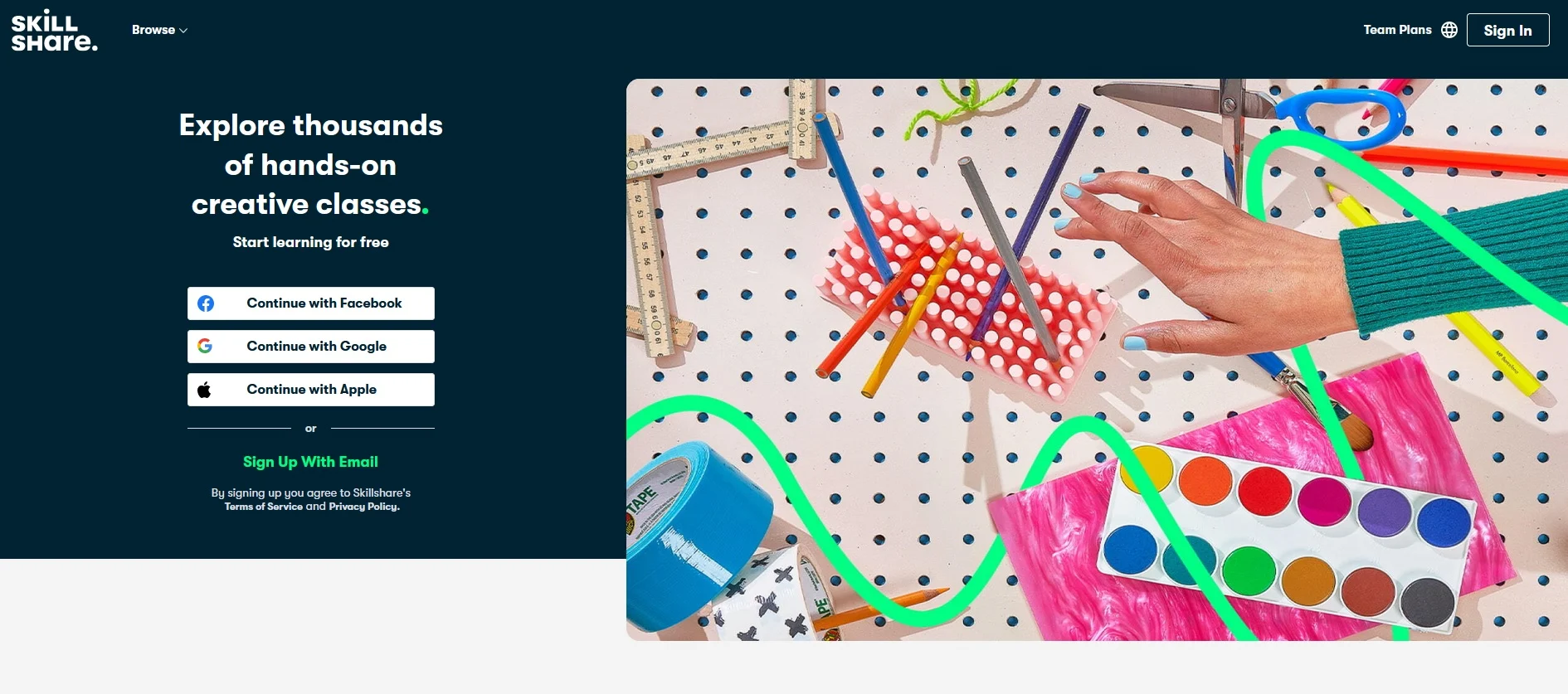 I first stumbled upon this platform in the early 2010s. Back then, the website was relatively small, offering fewer than 300 courses. Skillshare grew quickly in the last ten years, and today it hosts an impressive collection of learning materials created by its community members.
I instantly liked its approach to education because it allowed learners to pick their own pace and decide how much time they wanted to spend on a course every day.
Most classes are divided into theoretical and practical sections since learners first go through a series of short lessons to acquire new skills and then use these skills to complete a class project.
The platform also offers excellent networking options through groups that allow you to reach and collaborate with other members. All courses are readily available, and you don't have to wait for them to start or rush through the lessons before they expire.
Key Features
Most courses are created by community members
Classes don't have enrollment prerequisites
Lessons don't last longer than thirty minutes
The monthly subscription fee is affordable
Most learning materials are in video form
Quick and helpful customer support
All lessons are in English
Learning Options
All platform's courses are organized in Create, Thrive and Build categories. Create is the largest course category, and it contains the following subcategories:
Music
Illustration
Web development
Creative writing
Fine art
Photography
UI/UX design
Graphic design
Film & Video
Animation
These subcategories feature hundreds of beginner, intermediate and advanced classes. The Build category features Freelance and Entrepreneurship, Marketing, Business Analytics and Leadership, and Management subcategories.
The Thrive category contains Productivity and Lifestyle classes that cover a wide array of topics ranging from motivational exercises to knitting and interior design.
The platform grants you access to search tools that allow you to look for classes dedicated to a specific skill like videography, CSS programming language, or a particular field such as music production.
You can also browse through student projects and see the results the participants of different courses achieved after completing a class.
Instructors and Class Structures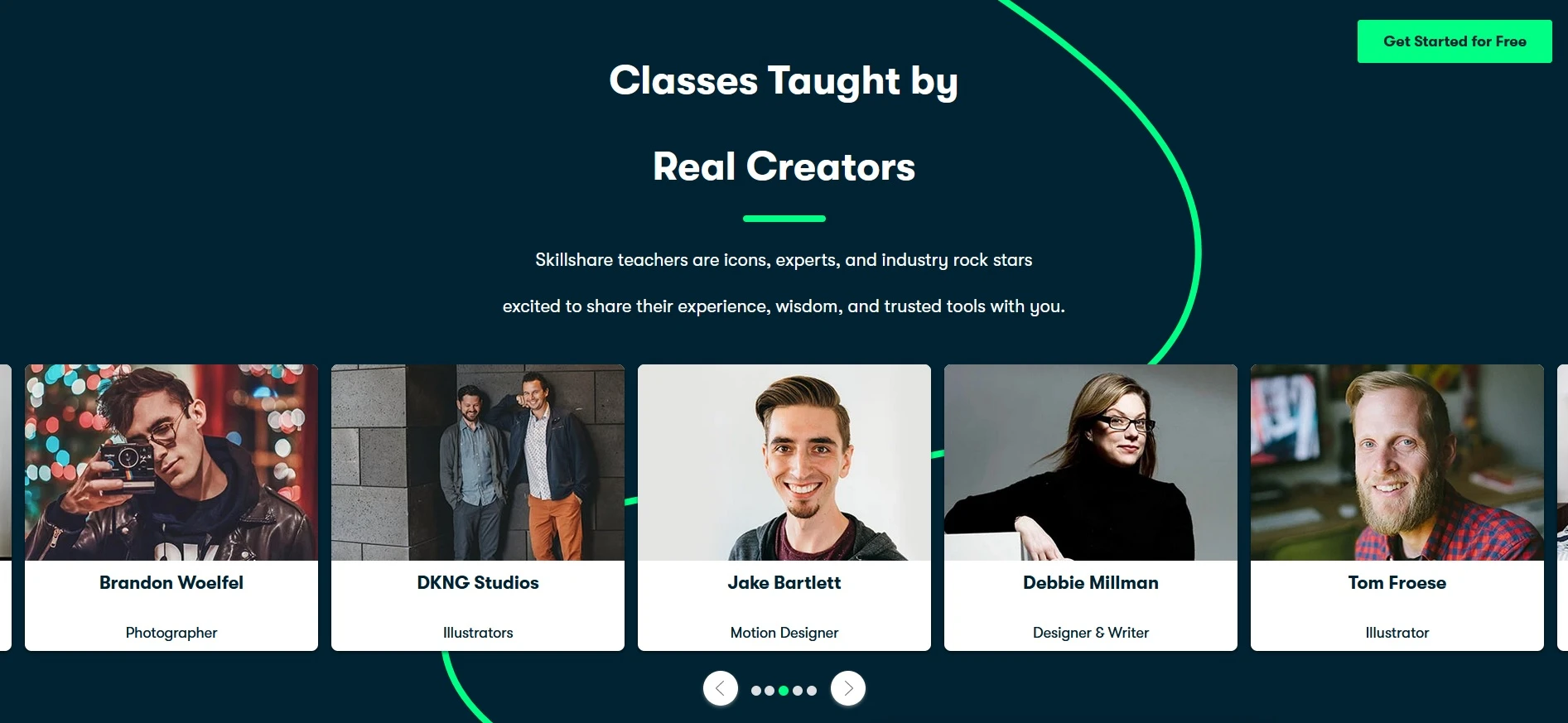 Skillshare allows all its members to become teachers even if they have no previous teaching experience. The platform also has a royalty program that enables contributors to earn an income based on the viewing time their videos receive in a month.
All videos an instructor uploads to the platform must get at least 75 minutes of viewing time in thirty days to generate an income. Most Skillshare classes have a similar structure as they're divided into a series of short video lessons dealing with the specifics of the course topic.
The class description contains a lessons overview that gives you insight into the themes it explores and helps you decide if you want to take that class. Although most Skillshare courses don't have enrollment prerequisites, students still must prepare for class.
I'd also like to point out that the platform doesn't feature instructor-paced courses that require participants to complete lessons within a limited timeframe.
Learning Paths and Certification Programs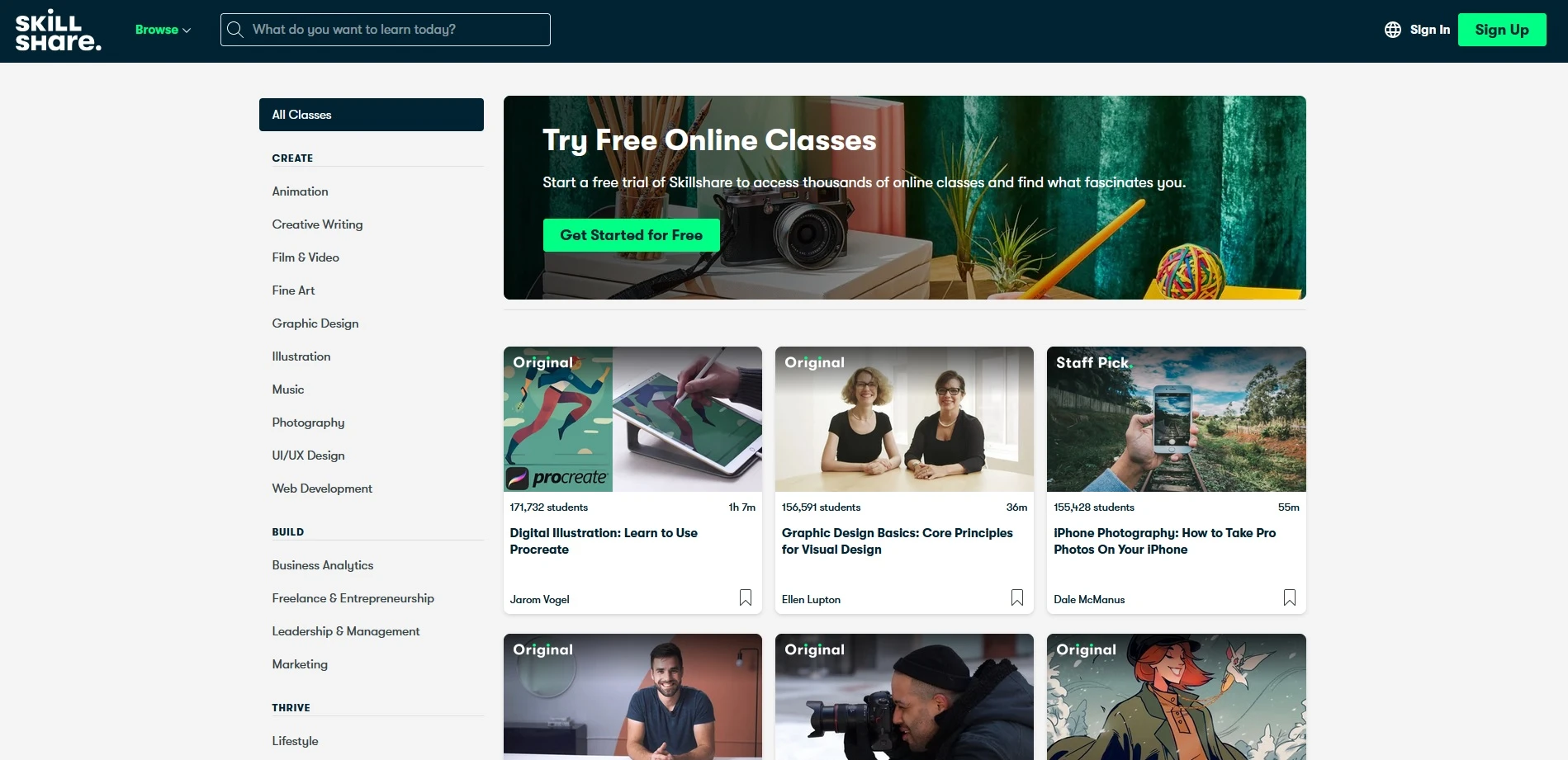 Besides allowing its members to freely explore different creative, business or lifestyle topics, Skillshare also offers a more structured approach to online education. A learning path is a series of classes curated by the platform's staff that takes an in-depth view of a subject.
Skillshare offers a broad spectrum of learning paths designed for beginners and students with an intermediate or advanced understanding of a particular field.
Students complete different projects and gain hands-on experience while attending a learning path, but they don't receive certificates they can use in their job search.
None of the classes you can find on this platform are recognized by official higher education institutions, so I suggest exploring other options if you're searching for courses that can help you enroll in an offline undergraduate or Master's degree program.
However, you can use this platform to acquire the skills and knowledge you need to pass the admittance exam to a university you want to attend.
Course Duration and Cost
Creating an account should be easy, but you must provide your preferred payment method and card details before starting your trial period. The monthly subscription fee for the platform's Premium plan is $13.99 or around $170 billed annually.
The most affordable subscription model costs around $100 per year, but the platform offers various discount options that grant you access to most courses for less than $50.
The length of the video footage in a course determines its duration, and you can choose a class that lasts for just fifteen to thirty minutes or over 15 hours.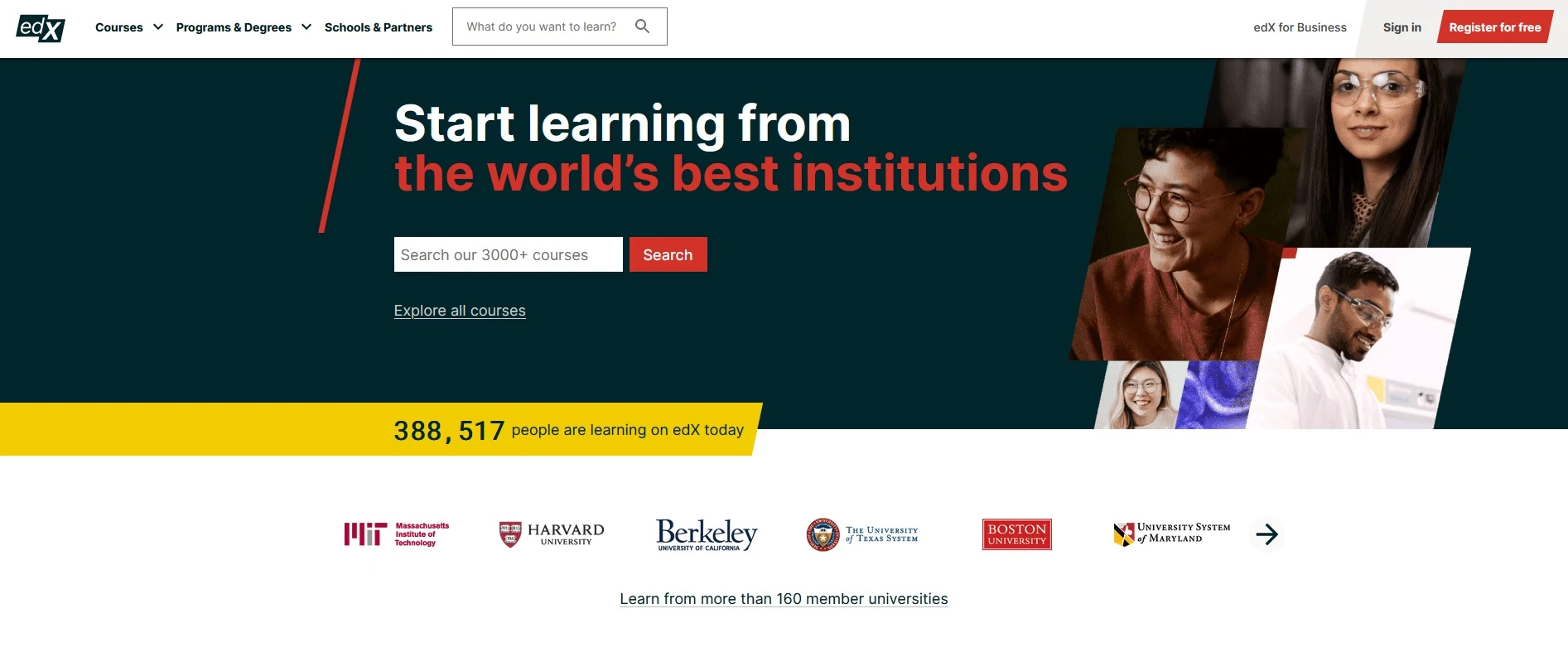 In less than ten years, edX became one of the leading eLearning platforms that attract millions of students worldwide.
The platform hosts thousands of courses and certification programs created by the world's leading higher education institutions and helps learners prepare for a career in a chosen field.
EdX isn't an ideal option for young creatives who want to acquire basic video editing skills or learn fundamental photography concepts. However, its Art & Culture category features courses about Installation and Performance Art or Artistic Research in Music led by accomplished instructors.
Hence, I think Skillshare's selection of courses is better suited for people looking to gain a foothold in the creative industry than edX's. Still, the learning opportunities and career advancement options edX provides are more versatile than those you can expect from Skillshare.
Joining the edX platform is free, and you'll only have to spend money if you want to purchase a certified course or a program.
Key Features
Creating an account takes a few minutes
Students can audit most classes
The platform offers Bachelor's and Master's degree programs
All courses are archived after they expire
Experienced and skilled instructors
Students can attend courses in different languages
Some classes have high enrollment requirements
Learners can post questions about the syllabus by starting discussions
Learning Options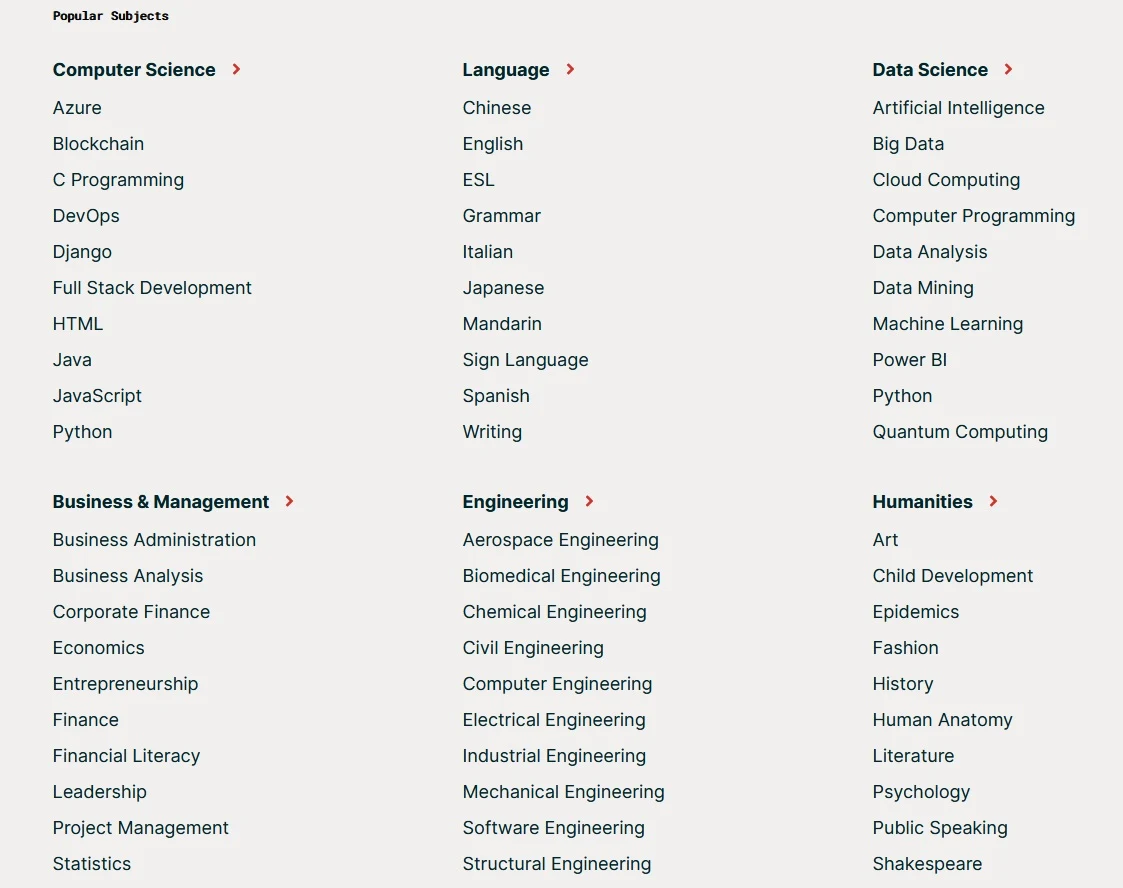 The platform offers several learning options, as its members can attend individual courses or enroll in one of its certification programs. EdX's Courses category features more than thirty topics, including:
Design
Chemistry
Humanities
Data Analytics & Statistics
Medicine
Computer Science
Electronics
Math
These topics have a variety of subcategories, so if you're interested in Data Analytics & Statistics, you can choose from courses in R programming, Big Data, Image Processing, Deep Learning, and countless other subcategories.
The platform hosts an abundance of introductory courses designed for learners approaching a new field of sturdy, but it also offers lessons to students with an intermediate or advanced understanding of a particular topic.
Hence, you can use edX to obtain new skills or build on your experience and knowledge in a particular field. EdX also provides learning opportunities for businesses designed to help employees receive the credentials they need to progress in their careers.
Here's a list of courses if you're looking to find the:
Instructors and Class Structures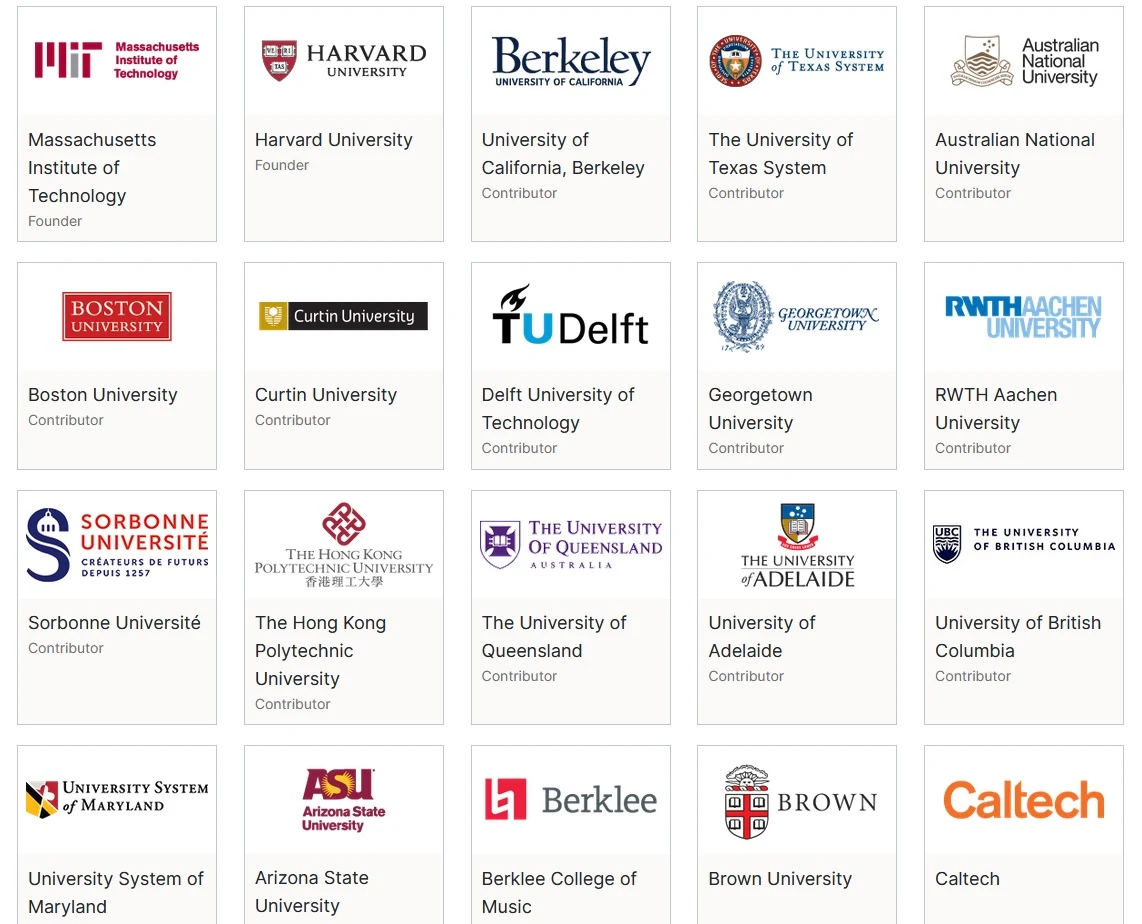 Although Skillshare and edX utilize video as a primary learning format, edX courses usually include different text materials students must study to complete class assignments or pass the final exam. All course descriptions contain a syllabus that lets you know which topics the course covers.
The platform offers self-paced and instructor-paced courses, so you can choose if you want to have the freedom of deciding how much time you want to dedicate to each module or opt for a class with a fixed schedule.
Enrolling in a self-paced course will provide you with flexibility when submitting assignments. Still, these courses have a fixed expiry date, and you must complete them before they're archived to get a certificate.
Professors working at higher education institutions reviewed and approved each module of the platform's courses. So if you opt for Harvard's Computer Science for Web Programming, you'll attend classes led by teachers working at this university.
Learning Paths and Certification Programs
EdX provides several certification programs composed of two or more courses:
Professional certificates
MicroMasters programs
MicroBachelors programs
X-Series
Executive Education
These programs contain standalone courses edX members can attend individually, but you'll only get the Verified Track certificate if you choose to take the classes featured in a program separately.
Attending a MicroMasters or MicroBachelors program can help you gather credits and obtain a Master's or Bachelor's degree from a particular university faster.
Enrolling in EdX's professional certification program can open up career advancement opportunities and help you obtain the qualifications you need to get a higher position in the company you're working for.
The platform recently launched online Bachelor's and Master's degree programs in collaboration with Georgia Tech, the University of London, the University of Maryland, and other influential universities. These programs are still relatively new and don't cover a wide range of subjects.
Course Duration and Cost
One of the things I appreciate the most about the edX platform is that learners can audit a course and switch to a paid Verified Track if they want to get a course completion certificate. A single course costs between $50 and $300, while some certification programs can cost more than $2,000.
Hence, attending a professional, MicroBachelors, or X-Series certification program is often more affordable than completing an individual edX course. The platform only offers course duration estimates based on the lowest amount of time needed to go through all modules.
So, students can complete a six-week self-paced course that requires three to four hours of coursework weekly much faster if their schedules allow them to spend more time on lectures and assignments.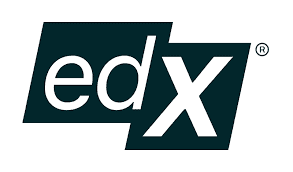 Get critical career skills | Edx
Executive Education courses from top universities offer the skills you need to pivot and expand your career.
Find your course
We earn a commission if you click this link and make a purchase at no additional cost to you.
EdX vs Skillshare – Pros and Cons
EdX
Pros
All courses are created by industry-leading companies or higher education institutions.
Students can audit a course before deciding to commit to it
Platform's certification options help students on their academic and professional journeys
Learners can complete full Bachelor's and Master's programs through the edX platform
Cons
It doesn't offer filmmaking or photography courses
Some certification paths are expensive
Skillshare
Pros
The platform has more than 30,000 courses
It assists creatives in developing their artistic skills
Learners submit projects after completing a class
Classes contain a series of short lessons
Cons
The platform doesn't provide certificates learners can use in the job search.
Courses aren't approved or recognized by official educational institutions
The Best Alternatives to Skillshare and edX Online Learning Platforms
I advise against creating an account on edX or Skillshare platforms before exploring other options. The eLearning industry is developing quickly, which means that a growing number of platforms provide excellent courses and certification programs.
I've shortlisted a few of my favorite online learning platforms you can consider as alternatives to Skillshare or edX, so let's see what they offer.
Coursera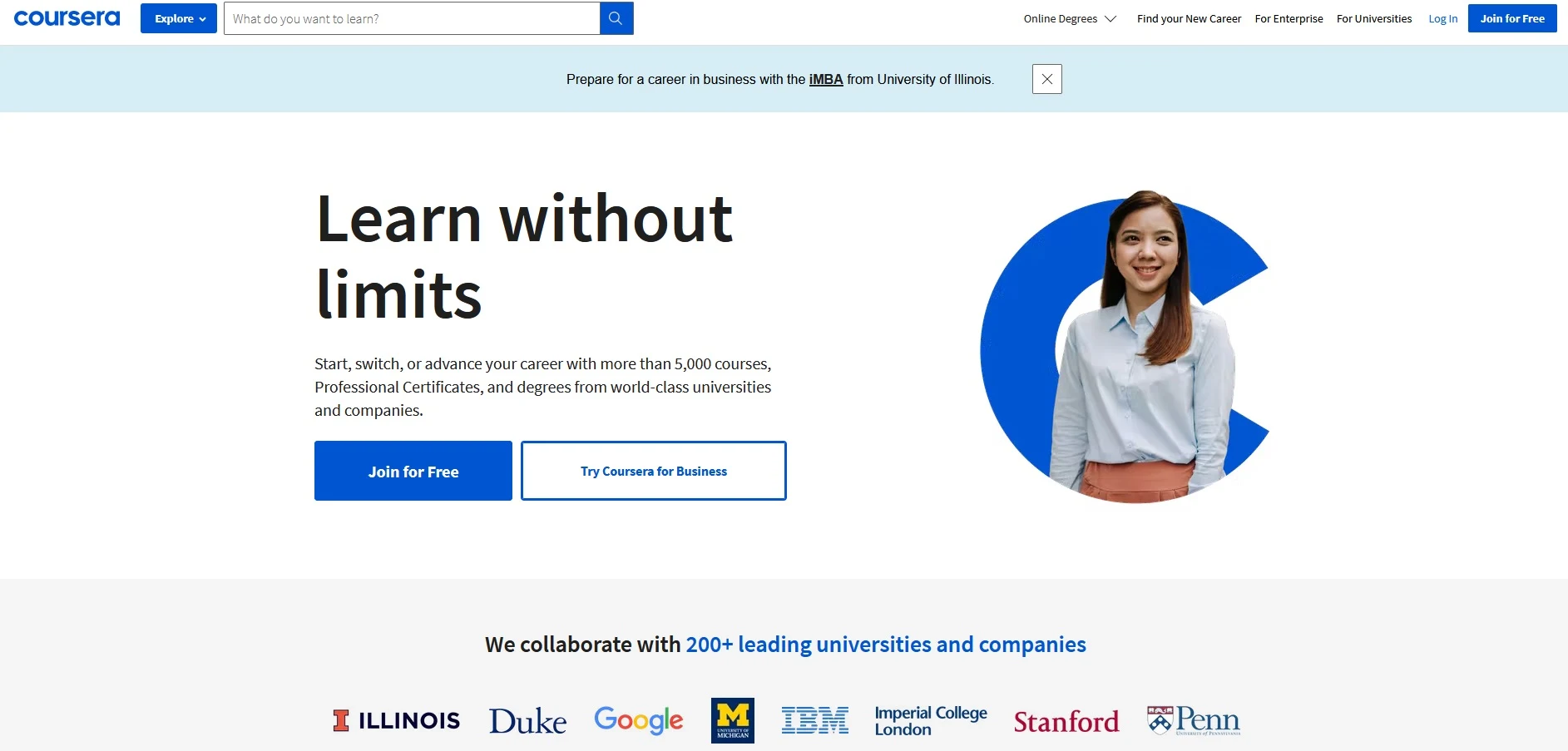 As one of the largest eLearning platforms today, Coursera is probably the most apparent alternative to edX. It hosts courses created in collaboration with IBM, Google, Stanford, Duke, and countless other universities and companies.
The platform hosts hundreds if not thousands of courses students can attend free of charge, but it also offers a variety of certification courses and online degree options. Coursera provides learning opportunities for businesses and schools that want to integrate online learning into their curriculums.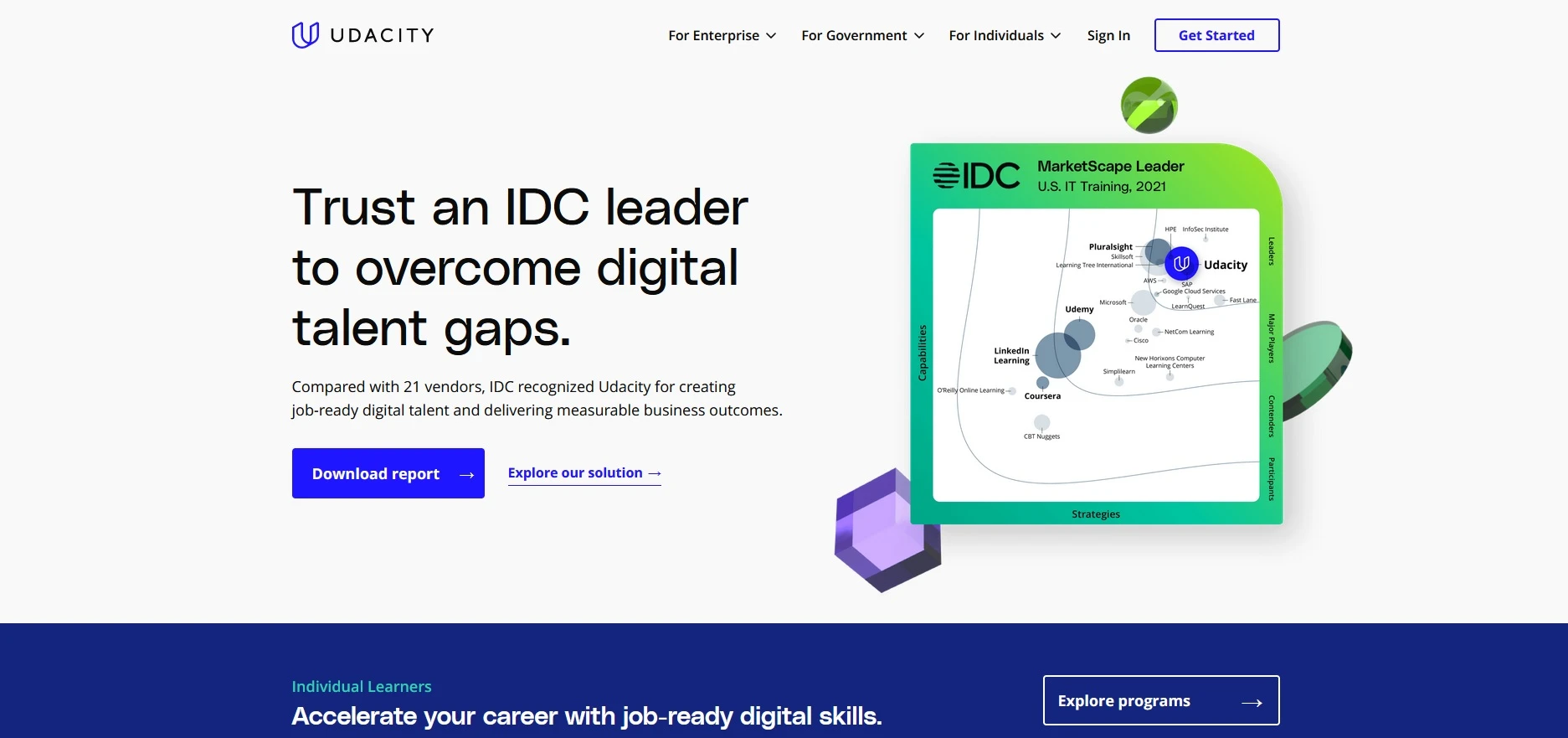 You should take the time to explore Udacity's courses if you're pursuing a career in IT, product management, or business. Besides providing standalone classes, the platform has a variety of nano degree courses led by accomplished industry professionals.
The courses are self-paced, but students must complete assignments and pass exams within specified timeframes. Udacity's courses are expensive, and you may have to spend over $1,000 to enroll in a four-month nano degree program.
Check out this guide to see how Udacity compares to Skillshare.
CreativeLive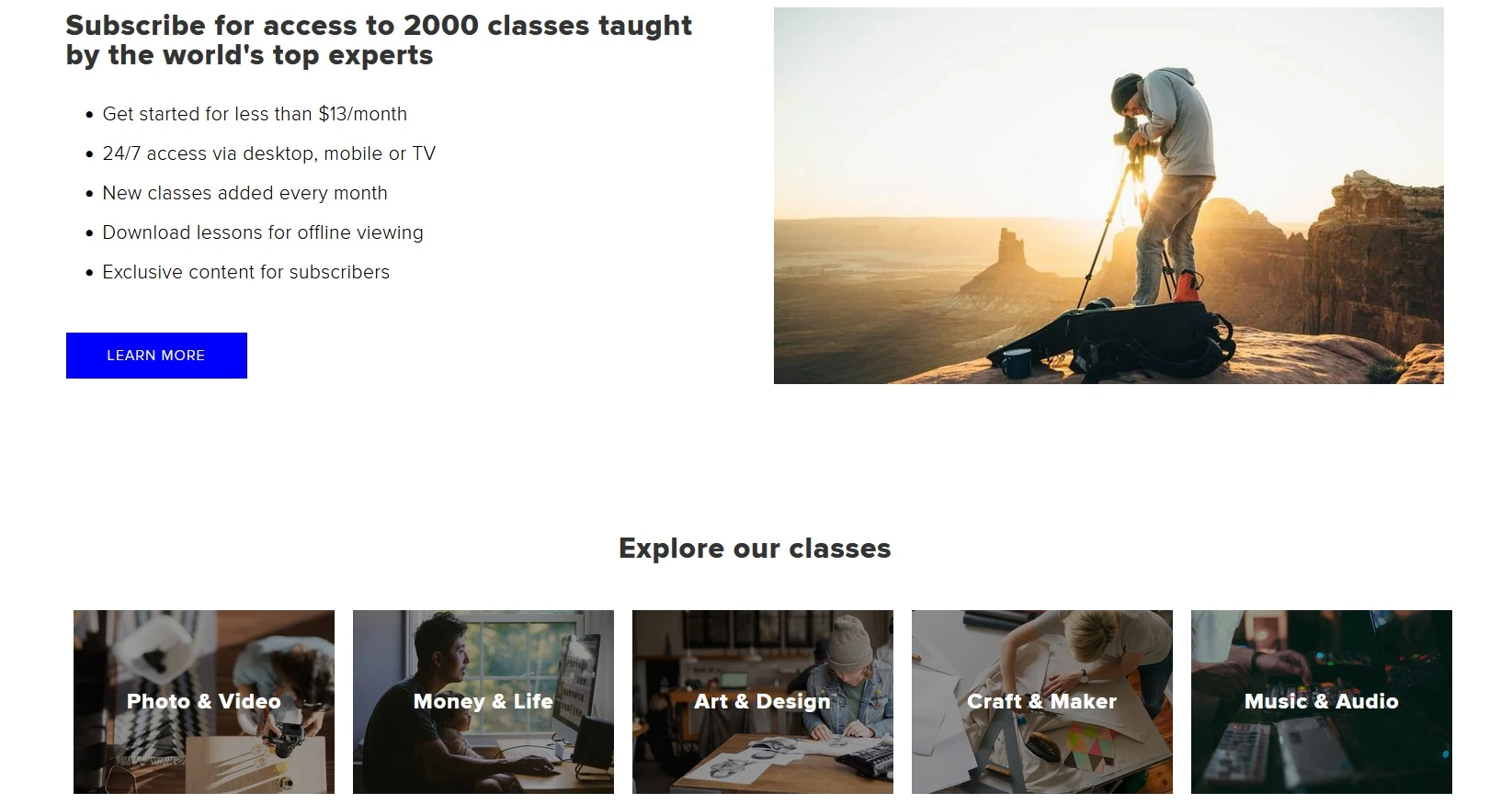 The live streaming option gives the CreativeLive platform an edge over Skillshare and other learning platforms for creatives. Members can join live classes or choose one of the courses from the platform's archive.
Learners can also take curated paths that guide them through several classes and put them closer to achieving their professional goals. This eLearning platform isn't an excellent choice for students who aren't interested in art-related topics.
Frequently Asked Questions
Question: Can I cancel my Skillshare subscription?
Answer: Yes, you can cancel your monthly subscription whenever you want. Go to the Payment Settings menu on your Skillshare profile and choose the Cancel Membership option.
Question: Do I need an edX account to attend a standalone course?
Answer: Yes, learners cannot attend courses if they're not platform members.
Question: What does the Skillshare scholarship entail?
Answer: Platform's scholarship programs grant recipients free access to all learning materials for a year.
Final Thoughts
Skillshare is a niche eLearning platform that helps young people develop the skills they need to make their first movie, start shooting portraits or design a poster.
Still, I suggest exploring other online learning possibilities if you want to become a filmmaker or a graphic designer because you won't receive credentials after completing a course or learning path on this platform.
Even though it isn't an ideal place for aspiring artists, edX is one of the best platforms in the eLearning industry that helps its members move forward in their academic or professional careers.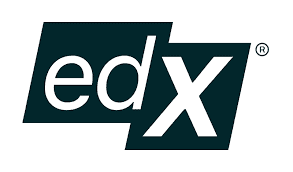 Get critical career skills | Edx
Executive Education courses from top universities offer the skills you need to pivot and expand your career.
Find your course
We earn a commission if you click this link and make a purchase at no additional cost to you.
Check out how edX compares to other competitors: