Latest posts by Jessica Lauren Vine
(see all)
In this article, we'll compare Course Hero vs Chegg, as well as answer commonly asked questions (how much is Chegg, is Course Hero worth it…) about taking courses online, and how to decide which learning platform is best for you.
My Bottom Line Up Front….
Best Value for Self-Paced Learning: Course Hero stands out with their practice answers, large database of user-generated answers, and more affordably pricing points. In short, it's a great place to start if you are self-paced and actually want to "learn the material" (vs just learn the textbook).
Best Value for Tutoring: Your best bet is perhaps trying Chegg for its tutoring service. See first if you like it with a single lesson, then you can follow-up if satisfied. If you just need access to textbooks for a class, Chegg is also superior here.
Main Differences Between Course Hero vs Chegg:
The main difference between Course Hero vs Chegg are:
Course Hero offers free access to a la carte tutoring or other features for a monthly price, whereas Chegg requires you to pay for textbook solution features on an individual basis
Course Hero has more than 20 million user-generated course material, whereas Chegg offers solutions from 9,000 textbooks plus millions of homework answers from Chegg experts
Course Hero provides guides by subject and textbook, whereas Chegg provides solutions to textbook problems as well as questions asked and answered by students and enthusiasts
Course Hero provides practice problems to help you upload study documents, whereas Chegg offers no practice problem feature
You could say online learning systems are having a successful year. Course Hero was ranked as one of North America's quickest growing companies on Deloitte's 2019 Technology Fast 500, a curated list consisting of tech, science, communications, and related media-based businesses.
This year, Course Hero boasted yet another milestone when it reached one million subscribers for a one year period for the first time in the thirteen years of operation.
But in other terms, as many as one in twenty colleges or college-bound students might be using Course Hero at any given time. Compiling on that success, Harriet Seitler was recently named Executive Vice President as well as Chief Brand Officer. If her name sounds at all familiar, it's likely due to her work in a similar role with OWN, the Oprah Winfrey Network.
As it turns out, Chegg is also enjoying an excellent year. The online learning platform and a competitor to Course Hero saw its stock climb an additional fourteen and a half percent within the past few weeks, with some wondering when the increase will level out.
The truth is, whether you're comparing Course Hero vs Chegg or even other online learning platforms, it's easy to see just how much more and more people are taking courses with flexible schedules and accessible formats.
Frequently Asked Questions:
Is Chegg and platforms like it legitimate?
It's understandable to feel wary of an online learning platform, especially if you aren't familiar with the company or even if you're simply used to all traditional learning. The good news is, while we will be investigating both Chegg and Course Hero in more depth, both are recognized companies providing quality content. However, there are certain drawbacks to each, and some do have to do with personal preferences. Chegg, for instance, also happens to be accredited through the Better Business Bureau with an A-plus rating–with one caveat which we'll go into more detail.
Is Course Hero legal?
Many have a misconception about exactly what Course Hero is and what it's intended for. In fact, while Course Hero is meant to help with your coursework, it is both ethical and holds its users to standards. That means that any form of plagiarism, cheating, or copyright abuse is prohibited. All users, as well as Course Hero itself, comply with both federal and local laws in terms of anything that could be perceived as 'unfair' advantages. Put more simply, Course Hero is meant to be used legally and ethically. However, it can be used in a way that goes against, potentially, your institutions' standards so it's best to first verify.
Do online classes have a set time?
One of the greatest appeals of online courses and platforms is that they are highly flexible. Almost all online courses do not require you to log on at certain times, and this is especially true of non-credit platforms such as Chegg and Course Hero. Credit courses, and occasionally noncredit courses may have deadlines for assignments, but it's up to you when you log on. For course help or continuing learning or enrichment courses, it's almost always self-paced, meaning you dictate what hours you learn, and how much at a time.
What can prevent students from succeeding with e-learning?
Even the best platforms do not guarantee success. E-learning is different than traditional tutoring or classroom experience in several ways. For one, one of the greatest advantages–flexible schedule–can prove cumbersome to less organized students. Being able to navigate and use the technology provided, courses that don't provide enough feedback or interaction, and dull interfaces are all considered common barriers. E-learning certainly isn't for everyone, so first and foremost it's essential to be realistic about your preferred learning style, as well as what you hope to get out of the platform.
Let's start with basics: what exactly is Chegg and Course Hero, and what are they used for?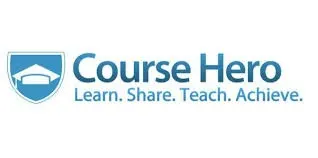 Chegg is classified as an education tech company, with headquarters in Santa Clara, California and is a multiservice platform, providing both digital and hardcopy textbook rentals, but also a variety of course help and tutoring services.
Course Hero follows a similar model. Like Chegg, Course Hero is a tech and education platform, also headquartered in California (Redwood City) that provides a variety of study resources, from online homework aid to study resources, as well as materials for educators. They differ from Chegg in that their sole focus is study and learning materials and do not have a branch for textbook rentals, but they do offer resources for specific textbooks.
Does Chegg and Course Hero offer courses?

No. Both Chegg and Course Hero are meant to supplement and help with any courses you're currently taking. The category of online or educational platforms is actually quite broad:
Continuing Learning is often seen especially in language platforms such as Babbel, Duolingo, and Fluentu, among others. These are not for credit and simply self-paced, casual classes meant for personal and or professional development. In addition, these courses do not tend to have prerequisites for introductory classes and have an open platform (more on this later).
Credit Courses are often linked to universities or colleges, though not always. These range from degrees to certifications and from nearly any discipline. These tend to be the most expensive and have firm deadlines and requirements for course completion.
Mixed Platforms are common, and include popular sites such as Coursera and Udemy. You'll find a range of non-credit but also other options, such as certificates, and also a range of open-source, free courses to credit and tuition-based.
Online Tutoring and Resources is the category Chegg and Course Hero fall under. Not intended to learn a specific skill or subject, these are meant to assist with coursework, and provide sample questions, study materials and more.
How can I decide if I need a service like Chegg or Course Hero, and what criteria can I use to compare the two?
A service like Chegg and Course Hero can help in terms of boosting your confidence for a difficult course. They can both potentially be effective study tools and also provide support outside of the classroom, especially for students with a hectic schedule. If you're attuned to online learning and struggling with courses, or even looking to develop study skills, both platforms could potentially help.
To compare Chegg vs Course Hero, let's break it down on some key criteria that will be important for your decision:
What study materials do Chegg vs Course Hero offer?
What study materials you prefer plays a part in which platform is more suited for you, but let's start with a general overview.
Chegg offers materials in a few categories. For study, you can access both expert Q&A and step by step solutions for practice textbook problems. For essays, you have the option to use their copy and paste computer-generated checker, which alerts you to both grammatical errors and plagiarism problems. You also have the option to create your own virtual flashcards, access tutors, and guides to math (which ranges from pre-algebra to linear algebra).
Course Hero provides different study resources, which you can select by school, course, or textbook. You also can access 24-7 tutor help for homework, as well as step by step guides. Additional features include uploading documents, the option to apply to become a tutor yourself, and a database for scholarships for students.
Neither is a clear winner in terms of overall resources. Both offer more or less the same general resources if presented a bit differently. However, Chegg does offer a writing resource Course Hero does not, while Course Hero provides a section for scholarships.
How do online tutoring resources work?

If you're interested in using either Chegg or Course Hero for the tutoring services, let's take a look at what each has to offer, and how they compare.
Chegg has tutors available twenty-four-seven. You find your tutor through their search and match engine, which requires you to supply what kind of aid you need: either quick help or a session. From there, you provide your subject and you'll be able to select from tutors available at that given time. Sample subjects include humanities, math, engineering, science, high school, and test prep (ACT, SAT, LSAT, GRE, GMAT, and LSAT). Tutors interact via virtual whiteboards, video, audio, and/ or chat text. You are required to submit a min forty character message when searching for your tutor. Tutors start at seven dollars a lesson and increase depending on the tutor and subject matter. You also have the option to ask for money back if you're not satisfied.
Course Hero also provides tutor access twenty-four seven. However, the tutor system does not appear to be as detailed or nuanced. Instead of requesting interactive lessons, you submit a query through a simple text form. This is meant more for help with single questions, rather than more extensive tutoring services. You won't be directly paid for these answers, but they tend to be quick answers, with some offering break downs as to the steps to the solution.
In terms of tutoring, Chegg by far is more comprehensive.
Related: Chegg vs Brainly Comparison.
How expensive is Chegg vs Course Hero?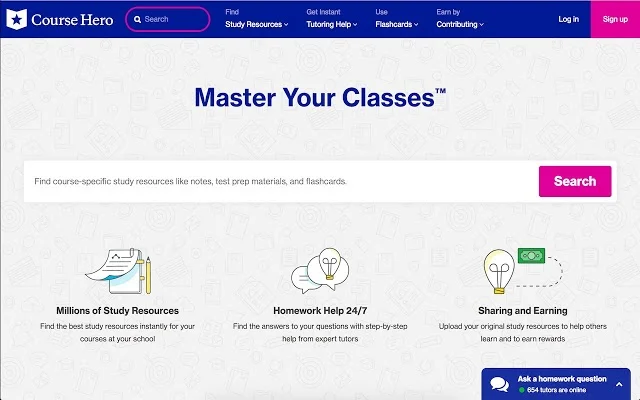 Of course, the cost is always going to be a key factor for most when it comes to deciding between online learning platforms. When it comes to cost, Chegg and Course Hero operate a bit differently.
Chegg, as we've mentioned, requires you to pay for tutors, with prices varying depending on the length of your need, the subject and the tutor themselves. However, they actually offer monthly plans which will determine what tutors and what tutoring options and homework help you'll have access to.
How Much is Chegg?
With Chegg, you can opt for seven dollar lessons, which are paid per lesson, and provides chat, on-demand help, and lesson for algebra and calculus only.
Fifteen dollars a month provides these features, plus unlimited lessons for algebra and calculus.
Thirty dollars a month opens access to all subjects, up to sixty minutes of lessons a month, and lessons incorporating audio, video, and whiteboard. You can cancel monthly plans at any time.
Study Materials are also not free. Study materials include Q&As, as well as detailed breakdowns to textbook problems. For fifteen dollars a month, you get access to these materials. You can also cancel this at any time.
Writing Helper tool checks for errors and plagiarism and will cost you ten dollars per month, with the option to cancel at any time.
Math Solver offers a detailed breakdown and quick answers for math questions and also costs ten dollars per month.
Free Resources include flashcards (search for premade or make your own).
Two membership types – Is Course Hero worth it?
After you create an account on Course hero (which requires supplying information such as your email address, username, email, password and current school) you're given free basic membership. They do also offer a premium membership.
Basic Membership, as we said, is free and provides access to the tutor database, which is handled a la carte and priced individually. Though it comes without a monthly fee, you get next to no features.


Premium Membership costs ten dollars per month for one year; twenty dollars per month for a three-month subscription, and forty dollars for a single month subscription. With any of these options, you'll be provided access to all textbook solutions, thirty documents or Q&A's a month, and forty questions. Per wording, it seems you may still have to pay for tutors separately.
In terms of pricing, Chegg is generally more expensive. Unless you're looking for one specific feature (such as the math solver, etc) Chegg will run much more expensive in the long run, by attaching monthly fees to every feature.
While the premium membership with Course Hero may not unlock as many features as all of Chegg combined, it's more overall for your money. However, if you are looking for mostly a tutoring service, Chegg, with more comprehensive tutoring, may still be worth the extra cost.
Overall, Chegg is the better bet, with many notes of caution.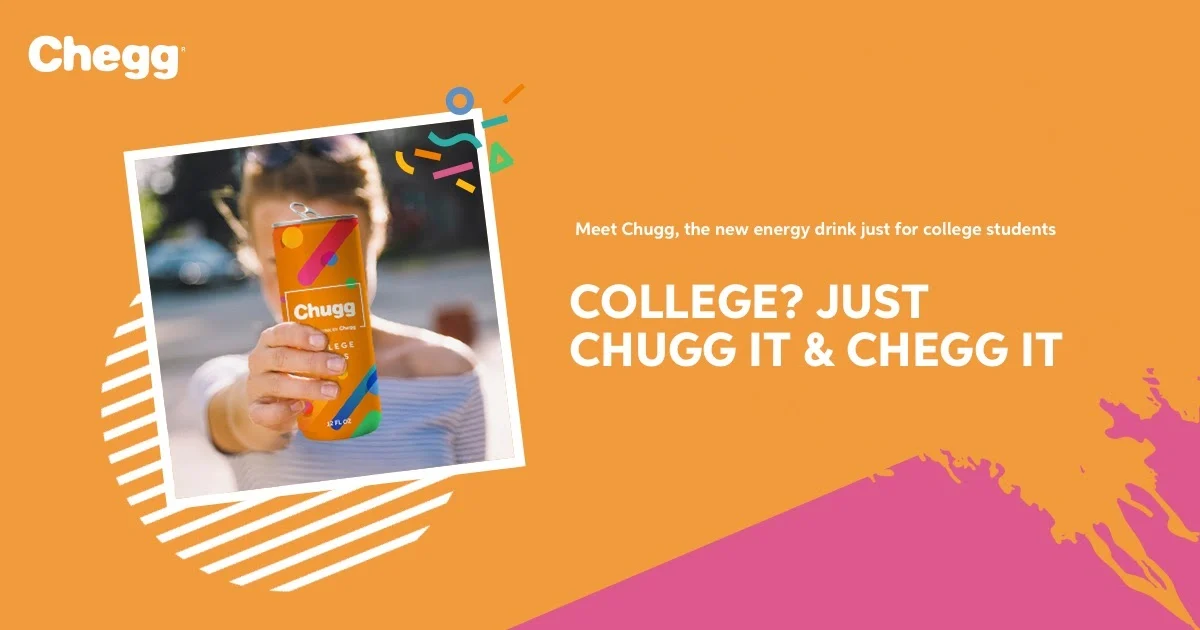 While both Course Hero and Chegg offer some innovative resources for study materials, they both are not without their concerns.
Chegg's piecemeal approach means that monthly fees can quickly add up, especially if you're considering multiple resources. Chegg also had enough complaints regarding locked accounts that you'll want to make sure you aren't relying on it for last-minute help.
As for Course Hero, while the cheaper price point and a more holistic approach is admirable, there simply are too serious complaints and too many limitations on the tutoring system to recommend the platform wholeheartedly.
Best Value for Self-Paced Learning: Course Hero stands out with their practice answers, large database of user-generated answers, and more affordably pricing points. In short, it's a great place to start if you are self-paced and actually want to "learn the material" (vs just learn the textbook).
Best Value for Tutoring: Your best bet is perhaps trying Chegg for its tutoring service. See first if you like it with a single lesson, then you can follow-up if satisfied. If you just need access to textbooks for a class, Chegg is also superior here.
Further Reads: