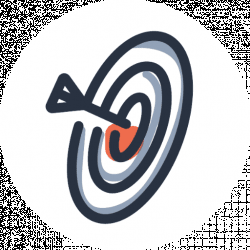 Latest posts by Online Course Rater Team
(see all)
You must be here because you're looking to develop your skillset, right? You've seen the array of online courses available, and wondering if they're worth it.
Pluralsight vs Udemy – Which is For Me?
"There are so many options available out there, it's easy to question them. They can't all be wonderful, can they?"
Think of it this way: they wouldn't all be surviving as businesses themselves if they weren't making money, so somebody must be finding enough value in them to part with cash.
In saying that – and any modern teaching professional will agree – everybody learns differently. Some learn best from sitting and listening to explanations, while others thrive on being able to actually do and apply the new knowledge as they're going along.
We'll take a look at two big names in online courses, and see who they might work for.
It's highly likely that you found Udemy near the top of the search results when you first looked up "online courses" and "e-learning website" options. They're a very popular platform, and market themselves heavily compared to competitors.
Only founded in 2010, the rate at which their courses and userbase has expanded can only be described as phenomenal. When they first started, they offered about 400 courses. Now, in 2017, Udemy offers over 45,000.
There are various figures floating around in relation to how many users they have, but one from 2016 says 15 million. 15 million people can't be wrong. Additionally, they claim to have over 9,000 instructors. In 2015, their top 10 instructors made $17 million.
The courses are aimed at professionals looking to upskill with job-related skills, but they also count for credits for college students looking to cut down on on-campus classes.
Pluralsight was not set up as an online training platform. It was founded in 2004 for delivering courses in classrooms, but by 2007, had turned its attention to online training courses.
Their courses are focused on technology and development, and seem geared towards the professional client. The most recent statistics say that Pluralsight has over 4,000 courses, 750,000 individual students and 6,000 companies invested in their training, as well as over 600 instructors.
A lot of Pluralsight's expansion seems to be drawn from acquisitions, predominantly of various other companies in tech and education, to help extend its own offering.
They have also undertaken partnerships to build their credibility, most notably with Microsoft.
There's nothing to stop individuals pursuing courses, but it does look like they've a preference for business clients seeking real-time learning experiences.
Pricing options
Udemy
The cost of Udemy courses are set by the course instructors, so they vary wildly.
Some of the courses are free, others go up to several hundred dollars, and you have got every imaginable price in between. This essentially means that the course you take depends on your own budget, and the value you place on the course.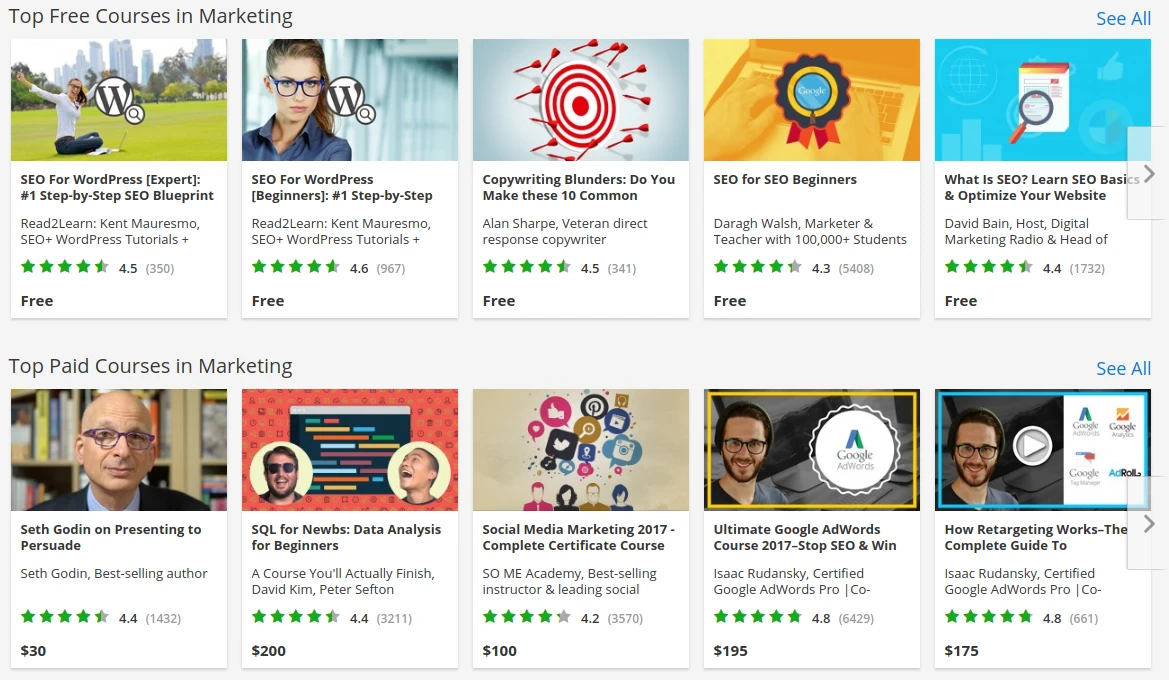 They do occasionally have flash sales, where you can get some of their more expensive courses for just $10 – if you think it's just the pricier courses that you need, it might be worth holding out for one of them, if you can.
They do offer a 30-day money back guarantee, but I'm struggling to picture the conditions for that. If you take a $200 dollar course and complete it, how do you demonstrate your reason for refunding? They do highlight some conditions as to why a refund request may be rejected, but it still seems a little bit whimsical.
There are all kinds of discussions to be had weighing up the pros and cons of instructors setting their pricing: on your part if you're looking to learn; on the instructors' part; and on the part of Udemy themselves.
It's not clear how much influence and correlation occurs between Udemy and the instructors in setting the prices. Demand and the review system in place would allow prices to fluctuate based on response.
If you're looking at the free courses though, please remember – and it's one of those things that I can never emphasize enough – you really do get what you pay for.
Pluralsight
Instead of paying per course, Pluralsight has adopted a subscription-based service.
You can choose to pay $29 per month, or $299 annually. The latter will save you $49 per year.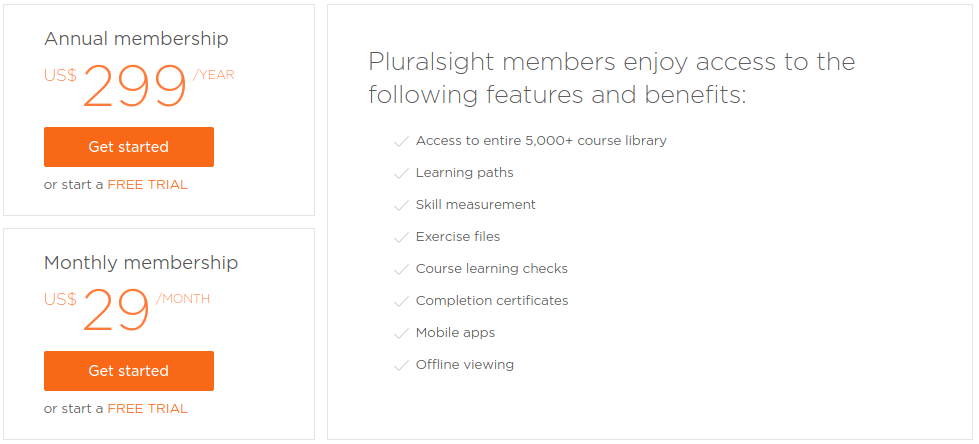 Before committing to either plan, they will give you a 10 day free trial, which will allow you 200 minutes worth of content. I think if you're expected to commit to a year, 10 days is the very least they can offer. It feels a little tight, but if you really commit to those 200 minutes, you should get a feel of whether or not it's right for you.
"The fact that it's a flat rate for access to all of their content, suggests that the standard they provide should be consistent across all key topics, but it's not clear how that kind of quality control is managed."
It eliminates some headache for instructors I guess: they receive a royalty based on how often their content is viewed, meaning they don't have to consider things like competitor pricing and obtaining good star ratings and reviews.
I mentioned that Pluralsight was business-focused. This is a consideration pressed by specific pricing packages they prepare for businesses. They again offer a free trial, and it's aimed at two or more users from the same company. That will cost $499 per user, and includes a tracking feature so you can make sure your staff are using it!
As well as that though, they suggest it's beneficial to have members of the same team using the same approach to an aspect of their role, which does makes sense.
Pluralsight vs Udemy –

Key Features
Udemy
Udemy's courses are mostly business-related, but honestly, I feel like they have something for everyone.
The ones that I was drawn to, and that's just because it's what I'm interested in, were the digital marketing courses and the music courses. Upon further exploration of what they offer, there was everything from photography to hairstyling and makeup, to more technical stuff like app development, gaming and pets.

I think your interest would have to be very, very specific for them not to cover it, like tap dancing on a horse while making the perfect soufflé, or something similar.
The features are course specific, and for the most part, it really is down the the tutor what you're provided with.
"The process is as simple as signing up, looking for a course you might be interested in committing to, and buying it."
When you complete your course order, you can start and stop it at your leisure. All courses will provide you with a certificate of completion, and video content. The quality of the video content will depend on the instructor's audio and video setup, and understanding of a high quality video tutorial.
The focus is on video, but many of the instructors will provide material for you to download. Because you undertake the course as you want as and when you want to, the instructor may not be on hand for any clarifications and queries from the course.
But, if you do have a query, you'll have access to a dedicated discussion board for you to post your query, where they'll respond.
Pluralsight
The courses available in Pluralsight are pretty much all directly or indirectly tech-related.

Even the less explicitly tech courses, such as the ones for business professionals and creatives, are all related to courses covering a technological aspect of those professions.
"With the talk of study paths and the like in their outline of features, Pluralsight give the impression that they're aiming for a university-style experience, delivered via the interwebs."
The general layout and navigability of the website is very focused on what it's doing. In the absence of different prices for different courses, there are no competing courses within the system. The benefit of this is that it allows you to focus on the type of course you want to undertake.
You can browse courses by content or by author. I found it a little bit annoying that I couldn't look at the full course without committing to signing up. In that respect, I feel like it might be difficult to attract those on a tight budget to commit to a monthly subscription.
For example, there are only four marketing courses. While one or two might be useful, depending on the individual, I wasn't able to see what kind of commitment level was involved in each one. Obviously, you can avail of the free trial though, but if you can complete a course in that duration, it might be a handy win.
You'll get a certificate of completion at the end of the course. You'll get access to the course videos, and whatever other additional materials the course authors care to provide!
Usability
Udemy
With the range of courses available on Udemy, it needs to be as accessible as possible, so that usability won't be hindered by technological knowledge. The depth of each course appears to be relative to the cost and length of the courses.
"For example, with a course aimed at MBA-level students, it will be considerably longer in length, and cost significantly more than a free, hour-long course aimed at beginners in social media marketing."
While the courses get deeper, the functionality and user-friendly interface don't change. If you've ever bought anything online, you can set yourself up on Udemy. It's the same principal.
In saying all that, the most major of obstacles in the usability of Udemy is your own commitment to the course. There's no time limit to completing the course, but you don't want to waste money on it either.
With that in mind, it might be a good idea to start with a free course, or a cheap one, and see how you get on with that, in terms of sitting down and focusing on the instructions in the video – that in itself is a skill, and I couldn't find any course explaining best practice for it!
If you can use the internet, and follow instructions, you can't go wrong with it. One drawback is that there's no real telling what the quality of the course will be like.
In line with contemporary trends in internet use, Udemy have created apps for use on Android and Apple devices, so you can take the course wherever you happen to be.
Pluralsight
It feels like the interface of Pluralsight has a nod to some professional software – I'm picking up hints of Adobe's creative suite.
As mentioned earlier, Pluralsight doesn't need to have its course fighting over one another for your attention. That in itself lends it a huge degree of clarity – it does feel like a professional platform, rather than a crowded sales pitch.
No more than any other kind of home-learning scenario, a large factor in your success and achievement with the platform is your own discipline, and the ability to sit, and avoid distractions while getting on with the course.
In this respect, the team learning aspect of Pluralsight is a pretty good idea. Without the Big Brother idea of management being able to keep an eye of employees' progress, it's useful to have other team members in the same boat, to compare and contrast the experience, bounce ideas off, and generally motivate each other.
The professional layout of website gives it a serious tone, so between that, and the nature of the courses in general, this isn't aimed at hobbyists. It makes it feel like it's supposed to be used for career development, and if that's not what you're looking for, then you're doing it wrong.
All of this points towards Pluralsight being aimed at tech-savvy pros, and that's squarely where it positions itself. It definitely gives an air of exclusivity. That might make it sound stuck up, as such things go, but it's clearly working for them.
"If you're used to professional computer interfaces, you'll feel at home with Pluralsight."
Overall Take
Udemy
Udemy is a really great platform, for the variety of courses, and for giving options in terms of budget.
At the same time, these are two points that might cause some concern. There's always the chance that instructors are compromising on quality in order to proveide cheaper, and more accesible courses. It's useful to careully read some of the reviews about the courses.
The fact that it has such a wide variety of course also makes me question how much it would count for in a professional context. I understand taking a free or cheap class in business or something from Udemy, but I'd question if that has any value to an employer, particularly for the longer, more expensive courses.
I'd love to see a breakdown of the kinds of courses people take.
Pluralsight
"Pluralsight is a totally different site. Between the cost, and the nature of the courses, this one is definitely aimed at professionals."
I can imagine an employer being happy to fund a Pluralsight course for employees to upskill the knowledge they bring to an organization. I can't say the same of Udemy's courses. Not even the expensive ones.
It feels like a structured site. If you're looking to do some training out of pure curiosity, this isn't the site for you.
I could also imagine large enough companies, or at least managers with big enough teams, adopting it as a platform for managing all their training, essentially having it as a one-stop shop for any staff training requests that come in.
Overall, Pluralsight is a smart, sharp, and professional platform, for professional workers with professional ambitions.
Udemy
Pluralsight
Pricing Options
From free, up to $200
$29 per month or $299 per year
Features
- Online videos
- Additional materials for download
- Certificate of completion

- Online videos
- Additional materials for download
- Certificate of completion

Additional resources for business, including a team learning function

Usability
As easy as making any other purchase, watching any other video, and downloading any other materials
Simple and straightforward - a clean design that will appeal to professionals
Overall
Good for hobbyists
Good for professionals
Pluralsight vs Udemy

Final Comparisons – Which to Sign Up For?
Both Udemy and Pluralsight are fine platforms, and delivery of the courses is incredibly similar. But before committing to a course with either of them, I'd suggest that it's very important to take some time, ask yourself why you want to take a course in the first place.
For Casual Interest: If the answer is curiosity or an introduction to a topic you're not familiar with, I'd suggest that looking through relevant courses on Udemy, and their reviews, would be a good step forward. There is less commitment to those cheap or free introductory courses, so you have less to lose if you decide that it's not something you want to pursue.
For Professionals: However, if the answer is professional development, Pluralsight is by far a better option, and it's you who they want using the site anyway. It's a much cleaner affair, and judging by the course titles, you should at least have some fundamental knowledge of the courses before you start.
Recommended Reads: