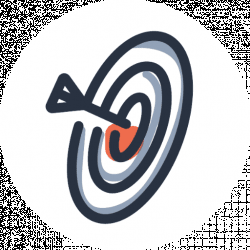 Latest posts by Online Course Rater Team
(see all)
For millions of people, the Internet is the gateway to learning. Whether the student is still in high school or has an advanced degree, platforms like Teachable and Udemy have made it easy for lifelong learners to access courses and instruction on topics from astronomy to watercolor lettering.
Even better, platforms like Teachable and Udemy have made it easy for people like you to share your knowledge with the world. Maybe you've spent years dedicated to a hobby, maybe you have particular expertise in a difficult subject, or maybe you have a way of delivering knowledge that captures a student's attention.
Teachable vs Udemy is a long-standing debate, but both make it easy to make the leap from student to instructor. All it takes is a few simple clicks, and you're on your way to sharing your knowledge with the world (and potentially making quite a nice profit on the side).
The Teachable and Udemy course creation platforms have made it easy for students and teachers to connect. If you are someone who is passionate about a particular topic, whether it's a hobby you've devoted years of your life to or a special topic of interest (for example, Java Script coding), you can become an instructor on Teachable or Udemy and sell your courses.
While both Teachable and Udemy offer platforms to host and sell your courses, there are some major differences between the two that you need to take into account when deciding which one will be a better fit for you. Let's take a look at the similarities and differences between these two-course creation platforms.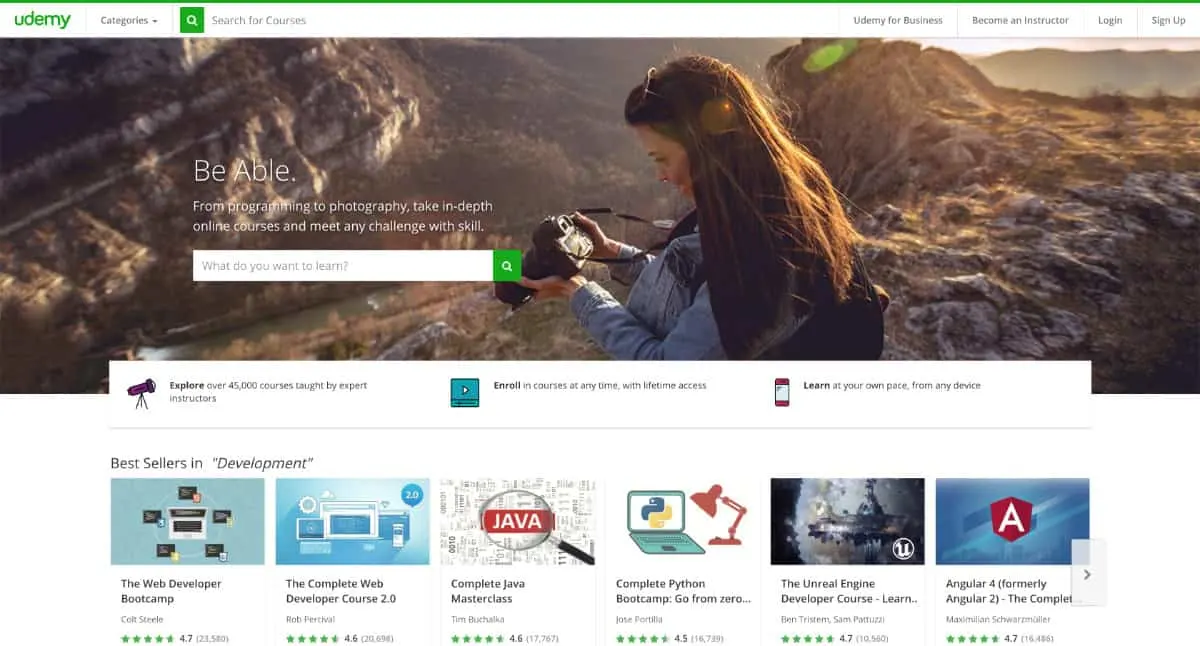 Teachable vs Udemy: Background
Both Teachable and Udemy have staying power. They have both been around for several years. Teachable was founded in 2014. Udemy is a bit older, established in 2009. Both platforms have well over 10 million users (students) and thousands of instructors. Both Teachable and Udemy start free. Neither platform requires a credit card until you're ready to publish and charge for your own courses.
Both platforms provide excellent resources (such as webinars, peer-support groups, eBooks and articles, IT support and useful emails tailored to your specific needs. But there are some differences in how each platform helps you create your course and build your class.
Teachable
Teachable has more than 15 million students, 154 thousand active courses and 62 thousand instructors. A hefty instructor's platform if ever there was one.
To get started with the Teachable course creation platform, create your "school." Your school is a personalized website that Teachable helps you create step-by-step. One thing I love about Teachable is the ability to brand your school. Teachable gives you the tools you need to "present a captivating course website" without coding skills! You can make it look and feel the way you want it to. Once you've established your school, you can build lectures with video, audio, presentations, images, and text. And it's easy to create quizzes and discussion forums.
The next step is to build your community, just like any professor would build up his or her classroom. Teachable gives you tools (a comment and email system) to help you stay in touch with your students. Teachable also helps you accept payments and enrollments. But that's about where the help from Teachable ends. Marketing your course and generating publicity is entirely up to you.
Udemy
Udemy has24million students worldwide, courses available in more than 50 languages and more than 35thousand instructors (many of which engage in an active peer support community). Udemy describes their learning platform as "leading [the] global marketplace for teaching and learning, connecting students everywhere to the world's best instruction anywhere."
A primary difference between Teachable and Udemy is that Udemy courses are video-based. In order to upload a course to the Udemy platform, you will need a smartphone or DSLR and a microphone. You could also use screen-casting software, such as Camtasia, to screen-cast demos.
Udemy offers a simple, 3-step path to success: plan your course, record your video and build your community. Udemy helps at each of these stages by providing free courses to help you build your own course (including worksheets and real-world examples), an intuitive instructor dashboard, curriculum pages, a support team (which will review your videos for free) and an online instructor community offering advice and inspiration.
To build interest in your course, reach out to the Udemy student marketplace. Welcome your students with personalized messages and answer their questions using the tools Udemy provides for messaging, Q&A, course announcements and quizzes. Udemy makes it easy, so you can focus on connecting with your students.
Now that we've covered some background and the basics, let's look next at some specific points of interest on each of the Teachable and Udemy course creation platforms.
Course Creation and Technical Know-How

You do not have to be a technical guru to create courses on Teachable or Udemy! I created accounts on both Udemy and Teachable, so I could see the dashboards for myself. Both are quite intuitive, and help is always only a click away.
Udemy does take a bit more technical know-how as it requires you to record and upload videos, but as long as you have a smartphone and a microphone, you can record and upload instructional videos to the Udemy universe.
Figure 1 – Udemy Course Creation Steps
Creating a course in Udemy is as simple as clicking "Get Started" and then following the step-by-step instructions, filling in the blanks as you go. Their review process, however, is strict (and mandatory whether you are offering your course for free or charging for it).
In order to ensure all their courses are high quality, all courses uploaded to Udemy go through a review process before they are uploaded to the Udemy universe. The review team checks to make sure your course is well structured, different from other courses already available on Udemy and technically sound. Here's the checklist for what the review team looks for http://udemy-images.s3.amazonaws.com/fb/email/2015/Instructor/Misc/Udemy_Quality_Checklist_2.pdf
The Teachable course creation platform gives you a little more freedom to create your courses. Rather than blocking you into a step-by-step process, once you've filled in the basic course information you have control over how you add your lectures, videos, and quizzes. (Udemy keeps you in a step-by-step process to add these items.)
The Teachable dashboard shows you where you are in the course creation process at a glance (see screenshot below).

Also, Teachable does not have the same review process that Udemy has. Once you are done creating your course, you simply move on to pricing and publishing.
Pricing for You
Both the Udemy and Teachable course creation platforms start out as free offerings, but (of course) this changes once you are ready to start selling your courses.
Teachable offers both monthly and annual plans, and all their plans include:
Unlimited courses
Unlimited students
Basic student reporting
Unlimited hosting
Integrated payment processing
Student management and email
Comments
Basic quizzes
The plans that Teachable offers are Basic, Professional, and Business. The screenshots below show what you get with each plan.
Year Plans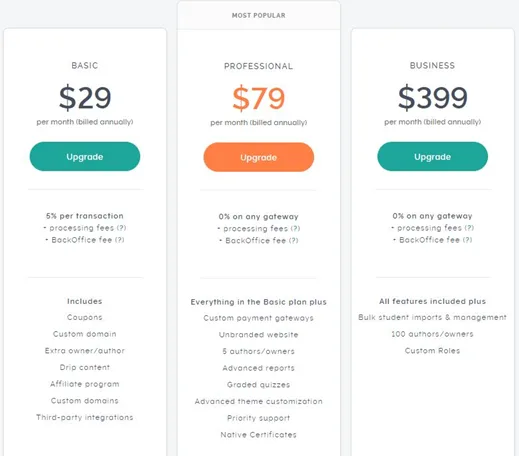 Monthly Plans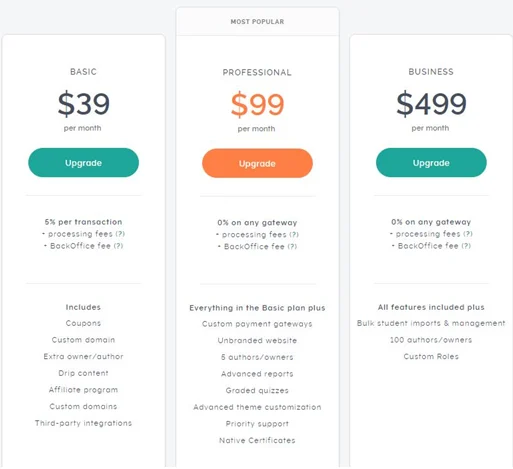 Udemy's payment plan is much different. Instead of paying upfront for using their service, Udemy takes a portion of the profit (50%) you receive from selling your courses. After becoming a premier instructor (something you have to do in order to price and sell your courses on Udemy), Udemy allows you to set up a PayPal or Payoneer account in order to receive payment for courses that you sell. For each course that you sell, Udemy keeps a percentage (50%) of each transaction.
Udemy explains, "We believe in a sustainable partnership, where instructors are rewarded for creating amazing content and bringing students to the platform, and Udemy is rewarded for driving new students to our instructors." You can learn more about Udemy's revenue sharing policy here: https://support.udemy.com/hc/en-us/articles/229605008-Instructor-Revenue-Share
Pricing for Your Students
Another major difference between the Udemy and Teachable course creation platforms is their approach to course pricing. At Udemy, you can price your course from $20-$200.In order to charge for your courses on Udemy, you must become a premium instructor (but don't worry, it's easy, and they walk you through the process step-by-step). You can also offer your course for free, in which case you do not need to be a premium instructor.
At Teachable, there are no restrictions. You can choose any price you want for your courses long as it is a whole dollar value. You also have the ability to offer free courses (which you might want to do to attract students to other, paid courses).
Marketing Strategies – Selling Your Courses
An interesting difference between Teachable and Udemy is the way they approach selling your courses. Udemy provides a built-in audience to which they actively market your courses (this is the main reason why they take part of your profits when you sell a course). Udemy has millions of students registered on its platform, a very active online learning community and a website that enjoys lots of organic traffic.
Teachable, on the other hand, while it does have millions of registered users, does not have the same built-in student community that Udemy has.
Teachable does not provide any marketing help or a marketing platform. With the Teachable course creation platform, you are entirely on your own when it comes to marketing and building publicity for your course. You're in charge of promoting your course to the masses. Whereas with Udemy, you can take advantage of Udemy's email and onsite promotions to market your course.
This can be both a good and a bad thing, depending on your perspective. If you already have a strong social following, you might not need the built-in marketplace that Udemy provides (or you might find it too constraining).
Student Data
An issue that is related to the marketing of your courses is the ownership of student data. Again, the Teachable and Udemy course creation platforms handle this differently. Teachable allows you to own your student data, giving you access to your students' email addresses and other useful student information.
Udemy, on the other hand, does not allow you access to student data. Instead, Udemy retains ownership of all student data/information. This makes sense because Udemy is responsible for all of the marketing for your courses.
Competition
Another important note we should mention is about promotion to competitors. Teachable leaves the promotion of your course up to you, so it will never promote your competitor's courses to your students.
Udemy, on the other hand, is in the business of promoting its instructors. Therefore, at times, it will be promoting your competitor's courses to your students.
Support, Peer-to-Peer Support, and Other Resources
Both Teachable and Udemy offer peer-to-peer support by way of Facebook groups (Teachable's Facebook group is called The Teachable Tribe, and Udemy's is called Studio U). Both groups are extremely active, with thousands of active members answering hundreds of questions each day.
Both course creation platforms also offer content that will help you enrich your courses. Teachable's "how to" guides, in particular, are very detailed and easy to understand, while Udemy offers a knowledgebase full of information regarding how their platform works, pricing structure and more.

Teachable vs Udemy –

Wrapping It Up

The Teachable and Udemy course creation platforms both offer the opportunity to put your knowledge to work for you.
The biggest difference between the two platforms is that with Teachable, you get your own domain name and complete control over your courses. You can apply your own personal brand to your course, control the price and execute your own style of marketing.

With Udemy, you get the power of Udemy's marketing team, but you sacrifice the ability to control the price of your course. You don't get to control the look and feel of your course or the way your course is presented to students.

Fortunately, both platforms give you the ability to play with their interfaces for free, so you have the ability to experience them for yourself before you commit to one or the other. Take some time to investigate their dashboards, their available resources, and their pricing strategies before you make your decision.

Either platform makes it easy to put together a polished, professional course that can put money in your pocket, but only you can decide which platform has what you need to get started in the online course creation universe.
Recommended Reads: