Latest posts by Jessica Lauren Vine
(see all)
Whether you're going on a trip, you just want to learn for fun, or you need a new language for that big promotion, finding the perfect language app can be a challenge. Looking at Fluenz vs Babbel can give you an idea of what is available to learners just like you.
You'll find that each learning app puts its own spin on things. Different learners find each of the methods strikes them in a way that it might not hit others. Whatever the case, I will help you decide which language program will allow you to achieve your goals.
Continue reading for overviews of both Babbel and Fluenz, as well as answers to your most pressing questions about these language learning programs.
Main Differences Between Fluenz vs Babbel
The main differences between Fluenz vs Babbel are:
Fluenz sells their courses for a one-time payment, whereas Babbel sticks with the subscription method
Fluenz is heavy on video tutorials, whereas Babbel uses a lot of matching and memorization
Fluenz has brought traditional learning to the app, whereas Babbel is more about innovating language learning technology
Fluenz has a hefty upfront startup cost, whereas you can get started with Babbel right away for less than $20
Fluenz offers one-on-one coaching, whereas Babbel only allows you to learn through the app
After seeing some of these top differences, you might already be leaning toward one option or the other. Once we go through the complete overviews and break down the most important parts of the program, your choice will become clearer.
Fluenz vs Babbel: Fluenz Overview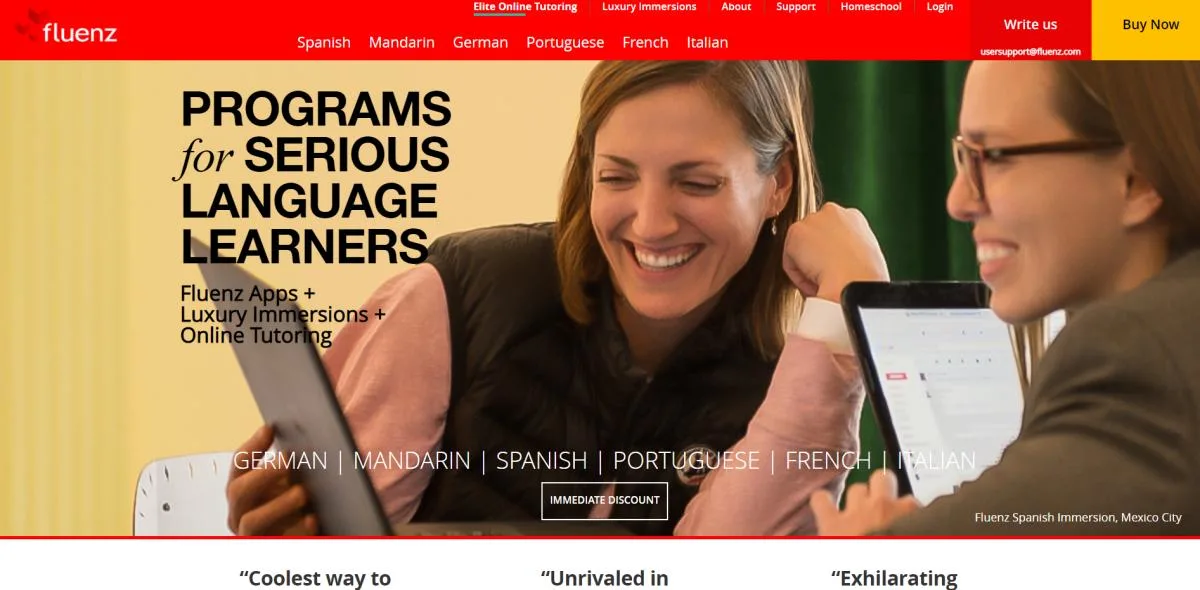 Fluenz makes a jab at gamified apps like Duolingo by saying that getting fluent in a language isn't a game. This program's approach is much more strict and serious than a lot of other apps.
In 2007, Fluenz came to life after Sonia Gil and her co-founder Carlos Lizarralde came up with the big idea. The way it all got started was that they asked themselves the simple question of, "Could there be a better way to learn a language?" They had bad experiences with prior learning programs and teachers and wanted to make a better way for other people trying to learn.
They want to combat the "clever marketers" who tell people they can learn a language through a game. In fact, they even offer live tutoring for users that don't want to only learn from exercises and videos. If you want a more serious learning situation with thousands of hours of instruction then this is a great platform for you.
Getting Started & Using Fluenz
When you start with Fluenz, you'll find it's a little different than starting with Babbel, Duolingo, Mondly, or other similar apps. You have to buy the program of your choice, and you'll feel like you're going through tutoring—but virtually.
This was the founder's goal and might be right for people that are ready to spend more than 10 or 15 minutes learning the language. Even though they say they don't believe in learning through gaming apps, they do have games you play, so it's not all talking and listening.
Once you buy your program, you simply follow the prompts, and you'll be able to progress through the program.
Teaching Quality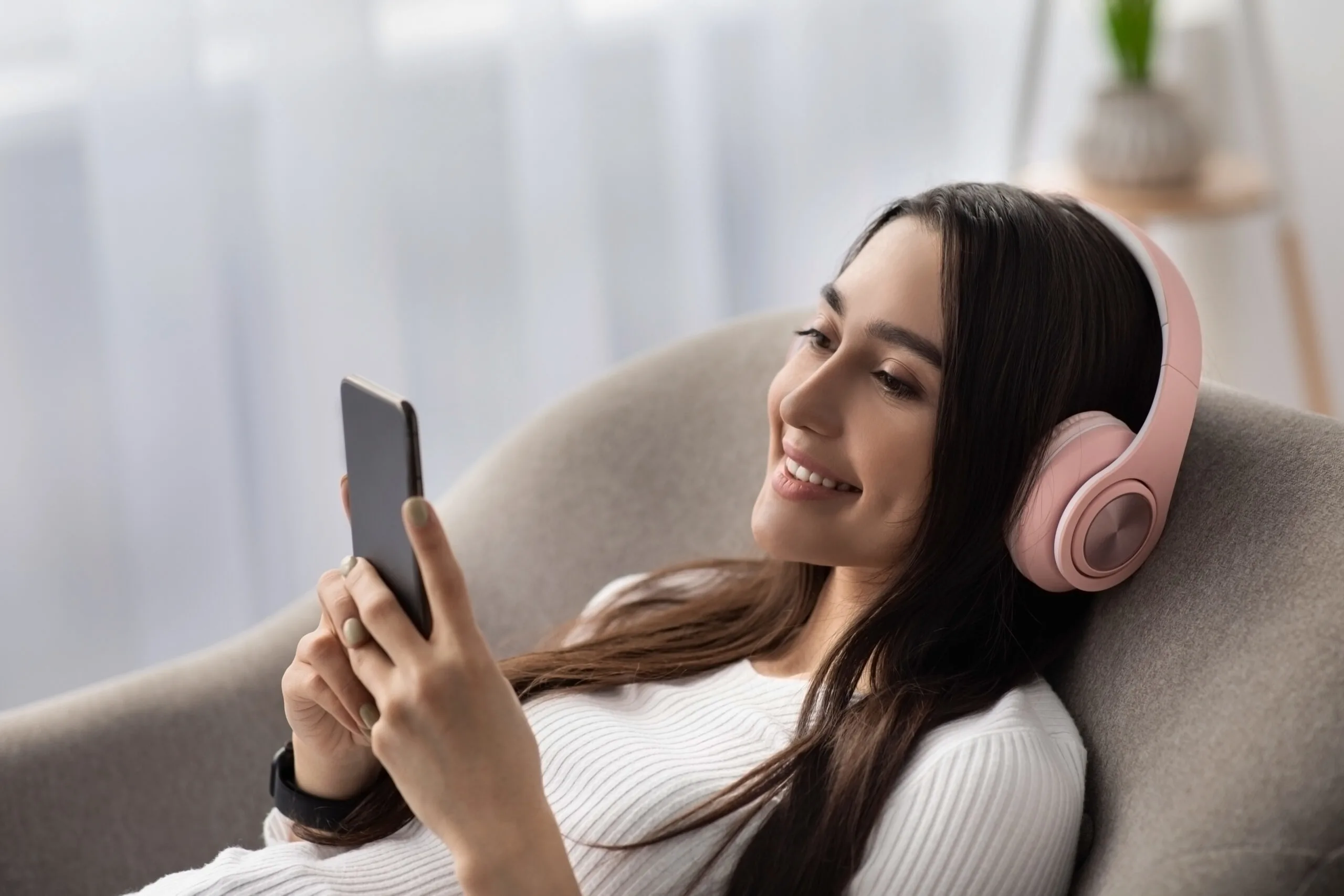 We already touched on some of the teaching style of Fluenz, but let's go a little bit deeper. While they do have one-on-one tutoring and even events, we're going to focus on the Fluenz online learning experience.
The Fluenz video tutors teach users through engaging videos. There are a lot of graphics and photos that inspire users to keep going. Motivation is a large part of continuing your learning process, and Fluenz helps you keep going on the right path.
You can control your learning experience by skipping a lesson, moving forward, or moving backward during the process. If you already know some of the languages, you might not want to go through one of the lessons, which is why it is great when you can skip.
They have a community of language learners that it includes in the price of your membership. They also offer audio material and flashcards to work on your ability to retain the information you learn.
Support
Fluenz makes it easy to contact them about any support issues. They have a frequently asked questions section to help you avoid having to email them, but their quick response form is readily available.
Pricing

There are different languages you can choose from, but I chose to look at Spanish.
If you want the entire Flenz Spanish package, you will put out almost $400. Keep in mind that this is a one-time fee, so there are no subscriptions to maintain. However, you can get one level for as low as $187.
They do not have an all-access pass type of situation. If you want to learn another language, you'll have to continue buying that language. All of the pricing for each of the languages are the same, and that can add up quickly.
Fluenz vs Babbel: Babbel Overview
Babbel's famous slogan is "Language for Life" because their goal is to get their users conversational as soon as possible. Instead of learning unhelpful phrases and teaching words people won't be likely to need—they focus on helping their users learn phrases that will help them.
In 2007, Babbel became the world's first language learning app and changed the way people would learn to communicate with others. Fast forward, and they currently have over one million users around the globe.
They pride themselves in knowing that 73% of their users say they are able to reach their goal of having a short and simple conversation using the platform for a short time.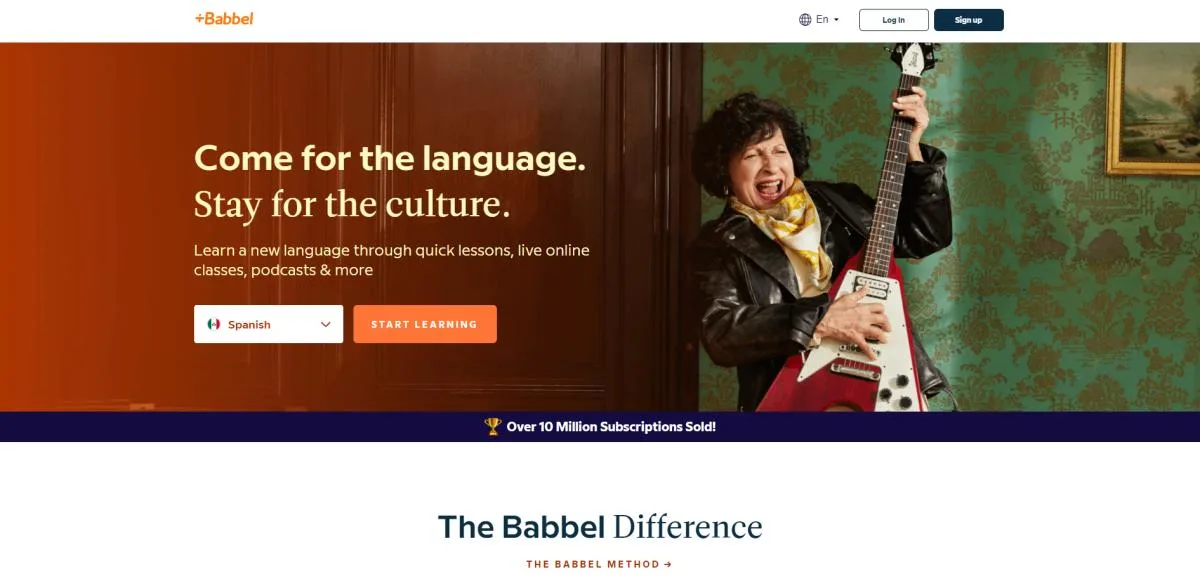 There are over 10,000 hours of content spread out of the 14 languages available on the Babbel app. You can continue learning and growing in the language for a long time without having to redo lessons. However, you can redo lessons if you want to solidify your knowledge.
Getting Started & Using Babbel
Babbel makes it easy to get started learning the language of your choice. You can sign up for Babbel quickly by telling it a little bit about you and what your goals are. Once you're through that, you will see the first lesson.
You can access the first lesson of any course for free, but after that, you have to put your payment information in and subscribe. The first lesson is simple and will give you a good idea of how you'll learn if you decide on a subscription.
Teaching Quality
Unlike Fluenz, Babbel is much more user-friendly. The app has a good feel to it, and you know where you need to go and what you need to do next.
You can also choose whether you want to learn through the app or through a live subscription. We are only focusing on the app subscriptions for both of these programs, however. Even without the live element to teaching, Babbel comes out strong and has the ability to build confidence in its users.
The lessons don't take long at all, so if you're busy but still want to fit language learning in, this could be a good choice for you. You can even use Babbel hands-free if you're doing the work with voice recognition.
Support
You can easily type a message to the Babbel bot, but it doesn't have all of the answers. If you type "Get in touch," it allows you to send a message so a human can contact you.
Pricing
If you want to dip your toe in further than the one lesson that is available to you for free, you can always choose the $13.95 per month option. Or you can choose an option that saves you money and gives you enough time to learn how to have a conversation.
3 months is $9.95 per month when you buy it for $29.85
6 months is $8.45 per month when you buy it for $50.70
12 months is $6.95 per month when you buy it for $83.40
What Are The Benefits of Learning a Language?
Learning a language gives you a feeling of accomplishment, but there are other benefits beyond that.
When you first start learning a new language, your brain activity boosts, and it can help you learn and remember more things. Besides that, there are also more job opportunities for bilingual people. It's also very helpful to learn another language when traveling to places where people are native speakers.
Other Language Learning Apps to Consider
If you don't think Fluenz or Babbel is the right fit for you, here are some other great options.
Duolingo
If you want a free option that will allow you to learn without paying, then this is a good app. Keep in mind that there are a lot of ads.
Related: Full Duolingo vs Babbel Comparison.
Mondly
While it is a little less structured than I would like, it's a good option for learning many languages.
Related: Babbel vs Mondly Comparison
Rosetta Stone
For those of you that like to learn through an immersive experience, this could be a good option. You will see very little of your primary language as you go through the program.
Related: Babbel vs Rosetta Stone.
FAQs
Question: Is Fluenz good for Spanish?
Answer: A lot of people love learning Spanish on Fluenz and find it very effective.
Question: Can Babbel make you fluent?
Answer: Using Babbel can help you get conversational fast, but many people don't believe it can make you fluent.
Question: Does Babbel or Fluenz offer the most languages?
Answer: Babbel offers 14 languages, and Fluenz offers 7 languages.
Question: Does Fluenz or Babbel give you the most for your money?
Answer: Babbel gives you the opportunity to learn more languages for less, but some people prefer the teaching methods offered by Fluenz.
Is Babbel or Fluenz the Best Choice?
Babbel was the first language learning app, and in my opinion, it may be the best one. I know that I definitely like it a lot better than what I've experienced with Fluenz.
Both will teach you to speak Spanish in a way that makes it easy for people to understand you, but Babbel is much more user-friendly and intuitive.
You may also find this article about Babbel vs Duolingo helpful or this one about Busuu vs Babbel.