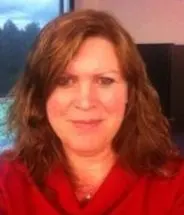 Latest posts by Deb Mayberry
(see all)
Brainly vs Chegg are both online educational resource platforms to help students excel in their academics. Brainly services towards helping students with homework assignments and help provide accurate solutions to difficult questions. Chegg provides new and used textbooks and assists with solving homework questions.
Bottomline Upfront
Chegg is my favorite because it provides help for more subjects than Brainly does.
Main Differences Between Brainly vs Chegg
The main differences between Brainly vs Chegg are:
Brainly helps students with their homework assignments, whereas Chegg provides educational resources and solutions
Brainly offers online textbooks with exercises and solutions, whereas Chegg offers textbook rental, buy, and sell
Brainly has a paid tutor program with one-on-one for math and science subjects, whereas Chegg has paid tutors to help students one-on-one with any subject
Brainly vs Chegg: Similarities
Both are online educational resource platforms
Both provide a 7-day free trial
Both have Mobile APPs
Brainly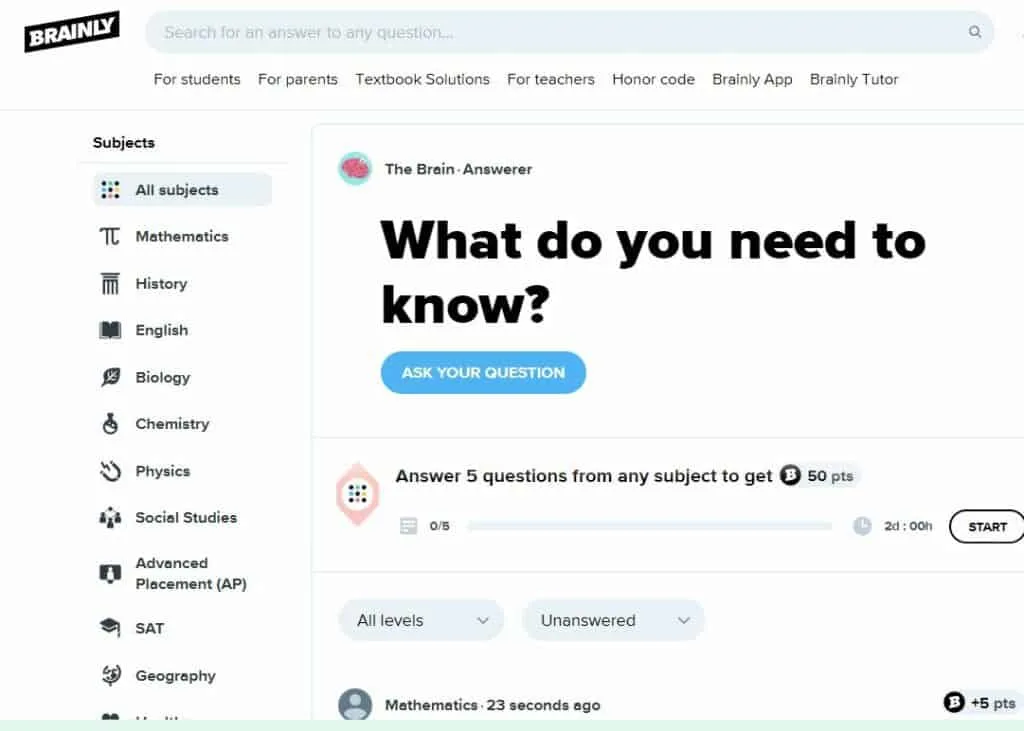 Brainly was founded in 2009 and is a Polish company based in New York. It is an online educational platform for students, parents, and teachers to help bridge the gap with learning and teaching. It is a platform that helps students with their homework assignments and provides accurate explained solutions.
Students can post questions on any school subject, and experts will help answer their questions.
Brainly: Services
Brainly has several service options to help them learn. If a student doesn't understand an assignment question, then they can ask for help and get an answer with a step-by-step explanation on how the question was solved.
Example of a Student Question and Brainly's Answer
Question: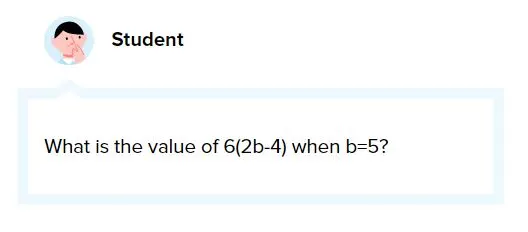 Answer: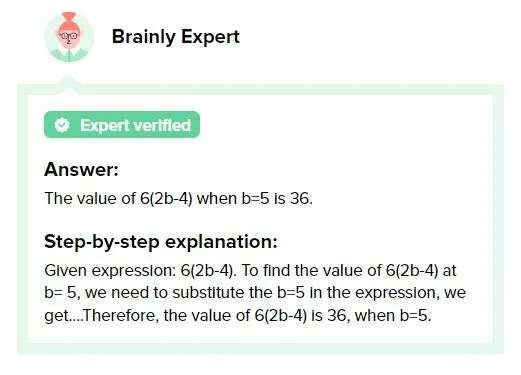 Brainly provides guidance and a Tutoring program that includes 24/7 unlimited tutoring sessions, one-on-one help with math and science (biology, chemistry, and physics), tutoring response within 60 seconds, tutoring responses are saved for future reference, and no AD interruptions
For Students: How Brainly Works
Search questions or ask your own questions
Get answers with step-by-step explanations
Answer questions for points- help others and earn points
For Parents
Pair your Account with your Kids and follow their progress, see their strengths, and what is challenging them with their homework
Share your Link
Accept the Invite
All paired up
For Schools and Teachers
Includes an interactive learning environment for students to work at their own pace. Questions are answered through text, image, and voice. Joining is free for teachers.
Tutoring Pricing Package Options
7-day free trial
Annual $8/month
Semi-Annual $12/ month
Monthly $29 / month
Brainly Textbook Solutions Includes
Free Textbooks created by experts with step-by-step answers
| | |
| --- | --- |
| Academic Level | # of Textbooks |
| Elementary | 11 |
| College | 121 |
| High School | 197 |
| Middle School | 86 |
| Other | numerous |
Brainly has a Recruitment Process for those that desire to help students across the globe with every subject in several languages.
Brainly: Subjects
Advanced Placement (AP)
Arts
Biology
Business
Chemistry
Computers and Technology
Engineering
English
French
Geography
German
Health
History
Law
Mathematics
Medicine
Physics
SAT
Social Studies
Spanish
World Languages
Brainly: Pricing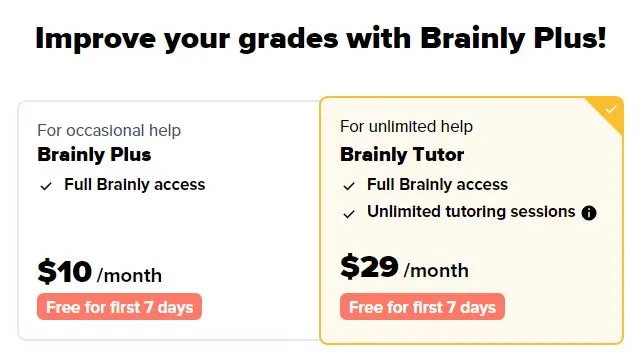 Free for 7-Days and you can cancel anytime
Pricing Options include unlimited AD free content, plus help from the Brainly community, expert help with textbook answers to student textbook questions with detailed explanations, and step-by-step math solutions
Brainly includes a Brainly App to help students on-the-go.
Brainly: Pros & Cons
| | |
| --- | --- |
| Pros | Cons |
| Wide range of subjects | No credential certificates |
| Student and Parent Linked Accounts | Only tutoring math and science subjects |
| Mobile APP | Expert answers are disappointing to students |
Brainly: Reviews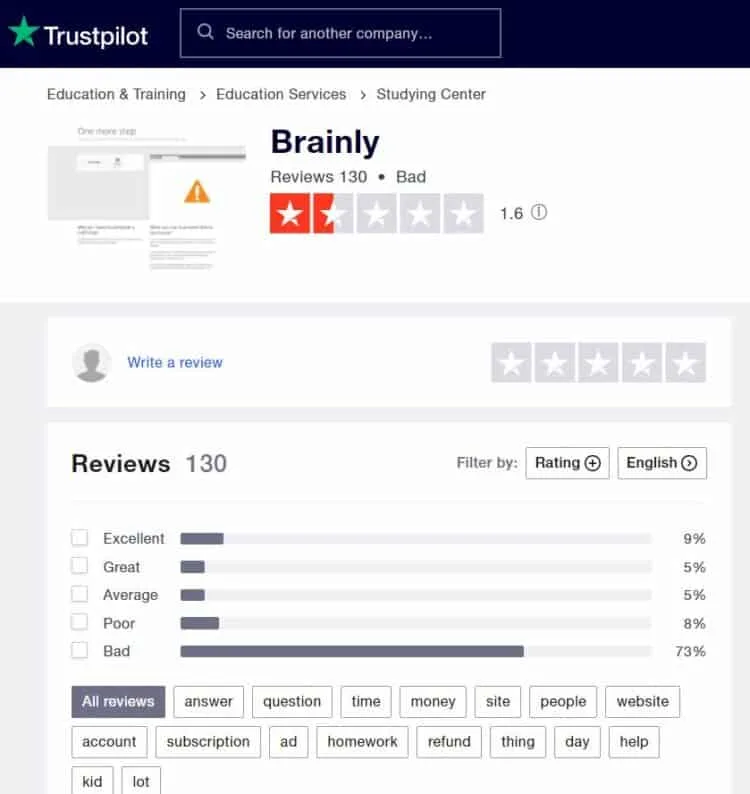 According to Trustpilot Reviews, Brainly is given a 1.6 out of 5-star rating.
Trustpilot's reviews are for a 12-month period.
Brainly typically replies to a negative review in 1 month or less.
Dissatisfied customers claim that it is a bad place to study, full of scammers and cheating people. Brainly responded and asked them to report any bad behavior to their moderators once it happens. Others claim customer service is bad, and they have been billed for more than what they got or they have been locked out for no reason.
9% of students adore Brainly as it helped them succeed in their education, and to pass tests that they struggled with. Other happy students find the Brainly community wonderful.
Chegg

Chegg was founded in 2005 and is its headquarters are in California. It is an online education platform that provides digital and physical textbook rentals of which you can borrow at a heavily discounted price and resell once you are finished with your program.
Tutors are available for a fee and the platform provides assignment solutions to difficult homework problems. Students and teachers can lend their expertise too to help answer questions and solve other students' homework problems.
Chegg Online learning Tools include:
Expert Q&A
Textbook Solutions to difficult questions
eTextbooks
Math Solver
Citations
Plagiarism & Grannie Checker
Expert Proofreading
Tutor Help
24/7 Study Help
Chegg: Course Help
Chegg's academic courses include the basic course subjects that the school system teaches. Therefore, it is focussed on all subjects that students learn and may need further help to understand.
Biology: Biochemistry, Evolutionary Biology, Immunology, Cell Biology, Nutrition, General Biology, Zoology
Business: Finance, Economics, Accounting, Operations Management
Engineering: Computer Science, Electrical Engineering, Mechanical Engineering, Civil Engineering
Math: Algebra, Calculus, Statistics, and Probability, Advanced Math, Other Math, Geometry, Trigonometry, Prealgebra, Precalculus
Science: Physics, Chemistry
Chegg: Study Tasks
Math Homework Help
Get help with your toughest homework assignments with 24/7 expert help where students are provided with step-by-step solutions
Snap a picture of your question and send it to an expert for help
Search a library with millions of solutions to get answers to homework problems
Get detailed information on the subject matters you are studying
Exam Prep
Chegg help with your tests with the help of over 500 million flashcards and practice exams
Tracks your progress and identifies what you don't understand
Get step-by-step explanations
Solutions are provided in digestible breakdowns and also include video explanations
Study at your own pace
Understand a Topic
Get help with tough subjects
Learning tools help bridge the gap so that you understand the learning materials you are having a hard time comprehending
Explanations are broken down into digestible pieces
Videos explanations, illustrations, and definitions are tools used to help the learning curve
Practice tests designed by experts
Writing & Citation
Plagiarism scans: You can check plagiarism errors and grammar mistakes with writing suggestions
Expert Proofreading: get feedback within 48 hrs
Instant citation- get automatic citations for free
Chegg: Pricing
Prices start at $14.95 US/ month or $18.95 CAD/ month, cancel anytime
Chegg Study Pack Subscription: $24.95 CAD/ month
Study Packages Include
Chegg Study- 55+ million expert Q&A and textbook solutions
guided video explanations
students can as up to 20 questions a month
practice problems
Chegg Math Solver- step-by-step explanations to equations
input customer equations
graphing calculator
Chegg Writing – citations in 7,000+ styles
experts check your responses for plagiarism and grammar errors
experts proofread your writing
Chegg Tutoring -Tutors for Math
When a student is struggling in math, they can turn to Chegg for help. Chegg can help with the toughest question or assignments with the help of a tutor. The tutoring program provides 24/7 help.
Chegg: eBooks
eBooks can be downloaded from the Chegg site to an Android, iPhone, PC, iPad, or other device.
eBook Rental Rate: $6.99 / month with a 14-day refund guarantee
eBook reader APP provides easy navigation, searchers, and highlighting to help you study
Chegg: eBook Subjects
Chegg offers over 400,000 eBooks in a variety of subjects: Art, Business & Economics, History, Language Arts & Disciplines, Law, Literary Collections, Mathematics, Medical, Political Science, Psychology, Reference, Science, Social Science, Technology & Engineering
if you are waiting for your hard-copy textbook to arrive and don't want to wait to start your studies, you can download the APP free for 7-days and start studying immediately…then cancel once your book arrives.
Resources
Chegg Internship: You can find the right internship and gain work experience to kick-start your career. Enter keywords, city, and state to start your search.
Career Center
Blog posts are provided to give information, guidance to inspire and teach students the crafts of resume writing, cover letters, career advice, lessons learned, and more.
Bootcamp with Thinkful is something that they offer with a risk-free, no-obligation, and free intro course to students to help them financially. Pay your tuition when you get hired into a qualified position. It gives you live, personal mentorship from experts in the field you are studying, and 6-month of professional career coaching.
Note: Chegg offers no practice problem features
Chegg: Pros & Cons
| | |
| --- | --- |
| Pros | Cons |
| 24/7 homework help | Customer Support |
| Multiple resources | Issues with Cancellation |
| Rent, Buy, and Sell Textbook | website's user interface is not user-friendly |
Chegg App https://www.chegg.com/mobile/
Chegg: Support
Chegg offers an extensive amount of Support Resources…
24/7 Course Help
Homework help from the beginning of your course subject to finals
Step-by-step explanations tailored to your subject
Q&A's
Math support
Exam preparations and practice with the help of flashcards or practice exams
Topics are broken down into bite-size pieces to help avoid comprehension issues and videos
Helps with your writing with plagiarism checks, proofreading by experts, plus instant citations
Chegg: Reviews
Bad reviews include unsatisfied answers, being billed after canceling the account, and technical problems.
62% of happy students find Chegg useful and helpful, solutions are helpful and accurate, and book returns were smooth and refunds were quick.
FAQs
Question: Do Online Classes Have a Set Time?
Answer: The answer is two-fold. No, there should not be a set time to complete as it should be work-at-your own pace. That is one advantage of online learning. You are not required to log in at a certain day or time unless there is a live lesson or a group project that you are working on with others.

There will probably be deadlines for when the course must be completed, so it is best to keep in mind when you sign-up for the course.

You will need to be disciplined and schedule your days and weeks so you can complete the course on time, but it is mostly up to you to dictate when you work and how much time you can fit in.
Question: What is Brainly Tutor?
Answer: Brainly Tutor is available for students to chat live with an expert within minutes. When a student is stuck and needs further understanding on a subject, all they need to do is click on "Ask a Tutor" when needing answers. Students will be given step-by-step explanations. Get unstuck and find a deeper understanding.
Question: Who Are Brainly Tutors?
Answer: Brainly tutors are experts in specific subjects who are either professionals that provide content to the site or freelancers. Brainly is growing and open to contributions from more experts in the community.
Question: How is Brainly Tutor Different from Asking a Question on Brainly?
Answer: Brainly Tutor provides live responses to student questions with step-by-step explanations. If a student simply posts a question on Brainly, it will take time for another User to answer.
Question: Can I Sell My Textbooks to Chegg?
Answer: Yes! Go to Chegg.com/sell-textbooks to submit your request and follow instructions.
Question: When I Sell my Textbooks on Chegg, do They Buy them Back?
Answer: No… GoTextbooks will buy your books back at a reasonable price. They are separate from Chegg.
Question: How do I Contact GoTextbooks if I Have More Questions?
Answer: You can contact their help desk at: https://sellback.gotextbooks.com/ or email [email protected].
Conclusion
Both Brainly and Chegg have distinct differences. Brainly is more into one-on-one interaction with students by providing additional homework assignments, online textbooks with questions and answers, and a tutoring program for math and science subjects.
Chegg provides educational resources and online textbooks, hard-copy textbooks rentals, buy and sell once the course is done, and a tutoring program for any subject. Customer feedback for Brainly is poor, as where Chegg appears to be more favorable to their customers according to Trustpilot.
I lean more towards Chegg because it provides help for more subjects than Brainly. Chegg's students can sell their textbooks after their course is complete, which helps with finances, which are usually tight for students. Chegg seems to go above and beyond with its service and content.
I feel you get more for what you pay for with Chegg than you do with Brainly. However, it really boils down to a personal preference like what you want out of a course, how much you can afford, how well the program responds to your needs.
The good thing is, you can try each out and have the option to cancel anytime, should you decide it is not for you.