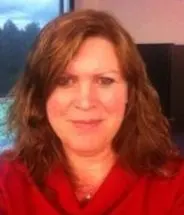 Latest posts by Deb Mayberry
(see all)
Learning topics and improving skills is great, and it's even better when you can be taught online, in the comfort of your own home, on your own schedules, and with an educational platform that is not available anywhere else but online. There are two online educational platforms that I am going to compare for your review and consideration that will help you decide whether you want to learn from them. The two platforms are Bartleby vs Chegg.
Main Differences Between Bartleby vs Chegg
The main differences between Bartleby vs Chegg are:
Bartleby does not provide discounts on textbooks, whereas Chegg provides 90% off
Bartleby has AI Citation Analysis, whereas Chegg does not
Bartleby has scored with proprietary paper scores and the readability analysis, whereas Chegg does not
Similarities
Both are online educational platforms to help students excel in their academics
Both have tutors to help students 24/7
Both have plagiarism and grammar and spelling checkers
Bottom Line: Chegg is my platform of choice for textbook availability either hard copies or eBooks. Their prices are reasonable, tutors are on standby 24/7, textbooks are affordable and you can sell them back once you are finished with them, they have good customer reviews, and you can cancel anytime.
To help unveil any confusion between the two platforms, I have compiled the following comparisons for you to decide for yourself.
About Bartleby
Bartleby was founded in 1993, and its headquarters are in Los Angeles. The platform features online textbooks, Q&A services, essay writing tools, and tutoring.
Their platform's designed to help students study by providing educational tools to help them search for homework solutions, textbooks solutions to difficult problems, 24/7 help from experts.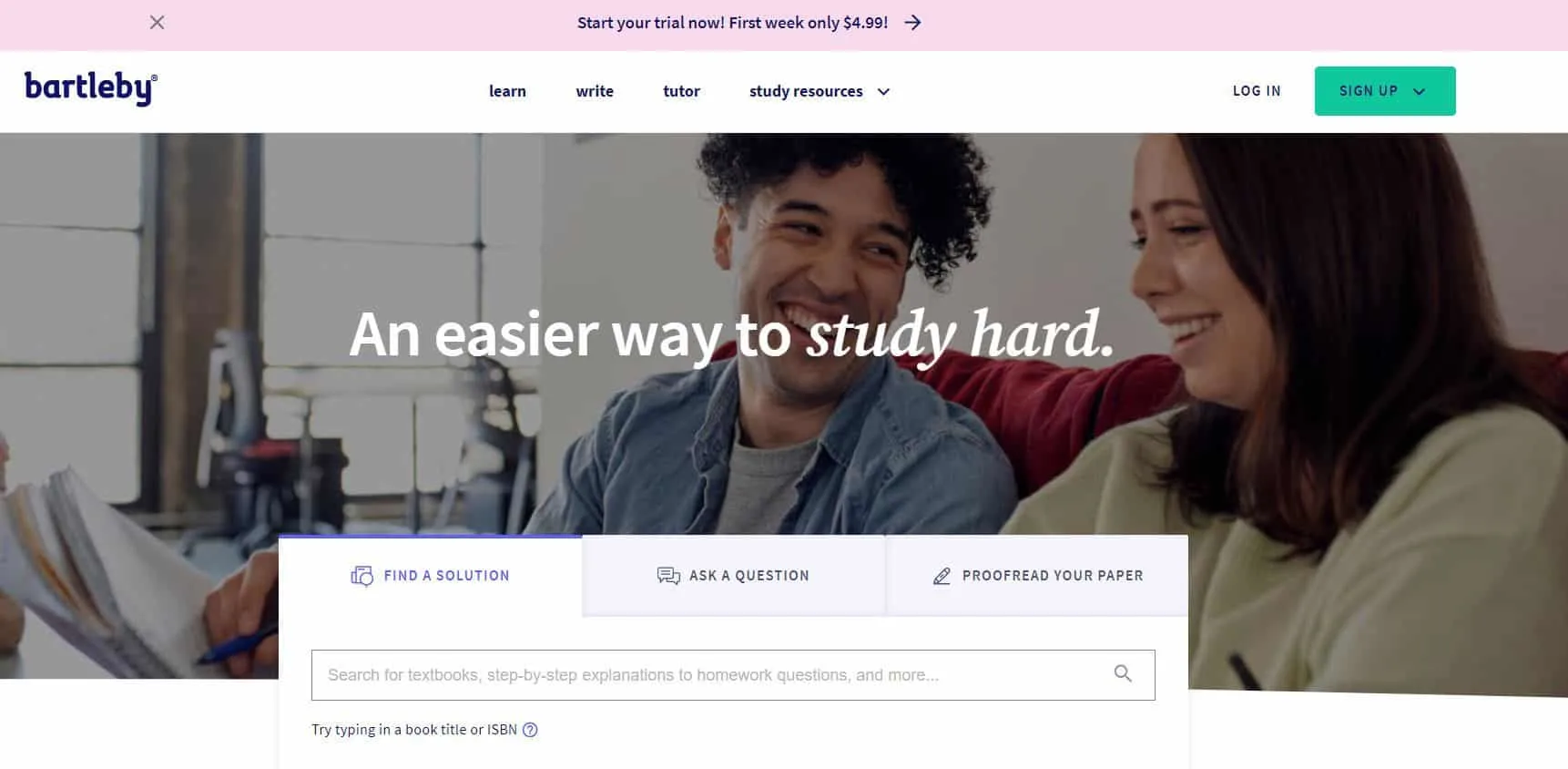 Bartleby Services
Provides services such as textbooks. Students are given access to Millions of textbooks with step-by-step homework solutions. This service package also includes 24/7 expert help in the subject they are studying plus a math solver provides answers and explanations on how the answers were arrived at.
Helps students learn effective writing skills with essays and research papers. This service package includes a tool powered by (AI) artificial intelligence that helps identify plagiarism and grammar mistakes. Student essays are checked by a citation builder and help feature to help reduce errors and improve the content.
Students can learn & write better with this service package. It is a combination of the Bartleby Learn tool & the Bartleby writing tools for which students get access to textbooks with step-by-Step homework solutions, 24/7 expert help, math solver explanations, writing skill help with AI identifying plagiaries and grammar, and citation builder.
Get one-on-one live tutor help 24/7
Seasons are available in 30,60 or 120-minute increments
If you don't use all your minutes, then you can roll them over into another session
Personalized sessions for one-on-one real-time can be communicated via real-time messaging or audio
Bartleby Homework Subjects
Help is provided for the following subjects:
Business
Engineering
Language
Math
Science
Social Science
Bartleby is designed and created for students to improve their knowledge bases and to close the gap with learning comprehension in certain subjects that they are struggling with. They include 4 service packages to help with students' specific needs and wants.
Bartleby Learn
First 7 Days, 50% off $4.99
Monthly: $9.99
Unlimited access to textbook solutions
Unlimited access to Q&A library
30 questions to ask per month
Bartleby Write
$9.99/ month
Includes: Plagiarism Sources, Advanced Plagiarism, Scoring, Paper Uploads,
Citation, Grammar, Punctuation & Spelling identification
Bartleby +
First 7 Days, 50% off $6.99
Monthly: $14.99
24/7 study & writing help
Millions of step-by-step textbook solutions
Subject experts in 30+ subjects
Snap & solve equations with Math Solver
Scan for plagiarism across millions of sources
AI citation suggestion and building too
Connect with experts on the app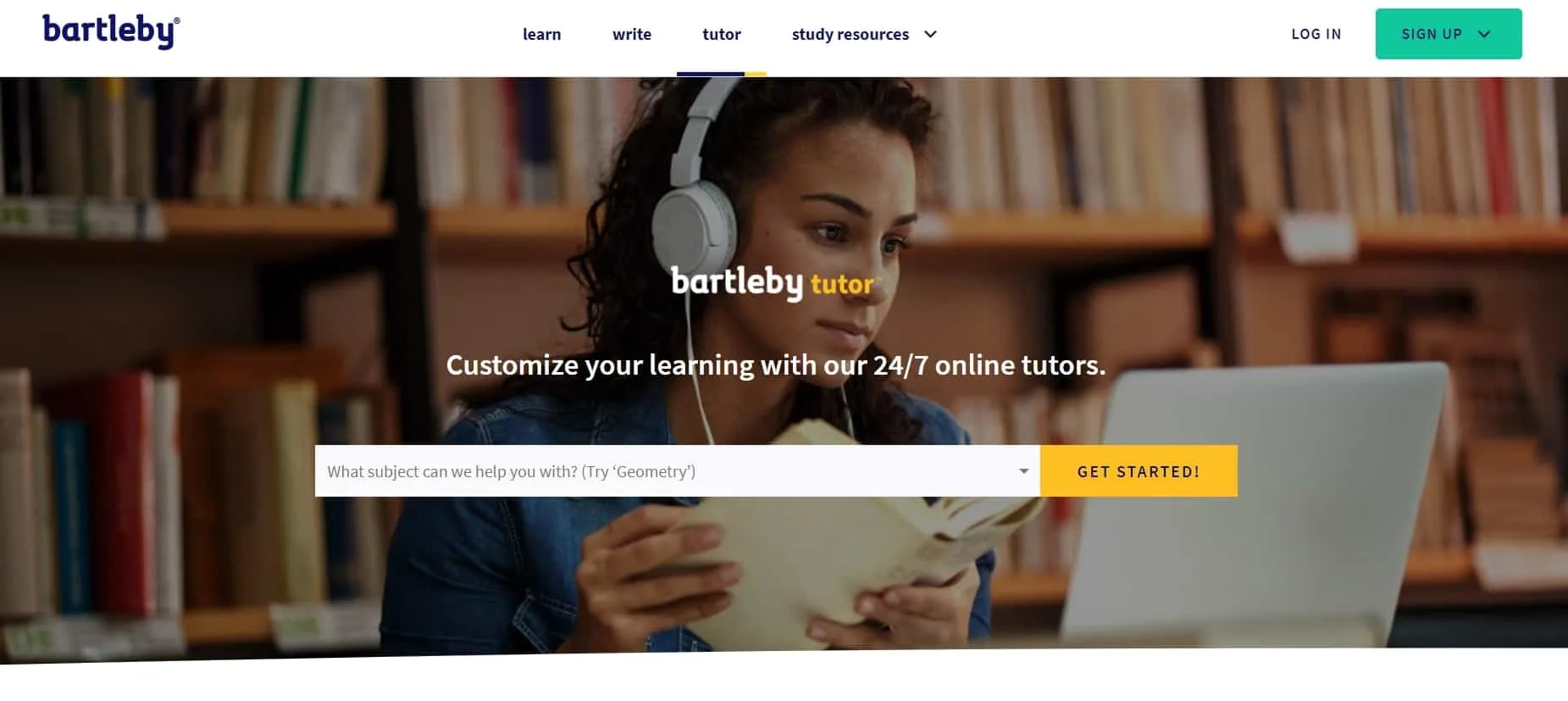 Bartleby: Tutoring
One-on-one 24/7 tutorials help
Experts will breakdown difficult subjects in ways that the student will understand
Pay as you go pricing, no contract or obligation is required to use this service.
Includes 15-minutes free session
Sessions are available in 30, 60, or 120-minute increments.
Bartleby: Pros & Cons
| | |
| --- | --- |
| Pros | Cons |
| easy to use | does not correct grammar error |
| homework help for all subjects | no free trial period |
| study and writing help | Questionable plagiarism checks |
| expert Q&A | |
Bartleby has a mobile APP for students to study on the go with iOS and Android
24/7 Q&A homework help with a 30-minute response
Search step-by-step solutions from real-life textbook questions in dozens of subjects
Receive push notifications when an expert responds to your question
Bartleby: Support
Bartleby Contact Us form
You can fill out an online form based on a product or general questions, and a reason type
They will email directly to your email address with an answer.
Bartleby: Writing
If you need help with a writing assignment, you can fill out a Contact Form online and they will send you an email with a response
Bartleby: Reviews
4.6 out of 5
76% of customers find Bartleby Excellent
10% of customers had a bad experience
Overall Bartleby is rated "Excellent"
About Chegg
Chegg is located in California and is an online educational platform that was founded in 2005. It's designed to help students virtually when they are struggling with subjects in school. Their platform is to help students improve their learning skills. The platform provides textbooks in physical and digital form, online tutoring, or students. It provides students with 90% discounted textbooks of which they can rent, buy, and sell back when they are finished with them.
Chegg includes a variety of educational help and tools for students and educators. With the help of Q&A, 24/7 tutoring, step-by-step textbook solutions.
Chegg offers its students, Expert Q&A, Textbook Solutions to difficult questions, eBooks, 24/7 study help, tutoring, proofreading, citations, math solver, plagiarism checks, and grammar mistakes.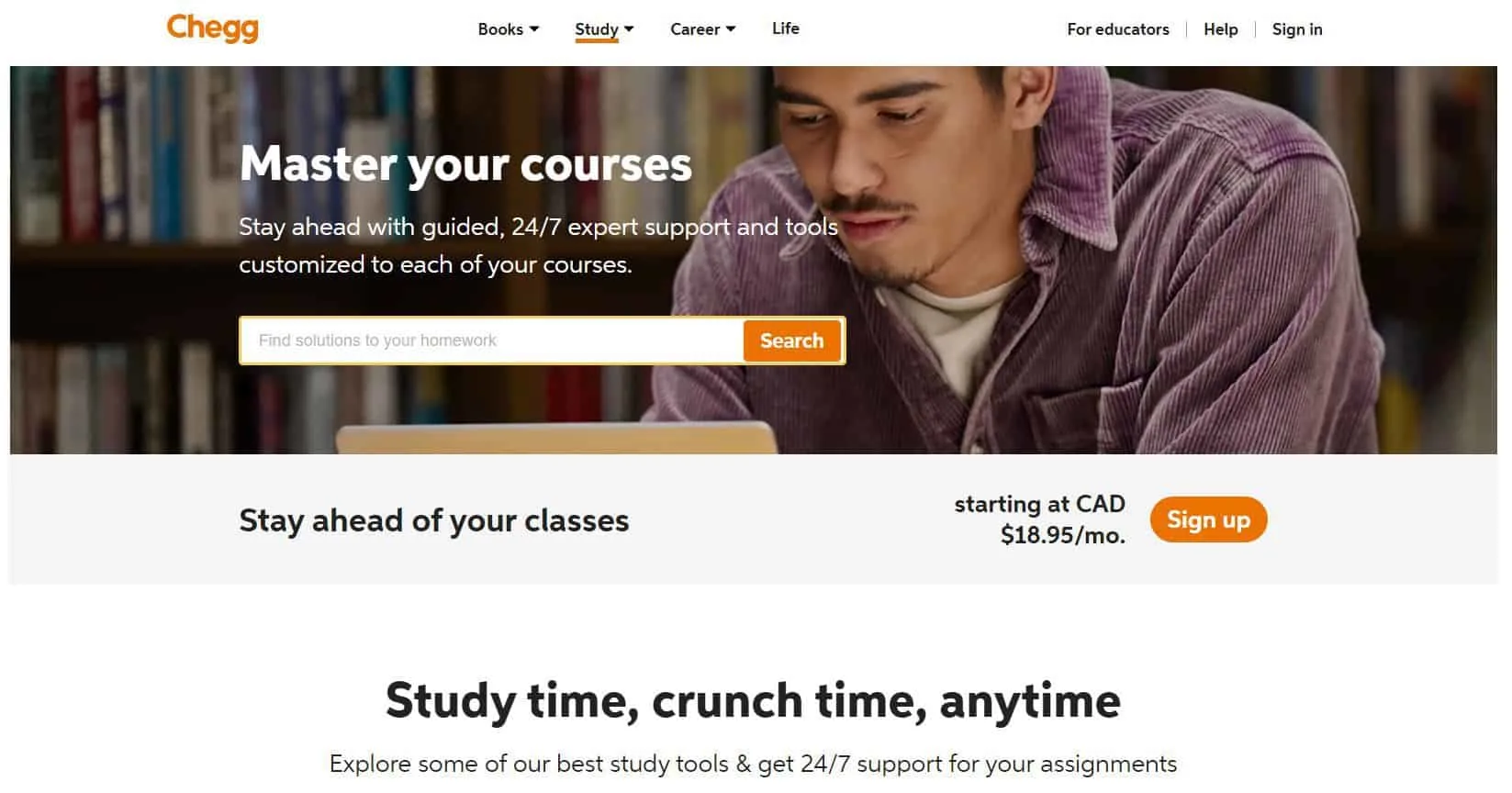 Chegg: Study Packages Include
Chegg Study includes a Math Solver, Writing, and Tutors for Math
Chegg Math Solver – includes answers to problematic questions and step-by-Step explanations that are broken down into digestible pieces for students to understand.
Chegg Writing – students can submit citations and received expert responses and receive a review of errors for plagiarism and grammar. Experts proofread written essays too.
Chegg Tutors for Math – when students struggle with math homework, they can ask a tutor for help. Cheggs tutors are available 24/7 for help to help students understand the subject.
Chegg: Course Subjects
Chegg's subjects are basically the ones that the school system teaches, so students can easily focus on the subject and topic that they are struggling with. Subjects and topics covered with Chegg are:
Biochemistry, Evolutionary Biology, Immunology, Cell Biology, nutrition, General Biology, Zoology
Finance, Economics, Accounting, Operations Management
Computer Science, Electrical Engineering, Mechanical Engineering, Civil Engineering
Algebra, Calculus, Statistics and Probability, Advanced Math, Other Math, Geometry, Trigonometry, Prue-algebra, Pru-calculus
Physics, Chemistry
Chegg: Textbooks
Textbooks can be expensive and that is why Chegg has a program to help students that not only struggle with their academics but they also help students financially with a textbook pricing offer of 90% off and a return program of which students can return their textbooks with free shipping once they are finished with them and get paid for the textbook (s) they returned.
Textbooks include:
Assortment of 9,000 textbooks
Textbook rentals or purchases include a 90% discount
Chegg Study Package purchase includes a 4-week free trial when you purchase a textbook
Rent/Buy – 21-day refund on returns
Chegg: eBooks
Students get to choose eBooks from an assortment of over 400,000 for a $6.99/month
To help them study on the go or anywhere. Features include search capabilities and color-coded highlighters.
EBooks Pricing: 7-day free trial
Note: if you buy a textbook and can't wait to study, you can try the eBooks free trial for 7-days before your actual textbook arrives.
Chegg: eBooks Subjects
Art, Business & Economics, History, Language Arts & Disciplines, Law, Literary Collections, Mathematics, Medical, Political Science, Psychology, Reference Science, Social Science, Technology & Engineering
Chegg: Pricing
EBooks: $6.99 / month and 14-day refund guarantee, plus 7-day free trial
Study Tasks
Homework Help
24/7 help for a tough assignment from an expert|
Step-by-step problem-solving explanations with textbook solutions, math solver, and Q&A
Topics are broken down into videos
Chegg Study Subscription $14.95 USD/ month; $18.95 CAD / month, cancel anytime.
Understand Topic
Complicated topics are broken down into explainable pieces with the help of video explanations, illustrations, definitions, and more
$14.95 USD/ month; $18.95 CAD/ month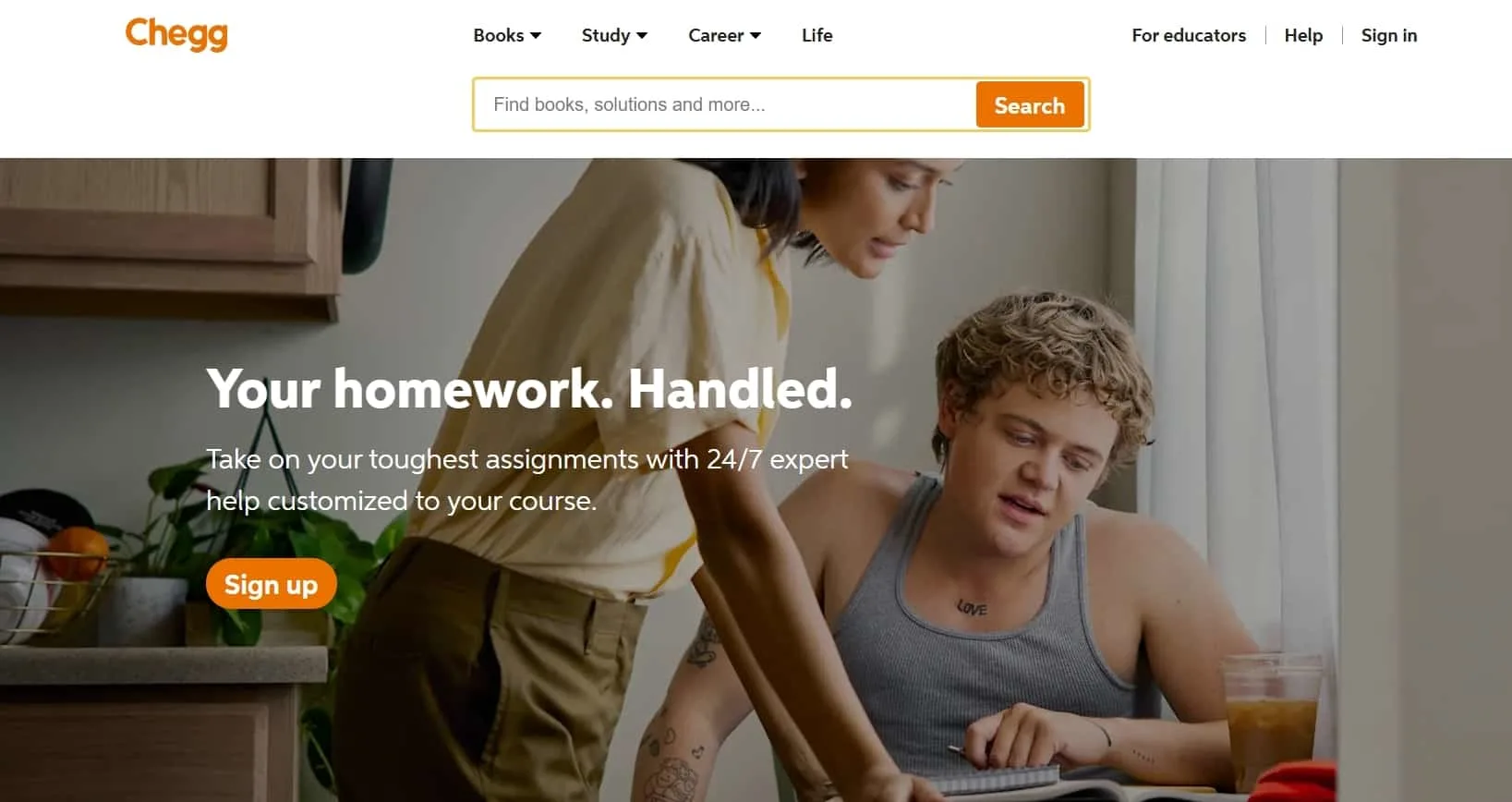 Chegg: Writing & Citation
Proofreading from experts within 48 hours.
Submit up to 30 papers/month, up to 3,000 words for each submission
3-day free trial
Plagiarism & Grammar Checks for errors
Citations in MLA, APA, Chicago & More
$9.95 US/ Month; $12.62 CAD/ month
Bartleby: Exam Prep
Expert practice tests for upcoming exams
Textbook Solutions: Learn with millions of explained homework solutions
Expert Q&A: Ask up to 20 questions/month to experts for help
Writing help: Catch plagiarism errors, and have experts proofread your paper
Math solver: Use our graphing calculator for instant math help
Premium flashcards: Find over 500 million flashcards made by students and experts
Video explanations: Try a visual way of learning hard concepts
Chegg Study Pack $19.95/ month; $24.95 CAD/ Month
A Chegg Service: Bootcamp with Thinkful
This is a program to help students with their careers. Successful applicants will pay $0 in tuition until they are hired into a qualifying position. They also receive personal mentorship from experts in the industry, and 6-months of coaching.
It comes with a free intro course.
Tech Tuition and Refund…
Chegg feels confident enough that tech graduates will get hired into a qualifying position within 6-month of graduation or they get their money back. They claim 81% of students get hired in 180-days with a $17K average salary increase.
Their Programs comprise:
Software Engineering
Data Science
Data Analytics
UX/ UI Design
Technical Project Management
Digital Marketing
Chegg: Pros & Cons
| | |
| --- | --- |
| Pros | Cons |
| easy to use | customer service responses |
| affordable | No practice problem exercises |
| eBooks downloads, and rent, buy and sell textbooks | |
Chegg's mobile APP helps students to get unstuck on homework problems on the go. The APP provides step-by-step textbook solutions. Plus you can take a snapshot of a math problem and send it to an expert who will respond with an answer and explanation on how it was arrived at. The APP allows you to download an eReader so students can have access to eBooks while they are on the go.
Chegg: Customer Support
Phone 1-855-477-0177
Text: 1-408-351-0942 – message and data rates may apply
Chegg: Reviews
4.0 star out of 5
62% of customers find Chegg Excellent
20% of customers had a bad experience
Overall Chegg is rated "Great"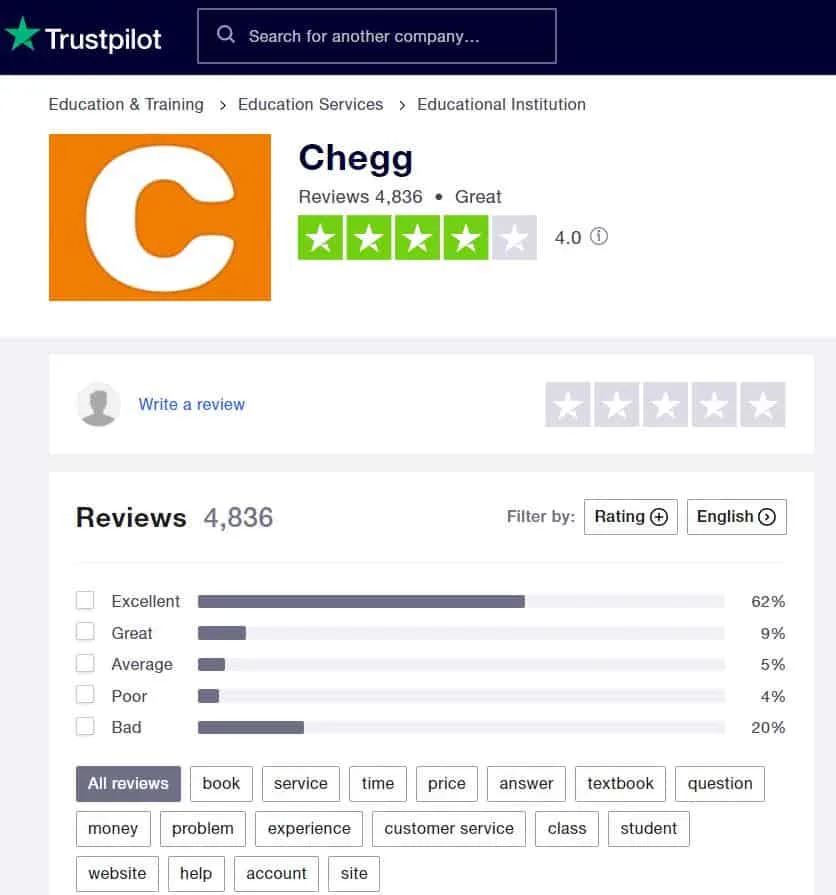 Chegg & Bartleby Alternates
Bartleby: FAQ
Question: What subjects does Bartleby tutor?
Answer: Bartleby tutors currently provide help with business, math, science, and physics on the following topics:
• Business: Introductory: Accounting, Economics, and Finance. As well as, Management, Engineering and Computer Science: C++, Java, Python.
• Math: Algebra and Algebra II, Calculus and Calculus BC, Mathematics: Discrete & Finite, Geometry, Intermediate Statistics, Multivariable Calculus & Pre Calculus, Statistics, and Trigonometry
• Science: Biology, Chemistry, Microbiology, Organic Chemistry,
• Physics: Algebra & Calculus Based
Question: How do I access Bartleby textbooks?
Answer: All you need to do is subscribe to Bartleby. Once done, then you get instant access to an entire library of textbooks. If there is a specific book you are looking for, simply search by title, author, or ISBN number to locate it.
Question: Can I still access the Bartleby site after I have canceled my subscription?
Answer: Yes, but only if there is time left in your term. For example, if you were billed on the 15th and you cancel your subscription on the 20th, then you will have access to your subscription until the 15th of the following month. After which, you will have limited access to your content.
Question: How Long can Textbook Rentals last?
Answer: When you rent Chegg textbooks, you have access to them for the time of quarter and the semester. You can extend your rentals for free by contacting Chegg before the due date.
Question: Does it cost me to return textbooks?
Answer: No, all textbooks can be returned for free, providing that you use the return shipping label that is located in your Chegg account. Chegg also provides a 21-day refund guarantee.
Question: Can I cancel my subscription anytime?
Answer: Yes, you can cancel anytime. Students will have their subscription access until the next billing date.
Monthly subscribers can pause their accounts anytime. Be sure to read their terms and conditions before doing so.

Free Trials will roll into a monthly paid subscription, so if you want to cancel, then cancel the free trial before billing begins…. or you will be charged.
Conclusion
For any student that is struggling with subjects in school and needs to improve their understanding so they get better grades, then these platforms can certainly help. Knowing that you can have access to a tutor 24/7 and textbooks with step-by-step solutions can help bridge the gap from the lack of understanding to a full understanding.
Nothing feels better when the lightbulb goes on in your head and the problem that you struggled with is completely understandable. Improvements in grades are also a great feeling of accomplishment.
Not everyone learns the same way and sometimes teachers don't have the skills or time to teach a child a different way if they are struggling. Therefore, getting help online with experts at home or on a lunch break is a convenient option to help students excel anytime, anywhere.
Both Bartleby and Chegg offer online learning opportunities for students that struggle with school subjects. They provide resources to help students understand how to arrive at answers to complicated questions and they both have tutors available 24/7.
I feel Chegg is a better offer for students that not only struggle with learning but also struggle financially because Chegg offers heavily discounted textbooks with the option of the student to sell the textbook back to them with free returns. They also will not charge tuition until you land a job in the field you are studying.
It's really up to the student what platform feels right with them. The good thing is, is that you are not obligated to stay with them. If it isn't working out for you, then you can cancel anytime.