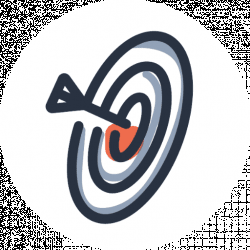 Latest posts by Online Course Rater Team
(see all)
If you're considering applying to graduate school, chances are either Crunchprep or Magoosh are names you might have come across.
Crunchprep and Magoosh are highly popular online prep services that allow busy applicants to prepare for entrance exams at their own pace, and in the convenience of their own home.
But how worth it is either of them? When money's tight, especially as you're grappling with application fees and test scores, not to mention regular living expenses, it can be understandably difficult to justify shelling out even more money.
No worries: we have you covered. We'll be taking a look at these Crunchprep and Magoosh in depth, and discussing graduate test resources in general, to make sure you feel like you get your money's worth.
Bottom Line Up Front Summary:

Go with the better value and easier to use

Magoosh plan here

.

It's over $100 cheaper, has a full 12 month acesss window, and is just easier to use and more effective for test prep.
What does it take to get into graduate school?
If you're even thinking about applying to graduate school, congratulations. While the number of students applying to graduate programs is on the rise, just over 9 percent of Americans have a master's degree, and that number dips to below 2 percent for doctoral degrees.
Of course, in order to be among these numbers, you not only have to complete the degree. First, you have to get in. And getting into any graduate program, no matter your discipline, is no easy task. And your degree type and the prestige of the school play a huge factor in just how hard it is to get in, with the more prestigious schools presenting an acceptance rate of under 15 percent.
My Pick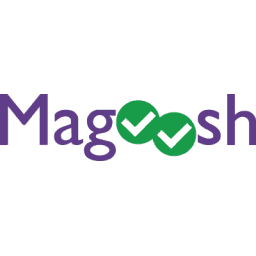 Why I Prefer Magoosh?
Magoosh offers more in depth material AND some super sexy analytics to track your learning progress. The interface is simple, intuitive and modern with a best in class mobile app. Why didn't I try this sooner!?
Start with magoosh
We earn a commission if you click this link and make a purchase at no additional cost to you.
There are many factors that play into whether or not you'll get accepted, and those factors, as you can imagine, vary by program. However, most programs base their admission standards on the following:
Statement of Purpose: The statement of purpose outlines your professional and personal interests in pursuing a graduate degree. This an extremely important part of your application, and meant to present your ability and unique talents to pursue a degree at their program.
Letters of Recommendation: Letters of recommendation should be from someone related to the discipline, preferably former professors, mentors, or professionals. Most programs will ask for three and you'll simply be required to fill out contact information (make sure you ask recommenders first!).
GPA: Your undergraduate GPA, or, for Ph.D. programs, mostly your Master's GPA. Schools will also look at your transcripts in general, including coursework.
Activities, Publication, and Research: Anything that you've done related to your field should be mentioned both on your CV and your Statement of Purpose. Publications, presentations, independent studies, teaching (if you wish to get a Teaching Assistantship) and even community service are things you want to mention.
A sample of your Work: Depending on the program, but many ask for some sample, often research or other academic paper.
General Fit: There's not much you can do about this, aside from doing your research (which also is needed to write a killer statement of purpose). See what professors you might want to work for, and how closely your own research interests align.
Standardized Tests: The general GRE is common for most graduate programs, while business schools might require the GMAT, and some programs may require subject tests.
How important is the GRE or GMAT for applications?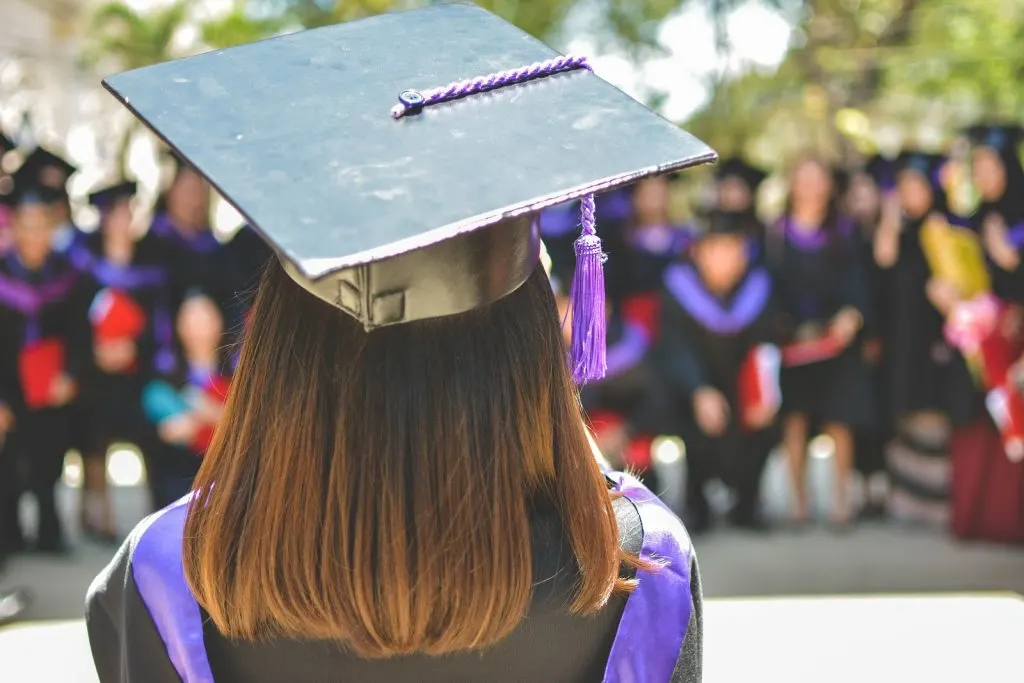 If you've even considered using Crunchprep or Magoosh, chances are you're at least a little bit concerned about the standardized testing portion of your application. But how important even is standardized tests for getting into graduate school?
The answer? That depends. Like so many factors when it comes to graduate applications, it's best the inquiry and researches the program itself. Some programs have cut off scores, and some have recommended minimum scores. For those programs, falling below the scores does not necessarily mean an instant no, but it does dampen your chances. For some programs, you can make up for lower test scores with strong academic and professional backgrounds; a strong statement of purpose; and strong work sample, among other things.
But standardized tests scores can definitely matter when it comes to assistantships and funding. Programs that do not fully fund all of their students may decide to fund in part based off test scores. And if you're applying to a highly competitive, Ivy League program, chances are scores will definitely matter. So in a nutshell, no matter what program you are applying to, and especially if you have an eye on competitive funding, you want to make sure your tests scores are as strong as possible.
To get an idea about the average GRE scores by a program, check out this list by The Princeton Review.
My Pick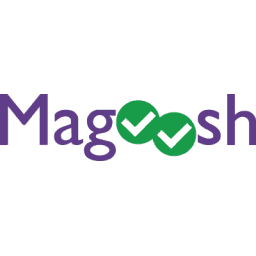 Why I Prefer Magoosh?
Magoosh offers more in depth material AND some super sexy analytics to track your learning progress. The interface is simple, intuitive and modern with a best in class mobile app. Why didn't I try this sooner!?
Start with magoosh
We earn a commission if you click this link and make a purchase at no additional cost to you.
Do I need test prep services like Crunchprep or Magoosh?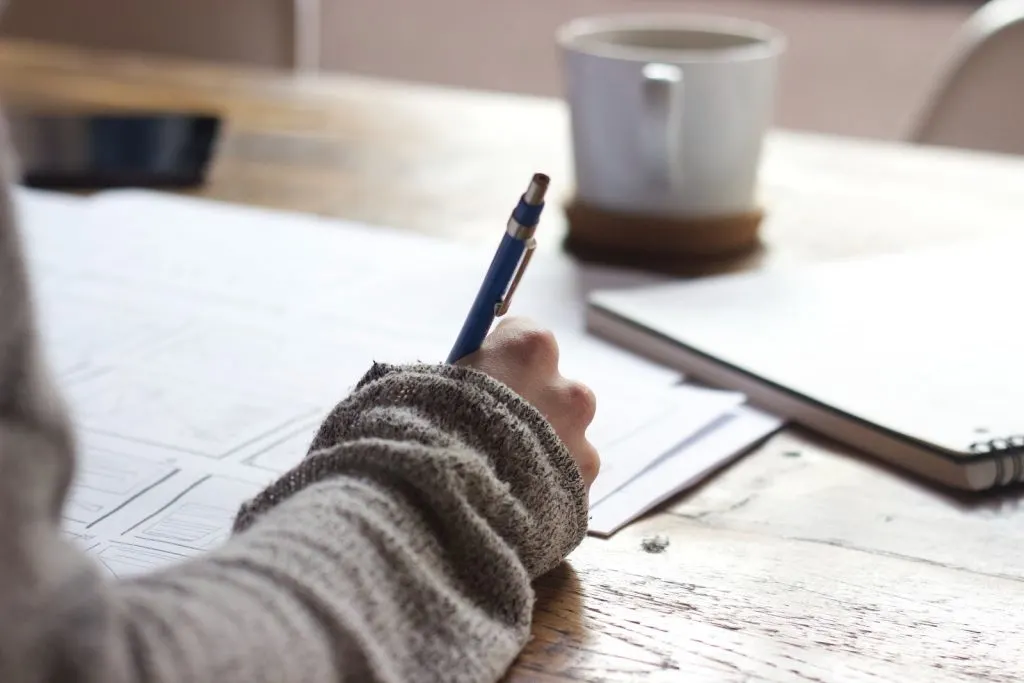 Again, this depends on the individual. Some people can ace the test with next to no prep–though that's certainly the minority. Most applicants will find at least some form of studying helpful, but how you study can vary greatly.
A good way to get a baseline for the GRE is to take a look at ETS' main site (ETS also owns other standardized tests such as the SAT and ACT, as well as Praxis). This will give you an overview of the test, and even a fairly accurate Powerprep practice test to give you a sense of where you stand.
From there, it's up to you how you study. Study resources include:
(Fee)Test practice books
(Fee) Testing services online
"Free" practice tests and flashcards online
"Free" ETS practice questions
Tutoring, which also typically is through, or makes use of company resources
For the GMAT, which is run by the Graduate Management Admission Council, there's admittedly less. However, the main website is also a good place to start.
Once you get a baseline, you have a decision to make. Yes, there are many free resources, but they typically run into one of two problems. The resources are either limited, inaccurate, or both. With the exception of free resources offered through testing services or directly through the testing proctor, many free resources are not vetted, and may not even resemble what you'll see on test day.
Physical books are good resources, to a point, The problem is that both the GRE and GMAT are computer adaptive tests, and books normally cannot take that into consideration (though some books do weight questions). Computer adaptive means that not only will you take a test on a computer, but you'll also be given different sets of questions which vary on difficult depending on how well you did on the past section.
That's why online test prep, like Magoosh and Crunchprep, are recommended for your best score possible. It's certainly not one size fits all, and many applicants truly do benefit from a tutor, but using something like Magoosh or Crunchprep will get you accustomed to taking a test, or at very least studying, on a computer, plus you'll get test questions that are at least meant to resemble some you might see on test day.
How do I decide between Magoosh and Crunchprep?
Once you've researched your programs, gotten a sense of your score goals, and taken some sort of baseline test, it's time to start studying–and as soon as possible. To see how long you might need to study (for any standardized test) you can take this quiz. Or you can safely assume you'll need at least a solid few months (preferably more).
So you'll need to make your decision on your choice of prep software fairly quickly. Here's a brief overview of everything you need to know to decide between Magoosh and Crunchprep.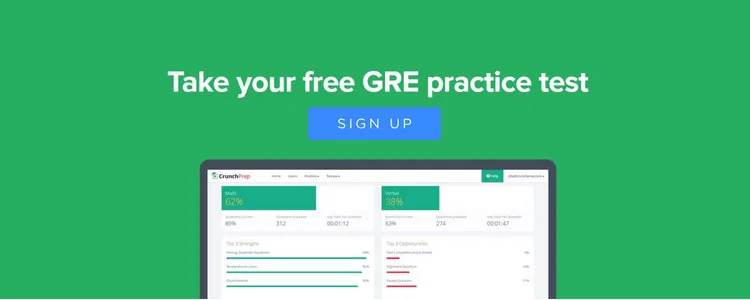 "Improve your score by at least 7 points" is Crunchprep's pitch when you visit the site. You'll also be met with a lot of green and white, with an overview of the general features, plus video demonstrations. Crunchprep says it offers a personalized study plan, with "expert tutors", "customized practice sessions", and "rich statistics" generated based on your performance.
Reviews
It's difficult to find a ton of reviews on Crunchprep outside of their internal ones. It also is absent from many "best of" prep lists and reviews. What you can find is a long list of testimonials, and a community of over 83,000 Facebook followers. The company also claims to have helped over 60,000 students, with 35 percent of those students scoring over a 315 on the GRE.
The Focus
Crunchprep actually is only useful for preparing for the GRE, so it's a no-go for anyone looking for GMAT prep. That said, a narrower focus, if you are studying for the GRE, is by no means a bad thing.
The Main Features
There is a good deal to like about Crunchprep for GRE, in part because it has a slew of features for your money. Here are the main ones to take note of:
Lesson plans are focused on helping you learn strategies to approach different types of problems. You can bookmark, take notes, and even get a customized study plan based on your performance. This personalized and adapted approach makes sure you're focusing on the right things. And with over 250 different lessons, you won't run into the same material.
Math and Verbal Flashcards
Flashcards allow you to learn basic concepts, without the mess of physical cards.
Full-Length Practice Tests
The full-length tests also include "dynamic score prediction" to see how you'll fare on test day, and the best part is that they are also computer adaptive.
Tutors
You'll have the chance to ask tutors questions, get strategies, and advice. It appears that you have this resource available at any time, more like a chat feature, rather than a personal tutor being directly assigned to you.
Plans and Pricing
You can choose from three plans depending on what features you're looking for. Each plan comes with a discount if you sign up for a certain period of time:
Express: The most affordable plan comes in at $60 for 1 month and includes 200 instructional videos, 250 lessons, 2,000 practice questions (adaptive tests), high-frequency vocab words for 2 practice tests, over 1000 math flashcards and 500 verbal flashcards, plus unlimited analytics and support. The supposed guarantee improved score points is 3.
Premium: You'll get everything Express offers, with the addition of 2 more practice tests. The 3 month plan costs about $80. Improved score points is suggested at 5 points.
Ultimate: This plan, which runs for 6 months, suggest you'll improve by 7 points and costs about $100. Ultimate has everything premium offers, with 2 more practice tests, or a total of 6.
In short, plans and pricing are simply how long you want to use the service, and how many practices tests you'll want to take.
Free Resources
Luckily, Crunchprep also gives you some free resources, even if you don't sign up for a plan, however limited they are. Browse their guides for general overviews and tips on the three different portions of the test, or take a look at their blog, which is a wealth of general articles with information on everything from retaking the GRE to tips for specific question types.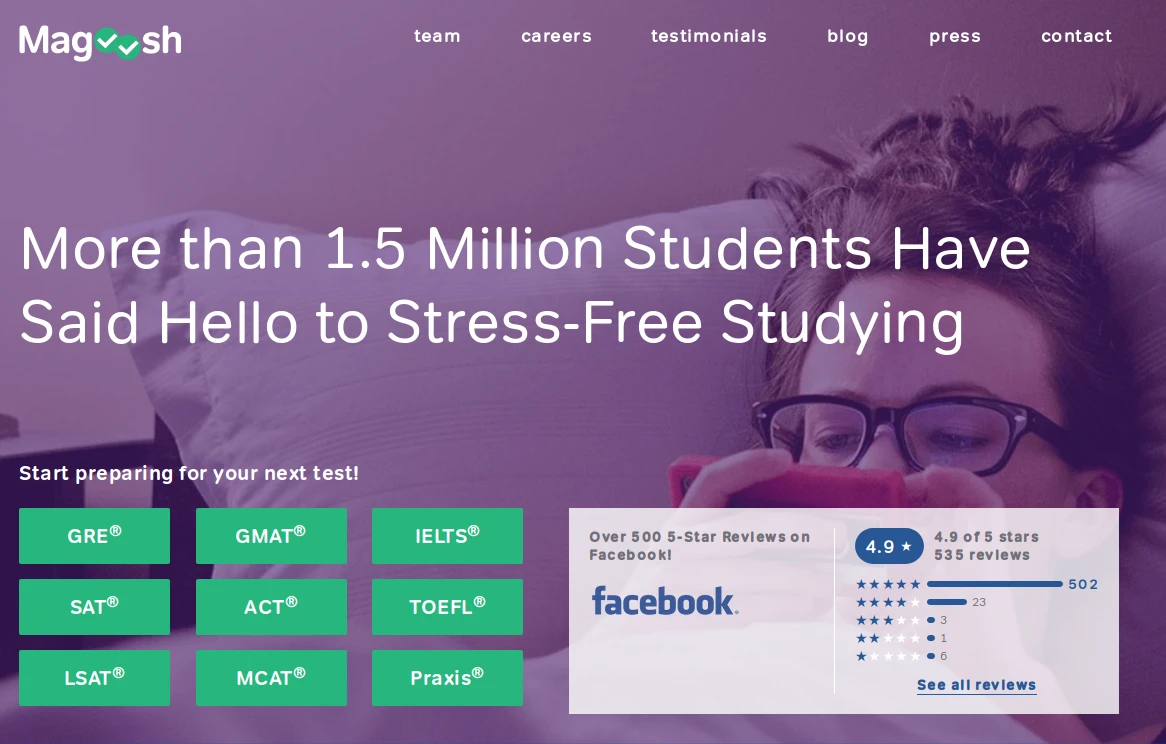 Magoosh is one of the better known online studying resources, not only for the GRE, but also for the GMAT and a handful of other standardized tests, such as the SAT, ACT, LSAT, Praxis, and TOEFL, among others. Because of this, they also have a much larger student base, with over 1.5 million students served so far, and also more in the way of reviews.
For the sake of this review, we will focus on the GRE, since we are comparing with Crunchprep, but it's definitely worth taking a look into for other admission tests.
Reviews
If you're looking for reviews, there are plenty for Magoosh.
Of course, since Magoosh does offer test prep services for so many things, know that not all reviews are specific to the GRE test prep. On Consumer Affairs, Magoosh scored a 4.5 star rating of just 7 ratings, with most students pleased but noting that questions were a bit different on test day (a common complaint with most test services). Magoosh has made many "best of lists" for online prep, including on ThoughtCo, which labeled it as the "best prep service to buy on a budget.
The Focus
As we mentioned, Magoosh is not as narrowly focused, and is a much larger entity, for better or worse, than Crunchprep. That is, they do not primarily specialize in prep for the GRE, but also offer test prep for 8 additional tests.
The Main Features
Unlike Crunchprep, which clearly outlines the main features at the top of the screen (though some become difficult to view unless you sign up), Magoosh's features are splayed, blog style, all over. Magoosh also tends to clump its features based on one of three benefits: accessibility, effectiveness, and "designed to wow".
Targeted Study Schedules
With 11 different study schedules to pick from, Magoosh helps students pace their study and understand just how long they need to spend, depending on their goals and baseline areas of weakness.
Adaptive Practice Tests
Like Crunchprep, Magoosh is committed to giving you computer adaptive tests so you'll get a more accurate experience of what you'll be facing on test day.
Progress Dashboard
While you can bookmark and go back to lessons in Crunchprep, Magoosh takes a slightly different approach with a centralized dashboard, where you can keep track of progress, view scores, compare scores with other students, and track your overall learning.
Pie charts and other visuals help you to quickly identify where you are in terms of your study goals, while a smart review system allows you to review each performance on a number of factors, including time, type of question, and level of difficulty. While Crunchprep does offer some of these analytical features in the testing and lesson portions, it's nice to have such a detailed and nuanced look all in one place.
My Pick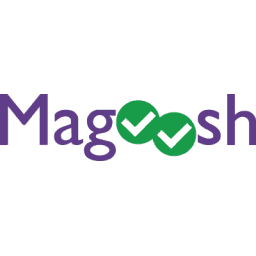 Why I Prefer Magoosh?
Magoosh offers more in depth material AND some super sexy analytics to track your learning progress. The interface is simple, intuitive and modern with a best in class mobile app. Why didn't I try this sooner!?
Start with magoosh
We earn a commission if you click this link and make a purchase at no additional cost to you.
Plans and Pricing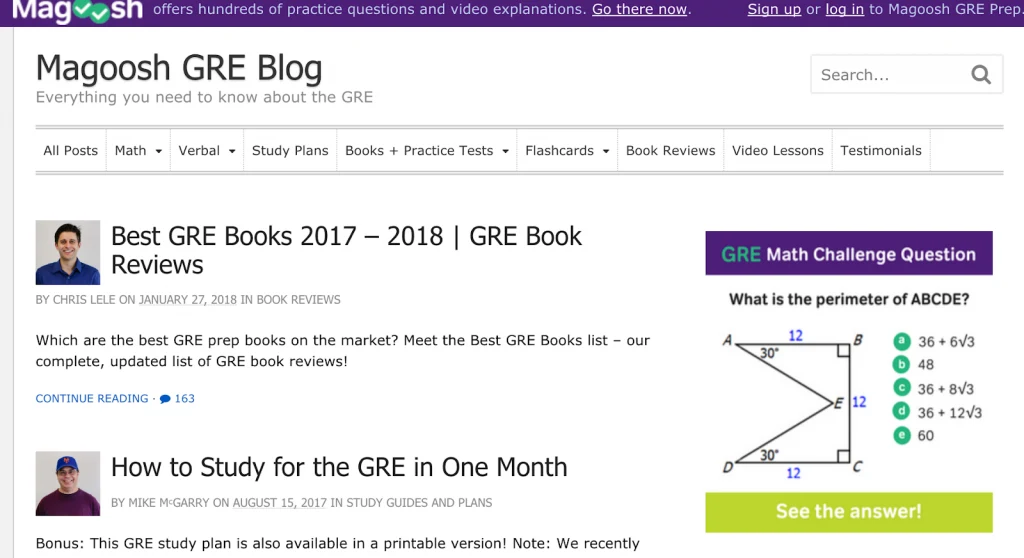 Magoosh offers two study plans for GRE prep, and as with Crunchprep, the main difference in price is how long you want to use their services. Unlike Crunchprep, however, the only difference between the two plans is the length of access; you get the same material for both, which includes:
250 video lessons
1,200 practice questions
3 adaptive tests
Personalized study schedules
Email assistance
Score Predictors
Optional App
The 1-month premium plan costs $129; the 6 months access normally costs $774. Currently, there is a promotional code that drastically slashes the price of the 6-month plan to just $149, but it is unclear how long that promotion will last.
Free Resources
Magoosh runs a general, but pretty updated blog, which includes insight and even practice questions with explanations from tutors. This is actually a pretty extensive resource but by no means a good substitute for the full service.
My Pick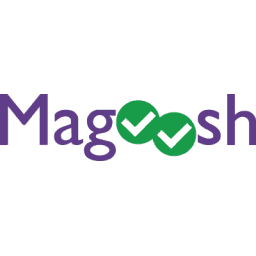 Why I Prefer Magoosh?
Magoosh offers more in depth material AND some super sexy analytics to track your learning progress. The interface is simple, intuitive and modern with a best in class mobile app. Why didn't I try this sooner!?
Start with magoosh
We earn a commission if you click this link and make a purchase at no additional cost to you.
So Which is Better? Magoosh or CrunchPrep?
Both Magoosh and Crunchprep have a lot to offer when it comes to online test prep for the GRE.
Without the promotional code at Magoosh, Crunchprep is by far more affordable, especially if you're looking at a longer-term plan, but Magoosh also has some features Crunchprep does not, such as a centralized study and analytics board.
You'll get more material in general with Crunchprep, yet Magoosh has more external ratings, and makes many "best of lists", while Crunchprep is rarely mentioned.
Because they both use computer adaptive practice tests and do have professional tutors and personal plans, neither is a bad choice, but Magoosh is the stronger option on features alone.
Bottom Line Summary: I personally preferred the easier to use and more in-depth style with Magoosh here. If you need help studying, this stuff matters and will likely keep you engaged longer (and therefor maximize the benefit).
Recommended Reads: