In our Codecademy vs Udacity comparison, we'll take a look at two of the most popular course providers out there that could help you reach your goals.
Using an online learning platform is a great way to learn to code or improve your tech skills in general.
There are some similarities here between the two platforms. They both offer courses in areas like C++ and Java, and they both allow you to create projects which you can use in your portfolio. They both have forums of other students to connect with, and they both offer a free trial. They both, unfortunately, do not have the fastest response times when it comes to customer service.
Let's take a look at them both in more depth.
The question is this: with both platforms having a huge number of students and a lot of credibilities when it comes to teaching vital tech skills, how are you supposed to pick between them?
Here's what we think. Codecademy is great for beginners or those who don't have a big budget to learn. Udacity is for the serious players who want to level up their careers with a MOOC (massively open online course).
Want to know more? Keep reading – we'll look at how the two platforms are different from each other, as well as their features in-depth. We've tested them both, so you can get an inside look at how they work before you sign up. Plus, we'll give you an honest rundown of their pros and cons, so you can be fully informed.
Let's start with the differences.
Bottom Line Up Front Summary: If you're more serious about your personal development and you want to advance your career or learn a new skill in-depth, check out Udacity. It's both more recognized in terms of credentializing and more serious, and in depth in terms of course material. IF you are just a casual learner looking to up-level skills, stick to Codeacademy.
Main Differences Between Codecademy vs Udacity
The main differences between Codecademy vs Udacity are:
Codecademy offer a free plan, whereas Udacity does not (although they do have a limited selection of free courses)
Codecademy's Pro plan is priced at $19.99 per month which gives you access to all courses, whereas Udacity you have to pay for a specific course (and these can run into hundreds of dollars each)
Codecademy offers basic skills, whereas Udacity's courses are designed to be a lot more in-depth
Codecademy has a mobile app, whereas Udacity doesn't
Codecademy's courses are not suitable to put on your resume as a qualification, whereas Udacity's courses are recognized by some big tech companies
Codecademy is user-friendly, whereas Udacity takes a bit longer to get used to
Codeacademy vs Udacity: What is Codecademy?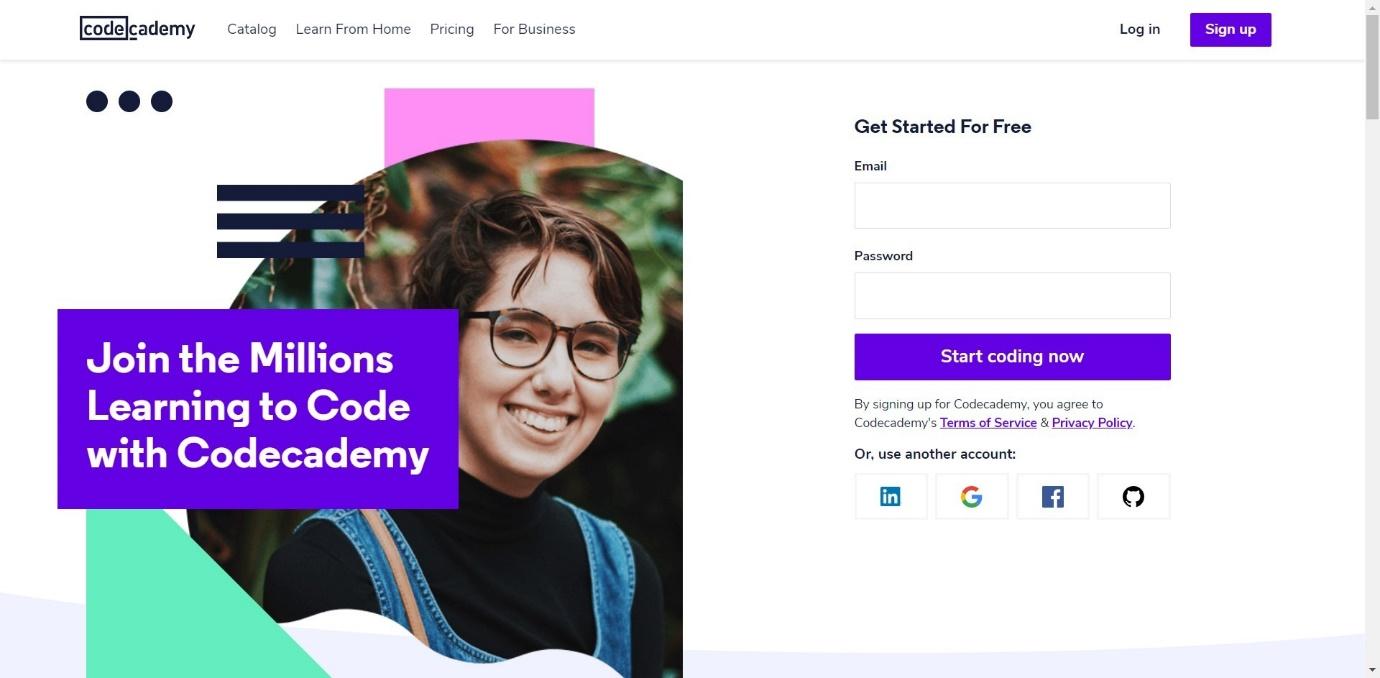 Codecademy is a great resource for users wanting to learn the basics of coding in a variety of languages. They offer courses on their Basic plan for free, as well as more advanced courses, career paths, and skill paths on their Pro plan.
There is a busy forum of other users, and you can submit your projects to them for honest and helpful feedback.
Codeacademy vs Udacity: What is Udacity?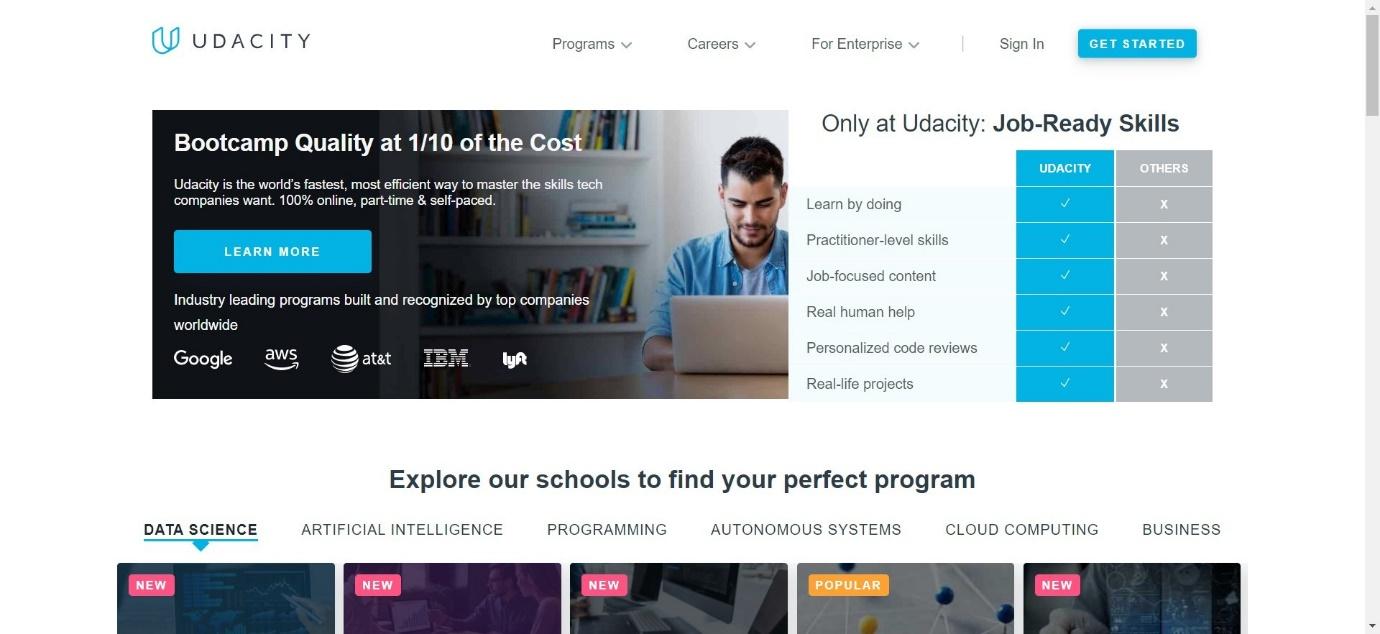 Udacity is a learning platform aimed at giving people professional development in a variety of STEM careers. Their courses are designed to give students real, practical skills that they can use in their jobs or portfolios.
Codeacademy vs Udacity: Codecademy – Main Features
Courses Offered
We'll start with a rundown of the courses you can find on Codecademy:
Languages
HTML & CSS
Python
Javascript
Java
SQL
Bash/Shell
Ruby
C++
R
C#
PHP
Go
Swift
Kotlin
Subjects
Web Development
Data Science
Computer Science
Developer Tools
Machine Learning
Code Foundations
Web Design
Game Development
Mobile Development
Data Visualization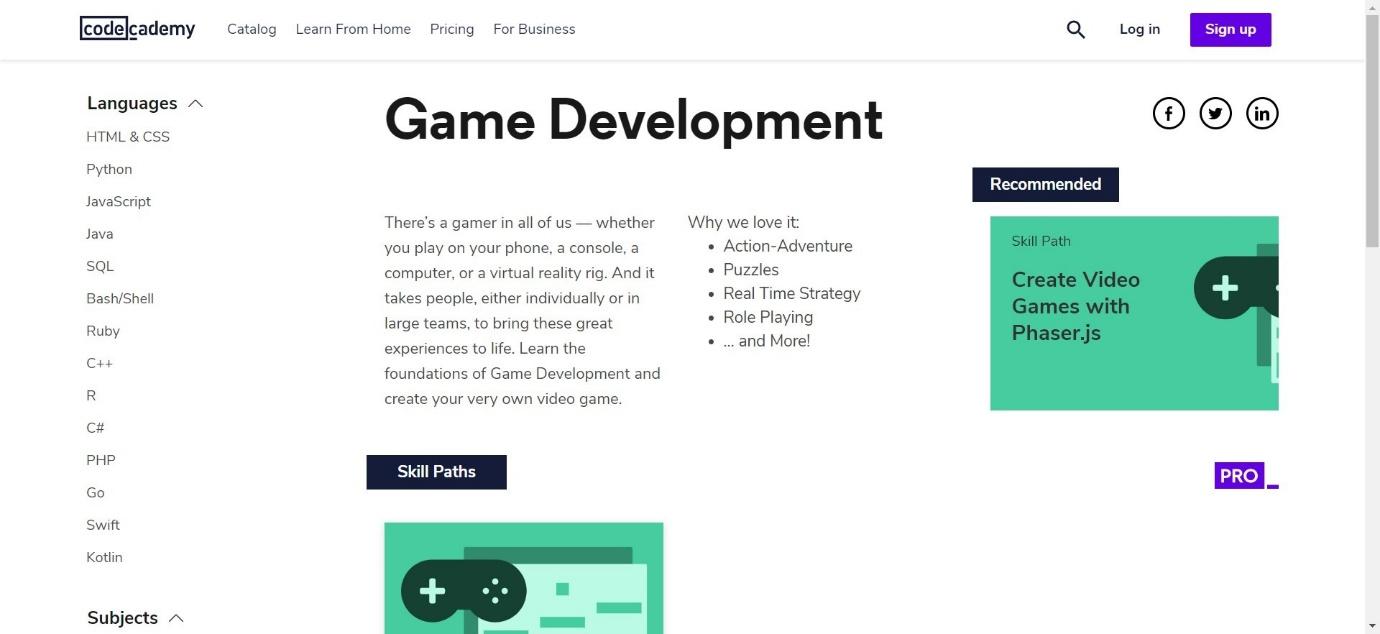 On the Pro plan, they offer 'Skill Paths' and 'Career Paths'. These are collections of courses that are aimed at building your skills in a certain area for a specific outcome (for example, their Code Foundations Career Path offers training in Computer Science History, followed by Career Exploration, followed by Applications).
They offer some courses for free (like their basic HTML course).
Learning Area
The area on the left gives text-based instruction, and the area in the middle allows you to type in code. The final area, on the right, allows you to preview your work.
The instructions are very easy to follow: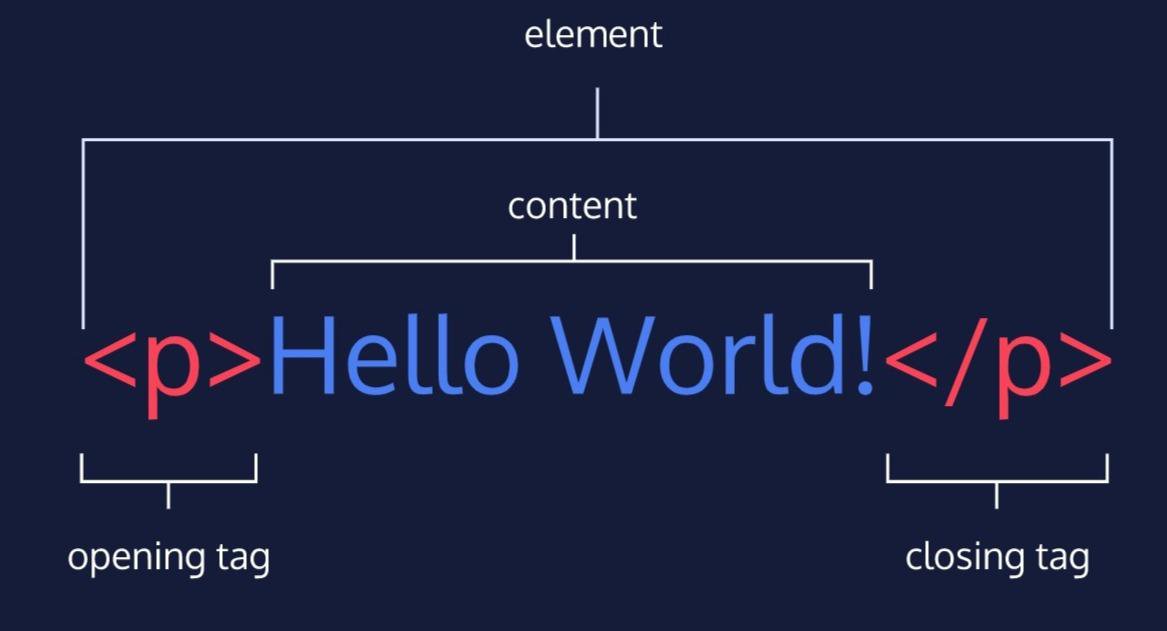 There are a few features built into the platform to help you if you get stuck. A yellow 'get a hint' bar will appear, which is helpful if you're unsure what to do. They offer Concept Reviews, which are handy documents with all the basic information you need to know. These can be printed out for easy reference.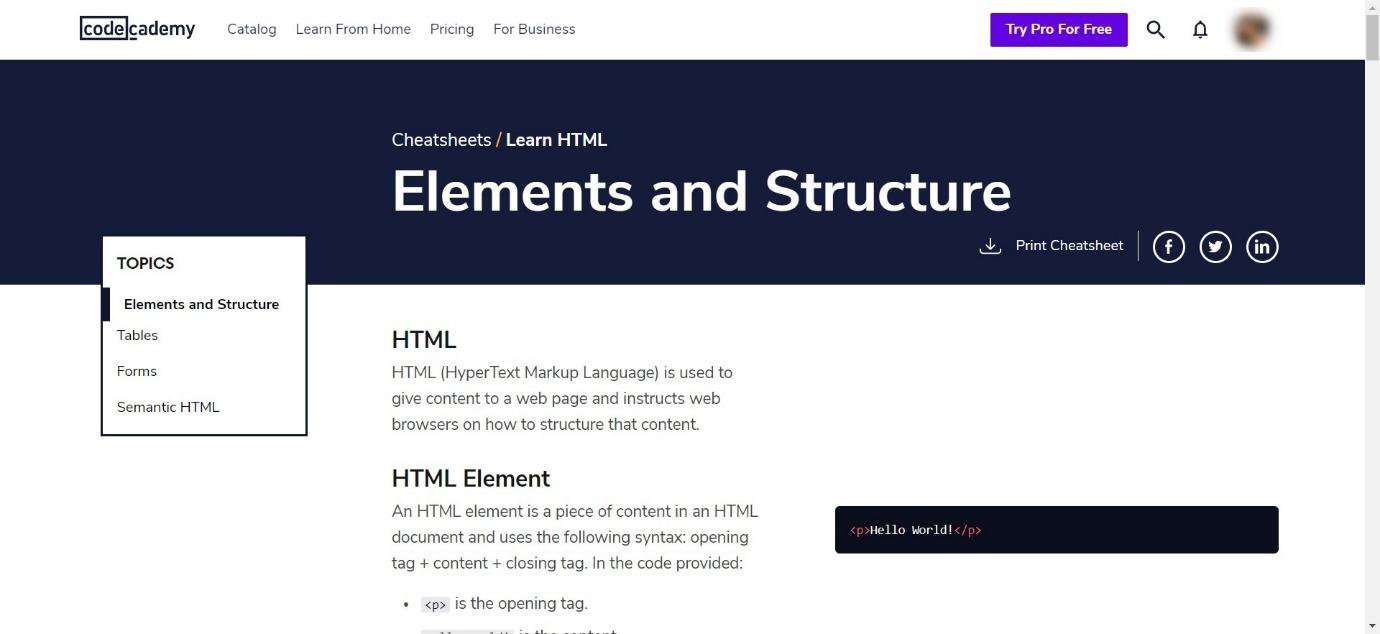 They also have community forums (more on those a bit later), which they use to pose some of the most commonly asked questions for each area of the course. This means you can see what other users are talking about without having to leave the course area.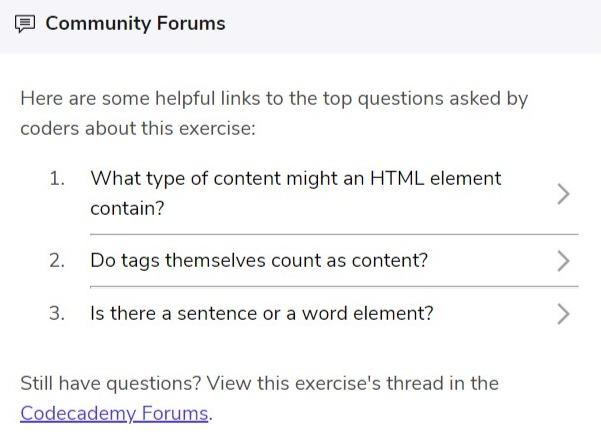 Once you have completed a task, a green tick will appear next to it, and the next task will be unlocked. If you do it wrong, a red cross will appear next to it, and you'll get a little pointer like this:

At the end of each lesson, you'll participate in a short online quiz. This tests the skills you've just been learning.
Dashboard
The Dashboard is very user-friendly. It gives you an overview of the courses you are currently taking and your progress.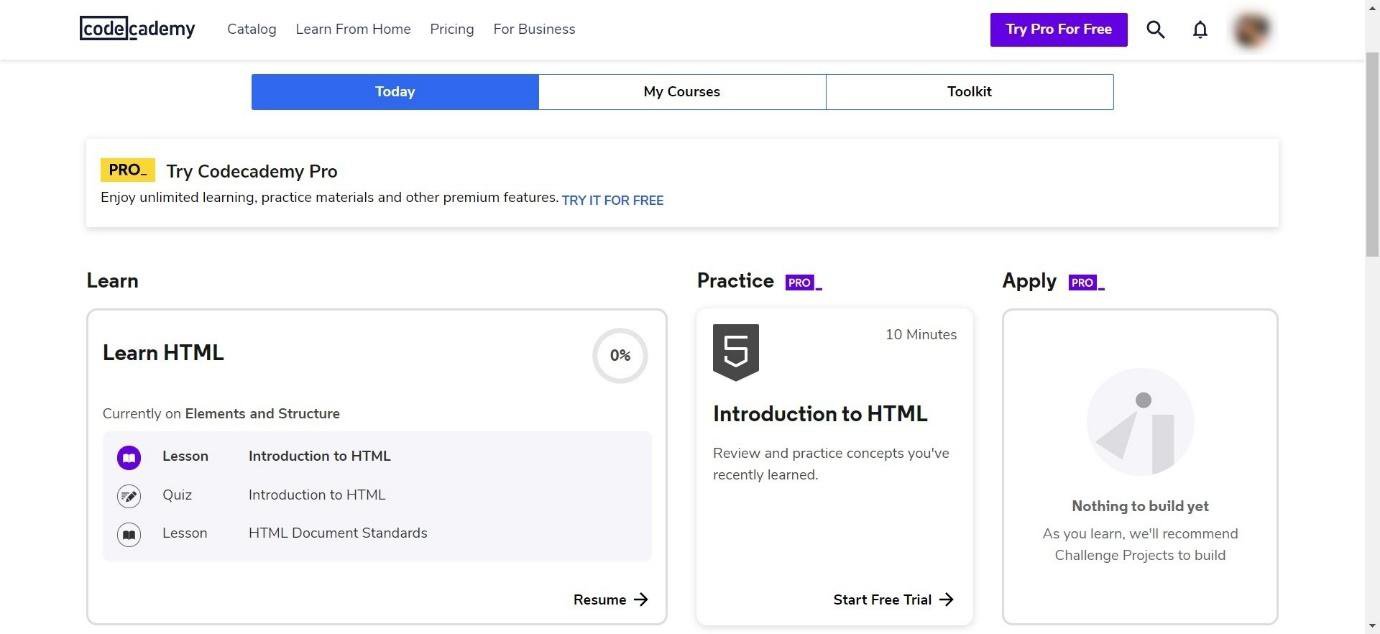 You can quickly jump to the lesson you're currently on, do some practice concepts (on the Pro plan), and build projects using the new skills you've learned (using the Pro plan).
Streaks are shown at the top of the dashboard. A streak is the number of days in a row that you have logged on and completed an exercise – once you complete a certain amount of these, you start to earn badges.
They also offer 30-day challenges. All you have to do is complete an activity on Codeacademy once a day for 30 days – it's a good way to inspire you to get into the habit of dedicating a little bit of time to it.
Challenge Projects
The further you progress through your chosen courses, the more you will want to put your skills to the test. This is where Challenge Projects come in handy. Only available on the Pro plan, they allow you to create projects, gain feedback including guidance on how to improve and receive the next steps to take. This is a great way to get some practical advice, and it allows you to start to build up a portfolio of projects which you can use if you want to find work in a new area.
Community
There is a Facebook group for Codecademy, to connect with other users. However, the easiest thing to do is use the forums. This is a great sounding board for ideas, as well as a good way to get support if you need it.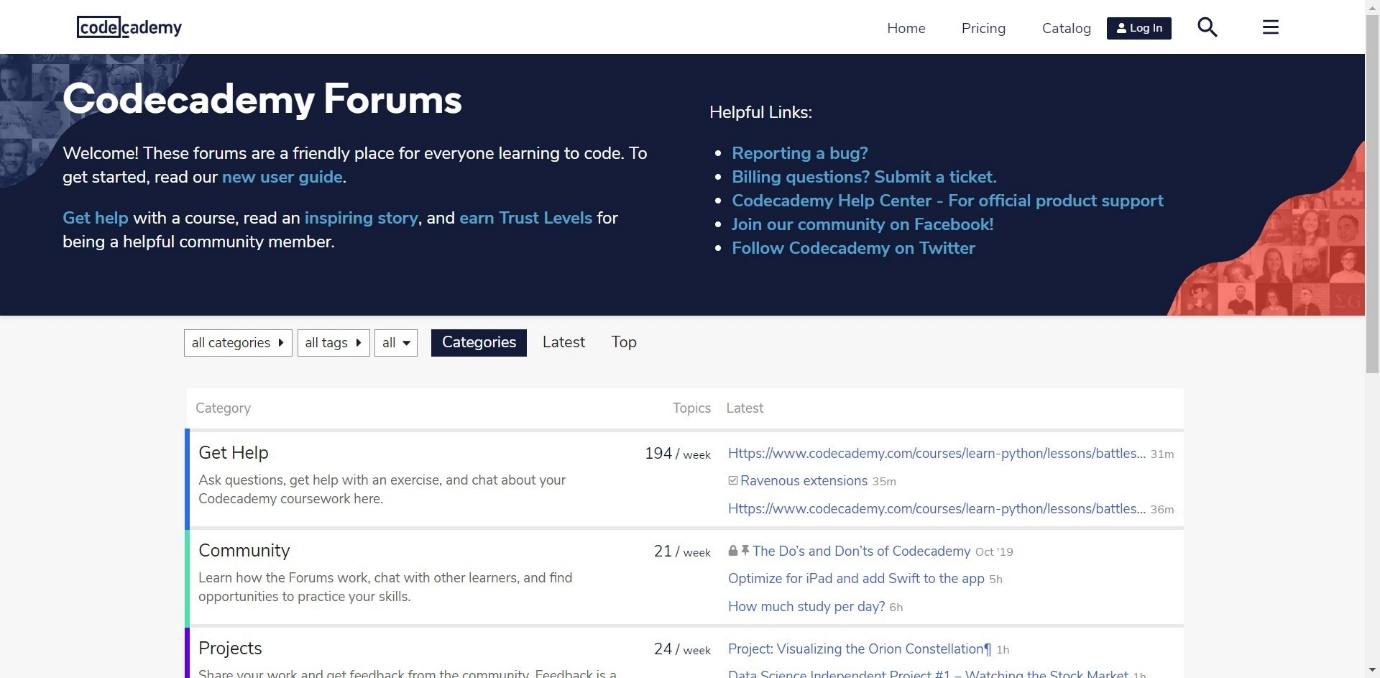 The forums are the place to go if you want to post projects and receive feedback from other users.
They also have occasional live-streamed events, to give guidance in a certain area or to let users know about new courses.
Mobile App
The mobile app, Codecademy Go, is a really useful supplement to help you keep on track of your learning goals whilst on the move. You can view your current courses and choose either 'Review' or 'Practice'. The review option allows you to swipe through handy slides that explain basic concepts, while 'Practice' allows you to take a pop quiz.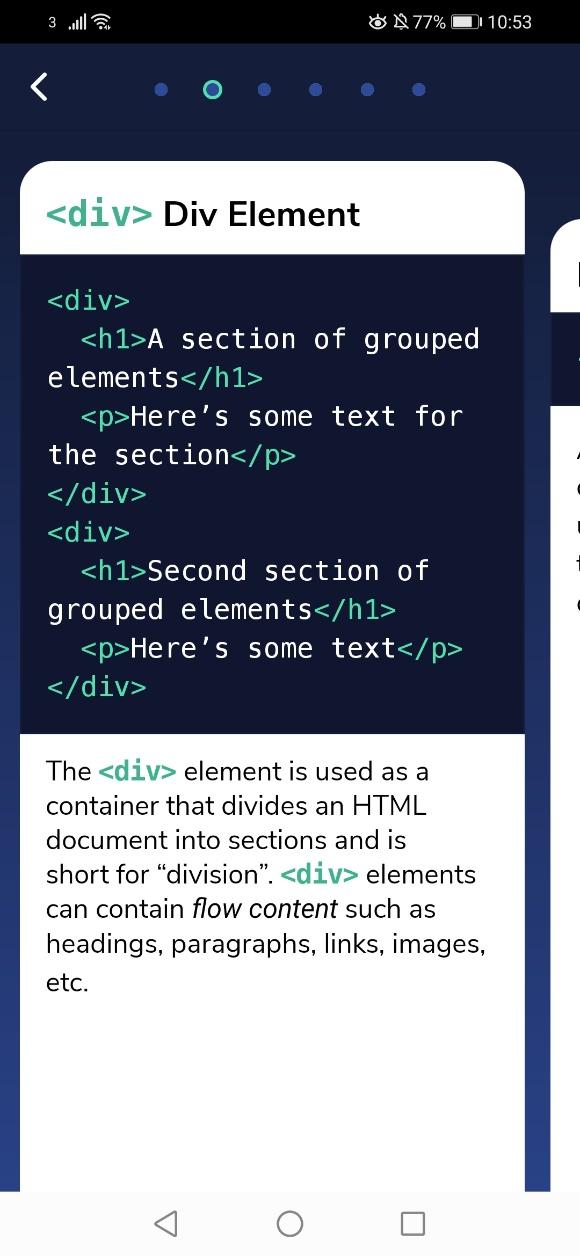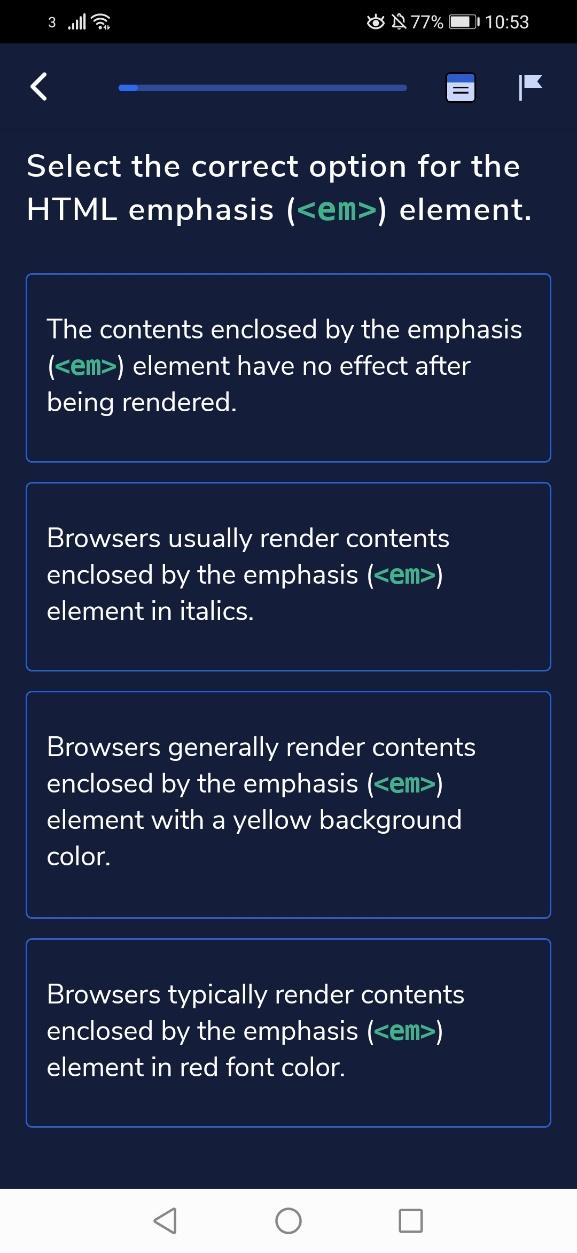 They also have further resources, like articles and videos, as well as allowing you to browse courses and view your own progress.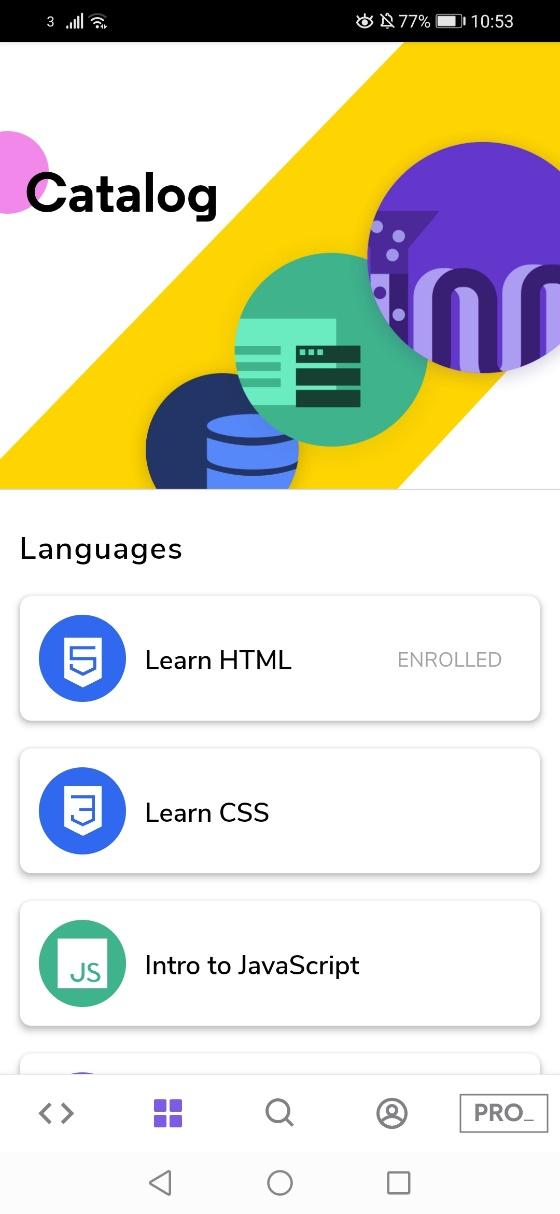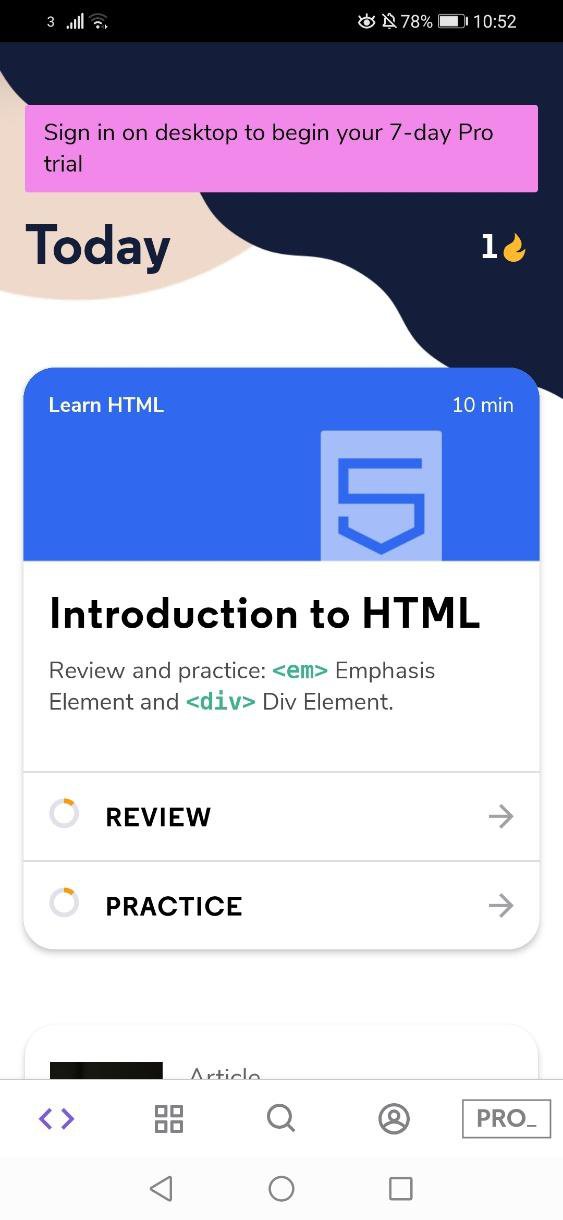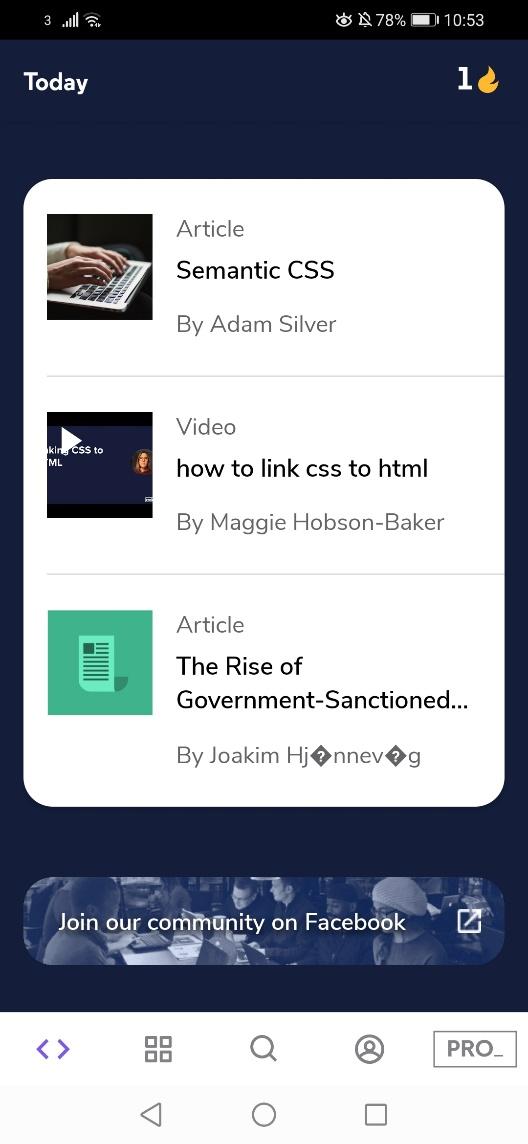 It's a great app that can help you to remember the skills you've been learning, and it's really easy to navigate.
Codeacademy vs Udacity: Udacity – Main Features
Courses Offered
Udacity offer the following courses:
Artificial Intelligence
AI for Healthcare
Edge AI for IoT Developers
AI for Business Leaders
AI Product Manager
AI Programming with Python
Artificial Intelligence
Artificial Intelligence for Trading
Computer Vision
Deep Learning
Deep Reinforcement Learning
Intro to Machine Learning
Natural Language Processing
Data Science
Applying Data Science to Product
Data Product Manager
SQL
Business Analytics
Data Analyst
Data Engineer
Data Scientist
Data Streaming
Data Visualization
Predictive Analytics for Business
Programming for Data Science
Cloud Computing
AWS Cloud Architect
Cloud Developer
Cloud Dev Ops Engineer
Programming and Development
AI Programming with Python
Android Basics
Android Developer
Blockchain
C++
Data Engineer
Data Structures and Algorithms
Front End Web Developer
Full Stack Web Developer
Intro to Programming
iOS
Java Developer
React
Autonomous Systems
C++
Flying Car
Intro to Self-Driving Car
Robotics
Self-Driving Car
Sensor Fusion
Business
Applying Data Science to Product
Data Product Manager
Activation and Retention Strategy
Growth and Acquisition Strategy
Growth Product Manager
Product Manager
AI for Business Leaders
Business Analytics
Digital Marketing
Marketing Analytics
Predictive Analytics for Business
UX Designer
Career
Applying to Jobs
Interviewing
As you can see, the subjects offered here are very specific and a bit more advanced than the topics offered by Codecademy. Also, it's aimed at business managers, AI specialists and data scientists as well as programmers. They do offer a range of basic free courses.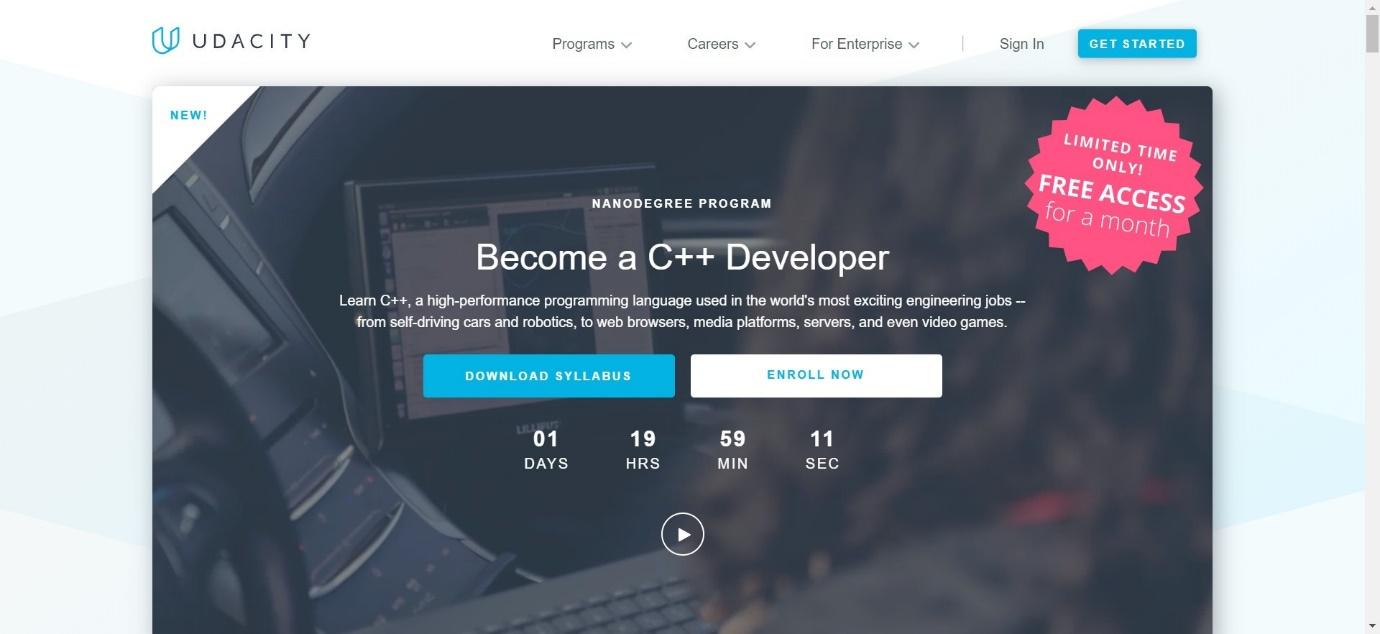 Each course includes a detailed syllabus, which is downloadable – so you can get a lot of information before committing to signing up.
The programs created by Udacity are recognized by some of the top tech companies, including Google and IBM. They offer nano-degrees – these are designed to give you skills in a certain area, and although they are not recognized as degrees by universities, they do show that you are committed and have skills in your chosen area.
Learning Area
With Udacity courses, you receive real-world projects, technical mentor support, and personal career coaches. These are some great benefits, and you can see that Udacity is aimed at supporting people with professional development for their careers. This does come at a higher cost though (which you will see later in the pricing section).
Once you have chosen an area of study, you will be put through the onboarding process. This involves filling out a simple form. You can also choose to receive individual career support.
Each nano degree involves completing projects within a certain timeframe: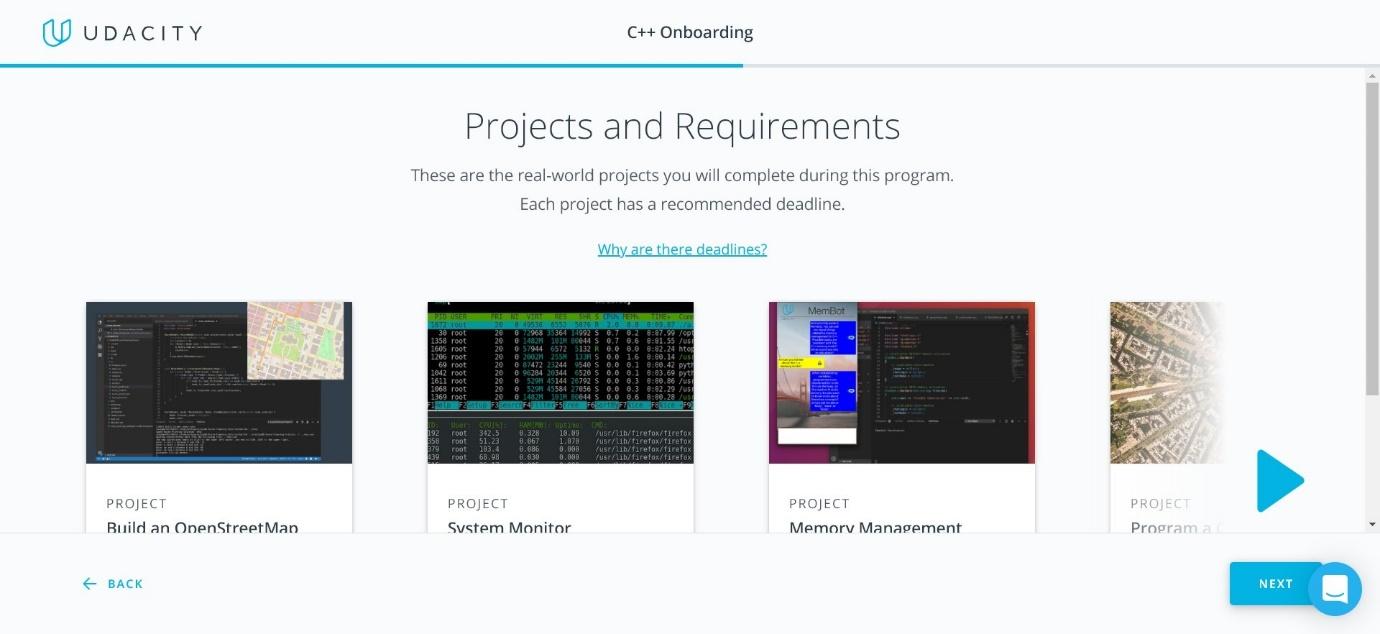 Udacity gives you a recommended study schedule depending on your chosen course (for the C++ course, they recommend ten hours of study a week). You can set reminders too.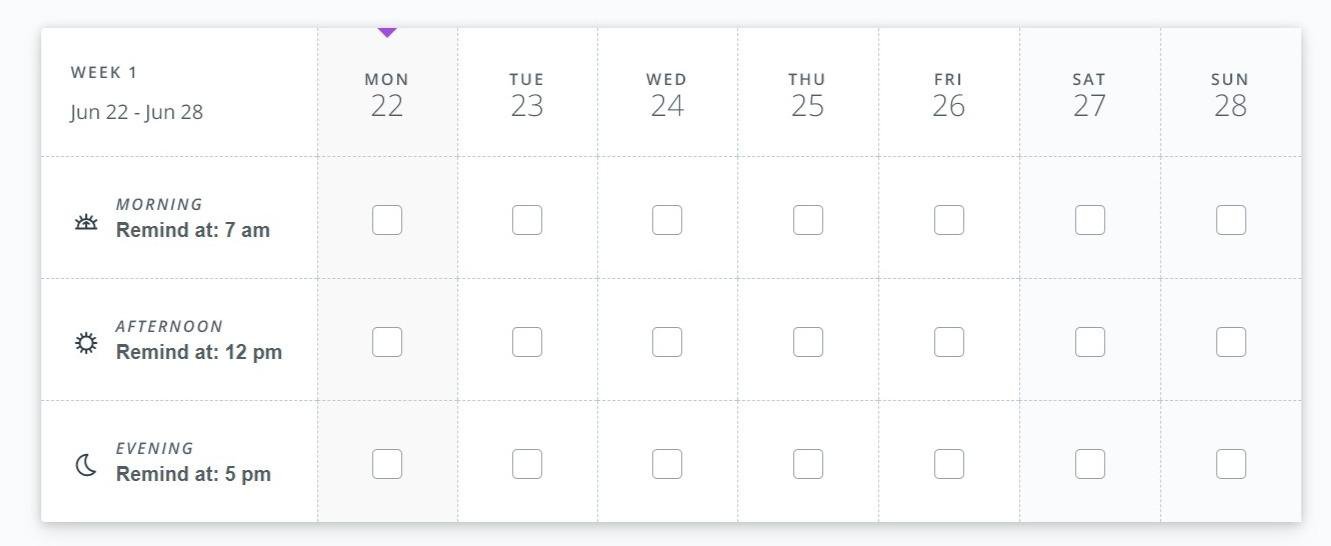 The lessons are structured as a series of videos and slides:
Each concept has a step-by-step breakdown – for example, the Introduction to the C++ Language section has 27 steps. It's not as interactive as the HTML course we tried on Codecademy, but it's a lot more in-depth – it's going to give you a real grounding in your chosen field which you can then go on to use in your career.
It's pretty easy to navigate, although it looks kind of overwhelming at first. The videos are well presented, and it's easy to flick between lessons if you need to refer back to something.
Dashboard
The dashboard is really easy to use: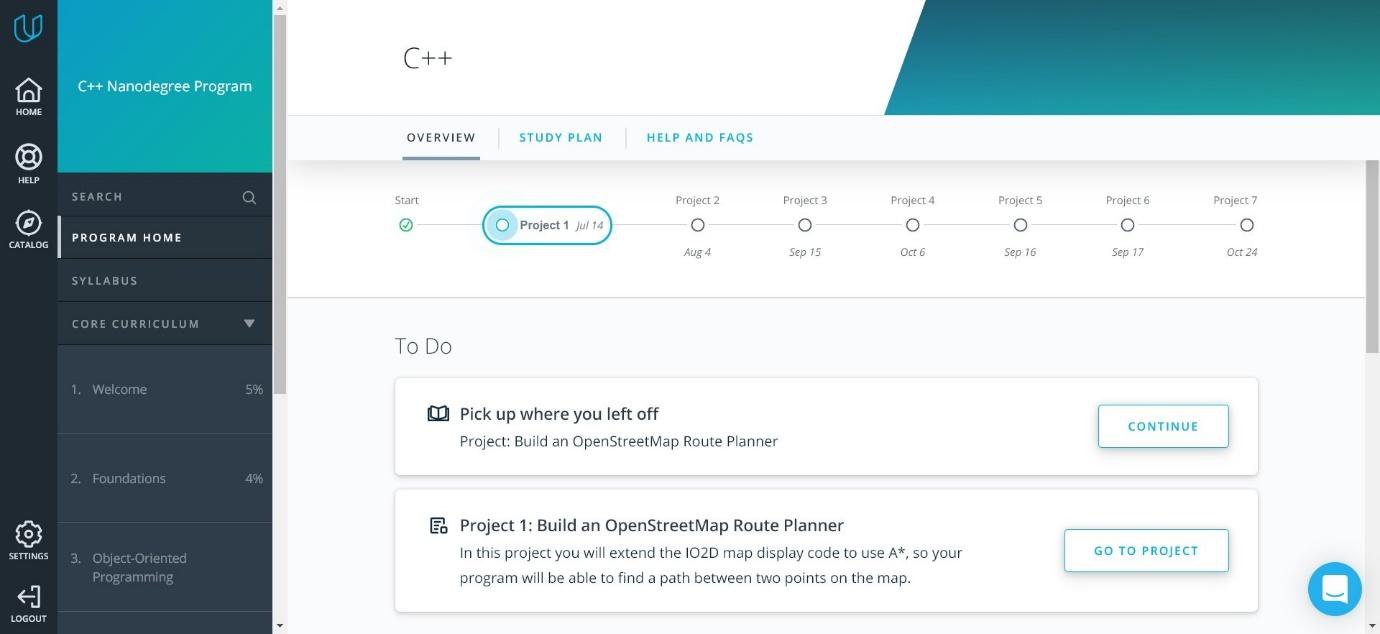 You can easily see your progress, carry on where you left off by completing tasks on the 'to-do list', and view your study plan. You can search through topics easily, which is great.
Projects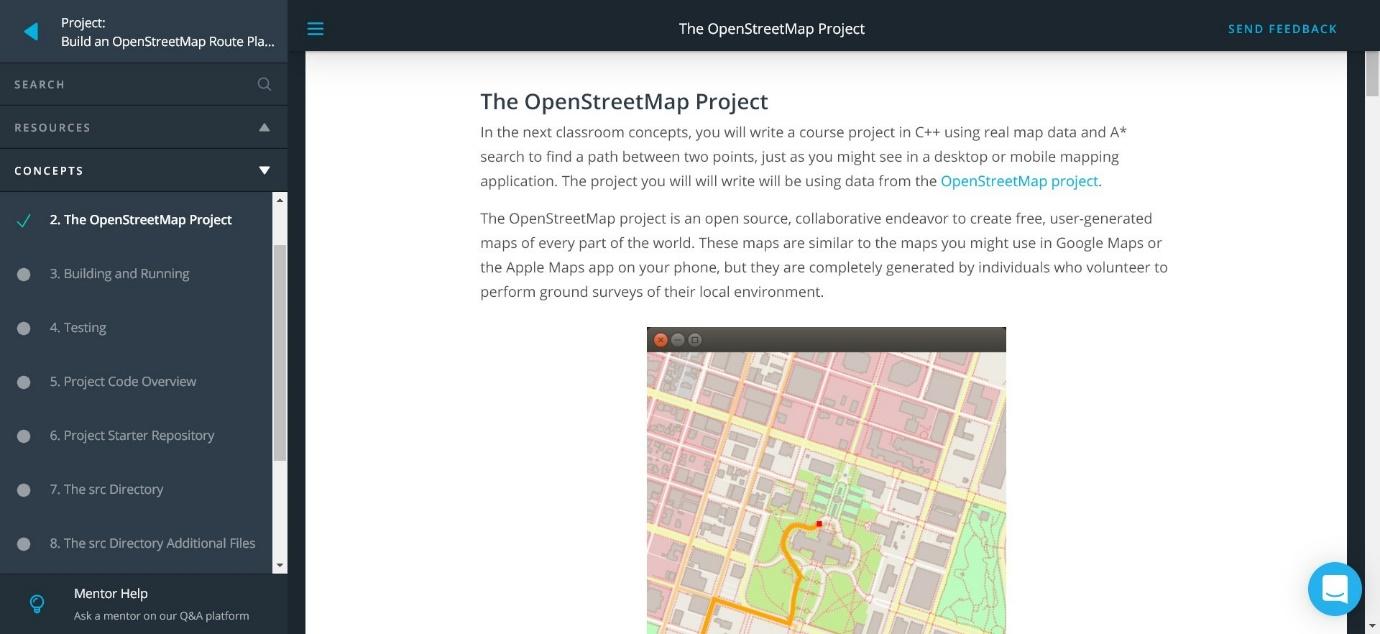 You will be required to complete projects to pass your course. Each part of the project is broken down step-by-step with video and text tutorials. It also contains all the resources you will need to get going.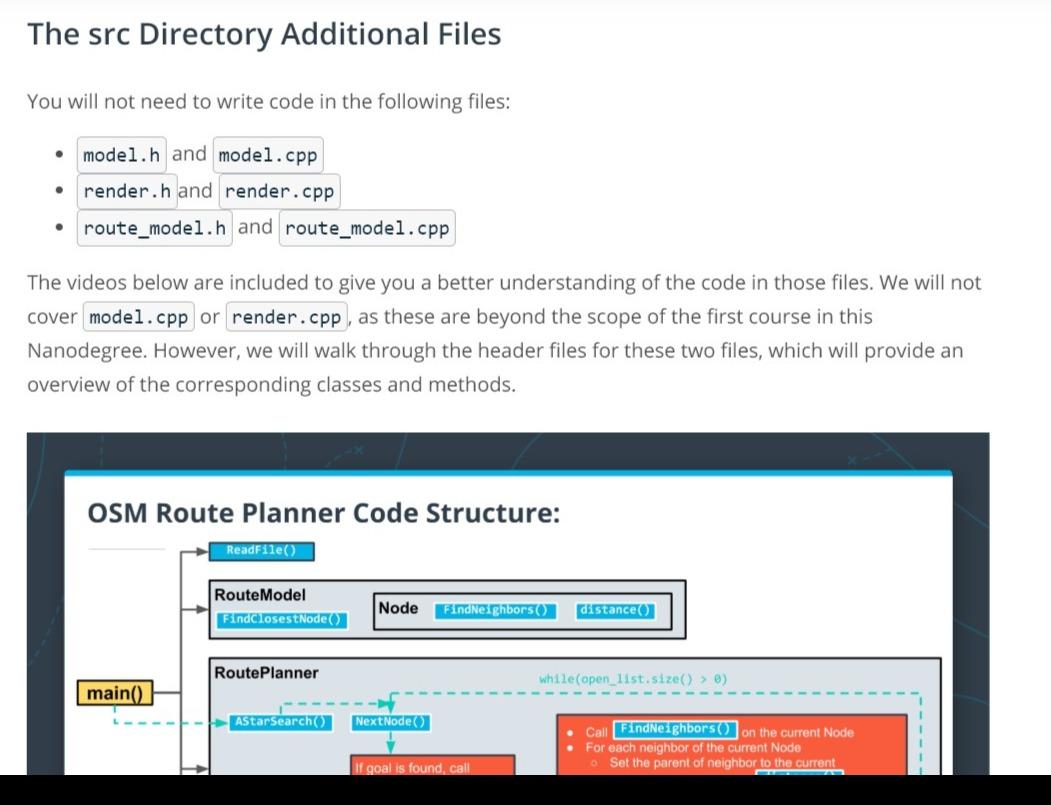 Once you're done, you can submit the project to be checked over, and receive feedback. You can contact a mentor at any time if you're stuck.
Community
Udacity has a Student Hub, a forum of other students for you to connect with. It's not the most aesthetically pleasing forum ever, but you can find students on your own course here and discuss projects with them.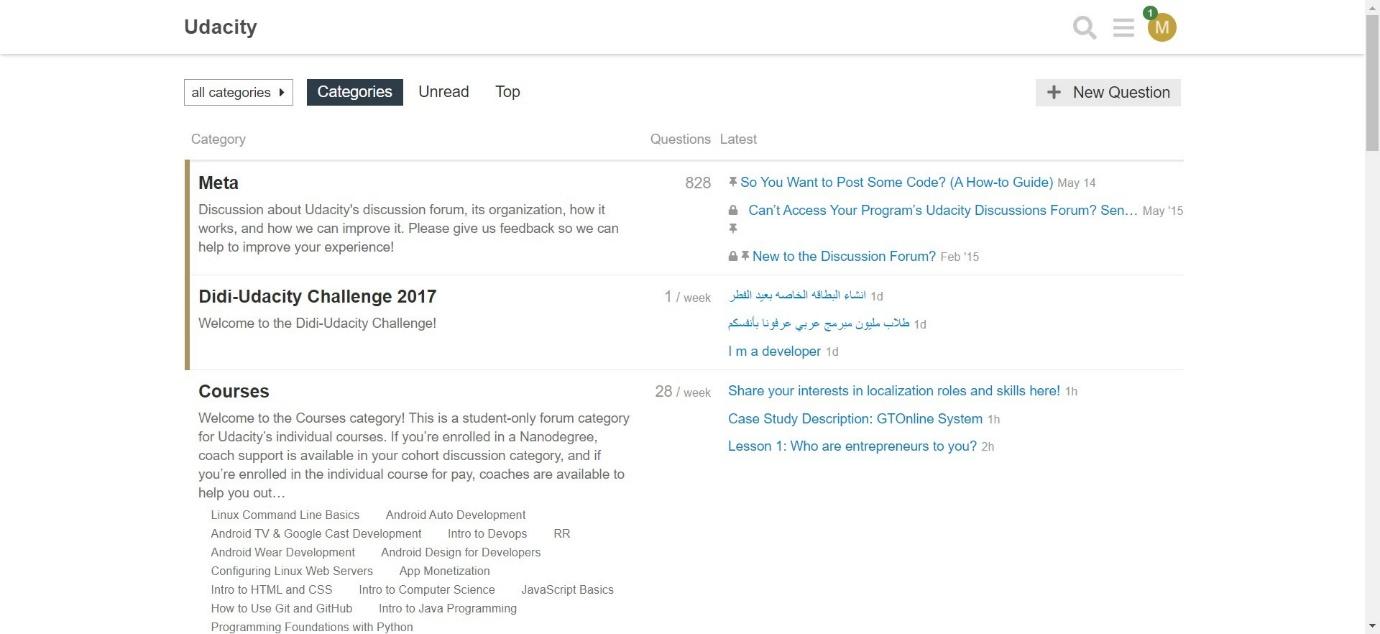 The forum is not as easy to find as Codecademy's forum, and it's not integrated into the platform in the same way.
Mobile App
Udacity used to have a mobile app, but it was only used by around 10% of students, so they discontinued it. This is a shame, as it would be nice to be able to access your course on the go, but you can still use the Udacity platform in your mobile browser.
Codecademy vs Udacity – Support
Codecademy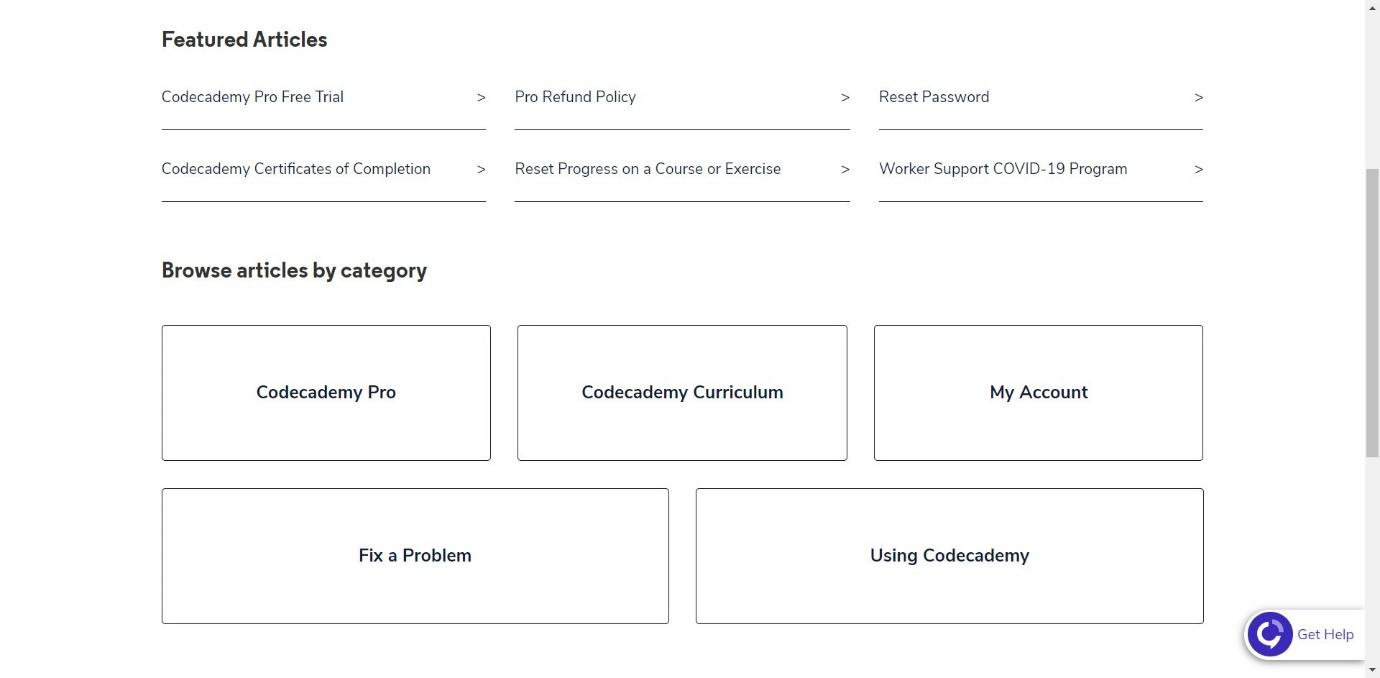 The Codecademy Support Center is really easy to navigate. It has articles on each area of the platform, and if you require further help, you can send a query via a ticketing system. Users report that the customer service is not always that helpful if you have a very specific problem, which is a shame.
They also offer articles with further information on certain subjects, with glossaries and how-to guides.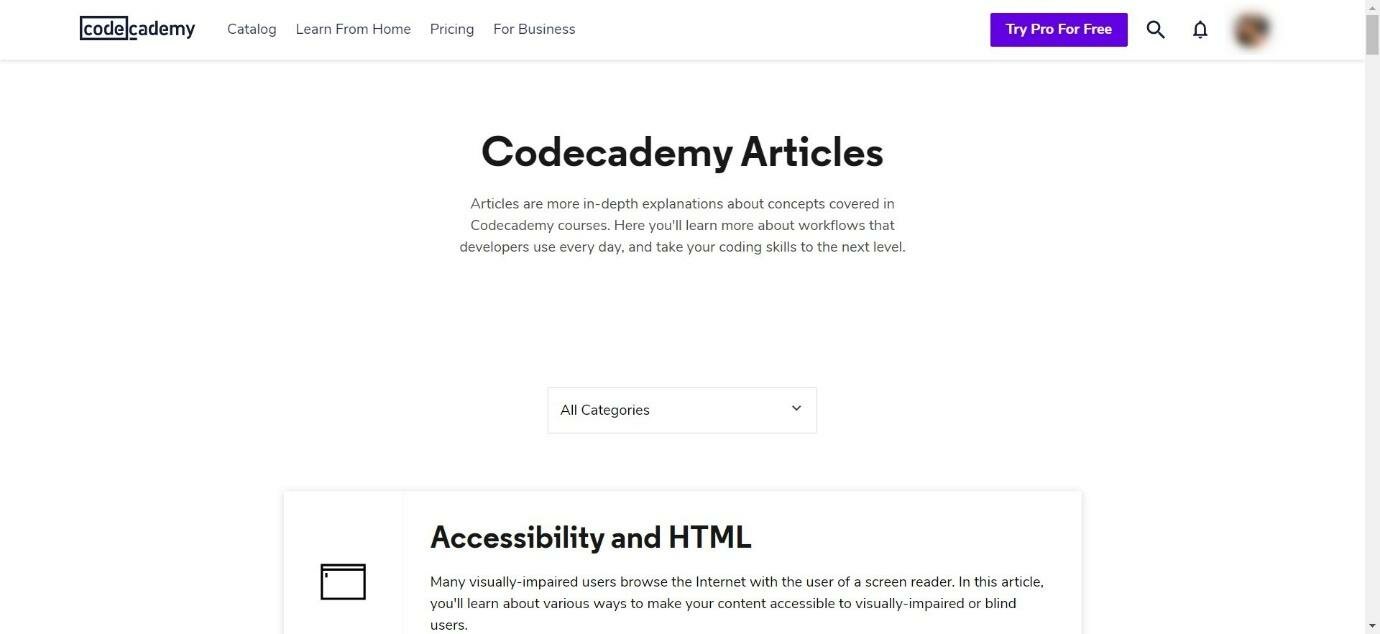 Udacity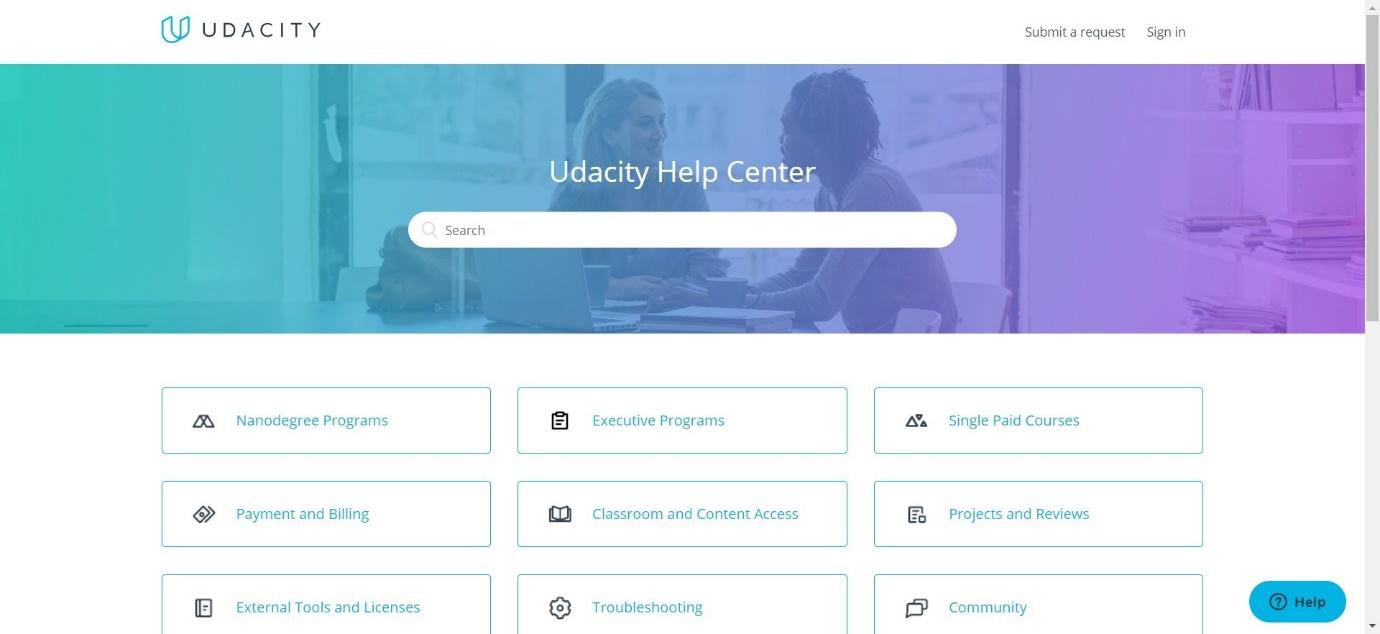 Udacity has a great help center with a lot of articles and information about how to use the platform. If you need to access extra support, you can send them a message online (and you can include attachments, like screenshots). Some users have reported that the customer service team isn't that swift to reply, especially if you are trying to cancel your account (more on that a bit later in the pricing section, too).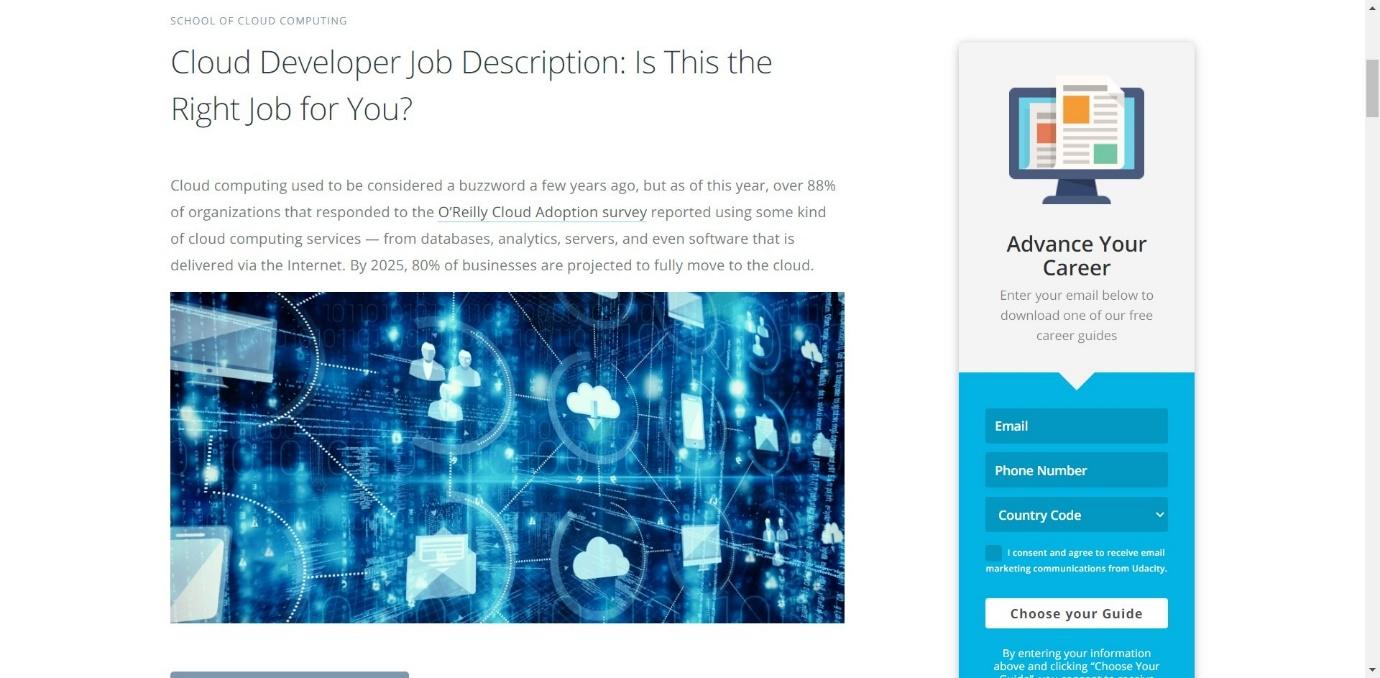 They also have a blog which is regularly updated, with articles on a variety of topics.
Codecademy vs Udacity – Pricing
Codecademy Pricing Plans
Codecademy have two plans – Basic and Pro.
Basic – $0 per month
The Basic plan includes a whole host of free content, which is great if you want to learn the basics. You get access to:
Basic courses
Limited mobile practice
Pro – $19.99 per month
The Pro plan unlocks everything on the platform for individuals. It includes:
Basic courses
Members-only content
Unlimited mobile practice
Real-world projects
Step-by-step guidance
Peer support
They also offer deals for groups, teams or businesses – price upon request.
They offer a free trial for their Pro plan – click here to find out more.
Udacity's pricing is a little harder to figure out. The courses are more intensive than Codecademy's courses, which means you can expect to pay a lot more. Each nanodegree is priced differently, and there are dozens of them – too many to list here. For the means of comparison, our chosen trial course, C++ Engineer, costs $1436, spread over four monthly payments.
The issue we have with Udacity is that they offer a free month (click here to find out more about that), but they don't make it easy to cancel if you're not happy within that time period.
Here, you can see that we are trying to cancel our subscription.

They require you to chat with an adviser: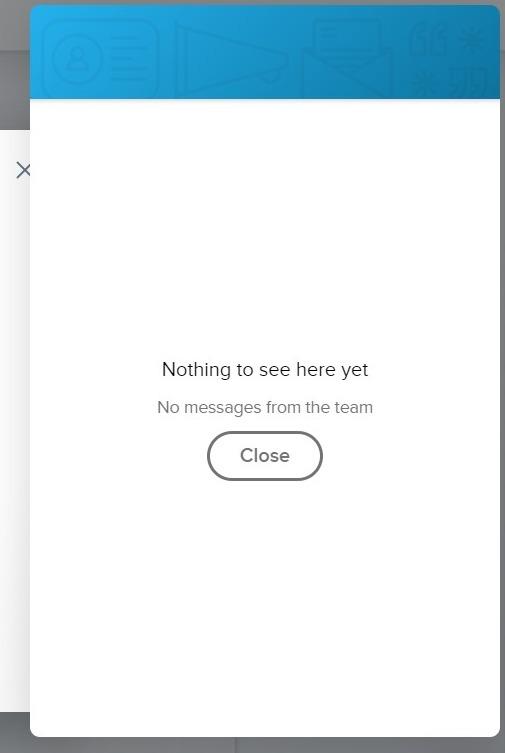 If you want to cancel, you'll have to either wait around for a while for the online adviser to get back to you, or call them – which you can only do if you live in the US or Canada.
Multiple students have had issues cancelling their subscription, with advisers not getting back to them at all, or taking a very long time to respond, or even charging them when they shouldn't have and then taking weeks to issue a refund.
This is completely unnecessary – many other platforms allow free trials without making it so difficult to cancel – and for that reason, we recommend that you sign up with your PayPal account when you register with Udacity, as you can easily cancel your payment in your PayPal account.
It's a shame that they have made this difficult. It's a major downside – if you want to go with Udacity, you may want to consider making 100% sure you're going to commit to the course before you sign up.
Codecademy vs Udacity – Pros and Cons
Codecademy
Pros
Generous basic courses for free
Pro plan allows you to create projects that you can use in your portfolio
Easy to use platform
Streaks and badges encourage you to keep coming back
Mobile app is a useful extra
Busy, helpful community of other users
Cons
Customer service isn't always that helpful
Courses can't be included on your resume as a 'real' qualification
Udacity
Pros
In-depth courses on a variety of topics
Courses are recognized by major tech companies
Career advice is included when you sign up for a nano degree
You will receive feedback on your projects
Cons
Platform itself can be a bit overwhelming
Customer service is not very good
They make it difficult to cancel your subscription
Frequently Asked Questions
Codeacademy vs Udacity: Conclusion – Which One is the Best?
It's tough to choose a winner here because they're pretty different in terms of their content.
If you're a beginner, you're interested in learning some new skills, and you want to be flexible in how much time you can commit to a course, we'd recommend Codecademy. It's a great way to see if you enjoy learning programming languages without having to pay much money (or any money at all, on their free plan). In fact, even if you're pretty sure you want to learn about a certain topic in more depth, it's worth checking if Codecademy has a course in that area to see how it suits you first.
Bottom Line Summary: If you're more serious about your personal development and you want to advance your career or learn a new skill in-depth, check out Udacity. It's both more recognized in terms of credentializing and more serious, and in depth in terms of course material. IF you are just a casual learner looking to up-level skills, stick to Codeacademy.
If you've used either platform, we'd love to hear from you about your experiences – leave us a comment below!
Additional Reading on Online Learning Platform & Interactive Course Learning Path Options: