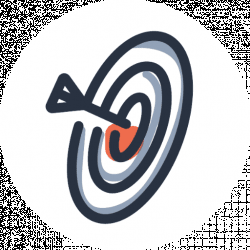 Latest posts by Online Course Rater Team
(see all)
There are so many jobs advertised for developers, and with the increasing prominence of tech and related knowledge across all industries, there are plenty of people looking to learn how to code.
It's a really useful skill to have, even if it's just on the fringe of what you do. So, with plenty of people willing to learn, comes plenty of people willing to teach it! Obviously, they want a few bucks for their efforts.
Udemy vs Codecademy – The Top Two
Two of the most popular resources for learning online are Udemy and Codecademy. Either is a perfectly good resource, with plenty of people able to tell you about how beneficial they found the courses, both personally and in terms of their careers.
Here, we'll take a look at both of these digital schools, and try and help you sign up for the one that's most appropriate for you.
Say Hi to Udemy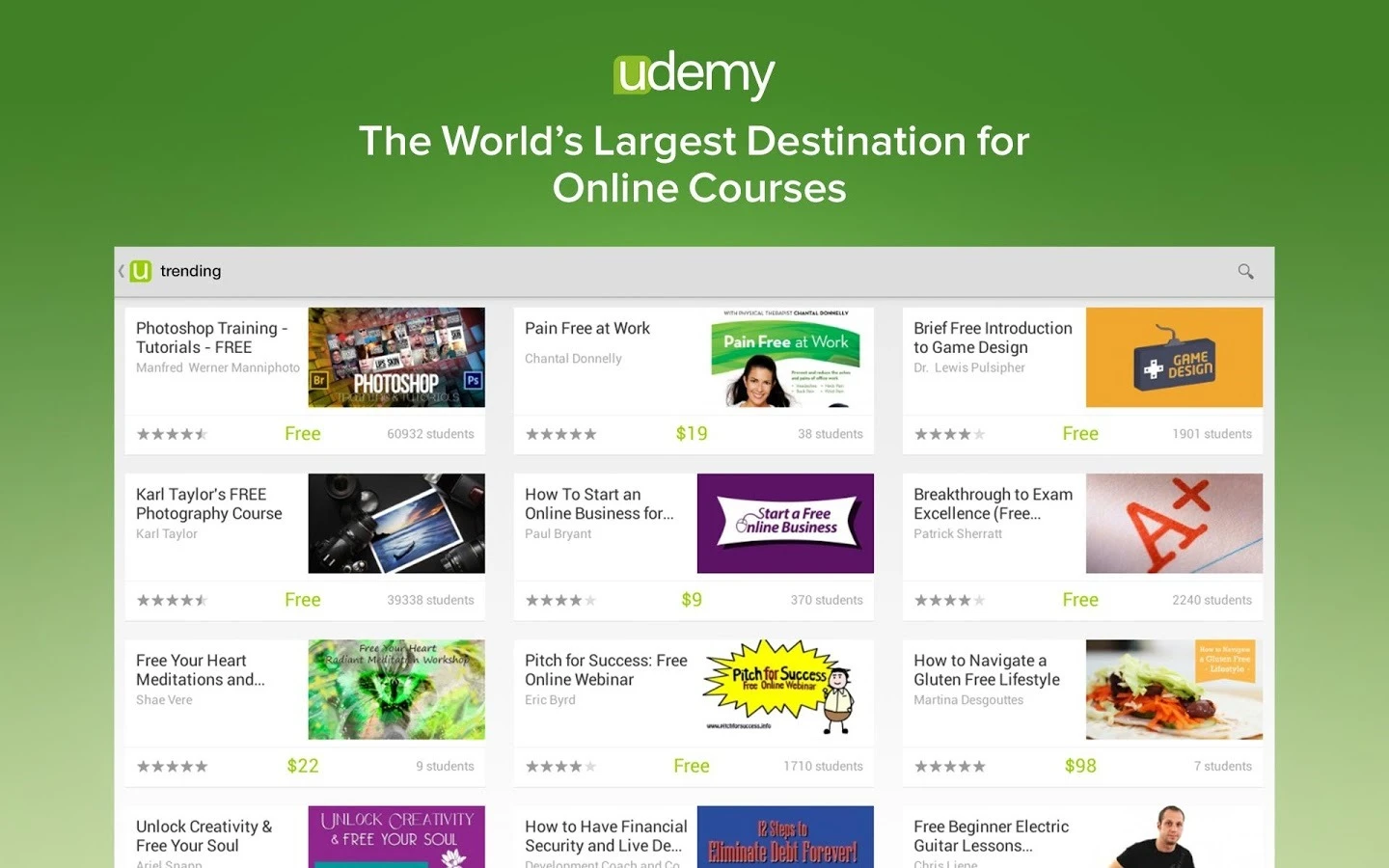 If you've ever looked at online courses before, you'll have come across Udemy. As such websites go, they market themselves pretty aggressively.
It's not just their marketing where Udemy has been aggressive though. Their expansion as a platform, and in turn as a company, has been pretty exceptional. They only started in 2010, offering about 400 courses. Now, in 2017, that number is 45,000. Pretty good going!
It's hard to get an exact number of how many people are availing of these 45,000 courses, but a recurring number on such matters from 2016 suggests 15 million. Again, that pretty good going for a seven-year-old company!
In terms of the teachers on there, there are apparently 9,000 of them, with the top 10 of those earning $17 million in 2015. Lucky them.
Say Hi to Codecademy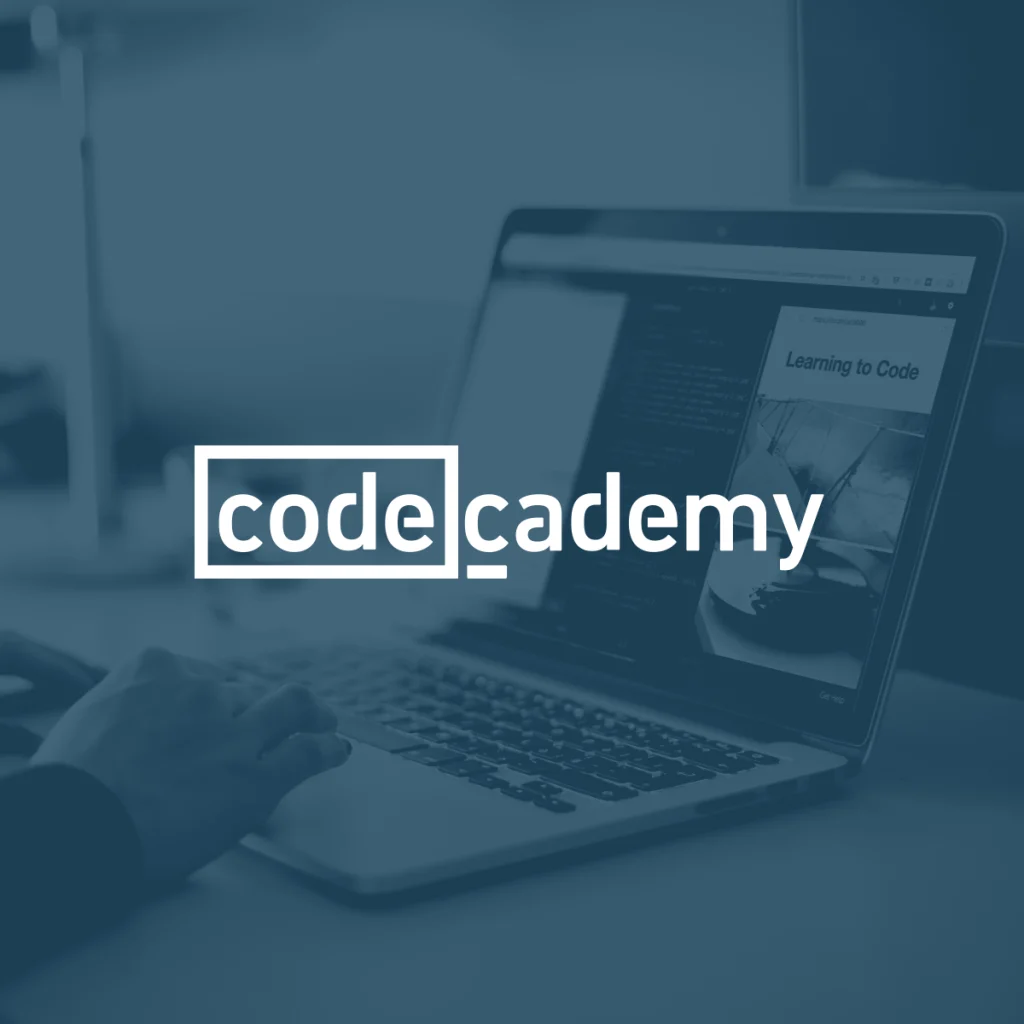 Codecademy is a year younger than Udemy, having been founded in 2011 by former Columbia University students. It focuses exclusively on teaching coding for programming and comes in a free version and a paid one. We can look at some of the differences between them a little bit later on.
Of all the websites offering to teach new skills, Codecademy is somewhat of a darling of the press, between the awards they've won, and a partnership with the White House to meet 600 women and people from disadvantaged backgrounds to talk to them about learning coding to develop their careers. That's a solid looking CSR plan if ever there was one.
In terms of user numbers, the latest figure available is from January 2014, and stands at 24 million. Not an insignificant number, I think you'll agree!
Codecademy vs Udemy

Pricing options
Udemy
It's impossible to say how much a UDemy course costs. The prices are set by the instructors, so it's essentially them balancing how much they think the information, knowledge, and presentation is worth, against the amount a prospective student might be willing to pay.
It's a bit of a gamble for them to take. And, from your perspective, it depends how much money you're willing to part with.
You'll see some courses available on Udemy for free. That's lovely sounding, but one thing I always, always remind people in reviews is that you get what you pay for. In this context, it likely means that the course is short, possibly to the extent of being useless, and really just a teaser for a paid course of theirs they'd like you to take.
You'll find other courses going for several hundred dollars. It may sound pricey, but if you take the time to read through the reviews, you'll actually find they're very well-received by the majority of people who have taken them. Think of it this way: if a course has been on the go for a while, and has good reviews, then the value for money is more than likely there.
Udemy sometimes has flash sales, so keep an eye out around major holidays – you might pick up a bargain-priced course!
If you're not happy with your course, Udemy offers a 30-day money back guarantee. That sounds lovely, but even after reading through the terms and conditions for that, I can't figure out how you prove that you deserve a full refund.
Codecademy
I think I mentioned earlier about Codecademy being free? Yeah, it's free. And that is very sweet indeed!
But, I definitely mentioned earlier about getting what you pay for. I'm sure the knowledge shared on the free Codecademy courses are great, informative, and a useful starting point to the world of coding languages and software development. But I'd happily put $20 on it not being enough to get you a job. Maybe the most you'd get would be some kind of apprenticeship program, but even that would be a challenge.
I also definitely mentioned that Codecademy has a paid option. They actually have two.
The first and cheaper of the two options is called Codecademy Pro. It starts at $19.99 per month. If you've been enjoying the free version, that's quite a hike, but I feel like the features it offers for that price is pretty respectable. You'll get live technical support, quizzes to test your knowledge, and challenges so that you can apply what you've learned.
The second paid option runs slightly differently. It's called Codecademy Pro Intensive, and, as the name might suggest, it's essentially an intensive course in coding. It's a totally different kettle of fish to the regular pro version.
As this is a course, it's less focused on doing things at your own pace: you have a curriculum and schedule to adhere to. As with many SaaS offerings, the more you pay, the more real people you get to interact with, and that's the case here. You work on real-world projects, with real developers, and then get your projects reviewed by peers and mentors.
Best of all, from an employment perspective, you get a certificate to brag about on LinkedIn.
Features
Udemy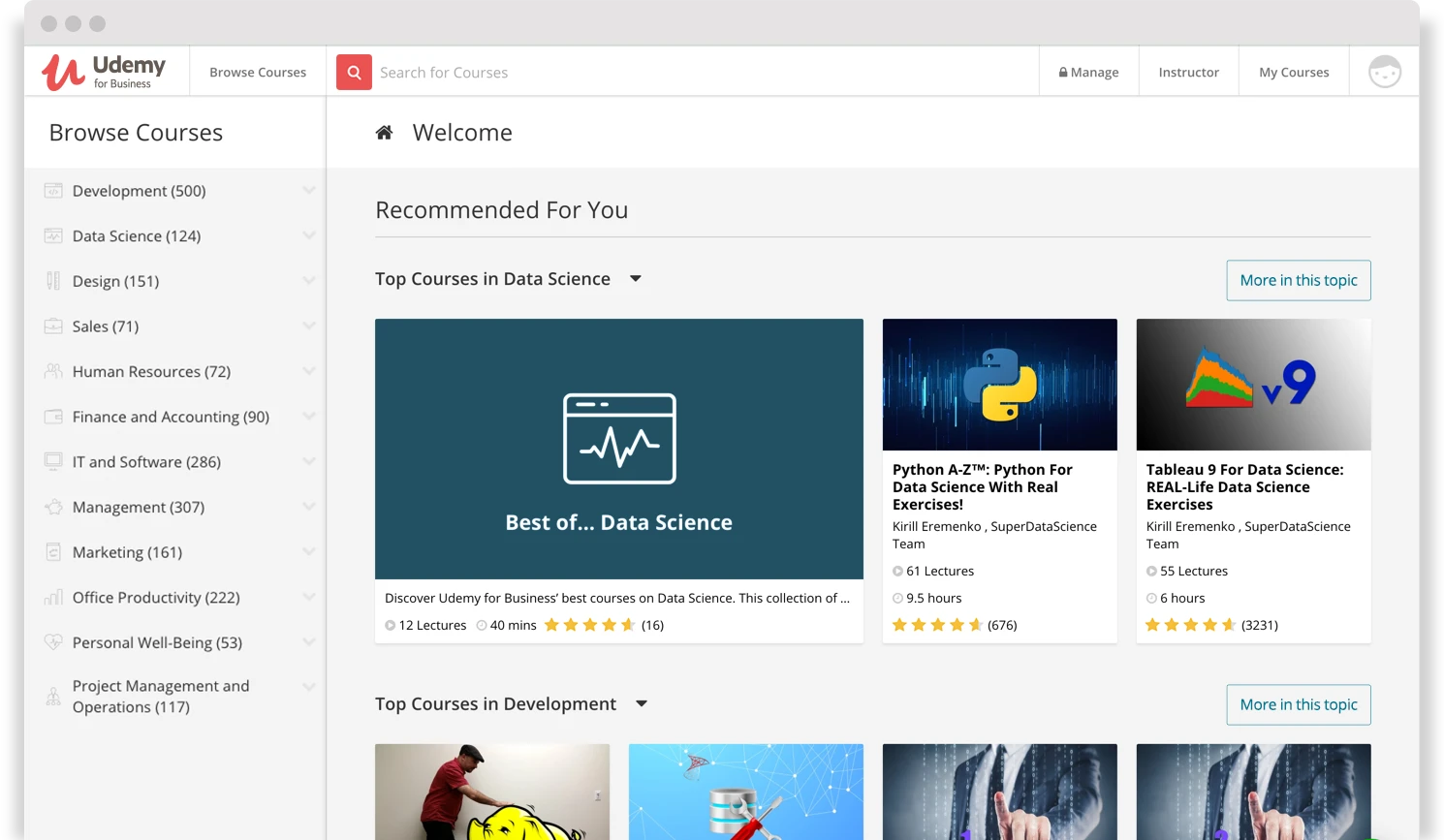 When you first go on to Udemy's website, I'm confidently sure you'll agree that it seem predominantly focused on business-related courses. I'm guessing that because they're the most popular ones on the platform, but honestly, it doesn't take much mooching around to see that there's something for everyone on it.
Looking just at coding courses, there are currently 1,062 for you to choose from. Now, that's a little bit of a loose search. The coding courses it presents aren't just for software development, and also includes stuff like HTML which is more for website content, and stuff for blogs like Joomla and WordPress. But among them, you'll find the usual favored coding stuff like C# and Javascript.
Due to the nature of Udemy, and all the different coding courses it has on offer, it means that you would want to have had some kind of direction in advance so that you at least know what you're looking for. There are so many languages available, it's worth taking the time to figure out which one you should pursue first. That will likely depend on your own objectives, and what you need to get out of the course.
Each course does make clear from the outset what you'll be getting out of it, in terms of the number of hours of video included, and how much documentation you'll receive to accompany it.
Being totally on top of their time, Udemy have their very own app for mobile devices, to make picking up your courses easy, even when you're on the move. I like that idea.
And finally, they provide a certificate. I'll be honest, it's a nice thing to get, and will give you a sense of achievement for sure, but I'm not convinced of how much sway it will hold with employers.
Codecademy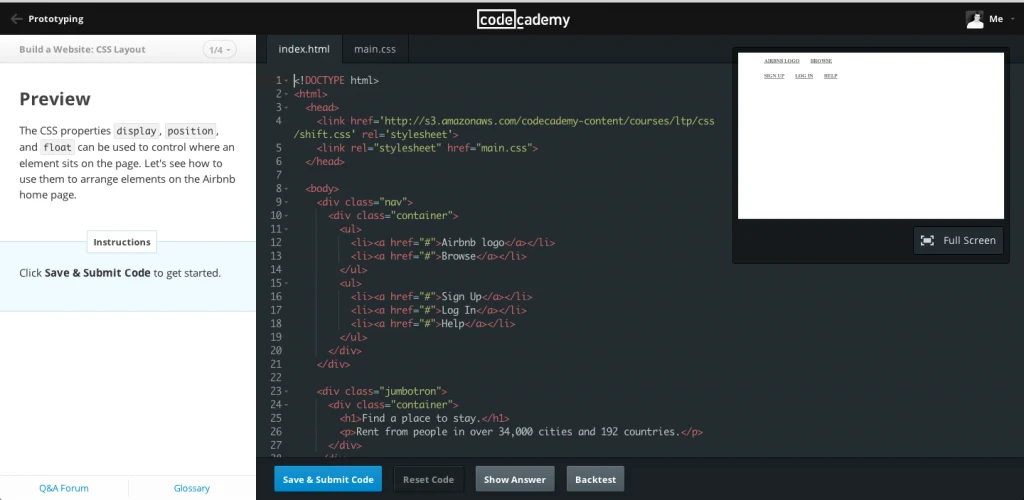 Codecademy has a catalogue of all the major coding languages from CSS, to HTML, to Python. It's a pretty useful page and will help you find out what it is you need to know what you're trying to do.
It divides its courses into five categories, each very vocationally-focused: build websites; learn programming; build web apps; analyze data; use developer tools. A nice touch on each of the category pages is that one of the most prominent things on the page is the average US salary for somebody with the skills in that category.
This is a subtle touch, but definitely frames Codecademy as a professional learning suite: you're on this website because you want to make money. For a bunch of free courses, what's on offer seems to be pretty substantial, and I feel like my usual mantra of getting what you pay for is being tested.
The features of the Pro versions of Codecademy are very appealing. While plowing through the free courses might be rewarding, they don't come with a certificate – I guess you've got some bragging rights for your resume, and I'm sure you can take screenshots of the screens telling you you've passed.
For me, interacting with real humans on paid versions is the main bonus. It makes it that little bit self-congratulatory, and there's always more satisfaction from a person telling you you've done well, rather than a website!
The rigorous schedule touted by the intensive pro version might be a turn-off to some, especially those looking to enhance their knowledge to augment another aspect of their professional life, rather than somebody who needs it for their career to progress. It goes back to knowing what you want out of a course.
Usability
Udemy
Because Udemy isn't specifically designed for coding courses, it has to have "one platform fits all" approach to its interface. With some of the courses aimed at less technologically-oriented people, that means they need to keep things as simple as possible.
When you're browsing through courses, it becomes obvious that what they offer is relative to its cost and length. That's probably not a surprise and mostly makes sense. Again, going back to my mantra of getting what you pay for.
The only thing that will change in the courses is the content, not the interface or functionality. A class on flower-arranging will look, feel, and run exactly like a course on applying Python to hacking into the mainframe or something.
I don't know how that sound to you. I have a feeling it will come back to what you're looking to get out of the courses. It's not the most professional feel to an interface, which, if you're doing a course for professional development, I would personally find that off-putting.
I can imagine it appealing to a hobbyist, or somebody just doing it for curiosity, but I'd associate that with that type of student looking for something free or cheap, just to get an introduction or insight. But I'd be surprised – regardless of the quality of the expensive courses – if there would really be much uptake from those looking for a substantial, professional level of knowledge.
Codecademy
What struck me most about Codecademy is how positive it is – I can't decide if it's maybe a little too pushy in encouraging your learning!
From the moment you sign up – and I mean within seconds of you giving them your email address – you'll find yourself on their Python course. Having a look around is not really a thing; they'll throw you right into tutorial explaining Python coding, and you can't help but give it a go.
Because of the little bit of child/gamer in me, I liked that they have achievements when you complete certain things, like completing your first lesson or tenth lesson. I'm a little childish I know, but it's kind of how a real teacher would praise you and tell you how well you're doing.
The layout and interface of the tutorial are just as on-point as the rest of the site. Your screen is largely divided into three parts: from left to right, it's the instructions, where you undertake the directions outlined in the instructions and the results of what you've done.
It pushes you so quickly into Python, you don't really get the chance to look through the rest of the free courses they offer. This means it might be easy to get thrown into something irrelevant to what you need to achieve, dismiss the site, and miss a really useful free course.
With that point in mind, I'd encourage having a nosey around the Codecademy website, especially the catalog, and the categories I talked about earlier, to get to the course you need, and to make sure you start something relevant to what you want to achieve.
Codecademy vs Udemy Conclusion
Udemy
Udemy is a fantastic platform to undertake a course or more about coding. It'll certainly set you on the right path, and if you're a total newbie, you'll definitely learn some stuff from it.
However, I'm not convinced of how much validity Udemy certification will have with employers. Due to the fact that it has courses on literally anything, if I was in a recruiter's shoes, I'm not sure I'd be impressed. I just don't feel it would carry that much weight.
In saying that, not everybody is looking to get a job from their coding knowledge. If you're retired and just want to pass some time, if you're maybe a digital marketer who want to augment their tech knowledge when engaging with developers, or even if you just think it might be some lols, Udemy is certainly worth checking out.
Codecademy

Codecademy has a more professional feel to it. If I was learning any aspect of coding for the benefit of my career, without going through a full-blown course, Codecademy squares itself up as a very credible source of knowledge.
To me, in its delivery, I feel like it strikes the exact correct balance between professionalism and cheerful encouragement. Of all the software tools I've looked at to do various things, I think the tone of Codecademy is the closest to what you'd expect of a real-life education professional.
That leads to a comfort in what you're getting from your commitment. That it's dedicated to teaching coding is definitely another aspect that makes it feel like it's more committed to you as a coding student.
Udemy

Codecademy

Pricing options

From free, up to $200

Free, $19.99 per month, or from $199 for Codecademy Pro Intensive

Features

Online videos

Additional materials for download

Certificate of completion

Tuition dedicated to coding

Opportunity for feedback from professional developers and peers

Certificate of completion on for Pro Intensive option

Usability

As easy as making any other purchase, watching any other video, and downloading any other materials

Ideal layout for use; feels very professional-oriented; it really does require time, attention and patience

Conclusion

Good for hobbyists

Good for professionals
Final comparisons
Throughout this comparison I think there's been a clear line of distinction drawn between these two same-but-diifferent education sites in terms of learning coding: Udemy is best for hobbyists, Codecademy is best for professionals.
I would suggest it's best to be very clear about why you need to learn coding before committing to one of these.
Recommended Reads: