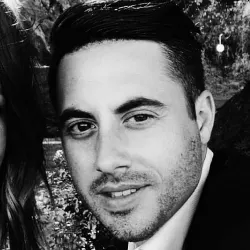 Latest posts by David Borgogni
(see all)
I view online education as an opportunity for perpetual self-development, so obtaining the best edX certifications is like a crown jewel in my quest for personal growth. Years after creating an account on this e-Learning platform, I am still exploring its programs and courses that fit my area of interest.
EdX offers several types of certificates for students with different levels of education or professional experience. I also like that the platform also provides an option to audit classes and allows me to decide if I want to complete a certain program or not.
In this guide, I'll introduce you to edX's certification programs and assist you in choosing the one that best matches your current demands.
Bottom Line Up Front
Assessing my familiarity with a specific topic has enabled me to identify the platform's certification options that could help me position myself better in the job market.
I recommend taking a MicroBachelors program certificate like the Introduction to Information Technology if you'd like to go on to study programming or computer networks.
Obtaining a Blockchain Fundamentals professional certificate can help you gain practical experience and establish a foothold in an up-and-coming industry.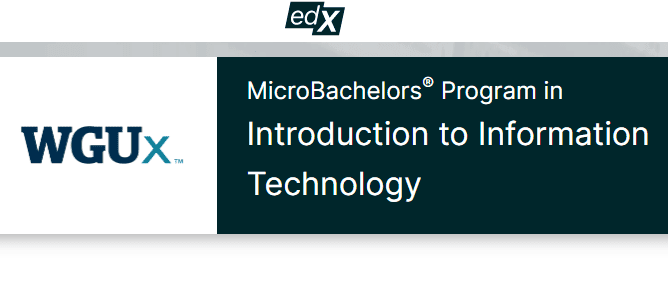 Introduction to Information Technology | Edx
Advance your information technology (IT) skill set by completing Western Governors University's (WGU) MicroBachelors Introduction to Information Technology program certificate.
Enroll Now
We earn a commission if you click this link and make a purchase at no additional cost to you.
My Top Picks at a Glance
EdX Course Categories
Arguably, the easiest way to navigate through over 3,000 courses edX hosts is to choose a specific topic. The platform grants its users access to courses in the following categories:
Business communications
Education
Social science
Law
Humanities
Art and Architecture
Healthcare
Engineering
Computer programming
Business administration
Economics
Data analysis
Each category has subcategories, so if you're interested in computer programming, you can search for courses dedicated to computer forensics, full stack development, or software testing.
After you've shortlisted the available courses in a specific subcategory, you can explore different course providers. EdX offers a plethora of classes created by instructors who are working for the world's leading universities.
Hence, you can attend a course developed and approved by Harvard University, MIT or NYU. Besides lectures and programs created by higher education institutions, edX also hosts programs designed by IT companies.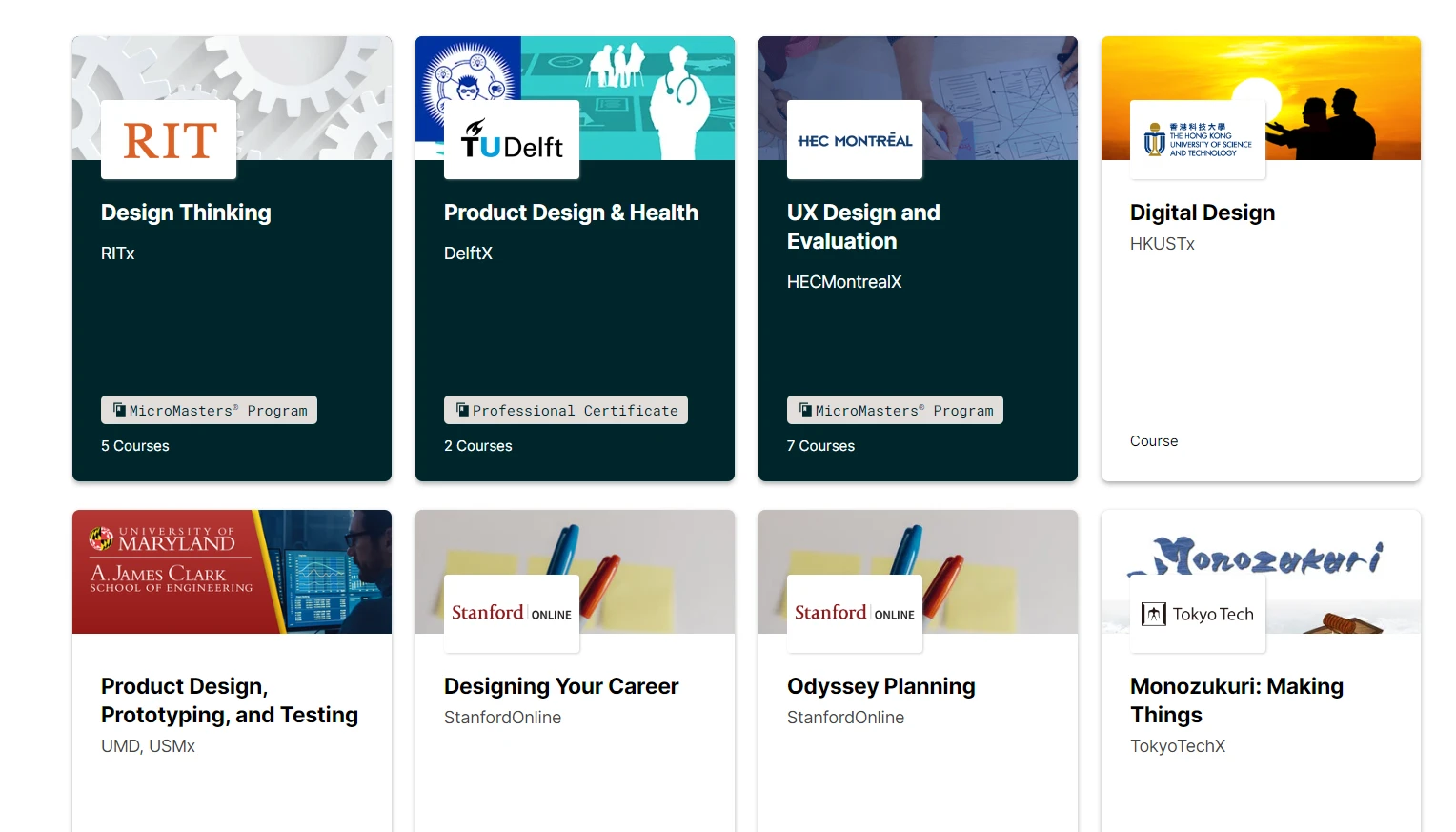 Types of edX Certifications
As I pointed out earlier, the Audit Track option is available for all courses you can find on the edX platform. Auditing an online class gives you access to all course materials, but you won't receive certification upon course completion.
Hence, you need to opt for the Verified Track version of a specific course to take the final exam and obtain a certificate you can present at job interviews.
A sequence of three or more courses dedicated to a specific subject is called a program, and currently, you can choose from several edX certification programs:
Professional certification programs – These programs are aimed mostly at professionals looking for career advancement opportunities.
X-series – Dedicated to students who'd like to dive deeper into topics they're already familiar with, X-Series programs usually have high enrollment requirements.
MicroBachelors programs – Obtaining a MicroBachelors certificate can help you get on a specific career path or get into a university undergraduate program.
MicroMasters programs – Students interested in pursuing a master's degree can obtain a MicroMasters program certificate from a university where they want to complete their master's studies.
Enrollment Prerequisites and Course Duration
I think the edX platform is a great place to start learning about a field you don't know much about because it hosts a broad spectrum of introductory courses.
These courses don't have enrollment requirements, although keeping up with the syllabus can be difficult if you're entirely unfamiliar with the topics the course covers.
Hence, attending several additional classes related to the specific topic is often necessary to prepare for the introductory course you're interested in. Intermediate and advanced classes featured in professional, X-Series, and MicroMasters programs often have many enrollment prerequisites.
The average duration of a single course spans two to eight weeks, so obtaining the edX's Verified Track certificate can take up to two months. Most certification programs last for eight to twelve months and feature a series of courses you can complete at your own pace.
EdX also offers a variety of instructor-paced courses and programs that require students to submit assignments and take exams within a specific timeframe.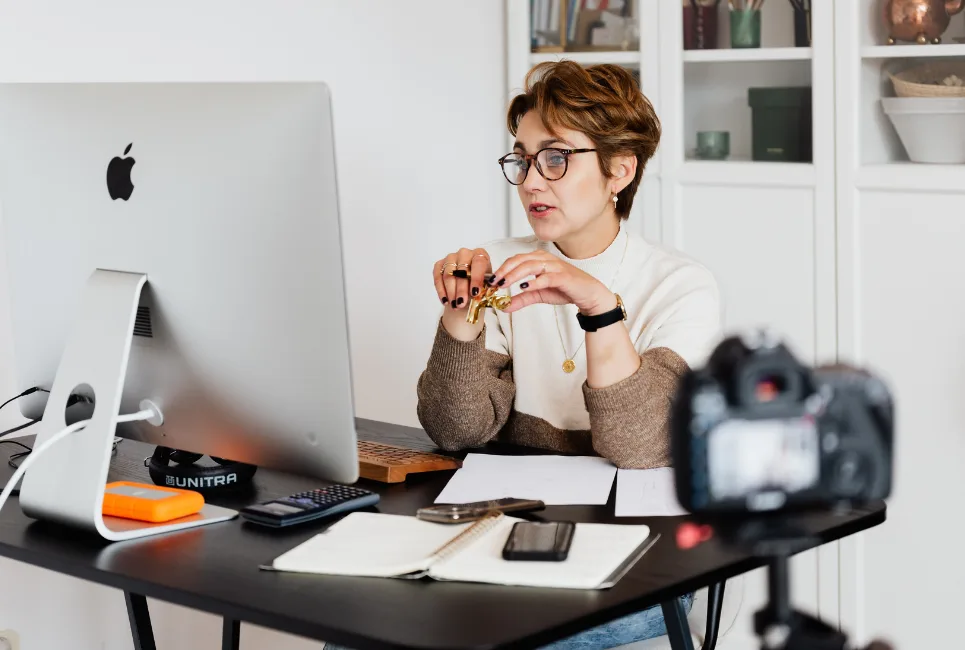 Employment Opportunities
EdX is an online education platform that doesn't guarantee employment to its members. However, its verified course certificates can help showcase your skills and competencies to potential employers.
Attending one of the project management courses could help you progress to a managerial role or prepare you for undergraduate or master's studies in this field. The platform provides access to courses that assist students in gaining the skills they need to work in fast-growing industries.
Even so, edX doesn't provide career orientation assistance, and you'll have to choose a career path on your own. While attending a course or a program at this e-Learning platform, you can discuss the learning materials or specific topics with instructors on the course's discussion forum.
The Cost of edX Certifications
Prices of courses you can attend through the edX platform vary, so the least expensive options cost around $50. The Verified Track version of some courses can cost up to $300.
Purchasing an entire professional or X-Series certification program is often more affordable than buying each course within a program separately. Completing one of these programs or the platform's MicroMasters and MicroBachelors programs can cost between $200 and $2,000.
The platform offers discounts and promo codes for courses that allow its students to enroll in a certification program at a lower price. Also, edX provides financial assistance to students who cannot afford one of its X-series, Professional, MicroMasters, or MicroBachelors programs.
Selection Criteria
My primary goal during the selection process was to identify certification programs suitable for learners who'd like to familiarize themselves with a particular subject and students with a deep understanding of a specific field.
I eliminated Verified Certificate options from this article because they're obtainable through the courses featured in different certification programs. I also considered options in all price ranges to allow you to pick the program that fits your budget.
The program's duration, the quality of the learning materials, and the instructors' credentials were also among the factors I relied on while choosing the platform's best certificates.
Top 9 edX Certificates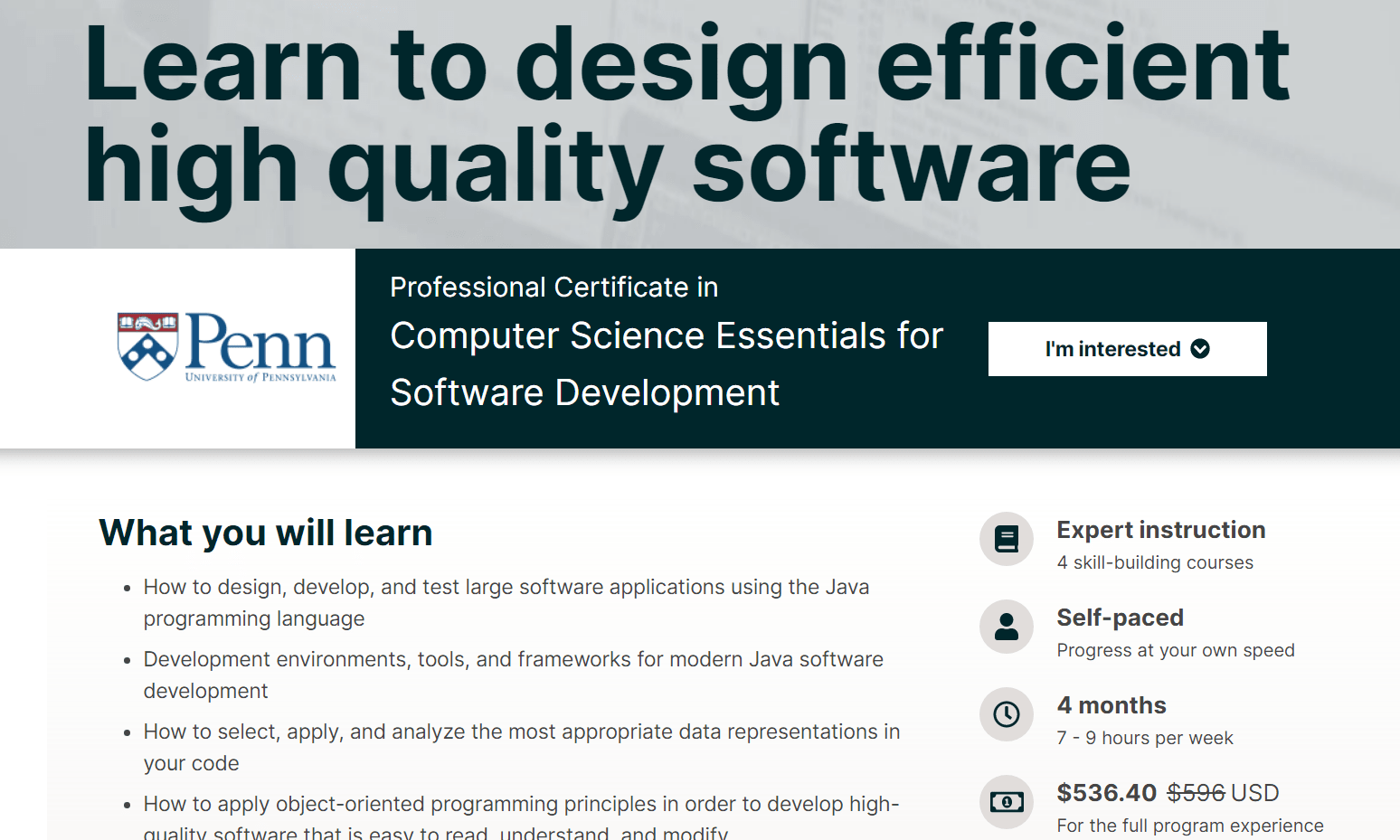 I think enrolling in the Computer Science Essentials for Software Development program might be overwhelming if you don't have a programming background or understand the basic principles of control flow or variable types.
This professional certification program contains four one-month self-paced courses. You can choose how much time you delegate to these courses every week, but you'll have to spend a minimum of six hours weekly to complete the program before it expires.

Computer Science Essentials for Software Development | Edx
Gain the systematic knowledge required to be a software developer. In this professional certificate program, you will learn essential computer science concepts for software development ranging from the fundamentals of object-oriented programming to using efficient algorithms to design high-quality software.
Enroll Now
We earn a commission if you click this link and make a purchase at no additional cost to you.
Pros
This course is created by one of the world's leading higher education institutions
It prepares students for a career in a young and exciting industry
Learners gain hands-on experience by solving theoretical problems
Cons
It has high enrollment requirements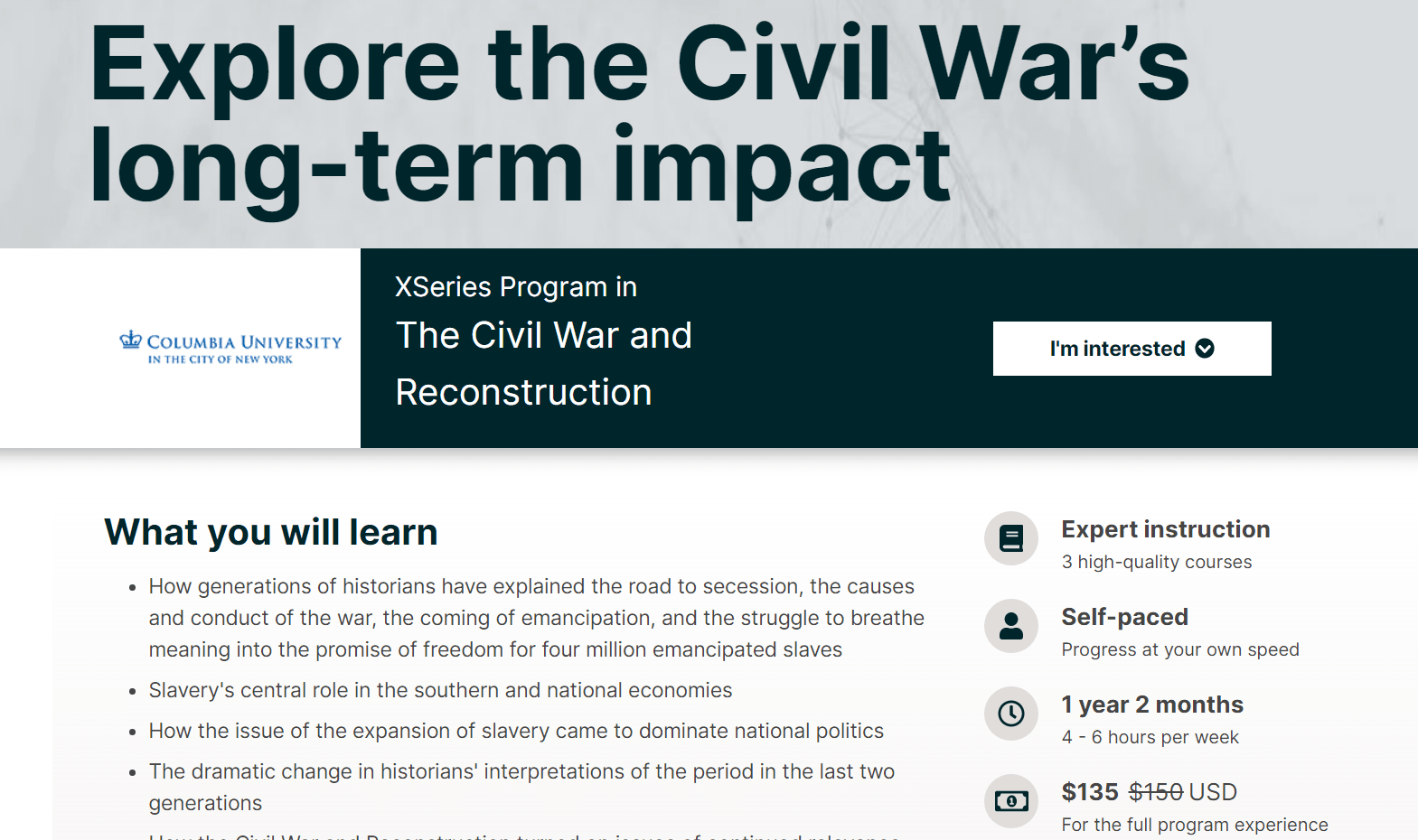 History students or anyone interested in humanities can benefit from Columbia's The Civil War and Reconstruction X-Series certification programs.
The syllabus covers a forty-year period and explores subjects like slavery, the role of women in the Civil War, and socio-economic factors in the American North and South. The program lasts more than a year and features three courses that take 16 to 20 weeks to complete.
The participation fee is affordable, and purchasing the entire program is slightly less expensive than buying each course separately.
Pros
The course instructor is a leading authority on the Civil War period
It helps students accelerate their studies
An affordable fee
Cons
It doesn't provide learners with practical experience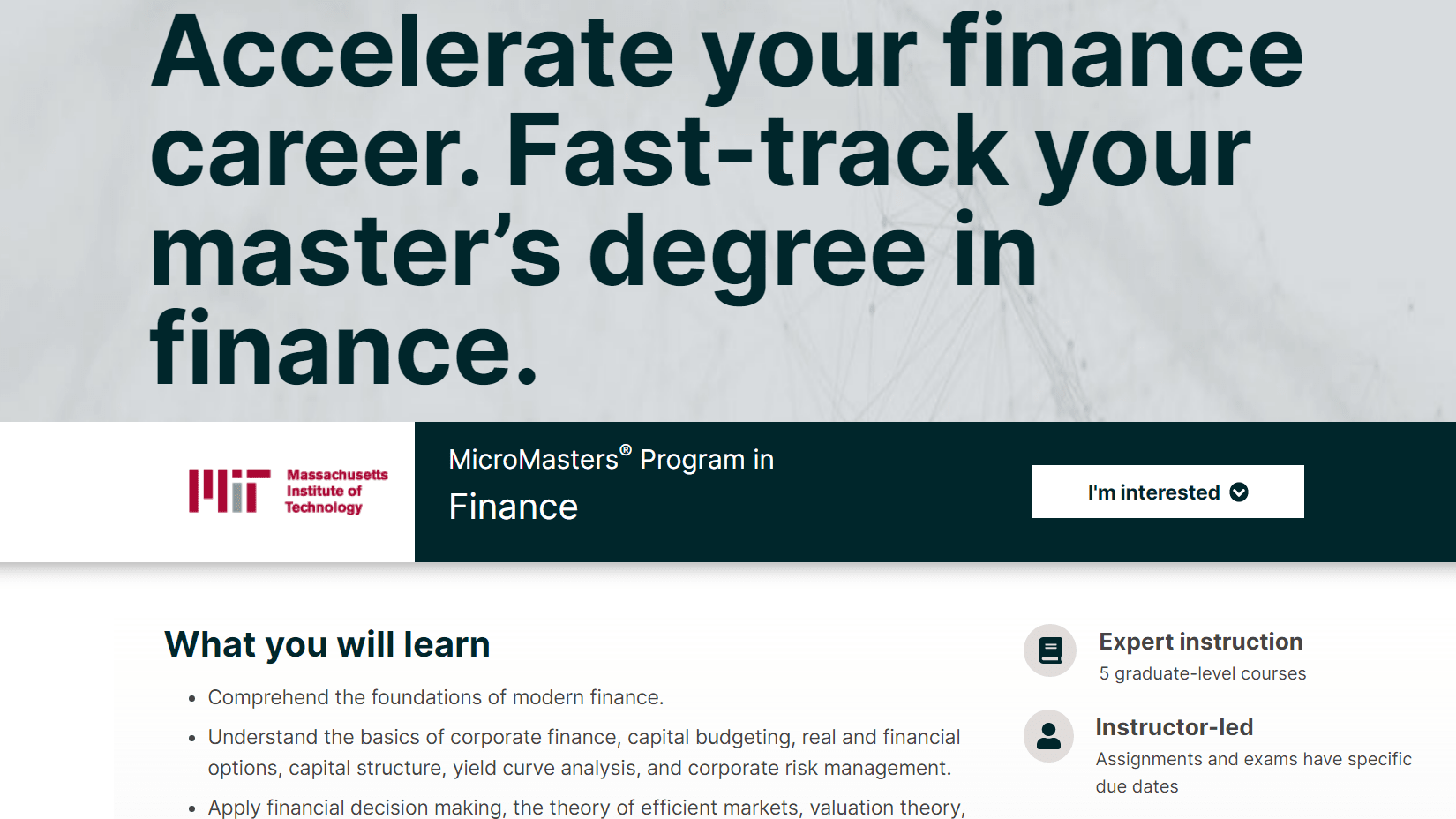 Enrolling in MIT's Finance MicroMasters program will give you access to a wealth of resources you can use to embrace the latest practices in this field. Also, you'll have the opportunity to attend lectures created by six MIT teachers, all senior members of the university's staff.
Moreover, completing this program enables you to apply for master's programs at universities worldwide, including the University of San Francisco, Rochester Institute of Technology, and Riga Technical University.
MicroMasters Program in Finance | Edx
The skills and expertise required for a career in finance are in high demand across countless industries. From asset management, to corporations, to official institutions, the career opportunities for qualified finance professionals continue to grow and evolve.
Enroll Now
We earn a commission if you click this link and make a purchase at no additional cost to you.
Pros
Students are required to master the R software
All assignments and exams are graded
Completing this course improves the learner's position in the job market
Cons
This program lasts for more than a year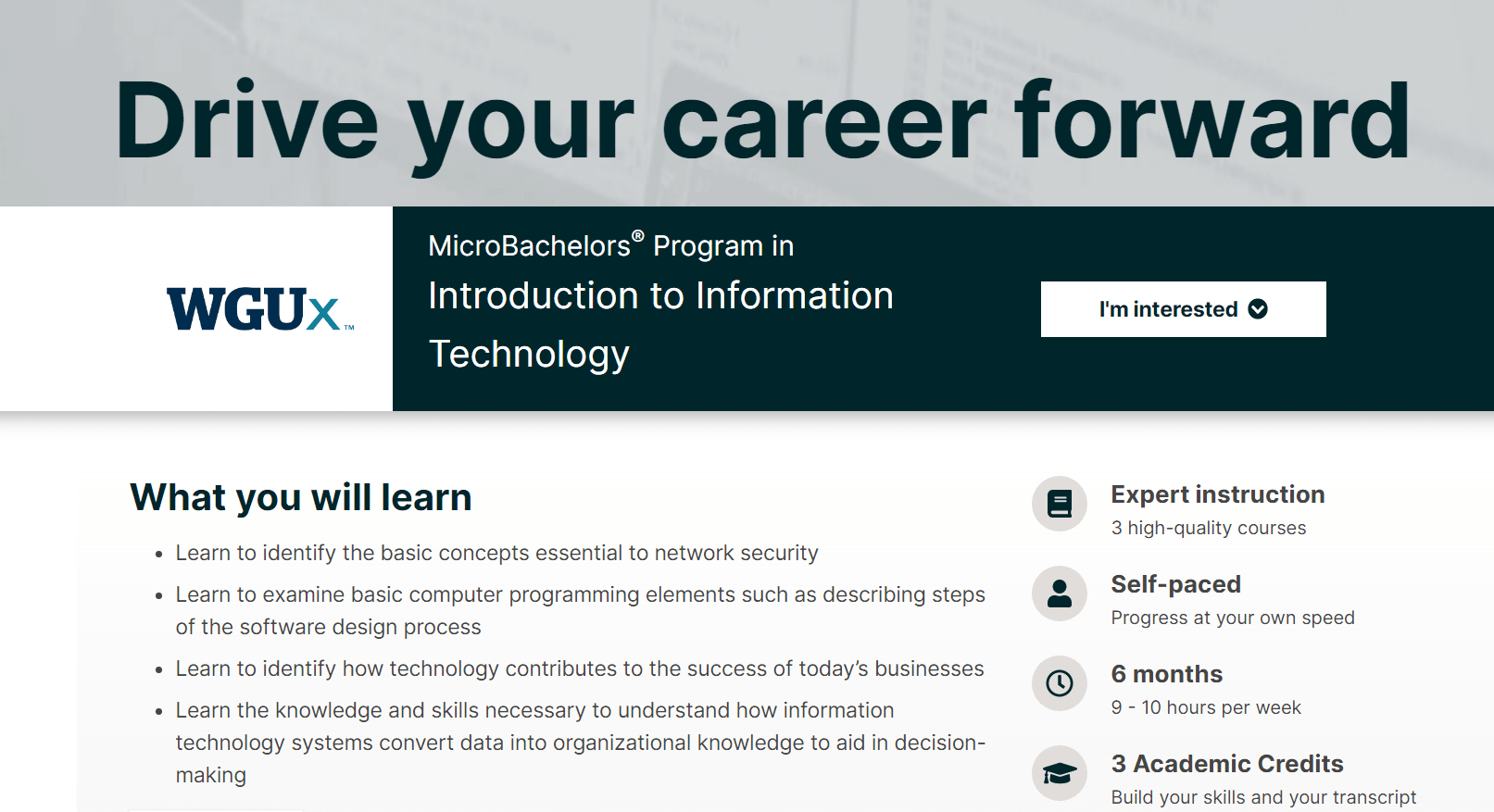 Dedicating ten hours per week to the Introduction to Information Technology MicroBachelors program for six months will make you eligible to apply for IT programs offered by higher education institutions in the United States or abroad.
The best part is that the program doesn't have enrollment requirements, and you can attend it even if you only have vague scripting or programming knowledge. One of the program's most significant advantages is, in my opinion, that it equips learners with the skills they need to get a job in the IT industry.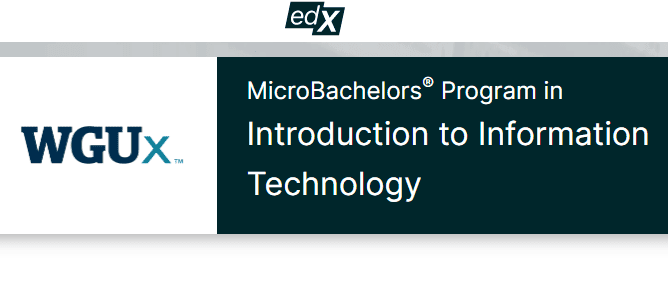 Introduction to Information Technology | Edx
Advance your information technology (IT) skill set by completing Western Governors University's (WGU) MicroBachelors Introduction to Information Technology program certificate.
Enroll Now
We earn a commission if you click this link and make a purchase at no additional cost to you.
Pros
Learners receive academic credits
Each of the program's courses is self-paced
It helps students get business analyst or web scripting positions
Cons
You cannot obtain a certificate if you don't pass all final exams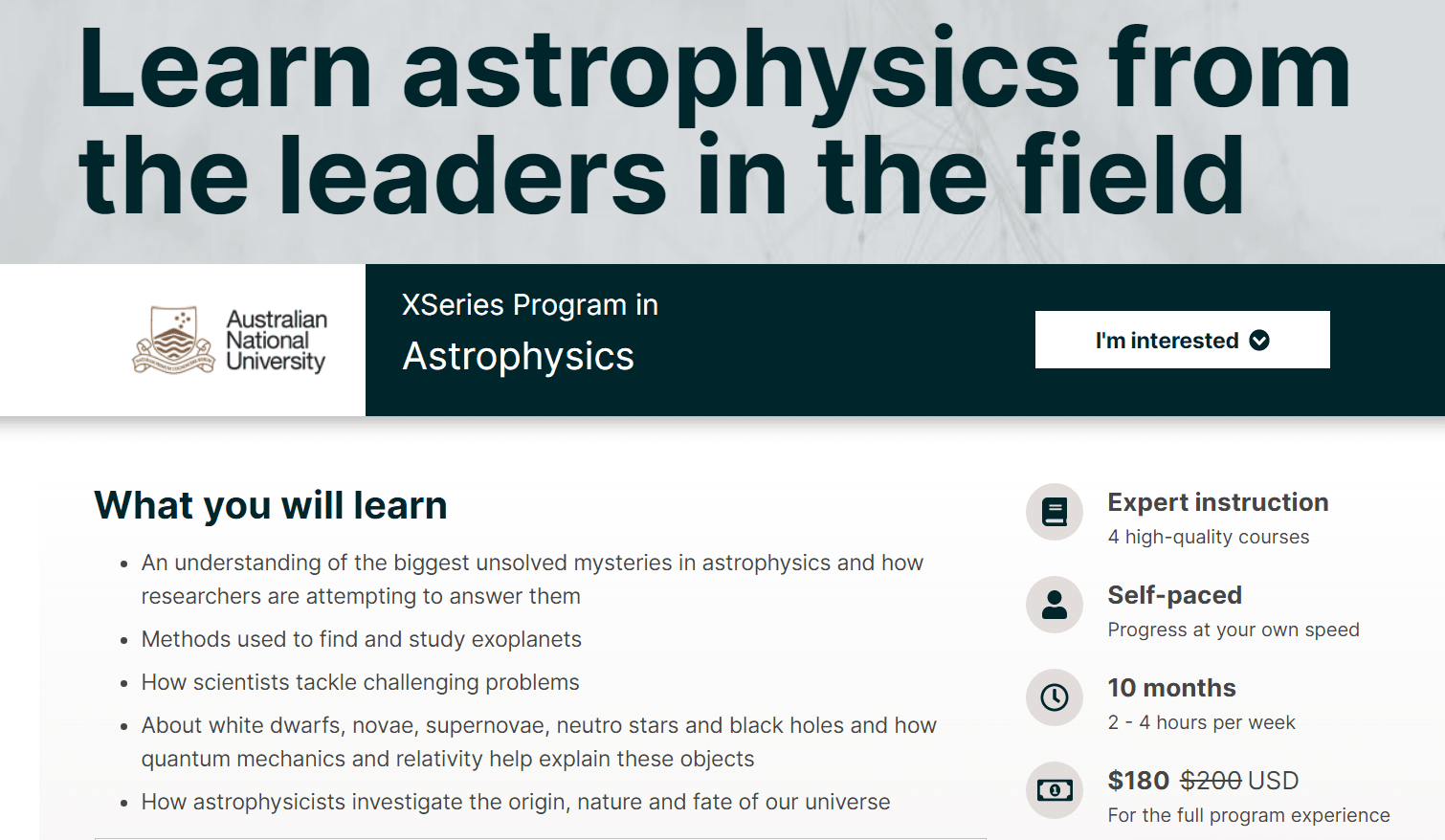 The main reason I included the Australian National University's Astrophysics X-Series certification program in this article is to demonstrate the diversity of learning options the edX platform offers.
Although it explores subjects like exoplanets, black holes, or cosmology, the program doesn't have high enrolment prerequisites. Hence, you can complete it even if your understanding of mathematics and physics is at the high school level.
The program lasts ten months, but you can complete it much faster if you dedicate eight to ten hours to it every week.
Pros
Learners develop skills applicable to a variety of industries
It's ideally suited for young people who are still searching for a career path
This program is inexpensive
Cons
Obtaining this certificate doesn't have an immediate effect on the student's career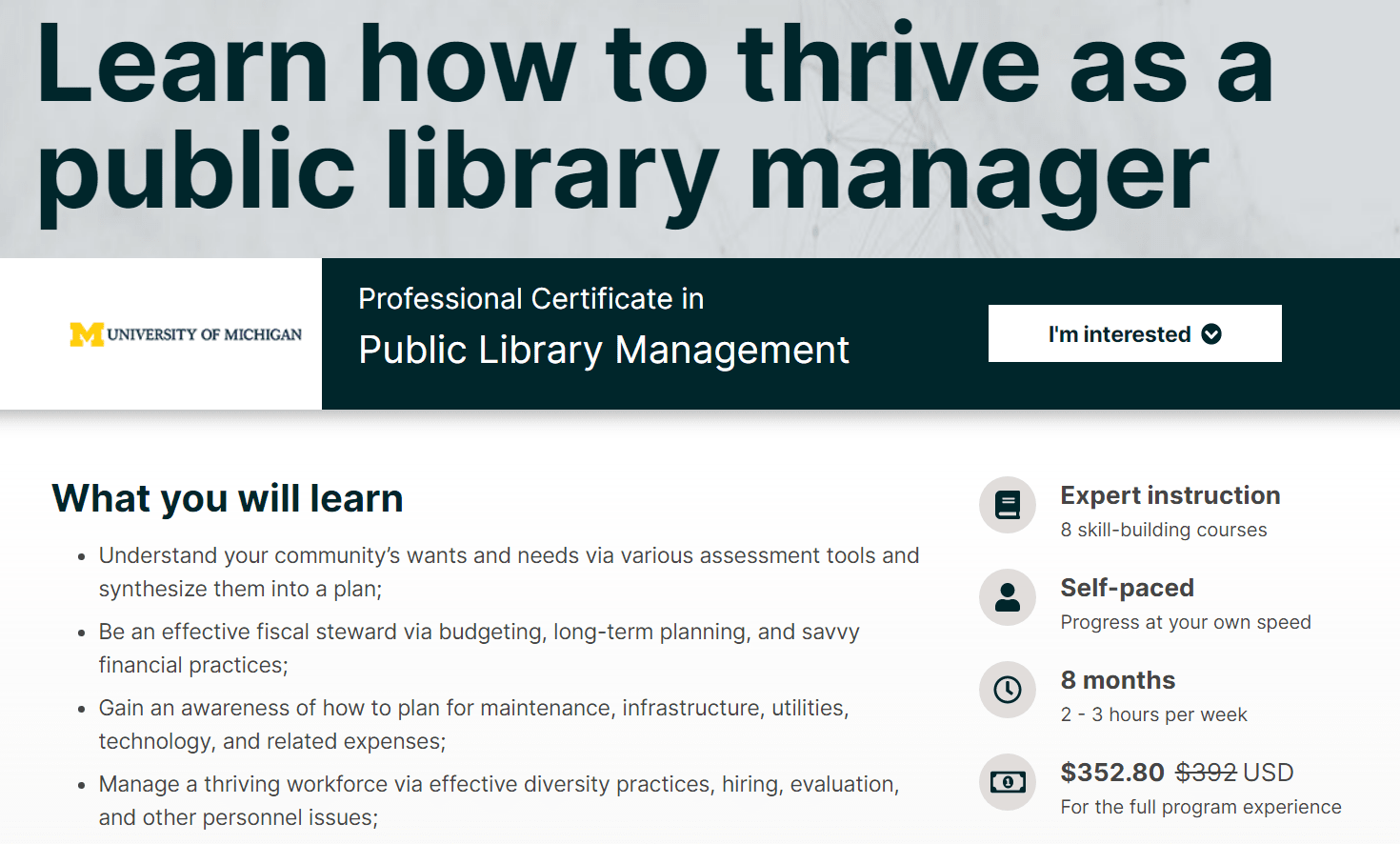 Aside from being a part of a public library community and having basic Excel skills, you don't have to meet any other conditions to enroll in the Public Library Management program. You'll have to complete eight courses in eight months to obtain this professional certificate.
Also, during this period, you'll learn to apply for grants and run crowdfunding campaigns or limitations created by different federal and state laws. This program prepares learners to assume managerial positions in public libraries.
Pros
Several public libraries endorse this program
All instructors have years of public library management experience
It helps participants get managerial or director positions
Cons
The program is aimed mainly at professionals who are already working at a public library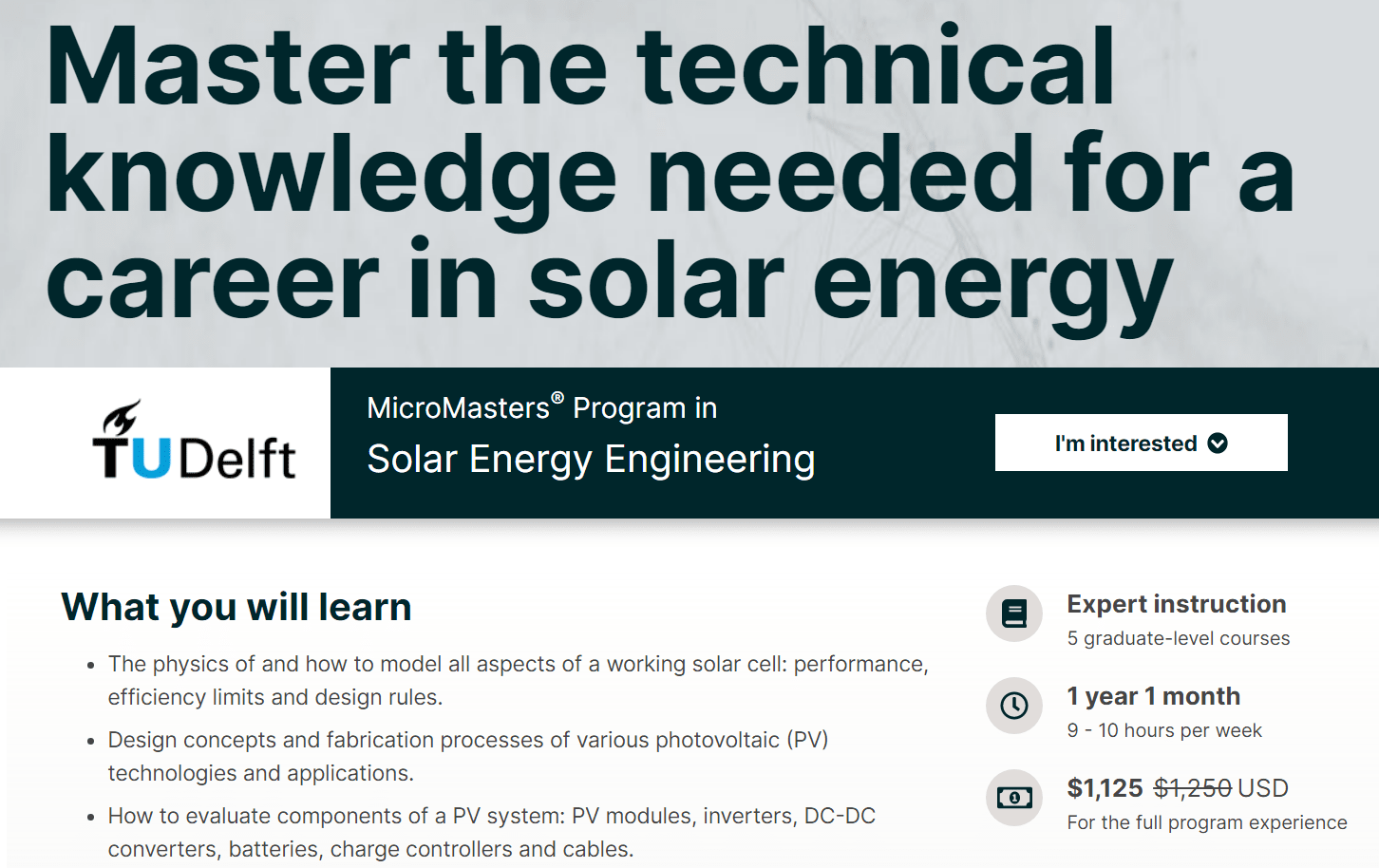 I recommend taking a closer look at the Solar Energy Engineering MicroMasters program if you already hold a Bachelor's degree in Engineering or Science and you're interested in launching a career in the renewable energy industry.
This 13-month-long program focuses on the latest photovoltaic technologies and teaches students to build photocells. Obtaining this certificate will improve your career outlook and enable you to work with fossil fuel companies to transition toward clean energy.
Pros
Learners can continue their education at TU Delft after completing the program
Participants work with accomplished teachers
Lucrative career opportunities
Cons
The program has high enrollment requirements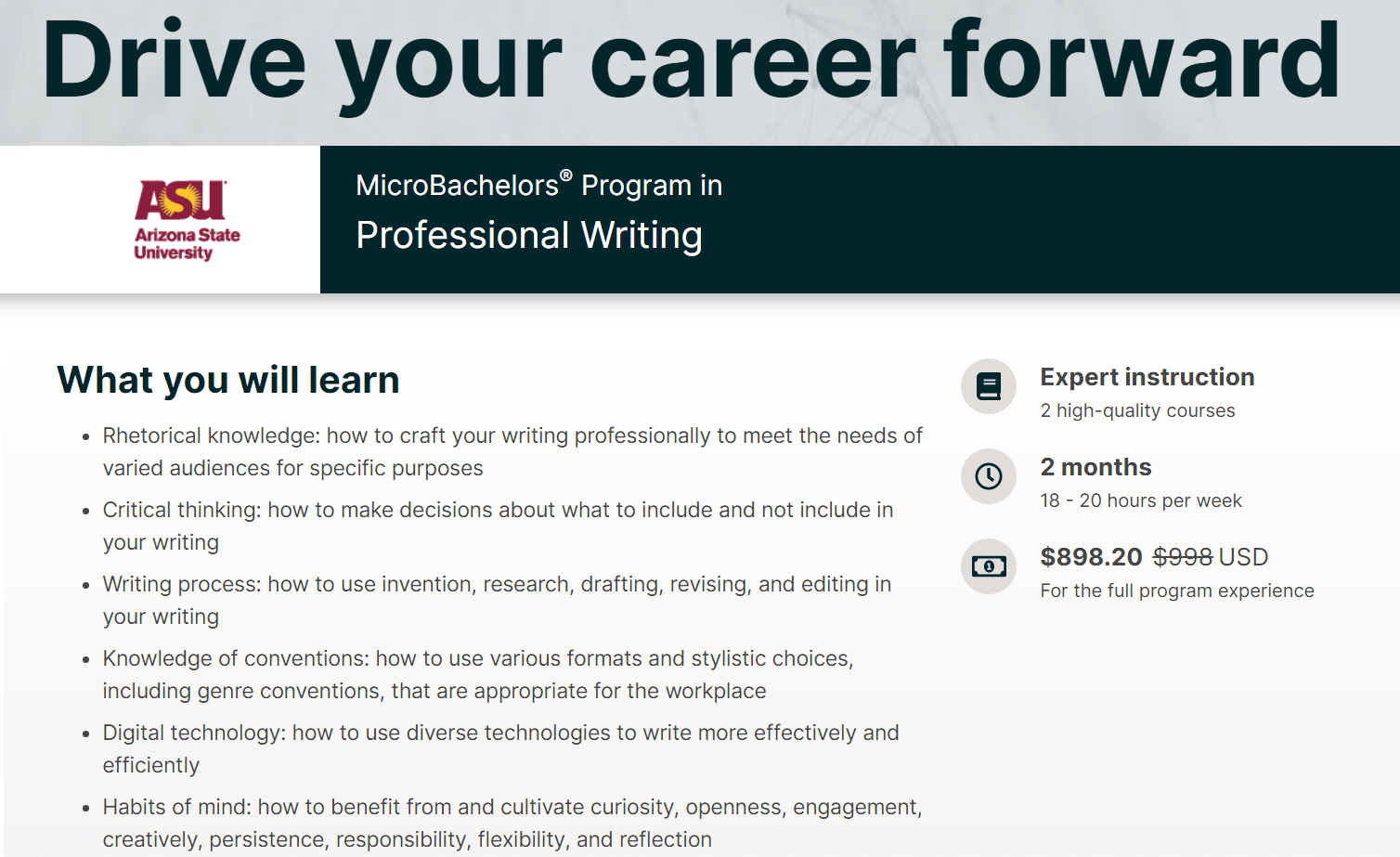 As a professional writer, I understand how difficult it is to find your voice or even put your ideas on paper. Going through the Professional Writing MicroBachelors program will help you polish your writing, improve grammar and teach you basic editing techniques.
The instructors assist participants in mastering genre conventions and show them how to utilize their research skills to improve their understanding of the topic they're covering. The program requires a high engagement level, as students can't choose their learning schedule.
Pros
It prepares students for the challenges they'll face as professional writers
Participants go through all stages of the writing process, from drafting to editing a text
Anyone can enroll in the program regardless of how much writing experience they have
Cons
The program is available sporadically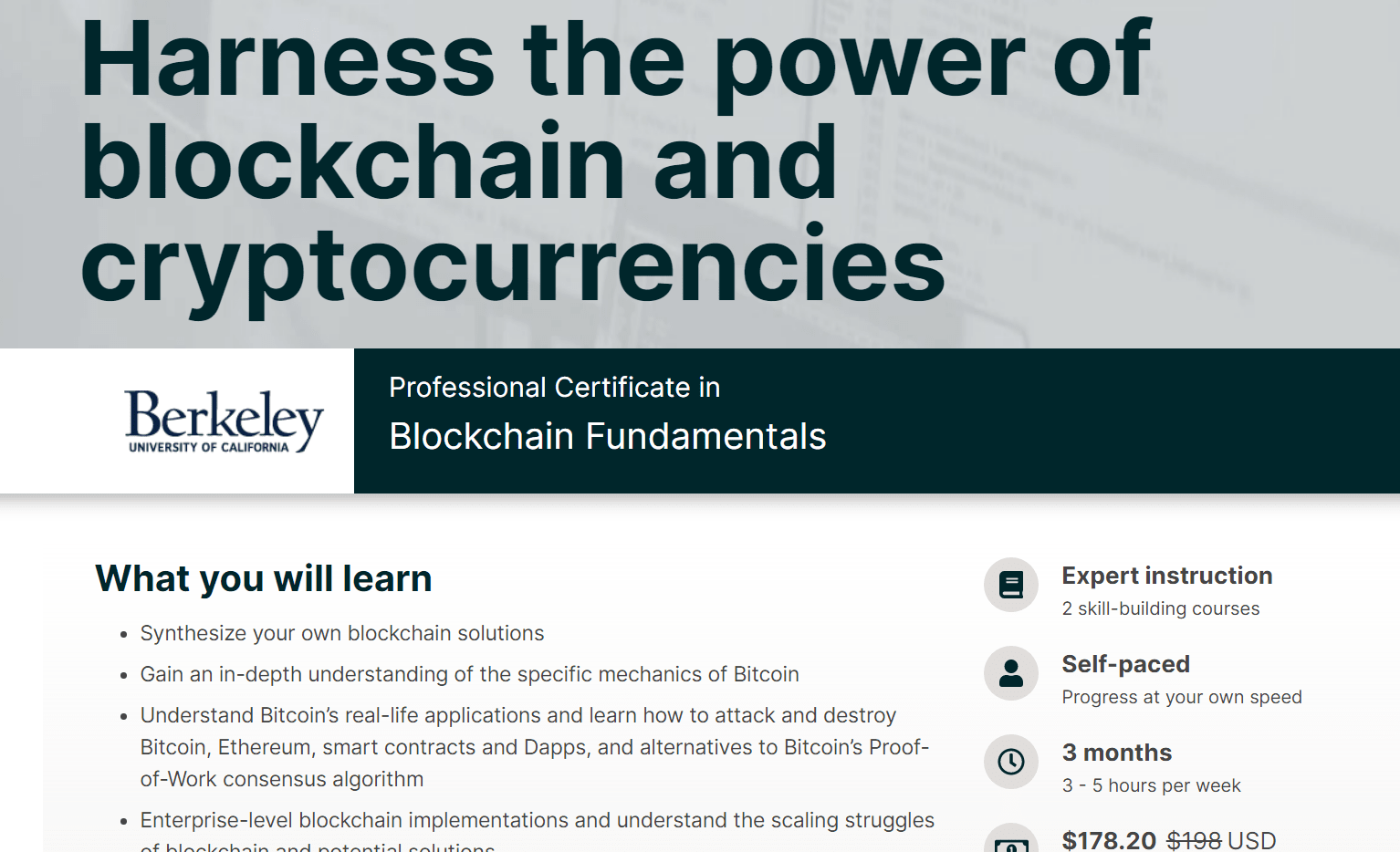 I think joining one of the fastest-growing industries on the market is an excellent career move. Enrolling in the Berkley's Blockchain Fundamentals professional certification program is the first step you can take toward this goal.
The program starts from the history of cryptocurrencies and takes you through the technical details of bitcoin networks. You'll also learn the basics of bitcoin mining and gain information about Blockchain implementations like Quorum or HyperLedger. After completing this program, you'll have the necessary skills for an entry-level position in the crypto industry.
Pros
The program lasts for just three months
Excellent learning materials
Low enrollment fee
Cons
Students need basic coding and cryptography skills to attend this program
Frequently Asked Questions about edX Certification Crograms
Question: Do I have to pass all exams to get an edX certificate?
Answer: You cannot get an edX certificate if you don't pass the final exam. You'll have to retake a course if you fail one of the exams included in a certification program.
Question: Does edX offer bachelor's and master's degree programs?
Answer: Yes, the platform has a variety of master's and bachelor's degree options.
Question: Are all edX certification programs in English?
Answer: Besides programs in English, the platform also features programs in French, Spanish and Chinese.
Final Thoughts: How to Find the Best edX Certificate?
I had only a vague idea of what I wanted to learn when I first joined the edX community, but in time, I realized I can use the platform to move forward in my career. EdX's certification programs played a significant role in my professional success because they allowed me to acquire new skills.
So, a MicroBachelors program like Introduction to Information Technology can be an excellent option for high school graduates who'd like to take a leap year before they enroll in a university.
On the other hand, programs like MIT's Finance or TU Delft's Solar Energy Engineering are designed for students who already have a clear view of their career path.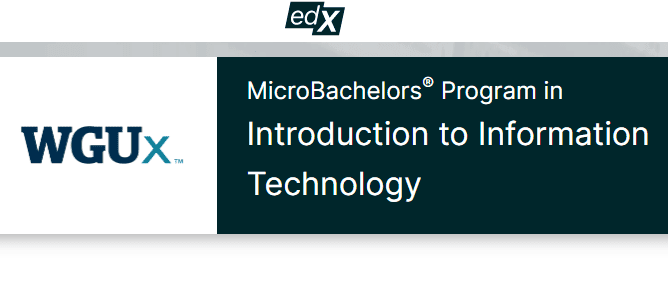 Introduction to Information Technology | Edx
Advance your information technology (IT) skill set by completing Western Governors University's (WGU) MicroBachelors Introduction to Information Technology program certificate.
Enroll Now
We earn a commission if you click this link and make a purchase at no additional cost to you.
Read also: