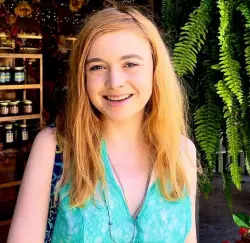 Latest posts by Erin Jamieson
(see all)
The Main Differences Between DataCamp vs Coursera
The Main Differences between DataCamp vs Coursera are:
DataCamp offers courses and tracks in STEM fields, whereas Coursera offers courses, online degrees, and certificates in a large variety of fields.
DataCamp has three subscription options for individuals, whereas Coursera is a free access platform but prices tracks and degrees separately
DataCamp offers projects for every course, capping depending on your subscription plan, whereas Coursera offers peer feedback, projects, and course assessments as paid features
DataCamp is all self-paced video lectures, whereas Coursera offers self-paced and scheduled learning
If you're like me, you've often considered shoring up your skills with new courses; for many, that means taking advantage of new promotions offered through learning platforms like DataCamp and Coursera.
Now more than ever, learning platforms are offering reduced cost or even free trials of courses in software, training, and data. With so many stuck at home and unsure what the future holds for their careers, skills like machine learning, healthcare analytics, cloud computing, and IT are all in demand.
Still, these skills are not always the easiest to learn, and amidst the promotions, I wondered if companies like DataCamp and Coursera can really help someone learn effectively at home.
In this review, I'll be taking a look at the most in-demand courses on DataCamp and Coursera and tell you which platform I most recommend.
Which is Better: DataCamp vs Coursera?

DataCamp and Coursera both stood out to me as two of the most popular platforms for IT, software, programming, and related fields. But as popular as they seem, I wondered how well the courses were designed, how user-friendly the platforms were, and if they are truly worth the time and money.
I'll tell you my first and final impressions on the factors I think are most important for any learning platform, but especially those focused on STEM fields.
What is the main appeal to DataCamp vs Coursera?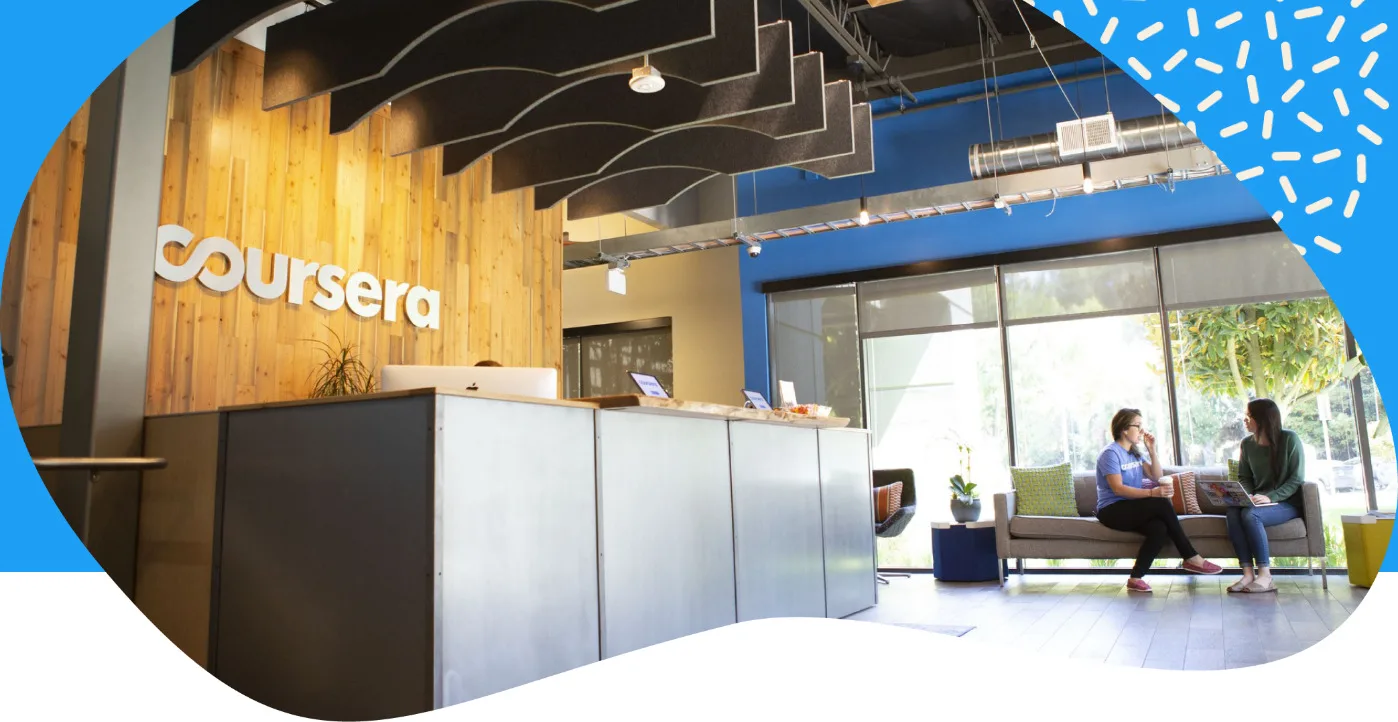 I started by taking a look at how DataCamp vs Coursera is being marketed. A company's marketing techniques and mission statement give you an idea of what their focus is, the main reason someone might sign up, and a first impression.
DataCamp claims that it's "the smartest way to learn data science online," and markets its flexible learning, projects with real-world applications, and accessible platforms for both individuals and businesses. They do heavily also hint that taking their courses could help with your job performance.
Coursera instead touts its connection with colleges and universities. While the majority of users may know Coursera for certificates, they also market their degrees (more on this later) and suggest that enrolling in courses can improve skills, help prepare for in-demand careers, and assist small businesses through "on-demand training" and "professional development."
My Takeaway: Coursera is more focused on establishing credibility with its ties to universities, though some of its advertising can be a little misleading. DataCamp, meanwhile, struck me as more niche and targeted on data science alone, though there is less mention of expertise or credentials.
How expensive are subscriptions on DataCamp vs Coursera?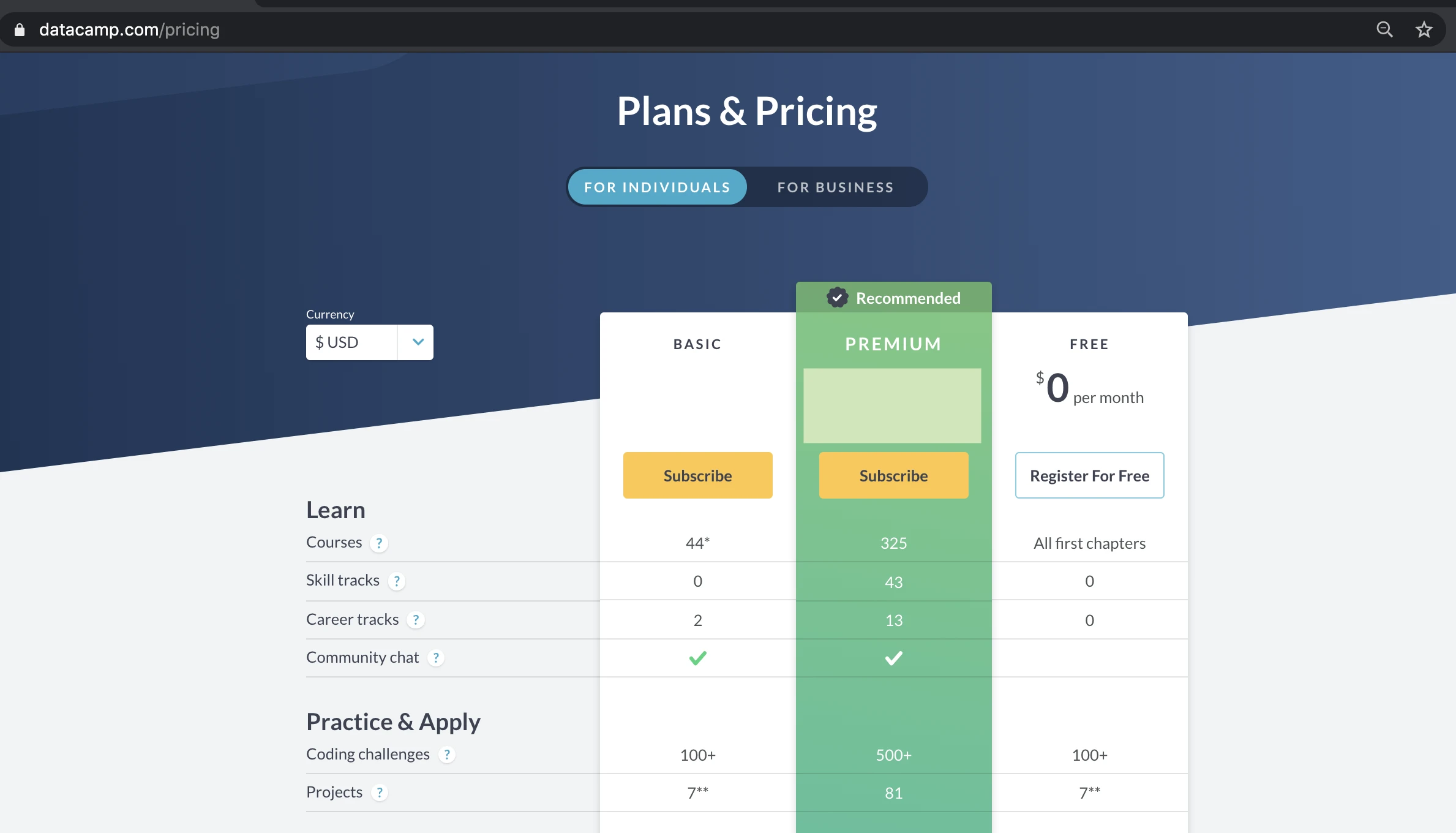 The cost will always be a factor when it comes to comparing learning platforms. While I always look at overall value, it's also good to know upfront how pricing and plans work.
DataCamp offers three plans for individuals, as well as a professional ($300.user/year) and enterprise plan for teams. Individual plans include:
Free: As the name suggests, this is free of charge. The free plan, however, is pretty limited and not overly useful. You have access to the first chapter of any course, seven projects; one skill assessment, and coding challenges.
Basic: In my opinion, the upgrade to $25/ month is well worth it. With a basic plan, you now have access to 44 full courses, two career tracks, unlimited skill assessments, and a community chat feature.
Premium: You pay just over $12/ month, but you have to sign up for at least a year. With the membership, you now have access to 334 courses; 14 career tracks; 43 skill trades; 82 projects, and what they call priority support.
Coursera turned me off when it comes to pricing. Unlike DataCamp, where you can easily access all information and details, Coursera requires you to first log in, with the misleading claim that learning is free.
The real story? Coursera does offer courses for free, but any 'specialization course' has a cost per month. Prices vary and can be as low as $30/month or up to almost $80/month
While many courses are free, the cost can add up quickly if you sign up for more than one paid course. Since these are all priced individually, you could wind up with expensive monthly payments, or disappointed.
Features like graded assignments, mentoring, and other learning tools are not offered for free and require monthly fees
My Takeaway: Not only is DataCamp more transparent, but it could also be far cheaper. Certainly, there are free courses on Coursera, but if you do want any paid features, DataCamp is going to save you a good deal of money.
What courses can I take with DataCamp vs Coursera? And what should I know about them?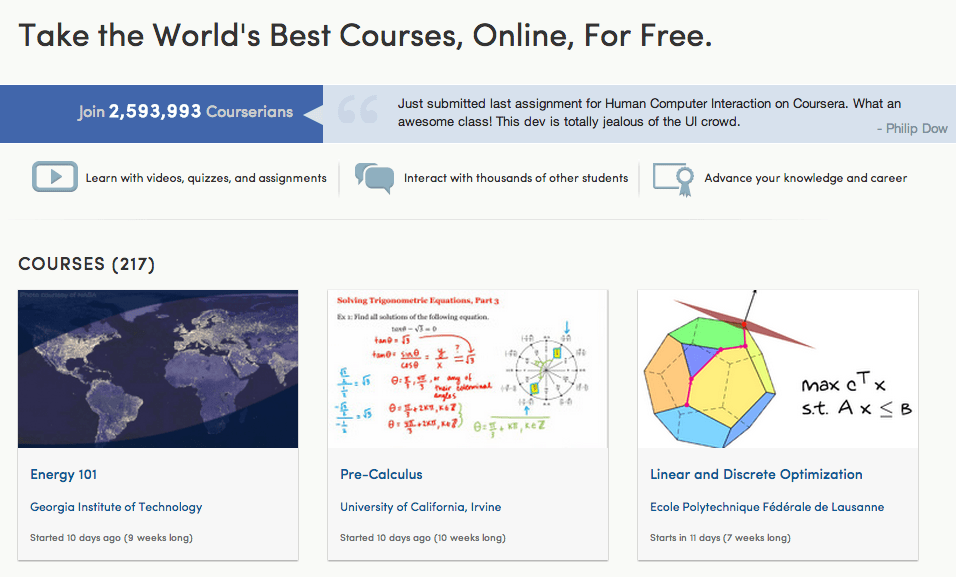 I immediately noticed that DataCamp has a smaller course catalog, though that is not inherently a negative thing. DataCamp has under 500 courses to select from, while Coursera offers over 2000 courses.
Both platforms offer offline learning and mobile learning through apps.
DataCamp offers learning through courses, career tracks, and skill tracks.
Courses are individual lessons you can take and consist of video lectures and exercises. Topics include, but are not limited to: data engineering, programming; data manipulation; applied finance; probability and statistics; and management. Specific technology courses include Python; SQL; Git; Shell; Scala, Tableau, and spreadsheets.
Career Tracks allow you to take a set of courses together that are designed towards a specific objective. These include areas such as Data Engineer, Data Analyst, and Machine Learning Scientist.
Skill Tracks are the same concept as career tracks, in that you take a curated sequence of courses, only these are geared towards mastering a specific skill, such as Applied Finance, Text Mining, and Statistics Fundamentals.
Coursera offers regular courses, online degrees, and specializations. In all these, the number of areas is vast. General categories include, but are not limited to Arts and Humanities; Business; Computer Science; Data Science; Information Technology; Math and Logic; Personal Development; Engineering; and Language Learning.
Courses are open source, video lectures and are mostly free, but you do have to pay for assignments, feedback, and other features.
Online Degrees are offered in partnership with universities and colleges. Colleges are all accredited, and in order to earn an online degree, there are application processes and deadlines. Degree courses consist of modules and can take several years to complete, as well as tuition for what you might typically expect. An MBA, for instance, will cost $21K.
Specializations include professional certificates (as opposed to certificates of completion) and typically take a few to several months to complete.
My Takeaway: If you are looking outside of STEM fields, Coursera is your only option of the two. From browsing the courses and how everything is arranged, I find DataCamp by far more organized and intuitive if you're looking for an open-source course. As for the online degrees, they do appear to be offered through reputable colleges, but I questioned if it made sense to pursue an online degree through Coursera vs simply through a college (non-profit, accredited) offering online learning.
How do the instructors compare on DataCamp vs Coursera?
Before enrolling in any course, especially through an online learning platform, I highly recommend investigating who'll be teaching you; the more details, the better.
DataCamp has profiles for all of its just under 300 instructors. Each course links you to the bio which is a brief paragraph about the instructor's background, as well as links to other courses they teach. However, I noticed some of these bios were quite vague, with titles such as "Data Scientist at Data Camp" rather than a list of degrees or industry experience.
Coursera also offers a profile for its instructors, most of which are employed at a college or university. This includes a brief bio, but also credentials, including experience and degrees.
My Takeaway: I was left far more impressed and with more confidence for Coursera for the expertise of instruction. DataCamp provides far too little information, whereas Coursera has established professors and instructors.
How satisfied are other students when it comes to courses through DataCamp vs Coursera?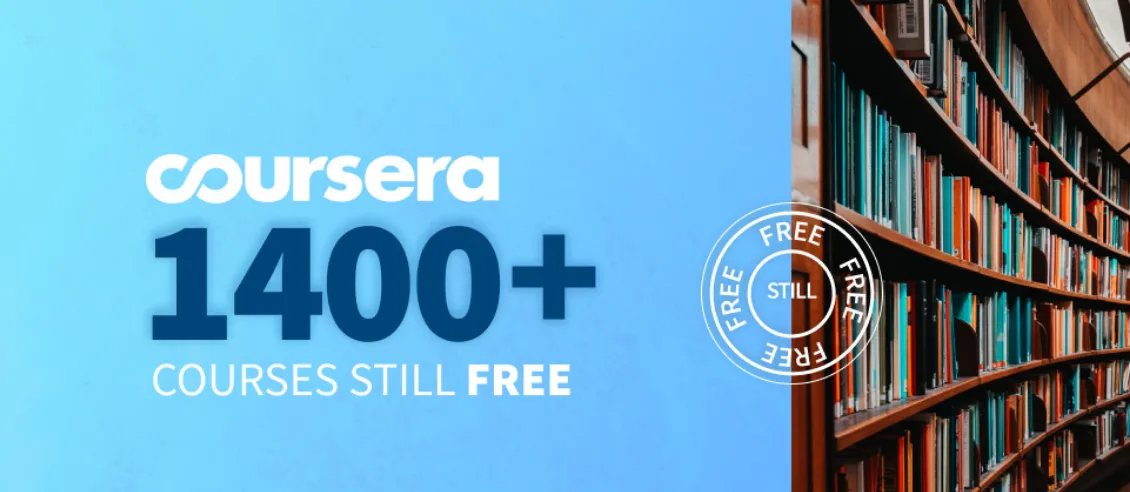 A final check I always like to make before seriously considering learning online is to see how other students and the general business world perceive the company, although my individual experiences can differ, reputation, and track records matter.
Coursera is based in Mountain View, California, and is not Better Business Bureau accredited, which is not uncommon for an online business. However, it has an F rating based on filed complaints.
On Consumer Affairs, Coursera earned just one and a half out of five stars based on ninety reviews, with the majority of students rating it as low as possible. Inconsistent or not transparent pricing, auto-billing, poor customer service, bad experiences with peer feedback, and false advertising were all common complaints.
DataCamp is also not Better Business Bureau accredited, and it has a better but still worrying C plus rating.
Across three different customer sites, the company earned an average of four out of five stars. Most students felt the courses were easy to follow, intuitive, but also not very advanced and did not go into as much depth as they hoped.
My Takeaway: There's a clear winner here, but I wouldn't say I'm super impressed with Datacamp, either. Though DataCamp avoided the especially troublesome concerns associated with Coursera, it also is not the best platform available.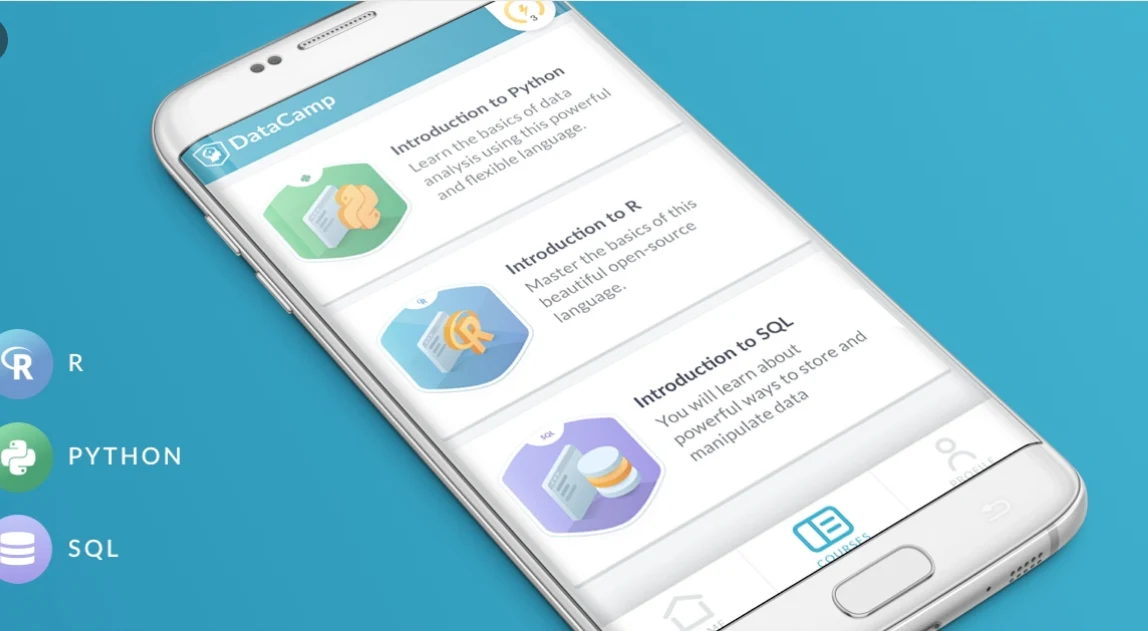 Frequently Asked Questions
Why is Coursera so expensive?
For the most part, Coursera is not expensive at all, but a free platform. However, when it comes to specialization courses, you will have to pay. Subscribing to one specialization is not excessively expensive, yet since they are priced separately, signing up for many at once could truly add up
Does DataCamp give certificates?
One thing I always like to caution is that certificates from online, free access platforms (those that don't lead to a professional license or degree and are open to all) are not necessary. That is, while it does provide a record of completion, these certificates can't replace a more formally recognized education. DataCamp seems to recognize the false advertising of certificates and instead offers statements of accomplishment to track what courses you've completed.
Does
DataCamp
help you get a job?
DataCamp, as is the case with Coursera, is meant for general personal or professional development. Both learning platforms offer the opportunity to enroll in high demand courses, such as in the fields of software, development, IT, and business. That said, it's important to emphasize taking these courses does not guarantee a job. I look at them as ways to explore new ideas, develop new skills, and give you a leg up, but many employers may be seeking a formal degree or professional certificate.
Is DataCamp good for data science?
Data science is one of the leading industries on the rise, with some outlets projecting continuous exponential growth in the foreseeable future, so I understand why this is a popular query. If you like DataCamp as a platform, both data science and Python are among their most popular, and perhaps vetted courses. I consider it a good starting point if you're just getting into data science, but I don't think the platform is optimal if you've already been in a data science field for some time.
How can I download videos from DataCamp?
DataCamp offers offline learning, which can be completed by downloading video lessons. In order to download lessons, you'll first need to sign up with an account, then select "view chapter details" under the lesson you're interested in. From there, you can select individual slides and exercises using the download icon, or a set of chapters at once.
Can I put Coursera on my resume?
Technically you may place a course on your resume from Coursera, but there are a few caveats. Since it won't be a professional certificate or certified degree, I think it's best to be completely transparent about what the course was. As long as you're honest about it, I'd recommend putting it on your resume or cv, so long as it's relevant to the job you're applying to. If it's not, leave it off.
Do employers care about courses from Coursera?
This question is along the same lines as the previous one. It really depends on the employer in question whether or not taking a course will help you. Some will require more formal education. If you take an accredited online degree, this is a different situation than enrolling in one of their general courses.
Do
Coursera
certificates expire?
Coursera certificates can expire depending on your payment and completion. In other words, you need to complete a course and make the payment under the proper window. Otherwise, you may be forced to make an additional payment to retrieve your certificate. In addition, a few programs through Coursera, such as specialization programs, do have some deadlines in order to earn a certificate.
Do colleges accept Coursera courses?
As you can imagine, no college or university will accept credit for Coursera or DataCamp courses. However, it's possible that some colleges will take such courses into at least some consideration when it comes to trying to get into a program and general admissions. While not the same as earning credit, completing these courses could make you stand out in terms of skills, as well as initiative. As an educator myself, I know that online courses require a different degree of dedication and independence than a typical classroom setting.
Final Recommendation: Take Courses through DataCamp over Coursera, but consider an alternative
Coursera has far too many concerns for me to seriously consider. DataCamp is less expensive and a better choice, but if I want to learn something like coding, I think I could find a better alternative.
Where to sign up: If you're interested in enrolling with DataCamp, you can shop for their subscription plans here. I recommend going with the basic option. The free option offers too little features, while the premium requires a long term commitment.
Are you looking for an alternative?
EdX is not accredited, but boasts an A-plus rating, partners with universities, and has a larger learning community for a large selection of courses. They also offer online degree programs, making this platform a great alternative to Coursera. See a review of the company here.
Further reading: