Passing the GRE test without investing countless hours of hard work is very very difficult, but Magoosh and Manhattan GRE online prep courses enable you to work smarter instead of harder than other students. Our Mahoosh VS Manhattan GRE comparison is hopefully going to help you pick the option that allows you to do just that.
The availability of learning materials, knowledge assessment tests, or the flexibility of the study schedule are just a few aspects you'll need to consider while deciding between Magoosh and Manhattan GRE.
You can also choose how long you want the GRE prep course to be so that you can pace your progress and get ready for the exam in time. Online learning may complement your offline efforts to prepare for GRE and provide the extra push that'll ensure a few additional points.
All these factors can make the Magoosh VS Manhattan GRE choice difficult, so in this article, we are going to provide you with all the info you'll need to reach a sound decision.
Main Differences Between Magoosh VS Manhattan GRE
The main differences between Magoosh vs Manhattan GRE are:
Manhattan GRE offers online and in-person courses, whereas Magoosh only offers online courses
Magoosh GRE has the collection of 1200 test prep questions, whereas Manhattan GRE's test question database contains more than 100.000 questions
Manhattan GRE lets you choose between complete and, verbal only or just math courses, whereas with Magoosh GRE you must take an entire course
Magoosh GRE allows you to take three practice tests, whereas Manhattan GRE enables you to take up to six full-length GRE practice tests
Manhattan GRE has 77 video lessons, whereas Magoosh GRE grants you access to 250 video lessons
Magoosh GRE guarantees a +5 score increase, whereas Manhattan GRE offers no such guarantee
Manhattan GRE doesn't predict GRE test results accurately, whereas Magoosh GRE's score predictor gives a realistic assessment of your performance
Magoosh GRE offers the money-back guarantee, whereas app payments you make on Manhattan GRE are non-refundable
What is Manhattan Prep?
Over the course of the last twenty years, Manhattan Prep established itself as one of the leaders in the test preparation market. The platform gives you the opportunity to work with their accomplished educators towards reaching your academic goals.

You can take the following test prep courses at Manhattan Prep:
Moreover, you can choose if you want to work with a tutor or take the course independently. Testing your knowledge prior to the actual exam is yet another option Manhattan Prep offers. This enables you to estimate how much work you need to put in to get yourself ready for the test you're about to take.
In addition, the platform lets you decide if you want to take a course that focuses on a particular segment of the test or a course that covers all subjects an exam covers.
What is Magoosh?
With a database of 300 million questions and 8 million hours of watched video lessons, Magoosh ranks highly among the best online learning platforms.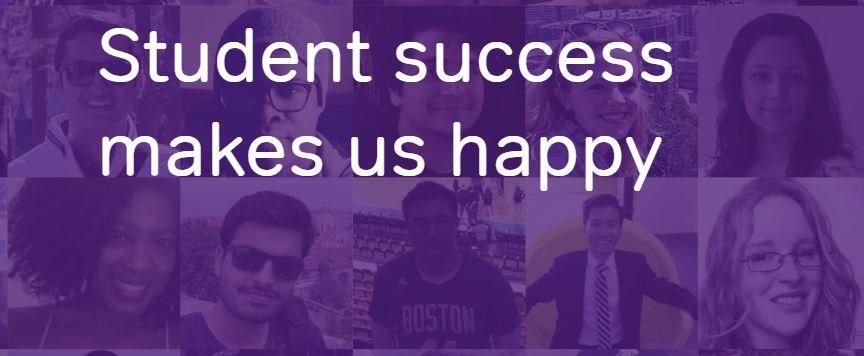 Unlike many of its competitors, including Manhattan Prep, Magoosh doesn't offer tutoring options, although the curriculums of their online courses meet the highest educational standards. The following test preparation courses are available at Magoosh:
IELTS
SAT
Praxis
TOEFL
GMAT
ACT
MCAT
LSAT
GRE
You can complete each of these courses at your own pace and decide if you want the preparation process to last for four weeks or six months. Once you sign up for one of these test prep courses, you will get a guarantee that your score is going to go up for at least five points.
Although both Magoosh and Manhattan Prep let you take full-length preparation tests several times, Magoosh won't allow you to take any of these tests more than three times.
Manhattan GRE – Main features
There is a variety of prep options available so that you can choose the one that falls in line with your needs. Manhattan GRE lets you pick one of the following courses:
Foundations of GRE math
Complete course
On-demand
GRE for MBA
Private tutoring
Just math course
For instance, the Foundation of GRE math course will get you access to the GRE 5lb Book of Practice Problems, and the AfterMath syllabus that enables you to continue developing your skills after the workshop.

If you choose to enroll in the full course, you will have the opportunity to attend 66 interactive video lessons or choose from the pool of 100,000 practice problems. However, most of these problems are simple, and they don't resemble the questions you'll be facing on the GRE test.
Even so, you'll be able to use vocabulary flashcards or watch on-demand classes that cover all essential segments of the exam.
Besides the 5lb Book of GRE Practice Problems that includes more than two thousand problems and solutions, you will also use GRE Math Strategies and GRE Verbal Strategies books during the course.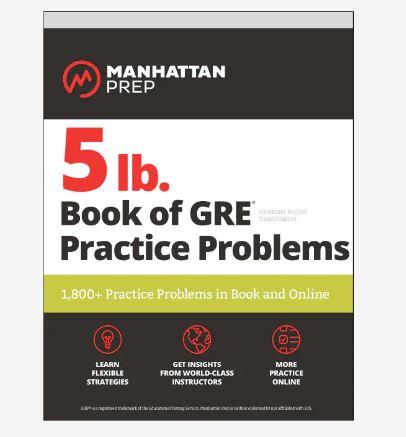 Each of the interactive lessons and video explanations the course includes is designed to facilitate the learning process and to improve your understanding of a particular topic.
The number of seats in each class is limited, which ensures that you can receive the attention you need and participate in the lectures actively. It is worth noting that the platform's data analysis capabilities leave much to be desired since their GRE test result projections often seem unrealistic.
Magoosh GRE – Main features
In addition to giving you the freedom to study for GRE at your own pace, Magoosh GRE also allows you to choose the duration of the GRE prep course. The platform doesn't provide the option to take just verbal or math classes, which means that you are going to be covering all segments of the GRE test.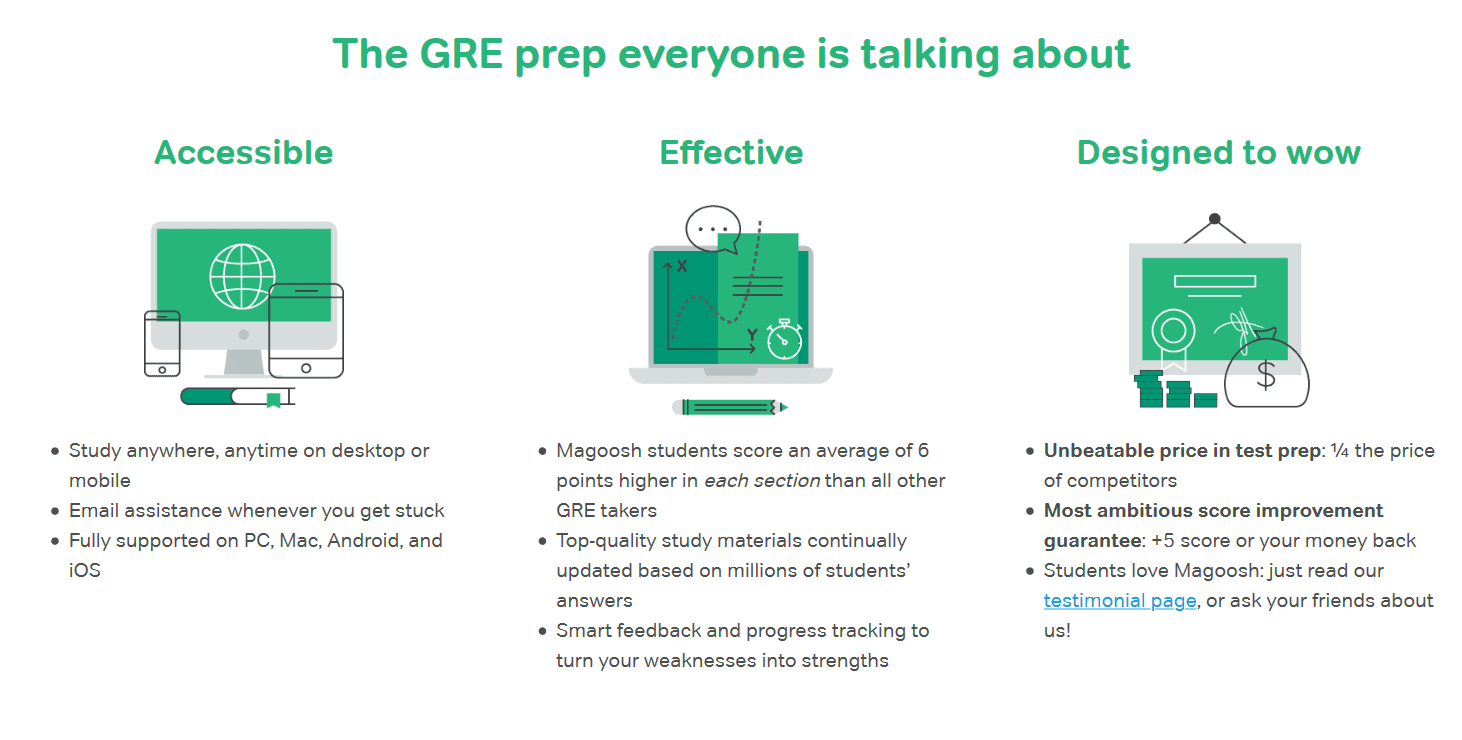 Magoosh GRE's question database contains only 1200 questions, but these questions are more difficult than those on an actual GRE test. Encountering complex problems while preparing for GRE is much better than encountering a difficult question you're not ready for during the exam.
The questions have both text and video explanations that provide you with the correct answer that ultimately improves your knowledge and readiness to take GRE.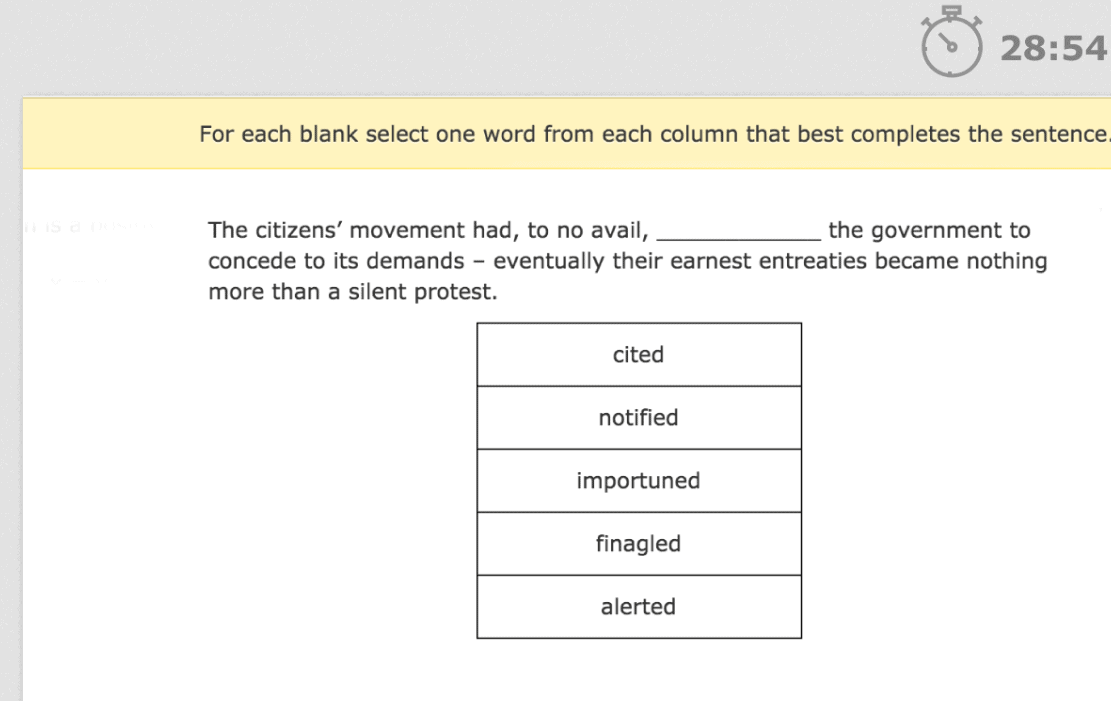 You can take up to three timed preparation tests that have the same duration as the real GRE test at different stages of the preparation process. In this manner, you will be able to evaluate your current level of knowledge and to get familiar with the conditions under which the test is taking place.
The score predictor enables you to monitor your performance at all times by showing you how well you would perform on GRE based on the answers you already provided.
The fact that 18 students who attended Magoosh GRE scored a perfect result at GRE speaks volumes about the effectiveness of this test preparation platform. You can read our full Magoosh GRE review at this link.
Magoosh VS Manhattan GRE – Mobile apps
Finding the free time in your schedule to practice for GRE can be challenging, which is why it is vital to make the most of every moment you can dedicate to increasing your chances of passing this exam.
Mobile apps give you the opportunity to keep practicing for the math or verbal sections of the exam, even while you are not at home. The iOS and Android versions of the Manhattan Prep GRE app feature more than a thousand questions that cover all of the most critical sections of the exam.
In addition, the app is equipped with 120 quiz questions that are more difficult than average GRE test questions. The answers to all questions are included, which enables you to learn more quickly and to understand the subjects they refer to better.
The free version of Manhattan Prep GRE has limited features, and you'll only have access to limited progress statistics. Purchasing a one-month, a three-month, or the annual subscription will unlock access to all of the app's features.
Like the Manhattan Prep GRE app, the GRE Prep & Practice by Magoosh app is also compatible with iOS and Android devices. However, you won't have to make in-app purchases in order to use all of their features.
The app prepares you for both math and verbal sections of GRE by allowing you to watch more than 250 video lessons from your Smartphone. There are more than a thousand prep test questions available that come with video and text explanations.
Although both of these GRE test prep platforms have apps that are equipped with large question databases and excellent learning resources, Gre Prep & Practice by Magoosh app is a more reliable choice as your ability to monitor your progress doesn't depend on the subscription plan you have.
Magoosh VS Manhattan GRE – Test preparation process
Once you sign up for the Manhattan GRE, you'll land on the platform's Welcome screen, where you can keep track of the practice tests you've taken or claim your offline GRE test preparation materials.

The platform's interface isn't necessarily modernly designed, but it is still easy to navigate, and it lets you access all of the most important features quickly. The menu on the left side of the screen contains the following submenus:
Starred tasks
Practice tests
Flashcards
Errata
Free resources
Switch syllabus
Reset syllabus
This enables you to download all editions of flashcards or strategy guides in just a few clicks, organize your schedule, or start watching a new video lesson.
Keep in mind that the available options depend on the course you're attending since you won't be able to practice for the verbal section of GRE if you enroll for a Just Math course.
In addition, there are a lot of free events you can attend even if you don't opt for the platform's online or in-person tutoring program.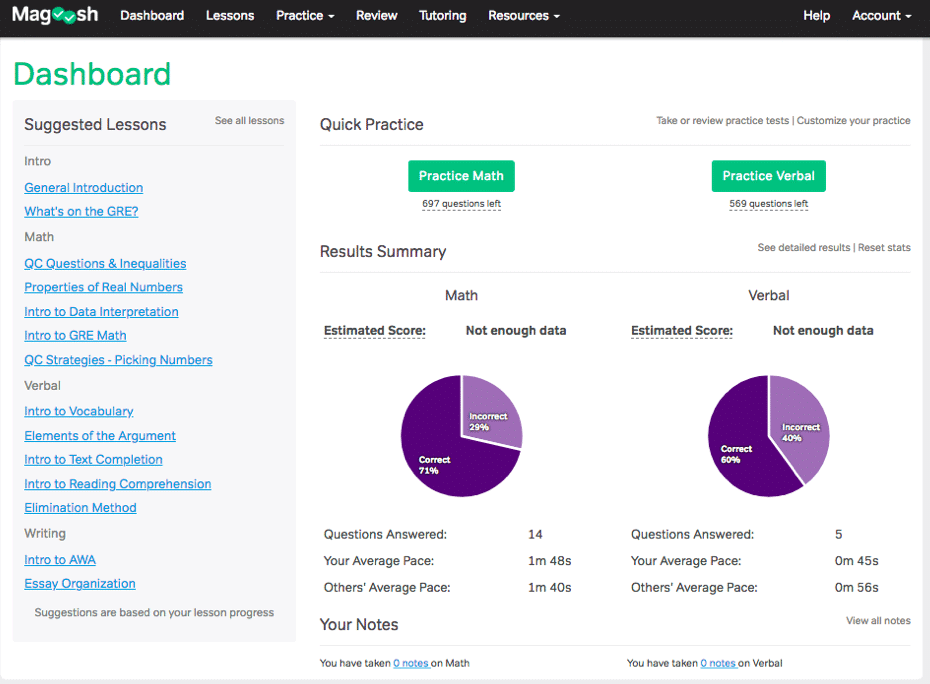 Magoosh GRE's dashboard is better organized and more intuitive than the one you can find on the Manhattan Prep GRE platform. On the left side of the screen, you can find the lessons suggested for you, that are divided into Math, Verbal, and Writing sections.
Clicking on the Practice Math or Practice Verbal buttons will start a new practice session, while your results for each of these subjects are going to be displayed as pie charts in the Result Summary section.
You can also see your estimated score at all times so that you can know how well you would perform at a GRE test at any given moment.
Magoosh GRE offers less offline and online learning resources than Manhattan Prep GRE, and you cannot attend events or workshops that enable you to improve your math and verbal skills.
Magoosh VS Manhattan GRE – Result guarantees
Manhattan Prep GRE doesn't provide guarantees that your GRE score is going to improve after you complete one of their preparation courses. In addition, the platform is not going to issue a refund if you underperform on GRE.
Magoosh GRE, on the other hand, vouches that your GRE score is going to increase by at least 5 points after you complete their preparation course. Most students achieve the result that is six points above the average, as they commonly score around 157 in Verbal and 159 in the Math section.
In case your GRE score doesn't increase by five points, Magoosh GRE will issue a refund, but you won't be able to take another course for free.
It is clear that Magoosh GRE is a more trustworthy option in terms of result guarantees since Manhattan Prep GRE doesn't offer any assurances that you are going to pass the GRE test.
Magoosh VS Manhattan GRE – Customer support

During the GRE preparation process, you may need support to resolve issues that are hampering your progress. Manhattan Prep GRE's student support center features an extensive list of frequently asked questions that provide extensive answers to all common issues students have.
Finding out if the platform ships learning materials to your home country or gathering more information about the technical difficulties you're dealing with shouldn't take more than a few moments of your time.
If you cannot find the answer to your question, you can contact Manhattan Prep's customer support agents through email or via phone. In addition, you can count on the teaching staff to provide assistance with any issues you may have with the course syllabus.

All GRE prep courses you can take on Magoosh GRE are online, hence you won't be able to consult with a mentor. However, resolving technical or payment issues is a straightforward process, as you can reach out to customer support on social media or through email.
However, getting a response may take a while since the platform still doesn't have a live chat option. Manhattan Prep GRE provides better support to its students than Magoosh GRE as finding the answers to most common problems takes a minimum amount of effort.
Magoosh VS Manhattan GRE – Cost of GRE prep courses
There are four different GRE courses available at the Manhattan GRE platform and you can choose between these options:
Each course is priced differently and you can try them for free, although in a limited capacity. The GRE Interact course that costs $349 for one month is aimed at students who want to work on their own schedule while having access to video lessons that are adjusted to them.

All other courses can be attended online or in-person and they are structured to provide support to students who want to work on their math skills, MBA students, or students who want to practice for math and verbal sections of GRE simultaneously.
Consequently, each of these courses is more expensive than the GRE Interact course although they offer a wider range of learning and practice materials. Additionally, you can opt for a 10, 20, or 30-hour tutoring programs that cost $2450, $4600 and $6750.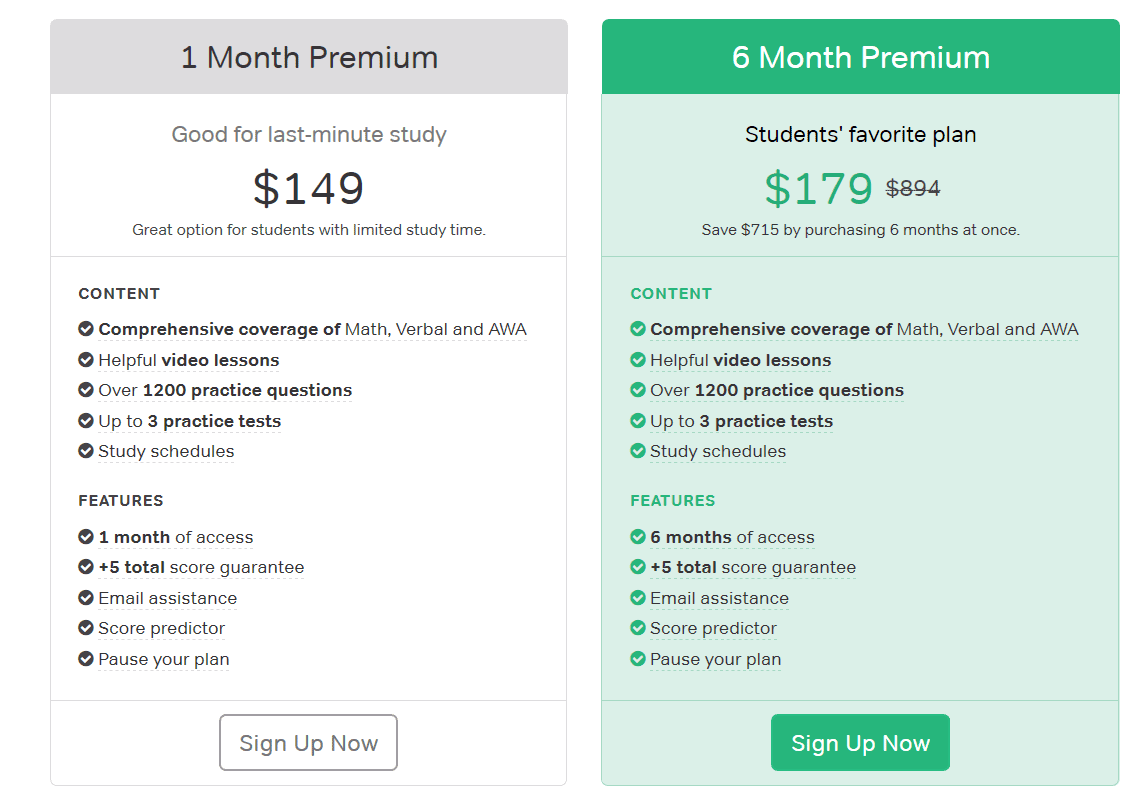 Magoosh GRE is considerably less expensive than Manhattan Prep GRE, as you can get a 6-month premium package for just $179. The 1-month premium package covers all segments of the GRE test, which makes it a great option if you want to check your knowledge in the days leading up to the exam.
The free trial is available for a week, which gives you the opportunity to use the platform before deciding if you want to purchase one of the available courses. Magoosh GRE is a more affordable choice, as you won't have to spend too much money to start preparing for GRE.
You can read our comparison of ChrunchPrep and Magoosh, here.
Magoosh VS Manhattan GRE – Pros and Cons
Manhattan Prep GRE Pros
Features over 100,000 practice questions
Allows students to attend courses in-person or online
Excellent teaching staff
Enables students to prepare just for the math section of GRE
Offline learning materials are included in the price of the courses
Offers six full-length GRE prep courses
Free workshops and events
Up to date syllabus
Manhattan Prep GRE Cons
Expensive
Mobile app requires in-app purchases
Score predictions are inaccurate
No result improvement guarantees
Magoosh Pros
More than 20 hours of video lessons
One-week free trial
Inexpensive
Monitoring your progress is easy
All practice questions have the text and video explanations
The mobile app doesn't offer in-app purchases
+5 point improvement guarantee
Modernly designed dashboard
Magoosh Cons
No offline learning materials
Features just 1200 prep test questions
Offers only three full-length GRE prep tests
No workshops
Frequently asked questions about Magoosh VS Manhattan GRE
How many free lessons does Manhattan GRE offer?
The platform lets you attend up to 15 lessons free of charge and you don't have to continue using it after you go through all lessons.
Does Manhattan GRE ships offline learning materials to my home country?
Manhattan GRE sends their materials to 220 countries, but you much check if your home country is on this list.
Can I attend live-stream classes on Magoosh GRE?
Magoosh GRE's lectures are not live-streamed, although the platform grants you access to 250 video lectures.
Is Magoosh GRE free?
Even though the free trial is available, you cannot use this platform to get ready for GRE without purchasing one of its courses.
Alternatives to Magoosh and Manhattan GRE prep courses
If Magoosh GRE and Manhattan Prep GRE don't meet your demands, you can consider the following options.
Kaplan GRE – The collection of 5000 GRE prep questions, countless hours of video material and highly skilled teaching staff make Kaplan GRE a great option for anyone who wants to boost their performance on the GRE test. You can read our Magoosh VS Kaplan GRE comparison, here.
examPAL – The platform's powerful algorithm shapes the course automatically so that it fits your schedule perfectly. This means that you can study at your own pace and choose how much time you want to dedicate to the GRE test preparation process.
Udemy – Udemy is currently one of the largest online learning platforms, and it is hardly surprising that it offers excellent GRE prep courses. There are hundreds of courses to choose from, so you just have to pick the one that meets your demands. Follow this link to read about the Udemy's and Skillshare's pros and cons.
Conclusion
Achieving a great GRE test result requires adopting the right mindset and the willingness to keep developing your math and verbal skills.
Both Magoosh and Manhattan GRE allow you to accomplish this task by offering the learning and practice materials you'll need to improve your GRE test score.
Students who are searching for inexpensive GRE prep courses should opt for Magoosh GRE's 1-month premium or 6-month premium options depending on how long they want to prepare for GRE.
Despite being more expensive, GRE Interact, 1-month, 3-month, or 6-month courses have better curriculums and they provide a larger quantity of prep questions.
In addition, you'll be able to take the full-length GRE preparation test six times while attending the course, which will give you a clear overview of your progress.
We hope that our Magoosh VS Manhattan GRE comparison has supplied you with all information you need to decide which platform to choose. Leave a comment and let us know if you are going to opt for Magoosh GRE or Manhattan Prep GRE. Click here to find out how Magoosh compares to eGMAT.