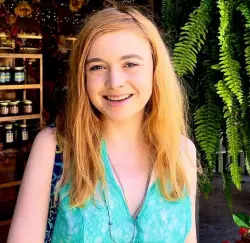 Latest posts by Erin Jamieson
(see all)
When I started preparing for my GRE in 2015, I was lost. There were so many test prep options, from GRE test prep books at Barnes and Noble to constant ads on my browser for private tutoring or test prep platforms like Magoosh. And I started stressing, wondering which was the best test prep option for the GRE.
If you're looking for one definitive plan, study guide, or course to get a great GRE score, I have a secret for you: no one has that perfect answer. I have tried a little private tutoring, free resources, and test platforms, and some things did help more than others. It's just not quite as simple as one program is the best option for all GRE test takers.
My goal for this guide is to share with you, based on my personal experience, other test takers' experiences, and research, the top test prep options online. Each one comes with pros and cons, which I will share, but each test prep option I share will provide accurate practice and help you study and learn how to take the GRE so you can score your best.
Bottom Line Up Front Summary:
If I had to select just one way to prepare for the GRE, it would be through Magoosh Online. These programs are designed to help you deeply understand and master the GRE. You get full-length practice tests, countless questions with explanations, test score predictors, and even a test score improvement guarantee. I like that Magoosh teaches you about the different sections of the exam and provides options for both self-paced study and small group classes.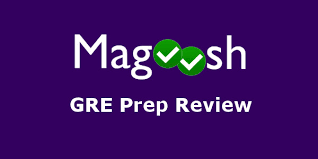 Improve Your GRE Score | Magoosh
Magoosh gets rave reviews from students, many of whom have improved their GRE scores with this flexible and affordable plan.
Find My Perfect Plan
We earn a commission if you click this link and make a purchase at no additional cost to you.
My Top Picks
Magoosh GRE Prep: Best For Self-Study and Group Classes
Varsity Tutors GRE Prep: Best For One-on-One Tutoring
Achievable GRE Prep: Best Adaptive Programming
How I Select the Best GRE Test Prep Courses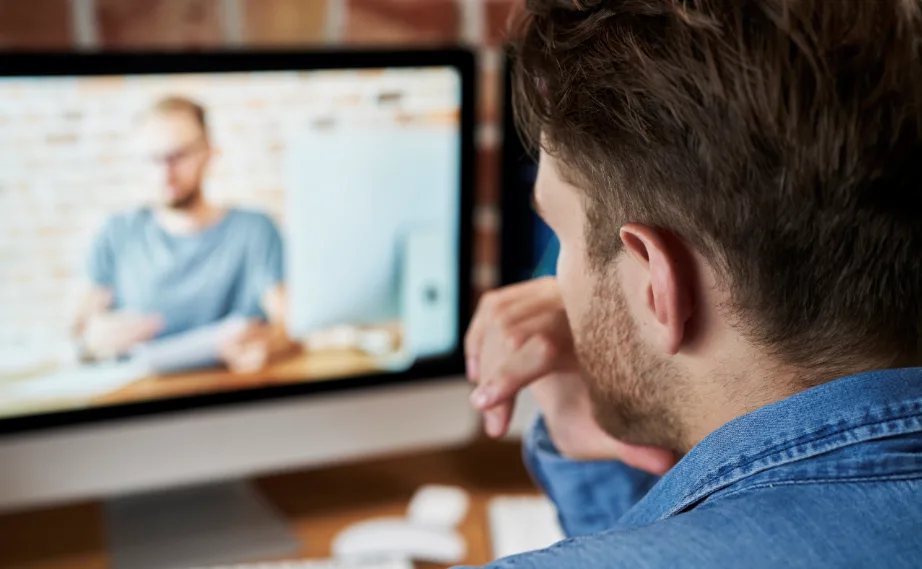 If you've already looked into study plans for the GRE, chances are you're confused, overwhelmed, or a little of both. One of the hardest things in my decision was figuring out a way to study where the cost was worth it.
I took the GRE twice, and the first time I made the mistake and relying too much on a book. To keep you from making the same mistake, or signing up for an ineffective study plan, I have selection criteria to guide you to the best prep resources online.
Practice Questions, Lessons, Tests, and Quizzes
Every GRE study plan needs to practice, and as much as possible. But not all practice tests and questions are the same. I want to see these questions with explanations for answers.
Better yet, I like targeted questions to practice different concepts and skills. Tests should be full-length and include the same sections you'll face on exam day.
Computer Adaptive Technology
Another mistake I made the first time I studied for the GRE was underestimating the importance of computer-adaptive learning. The best GRE test prep options cater to questions to your learning, offer different levels of difficulty, and adapt based on your progress in lesson plans, tests, and quizzes. It's even better if technology is used to make learning less dry, with engaging and interactive materials.
Excellent Studying Resources
At the risk of sounding repetitive, what works best for one person may not work for another. But I like to see helpful resources in addition to the main content. That includes apps and offline download options, study plans, and tips and resources for learning more about the GRE and all of its sections.
Trusted Company
Above all, I also wanted to make sure I was recommending companies that have a current (as of March 2022) high BBB rating or rating from Trust Pilot. Moreover, I checked out how they came up with course materials, which should be based as much as possible on the actual exam and include respected test takers and educators who know what they're talking about.
Where to Study for the GRE: My Top Picks
With those high standards in mind, here are the ways I'd prep for a GRE online if I was taking the exam again. Check out my final recommendations for links to great GRE books, and read on for the pros and cons of each GRE study program.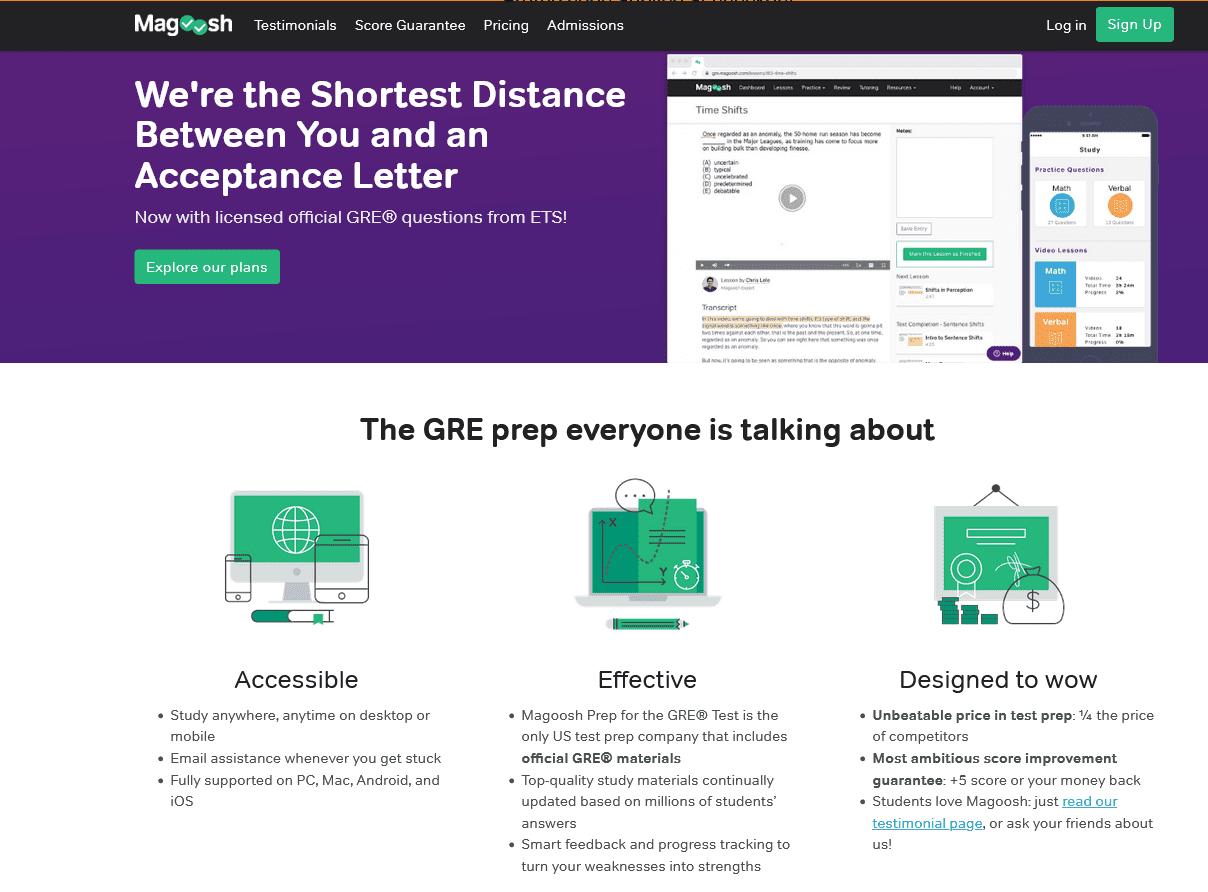 The Magoosh system is what was recommended to me by a private tutor when I was studying for the second time. And at the time I was hesitant. The tutor didn't have a personal connection with Magoosh, but one thing he said stuck out to me was how it was different.
He explained that Magoosh doesn't just give students test questions. It teaches you how the test works. And in my opinion, he was correct. But Magoosh has changed a little, and those changes are obvious with its online prep programs. Sign up Here.
Study Plans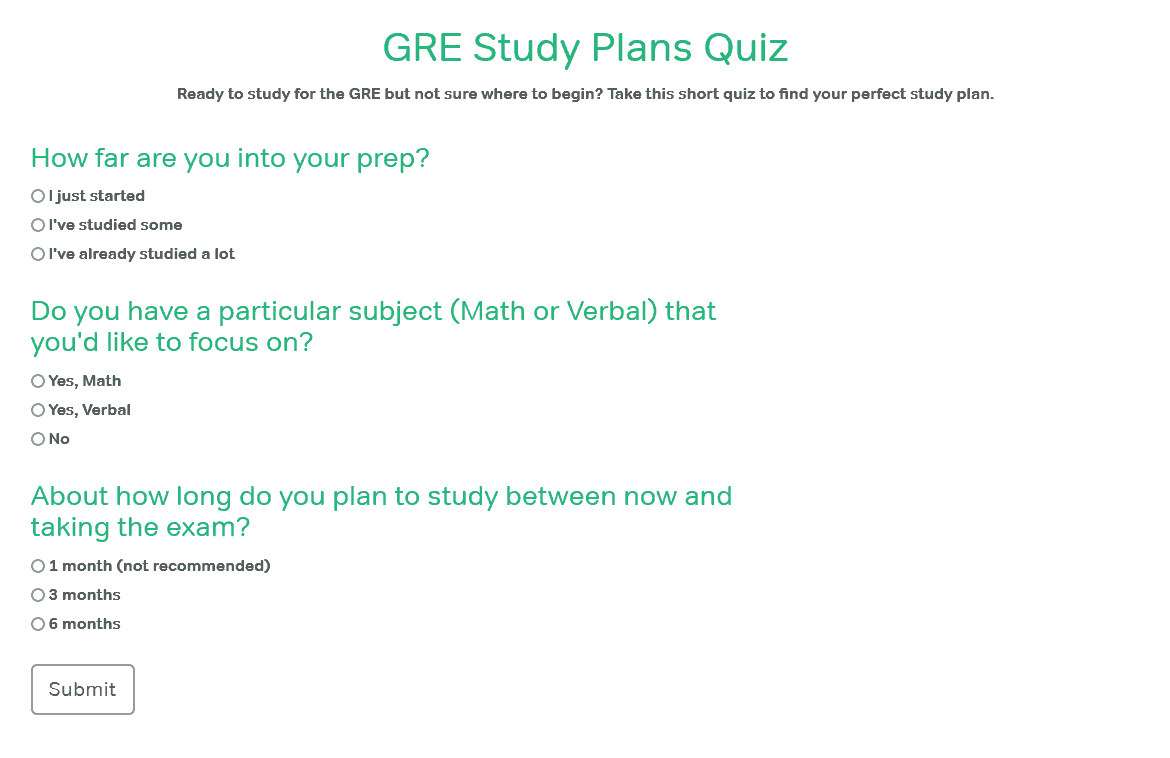 There are two main options for Magoosh GRE prep: self-study and guided study. I love this because it means you can learn entirely at your own pace, or benefit from learning with a live instructor. Granted, the live instructor is a few hundred dollars more than their other options– so that's something to keep in mind.
Self-Study
Self Study allows you to learn on your own, which is handy if you have a crazy busy schedule. There's a plan for one month– which I think is too little for most- and one for six months.
Both come with 8 complete sections of licensed GRE® questions, video lectures, 1600 practice questions, 3 full-length practice tests, study schedules, and a score predictor.
Live with Premium
It may look expensive, but considering you're getting 16 hours of live instruction with all the features of premium 6 months of access, I think the price is fair. The 8 two hour classes are capped, with customized homework assignments.
I also really like that they're taught by an instructor who scored in the 99th percentile for the GRE. There are many schedules to choose from, but obviously, this is less flexible than fully self-study plans.
Other Study Features
Magoosh gives you a mobile app to study on the go, video and text explanations for questions, flashcards, and a score guarantee. That means that if you take Magoosh and don't improve by 5 points from a previous test, you get your money back.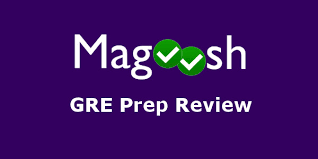 Improve Your GRE Score | Magoosh
Magoosh gets rave reviews from students, many of whom have improved their GRE scores with this flexible and affordable plan.
Find My Perfect Plan
We earn a commission if you click this link and make a purchase at no additional cost to you.
Pros
Licensed GRE questions
Self-study and live classes
Video and text explanations
5 point score guarantee
Cons
Not as innovative for engagement
See how Magoosh GRE compares to others:
Varsity Tutors GRE Prep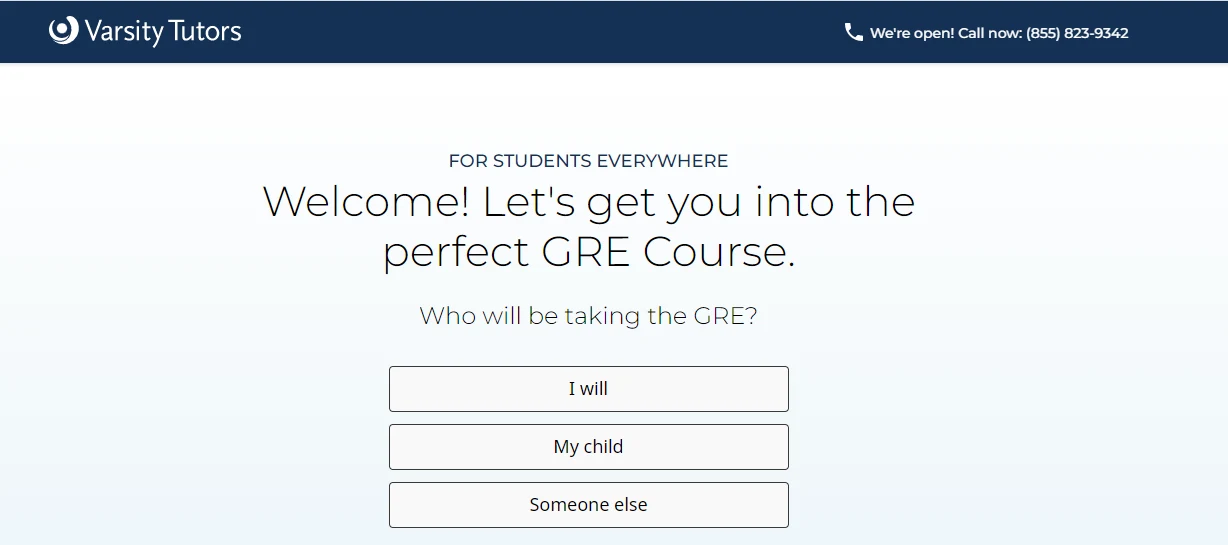 This is a very different way to study. Varsity Tutors GRE Prep is more about connecting you directly with a tutor for one on one attention. As someone who paired self-study with one on one tutoring, I can say that there are advantages and disadvantages to both.
But for me, having personalized tutoring vs a class made a difference. I've gotten a bit better, but I've always been shy and had trouble advocating for myself. One-on-one tutoring may benefit you as it benefitted me if you're introverted, tend to discount yourself, or want focused study. Sign up Here.
Study Plans
You'll be given the option to give your personal needs and preferences for online, one on one tutoring. They have options for day, weekend, and night sessions, and every tutor is subject to a background check and extensive interview (view GRE tutors here).
They'll ask for your target score if you've taken the GRE before, and what sections you want to focus most on. They also ask about learning preferences. After that, you sign up for individual tutoring sessions or group sessions. Billing is per hour, so you can control how much you spend. Strategy and practice are both covered.
Other Study Features

While tutoring is their main focus, they do have other free resources. Those include free practices tests, great resources for general math concepts, free questions of the day, and if you need to take a subject test too, free subject practice tests.
Not to mention that they have diagnostic tests, flashcards, learning by different concepts, and more on their GRE Help page. If you're on the go, there's even a mobile tutoring app.
Pros
Personalized tutoring
Flexible prices and scheduling
Free practice tests, quizzes, and concept reviews
Mobile app
Cons
No officially licensed test questions
Experience can depend on the tutor
Achievable GRE Prep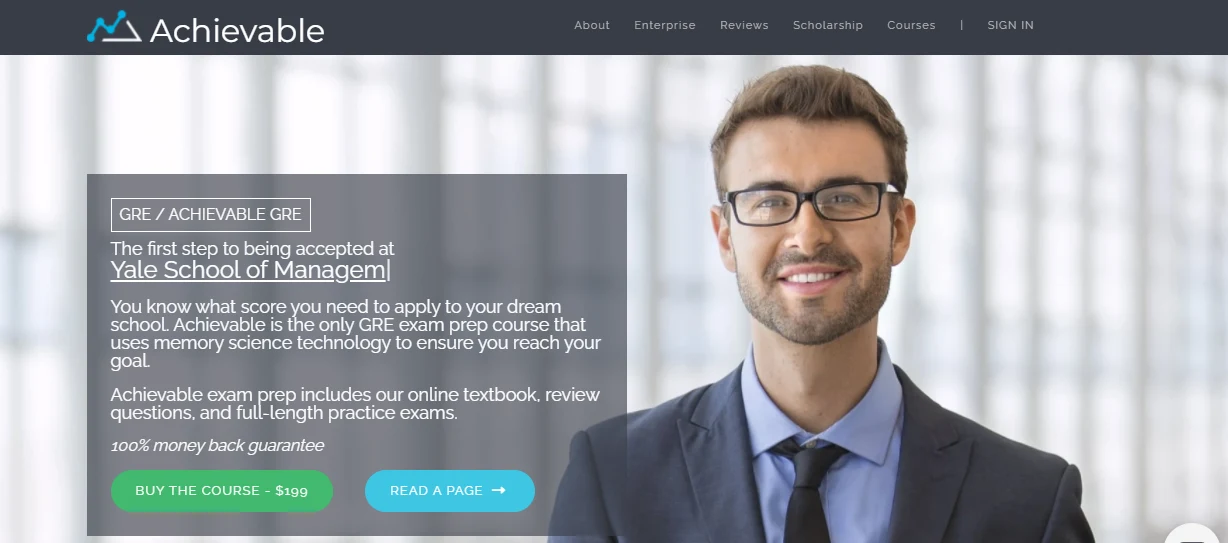 There's something to be said for a self-paced, comprehensive course for a good value. While Magoosh provides you with a certain amount of time for access, you're directly buying the course with Achievable– so it's based on completion vs a set period.
Achievable may not have as much name recognition as some other ways to prep for the GRE, but it's a great option for someone who wants an all-in-one, self-study package.
It was created by Orion Taraban, Psy.D who previously taught at the City University of New York, and was the primary instructor for the GRE quantitative at Barron's Test Prep. Buy the Course Here.
Study Plans and Features
You're buying a course for a set price, but the course includes some pretty great features. Rather than relying on a set question bank, new questions are continuously pulled. Those questions include step-by-step walkthroughs and explanations.
They have over 200 verbal reasoning questions, over 1,500 vocabulary words, quizzes, and instant essay grading and detection. But the best feature is the adaptive computer technology.
The adaptive learning engine tracks your progress, adjusts your projected score, and directs your focus. That's valuable, and it's easy to see why so many students are happy with this platform.
Other Study Features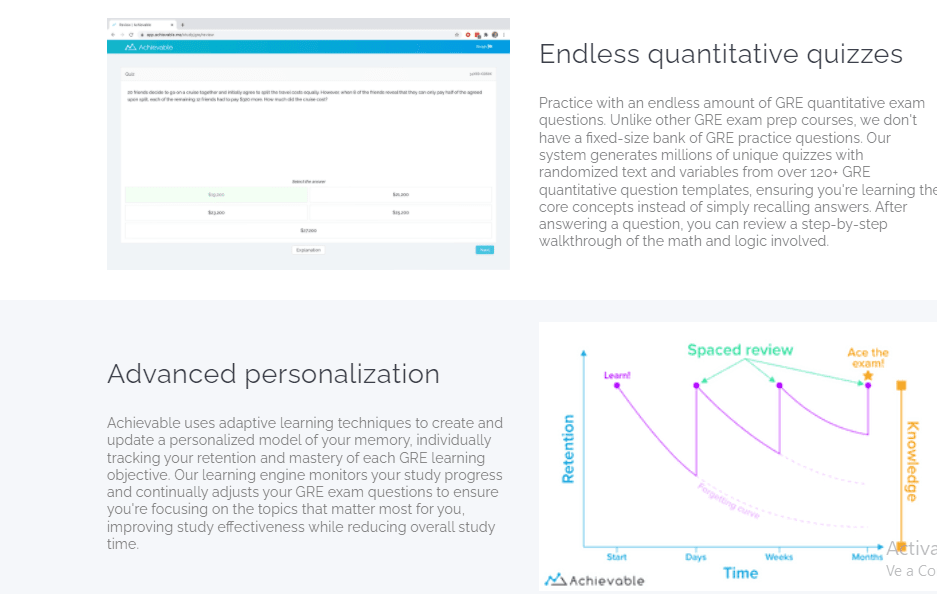 All of these features are available on an app, so you can study wherever you go. I admit the free resources aren't quite as robust. They have a blog, a podcast, and they also have a YouTube channel.
Pros
Adaptive technology
Good value
Instant essay grading
Score predictors and adaptive study plans
Cons
Not officially licensed questions
Lack of full-length exams
Frequently Asked Questions
Question: How long does it take to prep for the GRE?
Answer: Everyone is different in how long it takes to prepare for the GRE. I studied for a few months, while some try to cram in as little as 2 weeks. While some test prep courses and GRE test prep books have study timelines for as little as 2 weeks, they're meant to refresh your memory and skills and are not intended as a full study plan.

Even though the content on the GRE may seem easy to you, it's the way that questions are posed, along with the time constraints, that make it hard. For that, simply memorizing vocabulary flashcards or math formulas aren't going to be sufficient for the average test taker. I recommend no less than 30 days of studying, but prefer 60 to 90 days. 2 months is enough time for a fairly robust study, but I'd budget more time than you think you need, regardless.
Question: How should I prepare for GRE?
Answer: Some people buy books or entirely study on their own using free GRE test prep. Some free test prep materials are provided by ETS– and those I recommend. Though limited, the practice test by ETS is more accurate than other practice tests, as it's designed by the test makers. This I reserved until a week or two before my exam, so I knew what materials to brush up on and had a decent score prediction.

Other free resources include vocabulary flashcards and practice questions. I know I used a lot of Magoosh free materials before committing to a study plan. But I will also say that not everyone can succeed on free materials alone. A lot of this helps, but don't target your weaknesses or teach you full test strategies. Because of this, I recommend trying out practice tests, then selecting a tutor and/ or online program if it fits your budget.
Question: Is the GRE test difficult?
Answer: What can I say– I've seen this issue debated. The content itself isn't too hard. Math concepts aren't too far above other standardized tests. But the way the test is designed is what made it difficult for me, and most who find the GRE challenging. It's an adaptive test, meaning if you score well on a section, you'll get harder sections. The issue is you have to get more challenging sections to get higher scores.

The way questions are worded is not always straightforward, and many multiple choice questions are just as challenging as data entry questions because the answers are designed to be ones you might get to if you make a common error. But I think what was most challenging for me was the test length. It's not nearly as daunting as an MCAT, but the GRE is still long, clocking in at just under 4 hours total time.
Question: How hard is it to get 330 on GRE?
Answer: A 330 is the score I see as most sought-after, and there's a reason. A 330 on the GRE is in the 98th percentile– a score that's helpful for higher-tier graduate schools. Of course, the percentiles change every year, but on an average year, just 2 percent of all test takers achieve a 330– so it's safe to say that it's very hard to get this score. You'll need to truly understand different test questions on both the qualitative and quantitative sections, nail pacing, and have excellent strategies for the adaptive test.

I recommend taking note of all admissions standards for the programs you're applying to. Keep in mind that, while top schools often care most about the cumulative score, others care a lot more about your score on either the quantitative or qualitative scores, depending on the program. Also keep in mind that, while it's great to aim for a 330 if that's needed for your program, other factors are considered too. The worst mistake is only focusing on the GRE and rushing other application materials.
Final Thoughts
You're probably wondering why I left out some of the most popular GRE learning platforms, like Kaplan and Princeton Review. While I think some of their books are helpful, I can't recommend studying with them for the GRE at this time.
Complaints about charges, lack of refunds, and a poor experience outweighed some of their interesting features. For now, I think there are better ways to study for the GRE, and I hope that both Kaplan and the Princeton Review can improve on their customer service and transparency. Study.com is another one I would avoid.
Final Recommendations: GRE Test Prep Books
While I think that private tutoring, online tutoring, or self-paced platforms are the best ways to prepare for the GRE, they aren't the only way. I love books, and I love being able to have something I can work on if my internet connection goes down or if I just need a break from a computer or phone screen.
You can find GRE test prep books on Amazon, Barnes, and Noble, or even save a little money by buying at Half Price Books (just make sure it doesn't have marks all over).
Just don't make the mistake I did the first time I took the GRE and rely too much on books. The test is computer-delivered and adaptive, so I highly recommend spending a lot of your studying time and practice online as well.
The best GRE test prep books are updated, have practice tests and provide helpful tips and guides not only for studying but also for tackling different test questions. I also prefer GRE test prep books that provide practice questions and test with explanations for answers. Here are a few of my top recommendations.
This book, available on Amazon, is one of my favorite current options. It includes information about the GRE test structure, a full practice test, and lessons for every section (including quantitative/ math, verbal and analytical writing).
I like that every practice question comes with a difficulty rating and stats on how many students answer correctly. Those stats are based on their online course programs, and it gives you an idea of where you are in your studying and projected score. Buy Here.
GRE Prep by Magoosh | Amazon
The online GRE prep offers over a thousand practice questions and video explanations, full-length tests, and hundreds of helpful lessons prepared by our dedicated tutors.
Buy at Amazon.com
We earn a commission if you click this link and make a purchase at no additional cost to you.
11/26/2022 03:48 pm GMT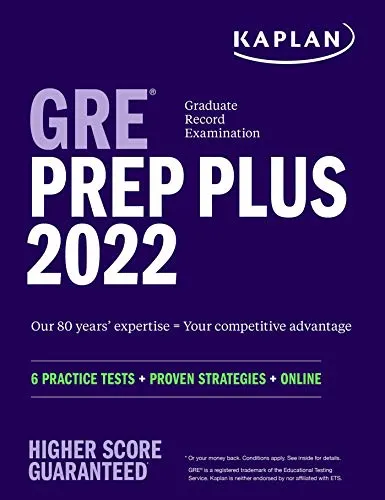 If you want several practice tests, this book is for you. Available as a Kindle book, paperback, or spiral-bound, there is one practice test and 5 free, full-length tests you can take online.
Over 1,500 questions are supplied with explanations and even links to video explanations. I like how this book combines book and online practice, giving you a more comprehensive experience. Buy Here.
GRE Prep Plus 2022 | Amazon
Kaplan's GRE Prep Plus 2022 guides you through the GRE step-by-step, with expert strategies, essential content review, and five online practice tests. Get an advantage on test day with our proven test-taking strategies, math skills review, and one-year access to online practice and lessons.
Buy at Amazon.com
We earn a commission if you click this link and make a purchase at no additional cost to you.
11/26/2022 03:38 pm GMT