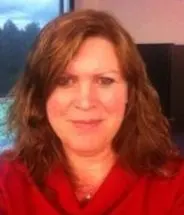 Latest posts by Deb Mayberry
(see all)
MasterClass is an online education platform for students to learn skills in a wide range of topics. The courses are taught by industry leaders and celebrities. Courses are taught for people that are new to the subject and are also tailored to enhance the knowledge of students already using the skills in everyday work life.
Bottom line: Although Masterclass is an attractive online learning platform, some alternatives and competitors offer a multitude of courses that vary in depth, subject assortment, and price.
Whatever pulls your interest is what you should focus on and learn more about it. I suggest making a checklist of what you want to learn or what you are interested in and to what scope. How much are you willing to invest? What do you expect from the course like a certificate or just to learn the basics or even to brush up on a subject that you are rusty on? You can go through the list of online learning platform alternatives and competitors to see which one (s) fits your needs and wants.
Let's start with an overview of MasterClass so you can use this platform as a benchmark as you review the following Alternatives & Competitors.
About MasterClass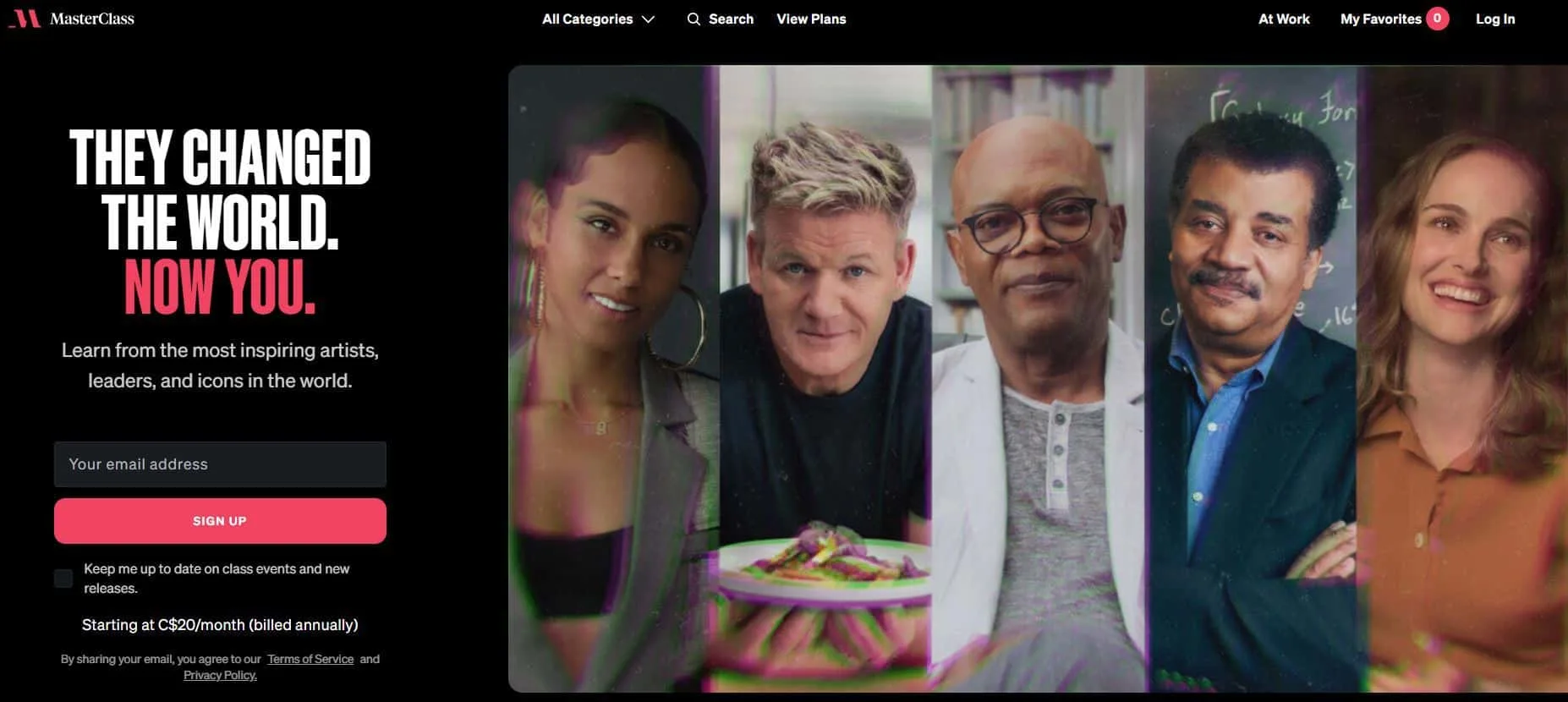 The length of the classes is 30 days.
MasterClass Course Categories
Food, Arts & Entertainment, Music, Writing, Sports & Gaming, Design & Style, Business, Science & Technology, Home & Lifestyle, Community & Government, and Wellness
MasterClass Pricing
Courses cost $15 USD/ $20/month and are billed annually $180 USD/ $240 CAD
MasterClass Pros & Cons
| | |
| --- | --- |
| Pros | Cons |
| Entertaining instructors | No free classes or trials |
| Affordable | No certificates |
| Refund Policy | |
The MasterClass is attractive because of who the instructors are and how much they are admired because they are using the knowledge and skills that have gotten them to where they are in life and have made them well known to the public. They are teaching you what they know that has proven their success.
MasterClass: Alternatives & Competitors
There are many education teaching alternatives and competitors online that teach the same or similar subjects that are taught by high-level Universities, Colleges, Professionals, and Celebrities that you may want to consider when choosing an Online Teaching Platform.
The following is a list of 20 Alternatives and competitors to MasterClass…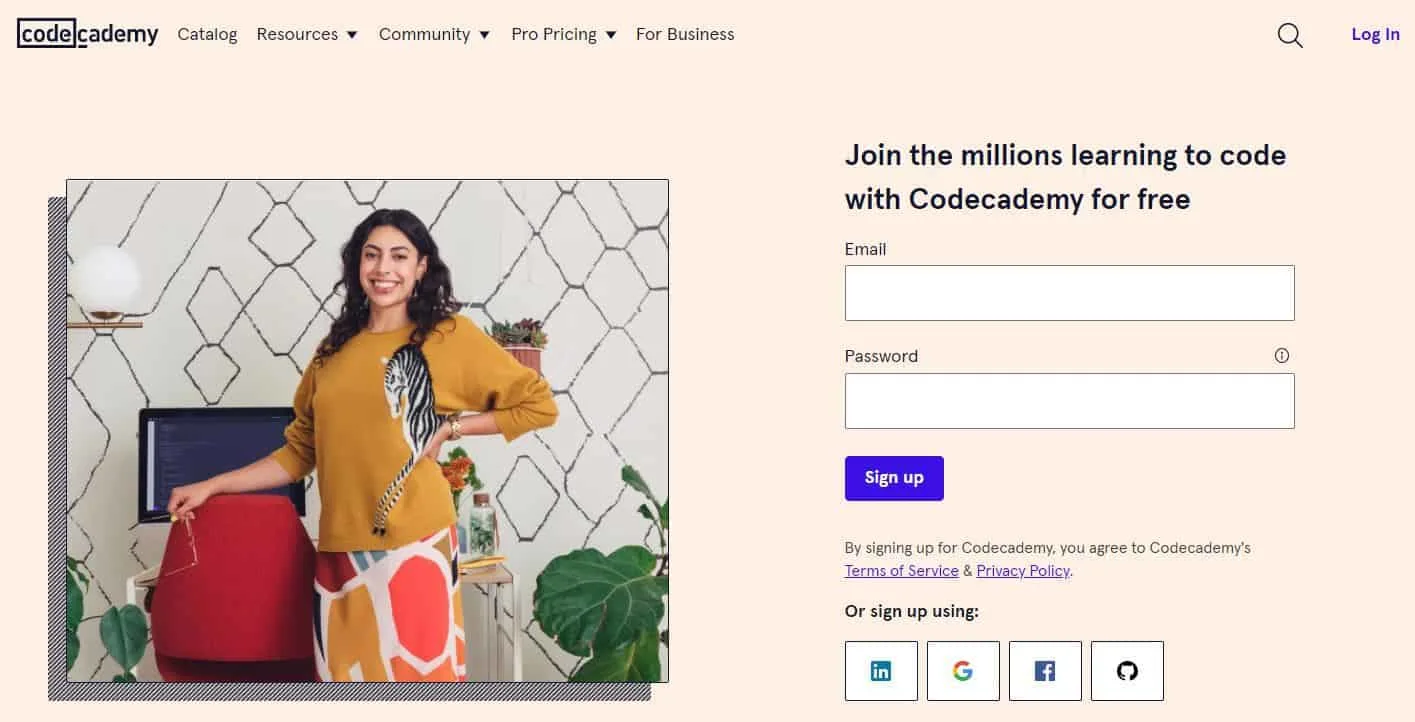 Codecademy helps students build a career by gaining new skills in learning code. The courses are self-paced, interactive, and hands-on.
Coursecademy: Topics
Web Development
Data Science
Computer Science
Developer Tools
Machine Learning
Code Foundations
Web Design
Game Development
Mobile Development
Data Visualization
Interview Prep
Cybersecurity
Math
Codecademy: Course Pricing
For business- beginner and intermediate courses: Pricing: Pro Plan: Pay Annually–$19.99 a month billed annually: $239.88
For Individuals: Basic $0.00 – interactive lessons and daily practices
Pro: $19.99 / month billed annually to learn, practice, and apply to job-ready skills
Team: Get a quote
For Students: 7-day free trial
Pro Student: $149.99/yr
For Business: Quote available. Includes 2-week free trial and up to 10-members of your team
Codeacademy: Pros & Cons
| | |
| --- | --- |
| Pros | Cons |
| 7-day free trial | certificates not provided |
| Community involvement | instructor biography unavailable |
| Interactive Courses | |
Coursera provides 4,000+ specialized self-paced University certified courses, 100+ Skill Sets, and 1,000+ Guided Projects for business teams and small organizations to help build their knowledge and skills.
Length of courses: 6-10 hrs/week for less than 6 months, at your own pace.
Coursera Courses range from
IT Support, Data Analytics, Project Management, to Social Media and Marketing Analytics, to name a few.
Coursera: Pricing (Free 7-day trial)
Individual courses: $29 to $100 per course
Specializations: $39 to $89 a month
Yearly subscription: $399
Degrees: $15,000+
Coursera: Pros & Cons
| | |
| --- | --- |
| Pros | Cons |
| Resources and Support | Courses must be complete by a certain time |
| A large number of course subjects | Courses are 6-10 hrs a week to learn |
| Refund Policy | Degrees and courses can be pricey |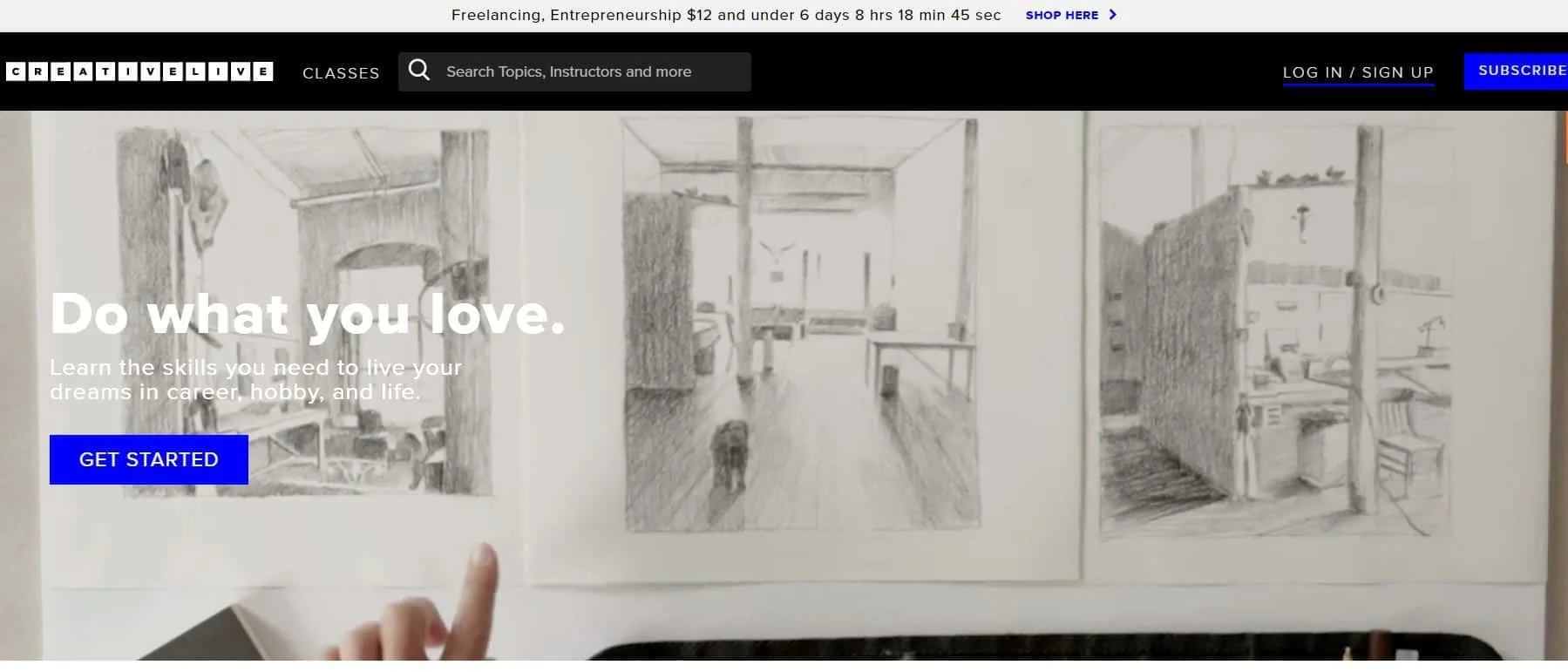 Creative Live is an online teaching platform taught by accomplished individuals in various fields waiting for business and software. Lessons are taught in 30-minute videos.
Creative Live Courses:
Photo & Video
Art & Design
Music & Audio
Craft & Maker
Money & Life
Creative Live: Creative Live Pricing
The prices of the courses on CreativeLive:
There are some courses that are free
Individual courses: $29 to $199
Creator Pass Plans: $149 billed annually ($12.42 a month)
OR $15 a month billed monthly with an annual commitment OR $39 a month, billed monthly
| | |
| --- | --- |
| Pros | Cons |
| Quality content | Only creative courses |
| Instructors are best-selling authors, Grammy, Pulitzer, and Oscar winners. | Certificates not provided |
| Free Live Classes | Price |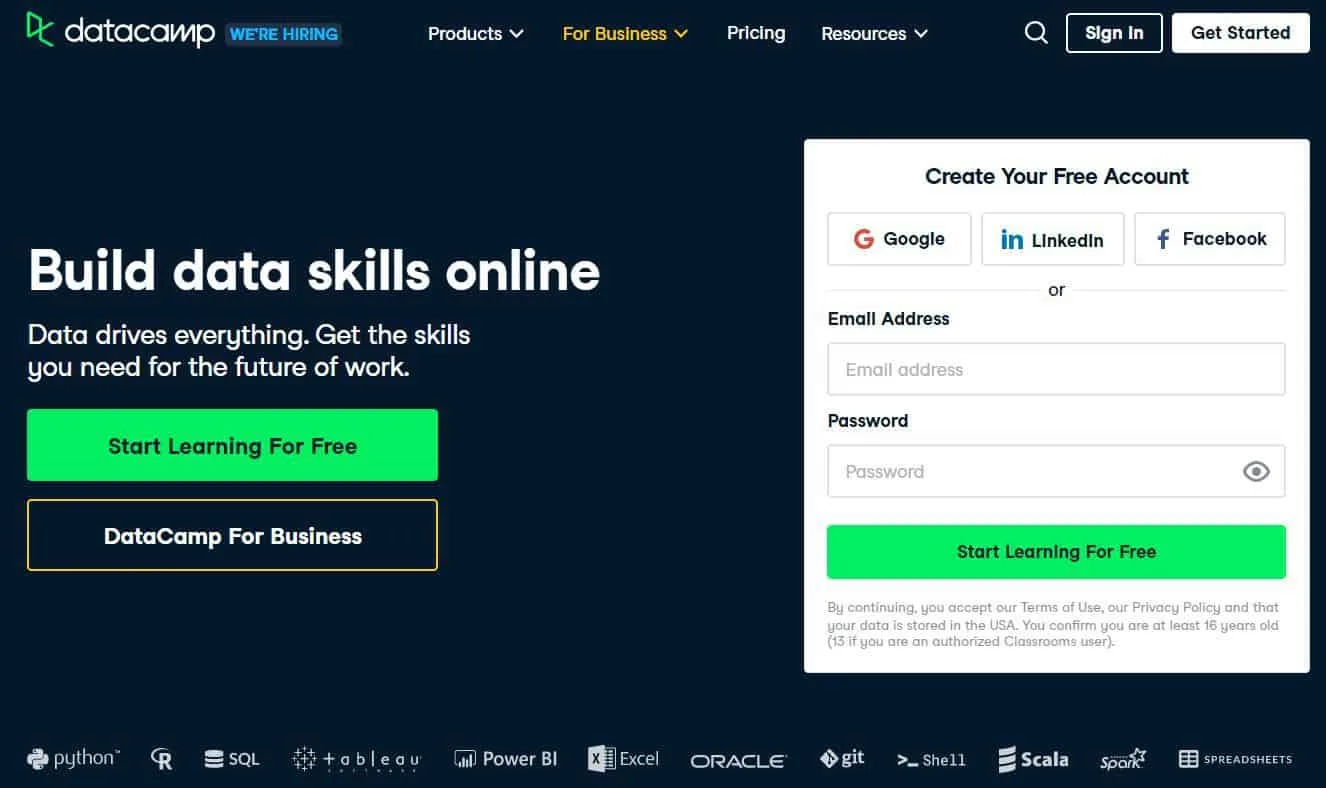 DataCamp teaches data skills online from non-coding to data science and machine learning, for businesses.
DataCamp Courses:
Data Manipulation
Data Visualization
Reporting
Machine Learning
Probability & Statistics
Importing & Cleaning Data
Applied Finance
Programming
Case Studies
Management
Data Engineering
DataCamp Pricing
Standard Subscription: $300 annually
Premium Subscription: $399 annually
| | |
| --- | --- |
| Pros | Cons |
| Interactive & Engaging Content | No accredited certificates |
| sales, promos, and discounts | Limited to data science topics |
| Multiple resources available | |

edX is an online nonprofit platform that teaches University level skills-based to deep learning for businesses for edX delivers what your teams need, regardless of size or budget.
edX: Courses
Over 3,000 courses under the following subjects:
Architecture
Art
Biology
Chemistry
Business Communications
Computer Programming
Data Analysis
Design
Economics
Education
Electronics
Energy
Engineering
Environmental Science
Ethics
Nutrition
Healthcare
History
Humanities
Language
Law
Literature
Math
Medicine
Music Arts
Physics
Science
Social Science
edX: Pricing
Most courses are Free
Self-paced with professional certificates
$349 / year per learner
Individual courses: From $50+
Degrees & Master's Degrees: From $10,000+
edX: Pros & Cons
| | |
| --- | --- |
| Pros | Cons |
| Professional Certificates | Prior knowledge |
| Self-paced courses | Price |
| Refund Policy | |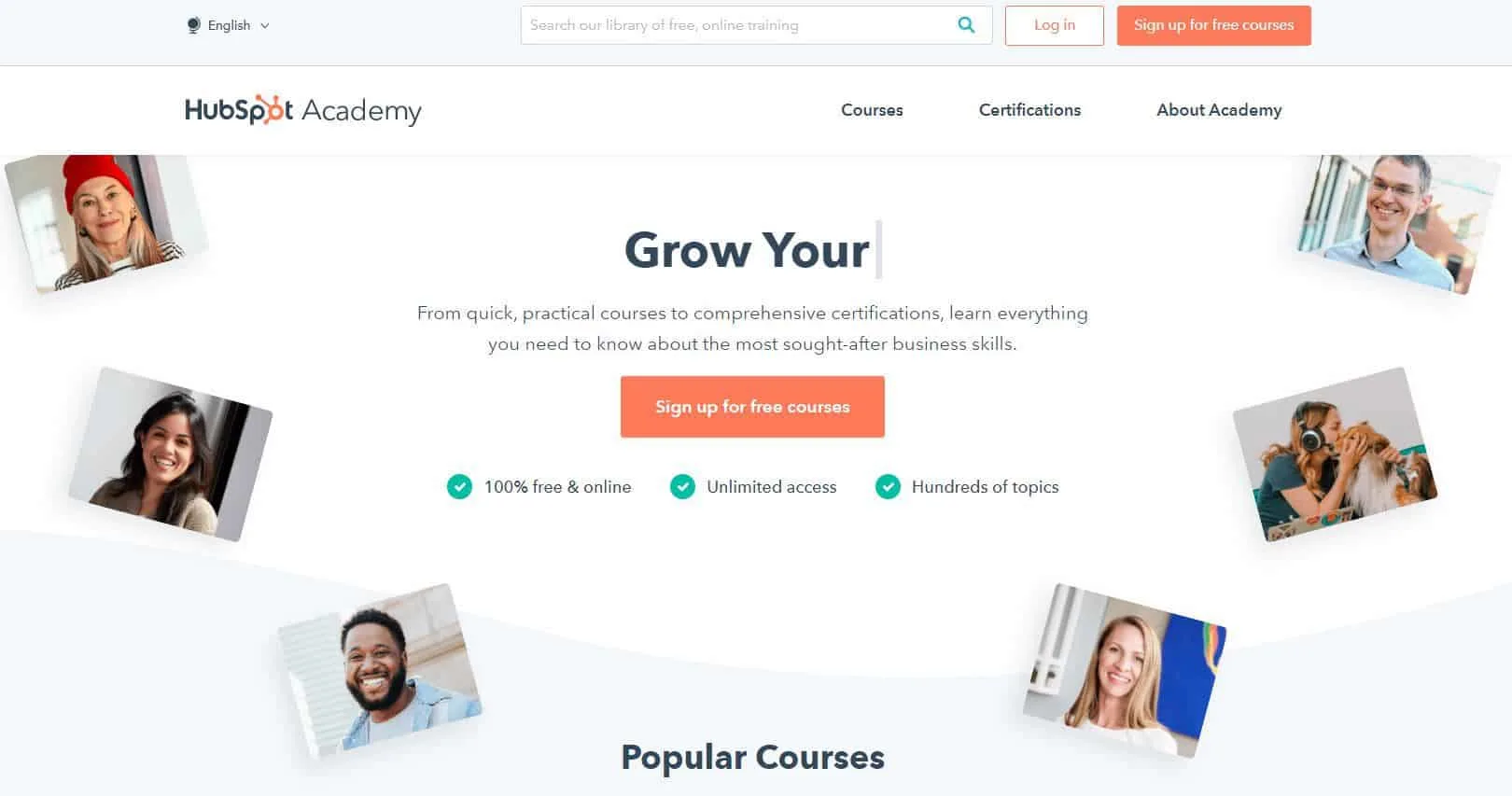 HubSpot Academy is free online training for inbound marketing, sales, and customer service professionals that provides certified lessons on singular topics for beginners, intermediates, and advanced
Course duration is from 3Min's or less to 3+ hours
HubSpot: Courses
Marketing, Design, Sales, Service, Web Design, Web Development, Data Privacy
HubSpot: Pricing
HubSpot: Pros & Cons
| | |
| --- | --- |
| Pros | Cons |
| No charge for courses | Limited subjects |
| Certificates provided upon completion | .pdfs of lecture |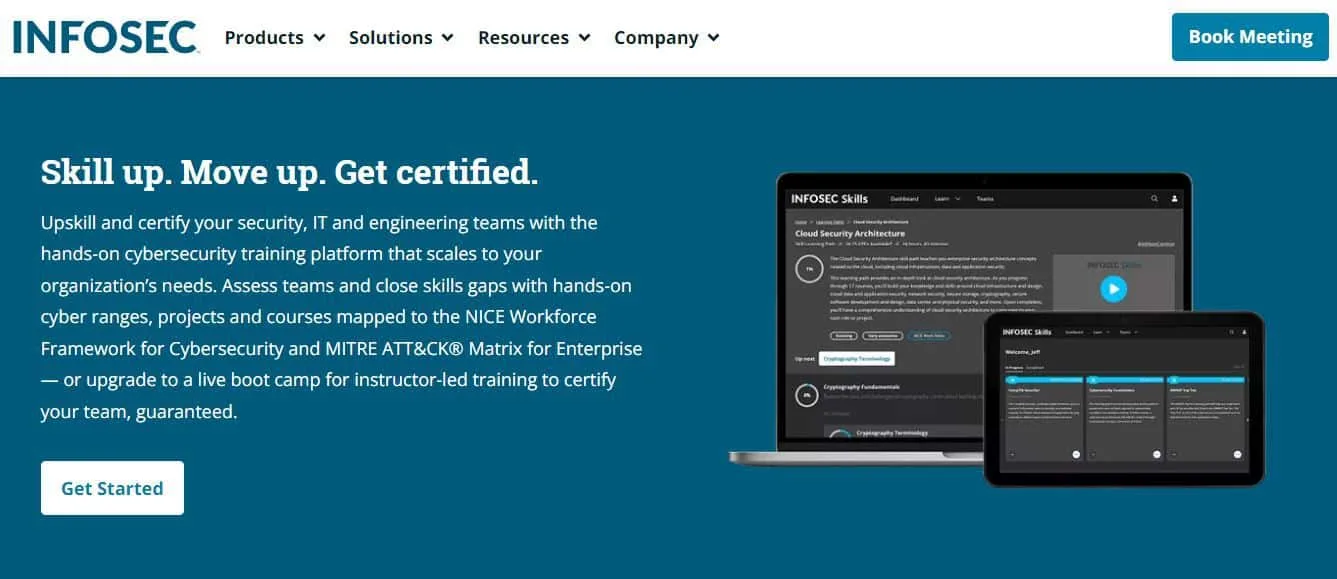 INFOSEC helps students to improve their skills with certified lessons in security, IT, and engineering.
INFOSEC: Courses
1,200+ Courses range from Networking Fundamentals, Hacking Machine Learning, C++ Code Security Cyber Range, Wireless Networks & Security, Integrating Authentication & Authorization Technology to many more…
INFOSEC: Pricing
7-day free INFOSEC Skills Personal: $299 / year
INFOSEC Skills Teams: $599 per license / year
| | |
| --- | --- |
| Pros | Cons |
| Exam Practice Questions | Price |
| Content material | Website user-friendliness |
| Training instructors | Needs a mobile APP |
8. ITPRO.TV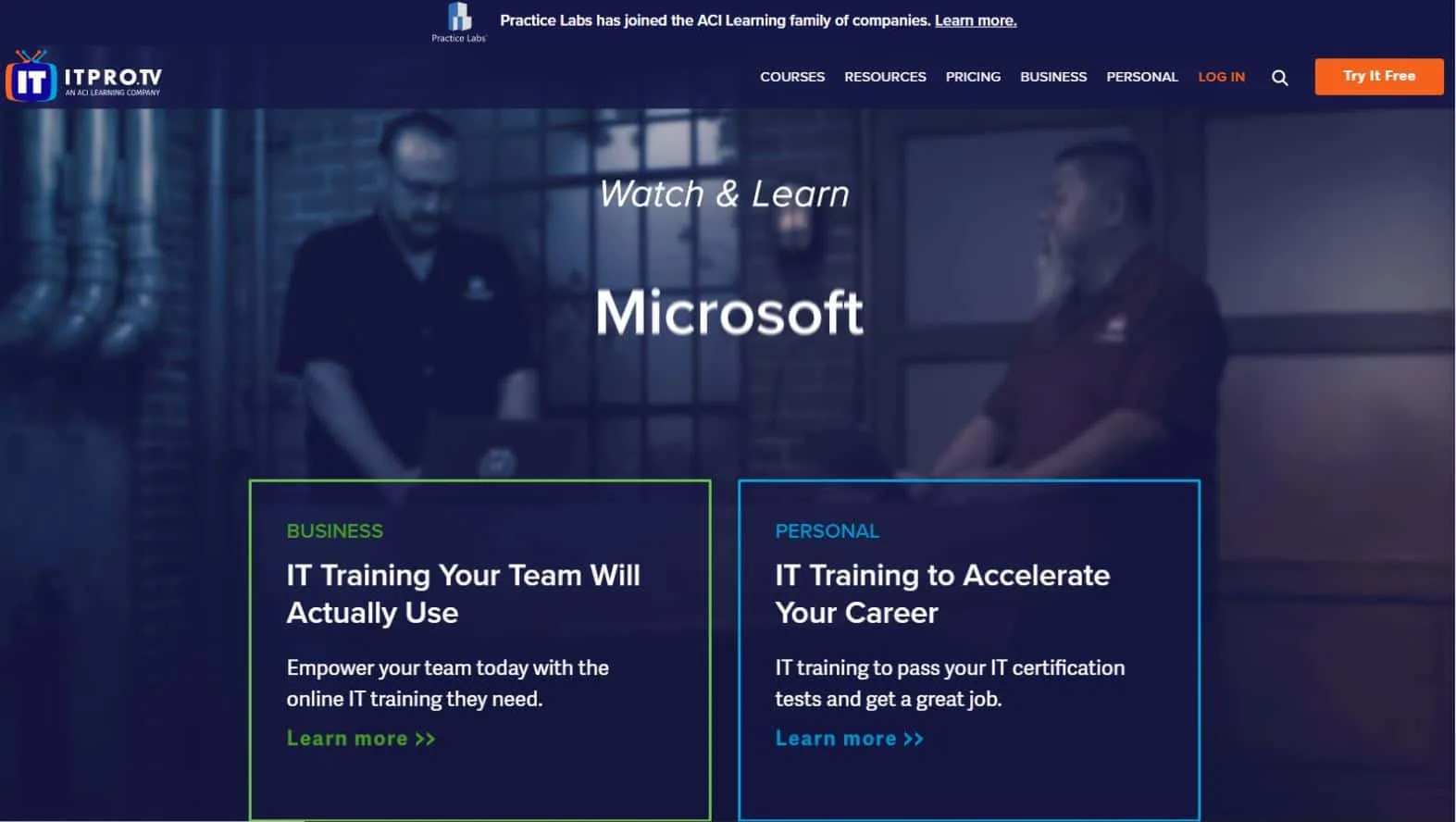 ITPRO. TV is an online platform that teaches IT training for business teams and individuals.
ITPRO.TV: Courses
Training IT
Government IT
Managed Service IT
Health Care IT
Education IT
Tech IT
Finance IT
Insurance IT
ITPRO.TV: Pricing
Businesses:
Premium: $529 / seat / year
Standard: $349 / seat / year
Individuals:
Premium: $249.50 / year
Standard: $149.50 / year
Free:
ITPRO.TV: Pros & Cons
| | |
| --- | --- |
| Pros | Cons |
| Quality of Videos | Limited TV compatibility |
| Clear Content | Lengthy sessions |
| Live sessions are interactive | |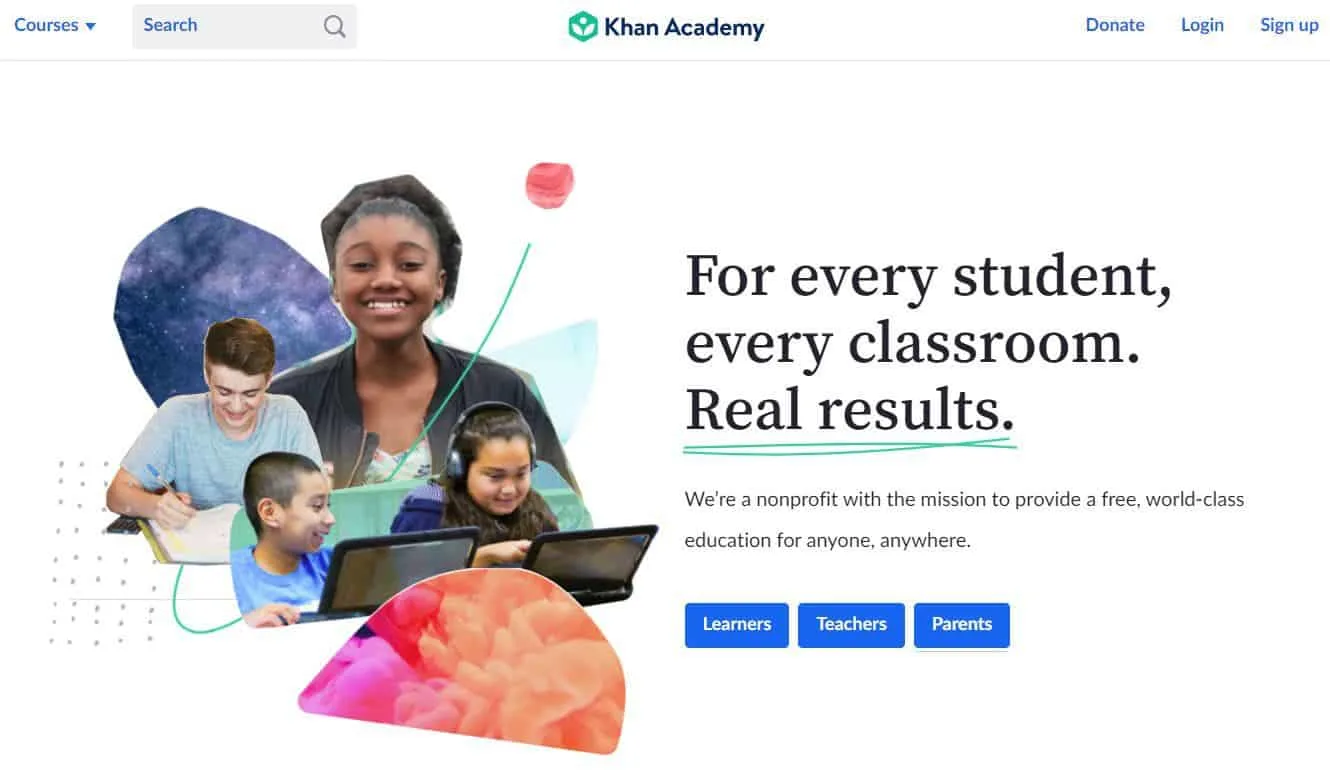 Khan Academy offers online educational courses in multiple subjects to help students strengthen their academic skills to help school grade students understand subjects they may not grasp in a traditional school setting.
Khan Academy: Courses
Math
Science
Computing
Arts & Humanities
Reading & Language Arts
Economics
Life Skills
Khan Academy: Course Pricing
Khan Academy: Pros & Cons
| | |
| --- | --- |
| Pros | Cons |
| Free | Fas-paced instructions |
| Clean and concise short videos | Videos need more dynamics |
| Multi-languages supported with captions | |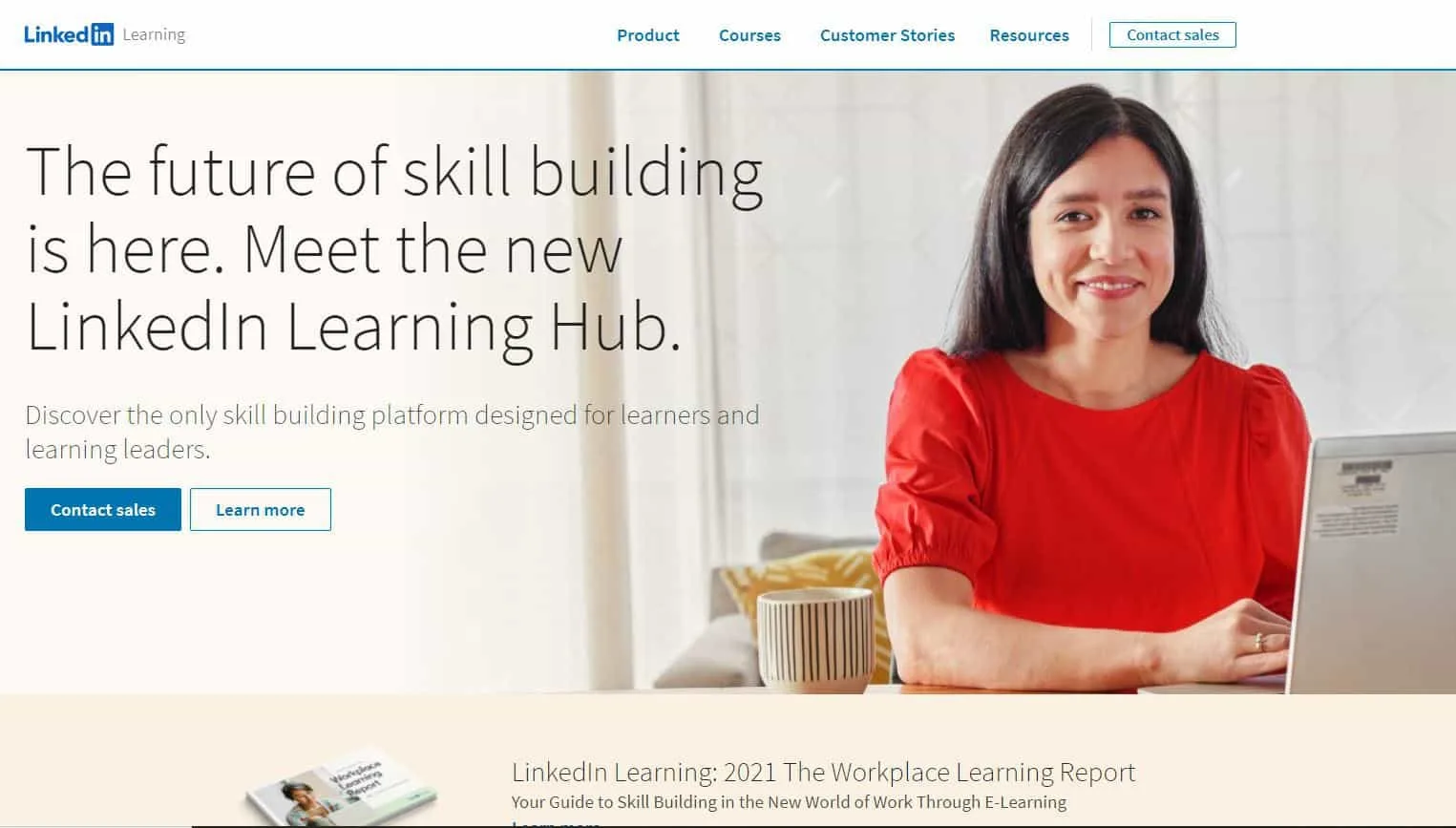 LinkedIn Learning is an online platform that teaches students a wide variety of technical design, photography, and web development topics via video, and graduates received certificates upon successful completion.
Linkedin Learning: Courses
Business:
Business Analysis & Strategy
Business Software & Tools
Career Development
Customer Service
Finance & Accounting
Human Resources
Leadership & Management
Marketing
Professional Development
Project Management
Sales
Small Business & Entrepreneurship
Training & Education
Technology:
Cloud Computing
Data Science
Database Management
DevOps
IT Help Desk
Mobile Development
Network & System Administration
Security
Software Development
Web Development
Creative:
AEC
Animation & Illustration
Audio & Music
Graphic Design
Motion Graphics and VFX
Photography
Product & Manufacturing
User Experience
Video
Visualization & Real-Time
Web Design
Linkedin Learning: Pricing
1-month free
Annual Subscription: $239.88
Monthly Subscription: $29.99
Individual Courses: From $20 to $50
Linkedin Learning: Pros & Cons
| | |
| --- | --- |
| Pros | Cons |
| Free Trial | No refundable on subscriptions |
| Self-paced | Very basic |
| Large selection courses | Certifications |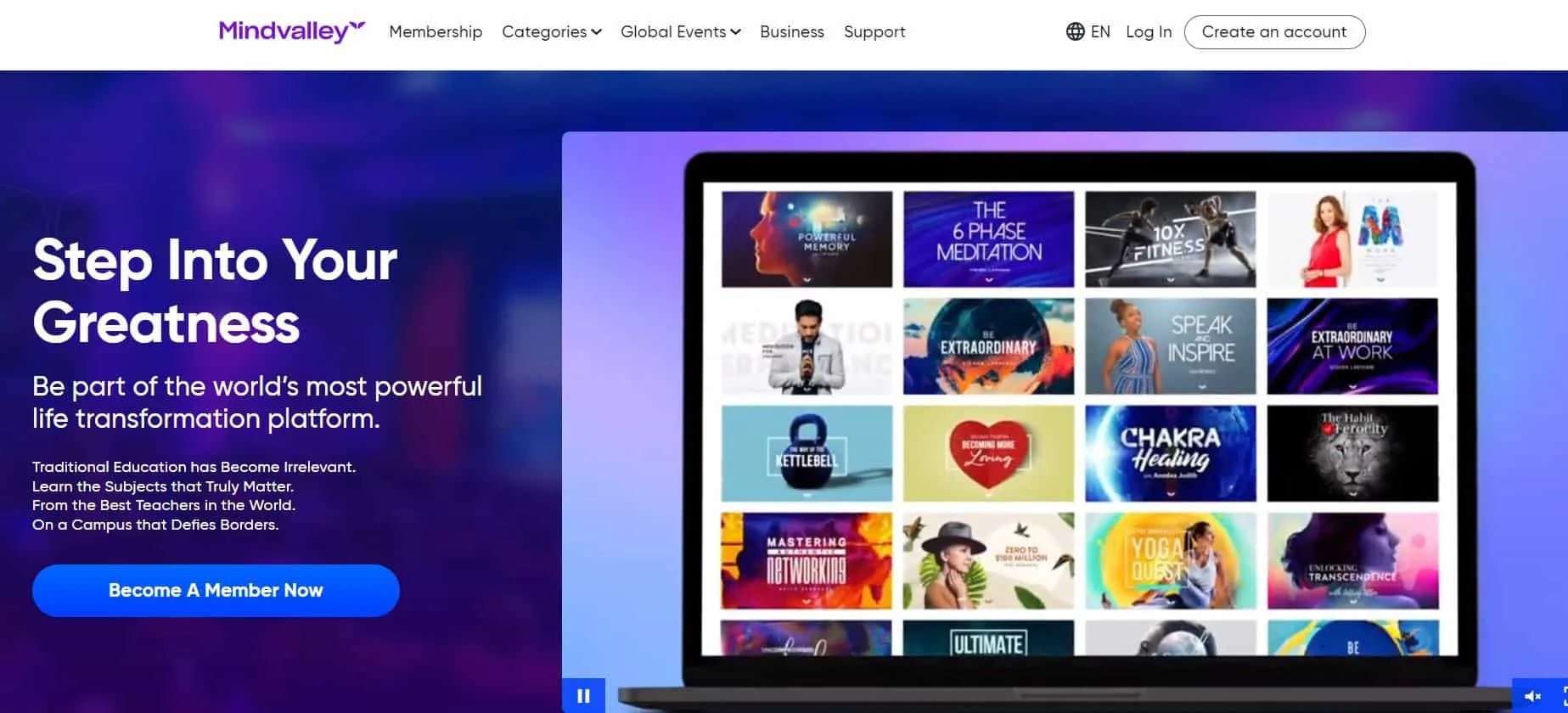 Mindvalley mentors students online with life skills.
Mindvalley: Courses
Mind
Body
Soul
Career
Entrepreneurship
Relationships
Kid, Teens, and Parenting
Partner Programs
Mindvalley: Pricing
Individual Quests (Courses): $199 to $499
All Access Memberships Monthly ($99 a month) Yearly ($499 annually)
Mindvalley: Pros & Cons
| | |
| --- | --- |
| Pros | Cons |
| Reputable Trainers | Limited Training Subjects |
| Bite-sized Video Lessons | Price |
| High-Quality Video Content | |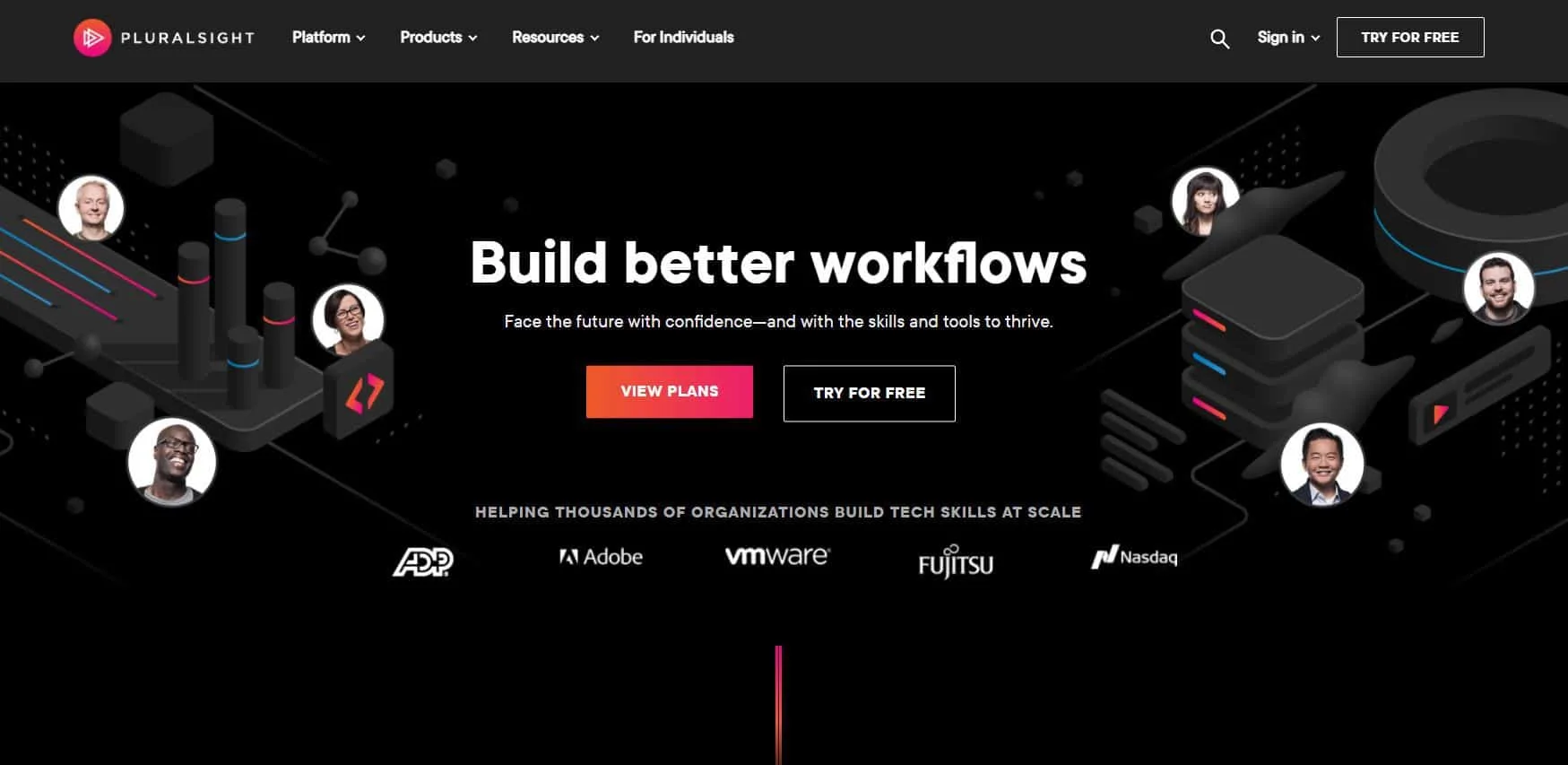 Pluralsight teaches students business-critical skills in assessments and analytics.
Pluralsight: Courses
Cloud Computing
Data Professional
Info & Cyber Security
IT ops
Machine Learning / AI
Software Development
Pluralsight: Pricing
10-Day Free Trial
Standard Package $199 USD/year at current 33% discount
Premium Package $299 USD/year at current 33% discount
Pluralsight: Pros & Cons
| | |
| --- | --- |
| Pros | Cons |
| 3 months free subscription | Chat support only available for the premium package |
| Frequent content updates | Various courses tend to be lengthy in nature |
| Free trial | No certificates |
| Phone support | |

Roxie is an online culinary school platform that teaches businesses and individuals via video and live sessions by experienced chefs.
Rouxbe: Course Topics
Plant-based cooking
Seafood Literacy
Cooks Roadmap
Profession Cook
Cake Baking and Decorating Arts
Introduction to Pastry Arts
Bread Baking Arts
Vegan Desserts
Culinary Rx
Rouxbe: Pricing
14-day free trial
$9.99/ month
$99.99/year
Rouxbe: Pros & Cons
| | |
| --- | --- |
| Pros | Cons |
| Certificate upon completion | Price |
| Detailed courses | Time Consuming |
| Online community | |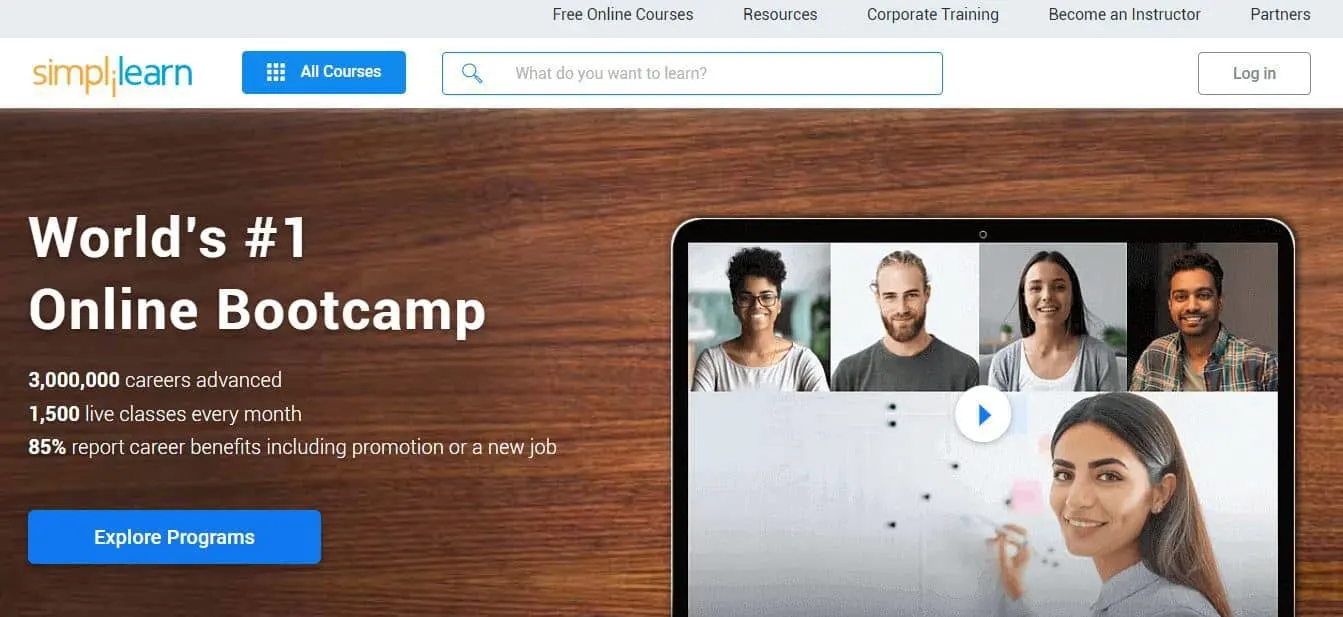 Simplilearn offers part-time courses in various subjects for those that want to learn online and develop skills for a dream career with a 100% money-back guarantee.
Simplilearn: Courses
Agile & Scrum
AI & Machine Learning
Big Data
Business & Leadership
Cloud Computing
Cyber Security
Data Science & Business Analytics
DevOps
Digital Marketing
IT Service & Architecture
Project Management
Quality Management
Software Development
Simplilearn: Pricing
Simplilearn: Pros & Cons
| | |
| --- | --- |
| Pros | Cons |
| Certificates | Pushy marketing |
| Excellent Lectures | Price |
| Live Instructors | |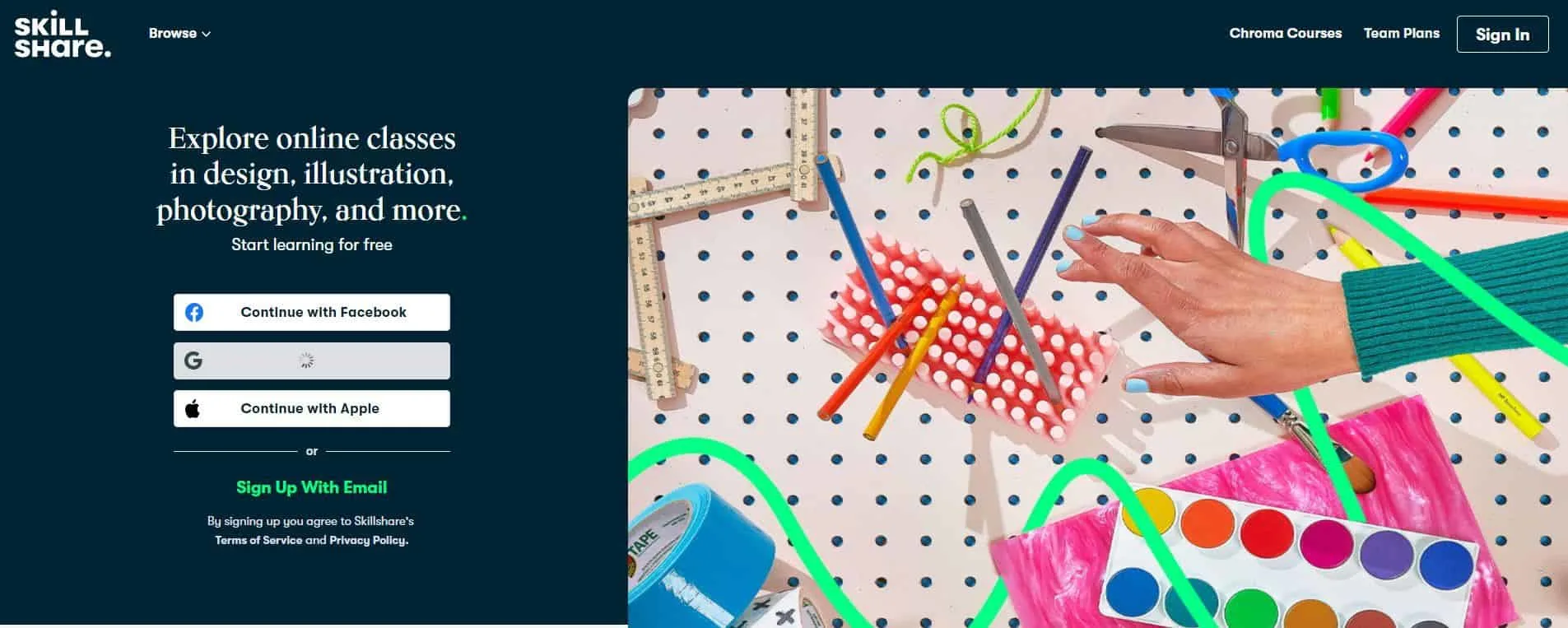 Skillshare teaches students various online courses the skills needed to succeed in the career of their choice.
Related: Comprehensive Skillshare vs Masterclass Comparison.
Skillshare: Courses
Discover Lifelong Learning
All Categories
Animation
Design
Illustration
Lifestyle
Photo & Film
Business
Writing
Skillshare: Pricing
1-month Free Trial
$168 annually
Skillshare: Pros & Cons
| | |
| --- | --- |
| Pros | Cons |
| Price | No certificates |
| Engaged Community | Only English |
| Certificates | |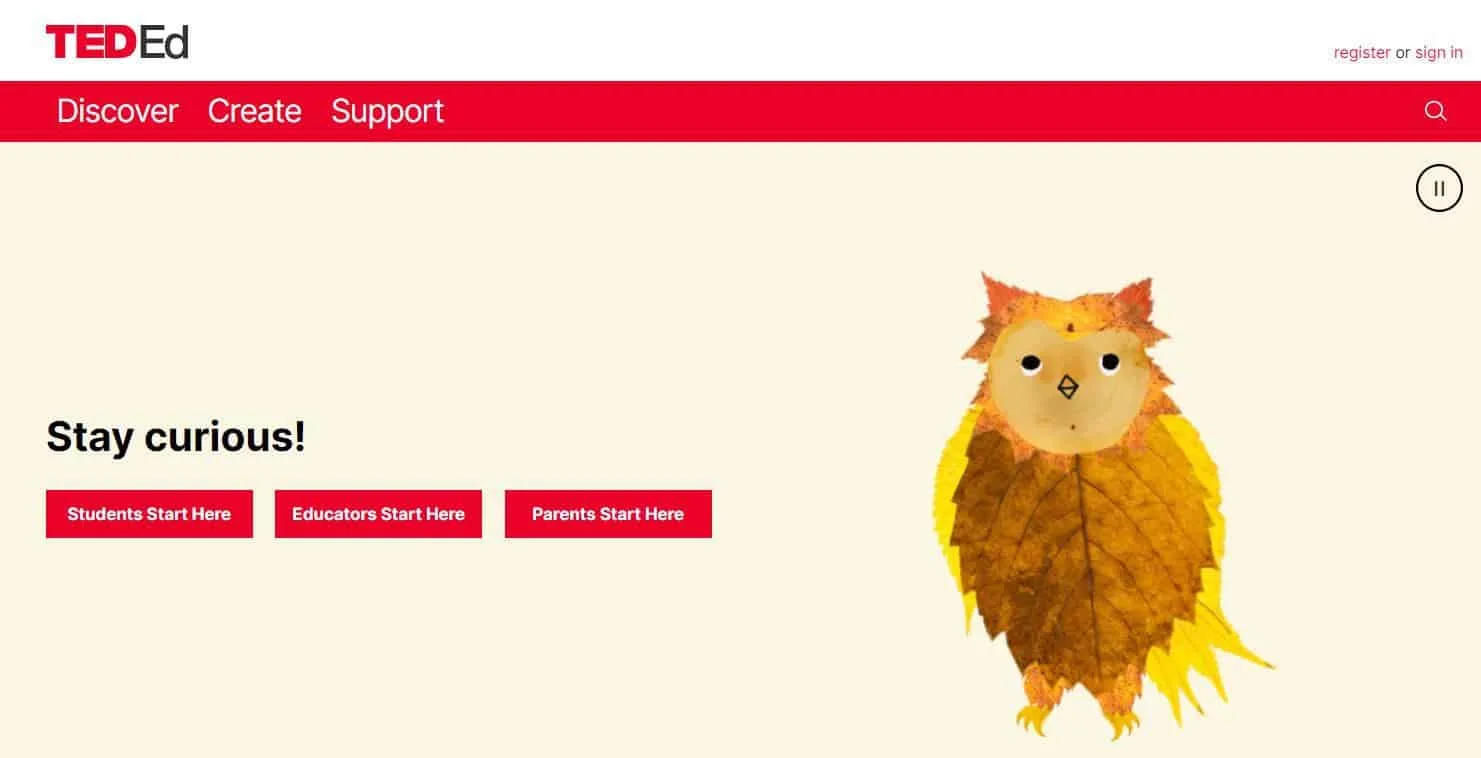 Ted-Ed is short for (Technology, Entertainment, Design). Learning materials are designed for students to refresh and enhance their knowledge. Lessons range from 15 to 20 minutes.
Ted-ED: Courses
Here is a list of some categories the subjects are under.
Algebra
Anthropology
Business & Economics
Civics
Cognition & Learning
Design, Engineering & Technology
Earth & Space Science
Environmental Science
Health and Emotional Health
History
Life Sciences
Linguistics
Literature & Language
Mathematics
Medical Conditions
Motivation & Emotion
Nature of Science
Numbers & Operations
Philosophy
Physical Science
Physical Fitness
Psychology
Public Health
Science & Technology
Social Studies
Speaking
The Arts
Thinking & Learning
Ted-Ed: Pricing
Ted-Ed: Pros & Cons
| | |
| --- | --- |
| Pros | Cons |
| Courses are open for children to adults | Short lessons are hard to comprehend what was taught |
| Customer support | Quick talking instructors |
| Lessons are not long helping to remove boredom | |
| Instructors are interesting to listen to | |
17. Wondrium (previously rebranded The Great Courses)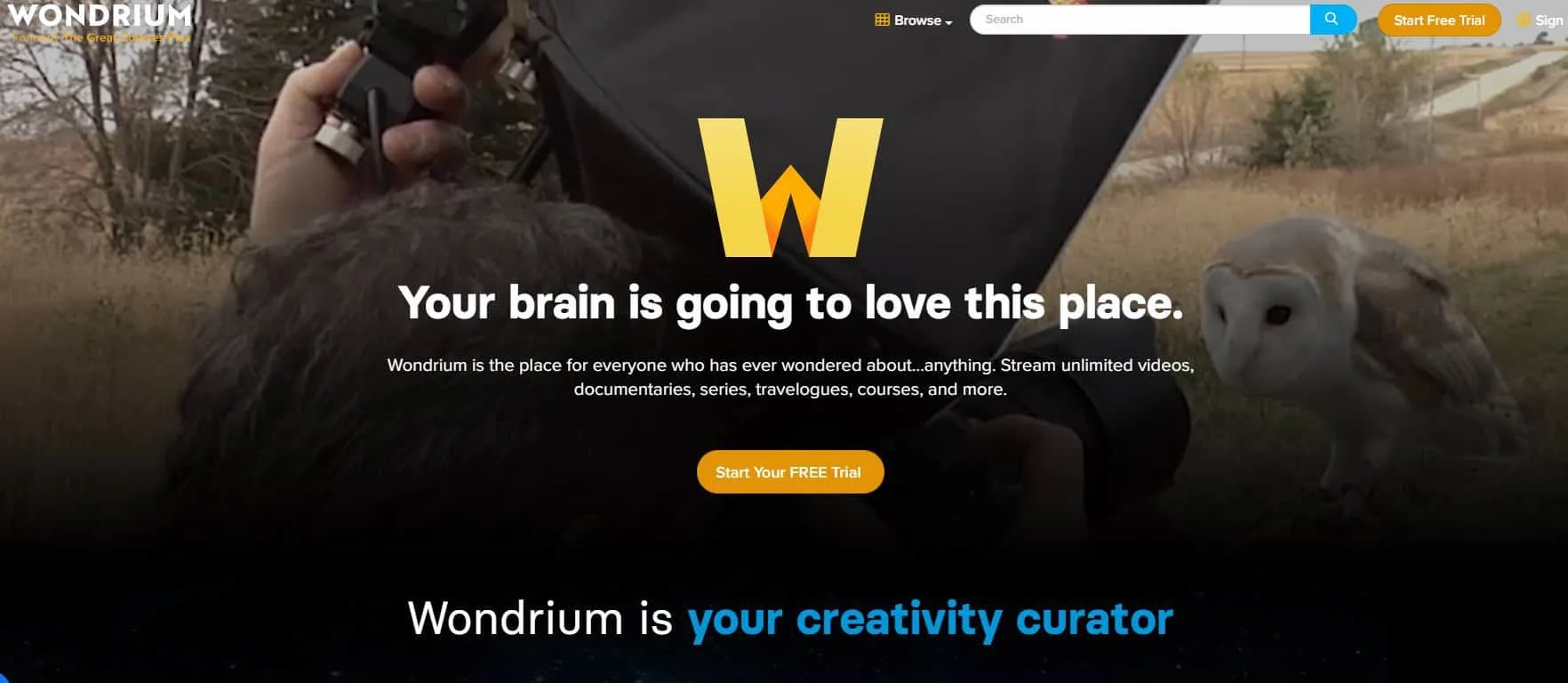 Thousands of videos with who, what, why, when, and how answers are given on various subjects for those that are curious to learn more than what the school system provides.
Wondrium: Courses
Video categories comprise:
Economics & Finance
Food & Wine
Health, Fitness, & Nutrition
History
Hobby & Leisure
Literature & Language
Mathematics
Music & Fine Arts
Philosophy & Religion
Professional & Personal Growth
Programs for Young Learners
Science
Travel
Wondrium: Pricing
Monthly Plan: $20/ month CAD 14-Day Free Trial
Quarterly Plan: $15 /month CAD 22-Day Free Trial… billed $45 every quarter
Annual Plan: $12.50/ month CAD 22-Day Free Trial… billed $150 annually
Wondrium: Pros & Cons
| | |
| --- | --- |
| Pros | Cons |
| Unlimited access with one fee | Basic presentations for entry-level comprehension |
| professors are knowledgeable and informative | Some lessons have High prices for dated content |
| Streams on multiple devices | Price charged for often is higher than promoted |
| Free Trial | No refunds |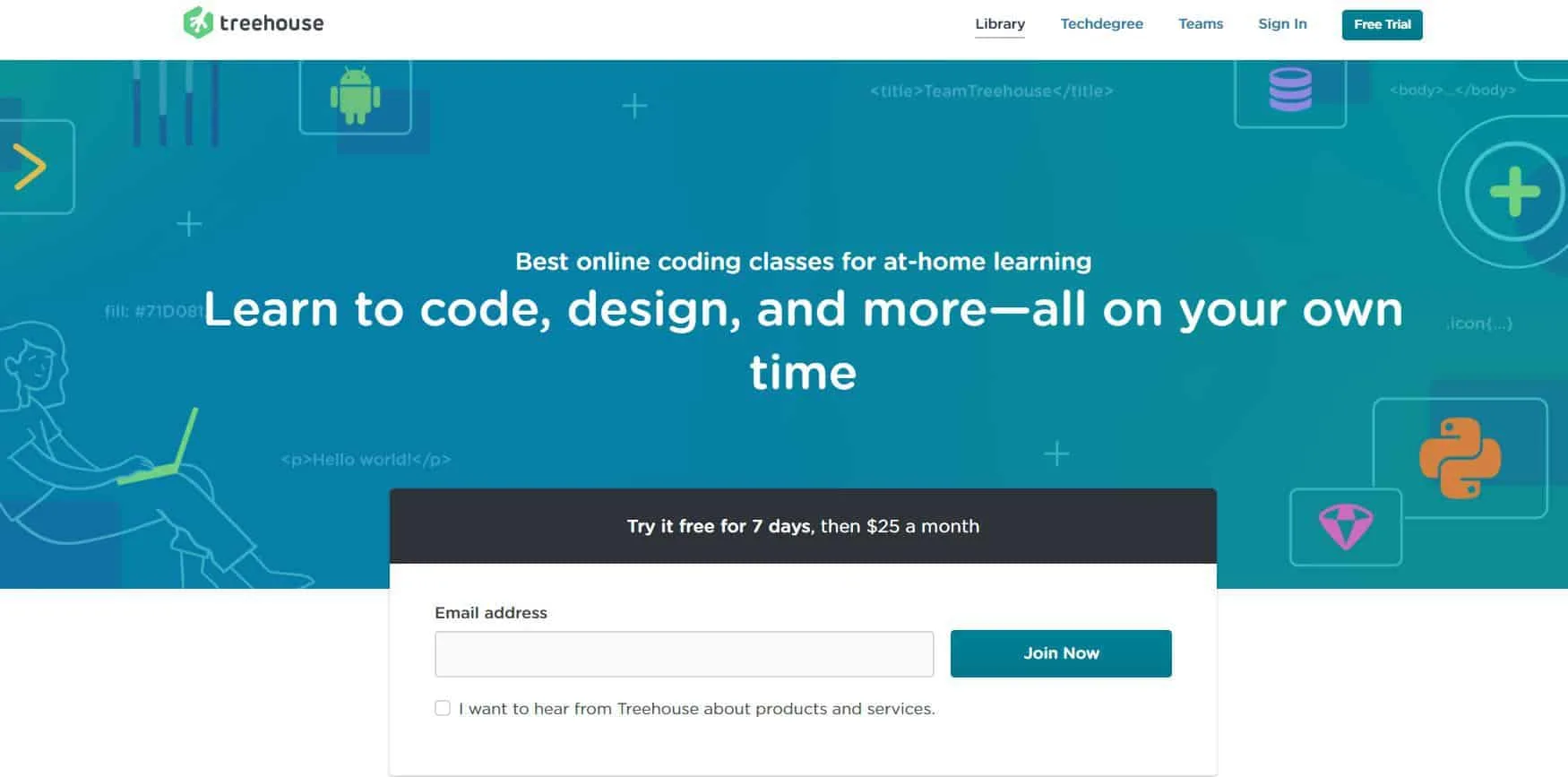 Treehouse is an online platform that teaches beginners or others that have more experience in coding and design and more.
Treehouse: Courses
21st Century Skills
Android
APIs
Business
C#
Computer Science
CSS
Data Analysis
Databases
Design
Development Tools
Digital Literacy
Go
HTML
Java
JavaScript
Learning Resources
Machine Learning
PHP
Python
Quality Assurance
Ruby
Security
Treehouse: Pricing
7-day free trial
Individual Subscriptions: $25 to $199 per month
Treehouse: Pros & Cons
| | |
| --- | --- |
| Pros | Cons |
| Free trial | Limited Courses |
| High-quality courses | Not accredited certificates |
| Self-paced learning | Credit card Required |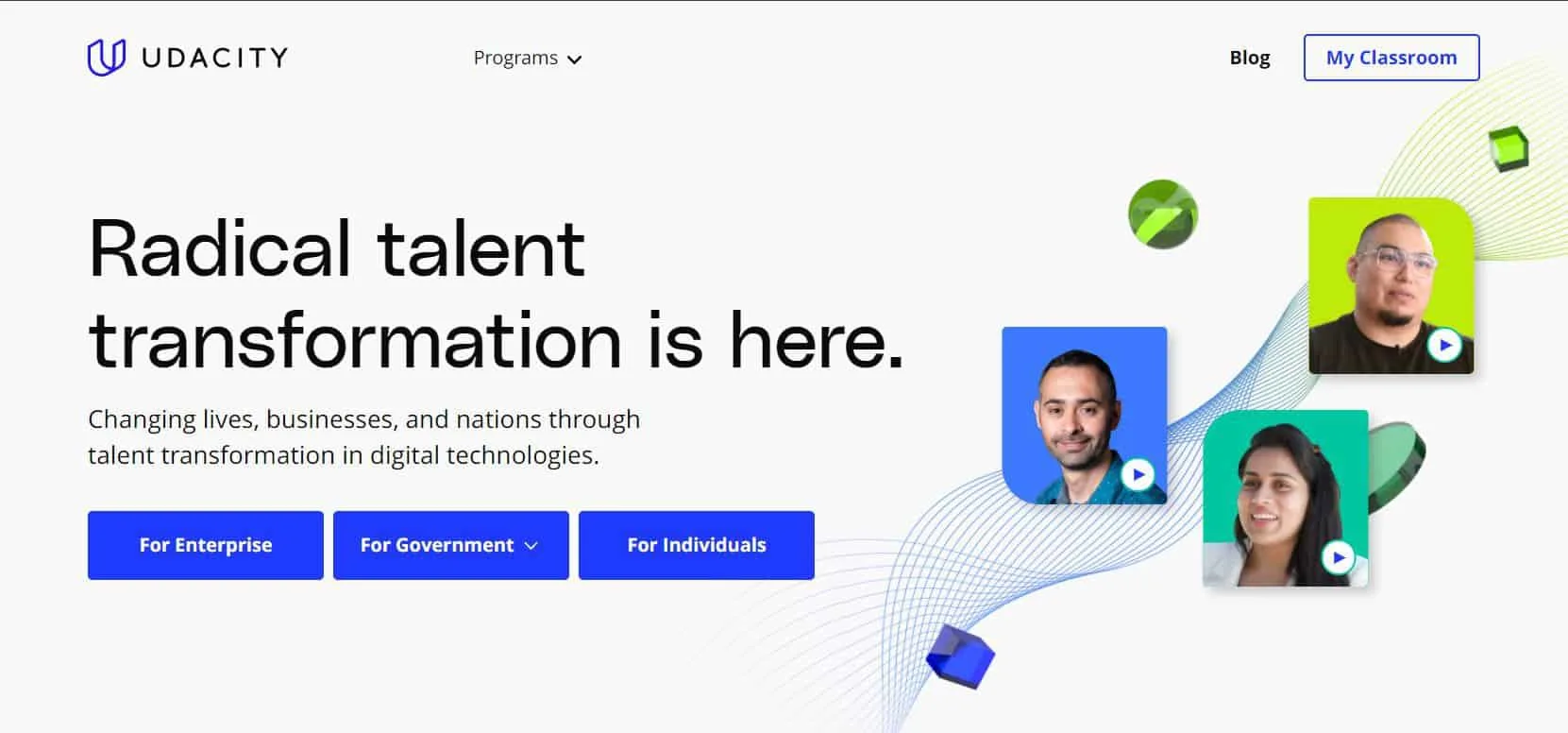 Udacity is an online teaching platform for Enterprise, Government, and Individuals.
Udacity: Courses
Enterprises– GDP Impact
Government– Digital Technologies: Data science, ML, Cloud, Cybersecurity and more
Individuals– Data Science, Programming, Business, Artificial Intelligence, Autonomous Systems, Project Management, Cloud Computing, Obscurity
Udacity: Pricing
Prices range from free to $1,000+
Udacity Nanodegrees: Starting at $399 / month. When learning is for 5-6 months, the cost can be $2,000+.
| | |
| --- | --- |
| Pros | Cons |
| Top-Quality Content | You'll need some budget |
| Free courses | No App |
| Training | Ability to ask more questions |
Udemy is an online teaching platform with various course topics that students can learn at their own pace.
Udemy: Courses
design, development, marketing, IT and software, personal development, business, photography, and music
Udemy: Pricing
Free courses
Individual courses: $12.99 to $119.99
Udemy: Pros & Cons
| | |
| --- | --- |
| Pros | Cons |
| Affordable | non-Accredited Certificates |
| Free content | Easy courses |
| Variety of courses | No subscription for individuals; must pay per class |
FAQ
Question: What is Online Learning?
Answer: Online learning is when a student has signed up for a course and needs to connect online with their computer to retrieve learning materials, tests, chats, video lessons, and whatever else the instructor has provided to help the student learn the material provided. Students have a certain time period to complete the course and usually get to learn at their own pace.
Question: How much time should I spend on online learning?
Answer: Expect to spend as much time as you would if you physically went to school for a part-time class. I estimate 3+ hours per week, but it all depends on how involved the course is and if it is condensed or not. You must take into consideration time for reading, doing class assignments, and group work and discussions with your instructor or classmates in the group chat.
Question: How Do Online Programs Work?
Answer: Students are often taught with videos, assignment materials, options to upload their assignments, take part in live class discussions, web conferences, instant messaging, message boards, community discussion forums, and contact their instructors. Sometimes there may be live events that require students to log in to at specific times. A good online program would provide various resources, like a library to research materials, academic journals, and possibly cheat sheets of sorts to help them with study materials.

Sometimes, students may be required to log into class at the same time to attend events, such as live webcasts or online chat sessions. In addition, students usually have access to the school library's online databases, where they can view study materials, such as the online editions of academic journals and periodicals. Students in distance-learning programs may be required to complete exams under the supervision of a proctor.
Conclusion
Life in the working world is challenging. It grows quickly, which means you need to stay up to speed with it. Many folks are juggling work life and home life, leaving little time to brush up on skills. Thankfully, there is a great option for people to advance their knowledge and skills online, thus avoiding travel to face-to-face educations courses when time does not permit.
Learning Online hasn't been made easier this day with the multitude of platforms available and diversified courses available to learn in the comfort of your home or on the go, anywhere in the world, permitting you to have a laptop and INTERNET available.
Masterclass shocked me when I first found out about them. How cool is that to learn from well-known celebrities? People that we read about and learn about in the news or on TV shows. They are living life, so of course, we want to learn from them and be just like them too. I thought it was a fantastic discovery.
The best thing for online learning is… that you have the resources at your fingertips, anytime, and anywhere you are. You can learn more than what you know, add your accomplishments to your resume to help you land your dream job.