Latest posts by Jessica Lauren Vine
(see all)
In this comparison, I will give you all the information you need as we look at Masterclass vs Skillshare. Learning about both platforms can ensure you spend your time in the place that will help you learn the quickest and the best.
You've carved out some time in your day, and you're ready to learn a new skill or even find a new career path. Online learning platforms are a good way to do that, but if you don't use a good one, it can be a total waste of time. I've gone through the information and put it together so you can easily see which platform will work best for you.
Since people have different learning styles, you might like one better than the other based on the merits, but I'll share my opinion as well. Continue reading this article to get the information you need on MasterClass vs Skillshare.
Main Differences Between Masterclass vs Skillshare
The main differences between Masterclass vs Skillshare are:
MasterClass is taught by celebrities, whereas Skillshare isn't famous at all
MasterClass does not offer any free classes, whereas there is some free content with Skillshare
MasterClass focuses on teaching, whereas Skillshare also tests you to see if you absorbed what you learned
MasterClass does not offer a free trial period, whereas Skillshare gives you a 7-day free trial
While there are a lot of things MasterClass doesn't do, there are many things they do very well. Hang in there as we go through the information on MasterClass and Skillshare, and you'll see both programs are very strong.
MasterClass vs Skillshare: MasterClass Overview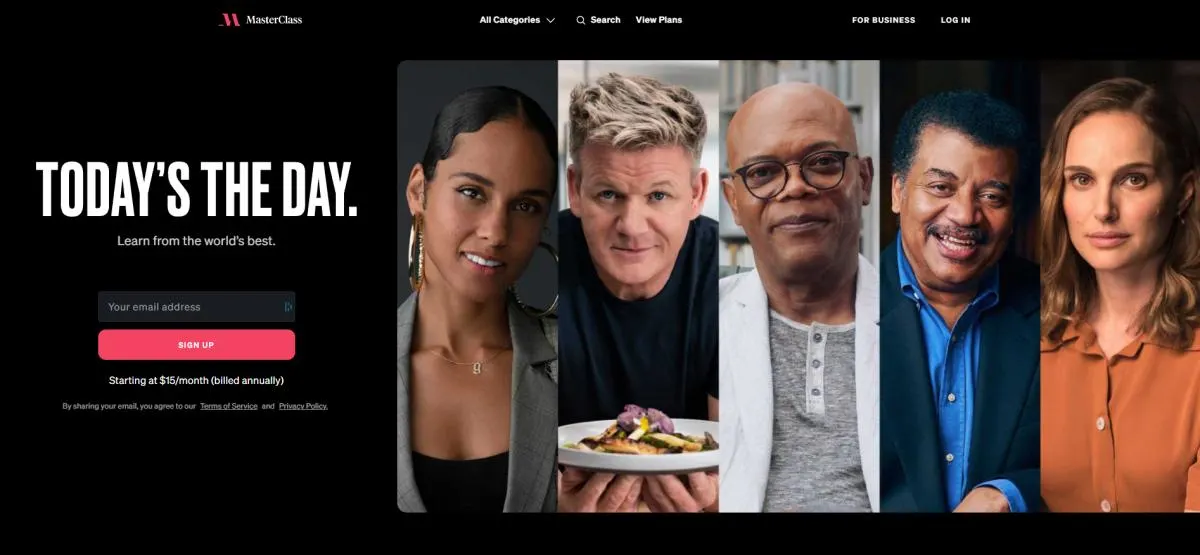 MasterClass started in 2012 and had major growth during the pandemic. School kids weren't the only ones taking their education online, and MasterClass was one of the best companies for people to go to get find the classes they wanted.
Founder David Rogier wanted to make a platform where everyone was able to access genius. He remembered how his grandmother wasn't able to get an education when she came over from Poland, and he didn't want that to be the case for anyone again.
The company's focus on empathy makes it a great platform, and it is easy to see the care put into it. It's easy to see the focus on empathy because they get into the mindset of the class taker.
Getting Started & Using MasterClass
Not only did MasterClass put a lot of work into their classes, but they also put a lot of work into their onboarding experience. When you get started, they'll take you through a very specific process to make sure you're able to find the perfect classes for you.
Once you are ready to get started, a screen will ask you to tell your gender or to opt-out of giving that information. Then there is a section that will ask if you're there to learn everything you can, specific things, or if you're there for a particular class.
After choosing one of those options, you'll come to another screen. If you select a specific class, they'll take you to a screen where you can find that class and get started. If you choose to learn everything, then you'll go to a screen that shows different categories you can choose from.
At this point, you have your account, and you're ready to get started with learning. It's as simple as picking a class and putting on your listening ears.
Course Types
You'll find a wide array of classes on MasterClass. While some platforms focus on a specific genre, you can find a lot of different things on MasterClass, including: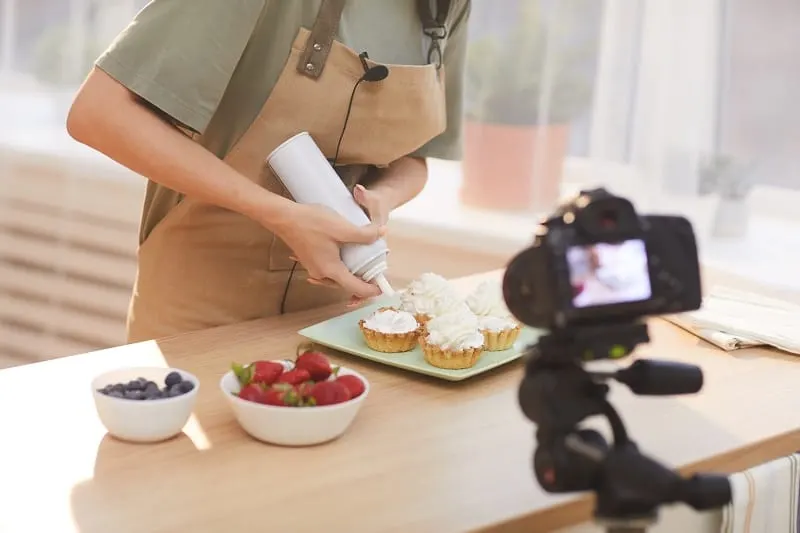 Film & TV
Music & Entertainment
Writing
Culinary Arts
Business, Politics & Society
Sports & Games
Design, Photography & Fashion
Lifestyle
These classes are all taught by people that are well-known in their field. These are the people that do these things they are teaching, so users can feel a sense of confidence that they truly know what they're talking about.
Courses
It is clear to see that the courses have high production quality. Because the video and sound are so good, there isn't anything to distract users away from the important content they're trying to learn.
You can't see the length of time the course takes until you click on it. However, on average, each course is around three hours.
Teaching Quality
All of the instructors are famous experts in their field so that you can feel confident with their content. Some people worried some of the people wouldn't be good at teaching their craft, but, as it turns out, all of the instructors did well and are more than effective with their communication styles.
Support
If you have a problem with your MasterClass account or have other questions, a chatbot can help you. You have a limited number of options to pick from, but if you click other, it sends you to the frequently asked questions. If you can't find the help you need in the frequently asked questions, it directs you to the support contact form, where you can submit your question to get a response from an associate.
Pricing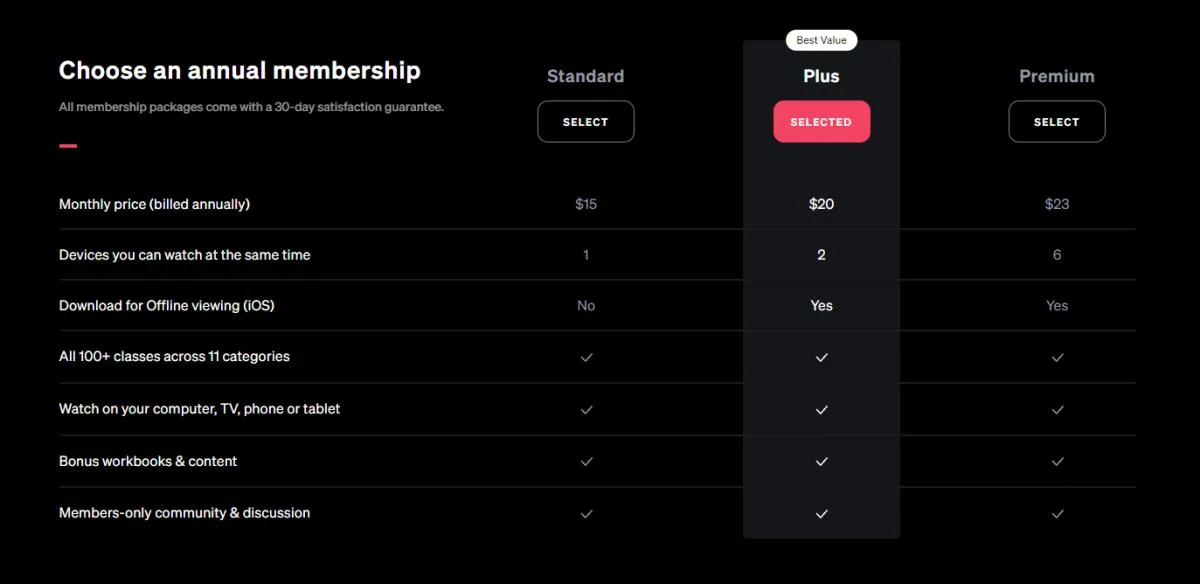 The pricing for MasterClass is very impressive, however, you do have to pay annually.
Standard is $15 per month with one device per account, all classes available, watch on your computer, TV, phone, or tablet, use the workbooks and bonus content, and enjoy the members-only discussion area.
Plus is $20 per month gives you everything within the standard membership but allows you to watch on two devices at the same time and gives you the ability to download on iOS for offline viewing.
Premium gives you everything in the Plus membership but allows you to view at the same time on up to six different devices.
MasterClass vs Skillshare: Skillshare Overview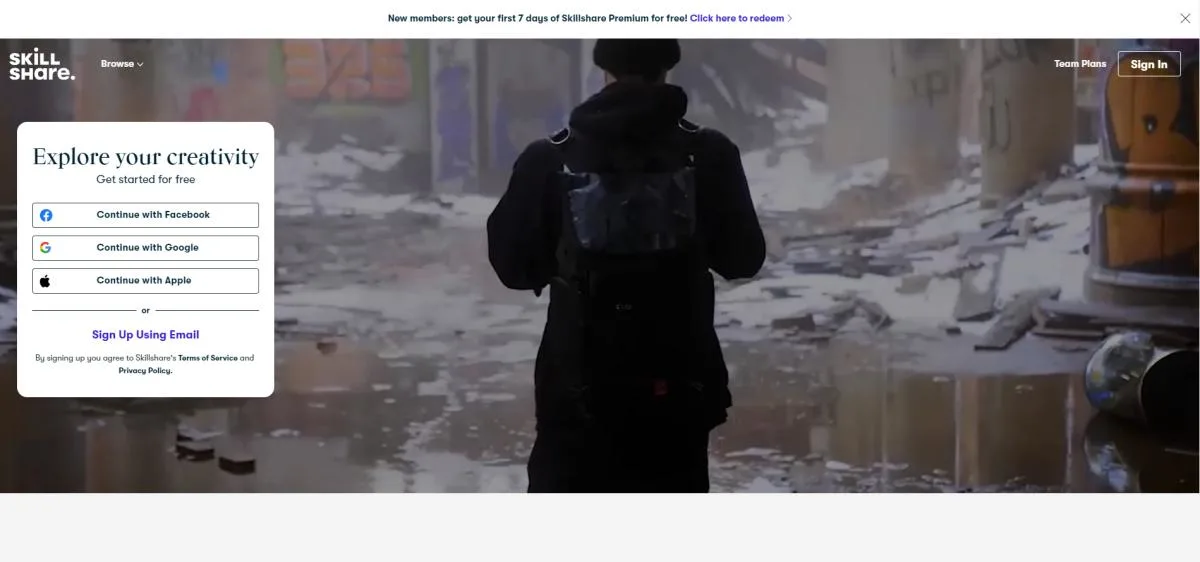 Skillshare is a popular online learning platform that offers over 10,000 courses to its members. Launched in 2010, Skillshare carved a niche out in the self-paced and self-guided learning space.
It focuses more on community vs lecturing and teaches users intending to complete a project in mind. If you can complete the project, you've learned what you need to know to continue.
Skillshare is perfect for lifelong learners because it has so many different topics and courses available for people who love learning.
Getting Started & Using Skillshare
Skillshare makes it easy for users to start using their platform. You can quickly sign up for a free account using Google or Facebook so you can start learning, but I ran into a little hitch whenever I tried to do this.
Once I signed up using Google, it immediately took me to the checkout page and asked for $180 for the annual membership. No matter where I clicked, it continued to take me back to this page—even though it said it offered a 7-day free trial.
Maybe they'll fix this by the time you reach it, but as of right now, that's been a bad experience. If you are ready to sign up, that's fine, but I wasn't ready, and I don't like platforms to strongarm me.
Other than that, it's really easy to get into the courses and start learning if you're ready to pay the subscription price.
Course Types
There are many types of courses so you can stay with Skillshare for a long time—even if your interests change. Here are some of the types of courses you can expect to see: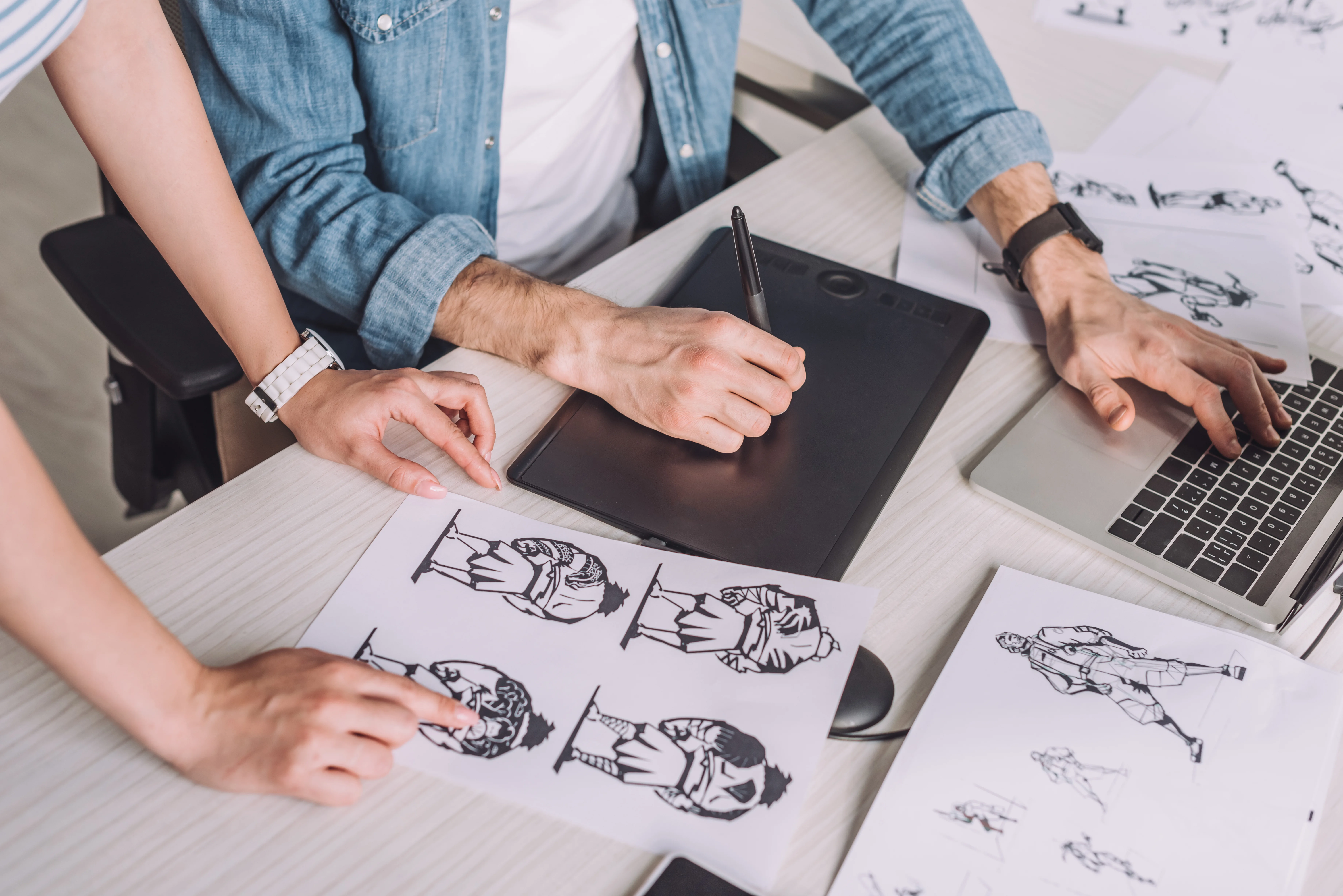 Animation
Creative Writing
Film & Video
Fine Art
Graphic Design
Illustration
Music
Photography
UI/UX Design
Web Development
Business Analytics
Freelance & Entrepreneurship
Leadership & Management
Marketing
Lifestyle
Productivity
This great selection of courses can keep you busy for a long time. You might even discover new interests as you start learning about things outside of what you currently want to learn about.
Keep in mind that anyone can submit videos to Skillshare. There is no approval or submission process, so you will have to wade through some not-so-great content.
Courses
Once you find a class you think is interesting, you can click on it to get more details to see if you want to dive into it. You can also see an indicator of whether the class is for beginner, intermediate, or expert learners. There is a preview video that allows you to see what the course will be like, but if you want to move forward, you have to subscribe to be a premium member.
Almost all of the courses ask you to complete a project using the information you learned in the course to concrete what you learned. Each course is split up into lessons, so you can get bite-size information whenever you can fit in a little bit of time learning.
Teaching Quality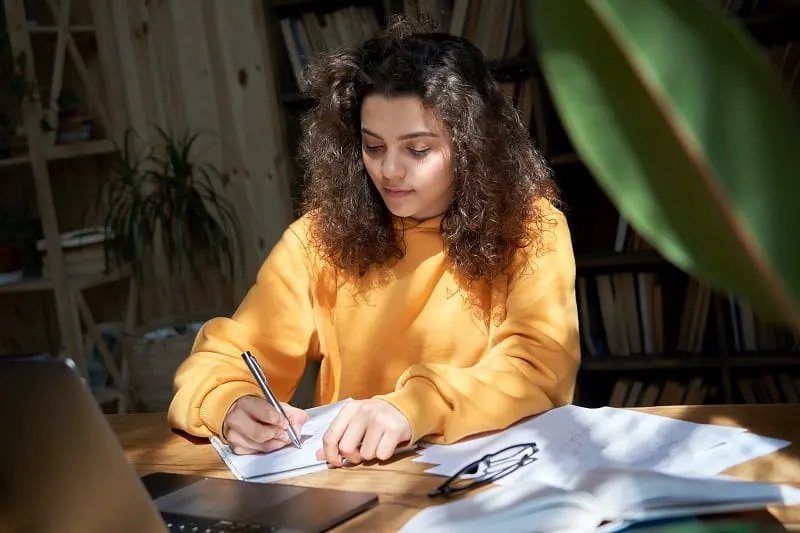 Since anyone can teach classes on Skillshare, there is a wide range of course quality. Some have better audio and video than others, while some have better content than others, etc. There are so many good courses that you don't have to worry too much about the less-than-great content you see there.
Most of the people with courses on the platform are experts in their field and do a good job teaching the content. A cool thing you can do when watching a video is to put a note on the video that other people can see. You can also read the notes other people put on the video at a specific time period to get other people's perspectives.
Support
If you need some help, you can head over to the Skillshare help center. There are a lot of sections to click to find the answer to your question. However, if you don't find your answer, you can click on the support chat in the lower right-hand corner.
When you click on that, you type in what your issue is. A bunch of articles will pop up and if none of those articles are helpful, you can click the contact us button. When you click this, it will ask you to fill out a simple form and let them know what your problem is so they can get back with help.
Pricing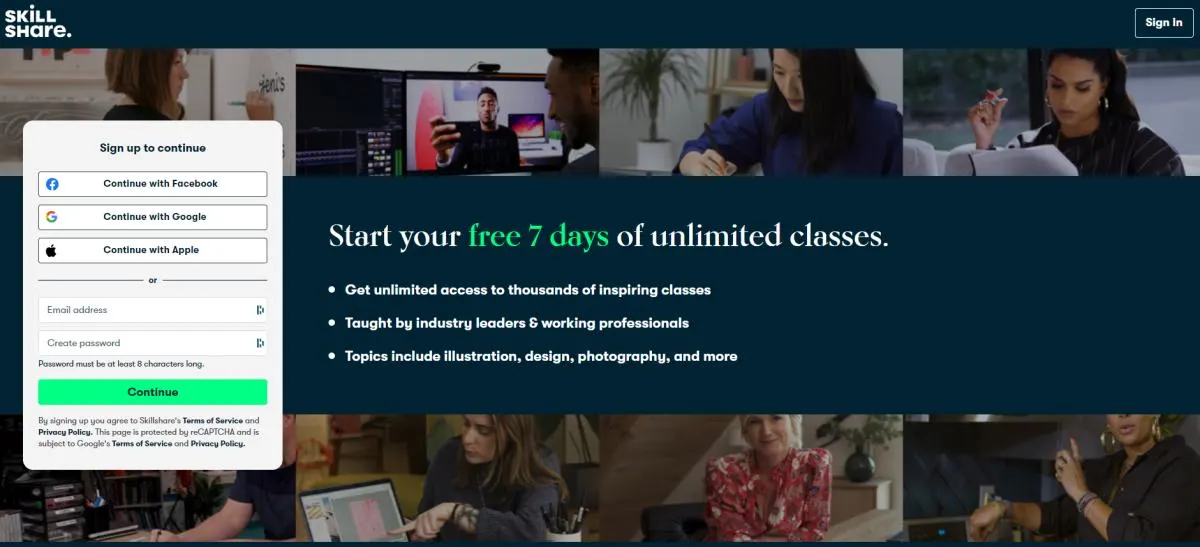 As I said above, I had some issues with the 7-day free trial of Skillshare. It wanted me to enter my payment information right away. If that's fixed now, great, but otherwise prepare not to enjoy that free trial.
As far as pricing goes, there are two different options.
You can pay $15 per month if you pay annually or $32 per month if you pay monthly.
Both of these options give you complete access to all of the courses on the platform.
Why Would I Pay to Learn Online?
If you're an avid learner on YouTube then you might wonder why you would pay to subscribe to a platform like Skillshare or MasterClass. While YouTube does have a lot of great information and I spend a lot of time on YouTube learning too, I find there is a lot of value to structured courses.
When you learn through a structured course, you'll retain a lot more of the information. Sporadic learning isn't as effective as getting the information in a nicely packaged way. Also, you might find a lot of people save their best stuff and important tips for their paid courses.
Other Online Learning Platforms to Consider
Udemy: This platform has a lot of inexpensive ways to learn and allows you to only buy what you want to buy.
Treehouse: If you're into techy stuff then this is the perfect place to learn things like coding and designing.
Pluralsight: This is another great place for tech lovers and has some unique classes that can bring a lot of value.
Bottom Line – Which Platform Should I Choose?
Both platforms are great, but my top pick is MasterClass. There are some limits to their content, but if they have what you're looking for, I would recommend getting a membership there.
The instructors are engaging and the production quality allows you to focus on what is important. Skillshare has hit or miss quality because you don't have to qualify to submit your course. MasterClass can help you achieve your online learning goals and give you an enjoyable experience.
Also check out these articles: Skillshare vs Pluralsight and Linkedin Learning vs Udemy.