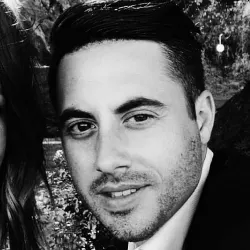 Latest posts by David Borgogni
(see all)
Acquiring new skills and improving those you already have is the only way to achieve your professional goals. Completing some of the best Udacity Nanodegree programs can put you a step closer to getting your dream job and doing what you love.
Online learning platforms are actively changing the way we think about education, as we no longer have to sit in a classroom for several years to get a degree. Instead, platforms like Coursera, EdX, or Udacity enable their students to obtain degrees from the comfort of the homes while learning at their own pace.
The EdX vs Coursera comparison can help you find which certifications you can get at these two platforms. Our guide to the best Udacity Nanodegree programs will help you get better acquainted with this online learning platform and the courses it offers.
The 5 Best Udacity Nanodegree programs
A brief overview of the Udacity online learning platform

Remote learning predates the Internet era, but the availability of the Internet has made education more accessible than ever before. Udacity started in 2011, as an online learning experiment conducted by Sebastian Thrun and Peter Norvig.
The duo of Stanford instructors offered a free 'Introduction to Artificial Intelligence' course that was attended by more than 160,000 students from 190 countries. The initial success of the experiment prompted Thrun and Norvig to establish an online learning community.
In just three years, Udacity attracted more than 1.5 million users as the platform continued to expand the range of courses it offers. Udacity maintains the collaboration with leading tech companies such as Google or Nvidia on the development of the courses and programs it offers.
Udacity is best known for the courses that cover tech-related subjects, but the platform offers programs in several other fields. Go through our Coursera vs Udacity comparison if you're unsure which online learning platform is better.
Best for Tech Careers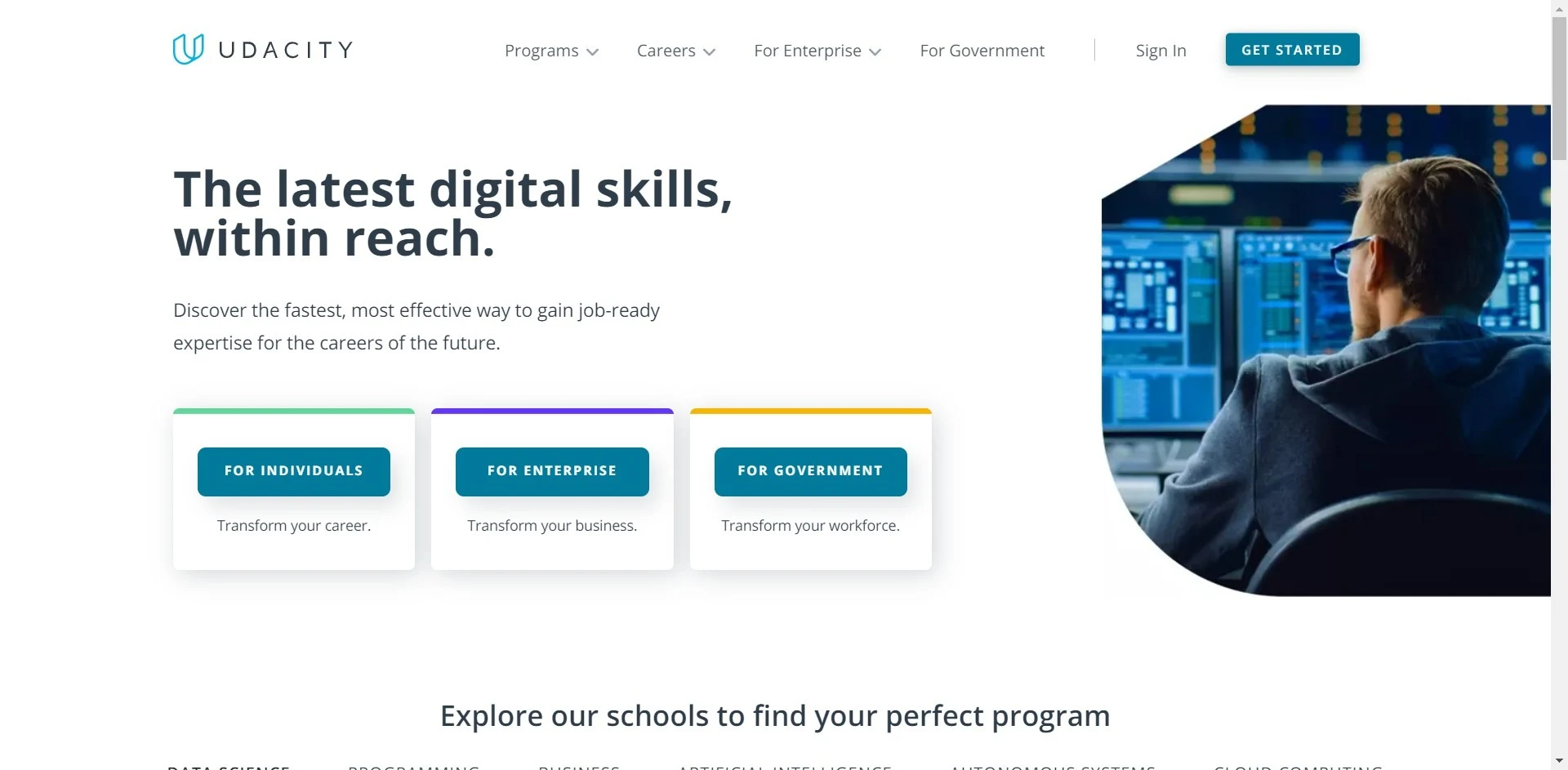 Why Go With Udacity
While Udacity doesn't have the widest selection, the degrees they DO offer are robust, industry recognized "nano" degree programs (mostly concentrated in TECH careers). If you have the choice - and are looking for recognized credentials - Udacity is the more industry specific pick.
Start Now
Take 25% with Code "CAREER25"
We earn a commission if you click this link and make a purchase at no additional cost to you.
What does attending a Nanodegree program entail?
Udacity developed the Nanodegree program in partnership with AT&T. The first Nanodegree program was introduced in 2014 and it was created for students who wanted to get the coding skills required to land an entry-level job in the IT sector.
The platform offers 59 Nanodegree programs that cover a broad range of business, programming, or AI-related subjects. To complete each program you have to attend several courses that explore themes that are closely connected to the program's main topic.
The Nanodegree is awarded to students at the end of the program, but you should keep in mind that these degrees are not accredited or recognized by official educational institutions.
Nonetheless, industry-leading companies like Intel, Mercedes-Benz, or IBM recognize the platform's credential program. Numerous lecturers at Udacity work for these companies and they share their experience with students.
You should check out our guide to finding the best online business courses if none of Udacity's Business Nanodegree programs meet your expectations.
Types of Nanodegree programs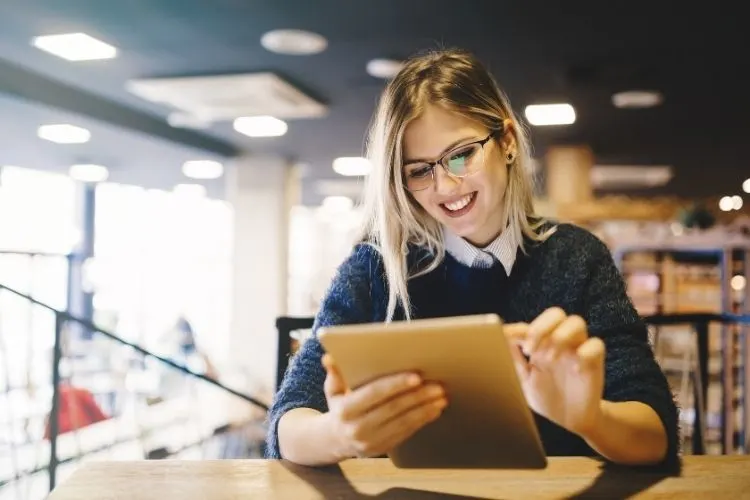 Currently, the platform offers Nanodegree programs in the following fields:
Each of these categories contains between 5 and 20 Nanodegree programs, but the Artificial Intelligence and Programming and Development categories contain the largest number of programs. Consequently, most students attend courses or programs from one of these two categories.
Udacity is also a popular online destination for students who want to become product managers or start a career in digital marketing because it offers a broad range of business courses and Nanodegree programs.
You can attend nearly 200 courses for free at Udacity, but the platform doesn't provide any type of accreditation for its free courses. Even so, enrolling in one of these courses can be a great way to prepare for the Nanodegree program you want to take.
Read our guide to finding the best graphic design courses if you were hoping that you could get Udacity's Nanodegree in this field.
Meeting the course prerequisites
Udacity is a great place to search for an introductory course to the subject you'd like to learn more about or to extend the knowledge about a field you're already familiar with. All Nanodegree programs this learning platform offers are divided into Beginner, Intermediate and Advanced categories.
There are no enrolment prerequisites for the majority of Beginner programs other than having a stable Internet connection and access to YouTube. However, some programs require familiarity with a particular software package or basic concepts on which the program's syllabus is based.
For instance, you must have the basic knowledge of algebra, descriptive statistics, and Excel if you want to attend the Predictive Analytics for Business program, even though it is aimed at beginners. That's why you may have to complete a few introductory courses before starting a Nanodegree program.
The enrolment requirements are higher for Intermediate and Advanced programs, as some of them demand previous working experience within the industry or excellent command of different types of software.
How much time does it take to complete a Nanodegree program?
One of the advantages of online learning is that you can choose the pace at which you're learning. All Udacity's Nanodegree programs are flexible and you can decide how much time you allocate to them every week.
On average it takes between two and six months to get a Nanodegree if you dedicate 5 to 10 hours weekly to the program.
You should keep in mind that you'd have to complete a project after each course included in the program you choose and that failing to deliver your projects in time will extend the duration and the cost of the Nanodegree.
On the other hand, the platform advises against rushing through the syllabus and suggests taking the time to understand fully each lesson before moving on to the next one. Read our edX vs Udacity comparison to find out how much time you have to spend to complete courses at these e-learning platforms.
Career opportunities presented by Nanodegree programs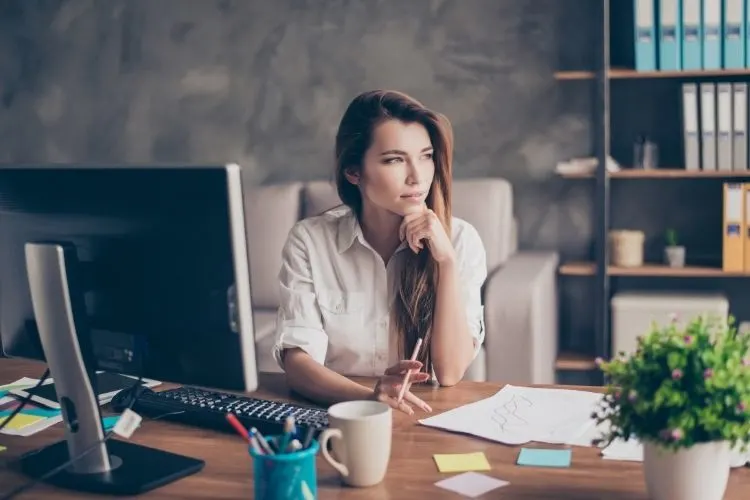 Nvidia, IBM, Amazon, or Accenture are among companies that hired candidates who completed a Nanodegree program. In addition, all programs come with a set of career services that involve the customization of your LinkedIn profile, a CV review, and the review of your GitHub portfolio.
The courses and programs provide theoretical and practical knowledge that is required to get a job in the advertising, IT, or business management sectors. Even so, you may have to complete more than one course before gaining enough knowledge and experience to start a career in a particular field.
This platform can help working professionals improve the skills they already have to get a better position within the company they're working for.
What's more, the platform offers interview preparation courses that take you through all stages of the job application process for a particular position.
The advantages of completing a Nanodegree program
Programs are adjusted to your current skill level
If you want to learn more about a subject you know almost nothing about, Udacity is a great place to start. The platform features numerous entry-level Nanodegree programs that help you develop basic programming, business analysis, and other skills.
Udacity is a great place to learn programming
This online learning platform is famous for its programming and development of Nanodegree programs because they are designed by experts that have years of experience in the industry.
So, besides learning the theory behind programming languages, you'll also learn how to apply your knowledge to real-life projects.
Nanodegree programs don't take long to complete
Most Nanodegree programs can be completed in 3 to 4 months, although how quickly you can complete the program you chose depends on how much work you're putting in. You can pace your way to a Nanodegree and decide how quickly you want to complete all courses.
The disadvantages of completing a Nanodegree program
A relatively limited selection of programs
There are only 7 categories that contain approximately 60 Nanodegree programs at Udacity and you won't find photography, health, or engineering courses at this e-learning platform.
Nanodegree programs are expensive
You can spend anywhere between $1000 and $2000 on a Nanodegree program, and in most cases, you will be able to find a more affordable accreditation program.
The most important factors to consider while choosing a Nanodegree program
The decision which of the Udacity's Nanodegree programs you should take is personal because it depends on the current stage of your career and the direction in which you want to develop your career.
However, there are several general rules you can apply to search for any type of Nanodegree program, so let's take a look at how you can narrow down your search for a Nanodegree program.
The program's relevance for your area of expertise
You should look for programs that enable you to expand your knowledge within a certain field, or opt for a Nanodegree that enables you to start a career in IT or some other industry.
Targeting Udacity's programs that show you how to use a software or programming language you need to become more proficient will help you advance in your career.
Commitment level
Estimate how much time you can dedicate to a Nanodegree program each week to avoid having to extend the program and spending additional money. In most cases, you won't need to spend more than 10 hours per week to get a Nanodegree in three to four months.
Enrollment requirements
Check if you have all the skills you need to follow the program without difficulties. This is particularly important if you want to attend an intermediate or advanced Nanodegree program because they have higher enrollment requirements than beginner programs.
Employment opportunities
Acquiring skills that enable you to land a job in a booming industry is a great long-term investment. Udacity offers several introductory Nanodegree programs that teach you how to code, analyze data, or design user experiences.
The cost of the program
You can decide if you want to pay your tuition fee in a single payment or monthly installments. The monthly fee for most programs is $399 but it drops to $339 if it is settled with a single payment.
The program's cost depends on its duration, and a six-month Nanodegree program will cost you twice as much as a three-month program.
Introduction to programming – Best for novice coders

You will learn how to use HTML, Python, JavaScript, and CSS languages if you decide to take the Introduction to programming. Installing the Sublime Text or Atom code-text editors is the only requirement you will have to meet before starting to learn how to write code.
You don't need previous coding experiences to start attending the courses, but you will have to spend at least 10 hours per week for 4 months to get the Nanodegree. You'll have to create animal trading cards, an adventure game, and similar projects to complete each course within this program.
Pros
No previous coding experience needed
More than 5000 students from 98 countries graduated from this program
Excellent team of instructors
Students complete three projects during the program
Cons
This Nanodegree program isn't designed to prepare you for a specific job
You may have to brush up on your math before enrolling in this program
Android Basics by Google – Best for novice app developers

You won't need much more than the motivation to learn in order to complete the Android Basics by Google Nanodegree program. Over the three-month period, you will learn who to develop apps from the user interface to Web APIs.
The program involves working in the Android Studio, but you will receive detailed instructions on how to install this environment on your computer. You will have to design several apps at different stages of the program to complete it and get the Nanodegree.
This is a beginner program and you may have to get a few more Nanodegrees before you can start developing apps professionally.
Pros
Great teaching staff
Provides students with lots of practical experience
Anyone can enroll in this program
The program was developed in collaboration with Google
Cons
Requires a high level of commitment
Data Analyst – Best for Business and Marketing Analysts

If you're already feeling confident using Python and SQL, you won't have too much trouble completing the Data Analyst Nanodegree program.
One of the instructors you will be working with during this program is Udacity's founder, Sebastian Thrun, while all other instructors come from the academic community.
This program takes you through the basic concepts of analyzing vast amounts of data and shows you how to use statistics to interpret the results of A/B tests. At the end of the program, you'll be able to visualize data with Python and present your result.
Pros
Teaches students how to use data to tell stories
Data analysts are in high demand on the job market
Mentors provide support throughout the program
Prepares students for different types of jobs
Cons
You must take several courses to prepare for this program
You can't attend the courses within this program from the Udacity app
Hybrid Cloud Engineer – Best for cloud technology and data-centered professionals
Learning how to design multicloud structures or manage public and hybrid clouds are some of the advantages of completing the Hybrid Cloud Engineer Nanodegree program. This intermediate program requires you to have advanced knowledge of command lines and virtual machines.
Besides, a basic understanding of web servers and SQL is necessary to complete courses in this program. You will have to perform tasks like designing a private cloud web application infrastructure or creating a three-tier web application to complete a course and move on to the next one.
Pros
The program was developed in collaboration with Nutanix company
Both lecturers work at Nutanix for years
After the program, you'll be eligible to apply for a broad range of positions
Students work on three projects during the program
Cons
Aimed at seasoned IT professionals
All courses within this program demand a high level of engagement
Intel® Edge AI Scholarship Foundation Course – Best for computer vision and deep learning professionals
The Intel® Edge AI Scholarship Foundation Course gives you the opportunity to work on the development of the Internet of Things and other Edge AI applications.
This program provides the student with insight into deep learning, AI modeling and it equips them with practical experience of working with different types of neural networks.
You'll need an impressive understanding of deep learning, excellent command of Python, and Open CV to enroll in this Nanodegree program. It will take you approximately three months to complete all courses in this program if you dedicate ten hours to it each week.
Pros
Offers opportunity to extend your understanding of deep learning and neural networks
Knowledgeable instructors
Great for developers who want to move forward in their careers
A chance to work with the Edge AI
Cons
Designed specifically for industry professionals interested in deep learning
Taking preparation courses before starting this Nanodegree program is recommended
Frequently asked questions about Udacity's Nanodegree programs
Question: Do Nanodegree programs increase my chances of getting a job?
Answer: The answer to this question depends on the Nanodegree program you're interested in. Generally speaking, completing a beginner Nanodegree program doesn't guarantee you'll get a job in the field.
Question: Can I shorten the completion time of a Nanodegree program?
Answer: Yes, you can. All Nanodegree programs enable you to choose how much time you dedicate to them every day, so if you spend enough hours you can complete a program in a month.
Question: How is going to review my projects?
Answer: Instructors evaluate and provide feedback for each project you submit at the end of a course you take within a Nanodegree program.
Question: Can I pause a Nanodegree program?
Answer: Pausing a Nanodegree program isn't possible, but if you opt for a monthly subscription model the platform lets you cancel your subscription.
Our verdict: What are the best Udacity Nanodegree programs you can take?
In less than a decade, Udacity has attracted millions of students from every corner of the world. The platform remains focused primarily on IT-related topics since even the business and marketing Nanodegree programs you can find at Udacity involve the usage of software tools.
Best for Tech Careers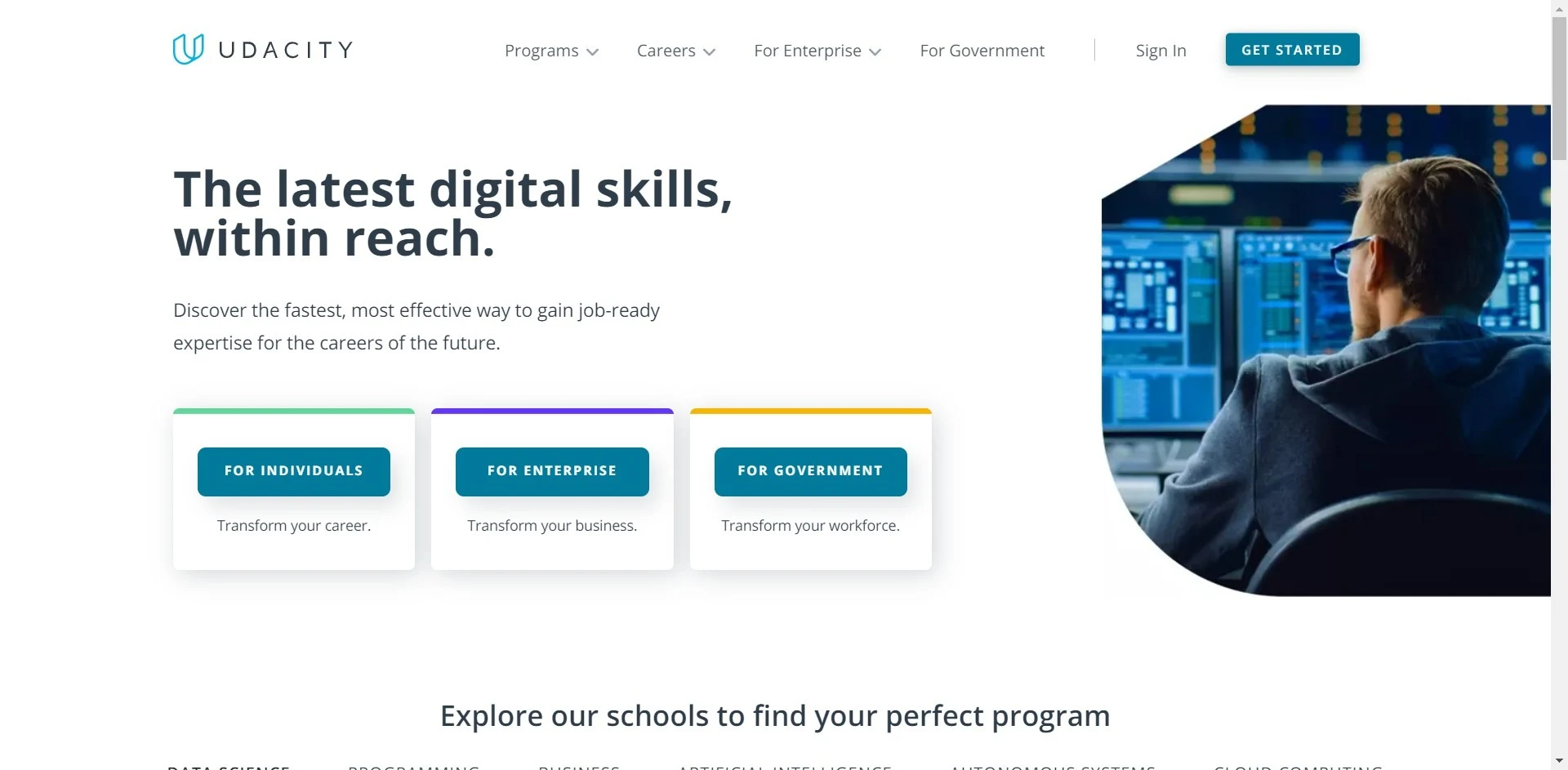 Why Go With Udacity
While Udacity doesn't have the widest selection, the degrees they DO offer are robust, industry recognized "nano" degree programs (mostly concentrated in TECH careers). If you have the choice - and are looking for recognized credentials - Udacity is the more industry specific pick.
Start Now
Take 25% with Code "CAREER25"
We earn a commission if you click this link and make a purchase at no additional cost to you.
We recommend opting for the Data Analyst or the Introduction to Programming Nanodegree programs if you are new to coding or you'd like to learn how to manipulate vast amounts of data.
Advanced Nanodegree programs like the Intel® Edge AI Scholarship Foundation Course are designed to meet the expectations of experienced IT professionals.
Which of the best Udacity Nanodegree programs are you going to choose? Let us know in the comments or continue reading our guide to the
See how Udacity compares to other popular platforms: