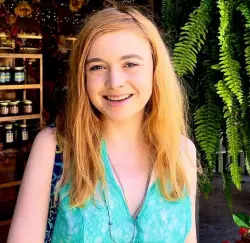 Latest posts by Erin Jamieson
(see all)
Being able to take a course online, on your own schedule has been revolutionary for many working adults or even busy students– but when the pandemic first caused lockdowns last year, online learning platforms like Pluralsight and Udacity became all that more attractive, especially for those interested in learning the in-demand business and tech skills.
Even as vaccine distribution improves, the power of online learning has never more relevant than it is headed into 2021– something Pluralsight and Udacity is taking advantage of by launching new promotions for potential learners, as well as new programs– while acknowledging that, at the same time, some may be cautious to spend their money.
For Pluralsight, that means bringing back free trial periods, as they did in 2021. Pluralsight announced a free April learning period for businesses and individuals struggling with the economic downturn from the pandemic. 30 days of free access to courses is meant to bring and keep learners on the technology-driven platform, purportedly to help develop skills, but also, of course, to convince them to stick with Pluralsight.
Udacity has taken a different approach. Rather than offering a free trial, Udacity decided to add an entirely new school to its complete programs. At the beginning of April 2021, Udacity added a School of Cybersecurity, further solidifying its reputation as an online learning platform for in-demand tech skills, with comprehensive programs.
Best for Tech Careers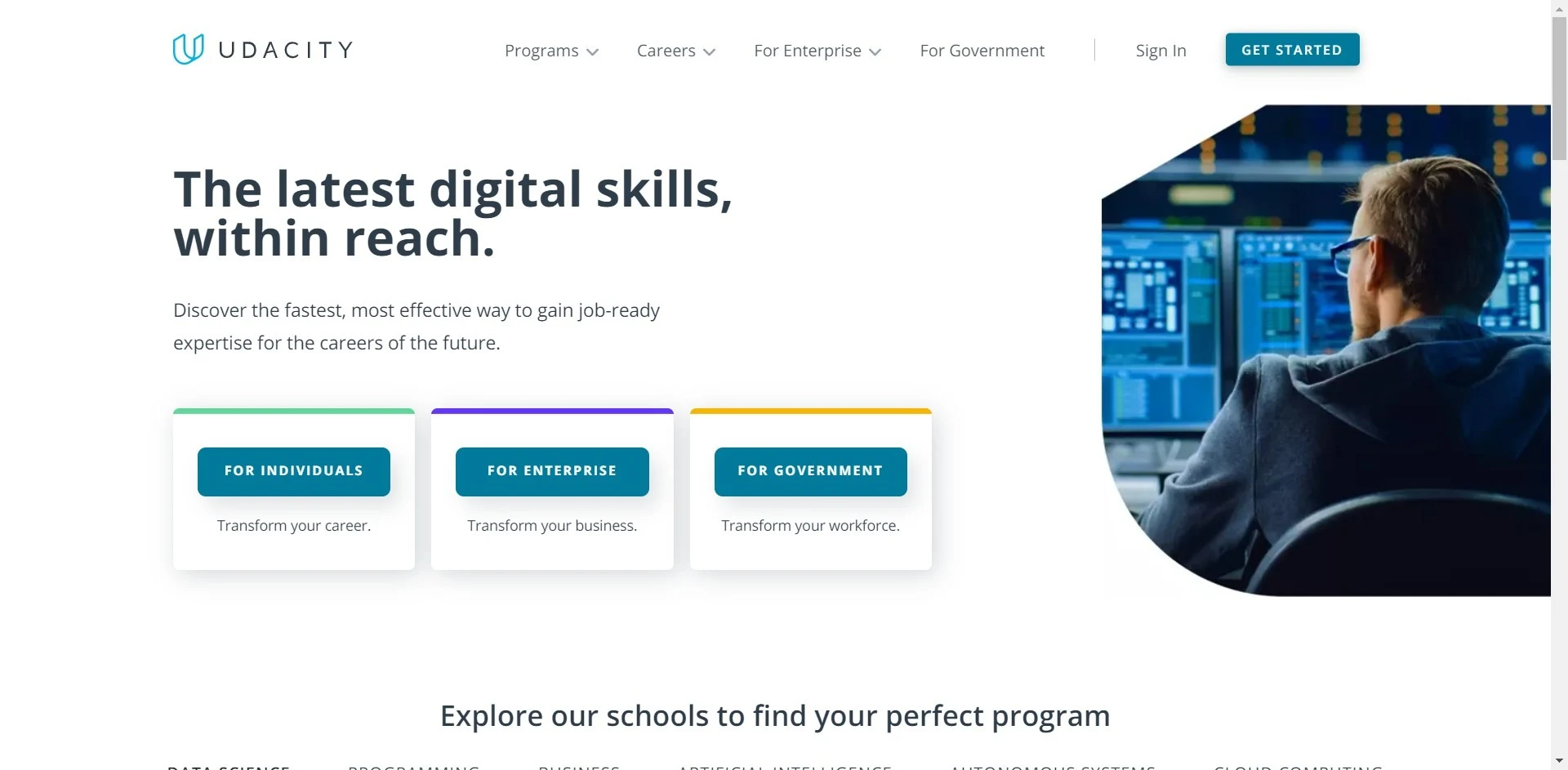 Why Go With Udacity
While Udacity doesn't have the widest selection, the degrees they DO offer are robust, industry recognized "nano" degree programs (mostly concentrated in TECH careers). If you have the choice - and are looking for recognized credentials - Udacity is the more industry specific pick.
Start Now
Take 25% with Code "CAREER25"
We earn a commission if you click this link and make a purchase at no additional cost to you.
But if you are interested in learning new business and tech skills, which is the better online learning experience? Consider this your guide to the differences between Pluralsight vs Udacity. I'll give you my honest opinion about which platform is most worth your time and money.
Main Differences Between Pluralsight vs Udacity
The Main Differences between Pluralsight vs Udacity are:
Pluralsight offers subscriptions for access to all courses, whereas Udacity offers some free courses and monthly fees for its main courses
Pluralsight offers projects and exams with a premium membership, whereas Udacity provides projects, exams, forums, and career tools with full courses
Pluralsight offers courses in business and tech, but also graphic and creative design, whereas all Udacity courses are in the business and tech fields
Pluralsight vs Udacity: The Truth
Now let's get right into comparing the two learning platforms. While on the surface these popular online learning platforms have a lot in common, there are some differences that I think should play a key role in your decision. I'll cover everything from the main purpose of these platforms, to pricing, course offerings, and overall learning experience.
What is Pluralsight vs Udacity used for?
Both Pluralsight and Udacity are known for their online learning services, particularly pertaining to business and tech fields, but their mission statements do have some subtle differences. And if you're looking for the best online business courses or even those in the teaching field, it's good to fully understand the platform.
Pluralsight
Pluralsight relies on its reputation through coverage through professional outlets, including Forbes. Situating themselves as a learning platform focused on delivering in both business and technology disciplines, they claim to combine teaching from experts in the industry, coupled with technology to help learners develop in-demand skills for their future.
Udacity
Udacity also situated itself as a leader in business education and technology, promoting 'lifelong learning,' while stressing not only a flexible learning environment but also a platform that stresses user engagement with hands-on projects and a focus on student-centered learning.
Winner: Draw
Both Udacity and Pluralsight focus their approach on claiming to help students learn in-demand skills. I noticed that Pluralsight did focus a bit more on its media presence, while Udacity focuses on its use for only for individual learners, but potentially for companies as well. Udacity does explain a bit more, on its surface, about the style of learning it purportedly offers.
How much does Pluralsight vs Udacity cost?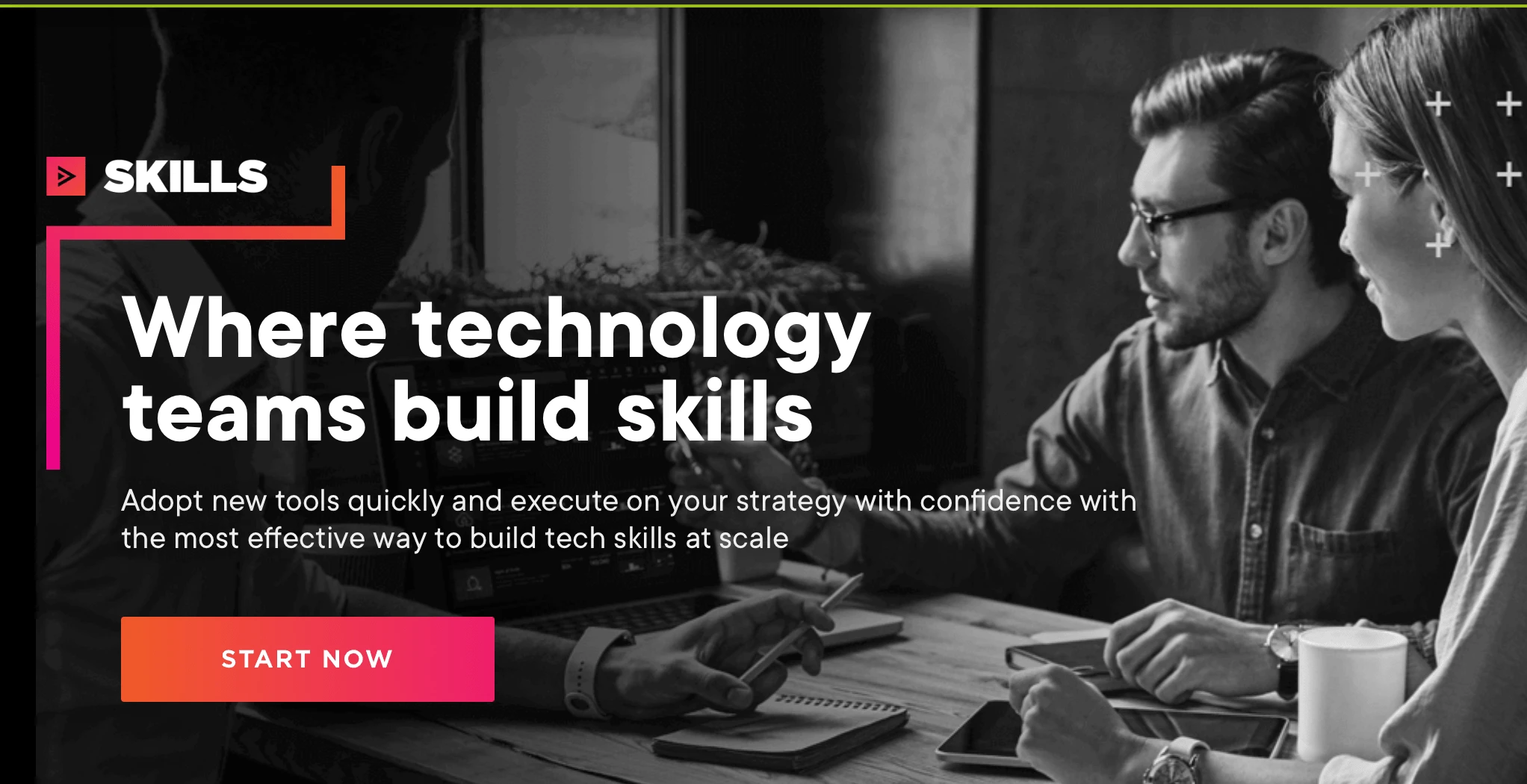 One of the top concerns I always have about online learning platforms is one which you undoubtedly share: cost. Pricing on Pluralsight vs Udacity is quite different, not just due to the overall cost, however, but also due to the very model on which courses are priced.
Pluralsight
Pluralsight offers subscription-based plans that provide access to their library of courses, Plans are priced either monthly or annually and provide different types of access. There are two main types of plans: Flow and Skills. Within Flow and Skills, there are a few options for pricing.
Flow offers plans meant for those hoping to study engineering disciplines. The standard plan provides 50-day repos and a 30-day trial and costs $499 a year. The plus plan, priced at $599 a year, offers unlimited repos and that same 30-day trial. Finally, the enterprise plan costs $699 per year and is designed for professional business teams.
Skills are subscription plans that offer access to all other Pluralsight courses. The $29 monthly fee offers access to skill exercises, as well as courses and the Pluralsight pathways. An annual subscription comes in at $299, while a premium subscription is priced at $449 a year and adds exams and interactive projects.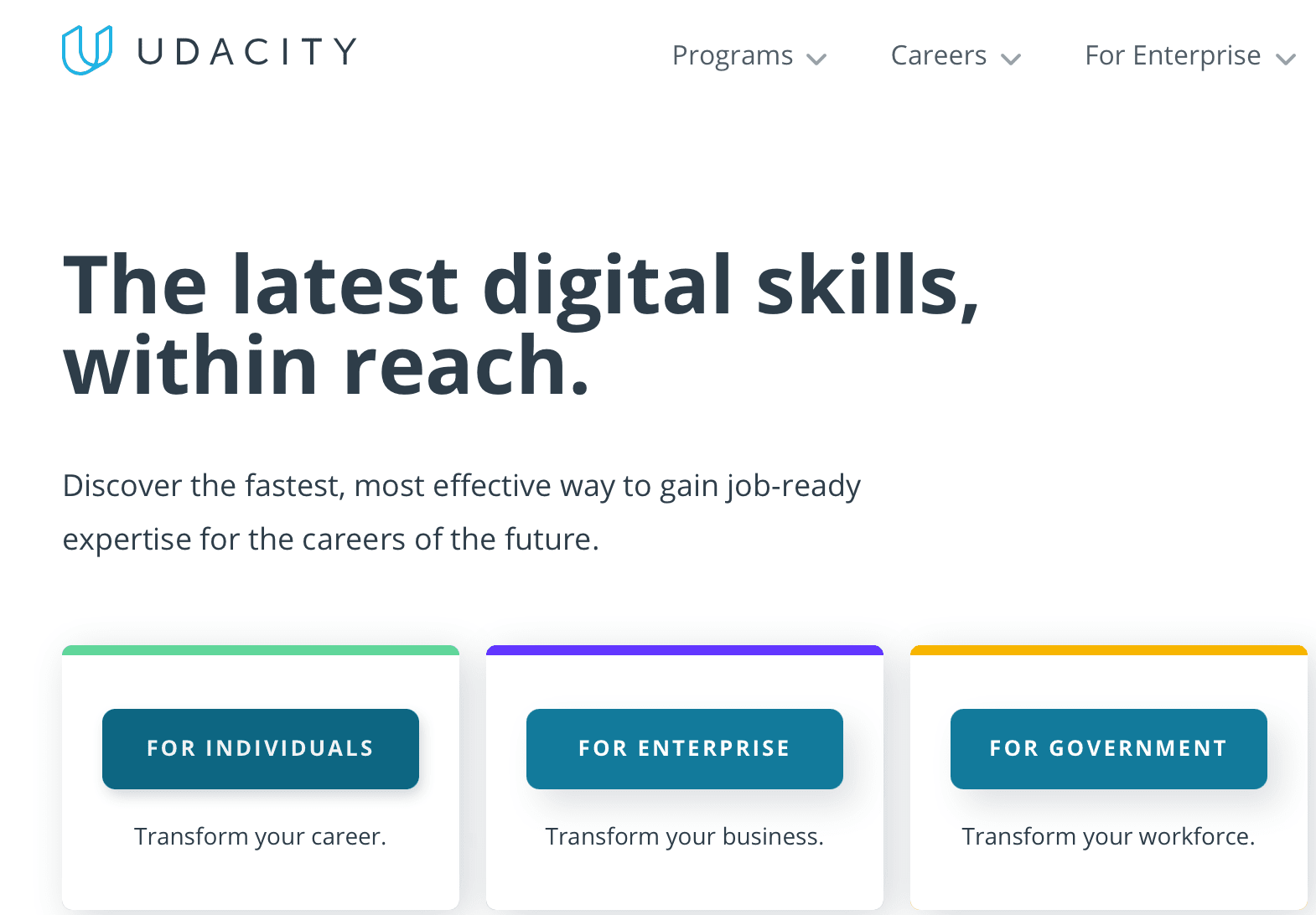 Udacity, on the other hand, is priced per course. Aside from the free courses (which do not require a paid subscription fee), each specialized course is priced per month, mostly at around $399 per month. Each course does give you an estimated completion time, which can range from under a month and go up to three months or more. That means you can expect to pay a minimum of a few hundred dollars for their courses. Since courses are self-paced, it's a bit on you how much you'll end up paying.
Winner: Pluralsight
Overall value aside–which, of course, I will get into later– Pluralsight is clearly more economical. With Udacity, you'll be paying per month, for its main courses, the same amount you'd pay for many of the annual Pluralsight annual plans.
In addition, with Udacity you're paying that for one course vs Pluralsight, which offers access to many courses for that price. If you opt for just a basic monthly plan, Pluralsight is quite affordable, especially compared with Udacity.
What courses are offered on Pluralsight vs Udacity?
While it's true that both Pluralsight and Udacity offer a range of courses in both business and technology, those course offerings vary more than you might expect.
Pluralsight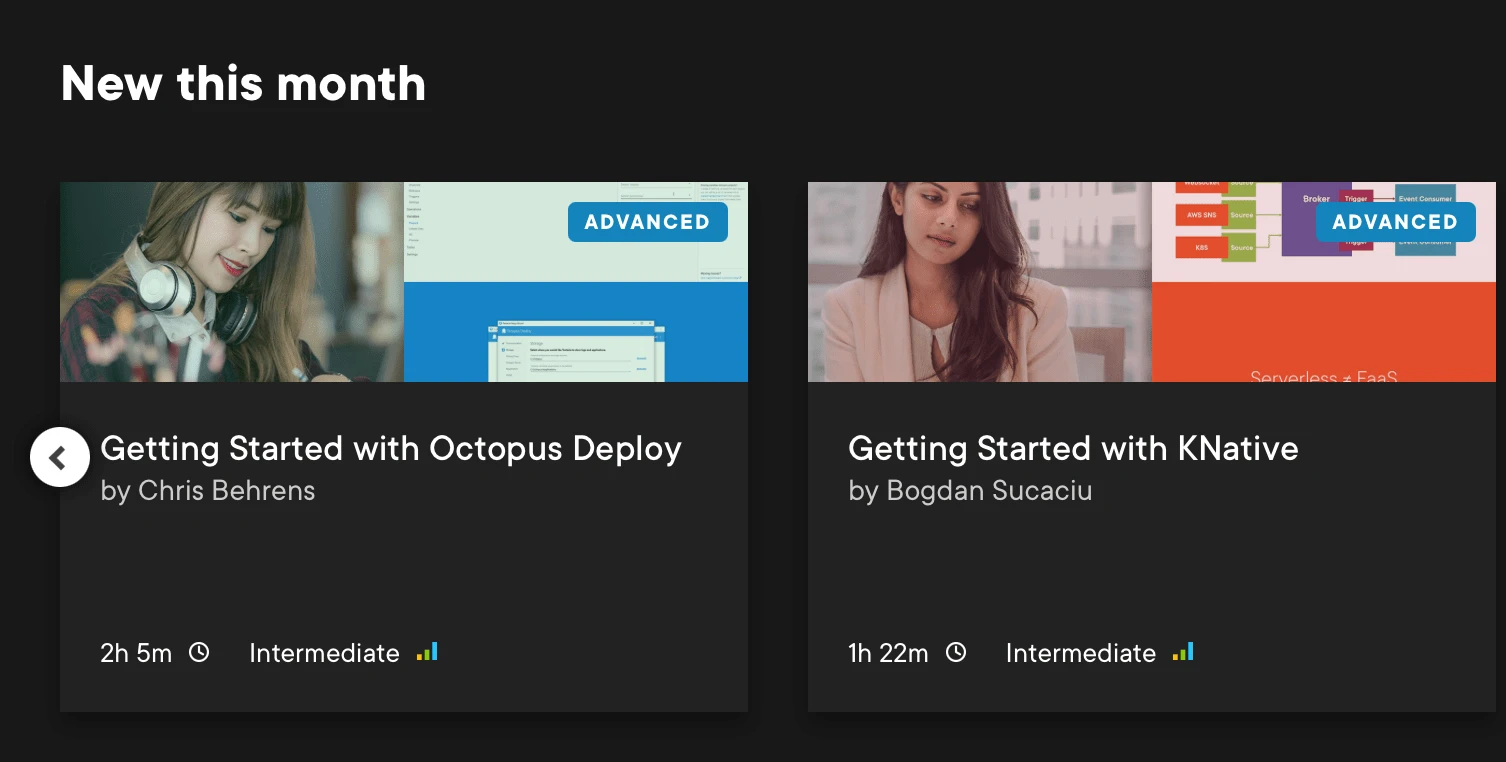 Pluralsight courses are most focused on general business, technology, and computer software, as well as their special engineering courses. Specific course areas include data professional, information/cybersecurity, software development, information technology, and creative technology courses, including game development, three-dimensional animation, and graphic design courses, among others.
It's a fairly extensive course library– in fact, at a given time, there are as many as 7,000 unique courses to choose from.
Udacity

Udacity offers courses in the following areas: artificial intelligence, autonomous systems engineering, business ( such as data analytics and digital marketing); cloud computing; data science, and programming development.
Udacity has 12 full courses, as well as a little over two dozen other general courses.
Winner: Draw
Technically, I don't think that having more courses is always a benefit. In some ways, if you have a specific focus in mind, you may find it less overwhelming (as I did) to pursue courses with Udacity's more user-friendly interface, and a better sense of organization without the pop-ups Pluralsight tends to feature. However, if you're looking for more creative fields, you'll find more to your liking on Pluralsight.
Who teaches courses on Pluralsight vs Udacity?
Who teaches you– that is, the expertise behind the courses–can make all the difference in whether or not a course is worth your time. That's why I always recommend checking to see who your instructors will be, which was what I investigated for both Pluralsight and Udacity, and made some interesting observations.
Pluralsight
Pluralsight allows you to preview your instructors– to a degree. On each course, you'll be given an instructor name with a succinct bio. The bios range from helpful to quite lacking in information. I found myself having to conduct my own searches to understand their expertise, with varying results. While some instructors do seem to provide a degree of confidence, the experience feels a bit frustrating and uneven at times.
Udacity
Udacity supplies even less information in some ways– while you can download a full syllabus upon request, there is next to no information, before you actually enroll, about who you're taught by. However, Udacity instructors are universally required to have a minimum of five years of professional experience in the subject they are teaching, as well as a minimum of one year of teaching experience.
Winner: Udacity
In this category, I wasn't especially pleased with either Udacity or Pluralsight. That isn't because the instructors are not qualified, so much that both Udacity and Pluralsight, in my opinion, could take steps towards greater transparency. I give the edge to Udacity for the minimum requirements to become an instructor.
What are courses like on Pluralsight vs Udacity?
When focusing on the course-taking experience, I like to pay attention to the features offered, learning materials, and the overall experience. While I myself am teaching remotely right now, I know that there are some downsides to online learning– and that engagement and ways to get extra support is all that much more important.
Pluralsight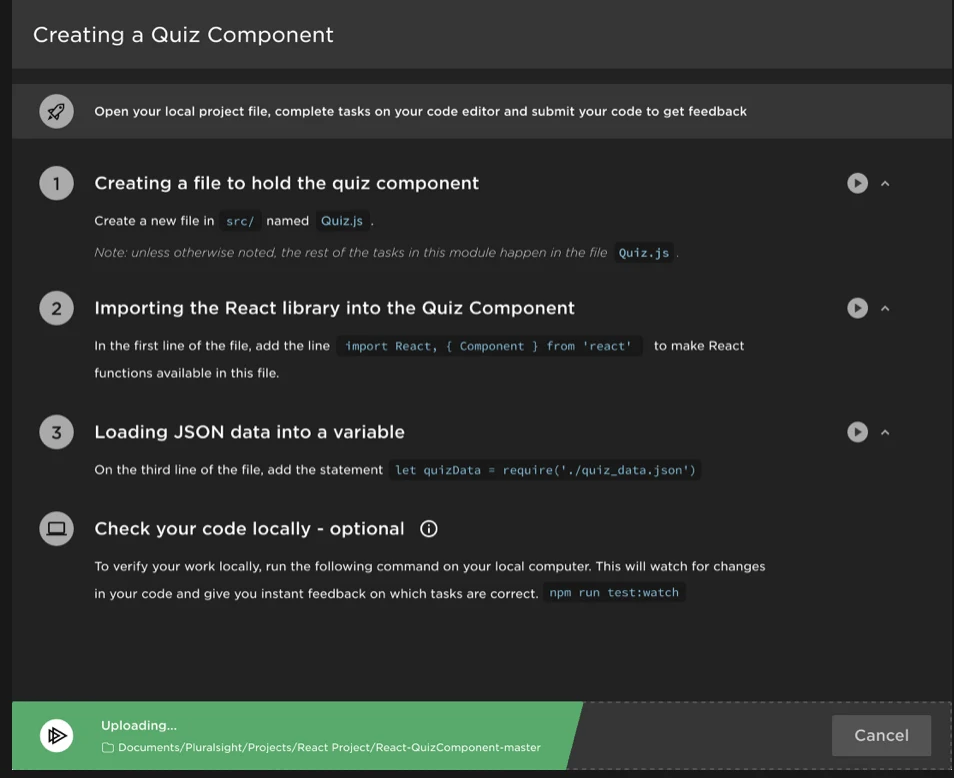 Pluralsight offers self-paced courses, delivered through pre-recorded video lectures. You can learn both online and offline, and that learning flexibility is helped with a downloaded app. For basic memberships, you're just getting access to those pre-recorded lectures and little else.
There is no official degree awarded, and there isn't a focus on completing coursework– much as is the case with many free Skillshare courses. But if you pay for a premium membership, you get a bit more.
Premium membership with Pluralsight makes for more interactive classes. Classes include not only lectures but also comprehensive exams and hands-on projects. I like these additions– in fact, I'd argue that they are almost needed to get the full course experience.
These help me, and likely you, retain information. I find that Pluralsight could be more generous as a whole on this interactive learning end, but that this level of membership does help in terms of engagement.
Udacity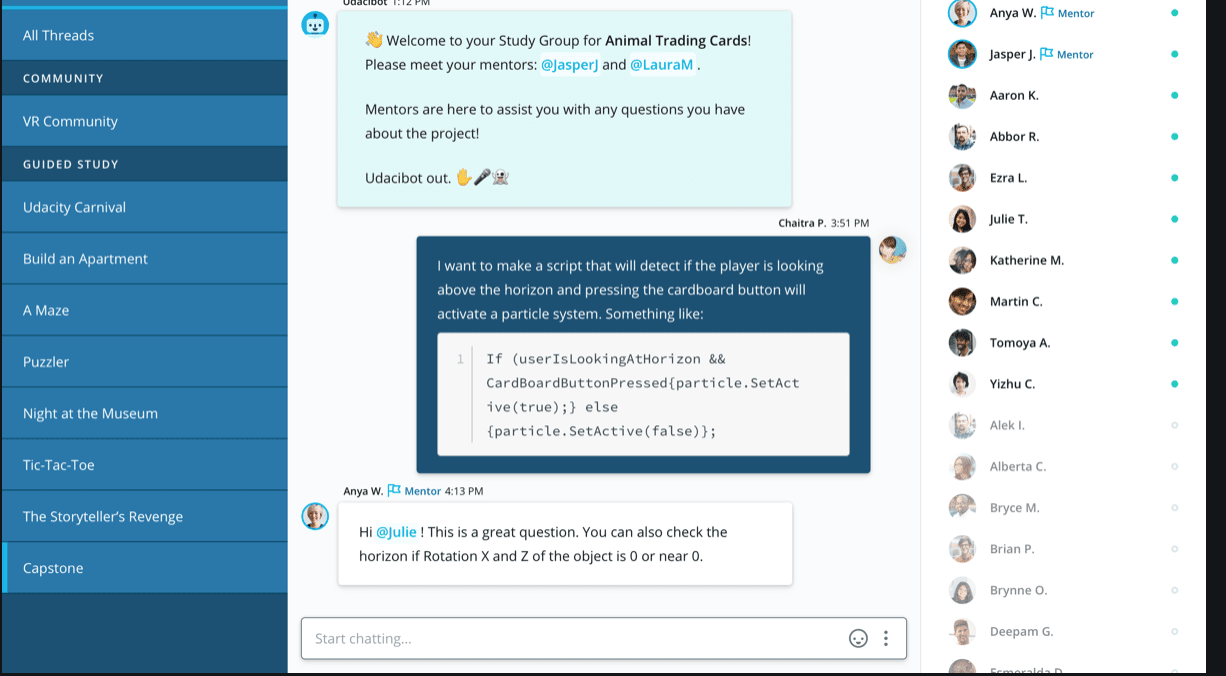 Udacity courses are a bit more generous in terms of engagement and interaction. While taking a class on Pluralshare can feel impersonal and not overly engaging at times, Udacity does try its best to mimic a more traditional course experience– at least that's the case for the ones you have to pay for.
While it is true that some courses are more generous than others in this regard, the Nanodegree is especially engaging and interactive. Not only do you have access to comprehensive and detailed course content, but you also get the opportunity to complete graded assignments, projects, and other resources like interviews from experts in the field, plus even a mentor to guide you through.
I also love the ability to participate in student discussion forums and additional career resources aside from the course. Career resources include help with cover letters and interview preparation, and even reviews for your professional sites, such as LinkedIn.
One downside is flexibility: unlike Pluralsight, you don't have an app. The video lectures are well done, though I do see the risk of feeling pressured to complete the course quickly, due to the monthly cost.
Winner: Udacity
Without a doubt, Udacity wins for the overall course experience. Even at the premium level, Pluralsight can't compete with the discussions, mentorship, projects, and other resources that Udacity offers. I do wish Udacity also had an app for learning on the go.
Is Pluralsight or Udacity more trustworthy?
One thing I'm always careful about when searching for the best online learning platforms in 2021 is to take note of my own experiences– but look to other user experiences as well. For both Pluralsight and Udacity, I wanted to dig past my impressions and see how they held up for the average user.
Pluralsight
Pluralsight, like many online learning platforms, is not accredited through the BBB (Better Business Bureau) but is a well-known name. In general, users tend not to have a terrible or excellent experience taking courses.
Scoring an average rating on consumer rating sites like TrustPilot, Pluralsight is acclaimed for the actual instructor, but many were not so pleased with technical support and customer service. In fact, one concern complaint that seems to be a trend is that it can be hard to cancel subscriptions as quickly as you'd like. In addition, some customers felt privacy was a concern.
Udacity
Udacity is likewise not accredited through the BBB, though it fairs overall higher in ratings on consumer reviews. In fact, it often scores as high as 4.5 out of 5 stars, as is the case on G2, based upon around 250 reviews.
Just 12 customers gave Udacity the lowest rating, while the bulk gave it the highest rating possible. Many cited the level of professionalism, engagement, quality of content, and interactive content. Of the poor reviews, complaints concerned the cost of the programs and not being able to secure a job (something, of course, is not really promoted, and certainly not promised).
I was a little concerned about the cancellation issues, but overall, Udacity simply lines up with other consumers the way it did for me: a better overall experience, from learning to customer service.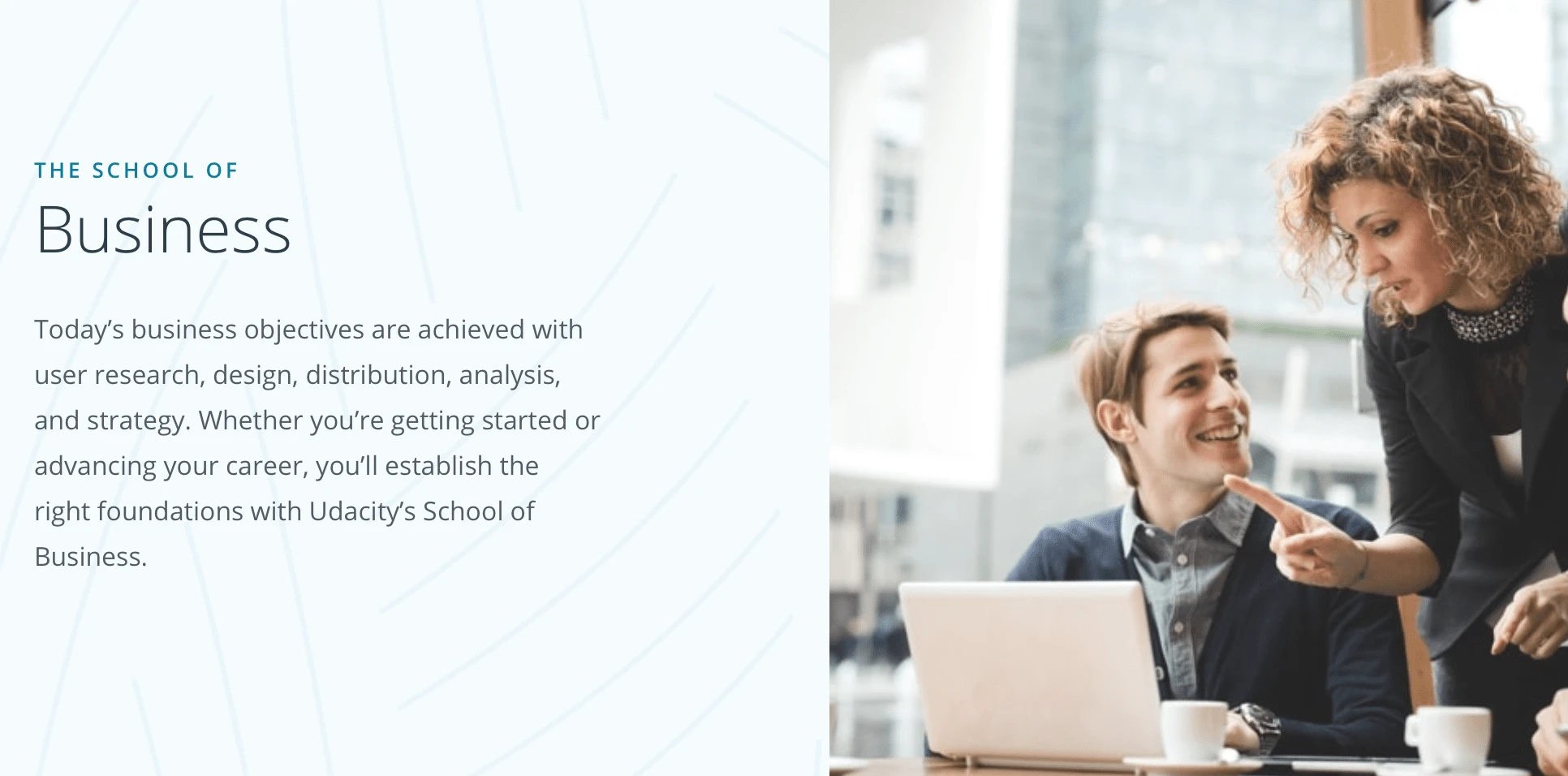 Frequently Asked Questions
Question: Can you get a job after Udacity?
Answer: Udacity does not promise a job, nor should it. Online open service learning platforms are ways to improve your skills– whether that's for art design programs or engineering degrees or anything in between. Udacity courses don't offer a degree, but instead a certification of completion. Think of it more as a way to shore up your skills, but don't go in with the intention that it will for sure help you land a job.
Question: Is Pluralsight good for beginners?
Answer: Pluralsight is a fairly easy online learning course to use for beginners, with over 7,000 courses in different business and tech industries. With the low monthly fee, it can also be an option for someone who just wants to investigate different disciplines or just find something new.
Question: Is Pluralsight free for students?
Answer: Another interesting aspect about Pluralsight is that it offers free access for students. High school students can use it for free, but so can certain non-profit organizations, and even teachers. You do have to include certain information and be approved in order for this to be offered.
Final Decision: Udacity for Overall Experience
Udacity is expensive– there's no doubt about that. I would never recommend enrolling in a program unless you're serious about pursuing it, aware it may or may not help your career, and focused to finish it in a timely manner. They do offer free access courses, which I would take advantage of. Udacity is not perfect, but it's one of the best in terms of interactive experience and overall resources. Sign Up for Udacity Here.
That said, if you're looking for a more casual online learning experience, Pluralsight is not a bad option. In fact, you may find that it's a great alternative to other sites. Check out our review of Pluralsight vs Skillshare to learn more or learn more about:
Best for Tech Careers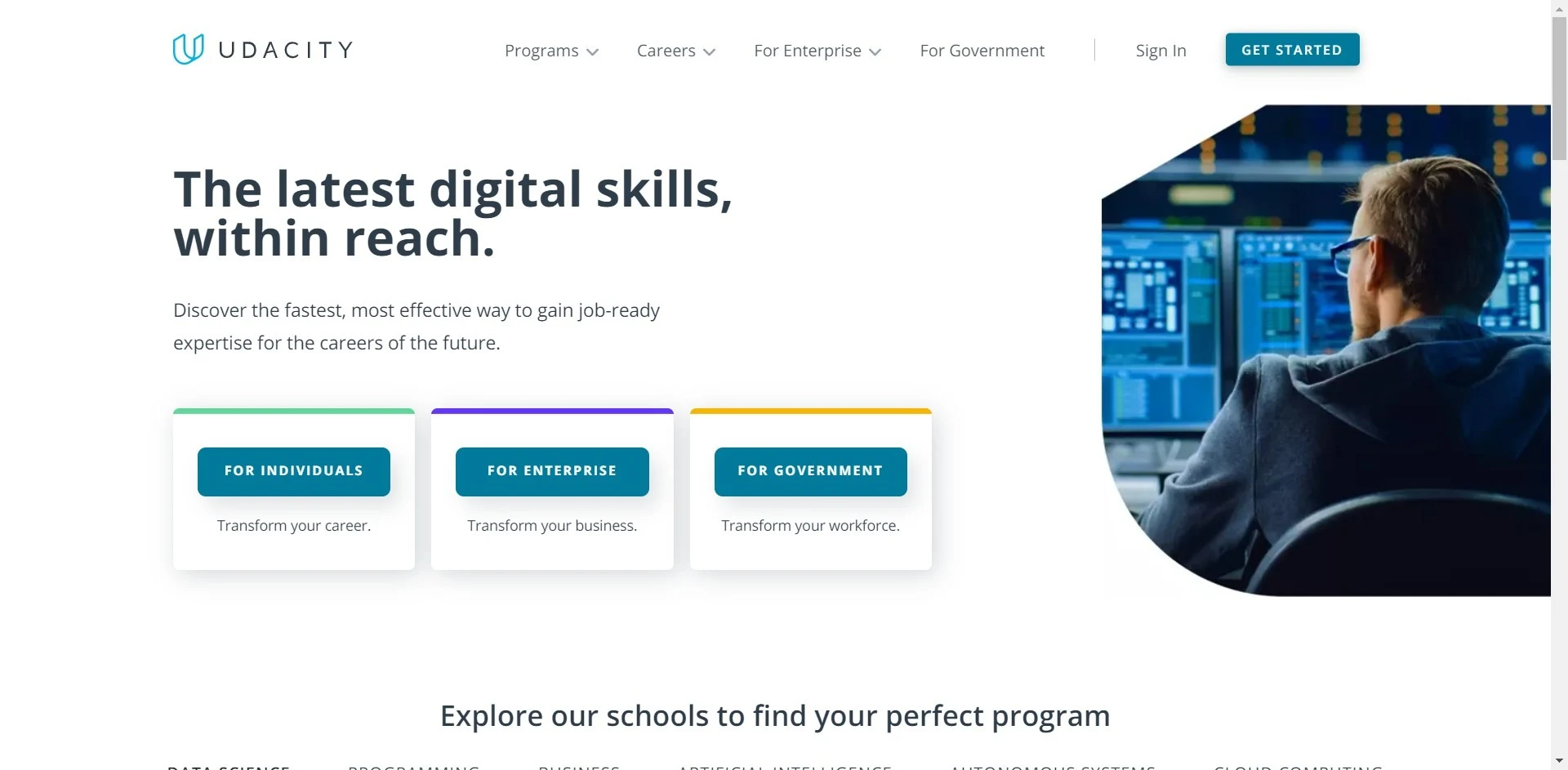 Why Go With Udacity
While Udacity doesn't have the widest selection, the degrees they DO offer are robust, industry recognized "nano" degree programs (mostly concentrated in TECH careers). If you have the choice - and are looking for recognized credentials - Udacity is the more industry specific pick.
Start Now
Take 25% with Code "CAREER25"
We earn a commission if you click this link and make a purchase at no additional cost to you.