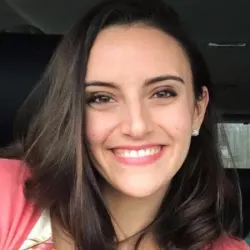 Latest posts by Courtney Myers
(see all)
Remember the phone-a-friend option on "Who Wants to Be a Millionaire"? Every student has those moments when they wish they could just dial up someone with all the right answers. Even Google is rendered unhelpful when you're staring at a complex math equation with no clue where to begin.
This is the premise behind Chegg, a 24/7 service that provides around-the-clock homework help, along with textbook rentals, study guides, and writing assistance, among other services. Though these services can be valuable for a while, there may come a day when you're ready to end your subscription.
When that time comes, you'll need to know how to cancel Chegg. Today, we're walking you through a step-by-step guide so you know exactly what to do.
What Is Chegg?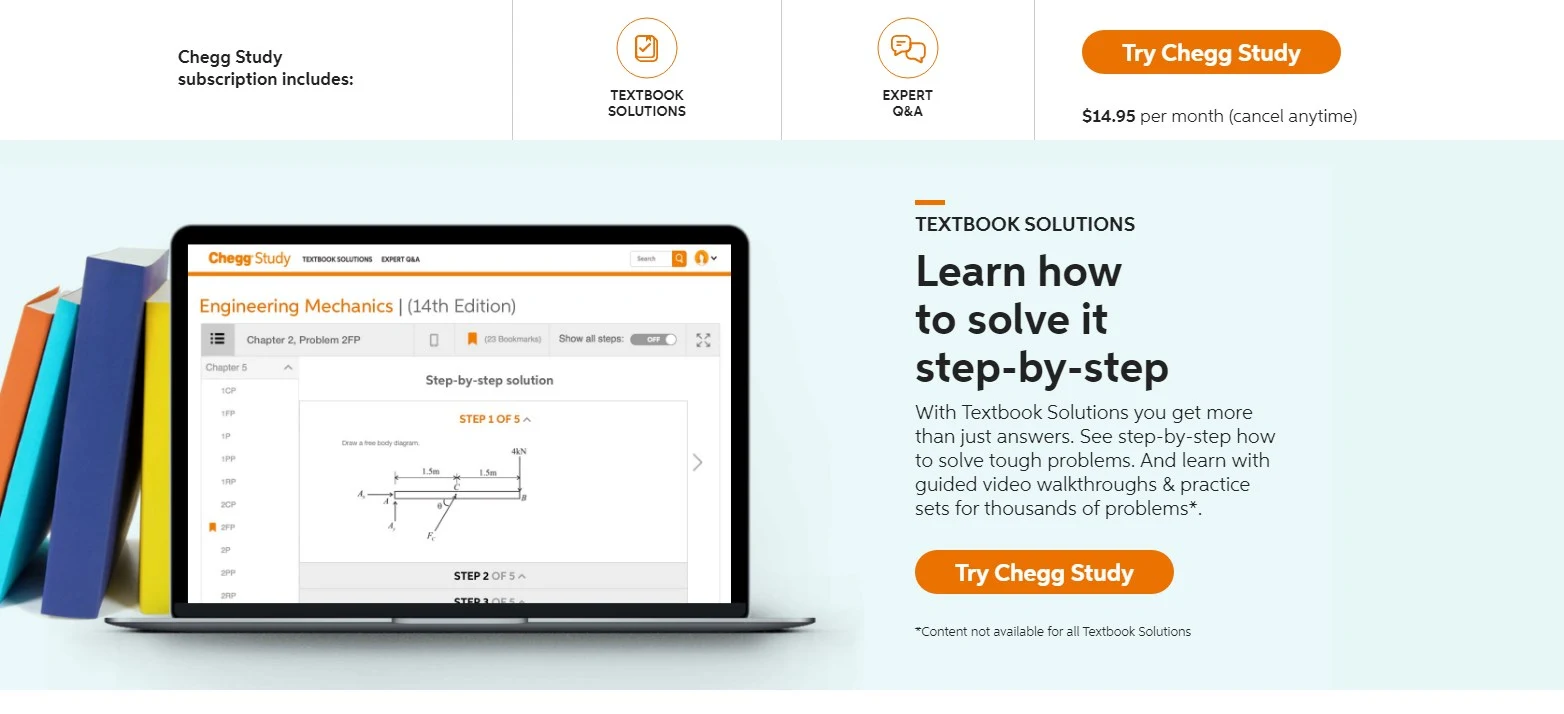 Chegg is a subscription-based learning service designed to help students navigate every aspect of their homework and at-home assignments. Marketed as a student-first learning platform, it's a one-stop-shop that provides everything from books and flashcards to plagiarism checks and practice problems.
However, the main draw of the platform is undoubtedly the on-demand "Expert Q&A" service that Chegg provides. With a few clicks, students can send a picture of their problem to a designated Chegg expert, who will review it and answer within 30 minutes.
History of Chegg
Chegg began back in 2000 when founder Josh Carlson was a sophomore at Iowa State University. That year, Carlson developed a rudimentary website called CheggPost.com.
In short, CheggPost operated as a sort of Craigslist for college kids. Locals would use the platform to buy and sell a range of goods including furniture, textbooks, and sporting goods. It was a free and popular service that took off quickly.
Yet, while the business model was successful, it was far from profitable. Once traffic picked up, Carlson teamed with another Iowa State student, Aayush Phumbhra, who was pursuing her MBA at the university. They began selling advertising on CheggPost and even secured $50,000 toward funding the site.
Though the momentum was helpful, it was short-lived. A jack-of-all-trades type of site, CheggPost suffered from stagnant traffic numbers and low inventory levels. Carlson left the project, and a rebranding strategy was born. In 2007, Phumbhra took over and built a new team, under the Chegg brand.
The vision? To focus exclusively on textbook rentals, and leave the other items to Craigslist. There was steady growth from that point forward, and in 2010, the team hired Dan Rosensweig, current chairman, president, and CEO. Rosenweig grew Chegg's digital strategy and expanded the services to the level they are today.
Making a Chegg Account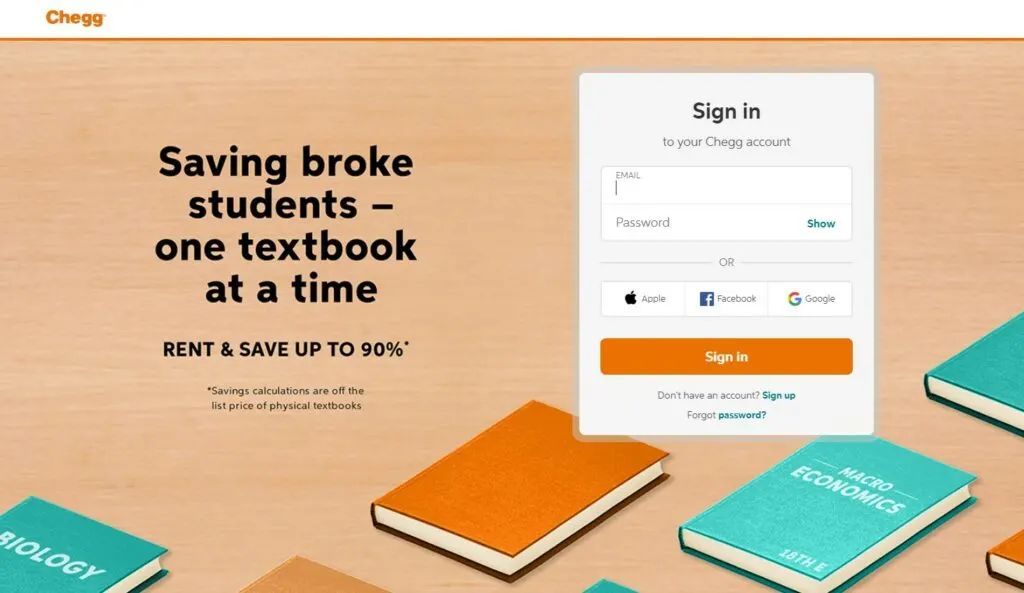 Chegg allows anyone to sign up as a user, with only an email address and password required. Once they're logged in, users have access to all of the free services that Chegg offers, including certain free features available on other subscription plans.
With a basic Chegg account, users can:
Return books
Sell books
Access flashcards
Use the Chegg Equation Solver
Apply for internships directly online
From the account profile, users can also check their order and payment histories, as well as their security settings and payment information.
Understanding the Chegg Subscription Model
Chegg is divided into six main categories. These include:
Chegg Books
Chegg Study
Chegg Writing
Chegg Prep
Chegg Math Solver
Chegg Internships
Every service except for Chegg Books, Chegg Prep, and Chegg Internships is subscription-based in nature. Chegg Books follows an on-demand model, where students can buy, sell, or rent textbooks for a variety of courses as needed. Chegg Prep is available to download as a mobile app. Chegg Internships is a free job search tool, as well as a database of career-related articles.
For the most part, all of the solutions that Chegg offers are centered around mathematics and STEM-related topics. The full subject list includes:
Economics
Chemistry
Physics
Calculus
Statistics
Computer science
Accounting
Engineering and technology
Psychology
Biology
Let's take a look at each of the subscription services in greater detail.
Chegg Study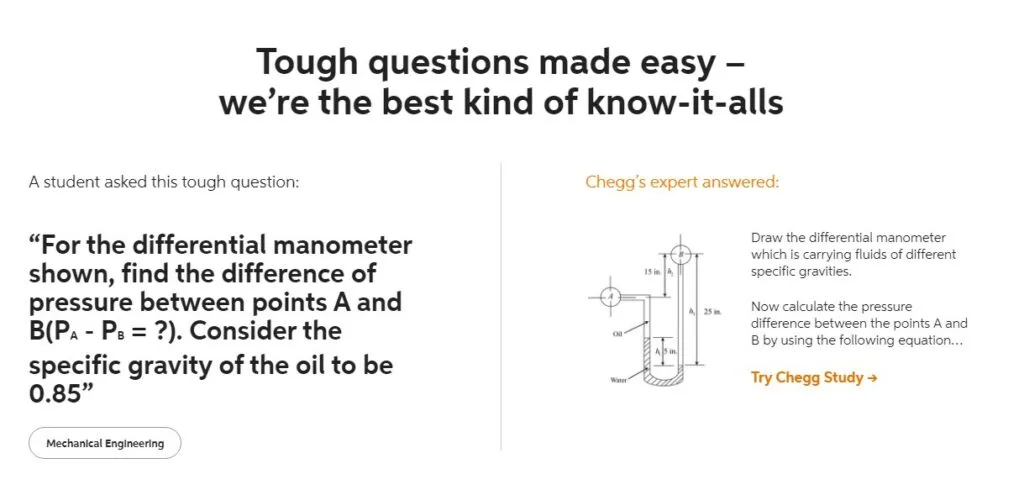 With Chegg Study, students have access to the Expert Q&A services described above. The plan also includes a feature called Textbook Solutions. This is a program that features in-depth video lessons on a variety of course topics, as well as practice questions and homework solutions associated with Chegg's database of more than 9,000 textbooks.
The basic Chegg Study plan is available for $14.95 per month. There's also a more intensive plan called Chegg Study Pack, which includes help for quizzes and exams, tough math problems, and writing assignments. This plan is available for $19.95 per month.
Chegg Writing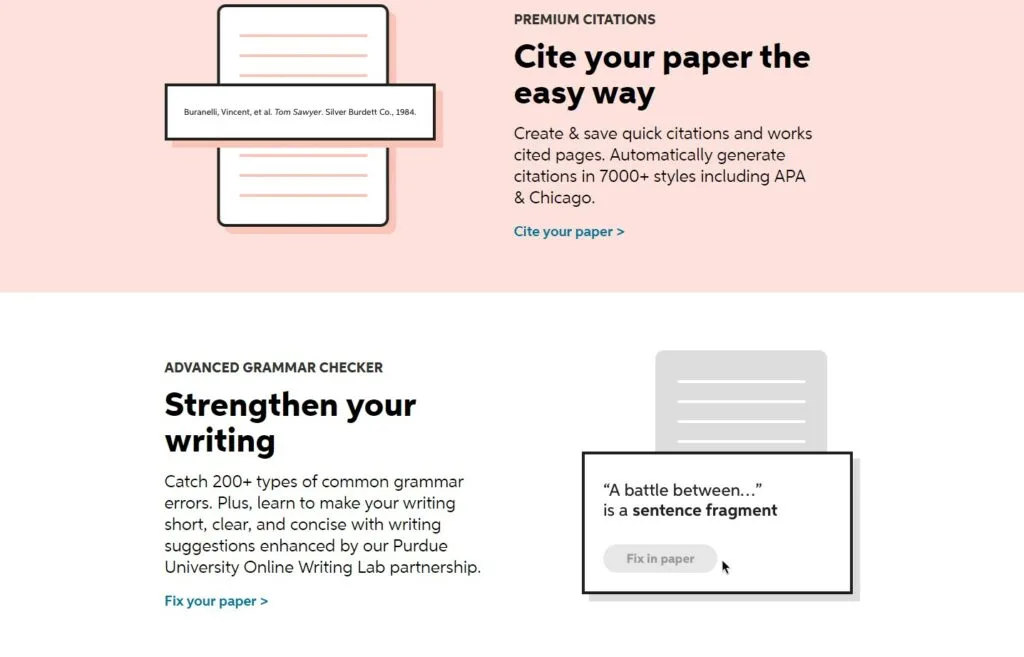 Chegg Writing services are designed to help students ace their at-home writing assignments. This plan includes:
On-demand, expert proofreading services
Grammar scans
Plagiarism scams
Automatic paper citations (in more than 7,000 styles)
Students can upload their papers from their computer or Google Drive. They can also copy and paste the content directly into the Chegg platform. A subscription to Chegg Writing costs $9.95 per month.
Chegg Prep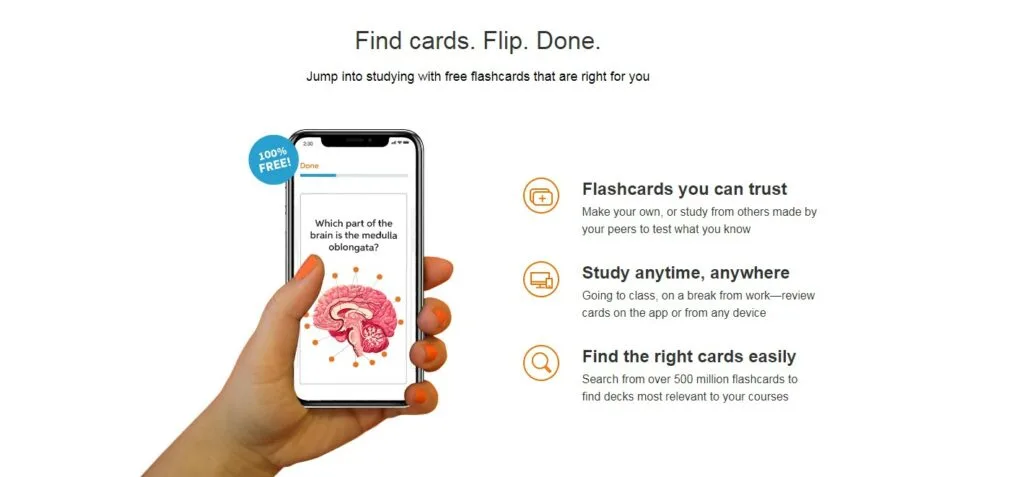 Chegg Prep is designed to help students prepare for an upcoming test or major assignment. Through this platform, they can find, create and review more than 500 million flashcards on a wide variety of subjects. Available on their mobile device, this program allows them to study on the go, from anywhere in the world.
Chegg Prep is a free mobile app, available through the Apple Store or Google Play.
Chegg Math Solver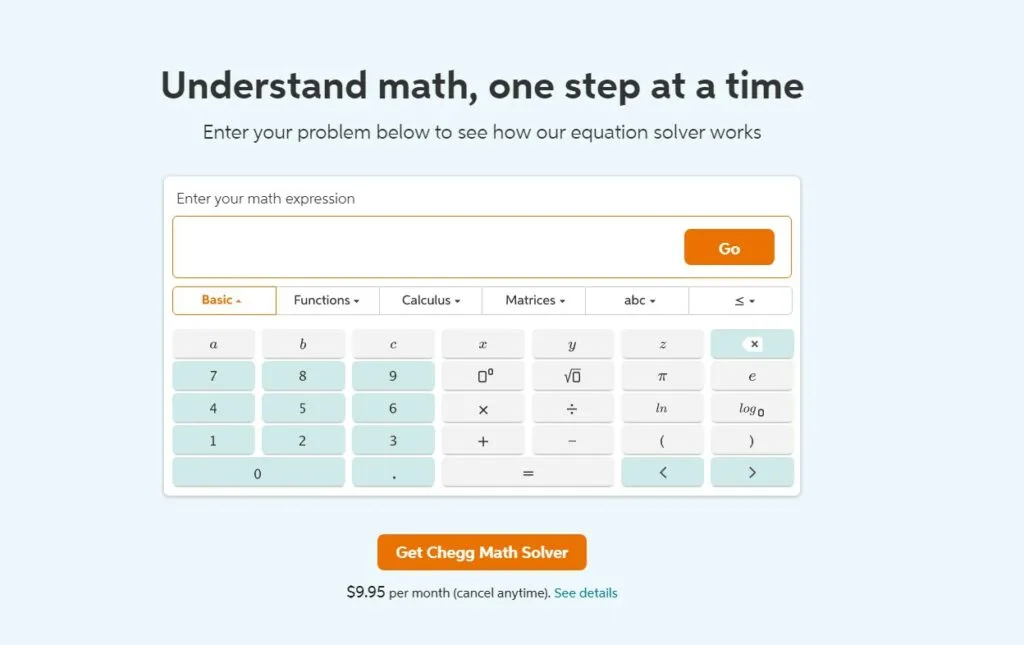 Students in advanced math classes may benefit from Chegg Math Solver. This platform offers the following services for free:
On-demand math solutions
Explanations of complicated problems
For students who need a little more assistance, there's also a subscription service available. This service provides the features above, as well as:
More detailed math solutions, with sub-steps, included
Add-free web services
Graphing calculator
This version of Chegg Math Solver is available for $9.95 per month.
Chegg Internships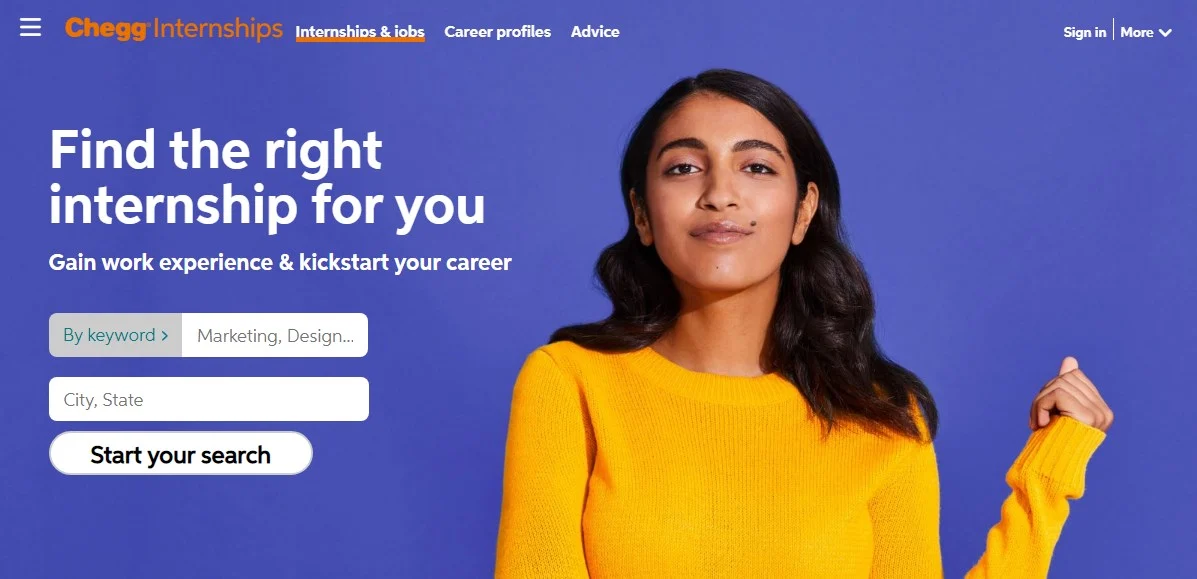 Chegg Internships is an online tool that functions similarly to other job search engines. Users can enter their preferred area of focus, as well as their geographic location, to find nearby openings and opportunities. There are also professional profiles and articles that focus on career-specific advice.
This service is free and accessible, but a Chegg account is necessary to apply on the platform.
How to Cancel Chegg: A Step-by-Step Guide
As we've covered, Chegg is chocked-full of services that any student might find helpful and necessary. However, a subscription-based plan is finite by design. When it's time to move on and those services are no longer needed, it's helpful to know exactly how to cancel Chegg.
On the website, Chegg explains that with each subscription, users can cancel at any time. Yet, is the process really that easy? Here's exactly what to do when it's time to check out Chegg.
Step 1: Understand the Level of Cancellation You Want
When you're ready to quit Chegg, the first step is to ask yourself which level of cancellation you're looking to achieve. Are you just looking to cancel the services you're currently subscribing to? Or, do you want to close out your Chegg account altogether?
If you close your Chegg account altogether, then you will permanently lose access to your profile. While you can always make another one down the road, it would be cumbersome to start all over again if you ever decide you need the services again.
We'll cover how to close your account later on, but let's start with simply canceling your subscriptions.
Step 2: Visit "Manage Chegg Study Subscription"
On any page of the Chegg website, users can scroll to the bottom to see a list of top-level categories. One of those is "Customer Service". Under that header, you'll find a list of options that will take you to different web pages.
Click "Manage Chegg Study Subscription". Note that this is the link you'll click, even if you don't have an active subscription to Chegg Study. For instance, you'll still go here if you subscribe to Chegg Writing, instead.
Step 3: Navigate the Help Center
Once you click that link, the site will redirect you to the Chegg Help Center page. There are a few different FAQs here, and the top one is exactly what you're looking for. It reads: How do I cancel my Chegg Study subscription?
Step 4: Choose a Cancel Option
There are three different ways to sign up for a Chegg subscription, and the same three ways apply when you're ready to cancel it. These are:
Through your desktop
Through iTunes
Through Google Play
There's a box to click if you purchased your subscription on your desktop computer. It's teal and reads: Cancel my subscription. Be sure to log into your Chegg account if you haven't already done so, and then click that box. From there, you'll be rerouted to your profile page, where you can officially cancel the services that you no longer need.
The same general steps apply if you purchased through iTunes or Google Play.
If you're a Mac user, click the link that says: Click here if you subscribed through iTunes. You'll then go to the Apple Support page. Click the top blue box that reads: Cancel a Subscription and follow the prompts to select and cancel your Chegg services.
If you purchased a subscription through Google Play, then press the link that says: Click here if you subscribed through Google Play. You'll reroute to the Google Play Help page. Scroll down until you find the header that reads: Cancel a Google Play subscription and then follow the prompts to cancel your Chegg services.
Closing Your Chegg Account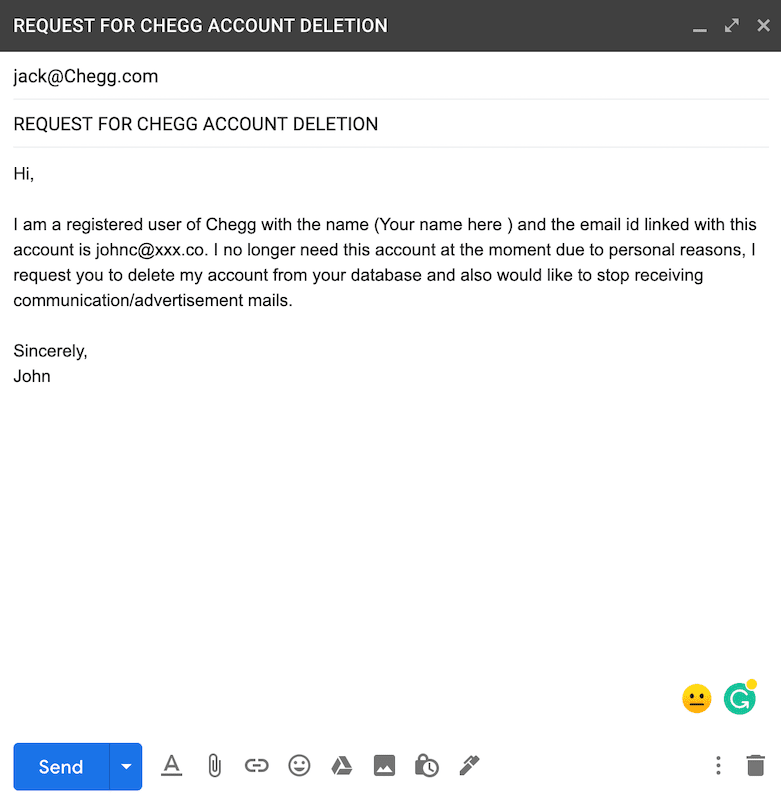 Have you decided that it's time to close your Chegg account altogether? It's easy to perform this step, but you'll need to make sure that you don't have any open subscriptions or active transactions currently out. If you do, go ahead and cancel them before you proceed.
This is also the time to send back any physical textbooks that you're renting. Note that if you're using an eTextbook, then you'll need to wait until the virtual rental period expires before closing your account.
When you're ready to close, visit the Chegg Contact Us page to chat online with a company representative. They're the only ones who can officially close your account for you. Chegg support is available 24 hours a day, seven days a week.
FAQs
Question: How do I cancel Chegg after my free trial is over?
Answer: Like many subscription services, Chegg allows users to sign up for free trials of their subscription plans. Most of the trials last three days, although some are available for two weeks. All trials begin the moment that you complete the application process, and you are required to enter your credit card information at the time of sign-up.

If you decide you want to pursue a full-time subscription, they'll walk you through the steps to do so once the trial period is over.

On the other hand, you might try the services for a few days and then decide that the platform is not right for you. In this case, timing is everything. Your free trial subscription will immediately turn into a paid one as soon as the trial period ends, and you must cancel at least 24 hours before that deadline. This means you'll be charged unless you take quick action.

Follow the cancellation steps described above to cancel your Chegg subscription after a free trial.
Question: Can I pause a Chegg Study subscription?
Answer: Were you a little overzealous when you first signed up for Chegg Study? Maybe you were blinded by all of the services offered, and you dove right in. Now, you're not so sure you need it, but you're not ready to cancel.
Or, you might be simply taking a break in your studies. For instance, many students opt to pause their Chegg Study subscriptions during the summer months, when they don't need on-demand homework help or other services.
The good news? It's easy to pause your subscription if you subscribe on a monthly basis. You won't be charged while your account is paused, and you can access your current services until the next billing cycle begins.
To do so, start by logging into your Chegg account. Then, find your profile and go to "My Account" to view your current subscriptions. Click "Chegg Study".
From there, you'll see a teal box that reads "Pause my subscription". Click the box. You'll be able to set the exact amount of time that you want to pause your subscription, though it cannot exceed six months. Note that these instructions only apply to users who purchased a subscription through Chegg.com. If you made a purchase through iTunes or Google Play, then you'll head to those platforms to pause the services.
Question: Can I change my annual Chegg Study subscription to a monthly one?
Answer: An annual subscription can be a big commitment, especially for students. On the other hand, a monthly one can be easier to manage and less of a financial strain. Plus, it's easier to cancel your services if you go on a month-by-month basis.
You can easily switch your annual Chegg subscription to a monthly model, but there's one caveat: You have to do so within the first 30 days after your subscription begins. To do so, log in and visit your account page. Then click Subscriptions and find Chegg Study. From there, you should see a link that reads: Switch to Monthly Plan. Click here, followed by: Switch to Monthly Billing.
At this time, you will receive a refund equal to the total amount of your annual Chegg Study subscription. You'll also be charged for the first month of services. You should see the refund on your original payment method within five days.
Question: How do I cancel Chegg on my phone?
Answer: Did you access and download Chegg through iTunes or Google Play? If so, it's easy to cancel your subscription right from your phone.
If you used iTunes, go to the Settings app on your phone, followed by iTunes & App Store. Tap your Apple ID, followed by View Apple ID. Find and tap the Subscriptions menu. Under Subscription-Manage, click Chegg Study. Here, you'll see the auto-renewal option that should be live for this app. Turn it off, and then click Done.
If you used Google Play, go to the settings app on your phone, followed by Google Play. Find the Subscriptions menu, and select the Chegg app. Then, click Cancel and confirm.
Question: What happens after I cancel Chegg?
Answer: As soon as you cancel Chegg, you don't have to stop using the services immediately. Rather, you're free to access your account and all of the platform's features until the next billing cycle begins. After all, you paid for that month!
How to Cancel Chegg: Breaking the Chegg Cycle
Subscribing to Chegg can feel like being thrown a lifejacket when you're tossing in turbulent waters. If you need on-demand homework help and assistance with a tough course, it's a helpful tool. However, a subscription can be a big commitment, especially for a student.
When you're ready to tackle the coursework on your own, it pays to know how to cancel Chegg. The process is relatively straightforward, and Chegg does a solid job of staying available to answer any questions you might have along the way. Once you're done, you're free to explore other options that might be better suited for your needs!
Need help navigating all of the options? That's why we're here. We've reviewed and rated all the top online courses so you can get the most for your time and money. Take a look at our top online learning platforms to get started today.