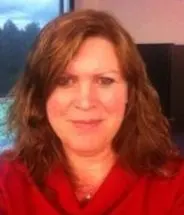 Latest posts by Deb Mayberry
(see all)
If you want to gain more knowledge on a subject, brush up your skills, or learn new skills but find it hard to commute to a school for various reasons, then learning online is a great option!
Udacity is one of the top e-learning platforms available, but it is not the only one that may suit your expectations.
Bottom line: Udacity is not the only online educational course available. There are many other competitors and alternatives to Udacity that you may want to consider before choosing the platform that best fits your needs and wants.
To help you decide, I made a list of sites like Udacity: Alternatives & Competitors for you to review and to compare to.
First, I suggest you make a list of your needs and wants for an online educational platform and then review Udacity's features and benefits from the overview below.
Then read through each of the other Alternatives & Competitors and do the same. Then decide which one you feel will give you the best offer for what you require in order to help advance your knowledge and skills.
My Top Picks
Udecity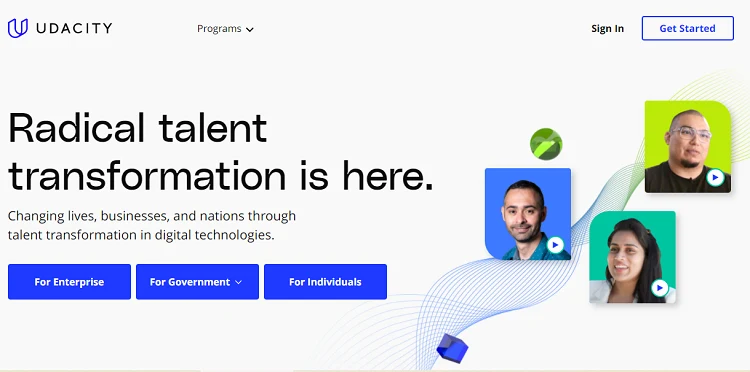 Udacity is an online educational platform founded in 2011 in Emeryville, California. Their educational teachings focus on digital technology courses for enterprises, government, and individuals.
Courses include artificial intelligence, autonomous systems, business, cloud computing, cybersecurity, data science, product management, programming & development, career. Udacity's pricing ranges from free to $1,000+.
Support with 24/7 help with 1-hour on average response time by expert mentors and personal feedback. Each course provides a student rating, the number of students that have taken the course, how long the course is for and how many hours a student can expect to study.
It also includes an overview and a pre-requisite and whether the course is for beginners, intermediates, or advanced. Also, included is a list of what is included in the enrollment and cost.
Sites like Udacity: Alternatives and Competitors
Udacity has a wide range of courses in digital technology with a wide range of pricing from free courses to courses that cost thousands of dollars. The following is a list of other Sites like Udacity: Alternatives & Competitors options to consider.
CBT Nuggets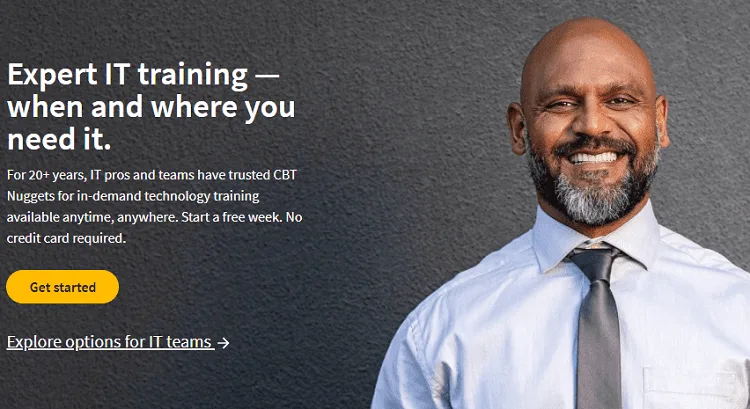 CBT Nuggets is located in Eugene, Oregon, and is an online training platform that has been around since 1999. Their platform focuses on in-demand technology training for IT pros, Project Management, and teams.
Subscribers are trained by 10-minute videos that can be accessed 24/7 by a computer and mobile device. The platform helps students increase their skills, pass certificate exams, and to learn something new. Demos are available upon request.
CBT Nuggets: Courses
Business IT Training:
IT Manager – learn the latest relevant skills
IT Professional – improve your team's productivity, effectiveness, and resilience.
Training Manager – train current team's skills
Government- IT training to U.S. federal government agencies with partner immixGroup, Inc
Cybersecurity – learn to protect your network, train your team, and get certification
Every Course Includes
Videos – engaging videos from industry experts
Virtual labs – run software and hardware to simulate real-world situations and solutions
CyberVista Practice Exams – prepares students for final exams
Accountability coaching- one-on-one coaching and Q&A
Usage Reporting- track your progress and advance reporting for team administrators
Learning Management- customize groups, assign training based on learning needs, and track progress
Certificates of completion
APP & Offline viewing- stream and download on iOS or Android
CBT Nuggets: Pricing
Individual Pricing: $59 / month / learner or $599 / year / learner
Business IT Pricing: contact them for a quote
CBT Nuggets: Customer Support
Is available via live chat, phone, or contact form
CBT Nuggets: Pros & Cons
| | |
| --- | --- |
| Pros | Cons |
| diverse course selections | website navigation |
| in-depth videos | new content only available upon request |
| instructors explain things well | |
Coursera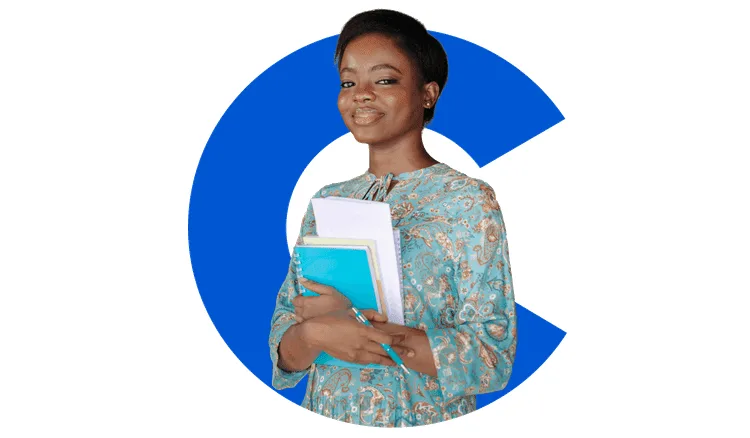 Coursera is an online education platform founded in 2012. Coursera works with over 200+ Universities and other organizations to provide online courses, recognized certificates, and degrees.
They also offer free courses, free trials, flexible scheduling to allow you to work on your studies within your own timeframe, and give your job-relevant essential skills to improve your knowledge and enhance your performance.
Coursera: Courses
Courses for Enterprises and Students: Bachelor Degree Programs, Postgraduate Studies Degree Programs, and Master's Degree Programs
Topics and Skills
Data Science
Business
Computer Science
Personal Development
Information Technology
Language Learning
Math and Logic
Physical Science and Engineering
Health
Social Sciences
Arts & Humanities
Courses Include
University the course is offered by and about the University
A course description, number of hours of study per week or Number of years for completion
Accredited diploma
Language is taught in
Number of credit degree
% of time online
Cost and Financing information
Student experience
Career possibilities
Professional Certificates
Led by Industry leaders
You can also choose from over 4,000 Free courses that can be completed in a day like business analytics, graphic design, Python, and more.
Coursera: Pricing
Free to join
7-days free trial
Pricing starts at $39/ month
Less than 6 months at your own pace
Coursera: Pros & Cons
| | |
| --- | --- |
| Pros | Cons |
| partnered with educational institutes | degrees cost money |
| certificates upon completion | prerequisites |
| large selection of courses | |
datacamp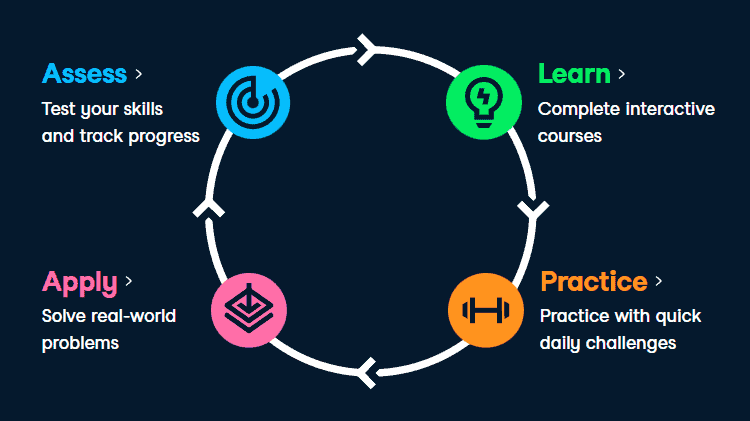 datacamp is an online learning platform for students to learn and build new skills in data science, by teaching hands-on experience with interactive learning led by experts. They include a variety of choices from over 350+ courses in technology.
The first lesson of each course is free for those that want to test it out first. Each course includes practices and hands-on during the duration of the courses for students to test the knowledge and skills they have learned.
There is no installation or special requirements needed as you can run code on your browser. Upon completion, each student will receive a certification.
Check out our complete Datacamp vs Udacity Comparison.
datacamp: Courses
Courses include: R, Python, SQL, Git, Shell, Spreadsheets, Theory, Scala, Tableau, Excel, Power BI
datacamp: Topics
Data Engineering
Programing
Importing & Cleaning Data
Data Manipulation
Data Visualization
Probability & Statistics
Machine Learning
Applied Finance
Reporting
Case Studies
Management
Other
datacamp: Pricing
Personal Plan: Free: $0.00/ month
The free version gives you access to the first chapter of all courses, access to 7 projects, and 3-sets of practice challenges, a workspace and skill assessments
Standard: $25.00/ month billed annually
This plan gives you access to the free pricing package, access to 350+ courses, 12 career tracks, 50+ skill tracks, unlimited practice challenges, live code-alongs, mobile apps and practices, and a community chat
Premium Annual Plan: Regular Price $35.00/ month
Current promotion is $11.50/ month billed annually – This plan gives you everything from the Standard Plan plus access to 80+ projects, tableau, Power BI, and Oracle content, and priority support
Business Plan – Professional: $25.00/ user/ month minimum 2 users billed annually
Includes everything Premium Annual Plan plus admin roles and permissions, assignments, live chat for admins
Business Plan – Enterprise: Contact them for pricing
This plan includes everything from Professional plus dedicated customer success manager or learning Solutions Architect (for 20+ users), single sign-in, LMS integrations, Advanced reporting, Data export, customer learning tracks, tableau, Power BI, and Oracle Content, and Priority Support
datacamp: Pros & Cons
| | |
| --- | --- |
| Pros | Cons |
| Interactive videos and practices | Many exercises are fill-in-the-blank |
| Content is comprehensive | Data coaching is pricey |
| Wide range of topics | Few free courses |
Dataquest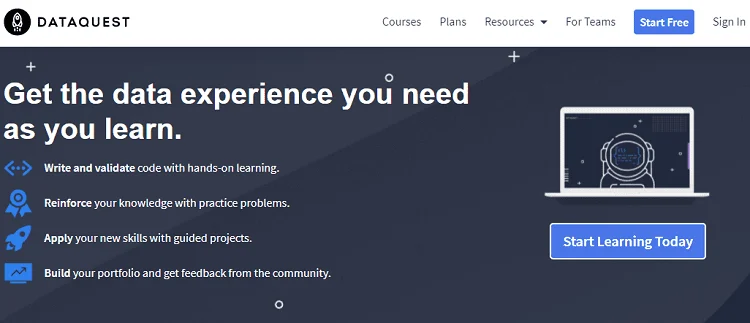 dataquest is an online platform that teaches students data skills. Students learn data skills in their browser, as there is no installation necessary. The platform is for beginners to those with advanced knowledge and skills.
Students can choose from a variety of 67 data science courses, with 16 learning paths, 30+ guided projects, and over 100 problem-solving. A certificate is provided upon completion. Subscribing to Dataquest gives you a lifetime of community membership.
Students can start for free and the skills they expect to learn are to write and validate code. They practice problems to help reinforce their knowledge and they can apply their new skills through guided projects.
dataquest: Courses
Beginners have a choice of 14-Courses ranging from Python for Data Science Fundamentals Part 1, Part 11, Programming Concepts with Python, Python for Data Engineering Fundaments Part II, to SQL Fundamentals and SQL summary
Intermediates have a choice of 47-Courses that comprise Pandas and NumPy Fundaments, Exploratory Data Visualization, Data Cleaning in Python: Advance, Data Analysis in Business, Introduction to Shin in R, and more
Advanced have a choice of 6-Courses that comprise Decision Trees, Deep Learning Fundamentals, Machine Learning Projects, Recursion and Trees, Parallel Processing, Introduction to Machine Learning in R
dataquest: Pricing
Start any course for Free: Includes introductory lessons, community support, practice problems
Premium: $49/ month billed annually
Includes introductory lessons, unrestricted content access, practice problems, guided projects, assessments, and certificate upon completion
Teams: Data skill training for teams- request for pricing
Includes introductory lessons, community support, unrestricted content access, practice problems, guided projects, assessments, certificates upon completion, team performance reports, license management + rotation, and volume discount
dataquest: Pros and Cons
| | |
| --- | --- |
| Pros | Cons |
| Course material is explained well | students face some platform technical issues |
| Free online resources | no videos |
| Guided projects | |
Linkedin Learning
Linkedin Learning is formerly known as Lynda.com (1995-2017). LinkedIn Learning is an e-learning platform founded in 1995. It teaches courses via videos by industry experts in business, creative and technology.
LinkedIn Learning: Courses
17,400+ courses are available under the following topics:
BUSINESS
Time Management
Personal Branding
Personal Effectiveness
Computer Skills
Marketing Strategy
Career Management
Leadership Skills
Spreadsheets
Job Searching
Hiring and Interviewing
Data Analysis
communication
Public Speaking
Video Conferencing
Presentations
TECHNOLOGY
Data Analysis
Spreadsheets
Programming Languages
iOS Development
Data Visualization
Database Administration
Business Intelligence
Programming Foundations
Object-Oriented Programming
Network Administration
DevOps Foundations
Virtualization
Statistics
DevOp Tools
Internet of Things
CREATIVE
Rendering
Motion Graphics
Retouching
Asset Management
Portrait Photography
Electrical Engineering
Construction Management
Analog Photography
Video Production
Keying
Manufacturing
Product and Industrial Design
Photography Lighting
Teaching
Music Lessons
LinkedIn Learning: Pricing
1-month free trial
$19.99/ month charged Annually or $29.99/ month
LinkedIn Learning: Pros & Cons
| | |
| --- | --- |
| Pros | Cons |
| 1-month free trial | videos have an overtone of corporate |
| large assortment of courses | infrequent fresh material |
| certificate upon completion | content more for beginners |
MasterClass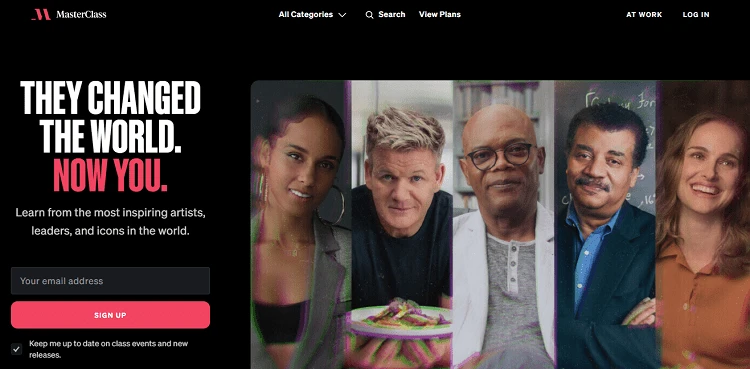 MasterClass is a digital education platform founded in 2014 (previously known as Yanka Industries). Tutorials and lectures are pre-recorded by celebrities and experts in various fields. Courses include an average of 24 lessons plus reading materials that can be downloaded
MasterClass: Course Category
Arts & Entertainment
Music
Writing
Business
Food
Design & Style
Sports & Gaming
Community & Government
Wellness
Science & Tech
MasterClass: Pricing
Standard Plan: $180 annually ($15 / month)
Includes unlimited access to all 100+ classes in 11 categories
30-day satisfaction guarantee
Bonus class guides and content
Plus Plan: $243 annually ($20 / month)
Includes everything from Standard Plan plus
watch on 2 devices, download for offline viewing
Premium Plan: $270 annually ($22.50 / month)
Includes everything from Plus Plan plus
watch on 6 devices instead of 2
MasterClass: Pros & Cons
| | |
| --- | --- |
| Pros | Cons |
| learn from pros and expert celebrities | complex information for beginners |
| affordable | niche topics |
| interesting video lessons | lack of interaction with instructors |
PluralSight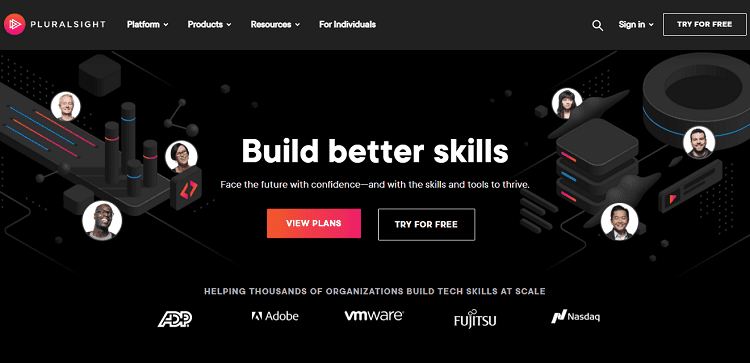 PluralSight was founded in 2004 and is located in Draper, Utah. It recently acquired 'A Cloud Guru' in 2021, which is an e-learning platform founded in 2015 in London, United Kingdom. PluralSight is an online technology learning platform that is privately held.
The online education that is offered includes a variety of video training courses for software developers, IT administrators, and creative professionals.
PluralSight has an extensive collection of library reference packages. The Course Core library features 2,500+ popular and in-demand topics and the
Course Expanded library features 7,000+ advanced topics to build deep expertise and niche topics.
PluralSight: Course Subjects
Architecture & Construction
Business Professional
Creative Professional
Data Professional
IT ops
Manufacturing & Design
Information & Cyber Security
Software Development
Web Development
PluralSight: Pricing
Pricing for Individuals: 10-Day Free Trial
Standard $29/month: Includes access to core course library, paths, and skill assessments
Premium $45/month: Includes access to a library of core and expanded courses, exams,
projects and interactive courses
Pricing for Teams
Starter $399 / user / year: Upskill your team with Pluralsight's library
Profesional $579 / user / year: Basic reporting and user analytics for teams
Enterprise $779 / user / year: Flexibility and advanced analytics for the enterprise
PluralSight: Pros & Cons
| | |
| --- | --- |
| Pros | Cons |
| Course completion certificate | Progress up-date lags through courses |
| Path Development | Role assignments |
| Offline & Mobile downloads | Lengthy videos |
SkillShare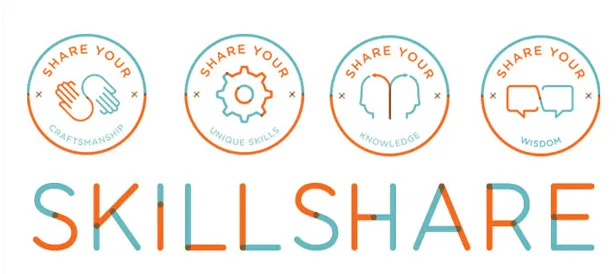 SkillShare was founded in 2010 and is an online learning community to teach people educational topics via videos.
Courses by icons, experts, industry leaders. They are not accredited and are available through subscriptions.
Courses are more interactive than they are lectured, which attracts those that learn more with hands-on activities by completing projects. The main course categories include creative art design, entrepreneurship, lifestyle, and technology. Plus you can stream and download anywhere.
SkillShare: Course Subjects
Animation
Creative Writing
Film & Video
Fine Arts
Graphic Design
Illustration
Music
Photography
UI/UX Design
Web Development
Build
Business Analytics
Freelance & Entrepreneurship
Leadership & Management
Marketing
Thrive
SkillShare: Pricing
The platform offers courses free for one month with unlimited access to 1,000+ classes.
Membership pricing ranges from $0 to $216 / year
SkillShare: Pros & Cons
| | |
| --- | --- |
| Pros | Cons |
| Affordable | Not Certified |
| Free Trial | English Only |
| Variety of Courses | Quality of Content Varies |
SkillSoft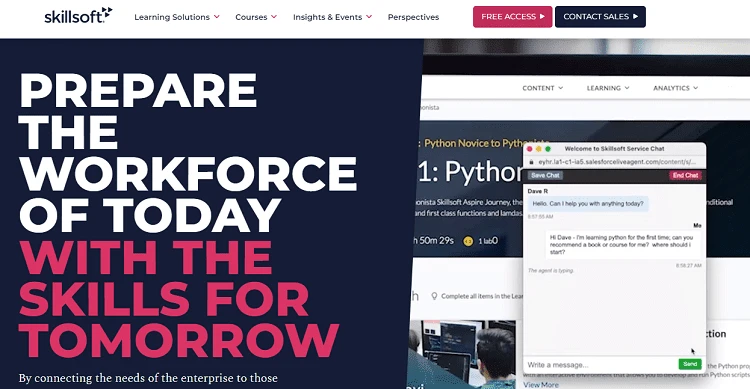 SkillSoft was established in 1998. It was formerly known as SmartForce. It is an online educational platform that teaches technology, learning management systems, training content. Skillsoft produces learning management system software and content with over 180,000 tools in 29 languages.
They supply their students with an in-depth library collection of books and videos. In addition, they promote women in tech by providing resources to help empower women.
Skillsoft: Courses
Business Operations
Cloud Services
Compliance
Customer Service
Data
Digital Transformation
Engineering
Infrastructure & Operations
Leadership Development Program (MIT SMR)
Management
Product Management
Productivity and Collaboration Tools
Professional Improvement
Programming
Project Management
Sales & Marketing
Security
Software Crafts
Skillsoft: Pricing
Individuals $35 CAD/ month, includes a 14-Day Free Trial
Team $49 / month, includes 30-Day Free Trial
Enterprise – contact for quote
Skillsoft: Pros & Cons
| | |
| --- | --- |
| Pros | Cons |
| Free Trial | Clucky Admin interface |
| Variety of Topics | Expensive |
| Certificate upon completion | Corporate teaching structure |
Udemy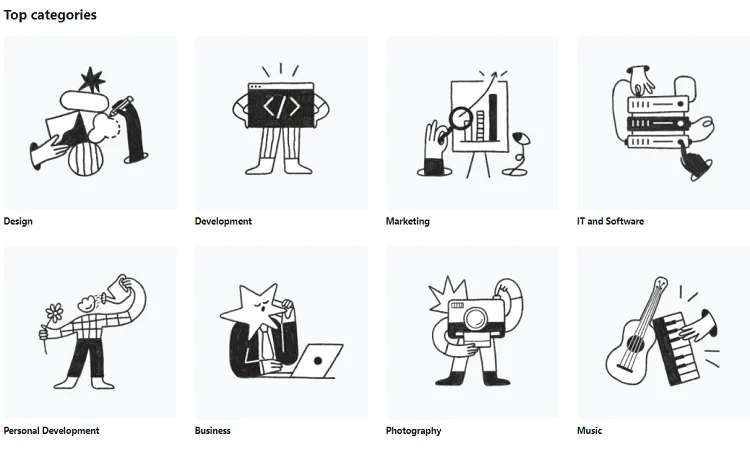 Udemy is an online education platform founded in 2010. It is publicly traded and its headquarter are in San Francisco, California. The e-learning program is aimed at professional adults and students who want to advance their knowledge and skills and scale further in their careers.
They offer 175,000+ courses in 75+ languages. Some courses generate credit toward technical certifications. Corporate trainers use Udemy to help them create internal training coursework for employees of their company. All courses are learned at your own pace and have a 30-day money-back guarantee.
Udemy: Course Categories
Design
Development
Marketing
IT and Software
Personal Development
Business
Photography
Music
Finance & Accounting
Office Productivity
Lifestyle
Photography & Video
Health & Fitness
Teaching & Academics
Web Development
Data Science
Mobile Development
Programming Languages
Game Development
Database Design & Development
Software Engineering
Software Development Tools
No-Code Development
Udemy: Prices
Free and Paid Courses are offered by Udemy. They also include individual and Business Plan pricing packages.
Udemy for Individuals: cost ranges from $12.99 – $199.99
Includes a certificate upon completion, Mobile APP, Lifetime access to course materials
Udemy Business Plan: Team 5-2 users, $360 / user/ year
Includes 6500+ courses, Custom logo & URL, Mobile App
Enterprise Plan (21 or more users) and Leadership Development Programs – request a quote
Udemy: Pros & Cons
| | |
| --- | --- |
| Pros | Cons |
| Affordable | No Free Trials |
| Free Courses | Lengthy assignments |
| Wide selection of courses | Live training |
FAQs
Question: What Should a Student Know Before Choosing an Online Course?
Answer: Reviewing and understanding the online course terms and conditions to be sure you understand their obligation and yours is a good start. Each online course may differ from one another and it would be beneficial for you to understand what you are signing up for.
Especially if you change your mind after signing up and want to cancel. Some offer money-back, some don't.
Question: Why Should Students Learn Online?
Answer: Online learning is beneficial because it is flexible. You can usually learn at your own pace… after work, during lunch breaks, on weekends, or whenever and where ever you want. You can be exposed to a more diversified selection of topics to learn and join a community of people across the world.
Expert instructors have a wider audience to teach and students can now tap into a world of knowledge from industry experts and celebrities that are walking the talk and can teach you what they know. You also save time commuting that can save money for you too.
Question: What Challenges Can StudentFace with Online Learning?
Answer: The number one challenge, besides having a reliable internet connection, is distractions. Students need to find a quiet place to study. That means turning off notifications on your phone and computer and dedicating your full attention to your study materials.
Letting family and friends know you are unavailable between certain hours too, unless there is an emergency, may help too. Staying motivated can also be challenging, especially when you have to study a topic you aren't interested in or find it too complicated.
The best thing to do is to take it in small chunks. Schedule a certain time period to get the course material and write notes and questions as you go along.
Raise your hand to a tutor or the help desk should get stuck. Also, remind yourself why you are doing this and there is a light at the end of the tunnel once this is done signing up.
Conclusion
There are so many benefits of learning online and a huge amount of options are available. I say this repeatedly, if you are in the market to invest your time and money into online education, then write down what you want from it. What exactly do you want to learn, with or without the bells and whistles?
Then identify the online platforms that are available. What do they teach, how do they teach, can you raise questions easily, is there a community, what is the cost and can I afford it, what if I don't like who I signed up with…do I get a refund?
Does the platform offer a trial period so I can test it out to see if it suits my needs? Do they offer certificates upon completion? Who is going to teach me?
Then when you have the platform that meets your expectations, I suggest reviewing their terms and conditions just to be sure you are knowledgeable about their expectations from you and what you expect from them.
Learning should be fun, interesting, and advance your knowledge and skills. Your time and money should go towards an online educational platform that has your best interests in hand.