Latest posts by Jessica Lauren Vine
(see all)
You're ready to step into a beautiful new location, but you don't want to get stuck looking like a goofball because you don't know what to say. If you're considering Babbel vs Rosetta Stone, you might not be sure which language program is the best one for you.
Not everyone learns the same way when trying to dip their toe in with a new language. Learning more about both of these platforms will help you decide which one to put your time into, so you can start succeeding at the language of your choice.
Continue reading this article to learn more about Babbel vs Rosetta Stone to see which is the best language learning program for you.
Main Differences Between Babbel vs Rosetta Stone
The main differences between Babbel vs Rosetta Stone are:
Babbel is on the budget end, whereas Rosetta Stone is pricier
Babbel gives users translations and explanations in English, whereas Rosetta Stone uses the new language almost all of the time
Babbel teaches users how to have longer conversations, whereas Rosetta Stone focuses more on teaching individual sentences
Babbel has 14 languages users can learn, whereas Rosetta Stone has 25 languages
Just seeing these main differences between the two, you may notice something that is a dealbreaker for you or something you just must have. Let's continue so you can get the full picture of both options.
Babbel vs Rosetta Stone: Babbel Overview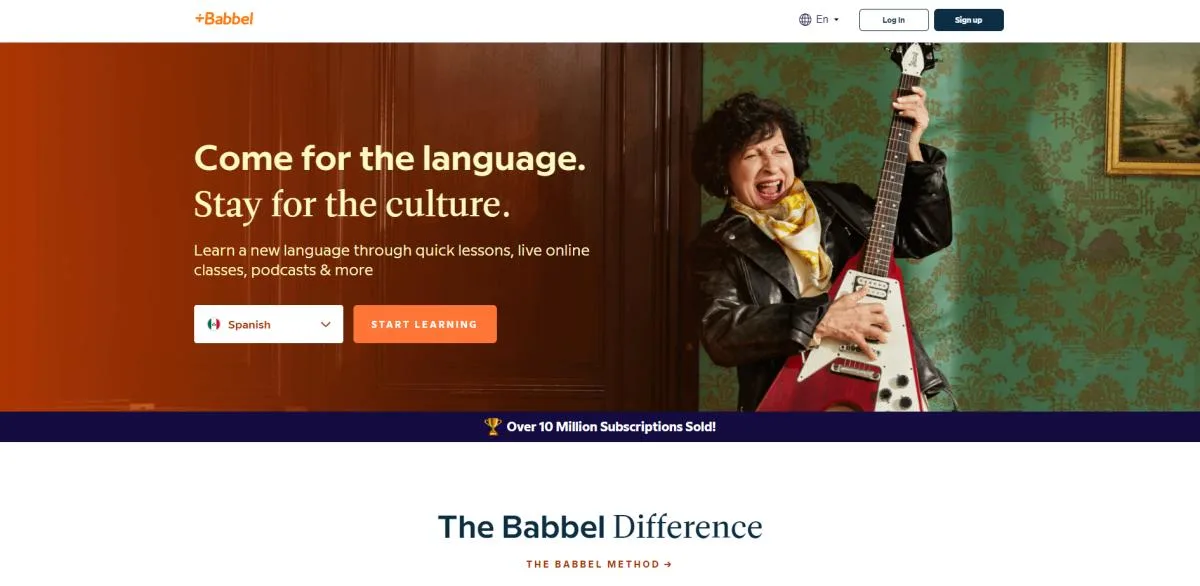 Thomas Holl, Toine Diepstraten, Lorenz Heine and Markus Witte founded Babbel in August of 2007. The company is operated by Lesson Nine GmbH in Berlin, Germany, and was the world's first language learning app. There are millions of people around the world that subscribe to Babbel. They are proud of their success and ranking as the world's number one innovative education company.
One of the cool things about Babbel is its confidence in its platform. They guarantee you'll be able to hold a conversation in your chosen language within a short time of using the app. In fact, they said 73% of their users say they feel confident in their ability to have short conversations in their new language within hours of using the app.
Their goal is to use technology to help you concrete your knowledge and use it in the real world. They have over 10,000 hours of content and 14 languages you can learn with their app. Another thing they feel proud about is that their content is built for the user—not some third party. Meaning there are no ads to distract you or to make Babbel design it in a way that will fit more ads into the learning experience.
Their straightforward subscription model is refreshing, but not everyone can afford to pay for it, which is why some other learning apps, like Duolingo, are so popular.
Getting Started & Using Babbel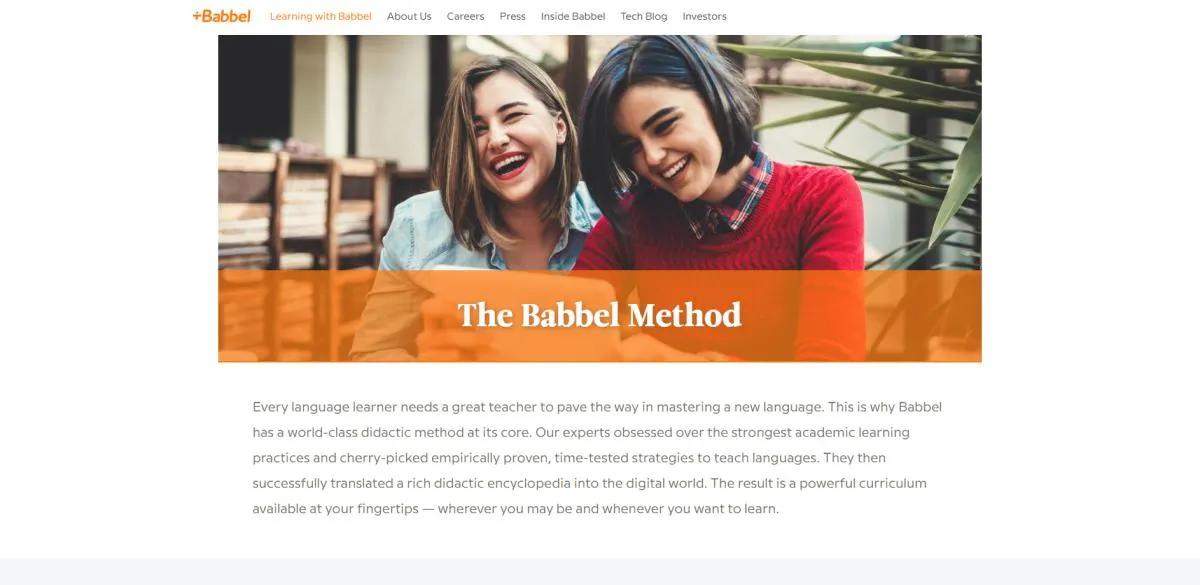 If you're ready to learn with Babbel, it's really easy to start. Most users say it's easier to use than many other programs since it is so user-friendly. They paid close attention to how they designed the program so users can start without a lot of friction.
Once you create your account by answering some basic questions and get your subscription, you'll be able to start your first lesson. The lessons aren't too long, so you can fit them in whenever you have a few minutes.
You'll learn about the word or phrase, and then you'll have to answer the questions. There is a way to do language recognition and just speak to answer the questions, or you can type them into a box. It depends on how the user learns best and what works for them, but the language recognition with Babbel is a little on the iffy side, which can make it super frustrating when it doesn't understand your accent.
Babbel asks you about your goals, how much you can already speak the language—if any—and it customizes your learning experience. You learn based on your native language and interests, and that makes it a lot easier to retain information.
Teaching Quality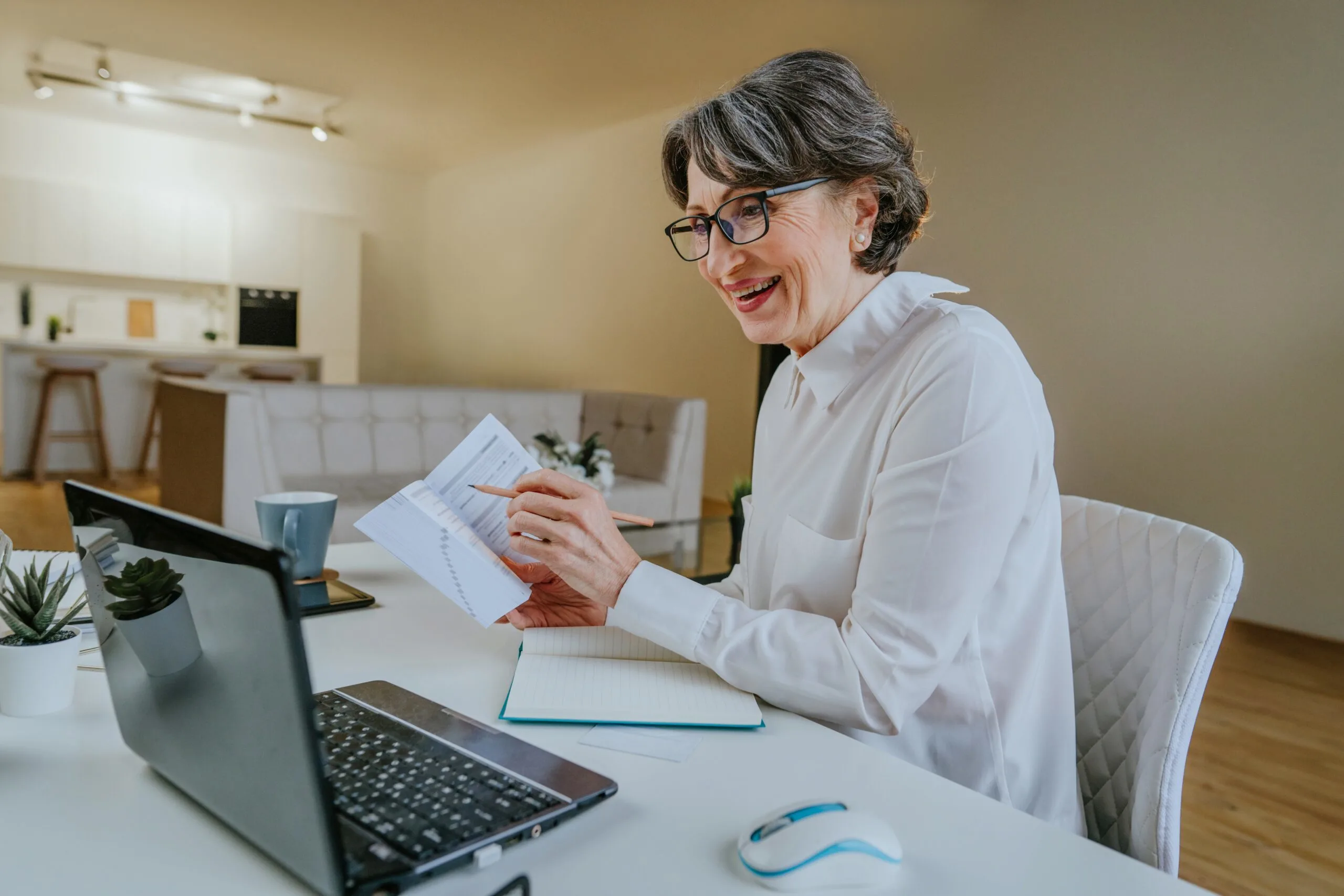 Having a good teacher is important for any student, but when you're using an app, it's even more important it understands how to teach. You can't ask the app questions, so it needs to have already figured out what you need to know to be successful.
Babbel did a great job at determining what users need to learn to get conversational right away. As a matter of fact, they said that over 70% of users reach the declared goal they gave at the beginning of the course. This alone is a testament to the quality of teaching the app is able to provide.
Support
With apps, you usually don't need to contact support, but in case you do—you want to know someone will help you out. Babbel has a good amount of support articles that might allow you to find the answers on your own, so you don't have to contact support. However, if you want to contact their customer service, you can click contact us and send a message via their support form.
Pricing

Since Babbel doesn't have a free option, the pricing issue comes up right away since they only give a one lesson demo. If you aren't sure if you want to use Babbel for the long term, you might consider the $13.95 per month subscription. However, if you plan on using the app for a long time, you should look at the other options.
Save 30% and pay $9.95 per month when you purchase three months at $29.85.
Save 40% and pay $8.45 per month when you purchase six months at $50.70.
Save 50% and pay $6.95 per month when you purchase twelve months at $83.40.
Babbel vs Rosetta Stone: Rosetta Stone Overview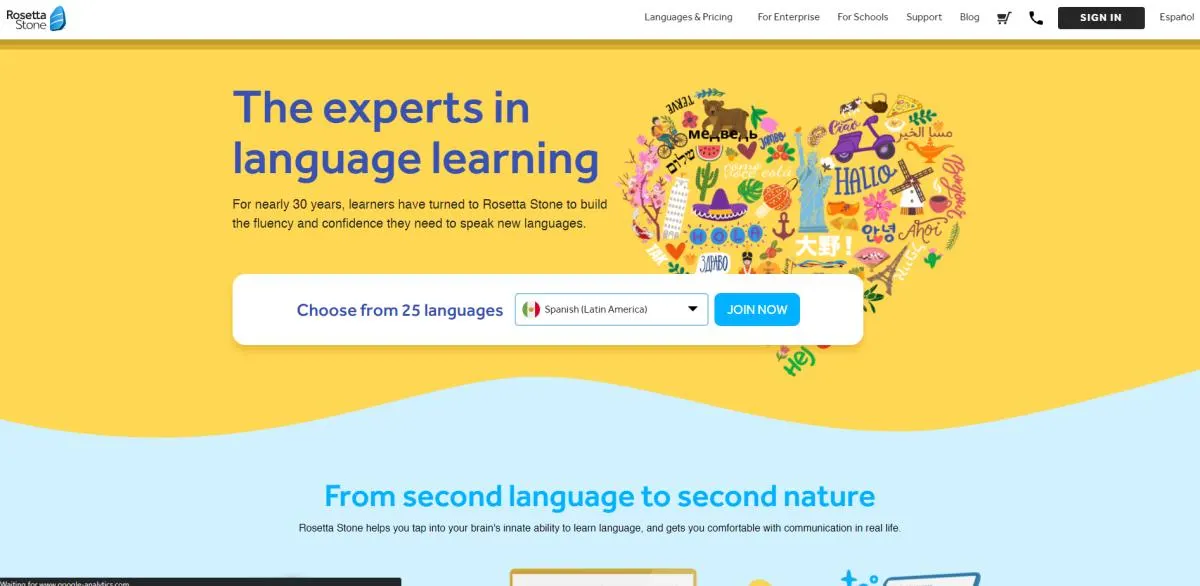 Rosetta Stone was founded in 1992 by a man looking for a better way to learn languages. From that humble start, they've jumped ahead to become one of the most well-known language learning platforms available.
Rosetta Stone does have an app, even though it started out as a humble CD-ROM program. Over the years, it's continued to adapt and adopt the most effective means to teach people another language. They have plans for the individual learner, classrooms, and even businesses.
There are millions of people worldwide that use Rosetta Stone to learn the language of their choice. And with over 25 languages available, it's likely you'll be able to find the one you want to learn. They teach students by immersion, and the goal is to take you from learning a second language to making the language second nature.
Getting Started & Using Rosetta Stone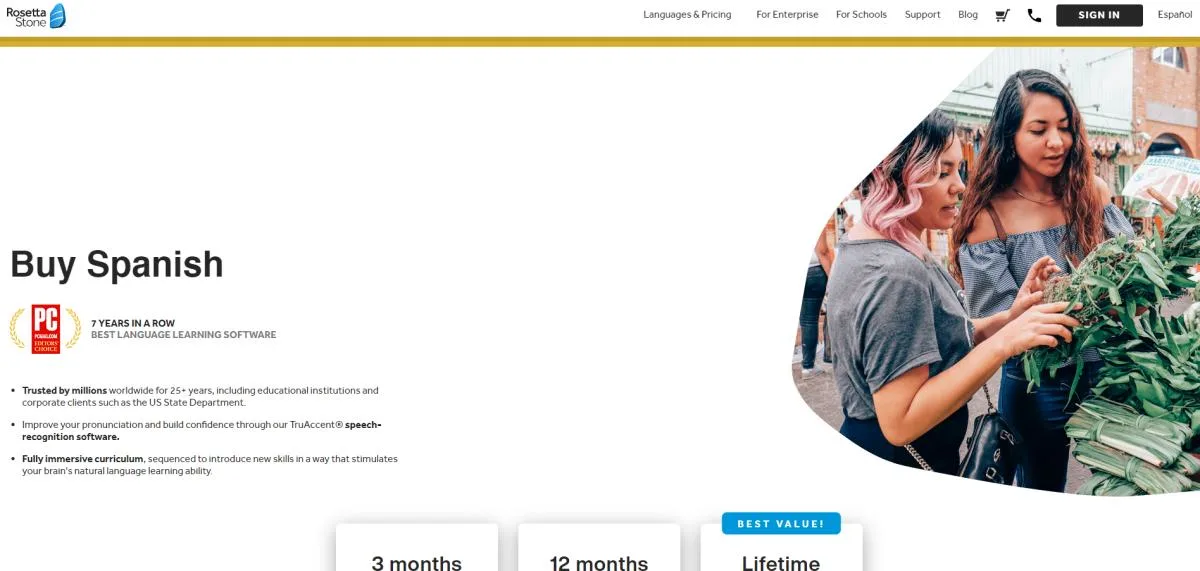 When you get started with Rosetta Stone, you can choose whether to buy a single language or if you'd like to have unlimited language learning. If you aren't sure if you want to buy it right off the bat, you're able to use their free trial to check it out.
When you sign up, you'll get a welcome email from Rosetta Stone. In that email is your access panel address, username, and password so that you can get into your learning experience. All you have to do is use that information to sign in and then open Rosetta Stone Foundations.
Once you're in, you'll be able to navigate using their prompts so you can continue through the program.
Teaching Quality
Unlike a lot of apps, with Rosetta Stone, you will not hear or use your own language. The goal is to immerse you in this new language—just like when you learned to speak your first language. They have a very cool way of starting out simple and teaching you with photos so you can build upon success. You'll learn from sights and sounds, words, sentences, and then conversations.
As they introduce new vocabulary, you'll use what you've already learned to understand and grow. They want you to discover patterns instead of simply memorizing rules. Active learning is supposed to help you retain more of the new language so you can speak it without having to think about rules.
Support
Rosetta Stone has a frequently asked questions section to help users. They also have a customer support portal and email you can use to contact them directly. However, since it's pretty easy to use, most people don't find they need to contact support.
Pricing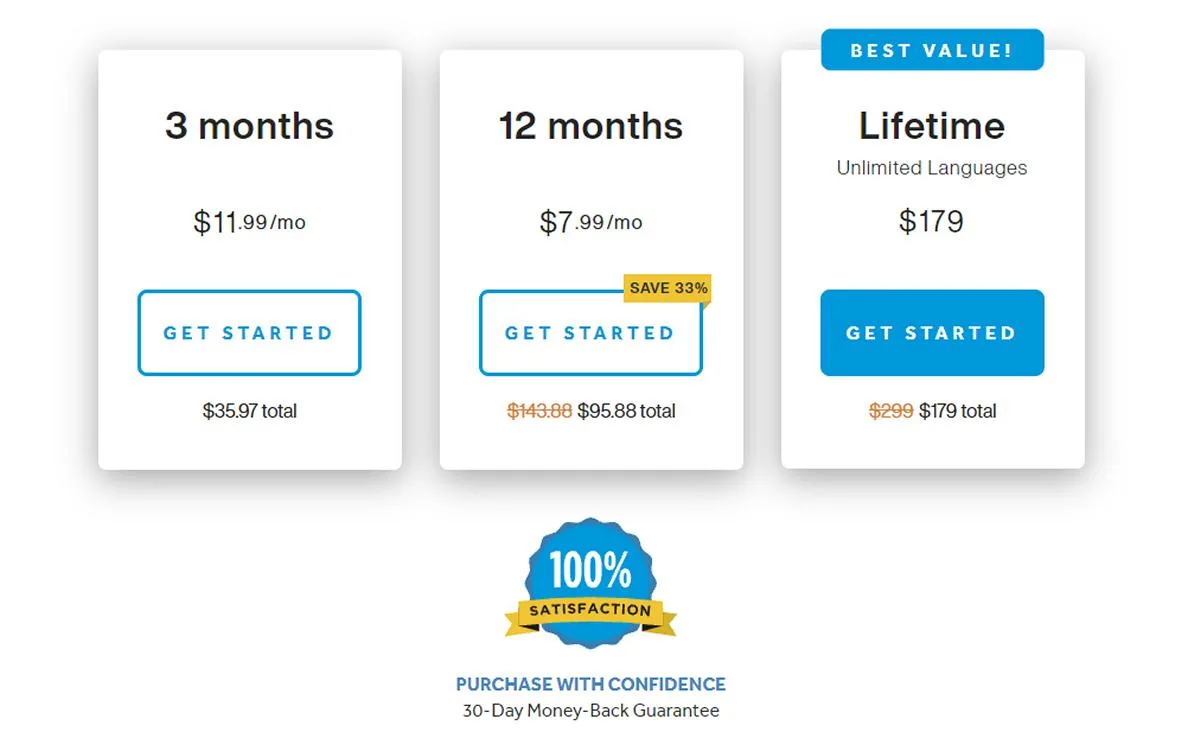 Pay $11.99 per month if you commit for 3 months which totals out to $35.97.
Save 33% by paying for 6 months at $7.99 for a total of $95.88.
The best option looks like unlimited languages and lifetime access for $179.
Why Should You Learn a New Language?
Now that you've looked through the information about Rosetta Stone and Babbel, you might be questioning whether you want to commit. Many people enjoy learning languages for fun, but others find they're able to charge more for their services, or they may even be able to start a new job or business with this new skill.
Other Language Programs to Consider
Duolingo – If you're on a budget—what's better than free? You can learn a language for free with this program as long as you're willing to watch some advertisements
Mondly – This is a cool learning app and though it can get a little overwhelming, it's great for people that are into games. Their claim is that you can play your way to a new language. Check out our full Mondly vs Babbel comparison.
FAQs
Question: Why doesn't Babbel or Rosetta Stone offer a free version?
Answer: Many people are used to Duolingo and like it because it has a free version, but neither Babbel nor Rosetta Stone wanted to monetize with ads. They just wanted to serve their customers.
Question: What does learning a new language do to your brain?
Answer: Learning a new language can help you develop your brain and even helps your natural ability to focus.
Question: Is learning a new language worth it?
Answer: Yes. Learning a new language can help you open up new opportunities and build confidence.
Bottom Line: Which Platform Teaches Language Best?
I don't think I could learn the way Rosetta Stone teaches. Learning without English explanations makes me feel like I'm lost at sea. Babbel has a much better approach to teaching, in my opinion. However, some people do find Rosetta Stone to be the best option for their way of learning, so give them both a try if you're on the fence.