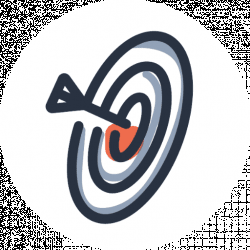 Latest posts by Online Course Rater Team
(see all)
While foreign language enrollment has declined in the United States, there's one language in particular that has been immune to the downturn: Korean.
Why Korean?
Korean entertainment, such as music (K-pop) and television (K-drama), is the driving force behind this rise in interest. Korean-language media is easily accessible from almost anywhere and has captivated fans the world over. Even though lyrics translations and subtitles exist for many Korean songs and shows, that hasn't deterred international fans from wanting to become proficient in Korean themselves.
Another possible reason: South Korea's economy experienced its fastest growth in seven years. That boom means a more worldwide interest in Korean companies; thus, proficiency in Korean has become a desired skill in the business world.
For those who are unable to take a formal language class, hope is not lost, as education tech companies have noted this demand for Korean language materials.
In this article, we'll look at the most noteworthy Korean language apps and courses for self-learners. This list is split into two categories: Comprehensive Study and Specialized Study. Depending on your personal needs, you may either be fine with a single program or benefit from using a combination of them.
Comprehensive Study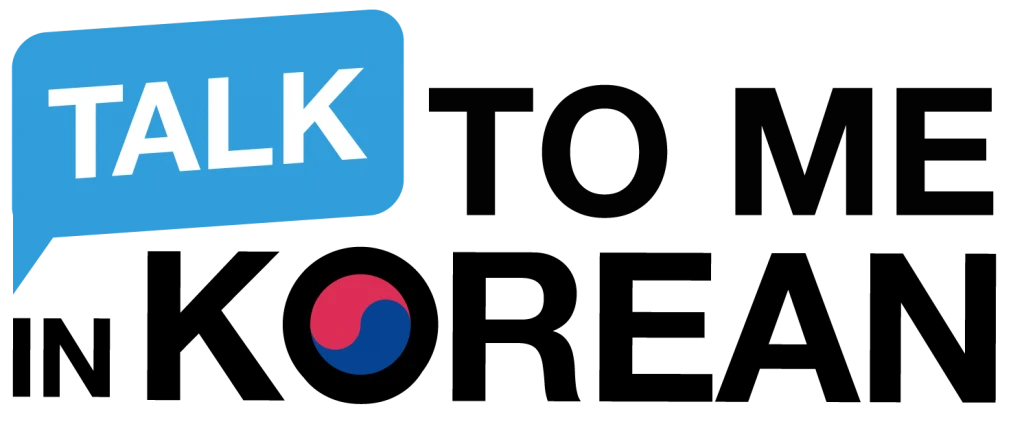 For anyone who expresses interest in Korean, Talk to Me in Korean (or TTMIK) is often the first site recommended by more seasoned self-learners. Over 500,00 students from more than 190 countries rely on TTMIK.
TTMIK offers a variety of study materials for beginner and intermediate learners:
Lessons cover Hangul (the Korean writing system), grammar points, sentence building, essential vocabulary, and situational expressions. Videos delve into additional topics like culture and current events.
What's great about TTMIK is that it's an a la carte service. Students can pick-and-choose which lessons and mediums work best for them, at their own pace.
However, there is a lot of material, so it can become overwhelming to start. (Thus, it's recommended new students go here first.) While the overall cost will be less than that of a university course, if you have an inclination towards learning through books and/or video, it'll set you back a bit financially.
Reading, writing, and listening is all sufficiently covered by TTMIK. If you want to work on speaking, it'll be up to you to find a way to do that. While you can repeat phrases to yourself ad nauseum, to truly gauge your abilities and improve your communication skills you'll have to find a conversation partner or group. TTMIK endorses HelloTalk for this purpose.
TTMIK is by far the most comprehensive self-study course you can take for Korean, and depending on your needs, it won't cost you a single cent to do it.
| | |
| --- | --- |
| PROS | CONS |
| Arguably the most comprehensive online course for Korean | The amount of material on offer can be overwhelming |
| Choose from a variety of materials | Make sure to work on conversation skills outside of TTMIK |
| Go at your own pace and focus on your needs | If you prefer books or video, it can get costly |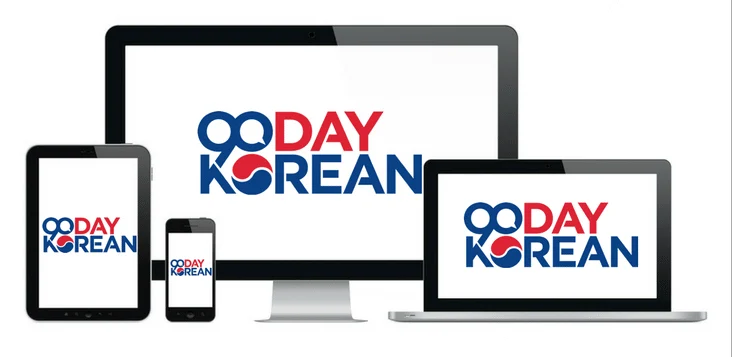 90 Day Korean promises students that they will be able to hold a 3-minute conversation with a Korean after three months of study.
Founded in 2013, its original aim was to teach Hangul in just 90 minutes. Now it's expanded to a more comprehensive, robust curriculum.
90 Day Korean is a subscription service that accepts only 30 students every month. It's currently $47 per month but discounts are not rare, especially around major holidays.
A subscription nets you the following:
Bundles of lessons sent via email every week
Unlimited email support from a native Korean speaker/mentor, complete with weekly check-ins
AudioBytes MP3s to help with listening and pronunciation
Customizable lessons and personalized goals, with emphasis on the 80/20 method (so students only learn what they deem necessary)
The course is broken into three modules, each lasting 90 days:
Module 1 focuses on maintaining short conversations with Korean speakers, as well as maneuvering common situations such as ordering food or going to the bank
Module 2 emphasizes talking about one's self and developing the ability to hold deeper conversations
Module 3 includes slang and other non-textbook Korean words and phrases, especially useful for those who want to express themselves like a true native speaker and/or want to fully enjoy Korean media
A year's worth of 90-Day Korean means students will start from scratch to become well-versed in nuanced speech. That's a lofty goal, but it's effective…as long as students remain patient with themselves.
Keep in mind that the program has the potential to set you back more than $550 over 12 months – that's not bad compared to most traditional language programs, but it's a significant cost compared to other self-study methods on the market.
However, a subscription to 90 Day Korean does include a designated language coach who can offer personalized feedback and motivation, which makes the cost worthwhile.
| | |
| --- | --- |
| PROS | CONS |
| Work with a native speaker/coach who can give personalized feedback | Not the most cost-effective method (although discounts exist) |
| Start from zero and be able to hold deeper conversations within a year | Requires a lot of self-discipline to get the most from it |
| Personalized goals — focusing on what's relevant, no excess | |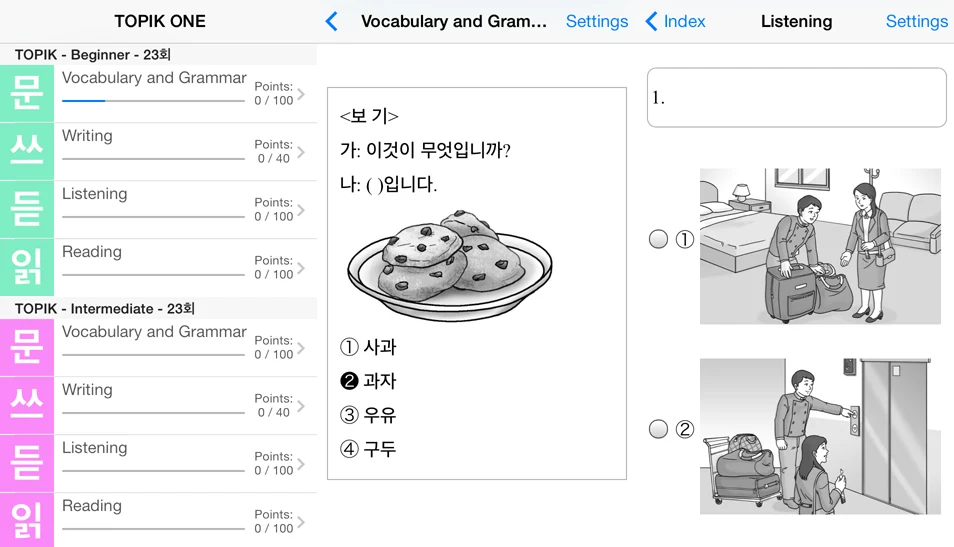 The TOPIK is the Test of Proficiency in Korean. Passing the TOPIK is essential for anyone who may wish to work, study, or live permanently in South Korea.
TOPIK One is designed for those who are planning to take the Korean language proficiency test, so it may be too intense for a complete beginner. A mastery of Hangul and a minimum grasp of elementary grammar is recommended for maneuvering the most basic level.
TOPIK One is divided into three levels: beginner, intermediate, and advanced. Within each level are tests on vocabulary and grammar, writing, listening, and reading. Each of these tests is based on past TOPIK exams, to give students as authentic an experience as possible before taking the real deal.
Another useful feature of TOPIK One is the ability to click on unfamiliar words, which will then pull up the built-in Korean-English dictionary with a definition.
A downside to this app is the need to download the embedded audio files for each listening portion. Unless you have access to WiFi, you'll either rely on a cellular connection (and thus, a possible data drain) or go without. The quality of the audio is also not the best, but once again, it is modeled after what will be presented during the actual TOPIK.
TOPIK One is available for free for iOS and Android, but there are two downsides to this:
First, it only has material from the 23rd and 24th TOPIK (by the end of the year there will have been 61 TOPIKs given). It's doubtful much has changed since those tests were administered in 2011, but it's not the most current material available.
Second, it's available at no cost because it's powered by ads. These can become disruptive as they appear after each exam and remain on the screen for several seconds.
It's a small price to pay at $2.49, but if you're seriously considering taking the TOPIK, purchase the TOPIK One app instead. Not only will it be free of ads, it will also feature more recent material (from up to TOPIK 52, which was administered in 2017). The paid version of TOPIK One is segmented by difficulty, so each time you level up, you'll have to make another purchase.
Even if you don't plan to take the TOPIK at any point, TOPIK One is a sufficient way to gauge your Korean language ability. Use it in conjunction with another course or app for a more enriching experience.
| | |
| --- | --- |
| PROS | CONS |
| Ideal for anyone who plans to take the TOPIK or wants to gauge proficiency on their own | Free app is ad-ridden |
| Borrows from previous TOPIKs, to provide as authentic an experience of the test as possible | Free app doesn't offer the most recent test materials (focusing on TOPIK from 2011) |
| Built-in dictionary helps students when they're stumped | Audio files need to be downloaded – they're not included in the app itself |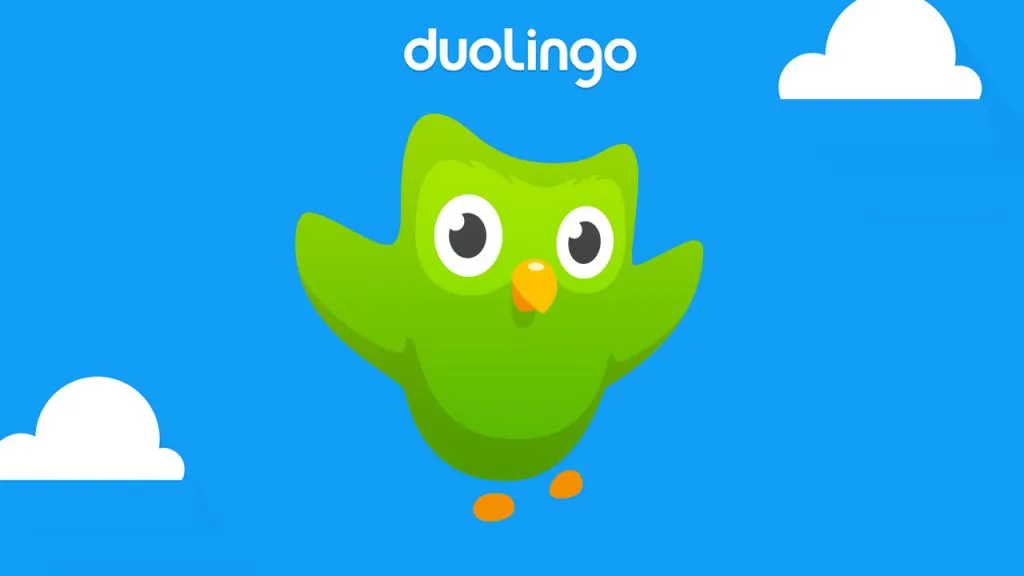 We recently sang the praises of the game-like Duolingo in this article. For Korean language learners, Duolingo has a lot going for it.
Duolingo focuses on both grammar and vocabulary, with an emphasis on reading, writing, and listening.
To start, Duolingo offers the option to either learn the basics (in this case, Hangul), or test out of the elementary levels via a 5-minute placement test. The latter Is an enticing option for anyone who is picking up Duolingo after having some experience in learning Korean.
If a user feels like the level at which Duolingo has placed them is too low, they can opt to take shortcuts to advance lessons sooner.
Thanks to its algorithm, Duolingo keeps tabs on which words are your weakest – the vocabulary you kept getting incorrect during review sessions. At the end of every lesson is a tab featuring these "weak words," which you can then focus on exclusively.
A couple of new features were recently added. Skill Levels introduce learners to the more challenging material as they "level up" upon successfully completing lessons. Meanwhile, if students want to focus on a topic, like food or travel, they're free to work on skills that relate to those specific interests.
Duolingo is free for iOS and Android. Upgrading to Duolingo Plus (from $6.99/mo. for 12 months) will eliminate ads and allow offline access to lessons, but the freemium app is robust enough on its own.
The one flaw in an otherwise ideal app is Duolingo's awkward sentences and phrases. They don't completely detract from the experience, but impractical phrases don't add much outside of a small laugh. A Twitter account dedicated to these passages exists.
In terms of language learning apps, you can't go wrong with Duolingo. It can stand well on its own, but it's especially useful as a companion app to another method of study.
| | |
| --- | --- |
| PROS | CONS |
| Robust for a freemium app | Example phrases can sometimes be awkward or clunky |
| Users can start from where they're most comfortable, either at the beginning or at a higher level via placement test | Must purchase Duolingo Plus at a monthly fee for access to lessons offline |
| New features mean added challenges and an ability to hone in on desired skills | Not quite a standalone app – close enough, but better served as a companion to another method |
Specialized Study
Korean Handwriting Plus (reading/writing/vocabulary)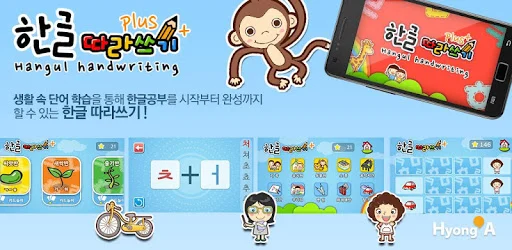 Korean Handwriting Plus is an app that's designed for children. However, consider that adults who are learning a language fresh are on the same level as kids.
For older students who want something more interactive and colorful than TenguGo Hangul, Korean Handwriting Plus is a viable choice. It's available for iOS and Android for $2.99.
Korean Handwriting Plus is divided into five lessons, from "Seed Class" to "Flower Class." The first four lessons include an introduction to letters or blocks, with audio clips and writing practice that ensures proper stroke order is followed. A card match memorization game caps every lesson as an end "quiz." The final lesson dives right into the vocabulary.
This app doesn't only focus on writing/reading Hangul but also introduces 135 beginner vocabulary words.
Korean Handwriting Plus is so much fun, you'll forget you're learning. Complete with cute illustrations and a squeaky, cheerful voice to guide you through, this app may be a bit too much for older learners who just want to get down to business.
Also, Korean Handwriting Plus is aimed at young Korean children. Thus, you may miss some of what's said during the lessons as it's all said in Korean, although context clues and continued exposure will counter any possible misunderstandings. (Look at it as a way to brush up on your listening skills,)
| | |
| --- | --- |
| PROS | CONS |
| Learn like a child, with fun illustrations and cute narration | Not for older learners who only want to get down to business |
| Focus is not only on reading/writing but also learning some basic vocabulary | Narration is totally in Korean, which may take some getting used to for complete beginners |
| | It's not free (but it's not expensive, either) |
For anyone who wants to focus extensively on verb conjugations, there's DongSa.
This free app for Android* features multiple tenses and formality levels – especially important in Korean culture – for every verb. Simply type in a verb in its infinitive tense and DongSa will pull up every possible conjugation.
This app is recommended for those who already have a grasp of Korean, especially Hangul. Although each verb conjugation does include a Romanized pronunciation (but no audio clip), you must like to punch in the words in Hangul to get results. Also, DongSa does not give definitions of the verbs, as it's not a dictionary.
Given its specificity, DongSa is an excellent companion app for more advanced students of Korean.
*An iOS version appears to have existed at one point but is no longer available.
| | |
| --- | --- |
| PROS | CONS |
| Learn every possible verb conjugation (both tense and formality) | A total beginner would not benefit from this app – Hangul, at a minimum, is a must |
| Free, and easy to use | No sound clips or meanings included |
| | iOS users are out of luck |
Korean Grammar Haja (grammar)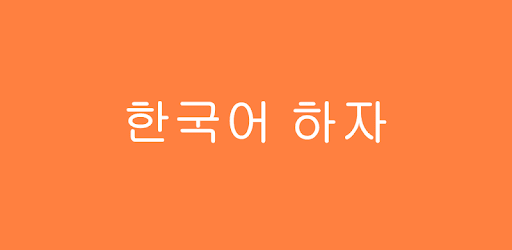 Everything you need to know about Korean grammar is contained in one little app: Haja.
Available for free for Android, Haja includes 85 grammar points, each elaborated upon with detailed explanations and example sentences. They're broken down into sections, such as a verb tense and situational grammar. There's also a search function.
Haja includes a section on "Confusing Grammar," which explains features of Korean that are inclined to trip up even native speakers.
Once again, knowledge of Hangul is a prerequisite to use this app, as every example is written in Korean, without phonetic spelling.
Also, this free app has ads, which isn't necessarily a con. However, some ads take up enough space at the bottom of the screen to be distracting.
If you've gotten Hangul down and want to ease into the mechanics of Korean before dedicating yourself to a full-out course, look no further than Haja.
| | |
| --- | --- |
| PROS | CONS |
| This database of Korean grammar includes thorough explanations and examples | Not useful without knowledge of Hangul |
| Can be easily sorted through; also includes a search function | Ads can be disruptive at times |
| A good stepping stone to more comprehensive study | Once again, iOS users are out of luck |
YouTube (listening/reading)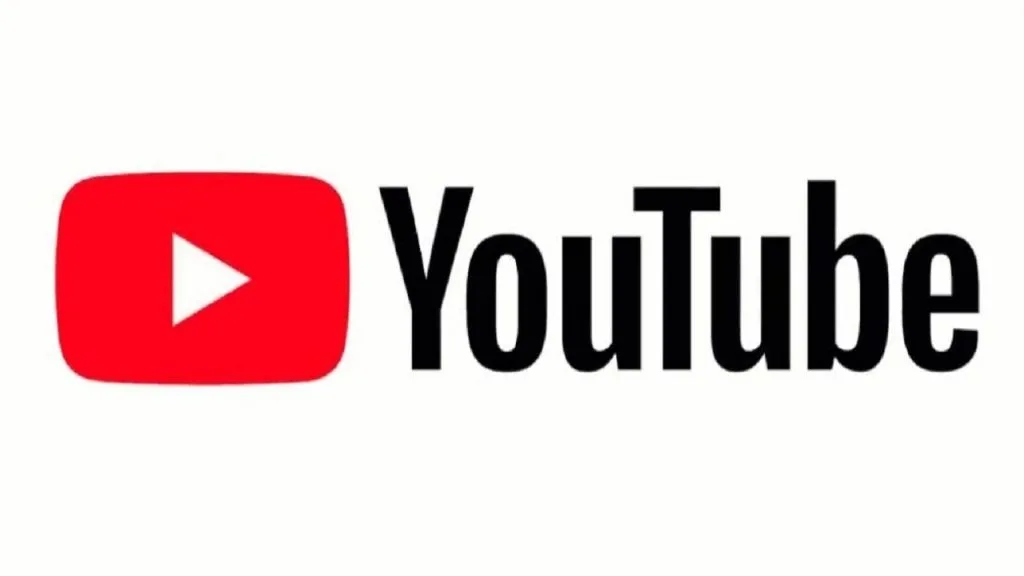 Remember that one reason for Korean's surge in popularity as a desired language is due to the ever-growing reach of Korean entertainment. It's possible to transform that passion for Korean pop music and TV shows into valuable study time, thanks to YouTube.
If you're a fan of Kpop, plenty of resources are available for you to check out. For instance, Korean broadcasting network MBC has caught wind of the international appeal of Kpop and has created a series of videos to help worldwide Kpop fans learn Korean.
Plenty of independent YouTubers have also made similar videos. Some of them, like Korean Unnie, provide extremely thorough lyrics analyses.
Watching Kpop videos with English subtitles will help with listening skills; you can also up the ante and watch these videos with Korean subtitles instead, to improve your reading skills.
Learning a language through song is nothing new – one of the earliest songs you learn how to sing is the alphabet! Pop songs are catchy and repetitive, so language students should use that to their advantage.
However, it's not uncommon for K-pop songs to have an exaggerated pronunciation. If you try to mimic the sounds of Kpop songs too closely in your regular Korean speech, it'll come off as awkward.
Also, popular music uses a lot of slang and informal language. Remember that formality in language is crucial in Korean culture, especially when speaking with those who are older. Kpop may help you with casual speech so you can chat to close friends, but it won't help you maneuver the social hierarchy otherwise.
As for Korean TV, dramas are the most popular genre. Many Kdramas are subtitled and distributed for the foreign market, either through official or non-official means. As with Kpop videos, you can watch dramas with either English subtitles (for listening practice) or Korean subtitles (for listening and reading practice).
Korean dramas are more useful for picking up natural accents than songs. However, dramas can tend to be cliché. You may learn a lot of practical words and phrases, and even get a sense for levels of formality, but remember that these are still scripted works.
Yes, it's possible to embrace your favorite entertainment as a study tool for Korean, but songs and shows are best suited as supplements for more formal (and admittedly less fun) instruction.
| | |
| --- | --- |
| PROS | CONS |
| You can enjoy your favorite songs and shows while learning something valuable | Songs often have exaggerated pronunciation |
| Learn more "trendy" words and phrases, and get a hint of dialects, too | Unnatural / cliché words and phrases abound in lyrics and scripts |
| In the case of pop songs, the repetition and catchiness are benefits | |
Conclusion
The allure of Korean culture has sparked an interest in Korean language students around the world. As that interest continues to grow, we'll likely see even more Korean language apps and courses arrive on the market within the next year.
We've shared our most useful resources for learning Korean. How about you? Which apps or courses do you find helpful? (Did we cover any of them here?)
Happy learning!