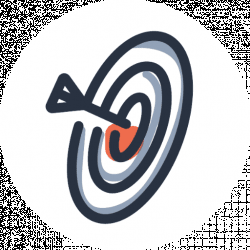 Latest posts by Online Course Rater Team
(see all)
Ask anyone to recommend a language learning app and chances are Duolingo is the first response you'll receive.
It's no surprise – Duolingo has collected numerous accolades (even from us!) and has some powerful backers behind it, including actor Ashton Kutcher and author Tim Ferris.
However, Duolingo's immense popularity doesn't mean it is immune from criticism.
The Duolingo website has been perceived as too systematic for learning a language, too unforgiving of mistakes (which, we know full well, are unavoidable for language learners), too unnatural (its awkward phrases are well-documented), and not the most reliable resource for non-Romantic/non-Germanic languages, such as Korean or Japanese.
Fortunately, it isn't the only language app out there to teach languages. Here are four apps like Duolingo that may fit your individual needs better:
Top Duolingo Alternatives
The top Duolingo competitors that may be better than Duolingo are:
Babbel Language Learning
LingoDeer
Busuu
Lingvist
Our Pick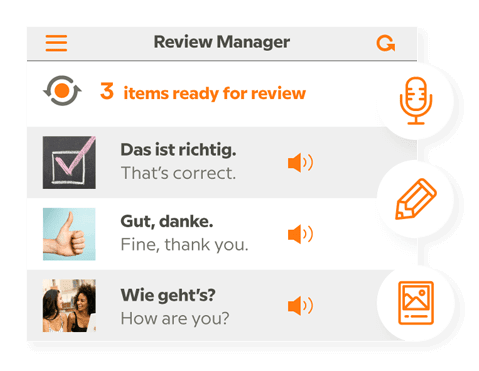 I Personally Prefer Babbel
I LOVE Babbel because it tailors it's approach to your learning size. It's approachable for everyone, with one of the best mobile apps I tested. Furthermore, take up to 60% off when you order via our link below.
Get Babbel Now
We earn a commission if you click this link and make a purchase at no additional cost to you.
Let's dig a little deeper into each one to help you find the perfect fit!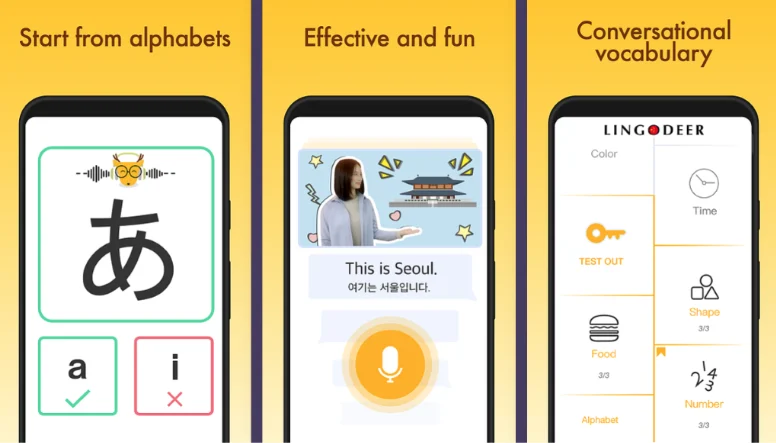 Our Pick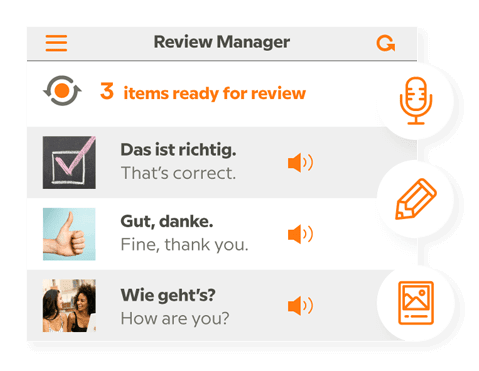 I Personally Prefer Babbel
I LOVE Babbel because it tailors it's approach to your learning size. It's approachable for everyone, with one of the best mobile apps I tested. Furthermore, take up to 60% off when you order via our link below.
Get Babbel Now
We earn a commission if you click this link and make a purchase at no additional cost to you.
Credited as the world's first language learning app, the Germany-based Babbel debuted in 2007, four years before Duolingo was developed.
Babbel's aim is to make users conversational via its own didactic method, which is rooted in immersion, cognitive techniques, and personalization. If a user learns best through reading, Babbel will tailor itself to that preference with their user interface; likewise, the same holds true for those who are more adept at learning through speaking (conversation), listening, seeing, or writing.
Courses are available for both beginners and intermediate learners in 14 languages; they're accessible via the mobile app or Babbel's desktop client. In addition to the base courses, there are also "extras;" for instance, students of Italian can learn Italy's various dialects.
The Babbel app is free to start, but access to lessons is extremely limited unless you're willing to pay for a subscription. There are four payment plans, with the best value being $6.95 per month for 12 months.
Special Note on Pricing: If you sign up here you can actually save 25% off the first 6 months of Babbel.
For those who want a little something more to show for their hard work, Babbel offers language certification through courses completed via its browser client. However, it's unclear on how much weight this holds on its own when it comes to showcasing competency in a foreign language (for instance, for a visa or a job). In any case, it's a nice memento to have upon finishing a course.
While Duolingo focuses on vocabulary and grammar via games and challenges, Babbel is more concentrated on helping users become comfortable with conversational language. (Babbel provides dialogue that's more realistic than some of the curveballs Duolingo lobs, at least.)
If application of language in practical situations is important to you, consider Babbel, but be prepared to pay for it to truly be able to learn a language.
| | |
| --- | --- |
| PROS | CONS |
| Tailors itself to how an individual works/learns best | Free app is very limited; for full access to courses, a subscription is required |
| Focus on practical application of language in conversational settings | Lessons can become painfully repetitive at times |
| Extra lessons focus on less textbook / more fun aspects of language | Offers 14 languages, but they're primarily European |
LingoDeer has taken the Duolingo model and enhanced it for learning Asian languages, specifically learning Chinese (Mandarin), Japanese, Korean, and Vietnamese.
If you've used Duolingo the interface will already be familiar: segmented, themed lessons with multiple choice/translation/listening exercises, accompanied by a cute mascot (the LingoDeer).
Just like Duolingo, LingoDeer gamifies the experience, as users receive XP (experience points) upon completing goals and lose turns for wrong answers during test portions. Those who are already competent in a skill can test out and move on to the next one.
The similarities between LingoDeer vs Duolingo end there. Here are some of the features LingoDeer adds to its Duolingo-based learning model:
Thorough rundowns of writing systems, from stroke orders to pronunciations
Detailed explanations of grammar points at the beginning of every lesson
Customizable interface (magnify or shrink text size, choose from three background colors, toggle Romanized script on/off)
Downloadable lessons for offline access so, without having to pay for a premium service
It's essential to note that LingoDeer is very heavy on speaking exercises, relative to Duolingo.
For students of Mandarin, LingoDeer's algorithm can determine whether a student's pronunciation is on point or off the mark. Unfortunately, this option doesn't appear to be available for the remaining languages. However, for a tonal language like Mandarin, this is an extremely useful feature, although it's not without some minor bugs. (Words deliberately mispronounced were deemed correct, and vice versa.)
LingoDeer also has its own version of Stories, another feature borrowed from Duolingo that's been modified. Students can either focus on reading or speaking.
For the speaking segments of Stories, users listen to a line of dialogue, then record themselves speaking it. Once the Story has finished, the cumulative recording is published for other LingoDeer users to hear.
The quibble here is that these soundbites aren't really critiqued, aside from someone giving the them a "like." Those with the most "likes" are heralded on the Leaderboard.
This feature could be more useful if there was a way for users – especially those who are native or fluent – to give meaningful feedback.
Perhaps the best feature of LingoDeer is that it's totally free, with nary an ad to be seen. Since this is a newer app, it's only a matter of time before premium paid tiers are introduced as it's further developed. (The line on its Web site "Get it [while] it's 100% free!" suggests that this may be a limited time offer.)
Meanwhile, LingoDeer has also begun to introduce Romantic/Germanic languages to its repertoire, such as Spanish, Portuguese, and German. It remains to be seen how effective LingoDeer will be in presenting these languages, as it's a pivot from their original aim to be an extensive resource for Asian languages.
Regardless of its minor flaws, LingoDeer is an excellent app for students looking for a Mandarin,, Korean, Vietnamese, or Japanese Duolingo alternative. The Duolingo vs LingoDeer debate boils down to just that. For these four languages, especially, we recommend LingoDeer over Duolingo.
PROS

CONS

A comprehensive resource for students of Mandarin, Japanese, Korean, and Vietnamese

Emphasis on speaking exercises is a nice touch, but not without its shortcomings

100% free, with no ads or in-app purchases (for not)

No desktop version exists as of now

(just for mobile / smartphone)

Customizable interface (colors and text size)

A pivot away from its original aim of being a go-to resource for Asian languages could stretch it too thin

Downloadable lessons for offline access (again, free!)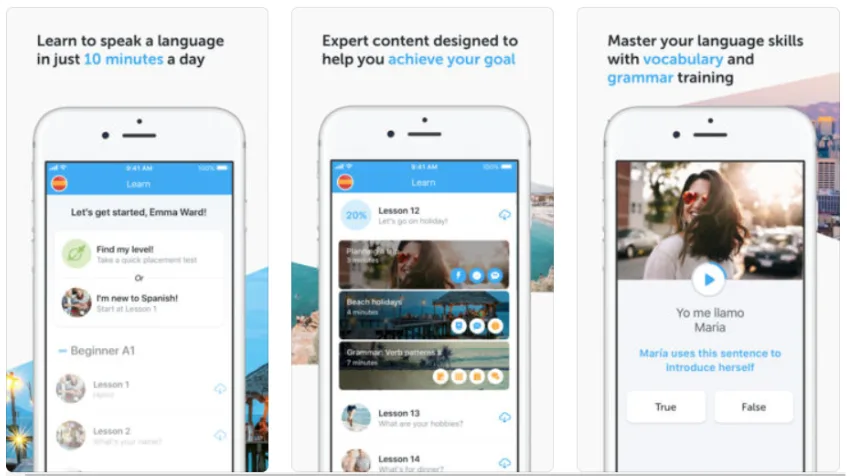 For those who may feel too isolated using Duolingo, there's busuu, whose approach to language instruction is rooted in collaboration learning. This makes it one of the most innovative apps for learning a new language.
In addition to the standard vocab reviews and multiple-choice quizzes – similar to those of Duolingo's – busuu features Conversations, which are written and verbal exercises that are graded and critiqued by native or fluent speakers of the user's target language.
For written assignments (sentences), peer reviewers can leave feedback on grammar, vocabulary, and spelling. Verbal answers are 30-second recorded responses that are checked by peer reviewers for grammar, vocabulary, and pronunciation.
A benefit of busuu's bilateral approach to these peer reviews is that conversations can develop from the initial comments. Not only does this become another form of language practice, it can also cultivate international friendships.
Conversations are graded on a scale of 1 to 5. In an attempt to not discourage others from their studies, grades are often skewed higher. While the intention is pure, this may not serve as an accurate gauge for one's ability to learn.
Users can also grade the quality of the feedback they receive. Students can pick a comment and tag it as "Best Correction." For better or worse, this can create a sense of competition. (Results will vary by individual.)
Keep in mind that native speakers are typically not language teachers themselves and may have trouble expressing key concepts for non-native speakers. This means that feedback may not be as polished as that of a formally-trained educator, but its rawness can still be very helpful.
busuu is a free app (iOS or Android), with an option to upgrade to Premium lessons from $24.99 for three months. The paid version throws in full access to all 12 languages on offer (the free version only allows for two at a time), live conversations and feedback from native speakers, and certification from McGraw-Hill Education.
Where Duolingo lacks in a human component, busuu dutifully fulfills it. If you'd like to learn even more about busuu, check out this article.
| | |
| --- | --- |
| PROS | CONS |
| Receive peer reviews from native and fluent speakers for written and verbal exercises | Peer grading may be skewed, and not truly reflective of a student's language skills |
| Have live conversations with native speakers (Premium only) | Only 12 languages on offer, which pales in comparison to Duolingo's 31 |
| Become certified by McGraw-Hill Education (Premium only) | To get the most from the app, you'll need to pay |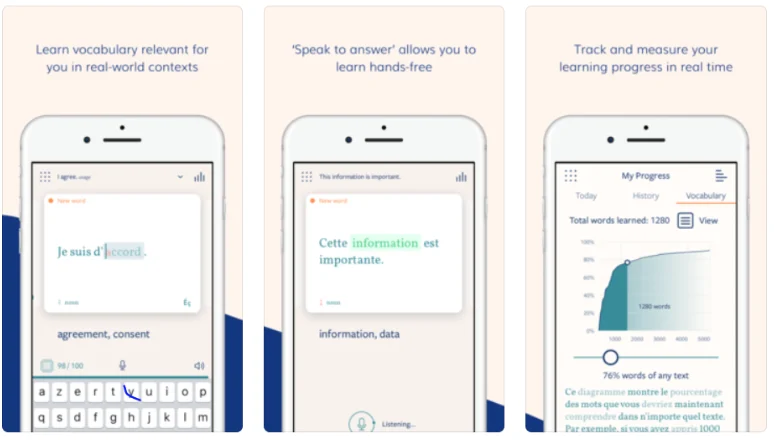 The story behind the development of Lingvist is interesting, even inspiring.
After several failed attempts to learn Swiss French, Mait Müntel – a physicist who was a part of the discovery of the Higgs boson – married his knowledge of machine learning with language statistics and cognitive science theory to create Lingvist.
As of now, for English-speaking students, Lingvist features four main languages (French, German, Spanish, and Russian) plus a Special Edition Course for Essential Estonian. (Lingvist is headquartered in Tallinn, Estonia.) UK and US English courses are also available for speakers of French, Japanese, Russian, and more. All courses can be accessed via the app or Web browser.
Lingvist uses neural networks to tailor an individual's learning experience based on competency. Its AI makes sure users focus on what they need, to prevent the one-size-fits-all experience apps such as Duolingo otherwise implement.
Data fuels Lingvist; it keeps tabs on how much vocabulary has been mastered, and how long individual sessions last per day over the span of a month. This also aids Lingvist in knowing what to present and emphasize for daily goals. (For beginners, goals will likely be heavy on vocabulary.)
Lingvist may only offer four main languages, but it's content-rich. Key features include:
Thousands of vocabulary flash cards, complete with audio clips
Daily challenges that users can pick-and-choose, based on their own interests and needs (these include lessons in grammar, reading, listening, and speaking)
Grammar tips, divided by level (beginner, intermediate, and advanced)
In addition to a free, base version, Lingvist also has a premium service called Lingvist Unlimited, which starts as low as $7.50 per month for 12 months. Perks of upgrading include:
Access to a wider range of vocabulary (3,000 words versus 4,000 after upgrade)
Learn as many words as desired per day (it's otherwise capped at 50/day in the free app)
Unlimited access to daily challenges (free version only allows for one challenge per day)
Explore specialized courses for an even more tailored experience
Review all mastered vocabulary in the Word List
Access to 1-to-1 support
As of this writing, anyone who downloads and signs up for Lingvist can enjoy a 2-day trial of Lingvist Unlimited to start.
One downside to Lingvist: When swapping between languages (in our case, from French to Russian), it would take several tries before the app stopped throwing up an error message (usually, after a restart of the app). For anyone who desires to learn more than one language at a time with Lingvist, this glitch is quite burdensome.
Also, a head's up to anyone who wants to use Lingvist to learn Russian: It's not for pure beginners. A knowledge of Cyrillic is required.
Regarding the interface, this may be a matter of preference: Lingvist is very clean and basic. It lacks the vibrance and adorable illustrations of Duolingo. If you're one for minimalist design, Lingvist will appeal to those sensibilities.
If you're seeking a more pragmatic, personalized, and well-rounded language learning experience, we recommend you select Lingvist.
| | |
| --- | --- |
| PROS | CONS |
| Neural networks and AI work together to make sure lessons are 100% tailored to an individual's language level | Only four main languages on offer for English speakers |
| Data will allow app to create necessary, realistic language goals (as well as help users gauge their progress) | Glitchy when it comes to swapping between language courses |
| Unlimited version is robust in features, and a 2-day trial is available for new users | |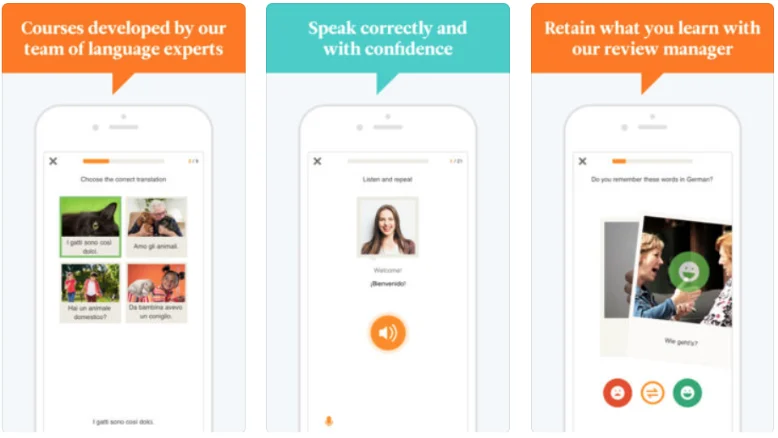 Honorable mention: Memrise
When we compared Memrise with Duolingo, the latter emerged victorious. However, Memrise certainly has its merits, and was lauded for providing a more fluid learning experience and better emphasis on vocabulary than Duolingo. You can read our breakdown between the apps here.
*Note: All of the apps mentioned in this article work for iOS and Android (I commonly get asked this question).
In the end, can (or should) there only be one?
Our Pick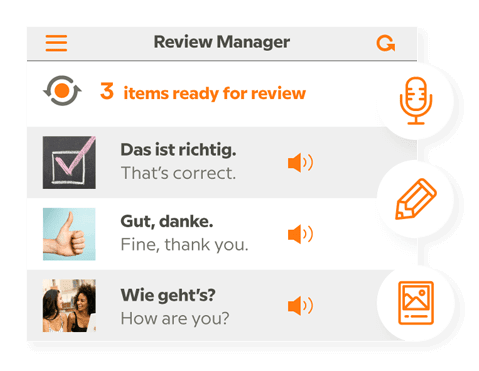 I Personally Prefer Babbel
I LOVE Babbel because it tailors it's approach to your learning size. It's approachable for everyone, with one of the best mobile apps I tested. Furthermore, take up to 60% off when you order via our link below.
Get Babbel Now
We earn a commission if you click this link and make a purchase at no additional cost to you.
If you explore one language learning app, there's no reason to feel confined to it.
The truth is that no one app is going to provide everything you need at an optimum level. Even if an app offers a broad spectrum of features, only a select few will be identified as its specialties or strengths. There are many ways to learn languages online, clearly!
Where Duolingo falls short is where apps like the ones we've featured above can come in round out the experience. After all, it's quite common, and even encouraged, for new language learners to use more than one language app at a time. Some people even learn different languages differently!
Of course, if you find Duolingo completely unusable in accordance to your preferences or needs, take solace in the fact that it's not the only fish in the sea.
Bottom Line: If you are still stuck, go with Babbel here for an all-around excellent alternative.
Are there any other Duolingo alternatives you could recommend that we may have missed? Share it in the comments below.
Happy learning!
Other Language Learning Platform Options to Check Out