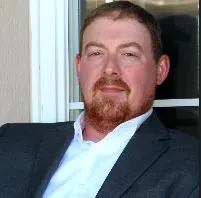 Latest posts by Justin Caldwell
(see all)
For a while now, Photoshop has been the leader in photo editing tools in the world, and it doesn't look like that ranking is going to end anytime soon. There is so much content currently being produced in a digital format that you don't want to be a decade behind when it comes to using the right software. That's why knowing how to use the latest features of Photoshop is so important, something that the best online photoshop course can certainly help with.
With Photoshop, you can create stunning, beautiful, and advanced images in a small amount of time. Those stock images, for example, that you see on a lot of blog posts are created with Photoshop. Not only can you create high-quality images, but you can also add fun effects that catch people's eyes.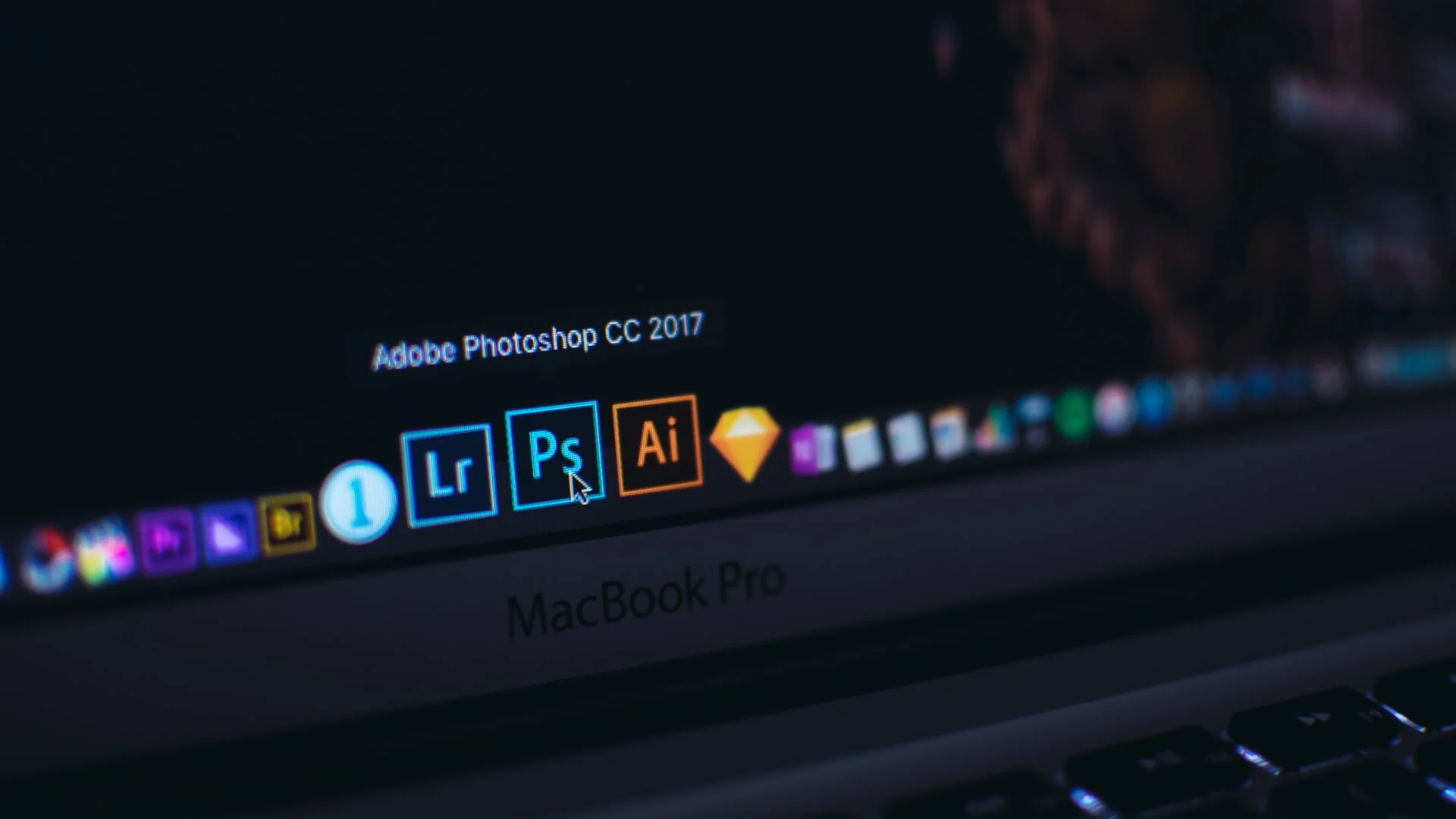 However, with great power comes great responsibility. Even though Photoshop looks fun and exciting, it can be intimidating to those who don't understand it's functionality. To make full use of what Photoshop has to offer, you need to know exactly what it's capable of doing. Having the knowledge and understanding of Photoshop can wind up leading to paid opportunities.
But a company isn't going to pay some schmo who took a quick Photoshop primer. They want someone who knows the ins and outs of the software. That's why it's important to find the best Photoshop course available and use it to learn the most current and updated information.
So which ones are the best ones? Fortunately, there are plenty of options on the market. But first, let's talk about what you want to look for when considering an online Photoshop course.
Our Pick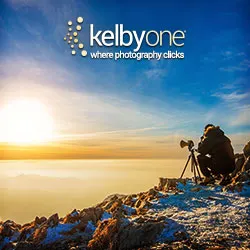 We Love KelbyOne!
With a deep, expansive catalog, users have access to all the photography content they could want on ANY platform! Makes a great one-of-a-kind gift and we have a special offer just for you!
EXCLUSIVE: Save 20% on the KelbyOne Pro Annual Plan
Use Code "OCR20" at Checkout and SAVE!
Start Today
We earn a commission if you click this link and make a purchase at no additional cost to you.
The Best Online Photoshop Course – What to Look For
Not all online Photoshop courses are created equal, which is why it's important to take a few things into consideration before you choose a class.
Level of material
There are classes for beginners, pros, and everything in between. You want to make sure you're choosing a class with material that you can handle, but that will, of course, challenge you to learn something.
If you know nothing about Photoshop, you can't jump right into an advanced class and expect to keep up. On the contrary, if you're a pro looking to learn some advanced tips, you'll be wasting your money on beginner classes.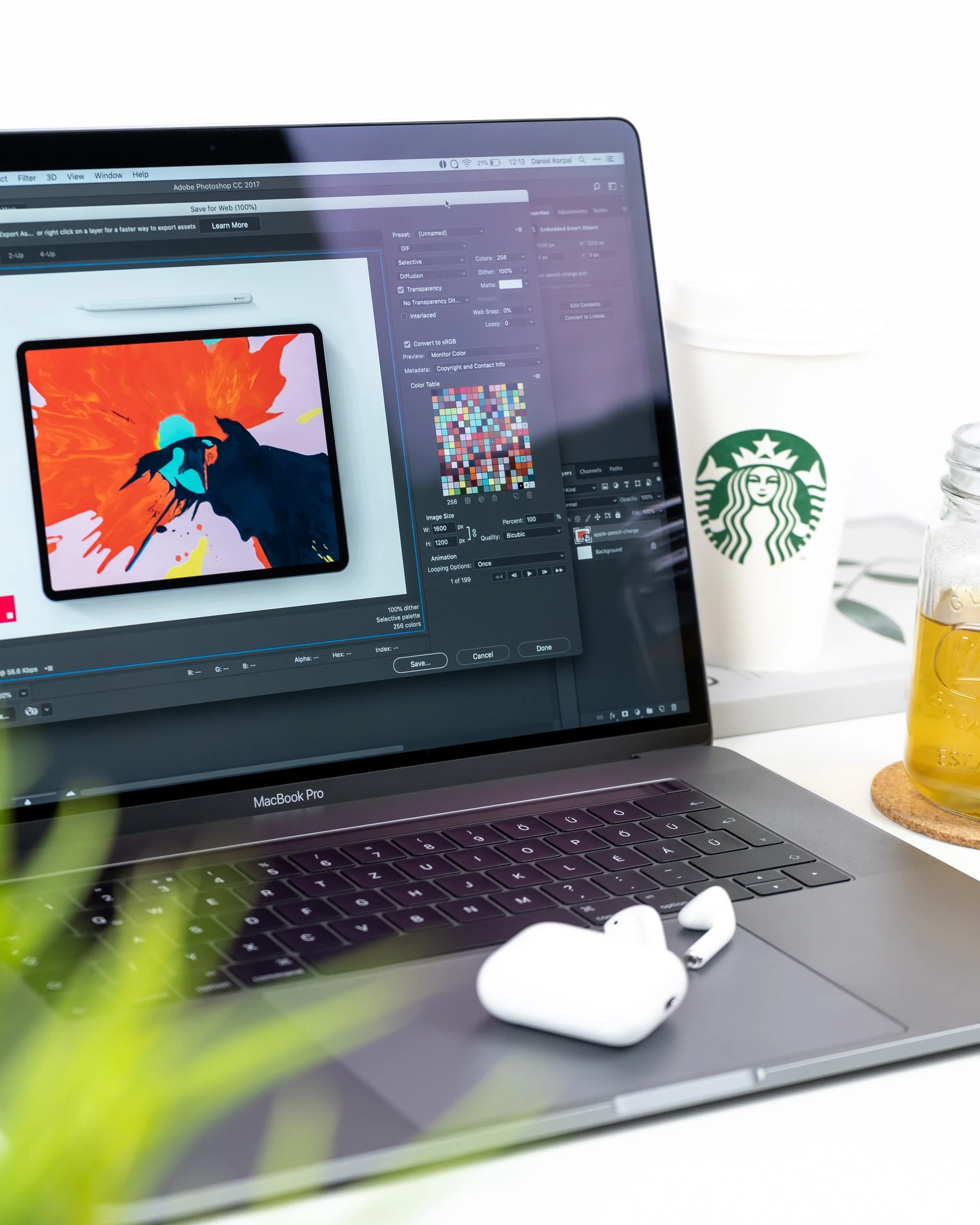 Depth of material
If you're looking at courses on a particular tool in Photoshop, you'll want to make sure the course goes into an appropriate amount of detail. Comprehensive courses are always good, especially if you are diving into using a particular tool.
However, if you're starting out learning the basics of Photoshop, you may be satisfied with just a brief overview to begin with, before getting a deep dive into the software, which could be too overwhelming.
Instruction
It's important to take a good look at the instructor, their background, and their expertise. Even if they're a skilled Photoshop user, if they struggle to relate to their audience or they don't have good teaching skills, the course may be hard to follow.
The best courses combine expertise with excellent teaching skills for an engaging learning environment that allows you to have fun while you're learning.
Are you into Lightroom instead? Check out our list of best Lightroom Courses
Practice files
If you don't walk away from the course with practice files, it's hardly worth it. Practice files give you the opportunity to hone your skills, even when you're done with the class. It enhances your value and makes the course even more worth the money.
Cost
Cost is always a factor, but don't write off the most expensive courses just because they cost a lot. Evaluate all of these other factors first to make sure they're worth the cost. Sometimes, you get the best value from the courses that fall somewhere in the middle.
Photoshop CC Basics for Photographers – KelbyOne
KelbyOne is another great option for reviewing the fundamentals of Photoshop, but it's much more concise than the Phlearn option. While it doesn't go too in-depth, it still gives you a lot of information without being overwhelming.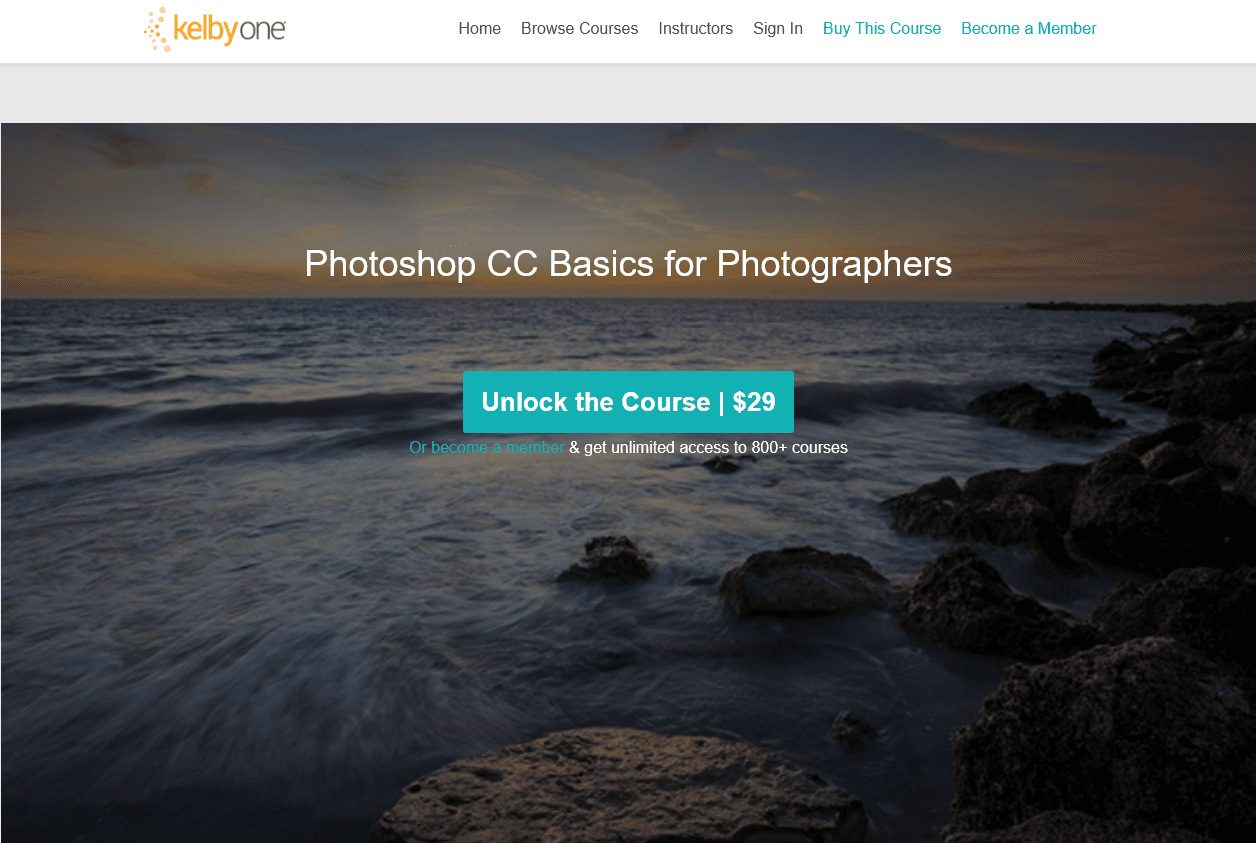 There are 17 video lessons, but the whole series is only 2.5 hours long, so you can split it up and do a little bit at a time or do the whole thing in one afternoon if you want. There's enough information here to get you started, but it's not enough for a comprehensive tutorial.
It covers all of the most powerful Photoshop tools in its short duration, including layers, masks, retouching, creating selections, and preparing your image for printing. It's short and sweet, but a fantastic course for most beginners. See how KelbyOne compares to Lynda.
Pros
Quality instruction from an experienced teacher
Short course length is easy to complete
Perfect for beginners who don't want to be overwhelmed
Cons
Only covers the very basics
Adobe Photoshop CC: The Complete Guide – CreativeLive
CreativeLive is one of the best resources for photography and editing courses online, so if you're looking for the best online Photoshop course, this is one of the best options you'll find.
It's over 25 hours of beginner-level video lessons to help you master Photoshop fundamentals in a way that's easy to understand.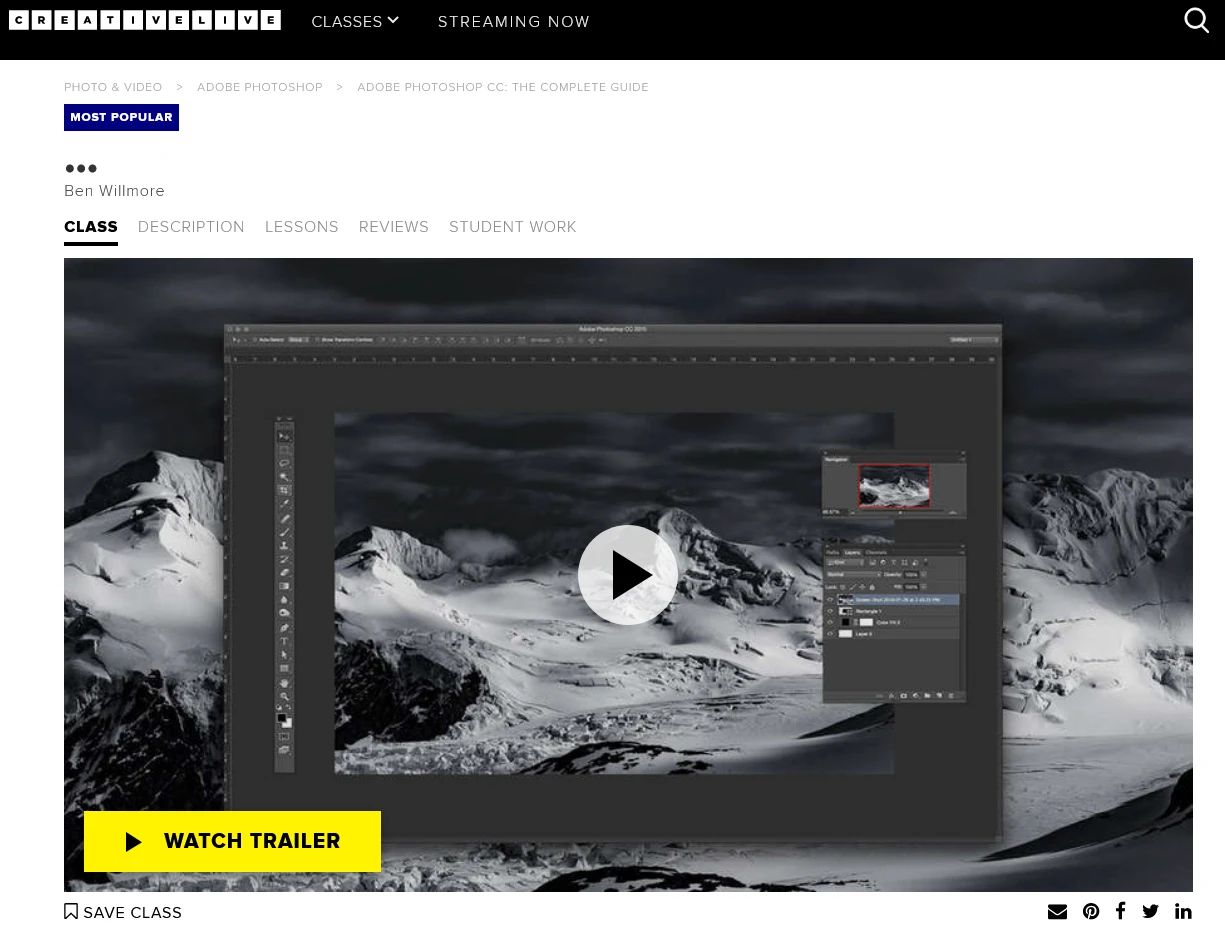 It starts easy, but there are still plenty of opportunities to delve into more advanced techniques, too. It covers layers, masks, troubleshooting, retouching images, automating repetitive actions, and a whole lot more.
It will also touch on other advanced subjects like smart objects, blend modes, and color adjustments like saturation, lightness, and hue.
Pros
Starts easy but dives in-depth later
Hosted by a well-known and reliable source
Comprehensive and informative
Cons
Long and overwhelming for some beginners
Photoshop CC for Beginners: Your Complete Photoshop Guide – Udemy
Udemy is another really great resource for online photography and editing classes. This course is for beginners who are more interested in designing from scratch rather than editing images.
It's a 15-hour course that comes with 18 downloadable resources that you can keep and continue to use long after you've completed the requirements of the class. You don't have to have your own items to take the course either. You can practice on the items they provide.
While the training uses the latest version of creative cloud, it's also valid for CS3, CS4, CS5, and CS6 as well.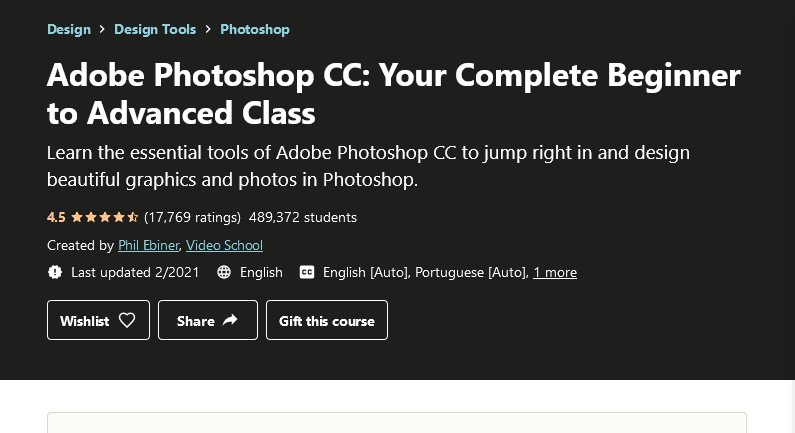 You'll cover the essential tools for editing images, learn how to retouch photos, cover how to blend modes, create and layer masks, and use the pen tool to design your own custom shapes.
You'll design your own graphics as well as learn about the editing tools, and in the end, you should be able to design and edit your own graphics just the way you always wanted.
There are no prerequisites for the course other than owning a copy of Photoshop, and it is great for beginners and students who have little to no experience.
Pros
Teaches designing from scratch
Comes with downloadable resources
Good for beginners with no experience
Cons
Not geared toward editing photos
Photoshop Tutorials – Adobe
What better way to learn about a program than to go straight to the source? Adobe offers plenty of resources to learn about their software with 203 tutorials that they created themselves.
The bonus here is that all of these are free. You may spend some time sifting through these tutorials to find exactly what you need, but they're updated with the release of each new version of Photoshop, so you won't have to worry about taking a course that provides you with inaccurate information.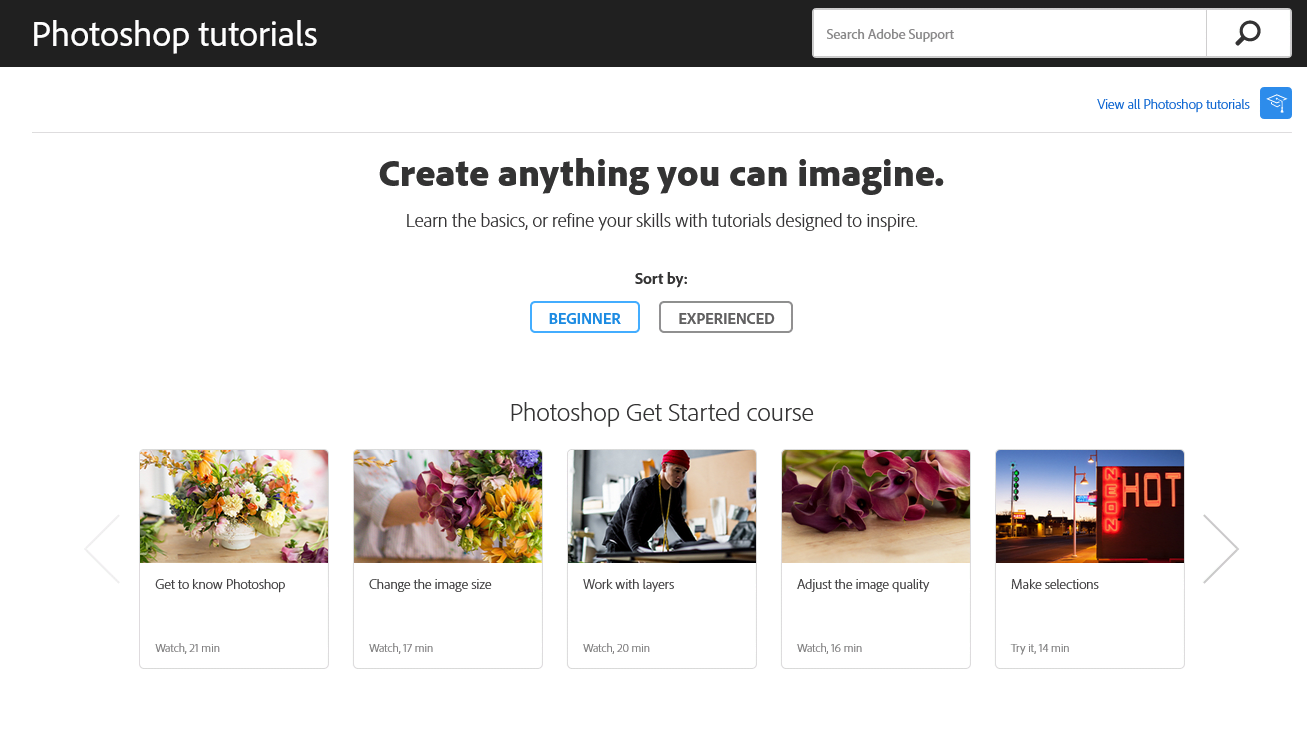 Whether you're a beginner or an advanced user, you'll find almost everything you need to answer your questions here.
Pros
Completely free
Consistently updated
Cons
Might be hard to find what you need
Adobe Photoshop CC Essentials Photoshop Masterclass – Udemy
This is another course from the guys at Udemy. It's a 7-in-1 Photoshop course designed for people who want to learn about photo editing and retouching. It covers image and portrait editing, retouching, and more complicated topics like JPG-RAW retouching and special effects.
It's a whopping 33.5 hours long, but it comes with 38 downloadable resources that will be helpful to beginners and advanced users. It covers maximizing color, using the tone curve, light effects, and cinematic edits.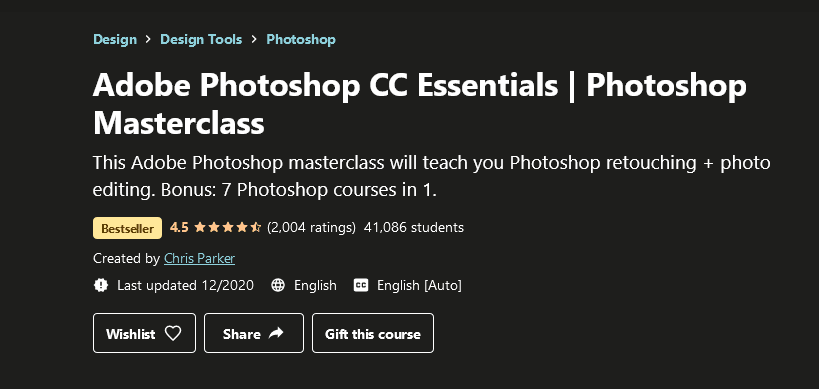 This tutorial delves into more than just tools. It also talks about processes. You'll touch on image processing and workflow, which can help you translate your skills into an income.
It goes into how to freelance or set up your own studio, which can be helpful to those who are trying to make a career out of photography rather than doing it just for fun.
While you don't have to have any prior experience, it's geared toward those who are more serious about making photography a profession, and it's an incredibly comprehensive training course that comes with 7 different videos.
Pros
Covers special effects
Goes beyond Photoshop tools to teach photography as a profession
Very comprehensive and informative
Cons
Photoshop CC 2018 One-on-One: Advanced – LinkedIn
Once you're familiar with the basics of Photoshop, you can take an advanced tutorial like this one. In recent years, LinkedIn has become more than just a networking resource. Employers use it for hiring, and professionals use it for advancing their careers.
This course is almost 18 hours long and you need to be familiar with the principles of Photoshop first. It deals with more advanced topics like color range, refine edge commands, focus area, and automated selection tools.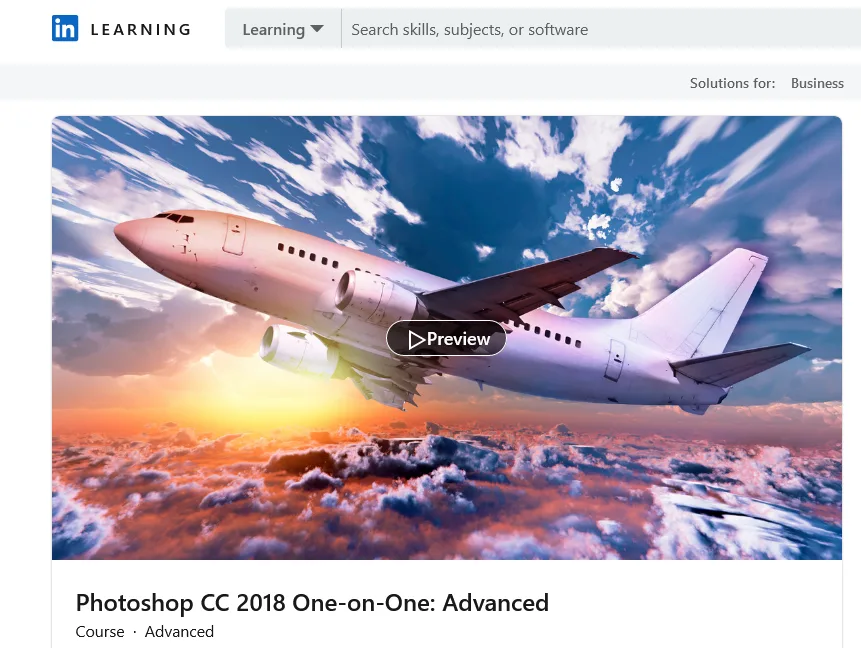 Later on in the tutorial, it addresses techniques for drawing and designing with vector shapes, slimming and trimming with the liquify tool, and smart objects. It's a great course for learning more about restoring a missing element in a photo, using pucker and bloat tools and learning advanced moves like transforming and duplicating in one smooth operation.
At the end of this one, you should be able to improve the quality of even a poor photo by reconstructing it with healing tools and blend modes. You'll also know more about levels and curves, layer effects, perspective warping, and lens corrections.
Pros
Covers concepts other tutorials don't
Great course for learning how to improve photo quality
Covers a lot of
Cons
Adobe Photoshop CC Bootcamp – CreativeLive
If you're looking for a comprehensive Photoshop tutorial, Bootcamp is definitely the right word to describe this class. It's a 22-hour course with a total of 118 video lessons. It's jam-packed with bonus content in addition to the regular course material.
Having the course broken out into so many video lessons makes the sessions easier to digest, so you can work them in whenever you have time. You don't even have to know how to open images to start this course.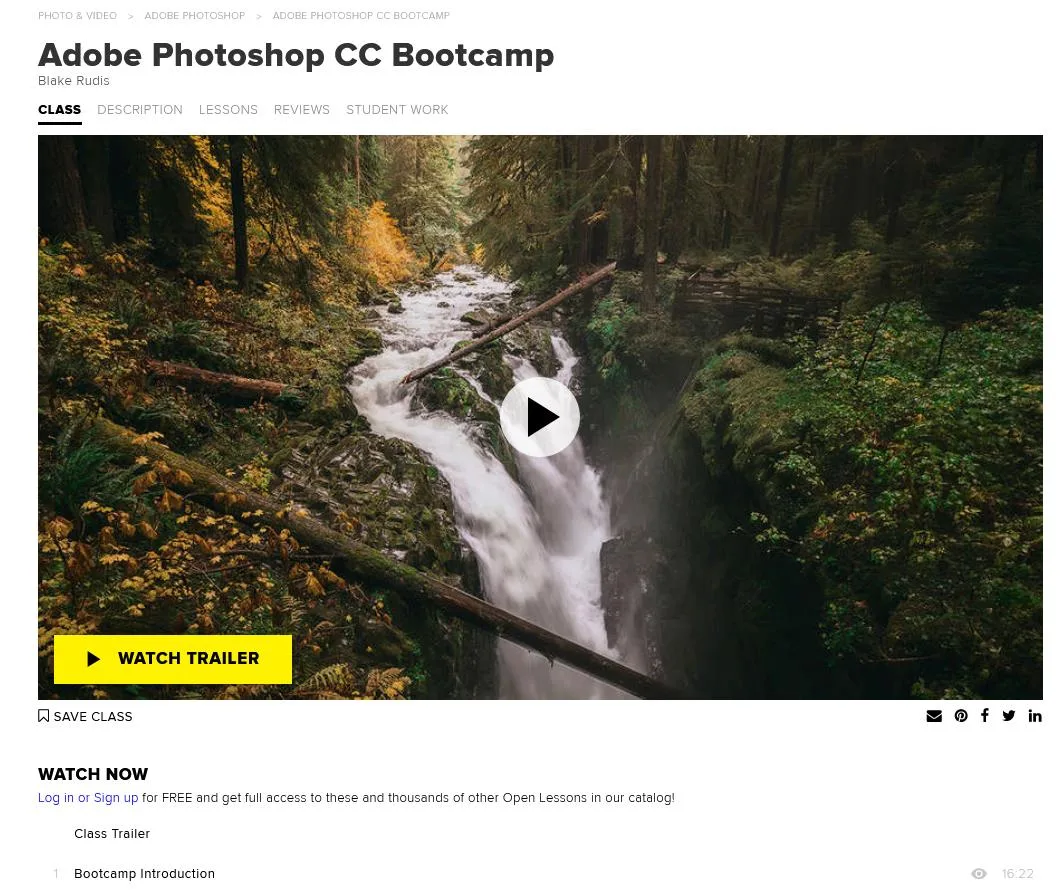 By the end, you'll be able to master creating amazing images. You'll cover the Photoshop layout of tools, Adobe Camera Raw, layers, cropping, vectors, rastering, and soft light blend mode.
You'll get a comprehensive rundown of all of the toolbars, windows, and menus, which even the most advanced Photoshop user needs a review of every now and again. It even charges straight into things like selections, masks, shapes, text, and clean-up tools that a lot of other courses skip.
This course comes in the Adobe Bootcamp Bundle, so you'll be comfortable dealing with pretty complex Photoshop operations by the time you're done. That includes smart objects, actions, transforming, editing video, filters, natural retouching, landscape and portrait workflow, custom creative effects, and composite workflow.
Pros
Short, digestible videos
Comprehensive, in-depth course
Perfect place for beginners to start with Photoshop menus
Cons
Might be too in-depth and overwhelming for some
Photoshop Beginners Mastery: Zero to Hero in Photoshop – Udemy
This course might only be 3 hours, but it goes over the fundamental functions in a quick and easy way that gets you to editing and improving your photos right now. From navigating the canvas to customizing your workspace, you'll learn how to make Photoshop work for you.
You'll also go through how to work with different file types and multiple images, talk about image enhancement, and use things like masking, selecting, and layering.
The course talks about these things from a basic and advanced perspective and includes support files for every section to make it easy to follow along with the instructions virtually, no matter where you are.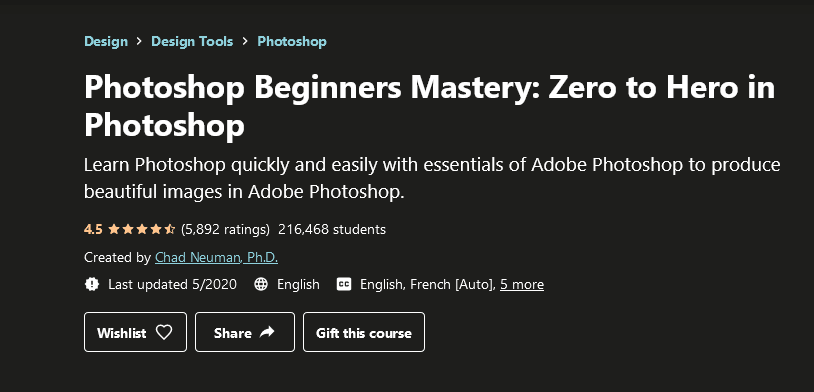 Because this course goes through beginner tools but makes it relatable to more skilled users, anyone will get something out of concepts like why masking is better than erasing. The entire course is designed so that everyone can maximize their learning.
You go through basic functions and then more detailed instructions, meaning there's a little bit of something for everyone. At the end, there are three projects that you can work on to get applicable skills.
Pros
Short course time
Useful for beginners and advanced users
Covers useful concepts and applicable skills
Cons
Not as in-depth as it could be
Our Pick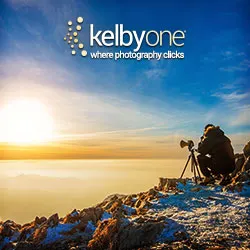 We Love KelbyOne!
With a deep, expansive catalog, users have access to all the photography content they could want on ANY platform! Makes a great one-of-a-kind gift and we have a special offer just for you!
EXCLUSIVE: Save 20% on the KelbyOne Pro Annual Plan
Use Code "OCR20" at Checkout and SAVE!
Start Today
We earn a commission if you click this link and make a purchase at no additional cost to you.
The Beginner's Guide to Photoshop – Phlearn
Phlearn offers an incredibly in-depth tutorial, containing everything a beginner would need to know. The presentation is clear, thoughtful, and easy to understand. While it's packed with information, it's well-explained, so you'll be able to follow along with no issues.
Photoshop can be an overwhelming tool, but this guide will boost your confidence and includes 46 videos that total 13.5 hours, and step-by-step instructions. While it's not very short, it's very high-quality and worth taking the time to do if you want the best information on how to use Photoshop.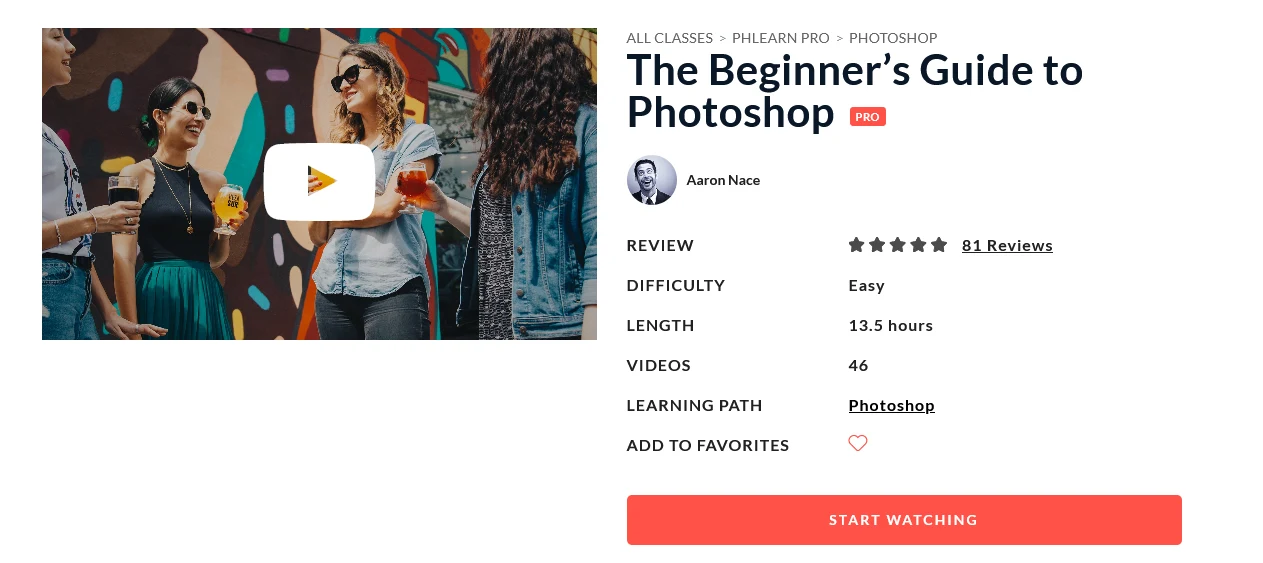 If you've been struggling through it on your own, this will improve your speed and efficiency. You'll start by learning some keyboard shortcuts, file formats, and technical information. Then, it will guide you through using masks and layers.
There are also multiple lessons on selecting parts of your image and it ends with photo retouching and compositing.
Pros
Rich in information and well-explained
Clear and thoughtful presentation
Helpful guide to all of Photoshop's features
Boosts your confidence in Photoshop
Cons
Ultimate Photoshop Training: From Beginner to Pro – Udemy
There are 178 downloadable resources included in this 14-hour video course that allows you to learn plenty of useful things about Photoshop, even if you're only a beginner. Another really great thing about this course is that you get more than 250 free PSD files along with your purchase.
The entire course is version independent, so you don't have to have a specific version of Photoshop to follow along. You can use an older version and you don't have to upgrade. It's actually designed to shorten your learning curve, no matter what.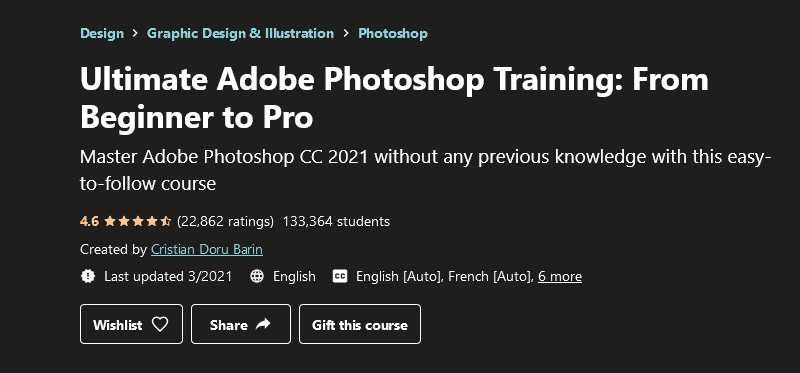 You'll be proficient in no time at all, by dealing with real-world scenarios. You'll learn how to create effects for text styles, arrange images, manipulate layers, swatches, the eye dropper tool, and how to design web buttons.
The primary focus of this course is how to get your job done in the most efficient way possible. You'll be able to think outside of the box to ensure that you're quick to know where just the right tool is located.
Pros
Comes with plenty of free resources
No specific version of Photoshop needed
Focuses on the most efficient ways to complete tasks
Cons
FAQ
If you're looking for the right Photoshop course for you, it can be overwhelming just looking at the options. Here are some frequently asked questions to help you make a decision and ensure you don't waste your time or money.
Question: How long will it take to learn Photoshop properly?
Answer: It's possible to learn basic Photoshop operations in 5-10 hours, but to learn anything more complicated or to get very good or efficient at it, it could take up to 50 or 100 hours. It's important to invest time into the software and understand it properly, otherwise, your images won't turn out quite the way you want.

You can learn shortcuts and you can do a thing or two here and there to get the job done, but in the long run, it's worth investing the time it takes to learn the tools properly.
Question: How do I become Photoshop certified?
Answer: You can register to take Photoshop Certification classes online or in a classroom. Certification classes are offered by photography schools, graphics institutes, and other places. Getting a Photoshop Certification may qualify you for additional career opportunities, and you can put it on your resume.
Question: What jobs can you get with a Photoshop Certification?
Answer: A Photoshop Certification may qualify you for additional opportunities like creative director, senior graphic designer, art director, senior UX designer, or digital media specialist.
Our Pick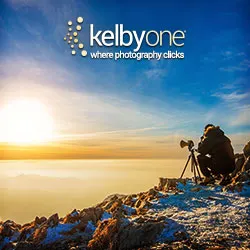 We Love KelbyOne!
With a deep, expansive catalog, users have access to all the photography content they could want on ANY platform! Makes a great one-of-a-kind gift and we have a special offer just for you!
EXCLUSIVE: Save 20% on the KelbyOne Pro Annual Plan
Use Code "OCR20" at Checkout and SAVE!
Start Today
We earn a commission if you click this link and make a purchase at no additional cost to you.
The Best Online Photoshop Course – Ready, Set, Edit
If you're looking to start your journey in design or photography or advance your career in either of these fields, Photoshop is a fantastic asset. Learning more about it via one of these courses is a great place to start.
I think Udemy, KelbyOne, or CreativeLive offer some of the best instruction and the best value available, but any of the others are awesome if you feel like they're the best options for you.
No matter which one you choose, you're bound to learn something new and be able to take that knowledge with you to the next course, the next job, or your next photography adventure.
Read More: