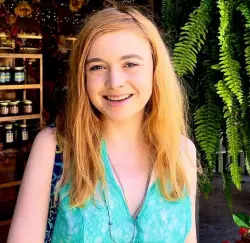 Latest posts by Erin Jamieson
(see all)
From SAT to GRE"s, online test prep courses have been in demand for a long while– but now they're even more so, as more medical student applicants than ever weigh the best time to take the MCAT.
It's been called the Faucci Effect by some: an uptick in applications for medical school, with some of the most respected schools in the United States seeing a 50 percent in applications.
Purportedly inspired by the COVID-19 response led by Dr. Anthony Facui and other notable health care professionals, many at first pointed to students potentially being inspired by the sacrifices, leadership, and impact made.
But other experts think that this is not merely an ephemeral trend, but a sustained surge in interest and may point to more demand for education in medical fields for years and years to come.
While many agree public figures like Fauci may have inspired some, it is more likely that the pandemic itself– and how much it's transforming life– has impacted potential students in ways that make them passionate about helping others.
Regardless of the reason, the impact is far from subtle. There was a 50 percent increase in applications for Stanford University's School of Medicine, and 20 and 30 percent increases at other notable schools.
But whether you too have been inspired to attend medical school through current events or have dreamed of it always, one of the first steps is deciding when to take the MCAT.
Consider this your guide to signing up for the MCAT, when to take the test, what to expect, and the best online test preparation courses so you can increase your chances of getting accepted into med school.
What is the MCAT Exam Used For?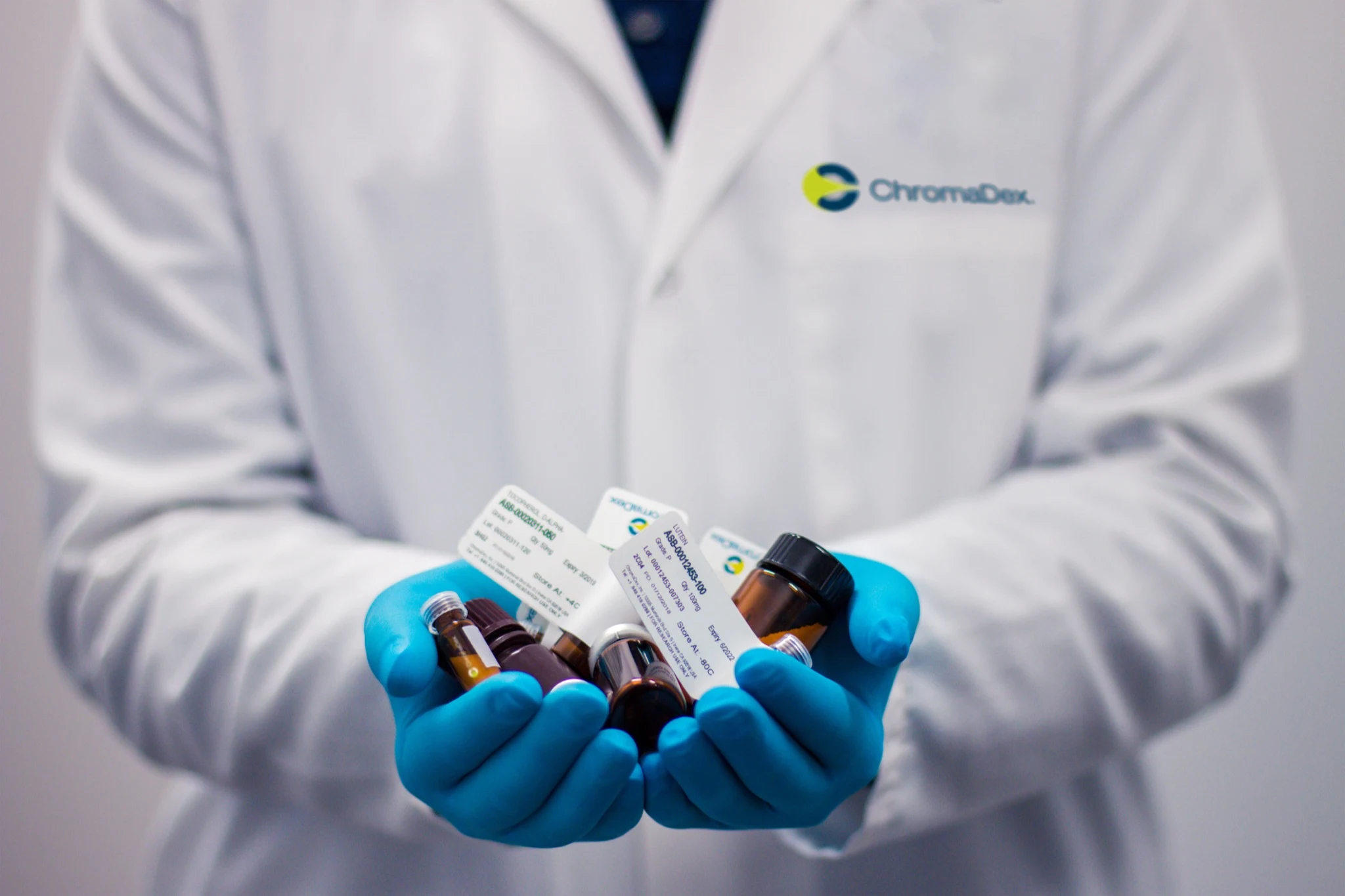 The Medical College Admission test, also known as the MCAT, is required for admission into almost any American medical school, as well as some in Canada.
Think of it as the GRE, which is used for admission to general graduate schools, but a more focused test specifically designed to test your readiness for med school.
Should I take the MCAT or GRE?
When considering the MCAT vs the GRE, the decision is fairly simple and depends on what you plan to study. The MCAT is specially designed for medical students, while the GRE is meant for general graduate programs.
If you're interested in going into a general STEM field, you don't need to take the MCAT. In some cases, you may need to take a special GRE subject test– always check with the admissions requirements for each prospective school.
But if you're thinking about med school– whether you're aiming for a prestigious school or a lesser-known one, you're almost certainly going to need to not only take the MCAT but score your very best: unlike the GRE, where you can opt to show schools only the scores of your choice, every MCAT score you have will be reported to all schools you're applying to.
What does the MCAT test on you?
While I'll discuss the format– and what to expect– on the MCAT in a moment, the MCAT tests you on skills needed to pursue studies to become a physician, practitioner, or other health professional.
Biological, physical, and chemical sciences are a focus, but the MCAT does also test you on your ability to use critical thinking and analytical skills. Essentially, this standardized test is meant to show whether or not you have the base knowledge, thinking skills, and perseverance needed to succeed in medical school.
How do I sign up for the MCAT?
To sign up for the MCAT, you'll need to check official registration dates, available through the Association of American Medical Colleges. Typically, the MCAT is available in January and in March through September at test centers within the United States, with some international testing centers offered as well. You can check American test dates and locations, as well as score release dates, here.
Who is eligible for the MCAT exam?
Per an official statement from the AAMC, any student planning to attend a "health professions" school must take the exam. This includes not only traditional medical schools, but also specialty schools such as osteopathic, podiatric, and veterinary medicine– in other words, any pre-med students may take the exam.
Students outside of the United States do need to sometimes make a special request. Meanwhile, some students who are not intending to attend a medical school can be permitted to take the MCAT exam with a "special permission" request from the AAMC. Of course, outside of med school, there is no real reason to take the MCAT.
Recommended College Courses
That said, there are certain courses you should have under your belt before taking the MCAT, such as biology, chemistry, organic chemistry, physics, psychology, sociology, biochemistry, statistics, and research methods.
How much is the MCAT?
The MCAT costs $320 for normal registration and an additional $55 if you're late for the registration cut-off. For these reasons, alongside how notoriously challenging the MCAT is, you'll need to decide when to take the MCAT very carefully— and only after you are well prepared. Meanwhile, if you have to reschedule your test, you'll pay $95.
What Is the MCAT Like?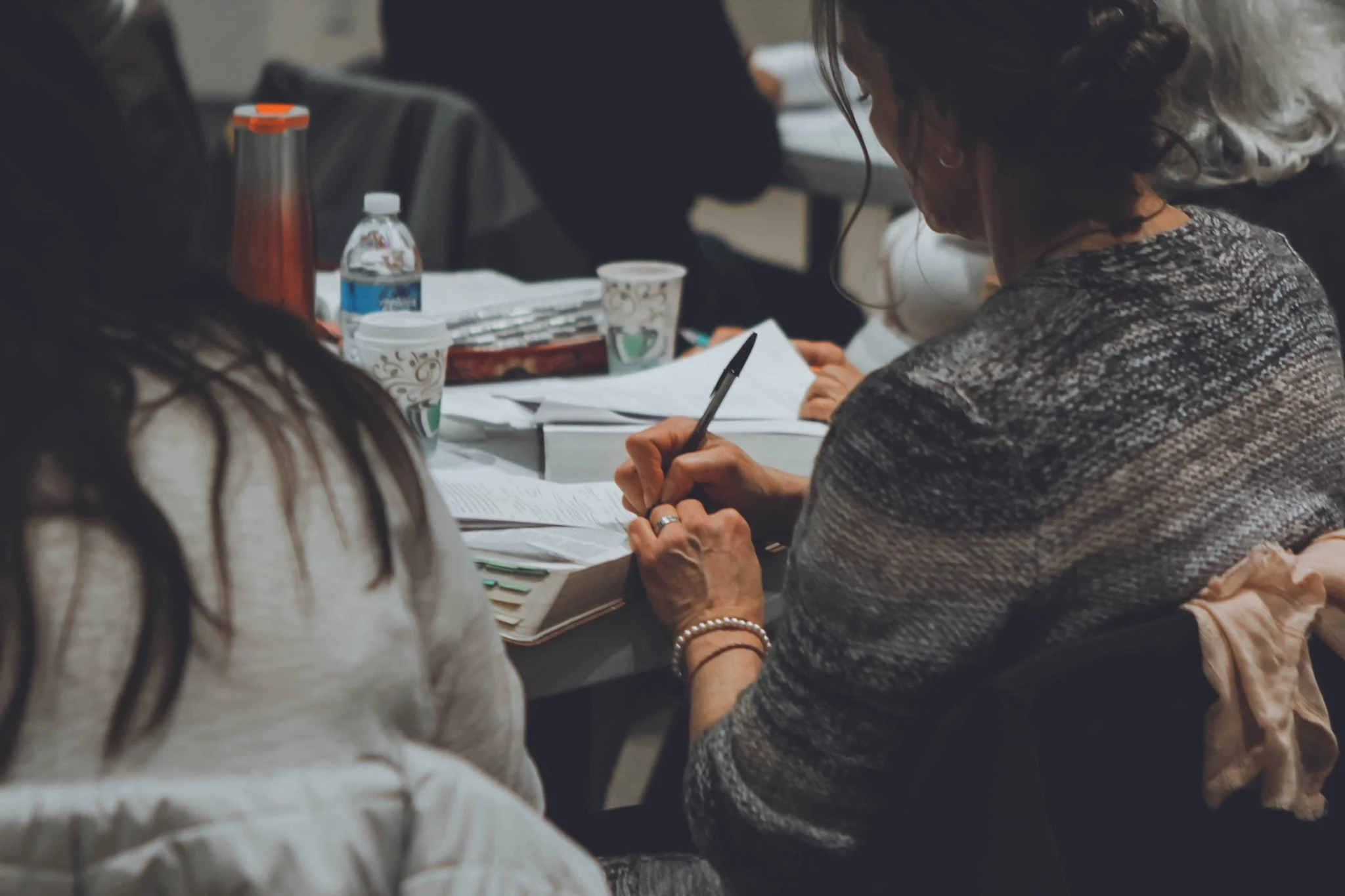 The MCAT is an intense, targeted exam meant to test your skills and if you're prepared to attend medical school.
Is the MCAT all multiple choice?
The MCAT is also distinguished by other high-stakes tests for college admissions in that it is all multiple choice. Like many tests, it's a computer-based test, which is why there are certain testing centers to take it. While it's all multiple choice, it's by no means a simple test.
How long is the MCAT without breaks?
Perhaps equally challenging as the content you'll be quizzed on is how long the test is: without breaks, the MCAT is around 6 hours and 15 minutes. With breaks– which I highly recommend you take, plus the "optional" sections, you're looking at a total test time of 7 hours and 27 minutes.
It's helpful to look at how the test is broken down– this can not only help you prepare but also make taking the MCAT less overwhelming– and help you plan how much time you'll need to study and when the best time for you to take the MCAT will be.
| | |
| --- | --- |
| Sign In | 4-5 minutes |
| Optional Tutorial (this tells you different controls, test options, and more– I recommend this, even if you think you don't need it) | 10 minutes |
| Chemical and Physical Foundations of Biological Sciences | 95 minutes |
| Optional Break | 10 minutes |
| Critical Analysis and Reasoning Skills | 90 minutes |
| Optional Mid Exam Break– I highly recommend you take this | 30 minutes |
| Biological & Biochemical Foundations of Living Systems | 95 minutes |
| Optional Break | 10 minutes |
| Psychological, Social & Biological Foundations of Behavior | 95 minutes |
| Experimental/Non-Tested Question | 3 Minutes |
| Optional Survey | 5 minutes |
As you can see, it's a long day. While it may be tempting to skip breaks, I recommend taking every one, and at least the mid term exam half hour. Continuing on without breaks risks you losing concentration– both from test fatigue, potential eye strain, and even a dip in blood sugar.
Make sure to eat a protein-rich, balanced breakfast beforehand and fuel yourself well during breaks. On testing day, you'll be assigned a locker, where you can store snacks, which you are permitted to eat on test day outside of the testing room, during breaks.
What Is a Good MCAT Score?
Another factor in determining when to take the MCAT is what is a good score for you– that way, through practice tests, you can gauge whether or not you're on the right track to get the score you need– or need to study more. But what is a good store, as you can imagine, depends a bit on your situation.
Is 500 a good MCAT score?
500 is the average score for the MCAT. Scores range from 472 to 528, with each of the four sections awarding a score of 118 to 132 (and 125 as the average, or 50th percentile score for every section). 500 is not a bad score– but it doesn't make you necessarily stand out, either.
A 508 is considered to be a good score, while 500 is average, or may be acceptable for some medical programs.
What MCAT score do I need for Harvard?
Whether you're hoping to get into Harvard or another prestigious medical school, you're looking at a desired MCAT score of 517 or 518 and up, along with excellent other application materials and credentials.
Some other schools, like Tufts, may set their standards closer to 513. Always check with the school and keep in mind that the MCAT alone will not get you in– but a poor score alone could get you rejected.
How many times can you fail the MCAT?
You are permitted to take the MCAT three times per year– but don't count on that. While one poor score won't forever ruin chances for all schools, keep in mind that schools will be able to see every score you've ever gotten– which is why taking time to prepare and enrolling in test prep courses is well worth the investment.
How Do I Decide When to Take the MCAT?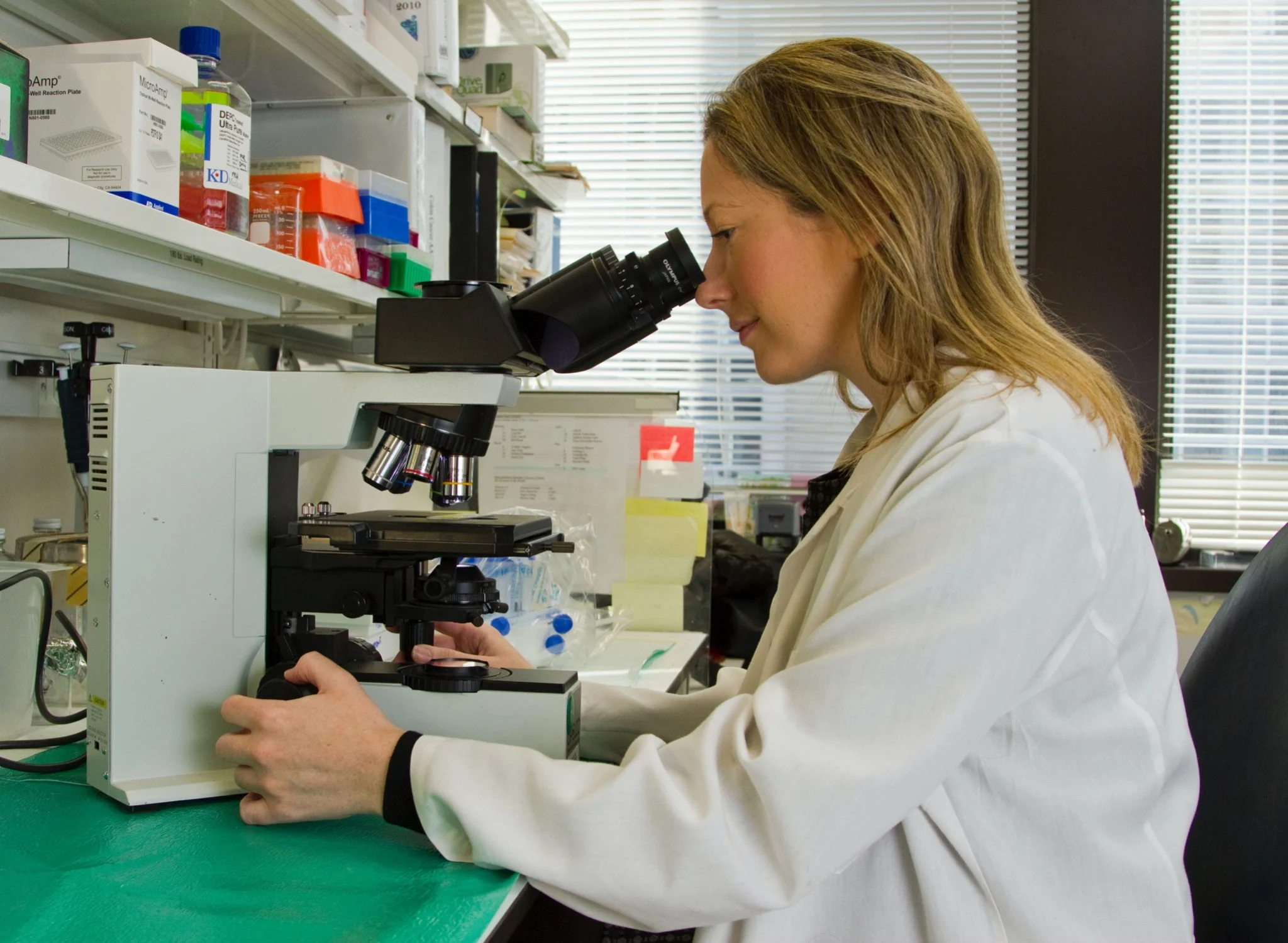 Throughout this guide so far, my goal has been to give you a sense of the requirements of the test, scoring, and process so you can get an idea of how far ahead you'll need to prepare for the MCAT. But here are a few questions to consider to sum it up– and help you decide the best time to take this important test.
All told, you should prepare at least 8 months to a year ahead– this allows for time to study, wiggle room if something goes wrong, and time to focus on other important matters when it comes to applying for graduate school. Here's why!
How many hours do I need to study for MCAT?
How much you need to prepare ahead depends on how familiar you are with the material– but plan on spending a decent amount of time. The MCAT by all means is hard to pass, and most students require around 10 to 15 hours a week for five months, but up to half a year or more. I recommend planning a total of around 300 hours total study time– but keep in mind that study time alone doesn't ensure success.
In addition to studying for and taking the MCAT, you'll need to prepare other application materials, juggle whatever responsibilities you may have, and, something many forget– gives yourself a little time to relax too.
I appreciate a hard work ethic, but I know I myself do best when I give myself small breaks, even if it's something like taking a walk outside or taking on a fun, stress-free hobby in something creative, like an online photography course.
What's the best time of year to take the MCAT?
If you're trying to create a timeline the way I'd recommend– by selecting a date to register and then working backward from that date– then you may wonder if there's the best time of year to take the MCAT.
I recommend taking the MCAT early in a calendar year if at all possible, by mid-May. The reason for this is that many admissions open up in June. In addition, it allows you time to retake if you absolutely must, and to prepare your applications well ahead of time.
Are MCAT Classes Worth It?
One way to make that studying time effective is by taking online preparation courses. MCAT courses are absolutely worth it, especially if you're struggling to study on your own.
While you can study on your own to some extent, most students need extra guidance for their preparation. Of course, some are quite expensive, so you'll need to decide what makes sense for you.
What are the best MCAT courses?
While no test prep course can guarantee success on the MCAT, some are better than others. These are my top three recommendations for best online learning platforms that provide MCAT courses, with comprehensive information, practice, and support.
Magoosh MCAT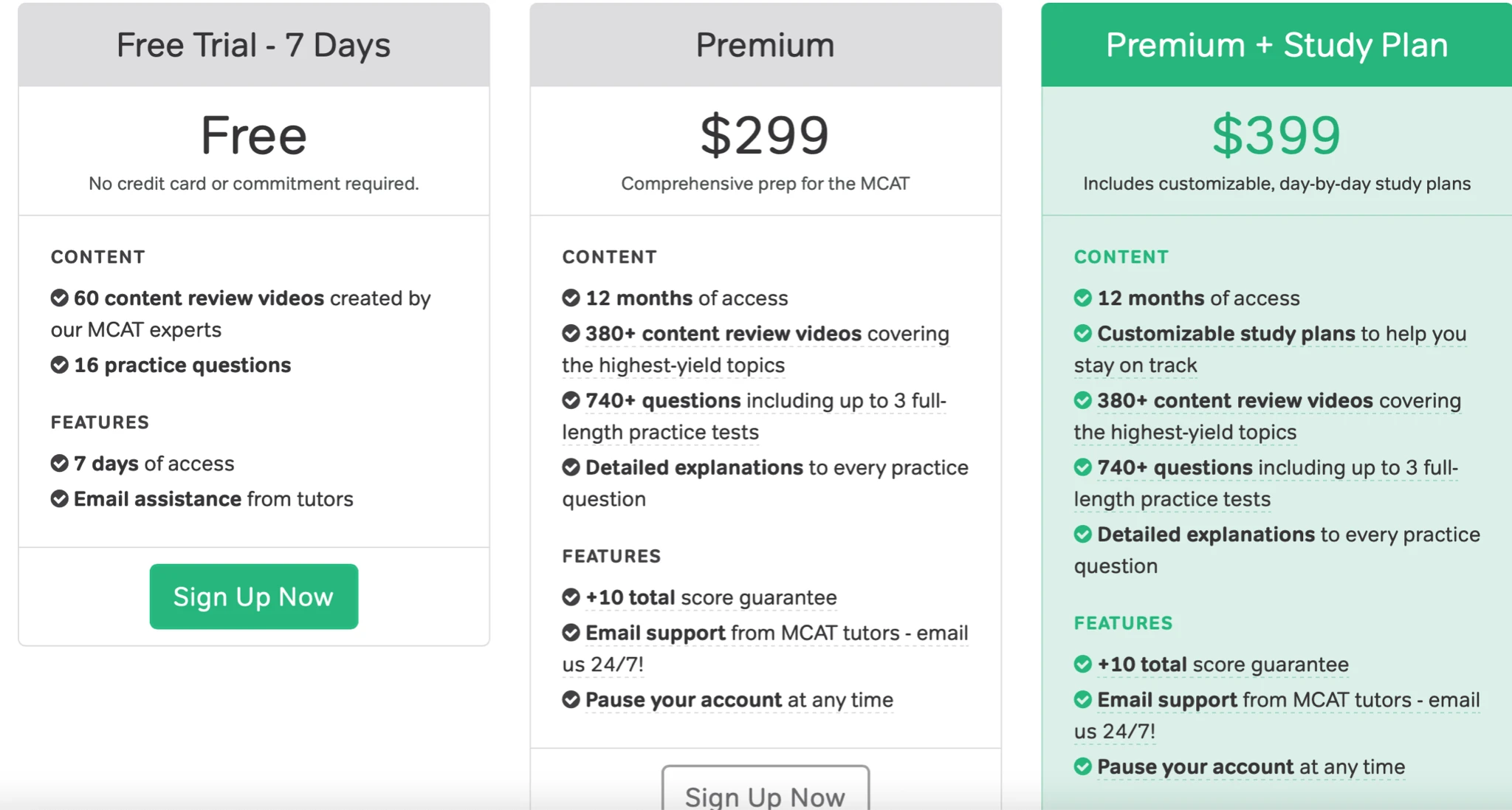 Magoosh easily makes my list for the top three MCAT prep courses you can take online– I've used Magoosh myself, for when I was taking the GRE. Magoosh is also by far the most affordable option.
You'll cover high yield topics, have access to full-length practice tests, more than 380 review videos, 700 practice questions, and an online planner for anywhere from six months to one month out.
Even better? Magoosh offers a free refund if you're retaking the MCAT and your score doesn't improve by 10 points. Plus, they offer 24-7 email support from tutors, not automated replies. Enroll Here.
Kaplan MCAT

Kaplan is another excellent way to study for the MCAT online. Perfect for someone who's put off studying or just now seeking additional help, Kaplan offers tailored plans for studying 1-3 months ahead, less than a month ahead, or three or more months ahead. But what makes these courses shine is the ability for real-time, online help from tutors, as well as a bevy of options, like structured studying, boot camps, and practice tests. The one downside is that some of their plans are quite pricey. Enroll Here.
Princeton MCAT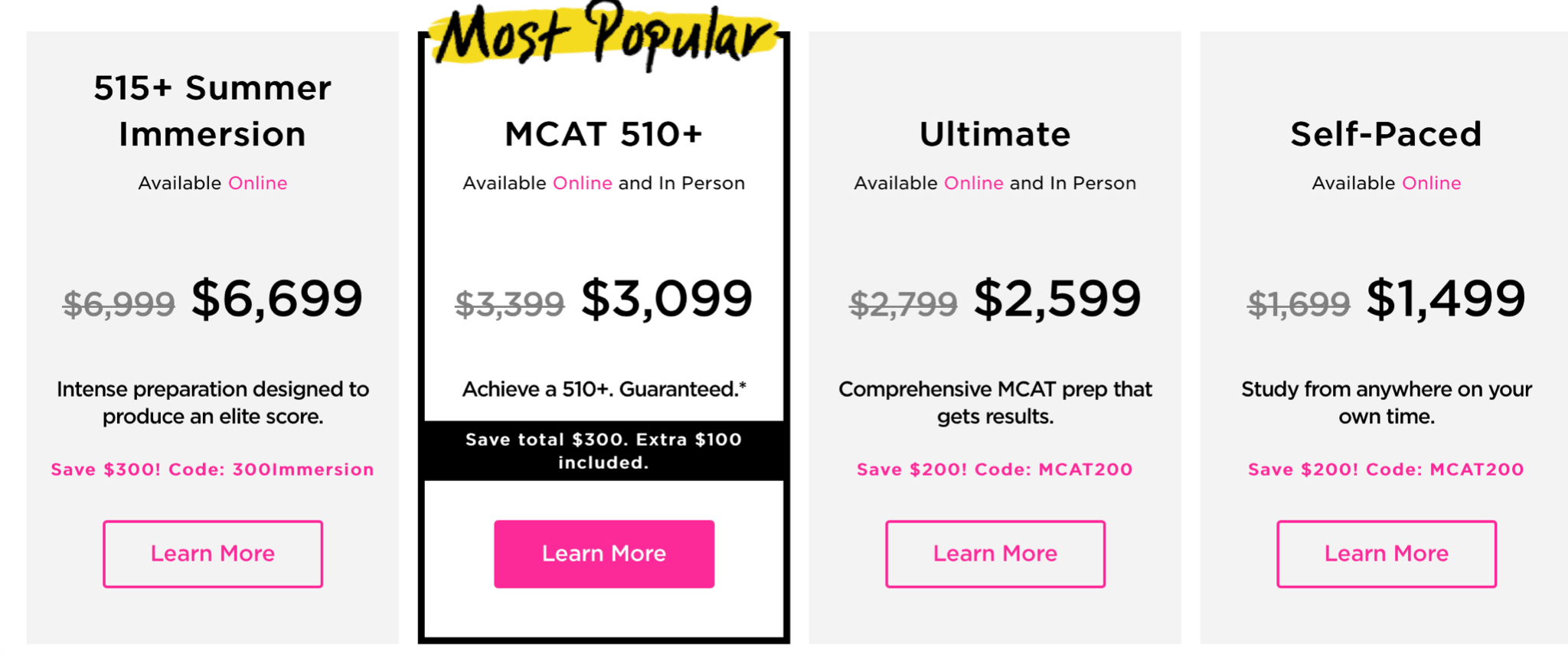 The Princeton Review, long a respected test prep service, offering everything from online courses for the GRE to specialty tests and of course the MCAT, is another excellent choice.
Though it can also be a bit expensive, you'll have options at your side, from a self-paced study plan to online and in-person, comprehensive packages, as well as private tutoring services.
Depending on the package, you'll get live classroom (online or in-person) time, a library of a few hundred on-demand video lectures, seemingly endless practice questions, comprehensive full-length practice tests, and exclusive resources. Enroll Here.
Frequently Asked Questions
Question: What does an optional break mean for the MCAT?
Answer: Optional breaks are offered during the MCAT– including a half-hour mid-exam break, as well as two ten-minute breaks. These are entirely optional–that is, you can choose to continue to the next section– but it's strongly recommended to take them. During optional breaks, you'll be given access to your locker and able to eat and use the bathroom in designated areas. You'll be given instructions on specific procedures for your testing center.
Question: Where can I find information about the impact of COVID-19 on the MCAT?
Answer: COVID guidelines and testing changes fluctuate, so be sure to check the AAMC updated COVID guidelines here.
Question: Are there required courses or pre-requisites I need to take before taking the MCAT exam?
Answer: While it's true that there are no specific courses required for taking the MCAT, you should consider taking courses in biochemistry, chemistry, psychology, statistics, and lab-based science courses.
Final Thoughts
Taking the MCAT is no easy feat– but with the proper preparation and study plan, you'll walk in more confident on test day.